Last updated on September 21st, 2023 by Catherine Reed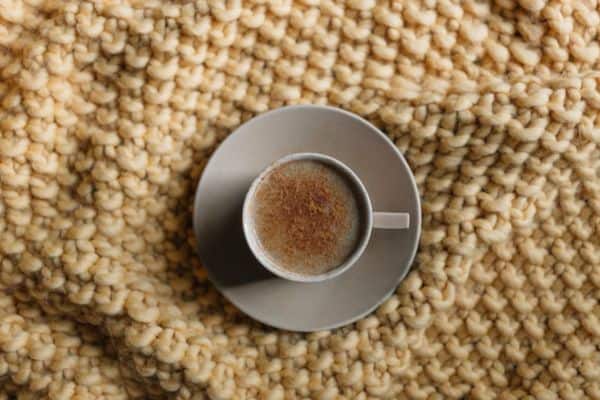 As a coffee lover, I enjoy exploring a wide array of amazing flavors when preparing my morning cup of joe. One of my favorite options is a bit of cinnamon in coffee.
The resulting flavor is warm, comforting, and just a tad spicy. Plus, the aroma is fantastic, bringing up memories of delightful pastries and chilly nights spent cuddled up by a fireplace.
But why is cinnamon in coffee such a wonderful way to go?
Well, cinnamon is steeped in history, for one. There are also health benefits associated with cinnamon, and it's easy to add to boost the flavor of your coffee. Finally, there are many fantastic flavor combinations that use cinnamon, making it surprisingly versatile.
Here's what you need to know about cinnamon in coffee.
---
History and Cultural Significance of Cinnamon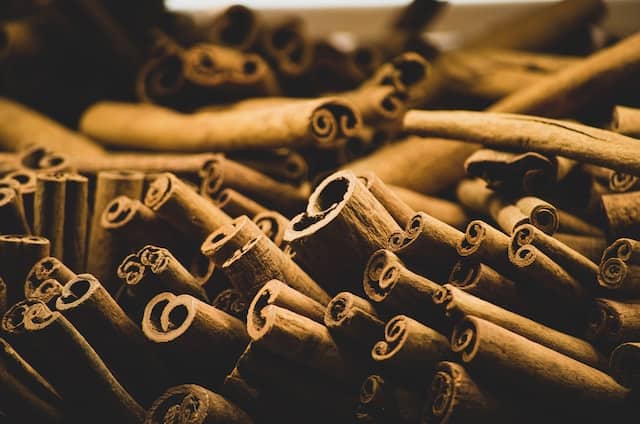 Cinnamon comes from the bark of trees. Ceylon cinnamon is native to Sri Lanka (formally Ceylon), India, and Myanmar (formerly Burma). It's also grown in the West Indies and South America.
At one point, cinnamon was more valuable than gold. Egyptians used the spice for various religious practices, as well as embalming. Cinnamon also played a role in religious ceremonies conducted by Medieval Europeans, and they also used it as a flavoring.
Romans used cinnamon for perfumes and flavoring wines. In North Africa, the Middle East, and Asiatic countries, it was all about taste, as cinnamon frequently made its way into recipes.
Health Benefits of Cinnamon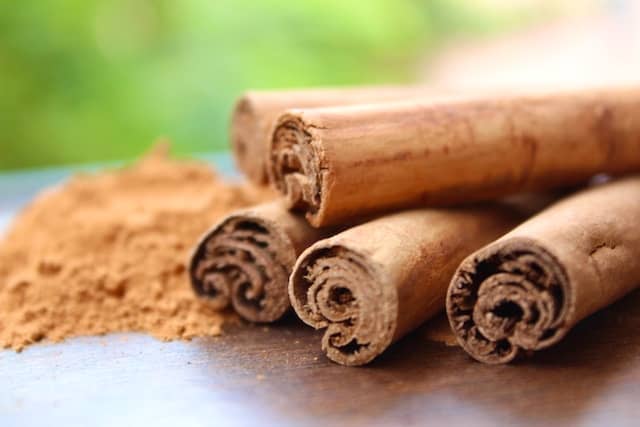 Before I started adding spices to my coffee, I was curious about the potential health effects. So, if you're like me, you're probably wondering, "Is cinnamon in coffee good for you?" Fortunately, the answer is typically a resounding "Yes!".
One of the most notable cinnamon in coffee benefits is that both are brimming with antioxidants, vitamins, and nutrients. Cinnamon is also an anti-inflammatory, and it contains antimicrobial, anticancer, lipid-lowering, and cardiovascular disease-lowering compounds.
Research also suggests cinnamon may help in the battle against neurological disorders, as well as help control Type 2 diabetes and lower cholesterol.
When it comes to cinnamon in coffee for weight loss, cinnamon may reduce blood sugar levels at night, which could promote weight loss. Additionally, it may act as an appetite suppressant.
If you use a fasting-based diet, you're probably asking, "Does cinnamon in coffee break a fast?" Fortunately, the answer is "no," so cinnamon in coffee and intermittent fasting can go hand-in-hand.
For those on low-carb diets, you might wonder, "Is cinnamon in coffee keto?" and the answer is "Yes." While a tablespoon of cinnamon contains 5.43g of carbs, the total dietary fiber is 3.69g, making the net carbs relatively low.
Enhancing Coffee with Cinnamon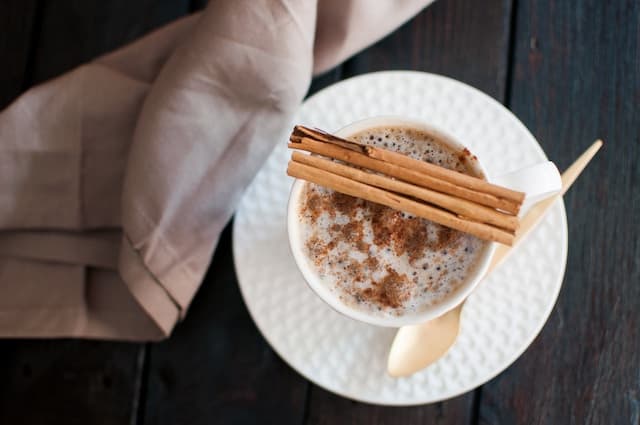 Adding cinnamon to coffee takes you on a flavor adventure, adding a touch of sweet spiciness to your favorite brew. Typically, the sweetness is akin to adding a dash of sugar to your coffee, all without the calories that come with using genuine sugar. So, it can offset some bitterness without overpowering the flavor of your coffee, as long as you don't go overboard with the cinnamon.
Giving your coffee that cinnamon kick is also simple. You can add a bit of ground cinnamon to your coffee ground before brewing, mix the cinnamon powder into the cream before adding it to your coffee, or place a cinnamon stick on your cup to add a beautiful flavor and aroma.
Outstanding Combinations
Cinnamon isn't just amazing in coffee alone; it also goes well with a wide variety of flavors. If you're calorie conscious and enjoy a burst of citrus, black coffee with lemon and cinnamon is a vibrant, perky option. Turmeric and cinnamon in coffee add more spiciness, and turmeric is also associated with health benefits.
For the flavors of fall, consider cinnamon and nutmeg in coffee. Cinnamon and honey in coffee works well if you want more natural sweetness, while cinnamon and salt in coffee together can counteract bitterness.
Cinnamon and coconut oil in coffee is the foundation of what's known as "bulletproof coffee." Coconut oil – like cinnamon – is associated with health benefits. Plus, it adds a slightly tropical flavor to your coffee and a touch of sweetness without any sugar.
If you want to create a pumpkin spice latte at home, cinnamon plays a big role in getting that flavor. Pumpkin spice features a combination of cinnamon, nutmeg, and clove, with some recipes also featuring a bit of ginger or allspice, too.
How to Put Cinnamon in Coffee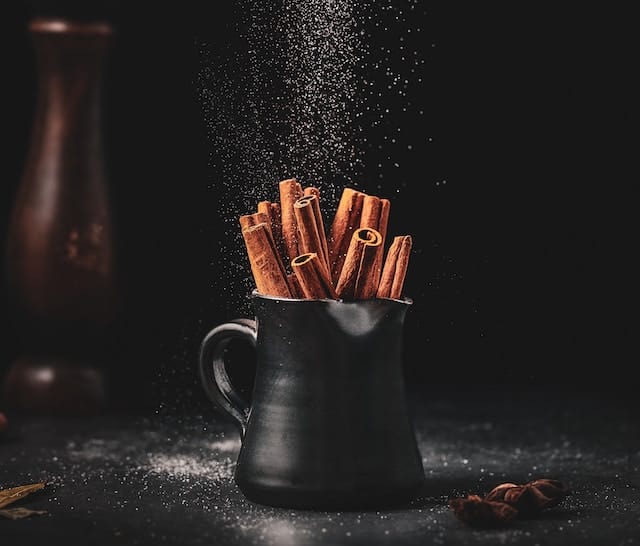 There are several options if you're looking for a cinnamon in coffee recipe. Which one you'll want to use mainly depends on how you want to prepare your drink.
Personally, I prefer adding cinnamon to coffee grounds before using a drip coffeemaker. For a four-cup coffee maker, I personally think that one teaspoon is just about right. I just sprinkle the cinnamon right over the top of the grounds and let it brew. But you may want more or less coffee flavor, so feel free to start with less and work your way up.
When I'm making a coffee drink that features cream, I go with one-quarter teaspoon of powdered cinnamon. I use a handheld milk frother to whip the cinnamon into the cream, allowing it to intersperse. Then, the handheld milk frother lets me blend the cinnamon cream into my coffee quickly, resulting in a smooth cup.
If you're wondering about how to add cinnamon to instant coffee, going with a cinnamon stick in the cup is a simple option. You can even use the cinnamon stick to stir the instant coffee into your water, imbuing the flavor throughout.
Also, if you're adding whipped cream to the top of your coffee drink, consider sprinkling it with cinnamon! The whipped cream will bind with the cinnamon like creamer will, so it helps intersperse it into your coffee, too. Plus, the color contrast is lovely, giving you that real café look.
Need to boost your metabolism? Try this combination after hitting the gym.
Best Cinnamon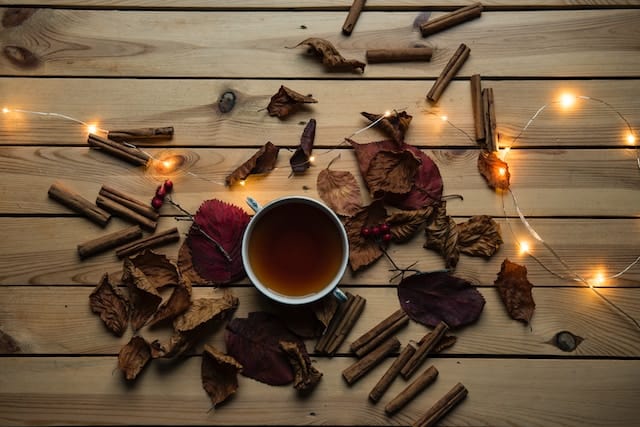 When I'm adding cinnamon to coffee, Ceylon cinnamon is my go-to option. It has a brighter, lighter, spicier flavor, and while it's more expensive, the elevated taste makes it worth it, in my opinion. If you're looking for the best option to add cinnamon in coffee, here are my top choices.
If you want to use a cinnamon stick in your coffee, Ceylon Flavors Organic Ceylon Cinnamon Sticks are from a certified USDA organic farm in Sri Lanka. There are no additives or preservatives, so all you're getting is amazing cinnamon sticks. The flavor is delicate and slightly sweet, so it won't overwhelm your brew.
For adding cinnamon powder in coffee or coffee grounds before brewing, FGO Ceylon Cinnamon Powder is an excellent option. It's USDA-certified organic and non-GMO cinnamon from Sri Lanka. Also, there are no additives or preservatives. The flavor is mild but noticeable, and the aroma is outstanding. The bag is also five-layered and resealable to maintain freshness.
FAQs
How Much Cinnamon Do You Put in Coffee?
When you're adding cinnamon, just a dab will often do you. A single cinnamon stick in a cup or a quarter teaspoon whipped into your cream imbues a lot of flavor.
If you're adding it to grounds and making a whole pot, you might want to start with one teaspoon and adjust it after you give that a try. Most people find that one to two teaspoons will do the trick, but it's best to start on the lower end as a precaution.
How Much Cinnamon Per Day Is Beneficial?
There is limited research on how much cinnamon per day leads to a health benefit, but there are some studies that show certain dosages are connected to positive outcomes. One study showed positive effects among individuals who consumed 3g to 6g daily, while another study saw positive results in individuals who took 1g to 6g each day.
A meta-analysis of several small studies stated that positive changes occurred in individuals who consumed 120mg to 6g daily. However, those researchers couldn't necessarily draw definitive conclusions, as the studies reviewed used different types of cinnamon, varying amounts, and differing durations.
Still, using cinnamon in the quantities above isn't associated with harm, so they're potentially good starting points if you want to explore the benefits of cinnamon.
Why Does Cinnamon Coagulate in Coffee?
If you add ground cinnamon directly to coffee, it tends to gather and clump, which isn't always pleasant. If you're wondering about how to dissolve cinnamon in coffee, the trick is that cinnamon won't actually dissolve. Instead, if you're trying to add it directly to your coffee, you need to suspend it in your drink to get an even flavor.
Thoroughly stirring your coffee while you drink it can help prevent clumping. You can also whip it into any cream you're adding, as that will help keep the cinnamon interspersed in your cup. Alternatively, add the cinnamon to your grounds before brewing your coffee, or place a cinnamon stick directly in your coffee cup. Both allow you to imbue the flavor while avoiding any sludge.
Coffee Has Never Read This Good!
Sign up for a FREE newsletter to the best home brewing tips and guides
Thank you for subscribing to The Cup Coffee House Crew! There's a surprise in your Inbox 🙂
Something went wrong.
About the Author
Latest Posts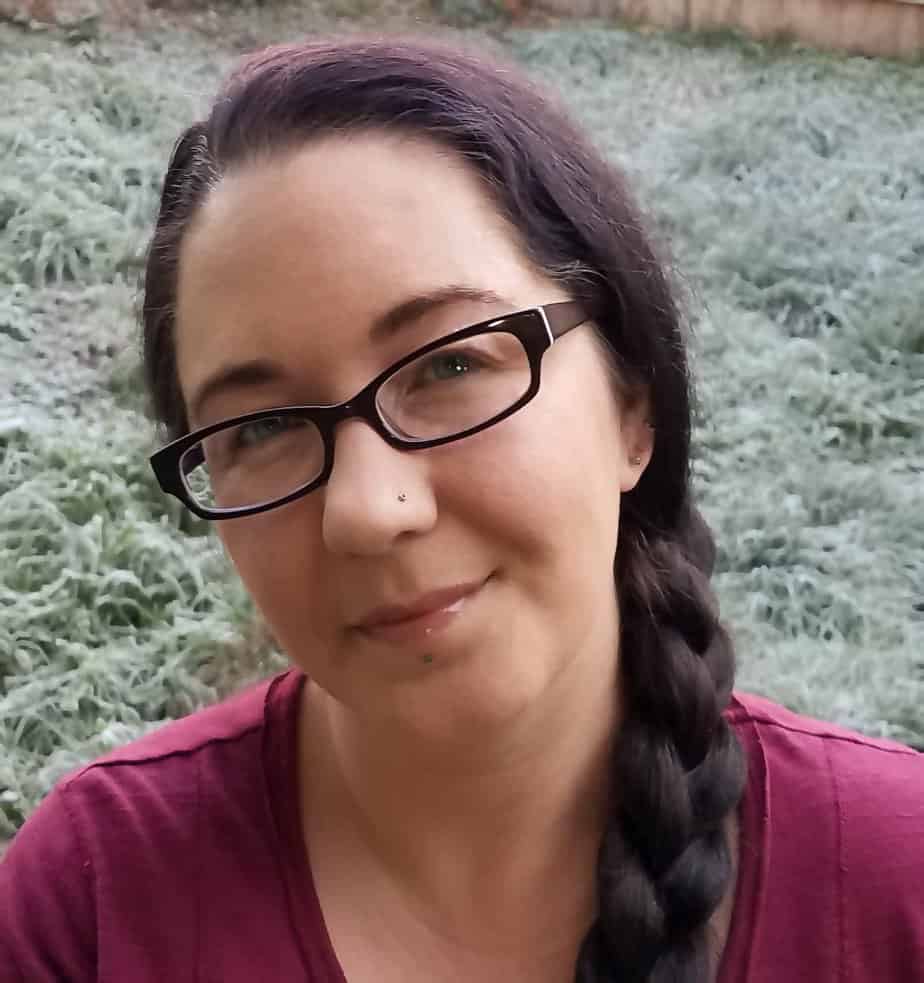 Catherine Reed is a freelance writer and coffee enthusiast. She has been a lover of coffee, espresso, and various café-style concoctions for more than 20 years, and enjoys exploring everything the world of coffee has to offer. Whether it's trying out new coffee technologies or exploring small-batch creations from independent micro-roasters, Catherine is open to any coffee experience, and aims to share everything she's learned with discerning readers interested in leveling up their coffee game.
Chief Editor