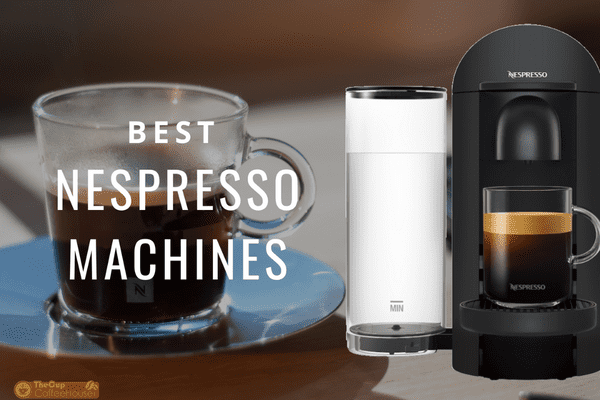 Whether your mornings are leisurely or you're in a rush, coffee is non-negotiable. There are many methods to making that first cup of the day. Using a pod coffee maker is one of the easiest. 
A pod coffee maker can streamline your coffee-making experience. You don't have to worry about measuring the right amount of grounds, correct water temperature, or timing shots of espresso. Just pop in a capsule, press a button, and watch your machine go to work!
Nespresso offers a wide array of pod machines to match the tastes of its coffee-loving consumer base. After hours of research, we ranked and reviewed the best Nespresso machines for you.
Our top pick is the Nespresso Vertuo Plus. This machine caters to espresso lovers and those who prefer a regular cup of joe. Simple, easy to use, and fast. You can also enjoy making specialty drinks with an Aerroccino3 when you purchase the bundle. The package costs less than $200 and is one of the most affordable Nespresso machines on our list.
Sale
Nespresso Vertuo Plus
The Nespresso Vertuo Plus brews delicious coffee or espresso using easy to use pods on an affordable price, making it a great overall pick.
Last update on 2022-09-27
---
Why Nespresso?
The Nespresso brand is known for its high quality delicious brews and user-friendly machines. This Swiss brand stands out for its richly flavored espressos using pressure without a pump, and conscientious, sustainable coffee bean practices.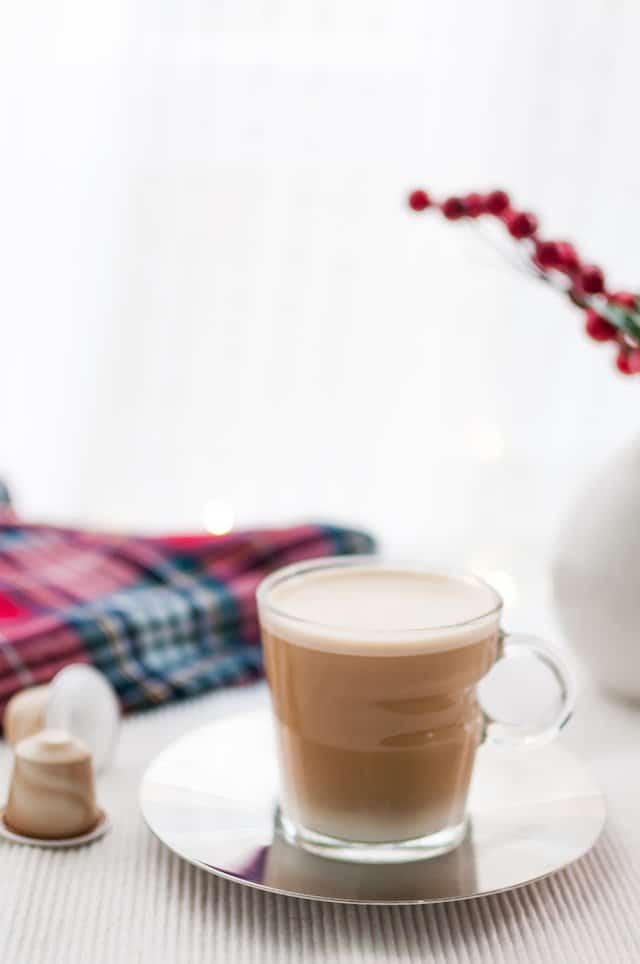 If you're looking for an elite combination of robust espresso brews with the convenience of easy to use pods and high quality build, then Nespresso machines should be a strong contender… at least for us it is!
How We Chose Our List of Best Nespresso Machines
Pros:
Adjustable 60-ounce water tank 
Brews regular coffee or espresso
5 drink sizes
Holds 17 used capsules
Only 15 seconds to heat up
Can brew bold, hot, or iced coffee drinks
Energy-saving automatic shutoff after 9 minutes
Aeroccino3 tops off drinks with hot or cold milk froth.
Affordable price
Cons:
Only compatible with Vertuo Nespresso pods.
Milk frother is not built-in to the machine.
Review:
The Vertuo Plus offers coffee drinkers a good value for the price. It can make a bold-tasting, regular cup of coffee or espresso. 
This high-tech machine reads the bar code of each capsule and then brews it appropriately. This gives you a consistent cup of coffee each time you pop in a capsule and press the button. With its 60-ounce water tank, you can brew coffee for a crowd without having to refill the tank.
The Vertuo Plus does not come with a built-in milk wand. However, this machine is bundled with an Aerroccino3 milk frother. This frother lets you top off hot and cold coffee drinks with thick foam. 
The Nespresso Vertuo Plus is easy to use and is perfect for households who disagree on the best way to make a cup of coffee. Whether you enjoy a regular coffee or indulge in coffee-shop-style beverages, the Vertuo Plus is a perfect choice.
Sale
Nespresso Vertuo Plus
The Nespresso Vertuo Plus brews delicious coffee or espresso using easy to use pods on an affordable price, making it a great overall pick.
Last update on 2022-09-27
Pros:
Small and compact
Removable drip tray
Choose between a short or lungo espresso
Easy to use
Cons:
No milk froth option.
Brews only espresso
Review:
Most pod coffee makers are simple to use, but the Nespresso Inissia by De'Longhi may outshine them all in its simplicity. Just insert the capsule into the machine. Then press down the lever to lock the pod in place. Choose between a short and tall espresso and press the appropriate button. Voila! You have a cup of espresso without measuring and pressing messy grounds.
The Nespresso Inissia is classy, compact, and friendly to use. This machine uses Nespresso's patented centrifusion technology to replicate 19 bars of pressure. You can even remove the cup stand to accommodate larger travel mugs.
 If you love a consistent cup of coffee every morning, this no-nonsense machine may be a perfect fit for your style.
Sale
Nespresso Inissia
The Nespresso Inissia brews pod based espressos with 19 bars in an easy to use and compact manner.
Last update on 2022-09-27
Pros:
One-touch brewing system
Makes both regular coffee and espresso
Bluetooth and wi-fi compatibility
Compact size
Brews up to 18 ounces of coffee
Affordable price
Automatic shut-off
Cons:
No milk frother.
Uses only Nespresso Vertuo pods.
Review:
The Vertuo Next is the newest pod machine in the Vertuo-line. It is quickly growing in popularity with coffee drinkers. This sleek-looking machine can make regular coffee, a single shot of espresso, or a double shot from 30 different Vertuo coffee blends or a variety pack.
Nespresso also adds a Bluetooth option to this new model. Unfortunately, it doesn't let you start a cup of coffee from the warmth of your bed.
However, it does give you helpful information on your machine. The phone app sends alerts when the water level is low and lets you know when you need to descale your machine. It also keeps you updated on Nespresso offers and new pod flavor options. 
You can find this high-tech machine for as cheap as $130 on Amazon. This Nespresso machine is one of the most affordable out there. If some in your household like an extra-large 18-ounce cup of coffee while others prefer espresso, this machine can satisfy your needs.
Sale
Nespresso Vertuo Next
With coffee and espresso options, a ton of pod flavors, and high tech wifi features, the Vertuo Next is a great value Nespresso machine.
Last update on 2022-09-27
#4. Best Nespresso machine for cappuccinos and lattes: Nespresso Creatista Plus
Pros:
19 bars of pressure
Stainless-steel casing
Super-fast 3-second warm-up
Ristretto, espresso, and lungo drink sizes
High-resolution LCD screen
Built-in steamer wand
11 milk temperatures and 8 different froth textures
Automatic clean-up
Automatic shut-off after 9 minutes
Hot, iced, or bold options
Cons:
Brews only espresso.
Louder than other pod coffee makers.
Review:
If you love the ease of a pod machine but want a hand-crafted touch, you will love this Nespresso machine. The Creatista Plus heats up in only three seconds. Then you can choose from three different sizes: ristretto, espresso, or lungo. The 19 bars of centrifustion pressure guarantee a thick and creamy crema on top of each cup. 
Once you have your shot of espresso, you can make a variety of different specialty drinks. Perfect the texture of your milk foam with Creatista's high-performance integrated milk wand. 
This built-in milk frother comes with eleven different temperatures and eight different texture types. You can make smooth, velvety microfoam for flat whites. Or, you can froth fluffy foam for cappuccinos with these texture options.
This sleek machine can add a touch of class to your kitchen decor. You can make an espresso base with a simple pod, then top off lattes, cappuccinos, and other specialty drinks with your own brand of latte art.
Nespresso Creatista Plus
The Creatista Plus brews multiple sizes with 19 bars of pressure, and a high end milk frother, to make the most delicious cappuccinos and lattes.
Last update on 2022-09-27
For a more in-depth discussion, check out our full Nespresso Creatista Plus review.
Pros:
19 bars of pressure
Fast 3-second heat up
Stainless steel casing
Built-in steam wand
Extra-large 2-liter water tank
Integrated milk frother
Dedicated hot water spout
Customizable drinks
LCD screen
Automatic shut-off after 9 minutes
Cons:
Brews only espresso drinks.
One of the most expensive machines.
Review:
On the outside, the Creatista Pro looks much like the Creatista Plus. However, the Creatista Pro offers more features. This Nespresso machine comes with a dedicated hot water spout for tea, long blacks, and Americanos. It also has one of the largest water tanks, which holds two liters of water.
You can also customize your drinks using the LCD screen, and use the integrated milk wand to top off specialty drinks with your signature latte art.  
The Creatista Pro allows you to heat milk and brew espresso simultaneously, which cuts your prep time in half. This makes it easier to serve multiple coffee-shop-style drinks when friends come over.
This is one of the most expensive machines Nespresso has to offer. However, its luxury features may make the price worth it. 
Nespresso Creatista Pro
With 19 bars of pressure, dedicated hot water spout for teas and coffees, easy to navigate LCD screen and 68 oz water tank, the Creatista Pro is a luxury any coffee drinker would love.
Last update on 2022-09-27
Pros:
Makes one-touch specialty drinks
Menu includes cappuccinos, latte macchiatos, espressos,  lungos, warm milk, and hot water.
Can hold up to 15 used capsules
16-ounce milk froth container
Milk-frother parts are dishwasher safe
User-friendly
Small footprint
Cons:
Can be difficult to customize drinks at first.
Doesn't accept Vertuo-line pods.
More expensive than other models.
Review:
The Nespresso Lattissima Pro can give you delicious barista-style drinks with little to no hassle. You can choose a short or long espresso, latte macchiato, or cappuccino. For caffeine-free options, you can choose hot water for tea or make a steamer out of frothed milk. 
The Lattissima Pro allows you to customize the amount of coffee, water, and milk that goes into a drink. You may need to pull out your manual the first few times you adjust your drink. But, afterwards the machine will save your preferences for the next time you make a cup of coffee.
This machine may be a little louder than other Nespresso machines. However, you get a specialty drink from start to finish with just one touch of a button.
Nespresso also makes clean-up easy with this machine. The milk frother doesn't come in contact with the coffee-making side at all, which reduces the risk of contamination and bacteria. You can disassemble the frother easily to clean it thoroughly. Then place the milk container back in the refrigerator or pop it into the dishwasher.
Sale
Nespresso Lattissima Pro
The Lattissima Pro comes with an automated milk frother and 16 oz milk tank; Perfect for brewing creamy specialty beverages with touch of a button.
Last update on 2022-09-27
Pros:
19 bars of pressure
1-liter capacity water tank
Elegant design
Two cup sizes
Automatic shut-off after 9-30 minutes
Compact size
Cons:
Milk frother is not built-in.
Only two drink sizes.
Review:
The Nespresso CitiZ Espresso Machine by De'Longhi is easy to use and looks great on your kitchen counter. The retro-style design comes in black or white to match your other appliances. 
If you like your coffee plain and simple, this espresso maker may be right for you. The Nespresso CitiZ heats up quickly and lets you choose between a regular-size espresso or a lungo. You can also fold away the drip tray if you want to use a taller mug for specialty drinks. 
This pod machine comes with a large one-liter water tank so you can make several drinks back-to-back before needing to refill. If you drink short espressos, you can get over 20 cups of coffee out of one water tank.
The CitiZ doesn't come with a built-in steam wand. However, you can buy a bundle with an Aerroccino3 milk frother. With this add-on, you can make hot or cold lattes and cappuccinos. For cold coffee drinks, brew the espresso over ice. 
Sale
Nespresso Citiz & Milk
The no-frill Nespresso CitiZ espresso maker is cute, compact, simple to use and can make you a flavorful espresso in no time.
Last update on 2022-09-27
Pros:
19 bars of pressure
Compact size
One-touch coffee maker
The machine warms up in 25 seconds
Automatic turn-off after 9 minutes
Espresso and lungo size options
Cons:
No milk froth option.
Only two drink sizes.
Review:
At just under three and a half inches in width, this machine is the most compact Nespresso on the market. You can easily fit the Essenza Mini on your office desktop, dorm room, or tuck it into a tiny corner of your kitchen counter. But don't judge this machine's capabilities by its size. 
The Nespresso Essenza Mini uses 19 bars of pressure to deliver a delicious shot of espresso. In 25 seconds, the water is hot and ready to brew your cup of coffee. You can choose to brew a strong espresso coffee or a five-ounce cup of coffee. With just one touch of a button, you can get a quick, consistently tasty cup of coffee every morning. 
The Nespresso Essenza Mini is perfect for coffee lovers who travel in RVs, live in tiny homes, or love glamping. This machine may be tiny, but it still gives you the full-bodied coffee flavor you love.
Nespresso Essenza Mini
The Essenza Mini pulls hot espressos fast with 19 bars of pressure; perfect for coffee drinkers who need to save counter space.
Last update on 2022-09-27
For a more in-depth discussion, check out our full Nespresso Essenza Mini review.
Pros:
Brews using 18 bars of pressure
Portable and lightweight 
No electricity or batteries required
An adapter makes it possible to brew with Nespresso Original pods
Costs less than $100
Cons:
An adapter must be purchased separately.
This handheld device does not heat water.
Review:
If you want to take the great taste of Nespresso with you on the go, the Wacaco Nanopresso can easily fit in a man-bag or purse. This machine is not a part of the Nespresso brand. However, you can fit it with an adapter to brew delicious espresso from Nespresso pods. 
This simple, handheld device doesn't need electricity to brew hot coffee, just hot water. So, even if you are out in the wilderness, or traveling away from home, you can have an easy, no-mess way to get a cup of coffee from your favorite brand. 
Wacaco Nanopresso
The Wacaco Nanopresso is small, compact, portable; an easy affordable way to get delicious espresso while on the go.
Last update on 2022-09-27
For a more in-depth discussion, check out our full Wacaco Minipresso Review
Nespresso Buyer's Guide: Original or Vertuo? Which is right for you?
Nespresso machines can last up to ten years with proper maintenance and cleaning. So, if you are looking to invest in a Nespresso pod machine, you want to pick the best one for you. 
Vertuo and Original Nespresso machines are designed with different purposes in mind. The bottom line: if you love espressos and specialty drinks, an Original Nespresso machine is your best choice. For a house divided between regular coffee drinkers and espresso fans, a Vertuo machine may be right for you. 
Here are a few more details to consider as you decide between Vertuo and Original Nespresso machines.
Centrifusion or old-fashioned pressure?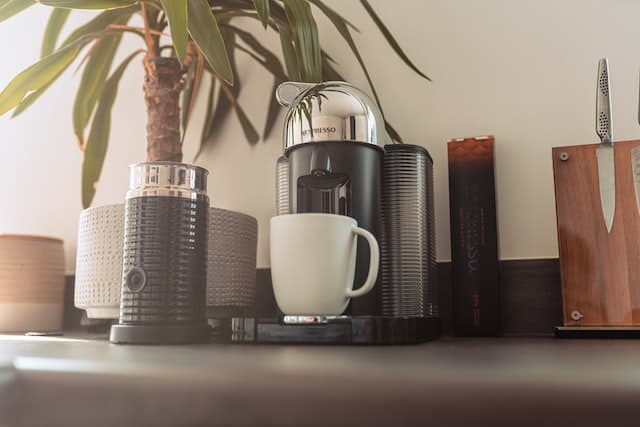 The technology differs in Nespresso's Original line and Vertuo line machines. Original Nespresso machines use old-fashioned pressure to brew espresso. This means your pod of coffee is getting the same treatment as the tamped grounds in a quality espresso maker. These machines brew coffee using 19 bars of pressure, which meets the SCA's standards. 
The Vertuo line is built for speed. Instead of pressure, these machines use centrifusion (centrifugal action and water infusion) to spin the pods at up to 7,000 RPMs. This spinning technology creates the equivalent of 19 bars of pressure and a thick, foamy crema on top of your coffee. 
Do you prefer black coffee, espresso, or both?
If you enjoy black coffee and the occasional espresso, a Vertuo Nespresso machine can give you both options. 
In contrast, the Original Nespresso machines focus only on espresso. You can choose a "Lungo" (which is similar to regular coffee) or water it down and make an Americano. However, these espresso-based coffee drinks will have a stronger flavor than your average cup of joe. 
Do you make specialty drinks often or rarely?
To make delicious cappuccinos, lattes, or other coffee house beverages, you need a milk frother. Many Original line Nespresso machines come with top-grade built-in frothers. Some are automatic, while others have a built-in steam wand so you can create your own latte art. 
If you only use a milk frother occasionally, you may decide on a Vertuo line machine. These pod coffee makers are usually less expensive, compact, and easy to maintain. They don't come with a milk wand. However, you can purchase a Vertuo machine in a bundle with an Aeroccino3. This separate frother allows you to make specialty drinks when you want, then you can store the Aeroccino away when you are done. 
What coffee drink sizes do you want?
The Original Nespresso machines offer only two or three espresso cup sizes. For these machines, the four-ounce "Lungo" may be the largest size you can choose. 
If you are used to a larger cup size, you may want to look into a Vertuo machine. This line offers larger cup sizes. Some Vertuo Nespresso machines can brew up to 18 ounces of coffee at once!
What is your budget?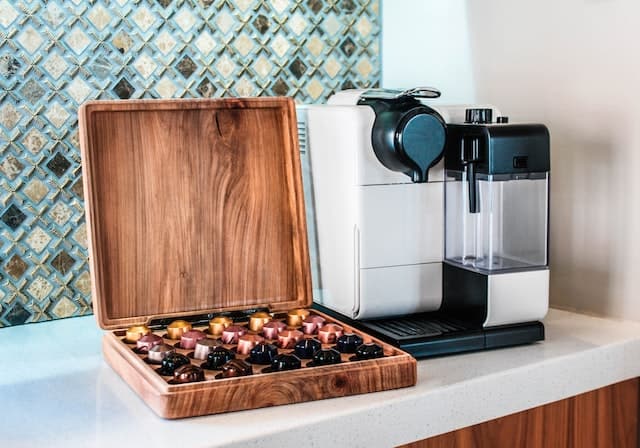 Your budget may also be a deciding factor when you pick out a coffee machine. If you are planning to keep your Nespresso machine for a decade, you want to make sure you invest wisely. 
Vertuo machines are often less expensive to buy. However, the long-term costs are generally higher. Vertuo pods are more costly than Original pods. Each pod has a specific bar code so your Nespresso can use the correct cup size, temperature, flow rate, and water temperature. 
Original machines can cost several hundred dollars more than a Vertuo machine. However, once you invest the money upfront, the Original capsules are cheaper to buy. You can also use generic pods in Original machines to cut your coffee costs in half.
Is there a difference between Breville and De'Longhi Nespresso machines?
It can be confusing to see that Breville makes some Nespresso machines, while De'Longhi makes others. So, what is the difference? Is one brand better than the other? 
Nespresso designs its machines and then allows other top brands to produce them. Breville and De'Longhi are some of the most popular Nespresso producers, but they are not the only ones. Coffee maker brands such as Krupps, Miele, KitchenAid, and others also make Nespresso machines.
While you may see a different brand name on the outside of a Nespresso machine, rest assured that each machine contains the same tried and true technology, and brews the same delicious flavor. But depending on the brand, you may notice a difference in the design of the external casing or how the machine froths milk.
Final Thoughts
If you are looking for a new pod espresso machine, Nespresso is one of the best brands on the market. Nespresso coffee makers brew a pod espresso using pressure to give you the authentic taste of espresso and crema on top. 
Sale
Nespresso Vertuo Plus
The Nespresso Vertuo Plus brews delicious coffee or espresso using easy to use pods on an affordable price, making it a great overall pick.
Last update on 2022-09-27
You can choose a compact espresso maker, fancy automatic cappuccino machine, or create your own latte art with a steam wand. With so many choices on the market, you are sure to find the right Nespresso for you. 
Let us know which is your favorite Nespresso pod machine in the comments.
FAQs
What is the most popular Nespresso capsule?
The best-selling capsule for the Nespresso brand is the Ristretto. Traditionally, a ristretto is a more concentrated espresso that is only about a half ounce. Many coffee fans love ristrettos for their smooth, strong flavor.
The Nespresso Ristretto is a dark, rich blend that combines East African and South American Arabica coffee grounds. It makes a perfect base for specialty drinks, and it's also very tasty on its own. 
Does it make a difference if I buy a more expensive Nespresso machine?
Nespresso machines make coffee drinks in the same way whether you choose an expensive model or a cheaper one. They use high pressure pods or centrifusion technology to recreate the pressure system that high-end espresso machines use.
However, more expensive machines may use higher-quality materials or offer more features. For example, some high-end Nespresso machines include a steam wand, have a stainless steel casing, or automatically add milk foam to your favorite coffee drinks.
Are Nespresso machines worth it?
Nespresso machines may be more expensive than your average coffee maker. However, if you want to make espressos, cappuccinos, and lattes, Nespresso machines cost less than most competing espresso machines.
Nespresso machines are easy to use, quick to clean up, and have a much shorter warm-up time than other brands of pod machines. Some Nespresso makers heat up in as fast as three seconds! They also are durable and last a long time. In fact, Consumerreports.org rates Nespresso as the most reliable espresso pod machine. 
How long does a Nespresso machine last?
Nespresso machines are built to last with high-quality parts. Many of the high-end machines alert you when it is time to clean and descale the machine. The warranty on most Nespresso models lasts for two years. However, many users have Nespresso machines that last up to 10 years. If you regularly clean and maintain your machine, your Nespresso investment can last you many years.
Coffee Has Never Read This Good!
Sign up for a FREE newsletter to the best home brewing tips and guides
Thank you for subscribing to The Cup Coffee House Crew! There's a surprise in your Inbox 🙂
Something went wrong.
About the Author
Latest Posts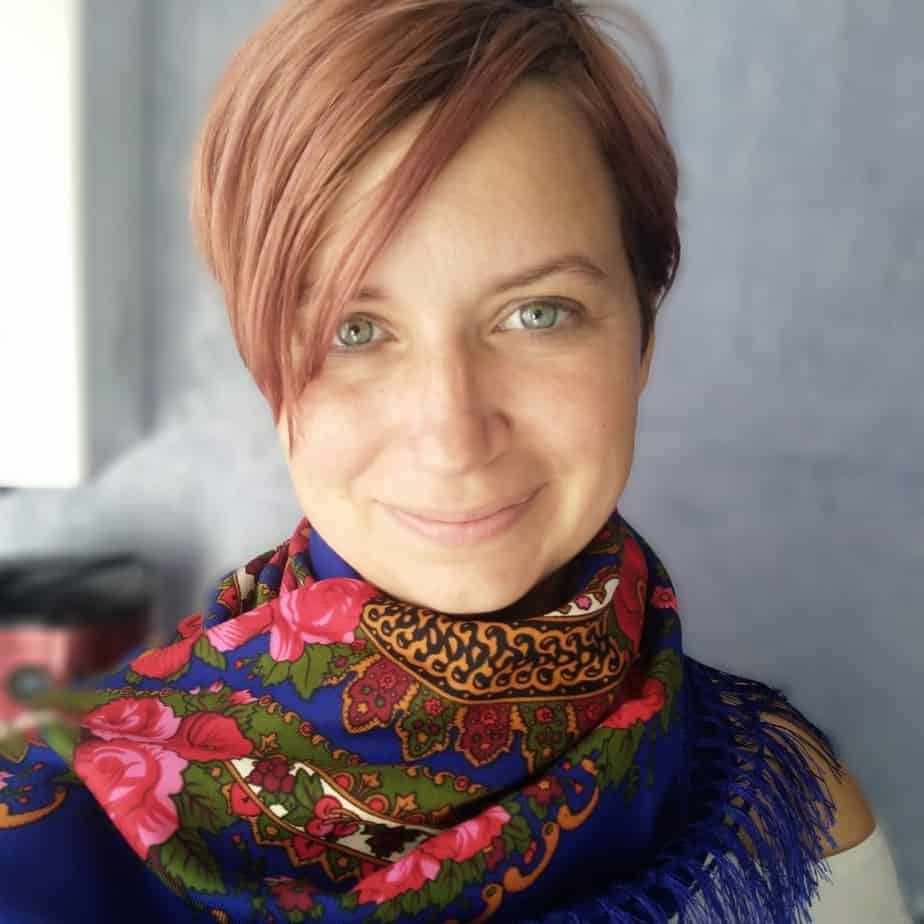 Alex Praytor worked her first job as a barista, finished college, and then took a tour to the other side of the globe. She fell in love with espresso and her would-be husband in Europe. She spends her spare time visiting native Texas landmarks, ancient castles, and all the coffee shops she finds along the way. At home, she is a mom, ESL teacher, and writer, who hones her coffee-making skills daily. She enjoys passing on her coffee findings to fellow caffeine addicts in search of the perfect cup.
Co Editor