Last updated on September 19th, 2023 by Alex Praytor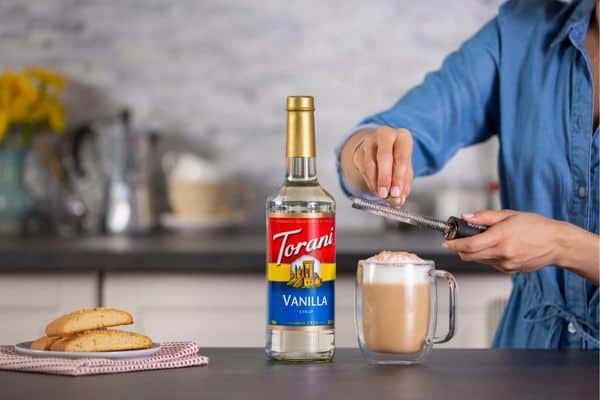 The right coffee syrup can turn a regular cup of coffee into a gourmet experience. But with hundreds of brands on the market, which syrups and sauces are best for your coffee? 
Torani Vanilla Coffee Syrup is our overall favorite for its rich flavor and just the right amount of sweetness. This brand has roots in Italy and is a staple among upscale coffee shops throughout the U.S.
Last update on 2023-09-19
We've rated these coffee syrups based on flavor, popularity, and quality. Whether you're recreating Starbucks-style coffees at home or trying out the best coffee syrup combinations, we've got some excellent options in store for you. 
In our list of best coffee syrups, we're also highlighting Starbucks-approved brands, delicious boutique syrups, vegan flavors, and sugar-free options.
---
Let's look at these top 10 coffee syrups and sauces to decide which ones belong in your coffee bar. 
Our List of Top 10 Coffee Syrups and Sauces
Things we like:
Clean and creamy vanilla taste
Made with real cane sugar and cold-filtered water
Natural flavors
2-year shelf life
The clear syrup blends well into any color drink
No high fructose corn syrup
Certified women-owned small business
Highly rated by customers
Versatile flavor
Things we don't like:
Labeled and sold only in the U.S.
Review:
This Torani Vanilla Syrup tastes delicious and is our top pick out of these ten options. It also gets the most popular award with a 4.8-star rating of around 25,000 Amazon customers.
The Torani brand set up shop in the 1920s with syrup recipes from Italy. The original goal of their syrups was to create Italian sodas. However, it wasn't long before the Torani brand made headlines as part of the world's first flavored latte. 
This tasty Torani Vanilla Coffee Syrup uses natural flavorings and real cane sugar. It easily blends into iced and hot coffees. Many customers also enjoy adding a splash to a Dr. Pepper or Coca-Cola. The Torani brand is still family-owned and continues to set the bar high for its products. You can find their syrups in many gourmet coffee shops. Or you can bring a bottle (or four) home and create your own upscale coffee drinks.
Last update on 2023-09-19
Things we like:
63 ounces of sauce
Classic Starbucks flavor
The container includes a pump
Perfect for sweetening coffee or as a topping
Things we don't like:
Approximately 25 calories per pump of sauce.
Review:
Starbucks' White Chocolate Mocha is one of its best-selling drinks on the menu. However, you can easily shell out five dollars or more for this decadent beverage in-store. Whether you enjoy it as a Frappuccino roast, hot, or iced, you can recreate your favorite flavor at home with Fontana's White Chocolate Mocha Sauce. 
While you won't find the Starbucks name on the label, the Fontana brand is widely known as the mastermind creator behind many Starbucks coffee syrups and sauces. This 63-ounce container includes a pump as a mess-free way to measure your sauce. With this Fontana White Chocolate Mocha Sauce, you can enjoy the flavor of Starbucks at home for about a fifth of the price!
This Starbucks sauce is used in some of the best Starbucks Chocolate Drinks.
Last update on 2023-09-19
Things we like:
Creamy gourmet caramel flavor
64 ounces
Full-bodied sauce perfect for toppings
Inexpensive
Things we don't like:
This product contains milk, so it is not vegan.
Does not include a pump.
Review:
The DaVinci Gourmet Caramel Sauce is one of the best caramel coffee syrups on the market. The thick sauce contains heavy cream and natural flavors for a tasty addition to coffee beverages. Unlike thin syrups that quickly sink to the bottom of your glass, this full-bodied sauce is perfect for adding a creative design to the top of cold foam or whipped cream.
DaVinci is a top gourmet brand and a favorite among chefs and baristas in many coffee shops and restaurants. With 64 ounces in one bottle, create plenty of caramel-flavored coffees or add elegant toppings to drinks. 
Combine Torani's Vanilla Syrup with DaVinci's rich caramel sauce to create a Starbucks-style caramel macchiato.
DaVinci Gourmet Caramel Sauce
The Davinci Gourmet Caramel Sauce is a thick sauce that would add a finishing touch to your drinking without sinking quickly to the bottom of your glass.
Last update on 2023-09-19
Things we like: 
Made with Pure Cane Sugar
Resembles Starbucks' Pumpkin Spice Sauce
Includes real pumpkin puree
No artificial ingredients
Non-GMO, Gluten-Free, Kosher
Things we don't like:
This syrup has a thinner texture than Starbucks PSL sauce.
Review:
Pumpkin Spice Latte fans look forward to the end of summer when their favorite beverage magically reappears on the Starbucks menu. However, in the off-season, you can make a Pumpkin Spice drink at home whenever you want! In the dog days of summer, an iced pumpkin spice latte can help you keep cool. 
Starbucks, unfortunately, doesn't sell its syrup to the public. However, we compared the ingredients in Starbucks Pumpkin Spice Sauce to other syrups and found a close cousin in Monin Pumpkin Pie Syrup. Like Starbucks' PSL, this Monin coffee syrup includes real pumpkin puree, cinnamon, nutmeg, and ginger. It has an excellent flavor without a bitter aftertaste. 
This syrup is thinner than Starbucks' thick sauce. However, the lighter consistency of Monin's Pumpkin Pie Syrup is perfect for iced beverages.
Monin also has many other fun flavors to try in your coffee, such as Maple Spice, Green Mint, Toffee Nut, Gingerbread, and Caramel.
Monin Pumpkin Pie Syrup
You can enjoy the seasonal Starbucks favorite off-season by creating your own Pumpkin latte with Monin Pumpkin Pie syrup at home.
Last update on 2023-09-19
Things we like:
Plant-based sweetener
Simple syrup flavor
385 servings
No sugar, zero calories, and zero carbs
Vegan, Keto-friendly
No artificial aftertaste
Things we don't like:
Not as strong as other brands
Review: 
One of the hardest parts of dieting is giving up sugar. Going off sugar cold-turkey can leave you with cravings and withdrawals. If you want to get healthy, you can keep a sugar-habit in check with this Keto-friendly NuNaturals Sugar-Free Syrup. 
This syrup is made with zero grams of sugar. However, instead of adding chemicals as a sugar-replacement, this syrup uses stevia to satisfy your sweet tooth. You'll still get the sweet flavor you love without a significant impact on blood sugar or insulin levels. Many dieters also choose stevia-based sweeteners during intermittent fasting. 
This NuNaturals simple syrup is also a great choice for experimenting with flavored coffee. Since it doesn't have a flavor of its own, it allows the aroma of your coffee beans to shine through. Besides sweetening your coffee, you can also use this syrup on pancakes, yogurt, or in milkshakes.
Whether you are on a strict diet, or just trying to make healthier choices, this NuNaturals Sugar-Free Syrup can be a delicious choice. 
NuNaturals Stevia Syrup
Enjoy your daily dose of coffee in a healthy way with this Keto-friendly NuNaturals Sugar-Free Syrup.
Last update on 2023-09-19
Things we like:
16 ounces
Made with pure cane sugar and cold brewed coffee
Includes caffeine
Preserves coffee flavor in iced beverages
Things we don't like:
Not a cold-brew coffee concentrate.
More expensive than other brands
Review: 
Have you ever tried a coffee syrup that is flavored with coffee? This Original All-Natural Cold Brewed Coffee Syrup actually includes coffee in the recipe. It was originally crafted for Rhode Island's state drink, "coffee milk." This drink is just sweetened milk with a small amount of coffee and appeals to both kids and adults alike. Also, if your iced coffee tends to taste watered down after adding milk and ice, this coffee-based syrup can add that boost of coffee flavor you crave. You can use it to create a dirty chai, different from dirty coffee, or add it to baked goods.
Dave's hand roasts small batches of coffee, creates a cold brew, and then simmers it with cane sugar until it thickens. The result is a rich-flavored syrup that only adds to the flavor of your favorite coffee. A small amount of this syrup can turn even a bland brew into something delicious.
Last update on 2023-09-19
Things we like:
Flavored with real lavender flowers
Sweetened with organic evaporated cane juice
USDA Organic-certified ingredients
Vegan-friendly
Non-GMO, dye-free, gluten-free
A portion of the proceeds from each bottle helps feed hungry children
Things we don't like:
Not thick enough to use as a topping or pancake syrup.
Review:
The Wabry brand uses natural and organic ingredients for a difference you can taste. While many lavender syrups are full of artificial flavorings, Wabry's Organic Lavender Syrup uses real lavender flowers in its recipe. Instead of corn syrup, Wabry uses evaporated cane juice as a healthier option. This flavorful lavender syrup is a light, refreshing addition to an iced latte or a hot London Fog.
Wabry may be a lesser-known brand compared to Torani, DaVinci, Monin, and others. However, those who have tasted Wabry's natural syrups are instant fans.
Wäbry Organic Lavender Syrup
With a hint of floral and without added preservatives and flavors, Wäbry Organic Lavender Syrup can also be added on other cold desserts such as ice cream, snow cones, and yogurt.
Last update on 2023-09-19
Things we like:
Roasted natural Hazelnut with Tahitian Vanilla
Sweetened with pure cane sugar
No Artificial Flavors, colors, or preservatives
Handcrafted in Small Batches
Made in the U.S.
Things we don't like:
Review:
This Sonoma Simple Syrup is handcrafted in small batches and infused with Vanilla Hazelnut. Instead of using corn syrup like many competitors, Sonoma uses pure cane sugar for a smoother taste. 
The lightly roasted flavor adds a slight punch to coffee drinks without overwhelming the natural coffee tastes. You can also combine this versatile syrup with other syrups and sauces to create unique recipes. 
Although this Vanilla Hazelnut Syrup is more expensive than many brands, the smooth, balanced flavor is worth trying.
Last update on 2023-09-19
Things we like:
No artificial sweeteners or flavors
100% vegan
Gluten-free
Contains natural energizers: Ginkgo Biloba, Ginseng, Vitamin C, and B-12
Includes a pump
Halal & Kosher Certified
Things we don't like:
Review:
The Sunny Sky Upouria Alert Functional Syrup can add an extra energy boost to your favorite caffeinated beverage. Besides adding sweetness, it contains energizers such as Ginkgo Biloba, Ginseng, Vitamin C, and B-12. This syrup is 100 percent vegan and gluten-free. 
Use the pump to add a shot of sweetness to your cup of decaf or regular coffee. This Upouria syrup can keep you alert and awake for longer.
Sunny Sky Upouria Alert Functional Syrup
The Sunny Upouria Alert Functional Syrup will give an energy boost to your coffee. It comes with a pump and you can also enjoy it with other drinks and baked goods.
Last update on 2023-09-19
Things we like:
The sampler includes six flavors: Mocha, Vanilla, Butter Toffee, Caramel, Salted Caramel, and Hazelnut
0g sugar, 0 calories, and 0 carbs
Gluten-free, non-GMO
Kosher and keto-friendly
Crafted in the USA
Things we don't like:
Some artificial aftertaste
Review:
Why try one syrup when you can try six? This Jordan's Skinny Syrup Sampler contains the classic coffee syrups you love. The 25.4 Fl Oz bottles include Mocha, Vanilla, Butter Toffee, Caramel, Salted Caramel, and Hazelnut flavors. These coffee syrups contain zero grams of sugar, making them popular for diabetics and dieters. 
The drawback is that a picky palate may detect a slightly artificial aftertaste. However, with over 15,000 Amazon reviews, these sugar-free syrups maintain an excellent rating of 4.6 stars. With Jordan's Skinny Syrups, you can enjoy your favorite coffee syrup flavors without worrying about a spike in your blood sugar.
Jordan's Skinny Syrups Classic Sampler
This Classic Syrup Sampler gives you six flavors to try and experiment on. These syrups contain zero grams of sugar, which is a plus for coffee lovers on a diet.
Last update on 2023-09-19
The best coffee syrup recipe for making specialty drinks at home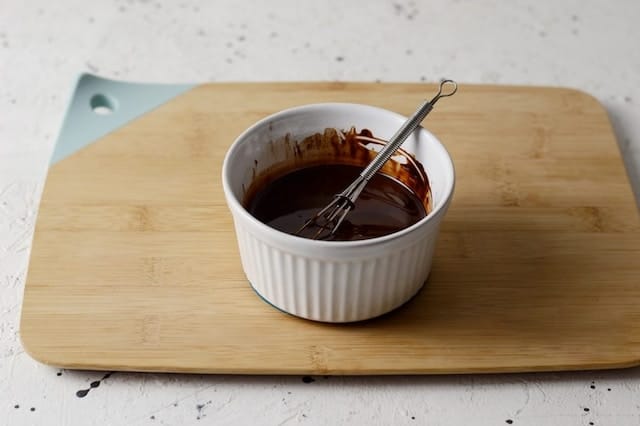 If you run out of your favorite brand of coffee syrup at home, you can always make your own while you wait for your next shipment. A simple coffee syrup contains only two main ingredients: Sugar and water. Add equal parts of water and sugar to a pan, then let it simmer until the sugar dissolves. Pull the syrup off the heat when many bubbles rise to the surface. As it cools, the syrup will continue to thicken. 
You can use any type of sugar you have on hand. However, white, granulated cane sugar tends to yield the best consistency. Use more sugar for a thicker pancake-type syrup and less for a thinner syrup.
Simple syrup dissolves easily into drinks, and the flavor melds nicely with flavored coffees. To create flavored syrups, add the appropriate ingredients while the sugar and water simmer together. You can infuse the syrup with lavender flowers, vanilla beans, or cinnamon sticks and cloves. When the syrup thickens, strain out the pieces and try a spoonful in your coffee cup.
How to find the best coffee syrups: Buyers guide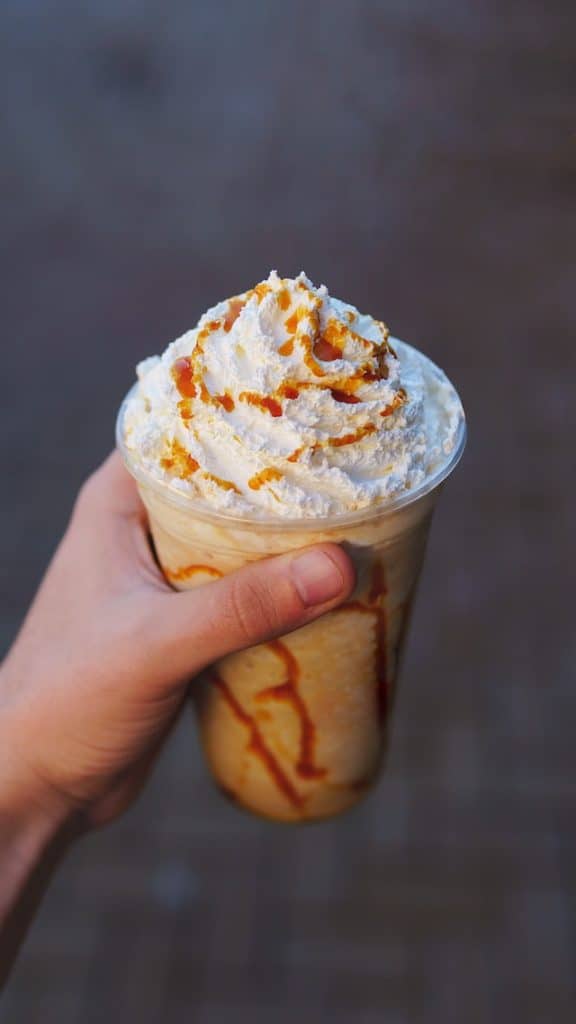 Are you trying to narrow down all of your coffee syrup options? We've created a buyer's guide to help you decide. Let's look at some tips for finding your best coffee syrup.
How does it taste?
The main purpose of coffee syrup is to complement the flavor of your favorite cup of Joe. A syrup can be vegan, keto, and non-GMO, but if it clashes with your coffee, it still fails its job. Look for brands that choose high-quality ingredients, and check out the customer rating section before making your final decision. 
What kind of sweetener is in the coffee syrup?
Corn syrup is often part of the recipe in some of the best-selling coffee syrups. When it comes to taste, corn syrup-based sauces pale when you compare them to pure cane sugar syrups. 
If you want a no-sugar option, try a natural stevia syrup or a traditional sugar-free option. Be aware that many syrups with artificial sweeteners can leave a bitter aftertaste in your mouth. Take a look at the ingredient list before purchasing. 
Pump or no pump?
Many premium syrup and sauce brands include a pump when you order your syrup. A pump lets you make quick measurements as you prepare your favorite drink recipes. However, this helpful feature can also add to the cost. 
You can also purchase a pump separately if your syrup does not have one.  This set of glass Molimoli Coffee Syrup Dispensers allow you to change out labels. Use the bottles to mix syrups and create your own signature blend.
Note: When you store your syrup, you should remove the pump and screw on the lid. A secure lid can help your syrup last up to six times as long.
Wrap up
Now that you have seen some of the best coffee syrups on the market, it's time to make your final choice. Our overall favorite was Torani's Vanilla Coffee Syrup. This syrup is made with pure cane syrup and natural flavors. We love that it leaves you with a clean coffee taste and no bitter aftertaste.
However, we also enjoy choosing different brands to mix and match the flavors. With ten delicious syrups, you have a range of combinations and concoctions to try. 
FAQs
What syrups do most coffee shops use?
Some coffee shops create their own syrups in-house. However, the majority use tried and true commercial brands.  Three of the top syrup brands for coffee shops are Torani, DaVinci, and Monin. Next time you are in a coffee shop, peek behind the counter and see which brands are on display. 
How long should my coffee syrups last?
Most syrups store well in a dry location at room temperature. Some syrups can last this way for up to 12 months. However, once you open the bottle, the syrup begins to deteriorate. When you leave a pump on the bottle, the syrup may only last up to a month. If you replace the cap on the bottle after each use, it can last significantly longer. Some sauces that include milk products may require refrigeration after opening. Check the label of your coffee syrup for specific storage instructions.
Coffee Has Never Read This Good!
Sign up for a FREE newsletter to the best home brewing tips and guides
Thank you for subscribing to The Cup Coffee House Crew! There's a surprise in your Inbox 🙂
Something went wrong.
About the Author
Latest Posts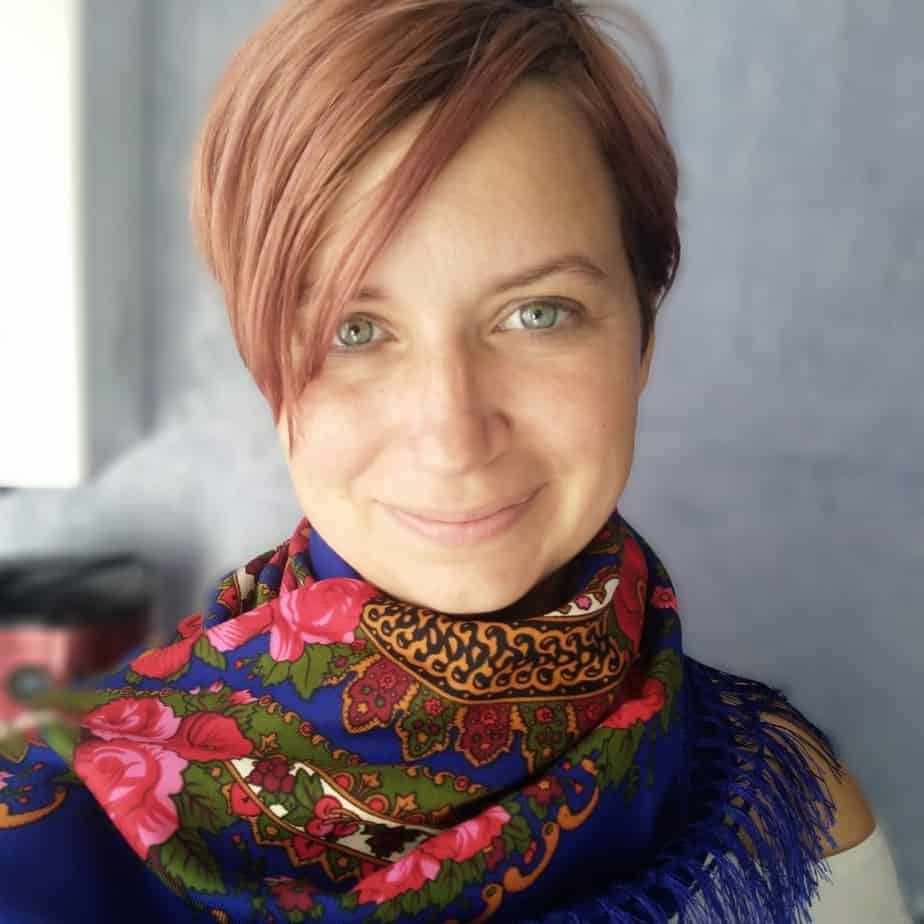 Alex Praytor worked her first job as a barista, finished college, and then took a tour to the other side of the globe. She fell in love with espresso and her would-be husband in Europe. She spends her spare time visiting native Texas landmarks, ancient castles, and all the coffee shops she finds along the way. At home, she is a mom, ESL teacher, and writer, who hones her coffee-making skills daily. She enjoys passing on her coffee findings to fellow caffeine addicts in search of the perfect cup.
Chief Editor