Last updated on August 12th, 2023 by Alex Praytor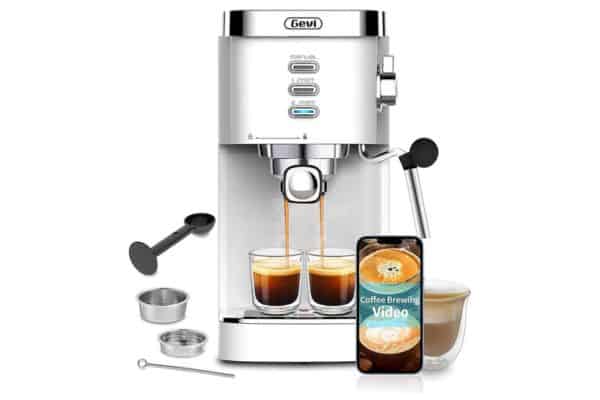 For espresso lovers, there is nothing more convenient than having an espresso machine on your kitchen counter. You can brew a stout double shot, a cafe lungo, or create specialty drinks at any time of the day. However, not all of us have an extra $1000 to shell out for a top-dollar machine. 
If you want to bring home an espresso maker while staying within the confines of a strict budget, a Gevi espresso machine may be for you.
These machines come in a lower price bracket and include amenities, such as 15 to 20 bars of pressure, steam wands, fast-heating thermoblock heating systems, and more.
In a hurry? Here's the quick summary:
For our top pick for best Gevi espresso machine available, we chose the Gevi 20-Bar Fast Heating Automatic Espresso machine. Not only does it have a sleek looking design, but it heats up fast, and brews flavorful delicious shots with its temperature control and pre infusion features.
A great quality machine with a good price for the value focused coffee espresso drinker.
Sale
Last update on 2023-09-18
---
Our List of Top Gevi Espresso Machines
Things I like:
Fully automatic with manual override options
Italian 20-bar high-pressure pump 
Thermoblock fast-heating system
Stainless steel milk frother
2 separate thermostats for espresso and milk 
Low-pressure pre-infusion
Sleek design
Things I don't like:
Large mugs may not fit under the portafilter.
Review: 
The Gevi 20-bar Fast Heating Automatic Espresso machine is our top pick in this gamut. This machine has a good price for its value and its sleek design fits into a modern kitchen. The thermoblock heating system allows the machine to heat up in less than a minute, while its Intelligent Temperature Control System offers precise heat ranges for both coffee and milk. 
You can use the fully automatic settings to brew a one-shot or two-shot espresso. Or, you can choose to control the amount of water to make a ristretto or long espresso by using the manual override button. Once you start your shot, the grounds begin to bloom with a low-pressure pre-infusion before brewing into your cup. This brewing process can ensure a rich, flavorful cup every time.
This Gevi machine is easy on a budget and allows you to make espressos, cappuccinos, and lattes with great flavor.
Sale
Last update on 2023-09-18
Things I like:
20-bar pressure pump
Advanced Thermoblock heating system
User-friendly LED interface
Manual steam wand creates microfoam
Dual temperature control
Single-cup, double-cup, and manual shots
Compatible with capsules when you purchase a Gevi capsule portafilter
Compact design
Things I don't like:
Can be difficult to lock the portafilter into the group head.
Review:
If you want to add an espresso maker to a small kitchen or RV, this 2-in-1 Smart Espresso Machine by Gevi is lightweight and compact. It can heat up in less than 30 seconds and has a 20-bar pressure pump for excellent crema. 
Its LED interface makes your drink selection easy to see. You can choose between one-shot and double-shot espressos. Or, hold down the single-shot button for three seconds to switch to manual settings.
This machine is also compatible with Gevi's capsule portafilter, which you can purchase separately to make quick and easy espressos.
After you pull your shot, use the manual steam wand to steam milk for lattes or create microfoam for flat whites. An NTC Precise Temperature Control system creates ideal heat for brewing espresso and steaming milk.
This Gevi Smart espresso maker takes up little space and can be a great machine for beginning baristas.
Sale
Last update on 2023-09-17
Things I like:
Dual-heating, double boiler system
PID intelligent temperature control for stable, precise heat 
Manual milk wand for hand-texturing microfoam milk
The conical burr grinder comes with 31-step grind settings and dose control. 
Things I don't like:
Using dark-roasted, oily beans and a fine grind may clog the grinder.
Pricier than other Gevi machines.
Review: 
The Gevi 3-in-1 Semi-Automatic Espresso Machine with Grinder allows you to brew the freshest coffee possible. This machine is pricier than other Gevi models. However, it also has many top-of-the-line features. The conical burr grinder allows you to grind a dose of coffee directly into your portafilter. Tamp down the grounds using Gevi's stainless steel tamper, then attach the portafilter to the group head to begin brewing. 
The PID Intelligent Temperature Control ensures that your espresso and steamed milk heat to the appropriate degree. A double boiler allows you to steam milk foam while your coffee brews, allowing you to create back-to-back specialty drinks quickly. 
You can watch the pressure gauge to make sure your espresso is brewing at 20 bars. The Gevi 3-in1 is a great machine for coffee aficionados and baristas.
Sale
Last update on 2023-09-17
Things I like:
20-bar pressure
Advanced Thermoblock Fast Heating System
Adjustable steam wand
Built-in pressure gauge
Hot water function
Removable froth nozzle
Compact design
Removable drip tray to fit large mugs
Things I don't like:
Noisy while brewing.
The tamper is lightweight.
Review:
This compact Gevi machine has a sleek, industrial look with its brushed stainless steel casing. Its simple touch buttons are at the top of the machine, so you can easily choose a regular espresso, double espresso, or steam option. 
A built-in pressure gauge lets you have an inside look into your machine's brewing skills. As you pull your shot, you should notice the pressure reaches 20 bars for an excellent layer of crema. 
Many espresso makers require you to choose short demitasse mugs. However, this compact Gevi machine lets you remove the drip tray to fit large-size mugs.
This high-performance machine is durable and creates tasty cups of espresso to start your morning well.
Sale
Last update on 2023-09-17
Things I like:
15-bar professional Italian pump
Professional milk frothing wand
Dual temperature control for precision
Temperature gauge
Low-pressure pre-infusion cycle
Things I don't like:
Review:
This Gevi 15-bar Espresso Machine includes all the basics you need to make espressos, lattes, and cappuccinos at a budget price. The semi-automatic machine allows you to adjust your coffee size manually. Its simple 3-button panel is friendly for beginners to use. 
Whether you want to brew espresso or steam milk, the dual temperature control can create the ideal heat range. This semi-automatic machine allows beginning baristas to be hands-on in the coffee-making process and express their creativity through latte art.
Sale
Last update on 2023-09-17
Things I like:
20-bar pressure pump
Powerful 1350W motor
Single and double-shot presets
Adjustable steam wand for lattes and cappuccinos
35 grind settings
The grinder uses time or cup measurements
Adjustable steam wand
240g coffee bean capacity, 130g coffee ground capacity
Things I don't like:
Review:
The 20-Bar Compact Professional Gevi Espresso Machine includes an espresso maker and a matching Gevi grinder. The coffee grinder has 35 settings, a timer, and cup measurement settings.
You can grind fresh coffee directly into a canister or your portafilter before each brew. Since the grinder is separate from the espresso machine, you can tuck it into a kitchen cabinet to save counter space.
The espresso machine has a 20-bar pump and a pressure guide. The powerful motor allows the water to heat quickly to make espressos. 
This machine includes a traditional portafilter with single and double-shot filters. However, you can also purchase an E.S.E. or pod portafilter to add to this machine. With the Compact Professional Gevi Espresso Machine, you get great value for the price.
Who is Gevi?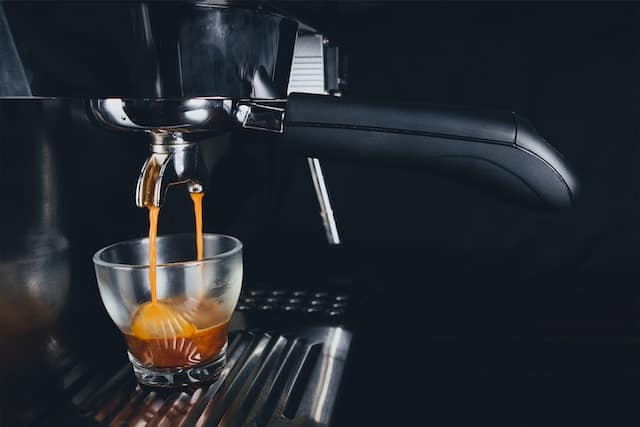 The Gevi brand is newer to the coffee scene than other classic brands such as De'Longhi and Breville. However, Gevi is increasingly popular for the value it provides for its price point.
This brand was founded in 2018 to create a variety of kitchen appliances including coffee makers. Although Gevi espresso machines are designed in Italy, other countries often manufacture parts and assemble the machines.
If you are interested in buying a coffee machine or espresso maker on a budget, Gevi may have just what you are looking for.
What to look for in a Gevi espresso machine: Buyer's Guide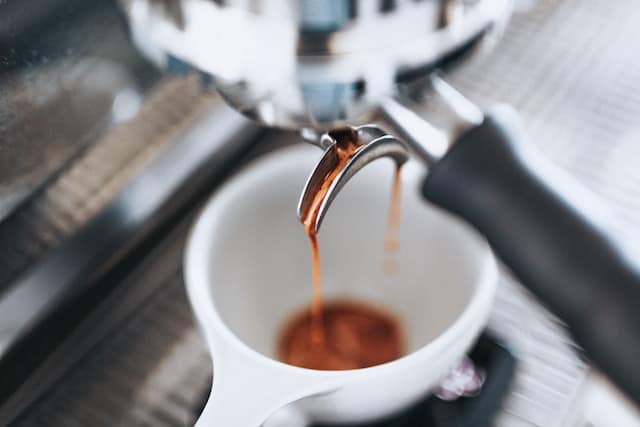 As you choose your Gevi espresso machine, you want to pick one that wows your tastebuds and fits your lifestyle. Here are some factors to consider as you make your choice:
Size
If you live in a small apartment, dorm, RV, or just have a smaller-than-average kitchen, size may matter when you decide on an espresso machine. Photos can often be misleading, so it is a great idea to check the measurements of the machine to see if it fits well into your counter space. 
Instead of choosing a large machine with a built-in grinder, you may want to consider purchasing a bundle that includes a separate grinder. Often, these espresso machines have a smaller footprint, and you can store the grinder away when you're not using it.
Durability vs. Price
Espresso makers with quality stainless-steel parts can last much longer than machines built with plastic. However, high-quality materials can raise the prices of espresso machines until they are out of budget. Many espresso machines with mid-range prices give you a good value at a decent price.
Ease of use
Especially if you are just getting started in the world of espresso-making, you want to choose a user-friendly machine. A semi-automatic machine can give you the most control over your brew. However, it also requires a certain skill level from the user.
If you live a fast-paced lifestyle, a fully automatic espresso maker may be a good choice. Fully automatic espresso makers allow you to pull a shot and walk away while it brews. These machines maintain consistent timing and temperatures for a great cup of coffee each time.
Steaming wand and milk frother
Choosing an espresso machine with a steam wand or milk frother gives you the flexibility to create flat whites, cappuccinos, and lattes whenever you want. Some steam wands are automatic, while others require the user to use barista skills. A machine with a dual temperature control allows you to get the appropriate temperature for espressos as well as steamed milk.
Cleaning and maintenance
Extra bells and whistles may make pulling shots easy. However, keep in mind that your cleaning routine may need to be more detailed. Simpler machines are often easy to clean because they have a less complicated design.
Extra features: built-in grinder, dual boilers, strength/temp control
Once you decide on your price range, you can make a list of the features you want your espresso machine to have. For example, built-in grinders let you pull shots using fresh water every time. 
You may also choose a machine with double boilers, a pressure gauge, temperature controls, manual settings, dual temperature controls, and more. Make a list of your non-negotiables, and find the best machine for your price range.
How to clean a Gevi espresso machine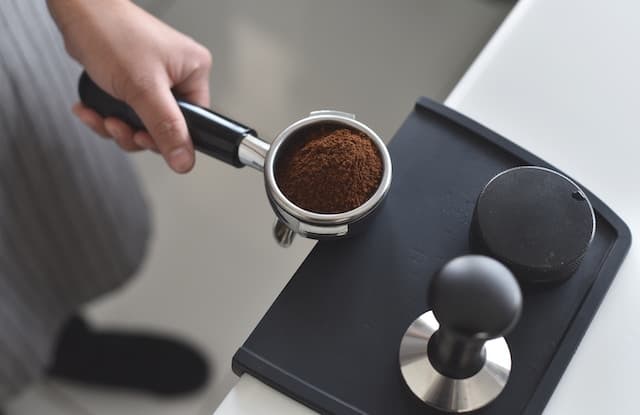 Coffee oils, residue, and limescale can build up in your Gevi machine over time. These deposits can give your coffee an unpleasant stale flavor. However, if you routinely clean and deep clean your machine, you can enjoy fresh-tasting coffee and extend the life of your machine.
Clean your Gevi espresso machine after each use
After you finish brewing your espresso, it is time to clean your machine. This routine doesn't require much time or effort. 
Simply rinse the portafilter, filter basket, and drip tray using hot water. Then wipe down these parts and your machine with a clean cloth.
Deep clean your Gevi machine regularly
The steps to deep clean your Gevi machine may vary slightly depending on the model. However, here are the basic steps you should follow to keep your espresso maker in working order. 
Step 1: Clean the portafilter and basket 
Remove the portafilter and basket from the group head. Empty the used coffee puck from the filter and rinse the portafilter and basket using hot water. Add espresso maker cleaning powder to hot water in a plastic container.
Let the metal parts of the portafilter and basket soak for approximately 15 minutes. Do not submerge the handle in the solution. Then, rinse and dry them.
Step 2: Clean the group head
Run a cycle of water through the group head into a cup. Using an espresso cleaning brush, clean the opening of the group head to remove any leftover coffee grounds.
Step 3: Clean the steam wand
Remove the steam wand tip and clean it under running water to remove dried milk. Add an appropriate cleaning solution and hot water to the milk pitcher. Let the steam wand run for two seconds, then allow the wand to soak in the solution for several minutes. 
Then, wash the milk pitcher and wipe down the steam wand. Purge the cleaning solution from the steam wand by turning it on for several seconds. Keep your hands a safe distance from steam and hot water as you clean.
Use the descaling tablet or solution recommended by your Gevi machine. Add the descaling agent to your espresso machine's water tank. You can press the two-shot button to run the cleaning solution through your machine. 
Or, many machines have specific buttons you should press to begin a cleaning cycle. Once the cycle is finished, empty and wash the water tank. Then run several cycles of clean water through your machine to flush out any leftover cleaning solution.
Cleaning and descaling your espresso machine regularly takes a few minutes of your time. However, it is necessary to remove the build-up in your machine for the freshest-tasting coffee. 
Before you start, make sure to check your machine's user manual for tips specific to your machine. 
How to troubleshoot a Gevi espresso machine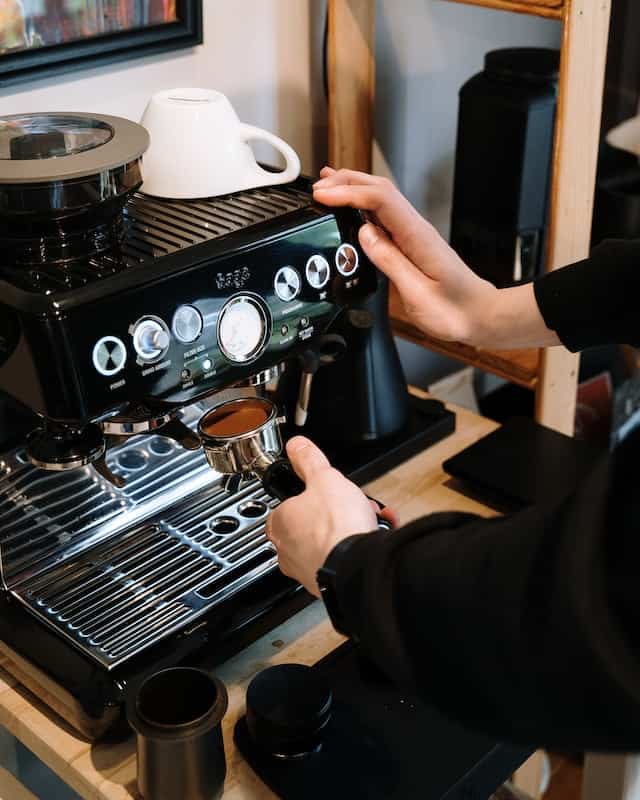 Once you bring your new Gevi espresso machine home, you want it to last as long as possible. Here are some common problems you may run into with your espresso machine and the steps you can take to remedy them at home.
Why are both lights blinking on my Gevi espresso machine?
Just because both lights are blinking on your Gevi machine doesn't mean you need to take it in for repairs. 
Both lights may blink on your Gevi when it is warming up, descaling, or low on water.
Why is my Gevi coffee grinder clogged?
When a grinder is used repeatedly, debris and oils from the beans can cause it to clog up over time. The best way to prevent clogs is to clean the burrs regularly. 
When you grind a dark roast on a fine setting, the natural oils in the beans can cause the burrs to clog. Adjusting your grind size to a medium-fine setting or using a lighter roast can help your grinder do its job well.
Why is my machine leaking water?
When you lift a water reservoir out of its place, you may notice a few drops escaping from the bottom. This is completely normal. 
If the leak is coming from the group head as you brew, it may mean that it is time to replace a gasket or portafilter. If you find other unexplainable leakages from your machine, you can contact Gevi support for advice.
Why is my Gevi espresso machine not pumping water?
If your machine seems to have low pressure, or it isn't pumping water, this may be a sign that you have a clog. Or, your machine may not be pumping water because of a defect in the valve. A worn valve may be accompanied by strange noises emerging from your machine.
Final Verdict
If you want to bring home an espresso maker at a decent price, a Gevi machine may be for you. We've researched the top six Gevi machines that you can currently find on the market. Our top pick in this category is the Gevi 20-Bar Fast Heating Automatic Espresso Machine. This machine has a sleek look, and user-friendly buttons, and heats up in record time. 
Sale
Last update on 2023-09-18
Let us know which Gevi machine is your favorite!
FAQs
Where is a Gevi espresso machine made?
Gevi is an Italian-based brand that opened its doors in 2018. Its espresso machines are based on Italian designs. However, the machines may be manufactured in other countries such as the Netherlands or China.
Does Gevi make a good espresso machine?
Gevi offers a variety of beginner-friendly espresso machines to give you good flavor at a great price. You can find many Gevi espresso makers for less than $200 that offer several amenities such as quick-heating, precise temperature controls, dual thermostats, fully automatic controls, and more. 
Coffee Has Never Read This Good!
Sign up for a FREE newsletter to the best home brewing tips and guides
Thank you for subscribing to The Cup Coffee House Crew! There's a surprise in your Inbox 🙂
Something went wrong.
About the Author
Latest Posts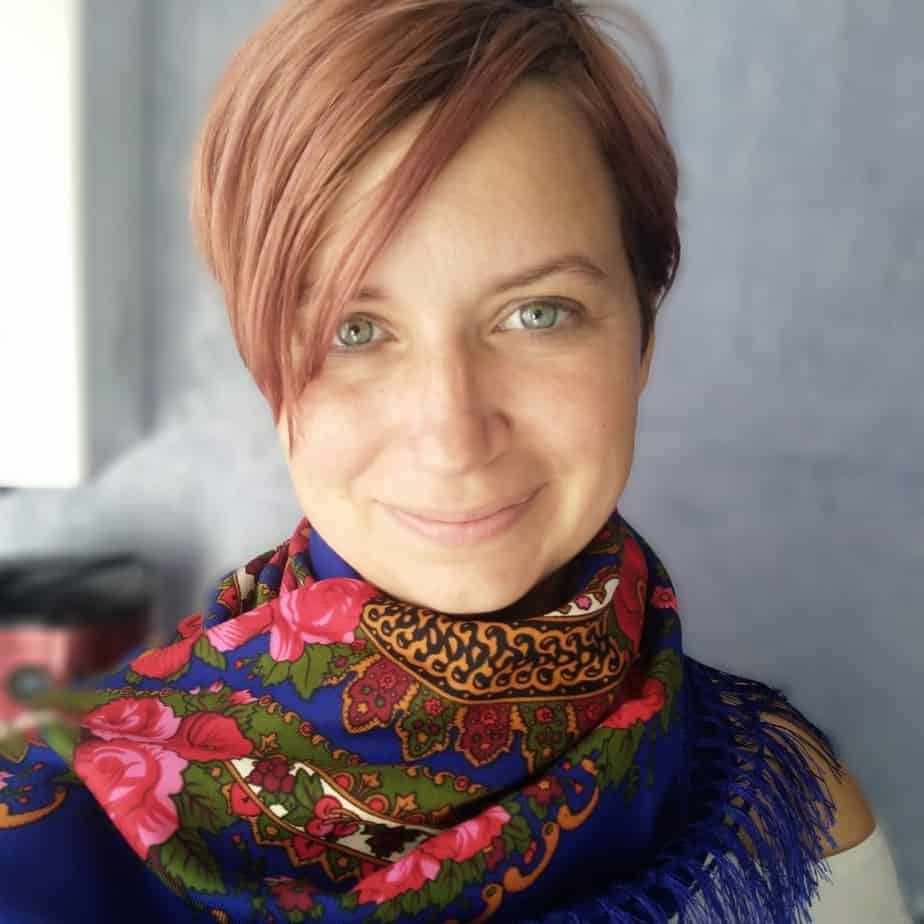 Alex Praytor worked her first job as a barista, finished college, and then took a tour to the other side of the globe. She fell in love with espresso and her would-be husband in Europe. She spends her spare time visiting native Texas landmarks, ancient castles, and all the coffee shops she finds along the way. At home, she is a mom, ESL teacher, and writer, who hones her coffee-making skills daily. She enjoys passing on her coffee findings to fellow caffeine addicts in search of the perfect cup.
Chief Editor