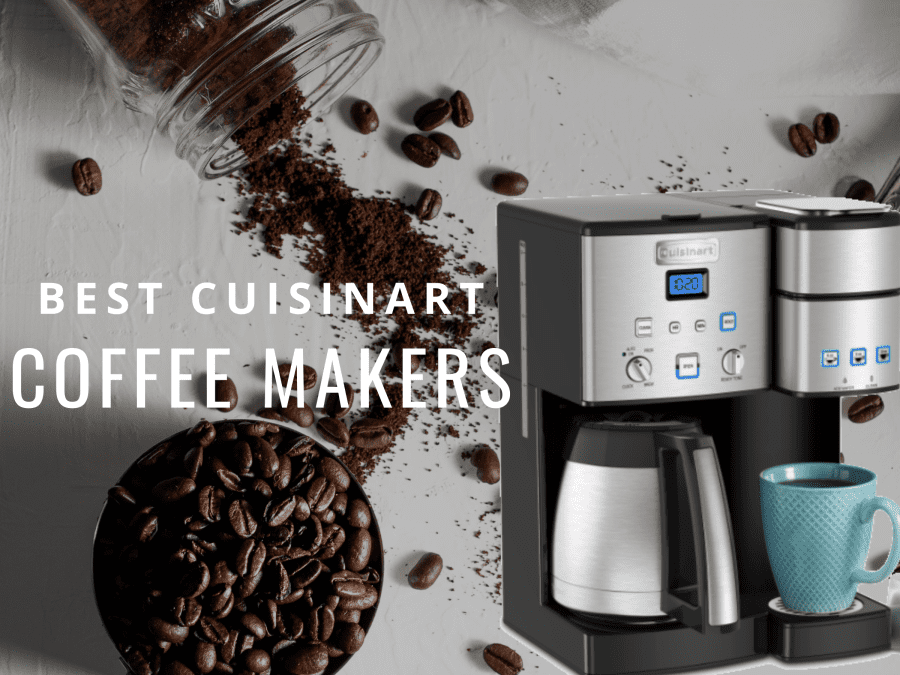 Cuisinart opened its doors in the 1970s. Since then, Cuisinart appliances have made their way into many kitchens in America and worldwide. There is a good chance you own at least one Cuisinart appliance (if not more!) So what makes Cuisinart such a popular brand?
Cuisinart is a world-renowned brand that makes high-quality products and sells them at accessible prices. Not only are their machines found in many household kitchens, but they have also been put to the test in offices and even space stations. So, if you are looking for a Cuisinart coffee maker, you've chosen a reliable brand.
But, what is the best Cuisinart coffee maker for you?
Cuisinart has many different types of coffee makers to suit different tastes and needs. You can find single-serve machines, pod-compatible machines, 14-cup carafes, hot water taps, and even an automatic cold brew machine on Cuisinart's list of coffee makers. 
Let's take a look at what these Cuisinart coffee makers have to offer.
---
The Best Cuisinart Coffee Machines on Today's Market
What we like:
Large 14-cup capacity 
Charcoal water filter 
Permanent gold tone filter
Fully automated and programmable
"Brew very hot" function 
Small batch option
Auto-shutoff
What we don't like:
Water tank is not removable
Review:
This sleek-looking Cuisinart machine has one of the largest capacities of any coffee machine on the market. Its compact design doesn't take up much extra space on your countertop, either. It comes with many of the usual amenities such as auto-shutoff, 24 hour programming, and a small batch option.
But, it also comes with an extra perk– it is certified by the Specialty Coffee Association. This means that the water temperature meets the rigorous "golden cup" standard, which can improve the flavor of your brew. 
If you like your coffee even hotter than the SCA, you can use the "brew very hot" function. This ensures you get a piping hot cup of coffee.
Another appealing feature of this machine is that when you turn it off, all the digital buttons turn off leaving just the time visible. This contributes to its classy design.
The Cuisinart DCC-T20 has a clean, upscale look and includes some neat features to stand out from the competition. If you have several coffee drinkers in your household, this coffee maker can brew a large, tasty batch of coffee to satisfy the crowd.
Customer thoughts:
Most customers enjoyed that this coffee maker was quiet and easy to use. They appreciated the bold brew setting and overall flavor of the coffee. Some wished that the water tank was removable. Overall, this machine gets a positive 4.5 rating out of thousands of reviews.
Our verdict:
The Cuisinart DCC-T20 is a compact, sleek machine that will fit nicely on a kitchen counter. We love that it extends the usual 12-cup pot to 14-cups. While the extra 2 cups might not be a lot, it could be just the extra top-off you need. This Cuisinart coffee maker is perfect for larger groups at home or at the office while still being space friendly.  
For a more in-depth look, check our full Cuisinart DCC-T20 coffeemaker review.
What we like:
14-cup glass carafe
Bold brew option
Hotter coffee
Adjustable auto-off 
Brew pause feature
Gold-tone filter
Charcoal water filter
Inexpensive
What we don't like:
Setting the hot plate to the high setting may cause the hot plate finish to flake over time.
Review:
This Cuisinart DCC-3200 has a 14-cup glass carafe like the Cuisinart DCC-T20. However, this model is in the $100 range, which makes it the cheaper machine. This Cuisinart has a classic stainless steel look with a simple button interface. You can also count on hotter coffee then your average cup of joe. And you won't have to give up flavor to do it!  
It also comes with a permanent gold-tone filter and charcoal water filter for clean-tasting coffee.
If you want a great coffee maker at an affordable price, this Cuisinart PercTemp is a great one to check out.  
Customer thoughts:
Customers loved the great flavor and hot temperature of the coffee from the Cuisinart DCC-3200 PerfecTemp. This machine has a pretty solid fan base with a  4.6 rating out of 27,000+ reviews. 
Our verdict:
The Cuisinart DCC-3200 has a simple, user-friendly design and great features. It might not have the sleek look of the DCC-T20, but, this machine is about $30 cheaper. With its durable stainless steel casing and solid reviews, this coffee maker is the best value of all the coffee makers we found!
What we like:
12-cup tank
Internal double-walled coffee storage
24 hour advance brew setting
Small brew setting
Empty-full tank gauge
Cord storage
Auto shutoff
What we don't like:
Review:
Maybe you are a social coffee drinker, or perhaps you like to drink a hot cup before the rest of the gang wakes up. Either way, this Cuisinart coffee machine can be exactly what you need in a busy household. The Cuisinart Coffee on Demand can brew up to 12 ounces of coffee using a showerhead drip coffee style which extracts the grounds evenly. 
When it is done, you can dispense exactly the amount you want directly into your mug or travel cup. (Note: The largest mug that will fit under the spigot is about 6 ½ inches.) The rest of the coffee stays warm in the double-walled tank. You even have a handy gauge that tells you whether the coffee tank is full or running low. 
We've talked about coffee machines similar to this in the past with the Hamilton Beach Brew Station, and we like this innovative approach.
So if you like to sit down and drink coffee together, you have that option. However, if you wake up at different times, the coffee can stay warm and ready inside the machine. 
Customer thoughts:
Most customers thought the coffee from this Cuisinart machine had a strong, robust taste. Also, they liked that you don't have to worry about spilling coffee since the coffee pours from the machine directly into your cup.
Our verdict:
The Cuisinart Coffee on Demand is an easy way to get a morning cuppa of drip coffee! You can make coffee for one or let each member of your family self-serve from a full tank. We love that the coffee stays warm on the inside and eliminates the need to pour from (or break) a glass carafe.
#4. Best with Built-In Grinder:
What we like:
Thermal stainless steel carafe
Small footprint
Grind-off feature
4-hour auto-shutoff
Permanent water filter
What we don't like:
Grinder may jam on fine settings
Review:
There is nothing better than coffee made with freshly ground coffee! You get so much more flavor, but it's also a bit more work to grind the beans before you brew. However, the Cuisinart Grind and Brew makes the process much simpler. Not only does it grind your coffee beans, but it also makes your coffee. That sounds like a win-win! 
The grind size is adjustable. However, Cuisinart recommends using the medium-grind preset for the best coffee flavor. If you grind the beans too fine, it can block the grinder or over extract your grounds.
If you have ground coffee on hand that you want to use, simply turn off the grinder and brew coffee normally. 
Customer thoughts:
Most customers loved the flavor of the brew. Some mentioned that the grinder is loud, but that is pretty usual with any grinder. 
Our verdict:
We love the concept of having an all-in-one coffee maker that not only brews but also grinds coffee fresh. This makes your morning coffee ritual more streamlined. Also, it saves space on your countertop by combining two appliances, a brewer and automatic grinder, into one. 
For a more indepth look, check out our full Cuisinart DGB-550 review here.
You may also consider the Cuisinart DGB-900BC Grind and Brew as well.
What we like:
12-cup glass carafe
2-hour auto-shutoff
Brew-pause
Descaling alert
User-friendly
Inexpensive
What we don't like:
No water window to show the water level.
Review:
This Cuisinart DCC-1500 is one of the most affordable Cuisinart coffee machines. You can find this basic model for less than $50, but it still has some nice features.
This 12-cup pot features an auto-shutoff, a descaling alert, and a brew pause option where you can grab a cup while the pot is still brewing. It also has a showerhead drip style which will give your grounds an even extraction for great flavor.
This is a great coffee maker for someone who wants a very straightforward machine that is easy to use. Since this machine has very few buttons and a simple layout, you can make your morning coffee with ease.
Customer thoughts:
Most customers were very pleased with the taste of the coffee and the price of the machine.
Our verdict:
Cuisinart DCC-1500 is simple but has most of the features you want to see on a coffee pot. It's not only a great little machine, but it is also kind to your budget.
What we like:
4-12 oz brew sizes
72-ounce water reservoir
K-pod compatible
Fully auto programmable
Includes HomeBarista reusable filter cup
Adjustable temperature control
Auto on-off
Instant auto-rinse
Travel mug compatible
What we don't like:
Review:
This Cuisinart Single-Serve Premium machine has a lot of great features. You can brew a Keurig K-cup or add your favorite coffee grounds to the HomeBarista reusable filter. The temperature control allows you to get a piping hot cup of coffee, or scale down the heat depending on your preference. 
With the press of a button, you can also get hot water to make tea, cocoa, or instant oatmeal.  The large 72-oz water reservoir means you don't have to fill up your machine for each cup. This machine will even auto-rinse after you brew your coffee. 
The Cuisinart Single Serve Premium coffee maker gives you a lot of options to make a quick cup of coffee for one. It even accommodates a travel mug.
Customer thoughts:
Many customers loved that this Cuisinart coffee maker makes a fast, hot cup of coffee. When compared to the Keurig, most said the Cuisinart heats up faster and offers more brew sizes. Many also said that this Cuisinart has outlasted many Keurig models. 
Our verdict:
The Cuisinart Single-Serve has a lot to offer if you need to take a quick cup of coffee on the go. It is K-cup compatible and also allows you to use your own coffee grounds. It cleans itself and lets you drink coffee (or tea) just how you like it. This coffee machine can be a great option for a busy household or for your own personal use at the office or on the go.
What we like:
12-cup capacity
Independent 54 oz hot water system
Brew-pause feature
4-hour auto-shutoff
24 hour programmable
Self-cleaning  
Adjustable hot plate temperature
What we don't like:
Hot water may not be hot enough for some.
Review:
If you have a house divided between coffee and tea drinkers, Cuisinart's CHW-12 may be a machine to satisfy you all. This coffee maker has a 12-cup coffee maker on one side, and a separate hot water tap for tea drinkers, cocoa, or instant cereal on the other.  
The 52-ounce hot water system is completely independent from the coffee maker. This means you can run coffee and hot water separately, or, at the same time.
If you like your cup of coffee hotter than the average joe, you can adjust the temperature to suit your taste. The Cuisinart CHW also shuts off automatically and self cleans. You can auto program your coffee machine the night before and have coffee ready when you wake up. While you brew your coffee, the tea lovers can steep their tea.
Customer thoughts:
Most customers love the convenience of having both coffee and hot water on tap. Some customers suggest adding fresh water each time to the hot water side before each use. This ensures you get the cleanest-tasting hot water. Other customers noted that their machines did not reach past 200 degrees F when heating water.
Our verdict:
The Cuisinart CHW-12 leaves your options open when it comes to your morning drink. For right around $100, this dual-purpose machine has a great value and lots of versatility.
What we like:
Single Serve:
3 cup sizes: 6 oz, 8 oz, or 10 oz
Separate water reservoir
Compatible with any brand including Keurig K-cup pods
Reusable gold tone filter for coffee grounds
40 oz. removable water reservoir
Carafe Brewer:
12-cup capacity
Separate water reservoir
Brew strength options
24-hour brew start
Self-clean 
Adjustable auto-off 
Ready alert system
What we don't like:
Water reservoirs are somewhat difficult to access.
Review:
If you like a quick on-the-go cup during the week, but enough coffee to serve friends on the weekend, a Cuisinart SS-15P1 Coffee Center is a great option. While many coffee combo machines share a water reservoir, this model gives you a separate water tank for the carafe and the single-serve sides. This makes it easy to keep on top of your water use. 
You can also choose the brew strength you want. This allows you to tailor the flavor of your brew to your personal preferences. 
The Cuisinart Coffee Center allows you to use any brand of coffee pods, even Keurig! You can also brew using your own grounds with the reusable filter. 
Whether you are in a hurry or want to enjoy a cup of coffee with friends, this machine has got your back.
Customer thoughts:
Most customers agree that this pot is easy to use and durable. For the single-serve side, you want to make sure to insert the filter basket or pods appropriately. This will prevent your coffee pods from bursting and creating a mess.
Our verdict:
If you can't decide between a single-serve machine and a carafe, you can just get both with the Cuisinart Coffee Center. This sturdy machine is perfect for a crowd and convenient when you just want to take your travel mug on the go.
What we like:
64 oz. capacity
SCAA Certified
Pour-over style
Adjustable coffee strength: mild, medium, bold
24-hour programmable settings 
Auto shut off 
Self-clean
Brew Pause
Charcoal water filter
Stainless steel permanent filter
What we don't like:
The price is around $200.
Review:
This stainless-steel Cuisinart can replicate the taste of pour-over coffee. But instead of taking water temperature and carefully timing a manual pour, this machine goes through the process automatically for you. So, if you are a coffee snob when it comes to taste, but don't feel the need or have the time to be part of the process, this Cuisinart CPO-850 could be an excellent choice. You get the same great taste and a consistent cup of coffee. 
This coffee maker is also certified by the Specialty Coffee Association and meets their "Gold Cup Standard." That means this coffee maker brews at the correct temperature and ensures you get great flavor from your cuppa. 
On this model, you also get a stainless-steel thermal pot. The thermal carafe can keep your coffee warm without the risk of burning it or changing the flavor. It is also much more durable than a glass carafe and can stand up to wear and tear.
The Cuisinart CPO-850 is definitely pricier than a manual pour-over coffee maker. However, it can save you time and labor. It can also deliver a consistently good cup of coffee each time (instead of you trying to hold your mouth just right!) 
Customer thoughts:
Most customers love the way the coffee tastes from the CPO-850. They can get the taste of pour-over coffee, but instead of making it cup by painstaking cup, you can brew for a crowd.
Our verdict:
We love that this Cuisinart coffee maker gives you a great pour-over taste in a simple automatic pot. However, the price tag may be a bit daunting for some. But may also be worth it if you appreciate the subtle flavors of well brewed coffee.
What we like:
7-cup capacity 
Glass carafe with stainless steel filter lid 
Ready-to-drink cold brew in 25 minutes
Adjustable strength settings
Glass carafe can be used to store coffee
Dishwasher-safe parts
What we don't like:
Review:
Starbucks got many of us hooked on the smooth, rich flavor of cold brew coffee. Cold brew is less acidic and often packs in a bit more caffeine than your regular drip brew. However, cold brew coffee can be a 12 to 24-hour process. That's a little too long for most of us! 
Cuisinart came out with an automatic cold brew coffee maker that cuts the brew time way down. In fact, you can brew a smooth-tasting 7-cup pot in under an hour. For a mild brew, it takes as little as 25 minutes. If you prefer a bold brew, it takes only 45 minutes to brew.
This coffee maker doesn't take up too much of your counter space and you can store your cold brew in the glass carafe. If you are sold on this machine, you can bring it home for less than $80.
Customer thoughts:
Most customers loved the flavor of Cuisinart's cold brew coffee. The price is right, and this automatic brewer can produce a cold brew in record time. Some cons customers saw with this machine was that it is rather noisy. Also, some had to filter their coffee after brewing.
Our verdict:
The Cuisinart Automatic Cold Brewer may be for you if you love the taste of cold coffee. You can adjust the brew strength and save on hours of brew time. The price is not bad, either.
What we like:
4-cup capacity
Stainless steel thermal carafe
Brew Pause feature 
Small footprint
30-minute automatic shutoff
Uses cone-shaped filters
What we don't like:
Review:
If you have a tiny house, RV, or just a small counter space, this Cuisinart 4-cup coffeemaker should fit easily into your space. It is one of the most basic models, with a simple on-off switch. However, you do get a few helpful features such as the brew-pause feature and 30-minute automatic shut-off. 
The Cuisinart DCC-450BK also comes with a thermal carafe. Especially if your home is on wheels, this stainless steel carafe can stand up to wear and tear much better than a glass one. 
This coffee maker model is nothing fancy. However, it is simple to use and the price is right!
Customer thoughts:
Users of this coffee maker like that it is compact, simple, and makes good coffee. Some wished the coffee was a bit hotter. Overall, this basic machine got several thousand positive ratings on Amazon. It found its way into RVs and onto office desktops around the world.
Our verdict:
This Cuisinart coffee maker is pretty basic, but that isn't always a bad thing! If you like to make a cup of coffee for one or two people without the need to pull out a user guide, this tiny machine may be a perfect choice!
What to look for in a Cuisinart coffee maker (Buyer's Guide)
If you've narrowed the 100's of coffee maker choices down to the Cuisinart brand, you're already closer to getting the right machine for you. Still, Cuisinart has a variety of coffee makers that have a lot of great features. So, which one is the best choice?
Here are a few factors to consider when buying a Cuisinart coffee maker:
Durability
If you want a durable coffee maker, consider a machine with more stainless-steel parts than plastic. Also, you may want to choose a thermal carafe over a glass one. If you have many coffee drinkers in your household, getting a machine that can withstand the wear and tear is especially important. 
Carafe size
When you are looking at carafe size, think about how many coffee drinkers your machine needs to serve regularly. If there are several coffee drinkers in your household, you make look at a pot that makes at least 10 cups. Keep in mind that a "cup" on a coffee machine means about 5 oz. So, a 4-cup coffee maker gives you the equivalent of one Starbucks Venti-size cup. 
If the coffee drinkers in your household have different schedules and drink coffee at different times, consider a single-serve or coffee-on-demand coffee maker.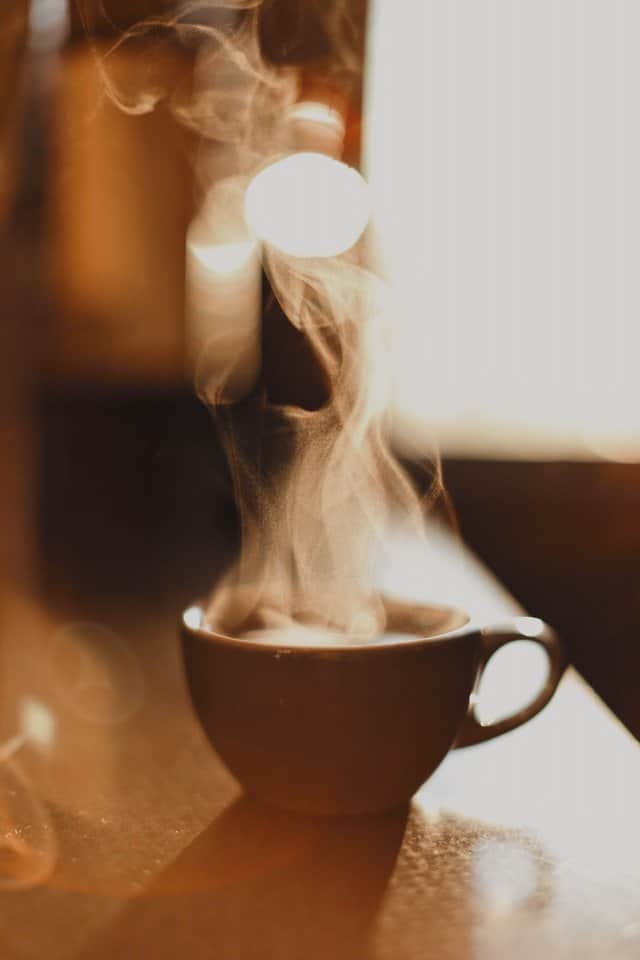 Special Features
What special features are important to you and which can you live without? Do you need an auto-shutoff feature, a programmable pot, or brew and pause? Or, perhaps you prefer a strong brew option and an adjustable hot plate. Deciding which features are top priorities helps you find a machine that fits into your budget.
Budget
Once you've made a list of your must-haves in a coffee maker, see how it fits into your budget. If you have a small household, or you are the only coffee drinker in your household, you might get away with a four-cup or single-serve machine. Not only are these usually cheaper, but they also can get you your morning cup of coffee faster. 
However, if you need a lot of coffee to start your day off right, it may be worth getting a pricier machine that will meet your needs. Look at what the warranty options are, reviews on Cuisinart customer service, and how available spare parts are for your dream machine. This will give you a good idea if you are getting a good value for the price. 
Are Cuisinart coffee makers worth it?
The Cuisinart brand is a staple in many American homes. They make a variety of kitchen appliances. When it comes to coffee makers, Cuisinart has several models that fit a variety of needs and can fit into different budgets. This makes it easy to find a machine that is right for you! 
The life expectancy of coffee machines (of most brands) is about five years. Most Cuisinart coffee makers come with at least a three-year warranty when you buy one new. With proper care and cleaning, many coffee makers can last up to ten years.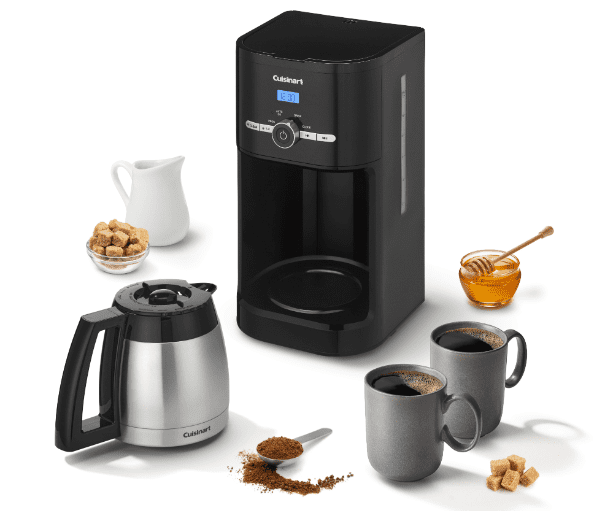 How to clean a Cuisinart coffee maker
Coffee makers should be cleaned regularly after each use. You'll want to wash the pot and check to make sure the filter basket and drip spout are clean. This prevents bacteria or mold from building up in your machine and gives you a clean taste. 
Every few months you should also descale your machine. This is a more thorough cleaning job for your machine. It will remove calcium and mineral deposits or limescale build-up. If you have a high-performance machine, it may alert you when it is time to be cleaned.
Cuisinart coffee makers are usually straightforward to clean. If your machine has a self-clean option, simply fill one-third of the tank full of vinegar (or another recommended cleaning solution). Then fill the rest of the tank up with clean water. 
Press the self-clean button and wait for the self-clean indicator light to turn on. Turn the coffee maker on and make sure the self-clean light continues to glow. Allow the machine to complete its cleaning cycle.
The cleaning directions may vary for different models, so make sure to check your user manual before starting a cleaning cycle. Most coffee makers require descaling every three to six months. However, if you live in an area with hard water, you may need to descale more often. Or, you can choose to use bottled water.
Final Verdict
Cuisinart has coffeemakers and a wide variety of other appliances in households worldwide. You can expect quality and durability from this well-known brand. While there are a lot of Cuisinart coffee machines to choose from, we narrowed down the picks for you to the top ten models. 
Whether you drink coffee alone or invite your family and friends, we're sure Cuisinart has a model to suit your needs. We chose the Cuisinart 14-cup DCC-T20 as the best overall pick for its features and compact size. 
Let us know your favorite Cuisinart coffee maker in the comments!
FAQs
Why are the lights on my Cuisinart coffee machine flashing?
When there is a build-up of calcium or "scales" on a Cuisinart coffee machine, you need to clean your machine. The clean light flashes to alert you that your machine needs to be descaled. Cleaning your machine regularly gives you better-tasting coffee and keeps your machine from malfunctioning.
How many people does a 12-pot coffee maker serve?
Coffee makers measure one "cup" differently than what many coffee drinkers expect. While a U.S. measuring cup is a little over 8 oz, a cup on a coffee pot is only 5 oz. This means that a 12-cup coffee pot should hold about 60 fluid ounces of coffee at full capacity. One 12-cup pot of coffee should serve six people a 10-ounce mug of coffee each. That is a little less than a tall-size beverage at Starbucks.
Does Cuisinart offer a lifetime warranty?
Most Cuisinart cookware comes with a lifetime warranty in the U.S. and Canada. However, Cuisinart coffee makers generally come with a three-year limited warranty. This warranty can cover defects in materials or workmanship when the machine is being used normally in a home. After you purchase your Cuisinart coffee maker, you will need to register your machine on Cuisinart's website to activate your warranty.
How often should I replace a charcoal water filter?
Often, high-end coffee makers will include a charcoal water filter with the purchase of a machine. Charcoal water filters do a great job at cleaning water. They can filter out impurities in water like chlorine and calcium. This can give you cleaner water, tastier coffee, and can also protect your machine from limescale build-up.
Most charcoal water filters will need to be replaced about every two months or after 60 uses. When you descale your machine, it is wise to also change out your charcoal filter.
Coffee Has Never Read This Good!
Sign up for a FREE newsletter to the best home brewing tips and guides
Thank you for subscribing to The Cup Coffee House Crew! There's a surprise in your Inbox 🙂
Something went wrong.
About the Author
Latest Posts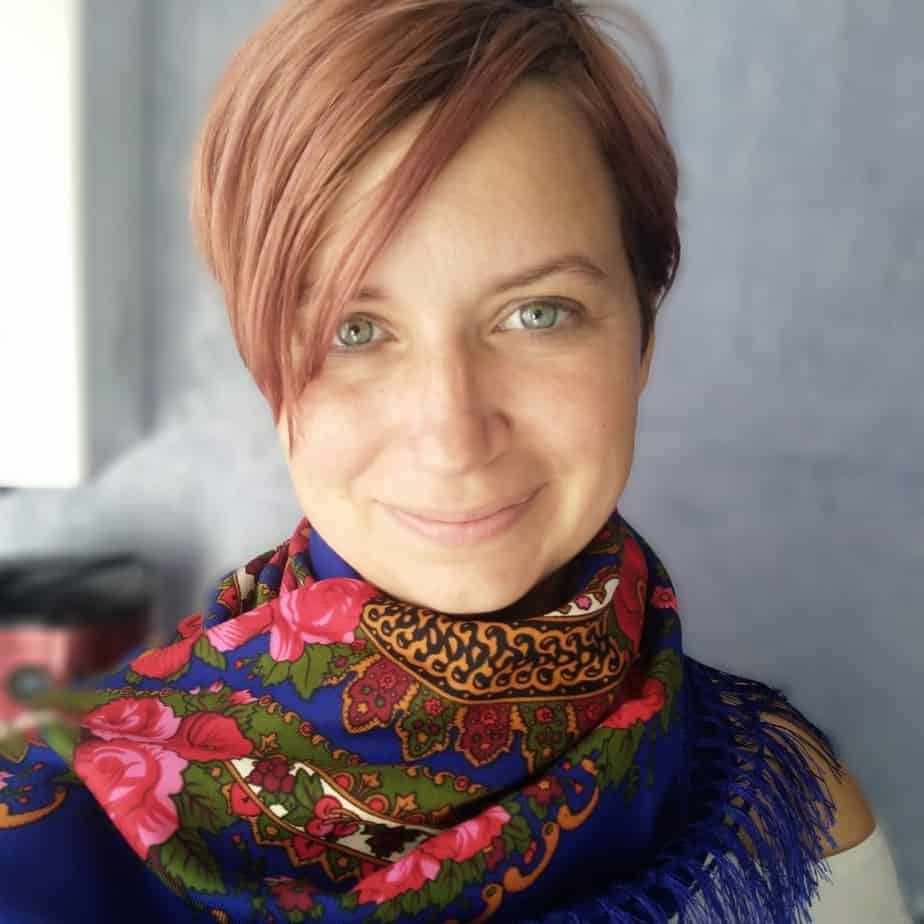 Alex Praytor worked her first job as a barista, finished college, and then took a tour to the other side of the globe. She fell in love with espresso and her would-be husband in Europe. She spends her spare time visiting native Texas landmarks, ancient castles, and all the coffee shops she finds along the way. At home, she is a mom, ESL teacher, and writer, who hones her coffee-making skills daily. She enjoys passing on her coffee findings to fellow caffeine addicts in search of the perfect cup.
Chief Editor