Last updated on July 17th, 2023 by Alex Praytor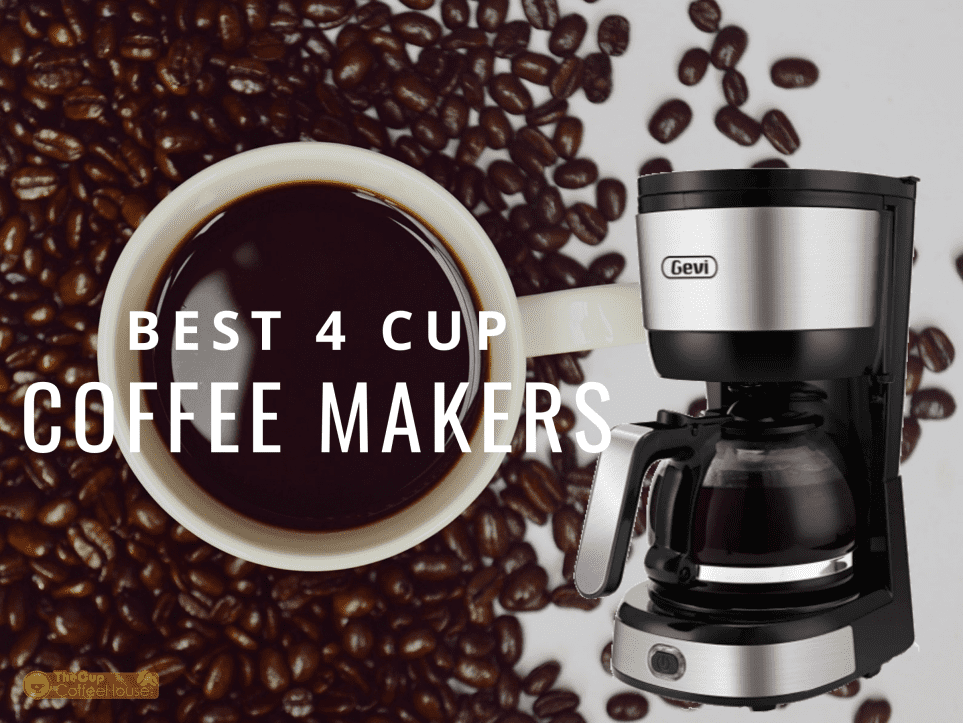 Coffee is a great way to start the morning off right. You can brew your first cup before you start off your daily routine and share a cup with others in your household. However, if you live alone, or if you only have 1 or 2 dedicated coffee drinkers in your family, you may not want to take up your counter space with that behemoth 12-cup coffee maker. 
For everyday use, a 4 cup coffee maker can be the perfect size for you to brew a few cups to get your morning started. For that once or twice a year when family comes over at holidays, you always can just pick up a Starbucks Traveler to go!
A 4 cup coffee maker will generally serve 1 to 2 people. This small-size machine can save you counter space (and cash!) and is programmed to brew small batches. While you may notice a loss of flavor when you brew a small batch of coffee in a 10 or 12 cup coffee maker, a 4 cup coffee maker is designed to pack a great taste in a small size. 
We invested 30+ hours of time and research into uncovering the best 4 cup coffee makers for your 2-cup of coffee morning. These coffee makers range from simple to elegant to just plain cute! Though they might be small, they can still pack a punch.
Want the cliff notes version? Our overall best 4 cup coffee maker award goes to the Gevi 4-Cup Coffeemaker. This machine has a lot of great features and over 1,000 positive ratings, as well. It has a small scale size and at under $50, can fit into a budget nicely. If you are looking for a compact coffee maker that takes up little space but brews a hot delicious cup of coffee for 2-3 people on a budget, this is a great option for you.
Sale
Gevi 4 Cup Coffee Maker
This 4 cup brewer is compact, easy to use with a touch of a button, and brews great coffee for a small group on a decent budget.
Last update on 2023-09-18
---
Why a 4 Cup Coffee Maker?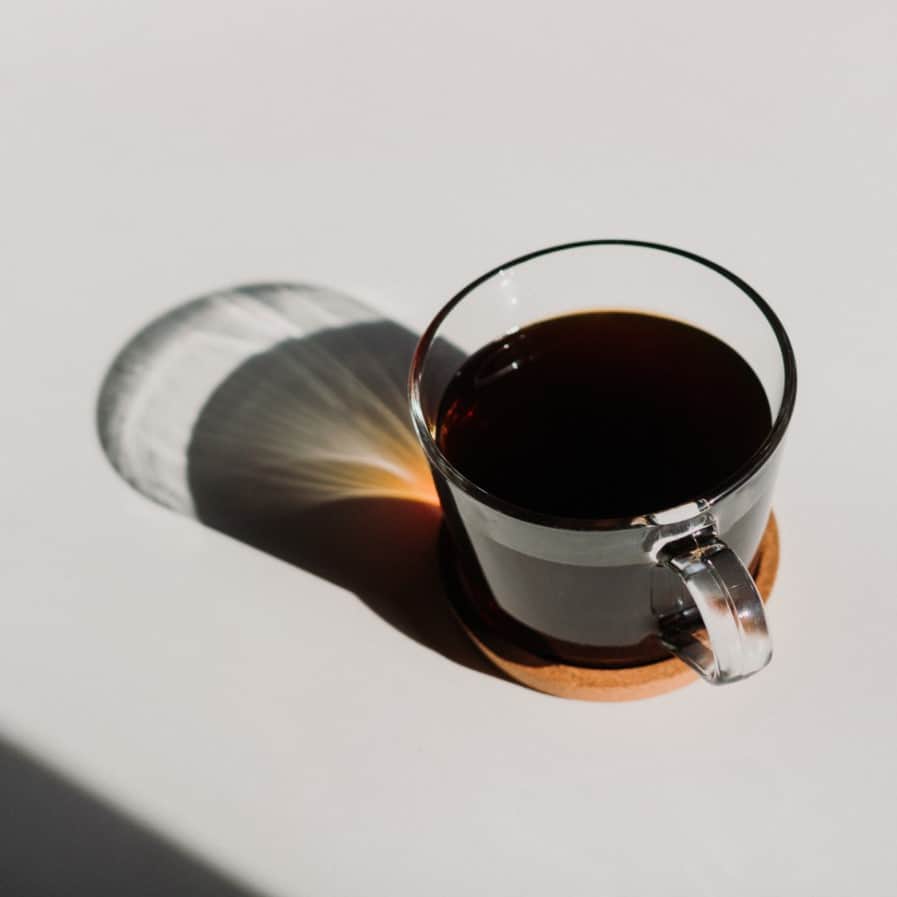 It's usually best to choose a coffee maker that brews at a capacity that is close to the amount you drink on a daily basis. Not only does this smaller size coffee maker save space on your countertop and save energy by running a smaller machine, but it can also give you optimum flavor. 
This is because most coffee makers extract your brew based on a full-sized pot. So, if you have a 12-cup coffee maker, your brew will taste best when brewing 12-cups. If you have a 4 cup coffee maker, your brew will taste best at 4 cups. 
Some coffee makers make an effort to adjust the extraction rate by offering a "small batch" option or a "1-4 cup" button, but not all.
If you plan to drink about 2 mugs of coffee, a 4 cup drip coffee maker could be your perfect size. This will help make sure you use your available resources optimally and get the best flavor from your brew. 
Measuring Your Coffee Into Cups
The word "cup" can be misleading when you enter the coffee world. If you've ever used the cup lines on your coffee carafe only to be dismayed at how little coffee it gave you back, you're probably already onto this discrepancy. 
The size of a measuring cup varies depending on who you ask (and on what side of the globe). Here in America, it measures to 8 fluid ounces. In Japan a cup measures out to 6.7 fluid ounces, while our neighbors in Canada measure a cup as 7.6 ounces.
However, the "cup" on your coffee maker does not align with any of these measurements. It is only 4-6 fluid ounces. This difference in liquid measuring cups and coffee maker cups can throw you off when you're trying to figure out how much coffee you should brew. I think someone in the coffee manufacturing world drinks out of a much smaller coffee mug than the rest of us! 
Anyway, this means you're looking at brewing up about a 20 fluid oz. batch of coffee. This will be about 2 decent-sized mugs. A 5 cup coffee maker will brew a little more at 25 oz.
How to Choose the Best 4 Cup Coffee Maker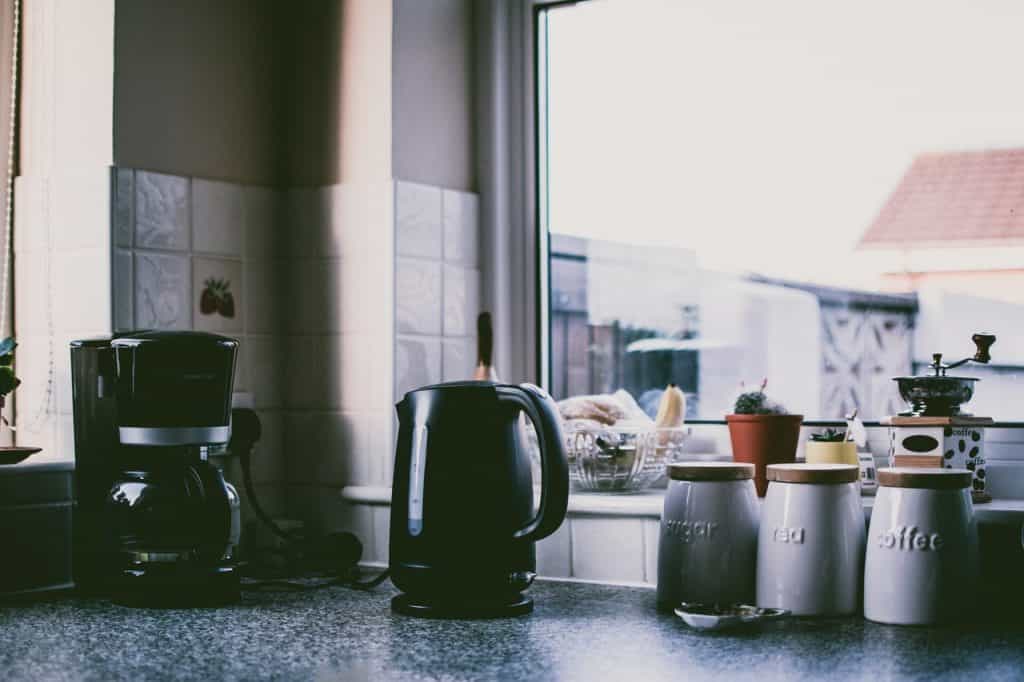 When choosing our best 4 cup coffee makers, we looked for some tried-and-true brands and also found a few unique models. On our list, there is a little something for everyone! We ranked these machines using the following criteria:
1. Is the quality and performance adequate?
What materials is this coffee machine made with (ie. stainless steel, BPA free plastic)? How long does it last the average coffee drinker? Does it perform consistently and effectively with each brew? Does the flavor keep you coming back each morning? Is the brewing time fast enough to get hot coffee when you're in a rush?
These are questions we looked at to rank these 4 cup coffee machines as we considered its performance and quality.
2. What unique features does this 4 cup have to offer?
Each coffee maker is different with different features to offer! While all of these coffee maker had basic functions, some came with unique features such as an entirely manual machine or a coffee maker that foams your coffee in Turkish style. Convenience features like auto pause or programmable are also nice too.
3. How big is "small"?
When looking for a 4-cup coffee maker we wanted to make sure the size of the machine was actually a small coffee maker. Each coffee maker ended up being only 9 or 10 inches tall. The Mr. Coffee machine reads that it is over 14 inches high, but it seems this measurement was wrongly applied to this 9-inch tall machine.
A benefit of choosing a 4-cup coffee maker should be that it saves you counter space, which is especially helpful for travelers or college students.
4. How do other coffee drinkers feel?
For these small-scale coffee brewers, we leaned into customer opinions to glean their thoughts on the best 4 cup coffee makers. While we wanted to make sure the features were there, we also wanted to make sure they work as promised!
5. Do I know this brand?
As we researched, we came across well known brands that have built trust with consumers over the years like Cuisinart and Mr. Coffee. At the same time we came across new comers who had something cool and amazing to offer small batch coffee drinkers.
We considered brand power but we really focused on the above factors more. Deciding for yourself how much you value brand reputation will be important as you review the qualities of each 4 cup coffee maker on this list.
6. Does the value fit the price?
While price can often point to a higher-quality coffee maker, it doesn't correlate 100% of the time. Also, while we love a great price as much as the next person in line, this doesn't get the first check on our list.
With these small coffee makers, we focused less on the price tag, and more on what this 4 cup brewer can do for you! However, you will notice that one of the most inexpensive coffee makers took the top spot this time around.
How We Determined the Best 4 Cup Coffee Maker
Taking into consideration all of the above criteria (performance, quality, size, and pricing) we ranked the following as the best 4 cup coffee makers available. Figuring out what matters most to you and then using this list to fine tune which coffee maker fits your needs is our recommended approach. Let's get started!
Standout features:
One Touch Control
Grab-A-Cup Auto Pause
120 min Keep-Warm Function
120 min Auto-Shut Off hot plate
Boil-Dry Protection
Dishwasher-safe filter, funnel, and glass carafe 
Swing-Out Filter Basket
Reusable Filter 
BPA-free
Things we like:
The Gevi is a one touch coffee maker, which makes it very user friendly. Simply press the start button and watch this bad boy get to work.
This drip coffee maker won't take very long to brew coffee quickly since it's a 4 cup coffee maker. But if you can't wait for the cycle to finish, the coffee maker will kindly pause while you grab a sip of coffee early. 
The Gevi warming plate will keep your coffee warm for 2 hours and then automatically shut off. This automatic shut off feature plus the boil dry protection can give you peace of mind after you leave the house.
If you live in a compact space, this coffee maker can easily tuck into a corner or under a cabinet. The Gevi has a swing-out filter basket for grounds and a small half-lid for filling up the water reservoir.
The reusable filter, funnel, and carafe are all dishwasher safe. So not only can the Gevi make your coffee-making easier, but it can let you off easy at clean-up, as well!
Things we don't like:
While we didn't find alot of negatives, one thing to note is to make sure you keep the water under the 4 cup line. Otherwise, your machine could overflow when hot.
Customer Reviews: Most customers were very happy with this coffee maker. It brews hot coffee fast, and many appreciated the reusable filter included with the machine. 
Final Thoughts: This four cup coffee maker has a combination of great price and value. We like that the Gevi coffee maker is simple to use with its one-touch button, but at the same time, you get the benefit of a lot of great extra features including convenience and safety. The Gevi is perfect for if you are looking for a compact coffee maker that takes up little space but brews a hot great cup of coffee for less than 2-3 people on a budget.
Sale
Gevi 4 Cup Coffee Maker
This 4 cup brewer is compact, easy to use with a touch of a button, and brews great coffee for a small group on a decent budget.
Last update on 2023-09-18
Standout features:
4-Cup stainless steel carafe
Brew-pause feature
30-minute automatic shutoff hot plate
BPA Free
Things we like: 
The Cuisinart has the largest number of positive reviews out of all of the small batch machines on our list. On Amazon, it gets 4+ stars with over 10,000 reviews. 
We like that it comes with a hardy built stainless steel carafe. It also has a brew-pause feature, which can save you a headache (and a mess!). 
This drip coffee maker comes with a warming plate that shuts off automatically after 30 minutes. While this may seem like a relatively short window of time, the thermal pot can keep your coffee warm longer. 
The Cuisinart also gets points for being BPA-free. You can feel safe about the coffee you are drinking.
Things we don't like:
The Cuisinart comes with no light or signal to let you know when your coffee is ready. Since the carafe is stainless-steel and not glass, this can make it difficult to know when it is done. Many customers said that they turn off their coffee maker when it begins to make a hissing noise. Even if the coffee is not yet done, though, the pause-and-pour can kick in to stop the brew while you get a cup.
Customer Reviews: Most customers were pleased with the ease of use of the Cuisinart, and the flavor of the coffee. Some customers agreed that the way the carafe lid was designed made it difficult to use.
Final Thoughts: This coffee maker was a strong contender for the best drip coffee maker slot! Cuisinart is well-known for its quality household products, and this 4 cup machine looks top-notch as well. We like it for its simple lines, great price and durability. 
Cuisinart DCC-450BK 4 Cup
We love the stainless steel carafe, auto shutoff, great price and durability of this popular highly rated Cuisinart 4 cup brewer.
Last update on 2023-09-18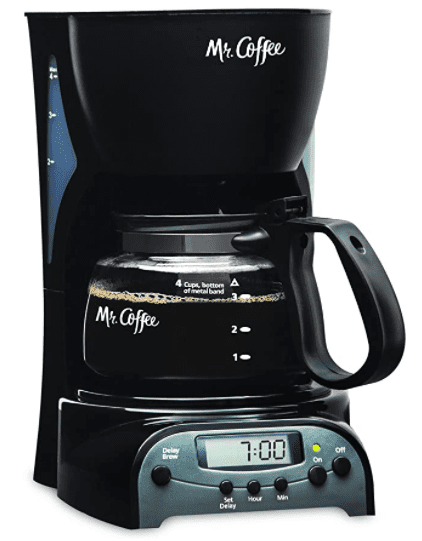 Standout features:
On/off indicator light 
Removable filter basket
Glass carafe
Brewing pause 'n serve
Dual water window
Cord storage
Programmable timer
Automatic warming plate shut-off
Things we like:
Unlike other choices on this list, this Mr. Coffee 4-cup model comes with a timer that you can set in advance. This ensures that when you're up and ready for coffee, your coffee will be ready and waiting for you. 
Another useful feature of this drip coffee maker is the pause 'n serve, which allows you to get a cup of coffee mid-stream without making a mess on your counter. 
After your Mr Coffee finishes its brew, the hot plate will turn off automatically after one hour. Check to see if your machine is off or on by its indicator light. 
This compact coffee maker also comes with a cord holder that will retract as needed so your counter space stays tidy.
Also, the removable filter basket helps you clean your machine quickly and effectively when you are finished with your coffee. 
Things we don't like: 
This handy coffee maker has a lot of great features. However, it would be nice to have more control over its auto-shutoff feature. If you are used to keeping your pot warm for the 2 hours that most coffee machines allow, this early cut-off could be an inconvenience. 
Customer Reviews: Many customers who bought this coffee maker are loyal Mr.Coffee fans. That is already a mark in this machine's favor. There weren't many complaints about this easy to use coffee maker.
Final Thoughts: The Mr. Coffee 4 cup Programmable Coffee Maker is one of the very few 4 cup coffee makers that allows you to set up your brew for the next morning. This seems to be a solid machine with several happy customers. This Mr. Coffee coffee maker can be a great choice for compact kitchen designs and those who value convenience.
For more of Mr. Coffee's best coffee machines, check out our full review and comparison.
Standout features:
Retro style and design
Built in anti drip system
Multiple strength settings
Auto shutoff
Space saving
Permanant coffee filter
25 oz glass carafe
Things we like:
This retro looking coffee brewer livens up a kitchen with its classic 70's style decor feel while still delivering great tasting coffee.
You can choose from strong, medium, to mild coffee strengths. Great for those mornings where you want choice.
And it even comes with a spray head to more evenly disperse water for better balanced extractions. Something like an automatic pour over machine.
We love the autoshut off after 30 minutes of keeping your coffee warm so you don't have to remember to turn off yourself.
The Amaste is simple, easy to use with just one button operation.
Things we don't like:
The Amaste is a bit pricier than our other 4 cup coffee brewing options. But you are paying for style right?
Can be difficult to fill the water reservoir
Customer reviews: Most users were surprised at how flavorful the coffee is you get from the Amaste drip brewer. Of course the style element was very popular and it receives a strong positive rating for its cute space saving charm.
Final Thoughts: We like that this classic looking 4 cup brewer is not only aesthetically pleasing but is easy to use, saves space on your counter tops and actually makes very good hot coffee. For the slightly extra price, we thinks its worth it…probably because we're already in love with the matcha green!
Sale
Amaste Drip Coffee Maker
For a combination of function in ease of use and great tasting coffee with classic retro style, look no further than the Amaste.
Last update on 2023-09-18
Standout features:
Ready-to-serve indicator
Automatic Keep-Warm
Stainless steel carafe construct
Cool-touch knob and handle
Cool bottom
Boil-dry protection
Glass knob
Things we like: 
This cheery red percolator has a lot of great design features. We like the fact that it is designed from stainless steel and includes a stainless steel basket and tube. This will give you a cleaner tasting coffee than other percolators which use aluminum. 
While many percolators tend to over-brew when the cycle is done, this coffee maker will switch to a low heat warmer that won't burn your coffee. 
The knob and handle are cool to the touch for easy serving and it will stop boiling automatically when it runs out of liquid. 
The Gastrorag can brew a cup per minute for a quick and tasty cup of coffee, while keeping your coffee warm longer.
Things we don't like: 
The tube and filter basket are dishwasher safe. However, when cleaning the pot, you will want to make sure that water does not damage the electrical parts at the bottom of the coffee maker.
Customer Reviews: Most customers loved the taste of this coffee and the look of the coffee maker. (Several raved about its glass knob.) Some customers had complaints about the ill-fitting lid with sharp edges.
Final Thoughts: We like the look of this perky little coffee maker! In over 1,000 ratings it has kept 4+ stars, which is a good sign. If you are a fan of simple machines and a bold brew, this percolator could be your coffee maker of choice. 
Last update on 2023-09-18
For more percolator coffee pots, check out our full guides on the Best Camping and Stovetop Percolators.
Standout features:
Manual design
Stainless steel reusable filter
Eco-friendly
Dishwasher/microwave safe glass carafe
Things we like: 
If you enjoy getting all the coffee notes out of your single-origin brew, the sweet design of this Yama will be a nice accent in your home. This coffee maker uses a manual pour-over method and uses no electricity. (Although, you will need to heat your water in some way.) 
This 4 cup pour coffee maker is made from borosilicate glass which is durable and heat-resistant. It is also dishwasher and microwave safe. 
The Yama Glass Pour Over comes with a reusable stainless steel filter. You can choose to add a paper filter for extra protection from your coffee grounds or use it as is. 
You can even make a cold brew with this coffee maker by pouring cold water through a small valve opening over your coffee grounds. Top it off with sweet cream cold foam if you're feeling adventurous!
Things we don't like:
This looks like a fun brewer to try if you have the time for it. If you live in a busy household, it could be frustrating to have to tend your coffee while it brews. However, the result of this manual pour over should be a delicious cup.
Price is a little on the higher end
Customer Reviews: Most coffee drinkers loved the look and function of this coffee maker. The main recurring complaint was that it did not come with instructions for how to use it properly. Most chose to follow instructions online for pour over coffee. 
Final Thoughts: We like this elegant-looking coffee maker for pour over and its eco-friendly design. With the Yama Glass Pour Over, you will have much more control over the extraction of your brew. You can learn to adjust the time, water temperature, and grind size to get your perfect cup! If you are looking to become more involved in your brewing coffee process, this could be a fun brewer to try.
Yama Glass Pour Over
The Yama Glass pour over is a manual brewer with borosilicate glass carafe, reusable filter perfect for precise control and extractions with max flavor.
Last update on 2023-09-18
Standout features:
On/off indicator light
Grab-A-Cup Auto Pause feature
Dual water window
Removable filter basket
Stain-resistant hot plate
Things we like:
This Mr. Coffee coffee maker has a friendly design that allows you to see how much water you have left in your tank from both sides. 
Like the 4-cup coffee machines before it, Mr. Coffee will pause the brew while you dip in for a quick taste mid-brew. 
This coffee maker is simple, classic, and no-nonsense. You get 2 8 oz. cups worth of coffee in your glass carafe fast.
Things we don't like:
Unlike the Mr Coffee DRX-RB model we mentioned earlier, this model is made with a simple on/off toggle, but has no auto hot plate turn-off. You will want to remember to double-check this machine before you head out the door!
Customer Reviews: Most customers enjoyed this straightforward coffee brewer. Those that took issue with it commented on it splashing while making coffee. 
Final Thoughts: The Mr. Coffee DR4-RB is an inexpensive coffee maker that is very black and white when it comes to coffee. We wish it had a little more to add (or a little less plastic) but for its price, it seems to get the job done: freshly brewed coffee in your hands fast.
Last update on 2023-09-18
Standout features:
Short Brewing Coffee Time
One Touch Coffee Maker
Anti-Spill Technology
Ember Function
Double-Foam
1-2 or 3-4 person use
Right-handed or left-handed pour spout
BPA-free
Things we like: 
The Saki Turkish 4 cup coffee maker is one of the most unique choices on our list! It has a button to press that will extract your brew as if it were being heated over live embers. 
This coffee maker boasts of a short brewing time and anti-spill technology. It boils the coffee twice to create a rich, foamy brew in authentic Turkish style. 
The pot has 2 pour spouts so either right-handed or left-handed people can master the side-pour. 
You can choose to brew coffee for 1-4 people in this 4-cup pot. 
Things we don't like:
The pouring carafe seems to be made out of plastic instead of stainless steel or glass. At least the plastic on this machine is BPA-free.
Higher end pricing compared to the small batch machines on this list, but may be worth it given all its advanced features.
Customer Reviews: Most customers agreed that the coffee tasted authentically Turkish. A few customers had difficulty with their pots foaming over.
Final Thoughts: We like the features on the Saki Turkish coffee maker, especially the embers option. Turkish coffee is similar to espresso in that both use finely ground coffee. So this coffee maker could be a good choice if you enjoy a dark, rich brew (or specialty drinks).
Saki Turkish Coffee Maker
For 4 cups of Turkish coffee brewed with Cook Sense technology and Ember cooking for foamier drinks, the Saki is a great small batch option.
Last update on 2023-09-18
Standout features:
Tempered Glass Carafe
Reusable Filter 
Coffee Ground Scoop
Fun color
BPA-free
Things we like: 
The Brentwood 4 cup coffee maker stands out as being one of the cutest machines. The price is also right at under $30. 
We like that this lightweight coffee maker comes with a reusable filter and its own coffee scoop. It is an adorable blue color that can add a fun accent to a coffee corner. 
The glass carafe is made using tempered glass to withstand your daily hot coffee brew, which it brews pretty fast. 
Another plus for this coffee maker is that the plastic is BPA-free.
Things we don't like:
This simple coffee maker doesn't have any fancy features, but it doesn't really pretend to either. Plus, most people don't care because it's just so cute!
Customer Reviews: Most coffee lovers loved this cute and tiny coffee maker. Some customers noted that the plastic seemed lightweight and the machine is smaller than expected.
Final Thoughts: We love the looks of this drip coffee maker and its simplistic approach to coffee, but wish it could offer a bit more than charm and a coffee scoop. Still, at its price, we don't feel the need to be very picky. 
Last update on 2023-09-18
Our Final Verdict 
We found several great 4 cup small batch machines in our search. These 9 coffee makers cover a wide variety of brew types and can appeal to many different styles. Out of all the machines, we chose the Gevi 4-cup coffee maker as our top choice.
This coffee maker has a lot to offer at a very reasonable price. The ratings backing it suggest the Gevi is not just another pretty face! 
If you are looking for a drip coffee maker that is compact, user-friendly, and also offers many safety guards while it brews fresh coffee, this could be the best 4 cup coffee maker for you. 
Sale
Gevi 4 Cup Coffee Maker
This 4 cup brewer is compact, easy to use with a touch of a button, and brews great coffee for a small group on a decent budget.
Last update on 2023-09-18
Final Thoughts
A 4-cup coffee maker will easily serve the needs of one or two people and comes with several benefits. When you choose a small batch machine, your coffee maker uses the right type of extraction for 1-4 cups, you save room on your counter space, and you get a better price.
A 4-cup machine can serve coffee brewed perfectly for a dorm room, a single-person household, or for a household with a limited number of coffee drinkers. We hope that one of these coffee makers is a good fit for your home!
In search of larger more sophisticated drip coffee makers? Consider the high quality of Ninja coffee makers, or the elegant flavors of Zojirushi drip machines, or the consistent performance of SCAA certified drip coffee makers.
You may even consider single serve coffee makers if you are even more tight on space like a Keurig.
Or you can just start from the top and check out our overall best list of coffee makers.
4 Cup Coffee Maker FAQs
In general, how long does a 4-cup coffee maker brew?
How long it will take your coffee maker to brew coffee can vary according to your machine. In general, a 4 cup coffee machine should be able to brew 4 cups in about 4 to 5 minutes. 
What does the 1-4 cup button on a coffee maker mean?
This button is a setting you can use if you want to brew a small batch of coffee (1-4 cups) on a 10 or 12-cup machine. The coffee maker adjusts its extraction rate to make sure you get the same great flavor as you would with a full pot of coffee. Not all large coffee pots have this smart feature, however.
How many ounces are in a standard cup of coffee?
A standard cup of coffee is typically filled with 8-10 ounces of coffee. For reference, a Starbucks tall size holds 12 ounces of coffee.
How many tablespoons of coffee grounds should I use to brew 4 cups of coffee?
For an average strength coffee, you can use 8 Tbsp of coffee grounds (or 4 level coffee scoops) for 4 cups of coffee. 
Is the Gevi brand an Italian brand?
Gevi is a brand from the USA which specializes in kitchen and household appliances. These appliances are sold to over 30 countries worldwide.
Coffee Has Never Read This Good!
Sign up for a FREE newsletter to the best home brewing tips and guides
Thank you for subscribing to The Cup Coffee House Crew! There's a surprise in your Inbox 🙂
Something went wrong.
About the Author
Latest Posts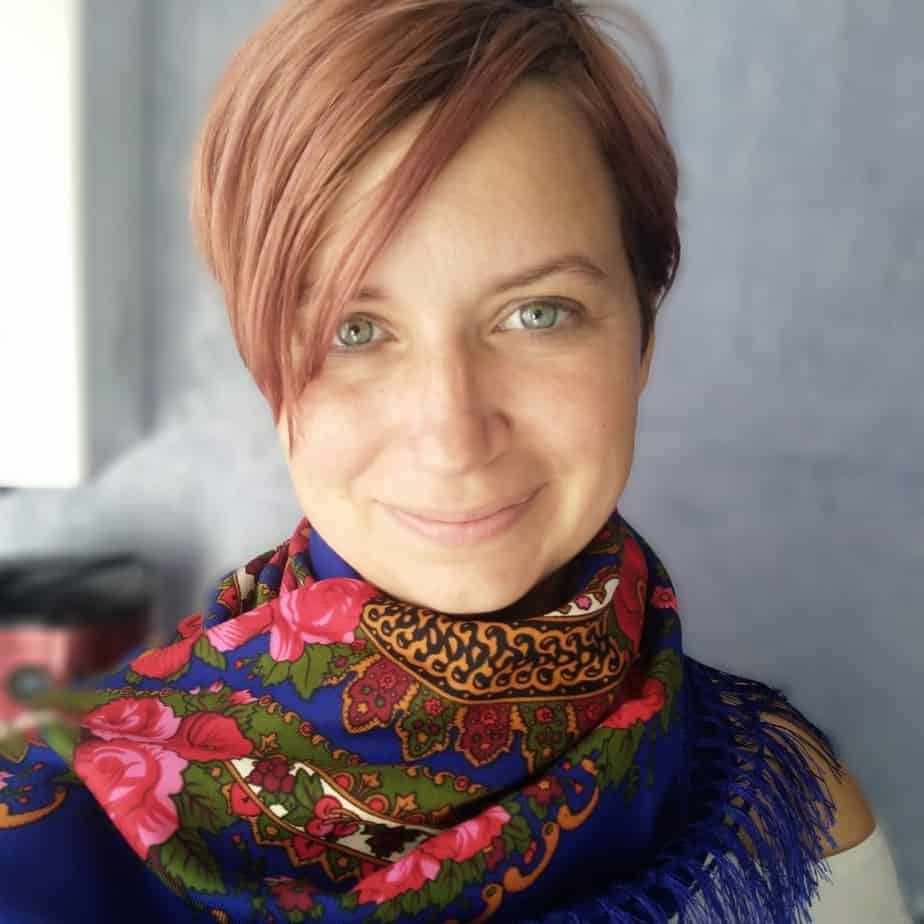 Alex Praytor worked her first job as a barista, finished college, and then took a tour to the other side of the globe. She fell in love with espresso and her would-be husband in Europe. She spends her spare time visiting native Texas landmarks, ancient castles, and all the coffee shops she finds along the way. At home, she is a mom, ESL teacher, and writer, who hones her coffee-making skills daily. She enjoys passing on her coffee findings to fellow caffeine addicts in search of the perfect cup.
Chief Editor