Last updated on September 15th, 2023 by Alex Praytor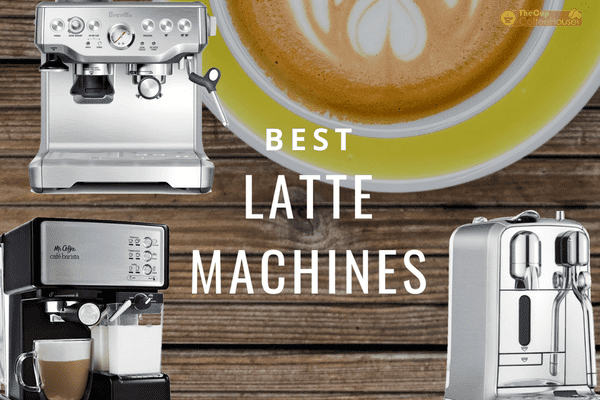 While a morning Starbucks run is a quick and easy way to get a consistently tasty latte, those $5 drinks can add up over time. The good news is with so many high-performance coffee makers on the market, making a latte at home has never been easier. All you need is a machine that makes quality espresso shots and foams and steams milk to perfection.
There are many different types of latte machines on the market. So, we spent hours searching high and low to find the best latte machines for you. We found latte machines that are beginner-friendly, super-automatic machines, semi-automatics, and many more.
Our overall best machine in this category is Breville Barista Express. This latte maker makes a delicious espresso using fresh ground coffee. It also steams milk to top off your drink. It has a sleek look, great flavor, and is fairly priced. The Breville Barista Express is simple to use and can turn your kitchen into a Starbucks efficiency.
Sale
Breville Barista Express
The Breville Barista makes lattes easily with fresh ground coffee and a microfoam milk frother; Perfect for at home latte drinkers who want value.
Last update on 2023-09-18
If you are looking for the best at-home latte makers, check out more of our favorite machines below.
---
Our Top 9 Latte Machine Picks
Things we like:
Integrated precision conical burr grinder delivers coffee directly into the portafilter
Grind size control
Low-pressure preinfusion of coffee beans
Digital temperature control (PID)
Manual steam wand for hand-texturing microfoam
Things we don't like:
This machine may have a learning curve for beginner baristas
Review:
The Breville Barista Express is our overall top pick and our best latte machine with a grinder. This machine comes equipped with a conical burr grinder, which gives the grinds an even size for the best extraction. The ground coffee drops directly into the portafilter. Then, you tamp them down and attach the portafilter to the group head.
Make a single or double shot of espresso before steaming your milk to perfection. The microfoam steam wand is simple for beginners but intricate enough for pros.
Given the quality you expect from a Breville, this machine is perfect for at-home baristas who enjoy the coffee-making process. The Breville Barista Express makes a delicious latte and it allows you to personalize each drink with your own latte art.
Sale
Breville Barista Express
The Breville Barista makes lattes easily with fresh ground coffee and a microfoam milk frother; Perfect for at home latte drinkers who want value.
Last update on 2023-09-18
For a more indepth look, check out the full Breville Barista Express review we did here.
Things we like:
Makes espressos, cappuccinos and lattes
15 bar pump system
Automatic milk frother
One-touch drink selections
Control how much froth you want with a handy knob
Custom options
Things we don't like:
The milk container is not dishwasher safe.
The power button must be turned off manually
Review:
With the Mr. Coffee Café Barista, it's easy to make error-free espressos, cappuccinos, and lattes. You get to choose which coffee beverage and what size you want. Then, you can sit back and watch Mr. Coffee make your drink exactly to order.
This latte maker also includes a custom button for you to set more precise preferences. 
The 15 bars of pressure give you a bold espresso brew as the base for your latte. Then this machine automatically steams and foams the milk for a rich, creamy coffee drink. When you are done, you can store extra milk in the container directly in the refrigerator. Then, your milk is ready for an afternoon treat.
The Mr. Coffee Cafe Barista is a great choice for coffee lovers who just want to sit back and relax with a cozy drink. Mr. Coffee takes on the work and gives you the day off. Sliding in at less than $200, this machine gives you a great value for the price.
Sale
Mr. Coffee Café Barista
With an automatic milk frother, and custom frothing options, the Mr. Coffee Café Barista is a great beginners choice for making lattes at home.
Last update on 2023-09-18
Things we like:
5 coffee presets for coffee, espresso, lattes, and more
Customizable options
Touch display
Built-in grinder with 12 settings
Durable ceramic grinder
Aroma seal bean hopper keeps coffee fresh longer
AquaClean reduces scale build-up and prolongs machine life
Easy clean-up with dishwasher-safe parts and removable brew group
Things we don't like:
Dark, oily beans can clog in the grinder.
Review:
The Philips 3200 Fully Automatic Espresso Machine with Latte Go can make your favorite coffee drinks, and even a regular cuppa. This machine comes with a built-in ceramic grinder with an aroma seal to seal in the freshness.
The LatteGo tops off your lattes like a pro. You don't have to lift a finger (well, except to choose your drink choice!). The machine is also easy to clean thoroughly after you are done. You can remove the group head and wash many of the parts in the dishwasher.
Also, the Latte Go is one of the easiest automatic milk frothers to clean since its pieces are simple and straightforward. No plastic tubes to hold bacteria on this machine!
The Phillips Fully Automatic Espresso Machine gives you a simple bean-to-cup experience. Each cup is made fresh and to perfection. With this latte machine, your kitchen can become your neighbors' favorite coffeehouse.
Sale
Philips 3200 w/ Latte Go
The Philips 3200 grinds fresh beans, brews pre set lattes, cappuccinos from an easy to use display and cleans itself; Everything you need from a home latte machine.
Last update on 2023-09-18
#4. Best Professional Latte Machine for Home: Rancilio Silvia
Things we like:
Commercial grade group head
Professional grade steam wand
Stainless steel frame
Ergonomic porta-filter
Powerful single boiler
64 oz. removable water reservoir
Things we don't like:
Pricier machine
Can be difficult to learn to use
Review:
Anyone involved in brewing and enjoying espressos for some time is familiar with the name that is Rancilio. It is well known for producing some of strongest commercial grade espresso machines. The good news is they also make home latte machines with the same attention to quality.
The Rancilio Silvia is built touch with stainless steel and iron panels. If you want delicious espressos, you'll get it with the well crafted brew head and powerful single boiler that optimizes flavor extractions.
But the coolest part is the Rancilio's articulating steam wand. This gives you flexibly and control on the pressure, heat and positioning of your frothing wand to produce coffee house quality milk foam for your lattes.
It can be challenging to master and its a bit pricey, but if longevity, durability, craftsmanship are important to you and you don't mind investing, the Rancilio Silvia is perfect for your home latte setup.
Rancilio Silvia Espresso Machine
For a professional grade, commercial quality semi automatic espresso machine with articulating steam wand for luscious lattes, the Rancilio Silvia is worth considering.
Last update on 2023-09-17
Things we like:
True Brew iced coffee system
15-bar espresso pump
Heats up quickly in 40 seconds
Built-in steel burr grinder
Integrated adjustable manual frother
Things we don't like:
Review:
The De'Longhi Dinamica Automatic Coffee and Espresso Machine can make you a swift espresso, cappuccino, latte, or a regular brew. The machine grinds your coffee to the setting you choose. Then it quickly heats up in 40 seconds to brew delicious coffee drinks. 
This machine does not automatically top your drink with milk foam like other super-automatic machines. However, it does come with an attached milk wand that is simple to navigate. You can control the settings to get the right amount of steamed milk and foam. Since the steam wand is manual, you get the option to create your own latte art. 
The De'longhi Dinamica packs in a unique surprise and is one of the few espresso machines on the market to offer an iced latte. The True Brew element of this machine brews espresso under pressure but with much less heat. This gives you the perfect espresso base to top off with milk and your favorite syrup. One iced latte coming right up!
Last update on 2023-09-18
For a more in-depth look, check out our full De'Longhi Dinamica ECAM35025 review here.
Things we like:
Accepts Nespresso pods
19 bars of pressure
Fast 3-second heat-up
9-minute auto shut-off
1.5L removable water tank
Stainless steel casing
3 drink sizes: Ristretto (0.5 oz.) Espresso (1.35 oz.), Lungo (5 oz.)
Attached milk frother
Pod waste container
Stainless steel espresso shelf
A simple control panel allows you to control the size of your drink, temperature, and amount of milk foam
Things we don't like:
Only works with pod coffees
Review:
This Nespresso single-serve pod latte machine can brew up your favorite coffee pod in record time. Not only does it brew quickly, but it also uses pressure to make your brew. This gives your lattes an authentic Italian espresso taste. 
You have three drink-size options including ristretto, espresso, and lungo. The dial at the top of the machine offers eight different coffee selections including lattes, cappuccinos, flat whites, and more. You can also adjust the temperature and texture of your milk and the amount of foam. 
When you are done, the Nespresso Creatista Plus stores the used pod and self-cleans the milk frother. This pod latte maker allows you to make a fresh latte simply and quickly. The stainless steel casing makes this machine a sleek and stunning addition to your kitchen counter too.
Having trouble with your milk frother? Check this link to learn how to fix your Nespresso frother.
Nespresso Creatista Plus
If you value time and convenience, the fast brewing, 19 bars, attached milk frother, stainless steel Nespresso Creatista Plus may be the pod latte machine for you.
Last update on 2023-09-17
For a more in-depth discussion, check out our full Nespresso Creatista Plus review.
And for a full list of Nespresso machines, check out our review of Nespresso's best coffee machines.
Things we like:
Makes 4 shots of espresso at a time
Integrated frothing wand
Manual brew method
Simple controls
Compact 
Inexpensive at less than $60
Things we don't like:
Steam brews espresso at about 3 bars of pressure
Review:
The Mr. Coffee Espresso and Cappuccino machine can brew four shots of espresso at a time. So, when friends and family are over, you can whip up several specialty drinks at a time.
On the side of the machine is an integrated frothing wand so you can make delicious lattes. It even comes with its own stainless steel milk jug and measuring spoon.
The main drawback to this machine is that it only brews espresso at three bars. It has more bars of pressure than a Moka pot, but it still doesn't reach the nine or more bars of pressure you need for an authentic espresso. This means that you lose a bit of body and flavor in your espressos and miss out on that delicious layer of "crema." 
However, if your main goal is to make lattes (and not to drink straight espressos), these differences in the brew may be barely noticeable. 
Our favorite part of this machine is the low price. You can bring a latte maker home for less than $60. Now that's a bargain!
Sale
Last update on 2023-09-17
Things we like:
15 bars of pressure
Steam wand
Stainless steel boiler
Affordable price tag
Adjustable foam on the steam wand
Accommodates larger mugs
Things we don't like:
Review:
The Stilosa by De'Longhi is a simple machine with everything you need to make a flavorful latte. Although this machine is a budget model, it still comes with De'Longhi quality.
Each shot is brewed with 15 bars of pressure to make a rich espresso base for your specialty drinks. You can extract one or two shots of espresso at one time. A two-level cup holder allows you to use a latte-size cup. 
It also has a stainless steel boiler to last longer than the competition in this price bracket.
You can start making true espressos, lattes, cappuccinos, and more for less than $100 with the De'Longhi Stilosa. 
De'Longhi Stilosa Manual  Latte Machine
The De'Longhi Stilosa combines quality build with 15 bars, manual operation, and adjustable foam wand to whip up tasty lattes and cappuccinos on an affordable budget.
Last update on 2023-09-17
Things we like:
15 bars of pressure
Space-saving design
Sleek stainless steel casing
Removable 42 oz water tank
Commercial grade stainless steel steam wand
Simple to use
Easy to clean
Pre-infusion
Cup warmer
Auto shut-off
Hot water function
Things we don't like:
Review:
The Wirsh Espresso Maker has a thin space-saving design to fit in even the most crowded kitchen corners. It can make a single or double espresso using 15 bars of pressure. It pre-infuses the grounds to give you the richest espresso extraction. To make a latte, use the commercial grade stainless steel steam wand to froth and foam your milk. 
This machine has a sleek stainless steel design. With limited bells and whistles, the Wirsh is friendly to use and easy to clean up after. If you are making more than one specialty drink at a time, you can keep espressos warm on the cup warmer at the top.  This machine is more affordable than much of the competition coming in at under $200.
Sale
Wirsh Espresso Maker
The Wirsh 15 bar espresso maker is compact, space saving, easy to use, and built with functionality to make pulling latte espressos fun and simple without breaking the bank.
Last update on 2023-09-18
How to Make a Latte Step-by-Step
Making a latte may seem like a daunting task, however, with the right equipment, the task is very simple.
To make a latte, you need the following:
Espresso
Steamed milk
A thin layer of milk foam
Step 1: Pull your shot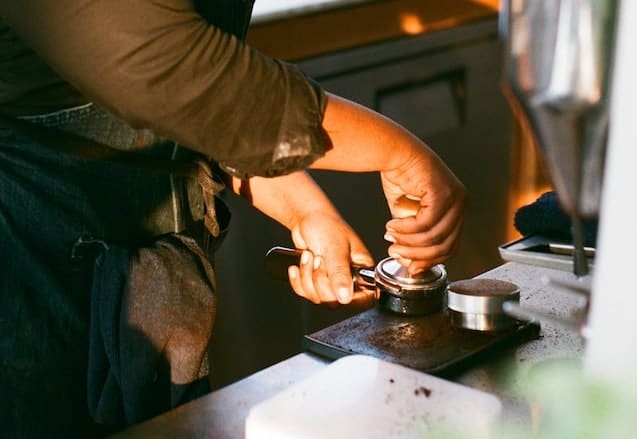 A true espresso according to the Specialty Coffee Association uses 9 or more bars of pressure. This gives you a rich-tasting espresso base for your latte with very little bitterness. If you like a stronger coffee taste, use two shots of espresso per latte. For a light coffee drink, pull just one shot of espresso.
Step 2: Steam the milk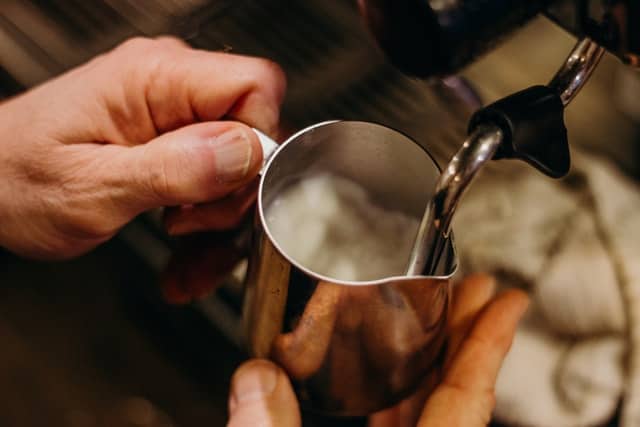 When steaming the milk, fill your stainless steel milk jug about 1/3 full. Starbucks uses 2% milk, but for a creamier taste, many baristas recommend whole milk.
You can leave the steam wand in one corner of the jug and watch the milk steam and swirl. Make sure you heat the milk until the milk jug becomes warm on the outside, but not hot. You don't want to scald the milk. 
Step 3: Pour milk over your espresso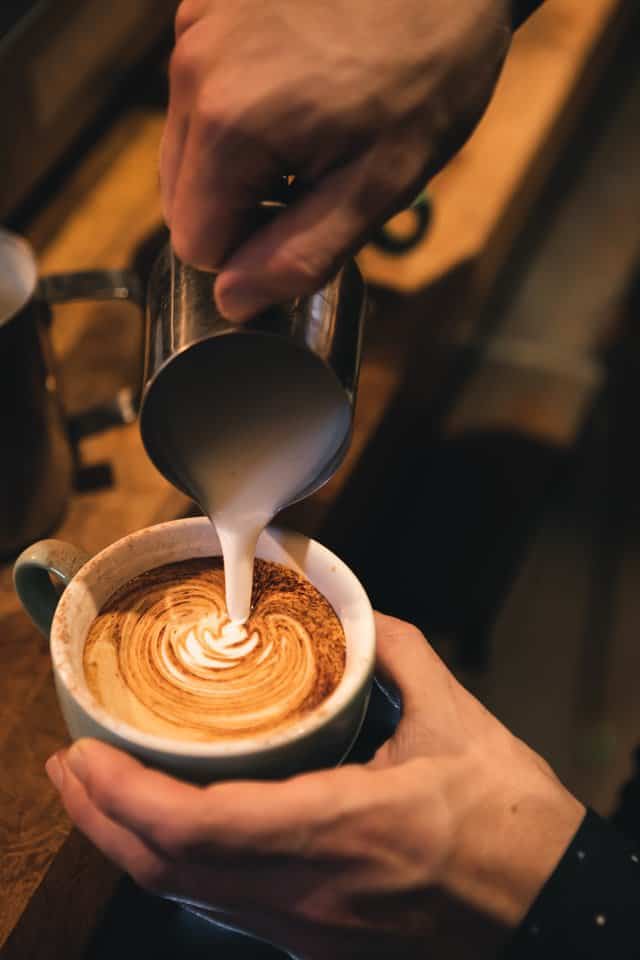 Add the steamed milk to your espresso cup. Make sure to hold the foam layer back as you pour.
Step 4: Add milk foam
Now, spoon a thin layer of milk foam to the top of your latte. 
Voila! Your latte is ready to drink.
Do You Need a Latte Machine to Make a Latte?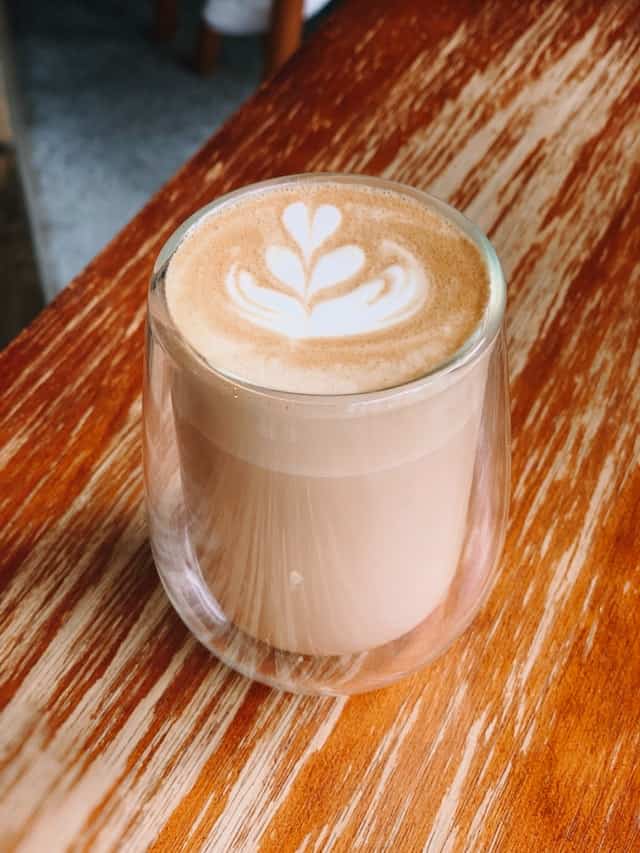 You don't have to have a latte machine to make a latte, however, a latte machine can make the experience much easier. 
A latte machine makes an espresso base using 9 or more bars of pressure. Then, it provides a steam wand so you can finish off your drink in one stop. Some super-automatic latte makers take your specialty drink from bean to cup. All you have to do is press one button and watch it go to work!
To make a latte or espresso without a machine you need alternatives.
A Moka pot is one of the best substitutes for an espresso maker. In fact, the Moka pot has been nick-named a "stovetop espresso maker" for this very reason. It was designed in Italy by Alfonso Bialetti to allow home baristas to get espresso-like quality in the comfort of their homes. The Moka pot has been an affordable way to make espressos since the early 1900s.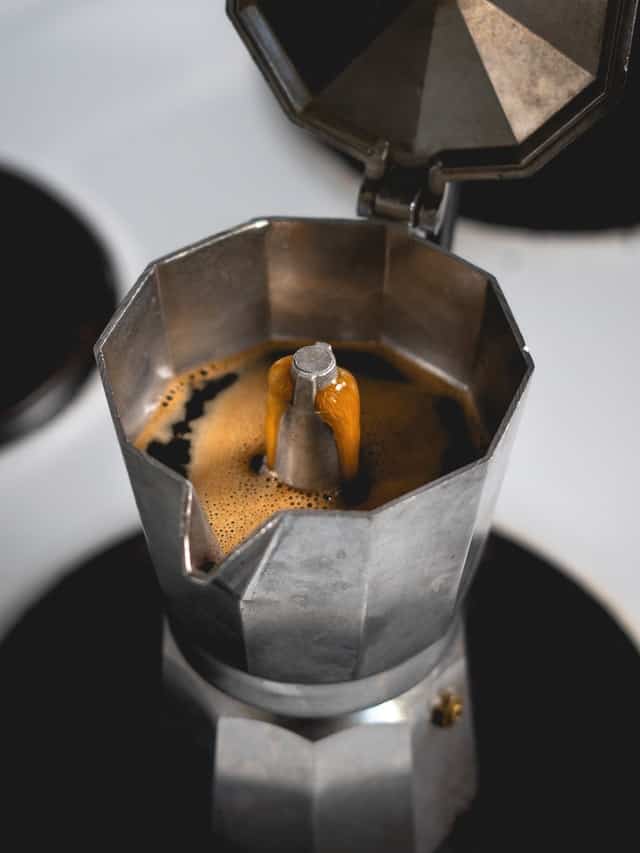 Moka pots brew a concentrated coffee beverage with some pressure, but it won't reach close to the SCA's 9+ bar standard. Most Moka pots brew using a little over 1 bar. 
For steamed milk, some choose to heat milk in a saucepan, or the microwave. You can then use a hand-held frothing wand (or a French press) to agitate warm milk and create foam. There are a few different ways to froth milk without a frother.
Making a latte at home without a latte maker can be done. However, the process is more time-consuming and you may not get the full-bodied coffee flavor you love. 
If you have the budget for a latte maker, we say it's definitely worth the counter space to invest in one.
Buyer's Guide
To find the perfect latte machine, look at what each machine has to offer. Does it meet your needs and your budget? Here are a few questions you can ask:
How hands-on do you want to be in the process? 
If you enjoy the process of making personalized espressos, a semi-automatic machine may be for you. Semi-automatics allow you to call the punches. You can adjust the time of your brew and how long or short your shot is.
Also, you are free to try your creative skills out with the milk wand. Make your milk fluffy and foamy, or create microfoam. You also get to top off espresso drinks with your own special latte art.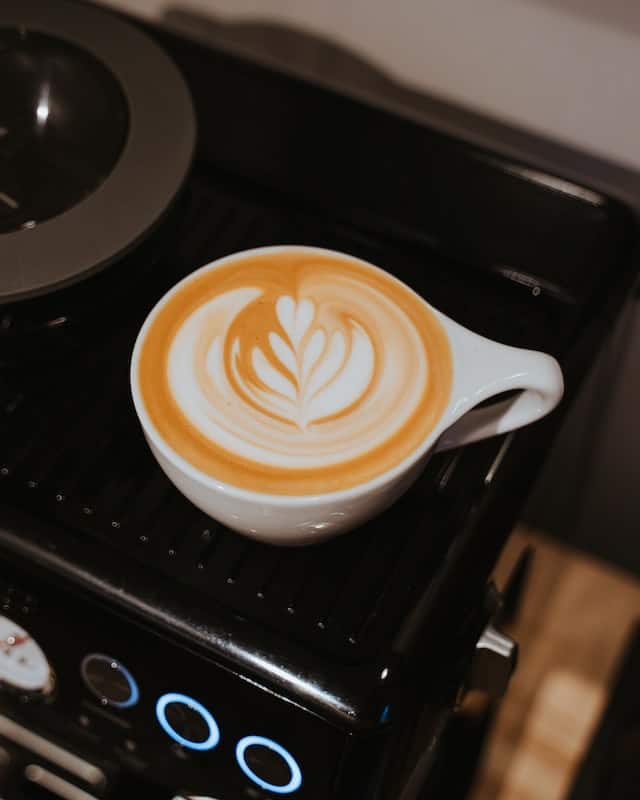 However, some coffee drinkers prefer a machine that makes your espresso shot from bean to brew. A super-automatic machine (like the Philips or Delonghi Dinamica) can grind your beans fresh, pull a shot, and top off your latte with the perfect foam. All you have to do is make your order and the machine does the rest.
Super-automatic machines are the equivalent of having your own barista robot in your kitchen. Whenever you want a fresh coffee drink, you don't have to take a drive to Starbucks, just press a button on your latte maker.
Do you want to use freshly ground beans, pre-ground coffee, or pods?
Many espresso and latte machines grind beans fresh using an integrated burr grinder.  Burr grinders grind coffee beans more evenly than blade grinders to give coffee an even extraction. This results in a fresh-tasting cup of coffee. An attached grinder creates a seamless coffee-making process. However, it also increases the price of a machine.
Latte makers that use pre-ground coffee, are generally less expensive and more compact. You always have the option to purchase a separate burr grinder at a later date.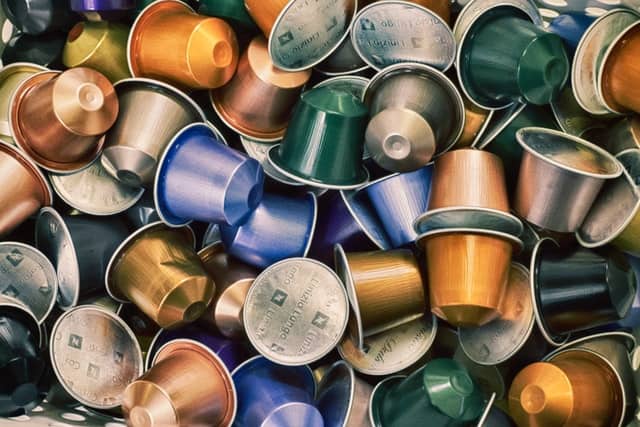 Pod machines are easy to use and low on mess. Some pod machines even come with milk frothers to top off your drinks with delicious foam.
Also, Nespresso brand pod machines use a patented centrifusion system that creates pressure for espresso-based drinks. Unlike Keurig, their pods are also recyclable. 
If you are looking for a low-maintenance way to make lattes and other specialty drinks, a pod machine like the Nespresso Creatista may be worth a second look.
How many bars does the machine have?
To make an authentic espresso, a machine's pressure has to reach at least nine bars. However, many espresso machines, latte makers, and cappuccino makers go above and beyond delivering 15 bars of pressure or more. The higher the bars of pressure, the richer the taste of the espresso will be. Also, you get a nice thick layer of crema on top of your brew.
Other budget espresso machines can brew up to four shots of espresso at once. However, these machines usually only reach three bars of pressure. This means you may miss out on the rich espresso flavor and crema. However, if you serve lattes to a group regularly, a machine that brews four shots at once may be a good choice.
Does the machine shut off automatically? 
If you lead a busy life, you may like the safety net of a machine that shuts off automatically. This can save on energy, preserve the life of your machine, and keep your home safe. 
However, many budget espresso models must be shut down manually. If you are used to turning a coffee pot off manually, this may not be an issue for you.
How much counter space do you have for a latte maker?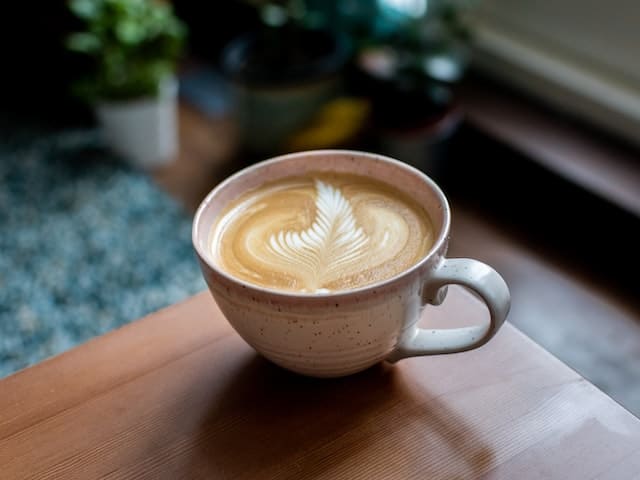 If you have limited space on your countertop, you may want a space-saving machine that has a small footprint. You may need to look for a machine that has fewer bells and whistles to get a small-scale espresso machine that fits your space. (Integrated grinders and automatic milk frothers can bulk up a machine.)
What is your budget?
When you consider that a daily Starbucks run can add up to over $1,000 a year, you may find an at-home latte machine a worthwhile investment. That being said, latte machines come in all shapes and sizes and a variety of price ranges.
You can find latte makers that are over $1,000. However, there are also many decent machines for under $200. Once you set your budget, you can find the perfect machine for you.
Final Thoughts
During our research for the best latte makers, we took into consideration the pros and cons of each. We found machines that fit well into fast-paced lifestyles and that could withstand frequent use. Also, we chose machines to match a variety of coffee budgets. We even took into account the amount of space the machine takes up on your kitchen counter.
We chose the Breville Barista Express for its sleek look, great flavor, and fair price. We like this machine because it allows you to have a hand in the latte-making process and add a personal touch to your specialty drinks. It's a high quality machine, and a crowd favorite amongst coffee drinkers.
Sale
Breville Barista Express
The Breville Barista makes lattes easily with fresh ground coffee and a microfoam milk frother; Perfect for at home latte drinkers who want value.
Last update on 2023-09-18
Whether you like a latte espresso machine with fewer bells and whistles, or one that pulls out all the stops, there is a latte maker for you on this list. 
What are your must-haves and deal-breakers for an at-home latte machine?
FAQs
Can all espresso machines make lattes?
Each latte needs an espresso as its base. So, an espresso machine is an important piece of the puzzle. However, you also need steamed milk and milk foam to make a latte. This means that your espresso machine should include a steam wand or an automatic frother.
Some espresso machines include steam wands, but not all do. You can choose a simple espresso machine to get your espresso base and use a separate device for foaming milk. Or, you can look for a latte machine that can do it all.
Is DeLonghi a good brand?
DeLonghi has a great reputation for manufacturing quality coffee makers that are built to last. The brand provides different models to fit a user's barista skill levels and lifestyle needs. From at-home espresso makers that provide many professional-style amenities to quick-brew pod machines, De'Longhi makes specialty drinks accessible to coffee lovers. It's no wonder that the De'Longhi brand is a powerhouse in the coffee community.
Which coffee is best for lattes?
Lattes are made using one or two shots of espresso. To get the rich, full coffee taste you love, dark roasted coffee beans with a fine espresso grind are the best choice.
Espresso is a quick-brew method and the grinds are brewed under pressure for 20-30 seconds. This brewing method combined with a dark espresso roast gives you great coffee flavors with very little bitterness.
How long does it take to clean a latte machine?
The time it takes to clean a latte maker depends a lot on the type of machine you own. If you own a super-automatic latte machine, you can get a fast and easy cup of coffee. However, with more intricate machine parts, you also may need to invest more time in cleanup.
A simple machine with a portafilter and steam wand may be easier to wipe down and clean after each use. When it comes time to descale your machine, this process can take up to 20 minutes or more.
Coffee Has Never Read This Good!
Sign up for a FREE newsletter to the best home brewing tips and guides
Thank you for subscribing to The Cup Coffee House Crew! There's a surprise in your Inbox 🙂
Something went wrong.
About the Author
Latest Posts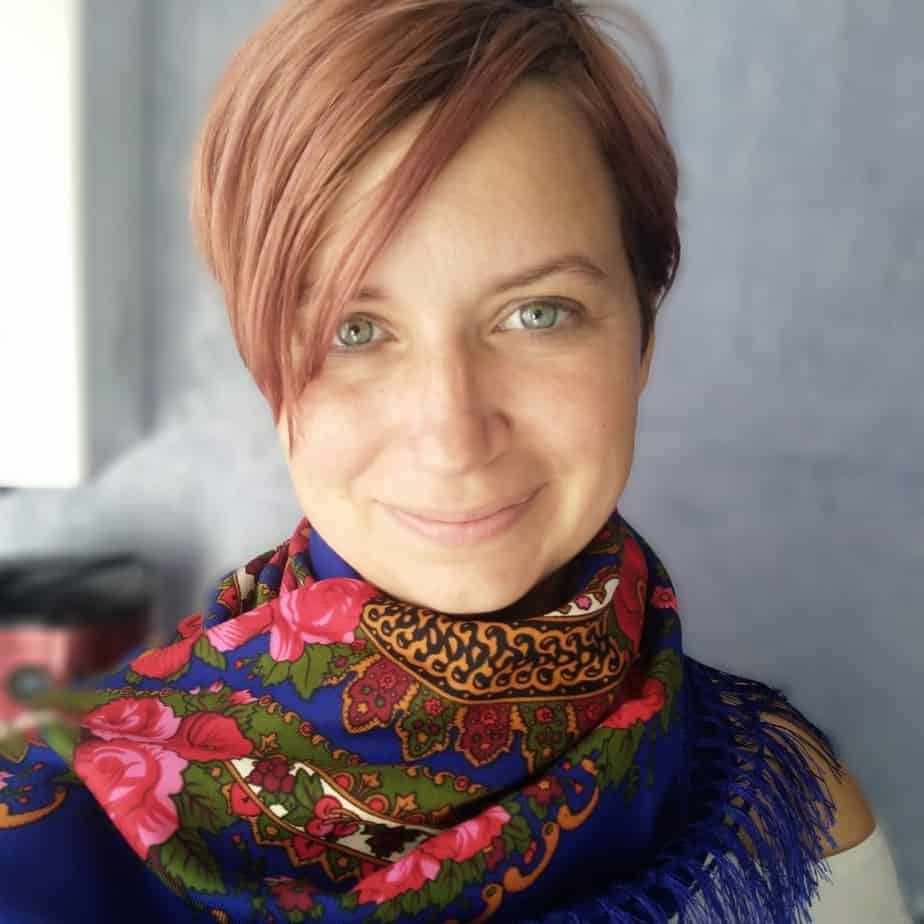 Alex Praytor worked her first job as a barista, finished college, and then took a tour to the other side of the globe. She fell in love with espresso and her would-be husband in Europe. She spends her spare time visiting native Texas landmarks, ancient castles, and all the coffee shops she finds along the way. At home, she is a mom, ESL teacher, and writer, who hones her coffee-making skills daily. She enjoys passing on her coffee findings to fellow caffeine addicts in search of the perfect cup.
Chief Editor