Last updated on February 2nd, 2023 by Alex Praytor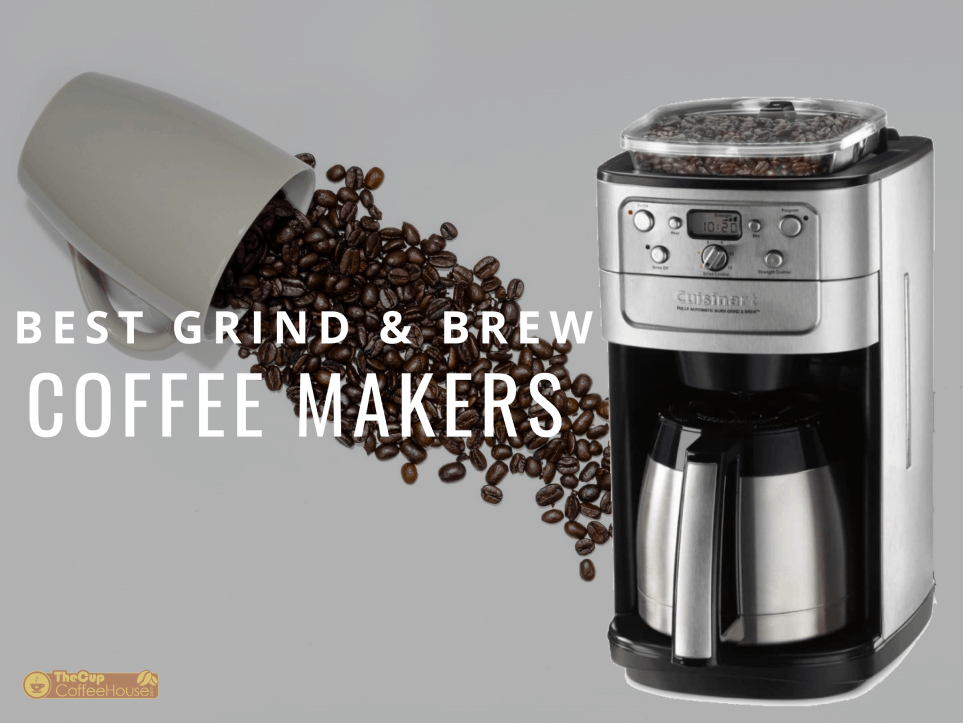 For all the coffee lovers out there, we know that freshly ground coffee is the best-tasting coffee. No matter how good your coffee brand is, it can still be better if it's freshly ground right before your brew.
So what stops us from grinding coffee beans fresh for every cup? The answer usually boils down to time, space, and/or cost.
But, what if there was a coffee maker that took care of grinding your coffee beans for you? It could save you time, energy from cleaning up a ground-coffee mess, and your counter space. This could be a game-changer. And, the cost for some of these machines is not as expensive as you might think.
So after hours of research, we put together a full guide on how to find the best coffee maker with grinder for your coffee drinking needs.
Want the quick summary? A grind and brew coffee maker incorporates a grinder into your coffee machine. One of our favorite machines in this category is the Cuisinart DGB-900BC Grind-and-Brew. This machine comes with a high quality built in burr grinder, offers cup size flexibility, and brew and pause technology. Perfect for busy people who want quality, flavorful freshly brewed coffee without sacrificing time and willing to invest a little more for it. 
---
Is a Coffee Maker with Grinder Worth It?
Most coffee fans want to take the fastest route to their first cup of the morning. You don't want to take the extra steps of pulling out a grinder, grinding coffee beans, and then cleaning up after the grounds that inevitably spill around the coffee pot. Also, the best coffee grinders (burr grinders) can be expensive!
Then, there is the counter space… which if you have a kitchen like mine, that space is precious! As a result, many coffee drinkers suck it up and default to pre-ground beans because it's the fastest, cheapest, and most space-saving solution.
A coffee maker with grinder can be a cost saving, space saving, and time saving answer to getting a fresh cup of coffee without all the headaches.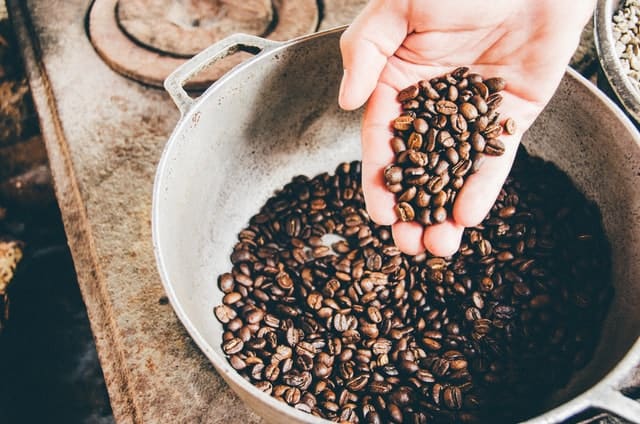 How to Choose the Best Grind and Brew Machine
When ranking the best grind and brew machines, we took a look at the following:
1. Does it have a burr grinder?
Our top priority for a grind and brew coffee maker was whether or not it came with a quality burr grinder. The burr grinder is what the coffee gurus unanimously agree gives you the best taste for your chosen coffee beans. You can also consider blade grinders but they have drawbacks we will discuss shortly.
2. How flexible are the brewing options?
We also looked at whether each grind and brew coffee maker offered flexible brewing styles for household needs. Does it offer pot and single brew options? Does it offer pods and/or coffee grounds? Coffee foam? What brew styles and cup sizes a coffee maker offers may influence the value you put on the machine.
3. What is the customer response to this coffee machine?
When searching for the best coffee maker with grinder, we took into consideration how actual users feel about these coffee machines. This can give us a good idea if the machine is the read deal or just sounds good on paper.
4. Does it have added features to make our coffee making life easier?
Extra features also played a part in our ranking system. Our top grind and brew coffee makers come with extra special features such as programmable brewing functions, LCD options, auto-turn off features, or included accessories like a thermal carafe. When choosing our machine, we want it to make our life as easy as possible!
5. How big is it?
The size of your grind and brew coffee maker is dependent on how much coffee you need. Are you ok with a coffee machine that takes up space on your counter top? Do you need to be more mobile, and therefore sacrifice capacity for space flexibility? Are you brewing for a group or just yourself?
If space is a big deal for you, also check out this list of 4 cup coffee makers that brew fast and take up less space.
6. How much does it cost?
Price was the last consideration for ranking these coffee machines with built in grinder. While I like a good deal as much as the next person, you often get what you pay for when buying a coffee maker. We did include some cheaper grind machines because we get that sometimes the budget puts constraints on our wish list. Still, our priority was the machine's overall value instead of the price tag.
What Makes a Burr Grinder Better?
When looking for the best grind and brew coffee maker it's important to know a bit about its grinder. Is it a burr grinder or a blade grinder? What's the difference?
A coffee bean that is ground with a burr grinder will have a superior flavor when brewed. Why?
A burr grinder is made of 2 abrasive surfaces that revolve and grind coffee beans a few at a time. This gives a uniform consistent size to your grind which will brew evenly. Also, burr grinders tend to clog up less often than blade grinders.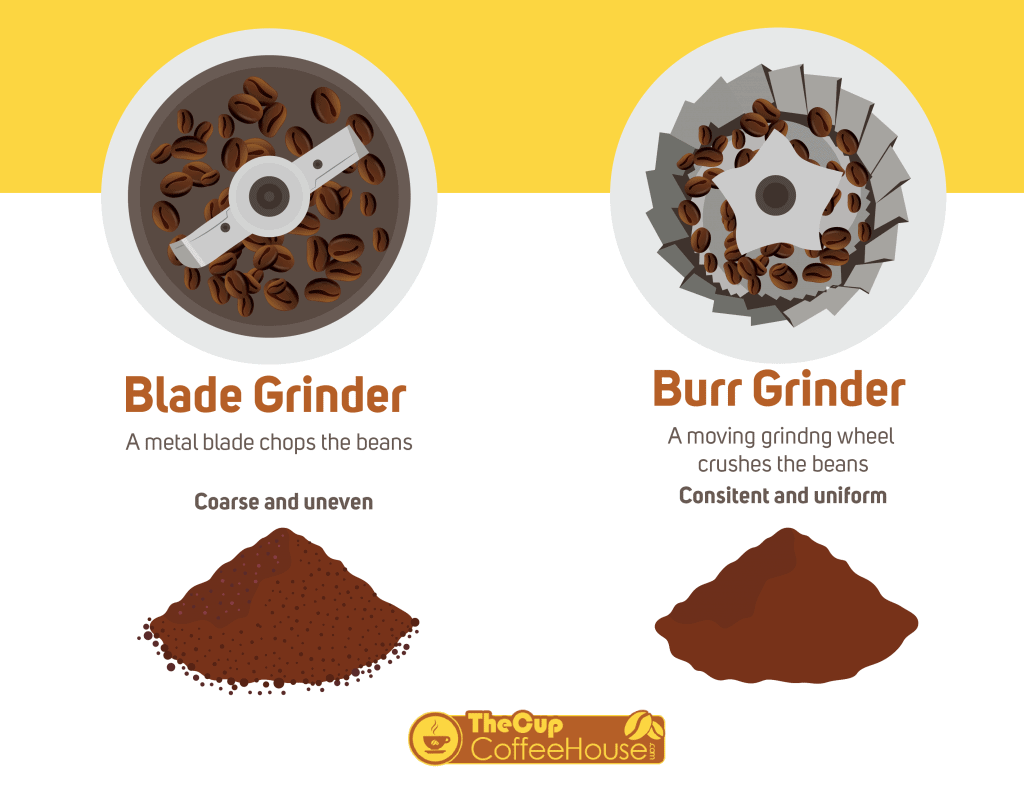 The trouble with a blade grinder is that they lack the finesse of a burr grinder. These grinders tend to randomly whack and hack your coffee beans. This leaves some bigger grounds and some powder in your batch. You may end up with an off-flavor from this uneven mix and get a cup of coffee that is both over-extracted and under-extracted at the same time.
The blades may also add heat to the grind. This may process the bean prematurely and leech some of the flavor out. 
Now, that we've studied the difference between grinder types, we can check out our favorite features of these grind and brew coffee makers.
How We Determined the Best Grind and Brew Coffee Makers
Choosing the best grind and brew coffee machine for you largely depends on your lifestyle. Whether you are looking for a model that will serve many or single-serve with a small footprint, come with quality or starter friendly, there is a coffee maker with grinder for you. Let's see how these bean to cup machines compare based on grinder, size, quality, performance, and price.
Standout Features:
Flat burr grinder
12 cups
Stainless Steel
Double-insulated thermal carafe
Separate areas for grinder and filter
Grind-off feature
Brew Pause feature
Brew Strength (strong, medium, mild)
Extras: Gold-tone commercial permanent filter +charcoal water filter
This Cuisinart Grind-and-Brew machine tops our list of favorites because it has all the features we wanted to see in a machine for a middle-of-the-road price. 
Things We Like:
First off, it has a burr grinder, so you are sure to get that fresh-flavored, evenly-brewed coffee flavor. 
The Cuisinart Grind and Brew comes with a double-insulated thermal carafe to keep your coffee hot even after it is brewed. Also, the stainless steel pots are a little more durable. So, if you live in a busy household, this pot stands up to wear and tear. 
One of our favorite features of this grind and brew coffee maker is that it has separate areas for the grinder and filter. This ensures that you are not going to get the grinding area wet and makes this pot easier to clean than others.
We also like that it offers a "grind-off" feature. So, if your relatives continue to load you up with pre-ground coffee at holidays, you can still use those grounds in this coffee machine.
The brew-and-pause is a nice feature if you are like me and can just never quite wait for the pot to finish its cycle before grabbing your first cup. While I have been known to pull out the pot even on machines without this option, the pause keeps you from having to clean up a mess.
This pot gives you the capacity to brew up to 12 cups and you can choose your favorite brew strength as well.
Things we don't like:
No smart-water feature. The Cuisinart will grind the right amount of coffee for the brew size you choose, and extracts it so you get the full flavor as you would with a full pot. Unfortunately, this machine does not have a smart feature to use the correct amount of water for your cup size. This means that you will have to measure your water and fill the reservoir for each carafe.
It's complicated. This machine has a lot of great features, but you have to get to know it well before you can tap into all of its secrets. (You might even have to read the manual for this one!)
Limited bean hopper capacity: only holds about 1/2 pound of coffee beans at a time.
Its price. Unfortunately, this machine is set at a pretty price. You could find yourself paying over $300 for this machine.
Customer Reviews: Overall, customers loved the flavor of the coffee. They noted that there was a learning curve to use this machine. Also, cleaning this grind and brew required a little more elbow grease than your regular drip coffee maker.
Final Thoughts: The Cuisinart Grind and Brew has a few state-of-the-art features that are impressive and make the grind and brew experience smooth, fast, and flavorful. We don't mind so much that you have to spend a little effort to learn this machine, as long as the end result is a perfect cup of joe!
Other options include earlier versions like the Cuisinart DGB-550.
Can't get enough Cuisinart? Check out our full guide and review of all the best Cuisinart coffee makers on the market.
Standout Features:
Conical burr grinder
12 cup
Stainless Steel 
Thermal carafe
Flexible cup sizes
Steep and Release Technology
Programmable auto-start
Pre-ground option
LCD screen
2-pound bean hopper capacity
Extras: Gold Tone Filter and Cleaning Brush
The Breville brand is one of our favorites because it just seems like they understand good coffee. This almost made it to first place but the Cuisinart won out by a nose hair. Take a look at the Breville Grind Control and decide for yourself!
Things we like:
We love that this Breville coffee maker is made of stainless steel… and that its burr grinder is also made of stainless steel. This ensures that you won't get funky tastes of plastic or aluminum in your cup of coffee.
The Breville also offers a steep and release technology to make sure that your bean extraction is even and that each particle of flavor makes it to your cup!
Breville grind control means more grind size options to choose from to find the best flavor profile for you.
The programmable auto-start is always a nice feature on a brew machine. This means when you wake up and walk down to your coffee corner, enjoying a cup ASAP!
One of our favorite features of this drip coffee maker (besides the burr grinder!) is that you can brew directly into either a carafe or a travel tumbler. This can save you a step on a busy morning when you need to take your coffee and run!
The LCD screen also adds a bit of fancy to this overall design.
Things we don't like:
It was a little bit of a turn-off that the product description tells you what to do in case of a clogged machine. While this is useful information to have, it makes us wonder a bit why Breville felt the need to use half of the coffee machines description to trouble-shoot? A look at the customer reviews fills us in that this is a recurring problem with this coffee machine.
Customer Reviews: From customer responses, it seems that the Breville grind control coffee maker has a tendency to clog. This adds a bit of a maintenance issue, which is why the Cuisinart machine ended up winning out for us in this race. 
A hack to better clean the Breville grind and brew is to focus on cleaning the silver disk divider on the grind chute. This is a lower maintenance option and lets you hold off on cleaning out the entire chute until you have run through 8 hoppers of beans. 
Final Thoughts: We love all of the features that this Breville coffee machine offers, especially the stainless steel parts, a 2-pound capacity bean hopper, and the fact that you can put your travel mug directly under the drip. It is also a slightly cheaper model than the Cuisinart. …I don't know, I might walk out of the store with this machine after all!
For a more indepth look, check out our full Breville Grind Control coffee maker review here.
Standout Features:
Conical burr grinder
10 cups, glass carafe
Programmable auto-start
Brew Pause feature
2-10 cup settings
5 grind settings
2-hour warmer burner
3 coffee strength options (mild, medium, strong)
Price 
Things we like:
The Krups grind and brew offers a burr grinder with 5 different grind settings. This gives you a good range of options and allows you to adjust the grind to your coffee beans until you get the taste you are wanting.
Also, this machine takes your flavor options a little farther by giving you a mild, medium, or strong brew option. 
You can also preset your coffee maker so that you can wake up to fresh coffee. 
This coffee machine offers an LCD screen and has a straightforward user-friendly layout. For coffee, I would do just about anything… even read a manual! But, I always appreciate it when a coffee machine doesn't make me go that far.
We like that the Krups grind and brew coffee maker has a pretty mid-line price range. Though not dirt cheap, it is still over $100 cheaper than others in its category. 
The Krups will only grind and brew coffee from the bean hopper based on your setting. So no refilling after each brew.
Things we don't like:
Krupps made a nice machine that fits nicely into a budget. The main thing that we don't love about this machine is that many parts on it are made of plastic. 
Customer Reviews: Customers seemed to agree that the Krupps was easy to operate and clean. It seems that some (but not all) of the customers had trouble with the grinder being loud or dying an untimely death. 
Final Thoughts: We like this Krupps grind and brew machine and all of its included features. Assuming everything works as it should, we say it has a pretty good value for its price tag. It's a good option for beginner coffee drinkers who want to grind and brew on a limited budget.
Standout Features:
Conical burr grinder
10 cups, thermal carafe
Stainless Steel
Direct-feed technology
Compact space-saving design
Programmable auto-start
Accommodates pre-ground coffee
Gold-tone filter
Things we like:
The direct-feed technology is one of our favorite things about the Capresso. This ensures you are getting your coffee grounds to your brew basket while keeping them away from moisture.
Another plus of the Capresso coffee maker with grinder is its stainless steel parts and compact design. Remember the whole counter space saving argument?
Like many other coffee makers with built grinder, the Capresso allows you to turn off the grind feature and accommodates pre-ground coffee if you so wish. …But really, why would you choose this option if you can grind it fresh?
Things we don't like:
The bean hopper on the Capresso seems a little bit small at 6 oz. While you may appreciate that this machine is compact, you may not like the fact that you have to refill the bean hopper often.
Customer Reviews: Most customers found this machine pretty easy to use. One recurring complaint was that replacement parts for the Capresso are difficult to find.
Final Thoughts: The Capresso coffee maker is cheaper than many grind-and-brews with burr grinders. Its price range often fluctuates somewhere between $150 and $200. We like many of its features and it seems like a pretty solid compact machine for making delicious coffee.
Standout Features:
Conical burr grinder
10 cup, glass carafe
8 grind sizes
Grind-off function
Programmable auto-start
Auto shut-off
Bell alert
Things we like:
The Gevi grind and brew coffee maker offers a burr grinder with 8 different grind size choices. Having a range of options allows you to discover what size will give you the best flavor for your cuppa. 
This machine also offers a pre-ground coffee option if you so choose. 
You can set up this drip coffee maker with grinder to auto-start your brew when you wake up in the morning. It will let you know that your pot is finished by a bell-ring alert. I think this alert would work better than an alarm clock to get me up and moving!
The Gevi will turn itself off after 2 hours. So, this is one less thing you have to remember to do before heading out of the door in the morning.
Things we don't like:
This coffee maker boasts a large 1.5-liter tank and decent size bean hopper. But, the machine will use all the water you put in the tank when you make your brew. This means that even though you have a large-sized tank, you still have to fill up this tank for each brew.
Also, the pieces on this grind and brew coffee maker are made out of aluminum. Although I realize that some brewing styles (such as the Moka pot) often use aluminum, I would much prefer to see stainless steel on my brew machine.
Customer Reviews: Most customers had nice things to say about the grind and flavor of this machine's coffee. Some customers had issues with the pour spout tending to spill coffee.
Final Thoughts: Although Gevi isn't a big name brand, it seems to be a decent coffee maker for the average coffee drinker. It has many nice features that make brewing coffee an easier and more enjoyable experience and is usually sold at either side of $150. This grind and brew coffee maker was a pleasant surprise for us.
Standout Features:
Single-serve brew machine
Conical burr grinder
Makes coffee with the touch of a button
Espresso maker option
Strong coffee strength
Crema/foam
Things we like:
As, an espresso fan, I am happy to see a single serve, grind-and-brew coffee maker that also makes espresso. The Tchibo offers 3 sizes, in fact: a 2 oz, 6 oz, or 8 oz shot. It even puts in a little extra effort and gives you crema on top.
This espresso machine has a one-touch button. This is probably the most user-friendly machine on the list.
It also has a strong brew button if you like your brew to have an added punch.
Things we don't like:
While the Tchibo brews your coffee fresh with a touch of a button, it does not have a bean hopper by-pass for brewing ground coffee.
We have come to expect that a single-serve coffee maker will also offer a pod option. But the Tchibo is not about that life. Instead, it only grinds your coffee for you. Fresh.
Customer Reviews: Customers overall gave great reviews for the Tchibo grind and brew coffee maker. They touted it as being hot coffee with a great taste. Some went as far as to say that it was better than their local coffee shop. This is big!
Many customers did note that it is important to read the manual for this coffee machine to practice proper maintenance and care. There were very few complaints about this machine.
Final Thoughts: The German-based Tchibo coffee maker with grinder made it over the pond and into American markets. We like the unique brew style and sleek look of this single-brew plus espresso machine. European coffee lovers seem to have a knack for making good flavored coffee that may be stronger than your average joe, but not bitter. I'm putting a star next to this coffee maker in my book!
Standout Features:
Grind-off feature
User-friendly
12 cup glass carafe
Programmable auto-start
Sneak-a-cup
Easy cleanup
Price
Things we like:
The Black and Decker mill and brew allows you to grind your beans, or if ground coffee is all you happen to have on hand, you can use it in this coffee maker as well. 
One of our favorite parts about this coffee maker is its user-friendly design. The buttons are all clearly marked and arranged in an orderly fashion to make it easy to navigate.
Like many of the other grind-and-brew coffee makers, the Black and Decker has an auto-start function that you can use to have your coffee ready and waiting when you wake up.
Another nice feature of this coffee maker is that it is easy to clean with only 1 filter basket.
A big selling point for Black and Decker grind and brew is its price. You can often find this machine priced between $50 and $100. That seems like a pretty good deal for this little powerhouse.
Things we don't like:
This coffee maker with grinder has a blade grinder instead of a burr grinder, which can lead to an uneven brew. 
No bean hopper. This means you have to pour in fresh coffee beans each time you want to brew.
Customer Reviews: Most customers were pretty pleased with this machine overall. It was easy to use and worked as expected for the majority of customers.
Final Thoughts: We like this simple-to-use grind and brew coffee machine. Black and Decker is known for its reliable appliances and this coffee maker would not be a bad one to have around in the kitchen. Although it does not have a burr grinder, it has many positive reviews in its corner, and the price makes it worth taking a chance.
For a more indepth look, check out our full Black+Decker Mill & Brew review.
Standout Features:
Single Serve
Grind-off feature
Space-saver
User-friendly
Easy to clean
Adjustable mug drip tray
Extras: thermal travel mug included
Things we like:
We love the look of this cute little space-saving grind-and-brew coffee maker. This is one of the smallest units we found on the market and is perfect for a small kitchen, dorm room or even travels.
This grind-and-brew allows you to grind whole beans or use pre-ground coffee. 
Since its design is relatively simple, it is easy to use and also easy to clean. Actually, the brand says you can put this filter directly into your dishwasher for a thorough clean.
It even throws in a nice thermal travel mug with a heat-resistant sleeve …and I think I now need one of these!
The price is right at around $50 for this cute and compact grind-to-brew.
Things we don't like:
This coffee maker is built with a blade grinder, not a burr grinder.
You will not find a lot of high-tech features on this machine.
Customer Reviews: Most customers had a soft spot for this cute little coffee machine and agreed that it worked well for its size and price point. Some customers said their filter stretched out over time (…so, maybe don't put it in the dishwasher, after all?) But, other customers said it looks like replacement parts are available.
Final Thoughts: We have to say that we are fans of this tiny grind and brew coffee maker. We would buy it just for the free travel mug!
Grind and Brew FAQ's
1. How quickly does coffee flavor dissipate after grinding?
It is recommended to grind your coffee beans and then start brewing within one minute. Ten minutes after grinding your beans you can already taste a difference in flavor. For the best-tasting coffee, grind just before you brew. When coffee beans are crushed into small grounds, it opens up the bean to extract all that yummy flavor out. But, if you wait too long, some of that tasty flavor in the volatile oils will have already dissipated.
2. Are some burr grinders better than others?
Burr grinders are the best type of grinder, but some burr grinders are better than others. The best burr grinders will offer a speed range option as well as a grind size option. A lower speed will usually give you the best result for your grind.
3. Does grind size make a difference in my brew?
Undeniably, yes! Generally speaking, finer ground coffee will make a stronger brew, while a coarser ground will make a weaker brew if brewed for the same amount of time and at the same temperature. 
4. What grind size should I use for my drip coffee maker?
The grind size you should use depends on your brew method. For drip coffee makers, most coffee experts recommend a medium grind for the best flavor. If you find your coffee is too strong, you can change your grind to medium-coarse. If it is too weak, try medium-fine. It's all about testing to find what flavor profile works for you.
5. Is a grind and brew coffee maker hard to clean?
How hard or easy your grind and brew coffee maker is to clean will depend largely on your coffee maker's brand and model.
While some machines are easier to clean than others, you can pretty much count on a grind-and-brew being a bit trickier to clean than your average coffee maker. This is because you are essentially cleaning both a coffee grinder and a coffee maker combined into one machine.
6. Why is my grind and brew not grinding?
Your grinding feature may be clogged. You can clean out the grinding area to see if this fixes the problem. Also, be aware that finer grinds tend to clog your grinder faster than coarse grinds will. 
Final Verdict: The Best Grind and Brew Coffee Maker
When it finally comes down to it, the grind and brew coffee maker you choose largely depends on your lifestyle. Are you looking for a model that will serve many or do you want a single-serve with a small footprint? Do you want to invest in the highest quality, or are you just looking for something to get you by in a college dorm or apartment?
Taking a look at the best features of all these machines, we may call it a toss-up between the Cuisinart and the Breville. These grind and brew coffee makers are both top-notch quality and come with a conical burr grinder to make perfectly extracted coffee we are looking for.
In addition, they provide us with a host of other features that we didn't expect, like a direct drip travel mug option, grind-off options, steep and release technology, gold-tone filters, an LCD screen, among others. 
And the winner goes to… 
Well, which one would you choose?
Final Thoughts
Nothing beats freshly brewed coffee from freshly ground coffee beans. And we love that a grind-and-brew offers this rich taste with relatively little effort on our part. Another bonus is that the 2-in-1 aspect saves us space on our countertop.
This list is full of great grind-and-brew coffee makers. We included options for a variety of needs and budgets so you can sort out which is the best fit for you! 
If you decide you want to keep your coffee maker and coffee grinder separate but still maintain quality, then consider an SCA certified drip coffee maker or a Ninja coffee maker with either an efficient manual coffee grinder like the 1Zpresso or Javapresse or electric grinders like the KitchenAid.
Let us know which grind and brew machine gets you going in the morning!
Coffee Has Never Read This Good!
Sign up for a FREE newsletter to the best home brewing tips and guides
Thank you for subscribing to The Cup Coffee House Crew! There's a surprise in your Inbox 🙂
Something went wrong.
About the Author
Latest Posts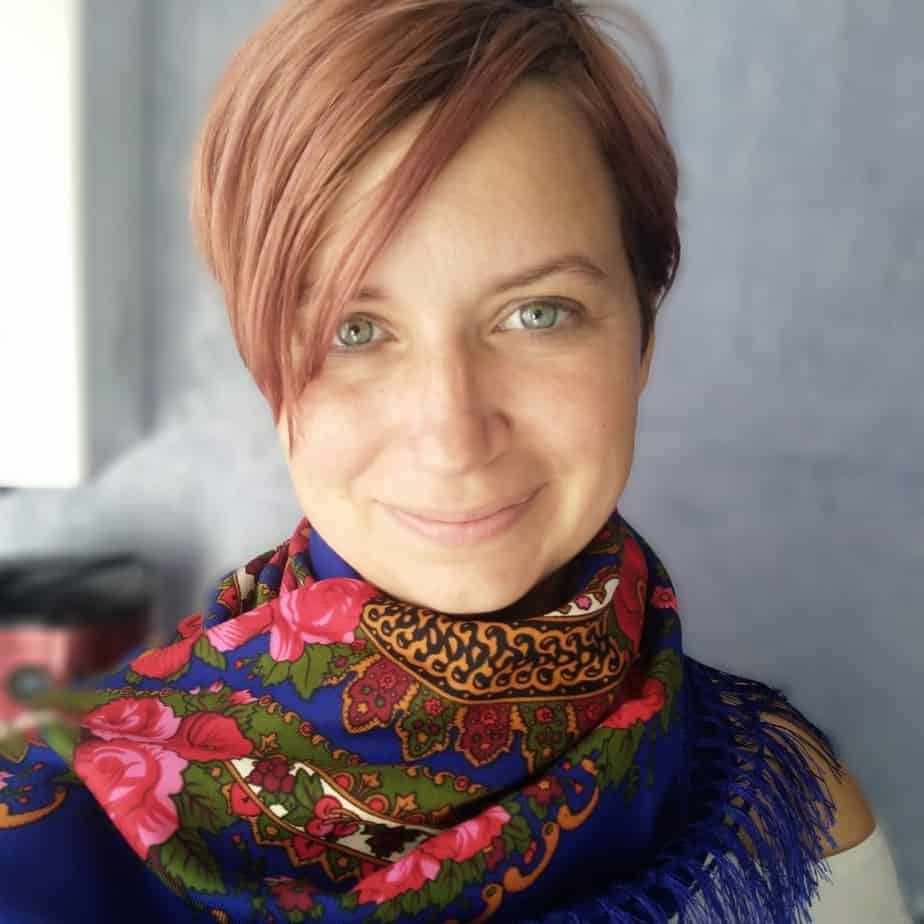 Alex Praytor worked her first job as a barista, finished college, and then took a tour to the other side of the globe. She fell in love with espresso and her would-be husband in Europe. She spends her spare time visiting native Texas landmarks, ancient castles, and all the coffee shops she finds along the way. At home, she is a mom, ESL teacher, and writer, who hones her coffee-making skills daily. She enjoys passing on her coffee findings to fellow caffeine addicts in search of the perfect cup.
Chief Editor