Last updated on July 12th, 2023 by Alex Praytor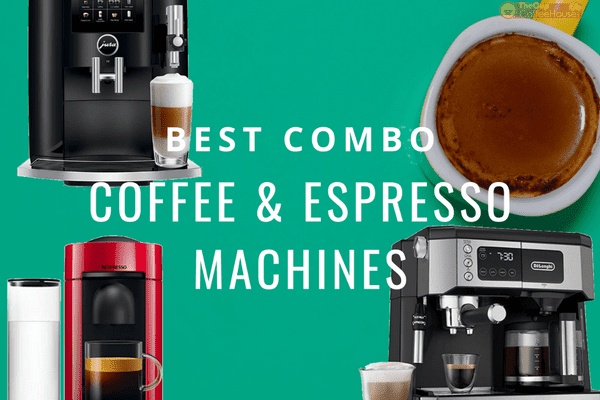 Coffee is both a comforting morning ritual and a caffeinated energetic spark to start your day off right. Most homes have at least one coffee maker, if not more. Many enjoy the reliability of a drip coffee pot, but also enjoy experimenting with specialty drinks. The good news is, you can have it all in one machine! 
Coffee and espresso maker combos allow you to be flexible with how you drink your cuppa. They also combine two machines in one so you aren't cluttering your countertop with so many machines.
Want the quick summary?
Our top pick in this category of best coffee and espresso maker combo is the De'Longhi Dinamica. This machine has a user-friendly layout and can make espressos, regular coffee, specialty drinks, and even iced coffee. It has a built-in bean grinder and steam wand. It can also heat up in less than 40 seconds. Everything you need in a coffee shop from home setup!
De'Longhi Dinamica ECAM35025
The ECAM35025 is an automatic bean to cup machine with high-end features like a built in grinder, milk frother and over ice function for beverage versatility; Perfect for espresso lovers looking for a simple but quality coffee making experience.
Last update on 2023-09-18
After hours of research and looking through all options carefully, we chose coffee and espresso maker combos that are high-performance, have impeccable customer reviews, and give a good value for the price. We also included different types of machines to match different coffee-making preferences and fit into a variety of budgets.
Let's take a look at the top nine combo coffee makers on the market today.
---
The Top 9 Coffee and Espresso Maker Combos 
What we like:
15 bar Italian pump
Automatic
Fast heat-up
Steel burr grinder
13 grind settings
Espresso, coffee, cappuccino, latte, and iced coffee options
Easy to clean
Adjustable milk frother
What we don't like:
Customizing a drink can be difficult to navigate
No integrated milk dispenser
Review:
If you are looking for a machine that gives you both espresso and regular drip coffee options, this machine goes the extra mile. The De'Longhi Dinamica Automatic Coffee and Espresso Machine can make espressos, cappuccinos, lattes, regular brews, and even iced coffee! 
Start out by grinding coffee beans to your preferred size in the burr grinder. Then choose your coffee style with the touch of a button. With the De'Longhi Dinamica, you don't need to attach a portafilter to the group head. This can eliminate spilled coffee grounds and make your brewing experience a simple one.
However, you will need to foam the milk manually using the attached steam wand. Luckily, the steam wand is easy to adjust and control to make the perfect topping for your coffee drink.
When it is time for clean-up, you can remove the brew unit for a more thorough clean and pop the drip tray into the dishwasher.
Customer thoughts:
Most customers love how coffee drinks taste when using the Dinamica. However, some say the machine is tricky to navigate when you want to customize a beverage. You may need to press a combination of buttons and follow instructions from the manual.
Our verdict:
The De'Longhi Dinamica can give you a myriad of coffee drinks to choose from. Not only does it allow for espresso-based drinks and regular brews, but it also gives you an over-ice option. 
This machine sells for under $1,000 and many customers say it is worth every penny. A great overall option for beginners and enthusiasts alike.
De'Longhi Dinamica ECAM35025
The ECAM35025 is an automatic bean to cup machine with high-end features like a built in grinder, milk frother and over ice function for beverage versatility; Perfect for espresso lovers looking for a simple but quality coffee making experience.
Last update on 2023-09-18
For a more in-depth look, check out our full De'Longhi Dinamica ECAM35025 review here.
Or to go even bigger, check out our full DeLonghi Dinamica Plus review too.
What we like:
Built-in ceramic grinder with 12 settings
LatteGo automatic milk steamer
Pre-ground coffee option
Sleek and classy look
Removable parts for easy cleaning
Dishwasher-safe parts
Touch interface
Customizable drinks
What we don't like:
This machine has so many options that it may take a few tries (and maybe the user manual) to learn the machine.
Review:
The Philips 3200 Fully Automatic Espresso machine offers rich authentic espresso drinks and regular coffee. It can grind coffee fresh, or you can use decaf pre-ground coffee in this machine. 
The LatteGo part of the machine is easy to use and tops off your drink appropriately based on the drink option you choose. Since it doesn't have tubes and hidden pieces, this milk frother is one of the easiest to keep clean. This means you have less opportunity for dangerous bacteria to build in your machine.
If you are looking for an in-house barista in machine form, the Philips is a good way to go. You can make a cappuccino with just the touch of a button. Also, it is one of the easiest combo machines to clean with many dishwasher-safe parts.
Customer thoughts:
Most customers love all the options this machine offers and how easy it is to use (after the initial learning curve.) The Philips combo coffee maker gets good customer feedback on Amazon with a 4.4 rating out of 3,500+ ratings.
Our verdict:
The Philips 3200 works quickly and accurately to give you a specialty coffee drink that tastes like it came from your favorite coffee shop. Its price is around $800, but most customers felt like they got their money's worth out of this machine in the first year. 
Sale
Philips EP3241 w/ LatteGo
With a built in grinder, and milk jug system, plus customizable automated drink options, the Philips is easily the best value for your money.
Last update on 2023-09-18
For more great latte maker picks, check out our full guide on the Best Latte Machines.
What we like:
Separate semi-automatic espresso and coffee maker sides
Glass carafe
Dual heating system
Italian 15 Bar pump
24-hour programmable setting
Steam wand with cappuccino setting
Bold setting
Priced at less than $300
What we don't like:
More labor-intensive to brew specialty drinks.
Review:
The De'Longhi All-in-One has a lot of features to love. On this machine, the espresso maker and coffee maker are side-by-side. With the dual heating system, you can use both sides simultaneously. This is a bonus that sets this machine apart from other combo machines. 
The espresso side is semi-automatic. You need to load the portafilter with coffee grounds, tamp it, and add it to the group head to pull a shot. With the steam wand, you also need to manually froth the milk. However, you do get the bonus of a cappuccino setting on the wand if you want fluffier milk.
If you enjoy a hands-on experience when you make your brew, this All-in-One machine may be right for you. You get to maximize control over the brewing process until you get a result you love.
Customer thoughts:
Many customers enjoyed the professional-type quality of this machine. Although the steam wand was a learning curve for some, most agreed that this machine was well worth the money. Some even no longer felt the need to visit Starbucks with this machine in their kitchen.
Our verdict:
If your household is divided between regular drip-brew coffee and espresso drinks, the De'Longhi All in One can make everyone happy. This combo machine is fully capable of making any coffee drink that you are willing to execute. Also, you can brew regular coffee and pull shots simultaneously. This machine looks like a winner at its price!
Sale
Last update on 2023-09-18
What we like:
60 oz multi-position water reservoir
9 brew sizes for grounds (small cup to full carafe)
4 pod brew sizes (6-12 oz)
Classic, Rich, Over Ice, and Specialty brews
Fast heat up
Low-water alert
Pre-program settings
Independent hot water system
2 temperature settings: Hot and Boil
Fold-away built-in frother
XL showerhead for even extraction
The Brew cycle is calibrated appropriately for your brew size
What we don't like:
Brews coffee concentrate, not authentic espresso.
Review:
The Ninja DualBrew Pro System accepts both pods and coffee grounds. You can brew a carafe of coffee or a single cup to-go. Not only does this machine brew classic coffee, specialty drinks, and over-ice, but it also has a hot water dispenser capable of boiling water for tea, instant oatmeal, and soups.
To make a specialty drink, you can use a pod or coffee grounds. Then use the fold-away frothing wand to aerate the milk for a delicious, creamy topping. For steamed milk, heat the milk first before frothing. 
Whatever size of coffee beverage you choose, the Ninja adjusts the brew cycle to give you a consistent cup of coffee.
This Ninja machine gets a 4.7 overall rating on Amazon with over 3,000 reviews.
Customer thoughts:
Most customers found the Ninja user-friendly and enjoyed the rich coffee flavor you can get with this machine. Some added that it is surprisingly compact in size and they appreciated the adjustable water tank.
Our verdict:
The Ninja brand is known for its rich coffee flavor and user-friendly models. This DualBrew Pro System is no different. Not only can you get great-tasting coffee from this compact machine, but you can also brew a latte or cappuccino if the mood strikes.
Ninja CFP301 DualBrew Pro
If you're looking for a rich coffee brew or espresso like specialty drink, the DualBrew Pros easy use plus pod capability makes it a great choice for on the go coffee drinkers.
Last update on 2023-09-18
For a more in-depth look, check out our full Ninja DualBrew Pro review.
For more discussion on different Ninja coffee makers, check out our full review on the Ninja Hot and Cold Brewed System.
What we like:
Centrifusion technology
Brews regular coffee and espresso
Adjustable 40-ounce water tank 
Waste container for 17 used pods 
Fast 15-second heat up
Automatic shutoff after 9 minutes
Recyclable capsules
What we don't like:
Compatible only with Nespresso Vertuo capsules
No steam wand
Review:
The Nespresso Vertuo Plus is a pod machine that can tackle both espresso and coffee beverages. While Keurig machines are incapable of adding pressure to create authentic pods, Nespresso works around this issue.
The Nespresso Vertuo uses innovative centrifusion technology to spin the pods to create pressure and a crema-like foam to top your beverage. You also notice that the coffee taste is much closer to authentic espresso than other machines that offer only concentrated coffee. 
The Vertuo can heat up in 15 seconds and can store up to 17 used pods. This machine is also energy efficient and shuts down automatically after 9 minutes of disuse. 
The taste of the coffee and espresso from a Nespresso Vertuo is delicious. However, it does not offer a built-in milk frother option. This means you need to buy Vertuo pods with milk already added. Or, you can purchase a separate manual milk frother to top your drinks.
Customer thoughts:
Customers enjoyed the convenience and taste of the coffee drinks from the Nespresso Vertuo. They also appreciated the crema layer that tops off both espresso drinks and regular coffees. Those that weren't a fan of this foamy topping simply stirred it into the drink.
Our verdict:
The Nespresso Vertuo is simple to use and brews a consistent cup. You can find pods for lattes, espresso drinks, and more to pop into this machine. Although it does not have an attached milk frother, many choose to purchase this machine in a package with an Aeroccino. At around $150, this machine is an affordable option for those in the market for a coffee and espresso maker combo.
Nespresso VertuoPlus
For quick delicious and hot coffee or espresso like drinks on the go, it really doesn't get any better than Nespresso.
Last update on 2023-09-18
For a more indepth look, check out our comparison of the Nespresso Vertuo and Evoluo machines.
What we like:
15 different specialty options
Color touchscreen display
User-friendly
Pulse Extraction Process (PEP) for quality flavor
Milk frother capable of fine-textured foam
Grinds, tamps, and brews coffee to precision
Creates drinks in 60 seconds
What we don't like:
The price is steep at around $2,600.
Review:
The Jura S8 is a dream machine that can do it all. This machine has a color photo-quality display menu to easily decide which drink is for you. The Pulse Extraction Process technology extracts your brew for amazing flavor and you can adjust the strength of your brew. Also, the steam wand is capable of fine-textured microfoam for velvety, smooth milk toppings. 
When you need a cup fast, the Jura S8 warms up quickly and can make a cup of coffee in 60 seconds!
Customer thoughts:
Many customers loved the Jura machine but found the milk steamer confusing to use. Some wished that the type of foam options were more clearly labeled.
Our verdict:
This all in one coffee espresso machine allows you to make a coffee beverage just how you like it. If you have extra cash in your budget, the Jura S8 can provide tasty, high-quality drinks in record time. Even better, in the long run it may actually save you time and money from not going to the coffee shop.
Sale
Jura S8
This fully automatic machine boasts luxury with its nifty display, fine tuned extractions and automated espresso or coffee beverages.
Last update on 2023-09-18
Want more Jura options? Check out our full review of the best Jura coffee machines.
What we like:
Fully automatic
Built-in grinder
Ground coffee drawer
Coffee pot to make up to 8 cups at a time
Coffee, espresso, and specialty drinks
Make 2 specialty drinks at a time
Two profiles to save preferences
Milk foam options
Removable and dishwasher-safe parts
What we don't like:
The sleek-looking touch menu is a little enigmatic for first-time users
Larger footprint than some machines
Review:
The Miele combo coffee maker is a fully automatic machine with a built-in grinder. You can choose your favorite drink from the menu, or create your own. Save your drink preferences in a profile so you can easily brew up your customized beverage each time. 
This machine tops off drinks with rich creamy foam. You can even brew up to eight cups with its included coffee pot. If you want to make specialty drinks for a crowd, the Miele allows you to brew 2 specialty drinks at once. This means that you can finish your drink orders in record time and sit down and drink coffee together.
Customer thoughts:
Customers enjoyed this one-touch specialty drink coffee maker. However, some said that the latte tasted weak when using the one-touch button. They suggested making espresso and topping it off with custom milk to make a stronger-tasting latte.
Our verdict:
The Miele is over $1500 to bring home making it one of the priciest machines on the list. However, it does have a lot of great features. With this machine, it is easy to make coffee or espresso drinks exactly to your taste. If you have the extra bucks and serious about your coffee, this may be a perfect fit for you.
Miele CM 5510 Silence Automatic
While not cheap, this combo 8 cup coffee pot with automated espresso drinks with creamy foam and built in grinder is likely a joy to own.
Last update on 2023-09-18
What we like:
60-ounce reservoir
Hot and cold milk froth
Compatible with any K-cup
Brews regular coffee and specialty drinks
2-hour auto-off
Fits 7.2" travel mugs
Smart start feature
Descale alert
What we don't like:
Does not make an authentic espresso using bars of pressure.
Review:
The Keurig K-Cafe is friendly to use and can make specialty drinks or regular coffee. Remember when you had to let the machine warm-up before you could choose your brew style? With Keurig's Smart Start feature, you can choose the drink you want. Then the machine heats the water and makes your drink in one seamless step.
The K-Cafe allows you to brew a 2-ounce shot or choose your preferred coffee size from 6 to 12 ounces. 
For specialty drinks, start with a 2-ounce shot. Then foam your milk by pressing the latte, cappuccino, or cold froth button. When you are done, you can wash the frothing pitcher in the dishwasher.
This machine is compatible with any Keurig pod and also with the my K-Cup Univeral Reusable Coffee Filter.
Customer thoughts:
Most K-Cafe users enjoy the ease and simplicity of making specialty drinks in this machine. They also found the milk frother easy to use to make cold or hot drinks.
Our verdict:
We like that the Keurig K-Cafe allows you to use a coffee pod but still offers a way to foam fresh milk. However, this machine is not capable of brewing with pressure. This means that the "shots" work well for specialty drinks, but may not have the best flavor if you plan to drink a shot of espresso. This machine is straightforward to use and costs about $180 which is much less than many other espresso makers.
If regular coffee and specialty drinks are your main goal, this machine can fill your need.
Keurig K-Cafe
If you're not a coffee snob and just want delicious hot coffee or specialty drinks done easy and fast, the K-Cafe is a good choice.
Last update on 2023-09-17
For a more indepth look, check out our comparison between Nespresso Vertuo and Keurigs K-Cafe.
What we like:
Brews Nespresso pods or Kcups
Brews ground coffee
Fast brewing
56 oz. removable water reservoir
19 bars of pressure
Makes up to 14 oz
What we don't like:
No batch brew option
Can be a little loud
No milk frother included
Review:
The Hamilton Beach Flexbrew combo coffee and espresso machine stands out as something different you don't see very often.
Yes of course as a single serve brewer it delivers rich hot coffee fast in under a minute and is easy to use to and maintain. Just pop in your pod, either Keurig or Nespresso choose bold or regular and you're good to go. You can even brew your own favorite ground coffee blend to really take in the gorgeous nuanced flavors.
But the interesting thing is that this combination machine actually pulls espresso using a 19 bar pump. This means you're getting a rich bold espresso with heart body and crema that typically is not an option for single cup brewers.
Customer thoughts:
In general most people were pleased with the flavor profile, ease of use and maintenance of the Hamilton Beach Trio Brewer. Some had issues with it being a little loud, but overall is pretty good value.
Our verdict:
If you don't want to spend too much, but looking to invest in a quality coffee maker and espresso machine combo that produces pressure rich espressos as well as rich delicious coffee from either pods or ground coffee, the Hamilton Beach is a great option especially for budget conscious buyers and beginners.
Sale
Last update on 2023-09-18
A Buyer's Guide for the Best Espresso and Coffee Maker Combo
If you are in the market for a new coffee and espresso maker, there are many different styles to choose from. To find the best machine for you, you want to decide how you like to make your coffee and which style of coffee drink you drink most often. 
Here are some questions to ask yourself before investing in a new combo coffee machine: 
Does it have a steamer or frothing option?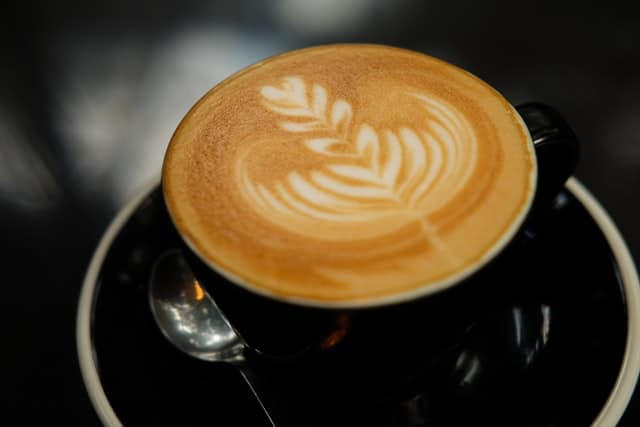 Many espresso and coffee maker combos can also make specialty drinks such as lattes, cappuccinos, and more. Some machines may only froth the milk without heat, while others use steam to heat your milk and create a velvety texture. 
Super-automatic machines often have an automatic steamer that adds a topping of warm, frothed milk directly to your drink with the touch of a button. 
Then, there are some espresso machines that have no milk option, at all. When you are looking for the right machine for you, look at what milk options the coffee maker can offer.
Is a pod option important?
If you live life in the fast lane, you may want a coffee maker that can give you a coffee or espresso as quickly as possible. A pod option is one of the easiest (and fastest) ways to get your hot drink of choice into your to-go cup and out the door.
You can find some pod machines that simulate 15 bars of pressure for an espresso with a crema-like topping like Nespresso. When you buy the pods, decide if you want an espresso pod or a regular coffee option. Some of these pod machines may even include a steam wand on the side like the Ninja!
Do you want control over your brew or automatic settings?
If you like to adjust the time, temperature, and strength of your brew, a semi-automatic espresso option may be the best for you. However, if you just want a tasty specialty drink and trust the machine to handle the details, a super-automatic machine can give you consistency. Whichever option you choose, an espresso and coffee machine combo can turn your kitchen into a cafe.
Does this machine include a grinder? (If so, what kind?)
Some fancy coffee combo machines also include a grinder. There are two may types of grinders you can run into – a blade grinder or a burr grinder. Most coffee aficionados choose the burr grinder for a more even grind and the best flavor.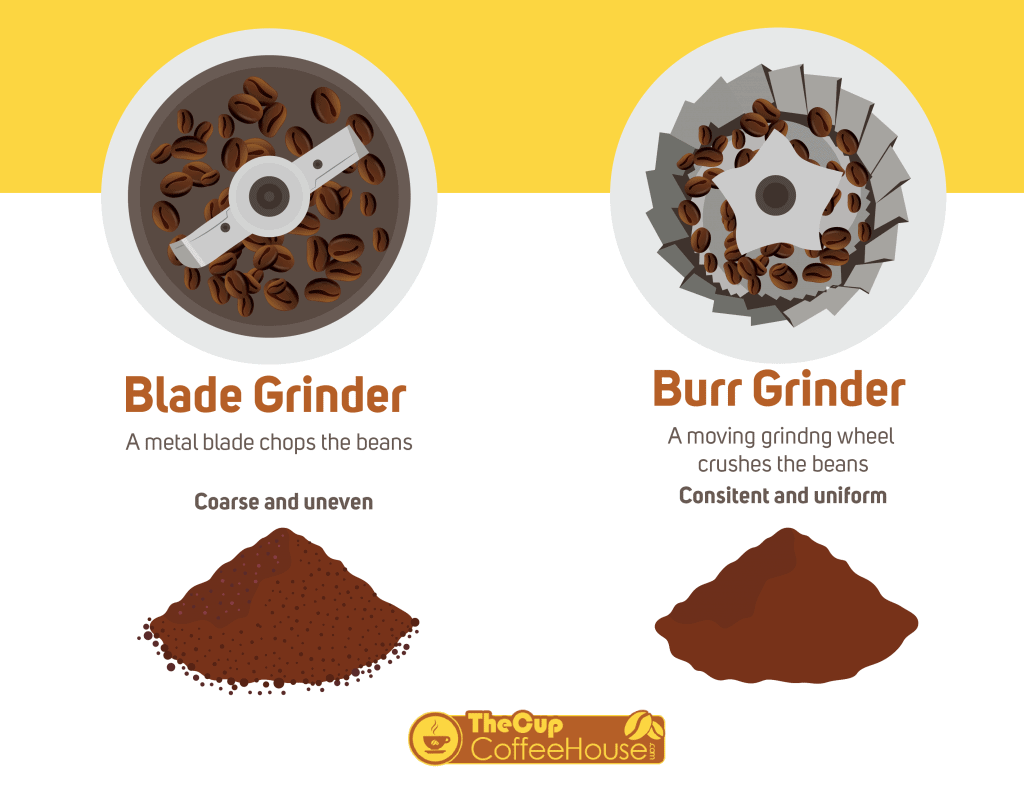 Burr grinders grind coffee beans evenly without heat. This means that the coffee has an even extraction and a more uniform taste. 
Blade grinders can get the job done. However, a blade grinder can whack a bean unevenly. Also, the mechanics may heat the beans prematurely and compromise some of the flavor.
What's your budget?
The sky is the limit as long as money is no object. However, our dream machine has to fit into a realistic budget at the end of the day. We found several great coffee and espresso combo options that can be a good match for a variety of budgets.
What Do I Look For in a Combination Machine?
Personally, I don't want to get into the nitty gritty details of espresso pulling or third wave pour over coffee. I'm too busy for all that.
But I do want and appreciate the flavors of delicious rich bold coffee. And the versatility of having the option to enjoy a rich full bodied espresso is nice too. So here is what I look for in a combination coffee espresso machine:
Large water reservoir: I don't want to be refilling too often. Although I'm willing to give up some size there for more features elsewhere.
Built in grinder with adjustable settings: I love the smell of fresh grind coffee beans, and its easier to let the machine do it for me.
Automated frothing system: You're starting to see the pattern here. But yes I like the milk jug system included in many automatic coffee and espresso makers. Plus the cleaning is super simple too.
Programmable options: saved recipes or one touch brewing is heavenly.
Quality build with simple touch display.
Auto shutoff: Because who can remember to turn these things off every morning when you're in a rush?
How do You Clean a Combo Coffee and Espresso Machine?
To maintain a coffee and espresso maker, you can clean it as you would a regular coffee maker. However, with a combo, you have two sides to clean instead of one. 
Maintenance Tips
First, you want to make sure to clean the machine after each use. (No one wants to open a portafilter to find day-old or moldy coffee grounds.)
Also, you should regularly descale your machine about every three months. Your machine may have a specific descaling solution or cleaning tablets to use. Check your manual for the appropriate solution to use on your machine.
Some machines let you know when it needs to be cleaned with a light or an alert. Many times these smart machines will go on strike and shut down completely until you run a cleaning cycle.
Other machines with simpler brew systems (like pod machines) are pretty low-maintenance when it comes to cleaning. 
To clean the espresso side of your combo machine, you want to rinse the portafilter and wipe down the group head to remove stray grounds. Then run hot water through the machine until the water runs clear.
If you decide to use vinegar to clean your coffee machine, make sure you run a few cycles of water through before you brew coffee. Nothing is worse than brewing a fresh cup of coffee that tastes like vinegar! 
What Coffee Beans do You Use for a Coffee-Espresso Machine Combo?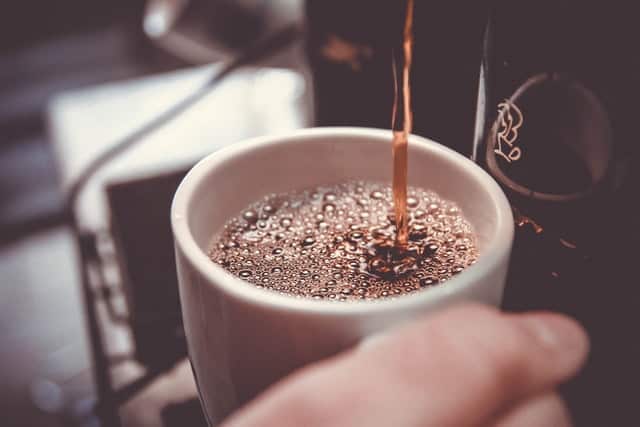 For the coffee maker side of your machine, medium roasts with a medium grind size are usually best. This can give you full-bodied flavor in your cuppa. However, you can also choose light or dark roasts depending on your tastes.
Generally, a dark roast with a fine grind is best for espressos. Since espresso is a quick brew method (usually it takes less than 30 seconds per shot) you can get a rich flavor with very little bitterness. Also, dark roasts are less acidic than light roasts giving you a smooth finish. The fine grind allows you to get as much flavor as possible out of the beans. 
Final Thoughts
There are different coffee and espresso maker combos for different tastes and lifestyles. We realize that maybe you just want to brew a quick latte as you race out the door, or you may want to try out your barista skills. Either way, you have nine great options, with the De'Longhi Dinamica being best overall.
De'Longhi Dinamica ECAM35025
The ECAM35025 is an automatic bean to cup machine with high-end features like a built in grinder, milk frother and over ice function for beverage versatility; Perfect for espresso lovers looking for a simple but quality coffee making experience.
Last update on 2023-09-18
Decide which is best for you to spice up your life with both coffee and espresso drinks. Or consider other popular brands that make both types of machines like Breville.
Like what you see? Let us know your favorite combo machine in the comments!
FAQs
Are espresso machines better than coffee makers?
Espresso makers are often more expensive than coffee makers. This is because an espresso machine must be able to create pressure and it often includes a steam wand, as well. These extra pieces and the boiler heating systems can put espresso machines in a different price bracket.
However, which machine is "better" depends on your taste. Some prefer a full mug of regular brew, while others prefer espressos and specialty drinks.
What makes espresso different from regular coffee?
Espresso and drip coffee are both considered "coffees." However, the brew methods for these two different types are very different.
Espresso needs to be brewed under at least 9 bars of pressure. This pressure gives it the smooth, foamy layer of "crema" on top. Espresso is also a quick brew method that takes 20-30 seconds per shot.
In contrast, regular drip coffee is a much slower brew method where hot water drips over coffee for a longer period of time resulting in a very different flavor profile.
What is the golden ratio for drip coffee?
According to the SCA, the "golden ratio" for filter coffee is 1:18. This can mean one tablespoon of coffee for every 18 tablespoons of water. However, since 18 tablespoons is time-consuming to measure, this translates to about 55 grams of coffee per 1000 ml of water. Some coffee lovers use a scale to weigh out the proper ratio.
Coffee Has Never Read This Good!
Sign up for a FREE newsletter to the best home brewing tips and guides
Thank you for subscribing to The Cup Coffee House Crew! There's a surprise in your Inbox 🙂
Something went wrong.
About the Author
Latest Posts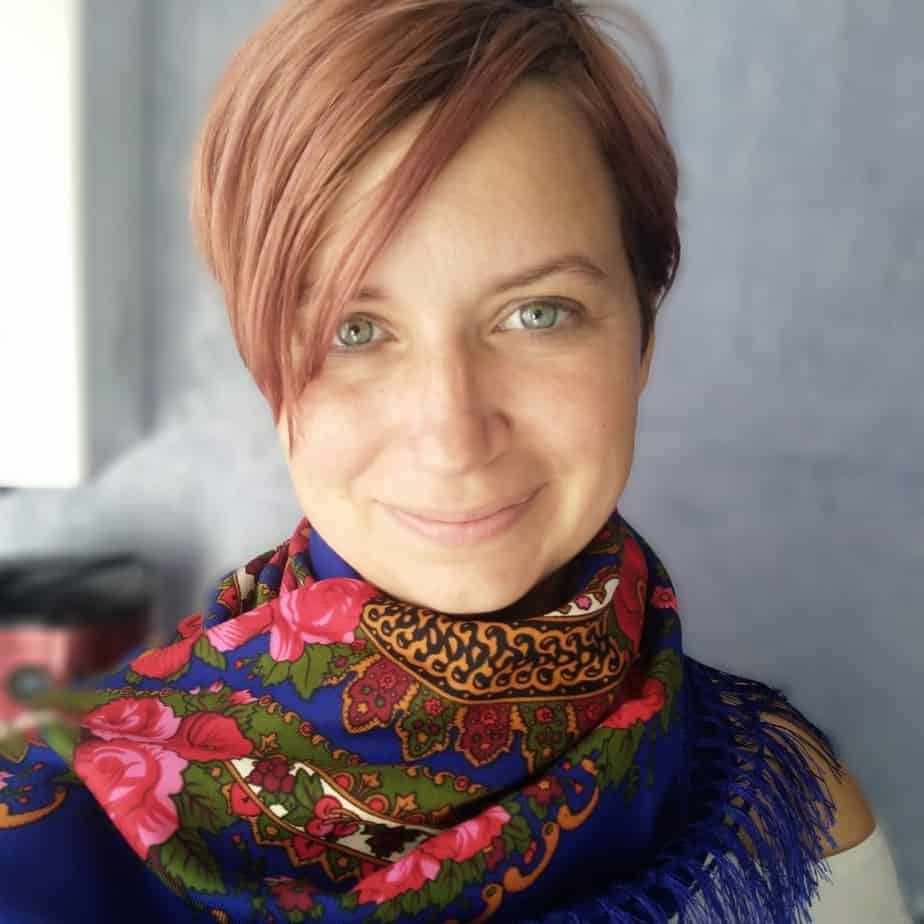 Alex Praytor worked her first job as a barista, finished college, and then took a tour to the other side of the globe. She fell in love with espresso and her would-be husband in Europe. She spends her spare time visiting native Texas landmarks, ancient castles, and all the coffee shops she finds along the way. At home, she is a mom, ESL teacher, and writer, who hones her coffee-making skills daily. She enjoys passing on her coffee findings to fellow caffeine addicts in search of the perfect cup.
Chief Editor