Last updated on September 26th, 2023 by Garret Jacob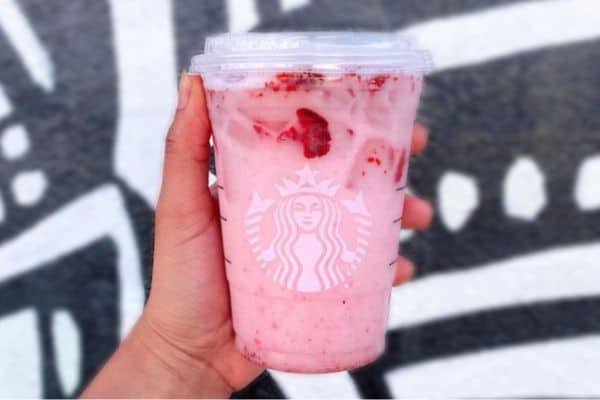 Did you know that the Starbucks Pink Drink was once a secret menu item that very few people knew about? 
Well, word must have spread, because you no longer need to order the famous Pink Drink off of the secret menu. Because of the drink's increasing popularity, Starbucks officially added the famous Pink Drink to the cold drinks menu in 2017. But does the Starbucks Pink Drink have caffeine? We will find out!
If you have had the pleasure of enjoying one of these Pink Drinks, then you know that this drink is the perfect blend of sweet acai and strawberry flavors balanced with coconut milk and green coffee extract. The drink is delicious, fruity, and moderately caffeinated.
But, what exactly is the Pink Drink at Starbucks? The name, Pink Drink, is kind of ambiguous, no?
If you have never tried the Pink Drink at Starbucks, you may have some questions. Like, does the Starbucks Pink Drink have caffeine? What are the ingredients? Can I easily make the Pink Drink at home, or do I need to order it from Starbucks?
Let's discuss these questions and more as we get to the bottom of what exactly a Pink Drink is. Also, I will share with you an easy recipe that you can use to make your own Pink Drinks in the comfort of your own home.
---
What is the Starbucks Pink Drink?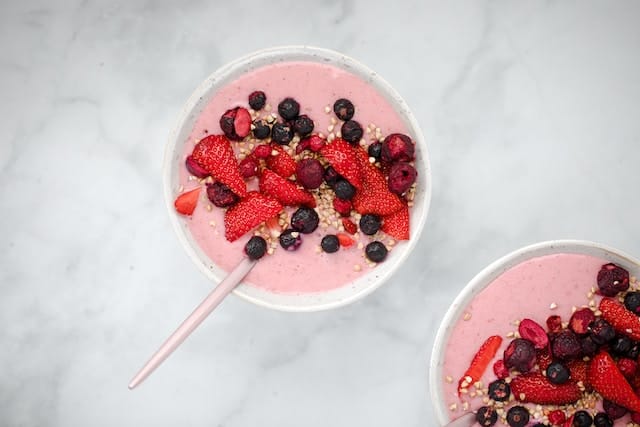 The Starbucks Pink Drink is a popular cold drink that has only been on the menu for a few years. Before it was added to the menu, if you wanted the Pink Drink, you would have to order it by special request from the secret menu.
People had been ordering the Pink Drink unofficially for years, and since the drink's popularity only continued to grow, Starbucks decided to add it to the official menu in 2017.
The drink is made mainly from acai and strawberries, fruit juice, coconut milk, natural green coffee extract, ice, and freeze-dried strawberries that are added when served. The freeze-dried strawberries come to life after only a few seconds floating in the drink.  
Does the Starbucks Pink Drink have caffeine?
Yes, the Starbucks Pink Drink has caffeine, but it doesn't have extra caffeine. The Pink Drink actually comes with natural green coffee extract rather than normal coffee. It is estimated that green coffee extract contains about 25% to 50% of the amount of caffeine found in one cup of regular coffee. 
Many people enjoy the milder caffeine experience because it can be softer on the stomach, and at the same time, it does not cause you to crash as hard when the caffeine starts to wear off. 
Are Starbucks Pink Drinks healthy?
Overall, the Starbucks Pink Drink is not the healthiest drink on the menu, but it is also not the worst. 
The Pink Drink is lower in fat containing only 2.5 grams of fat and 140 calories, however, it is high in sugar. The strawberries, acai, fruit juices, and coconut milk, all come with higher amounts of sugar. 
For example, the grande (16 oz) Pink Drink comes with 25 grams of sugar. If you are sticking with a 2,000 calorie diet, then 25 grams of sugar would be 50% of your recommended daily in-take amount.
Consuming too much sugar can lead to a number of adverse health effects. 
Starbucks pink drink nutritional information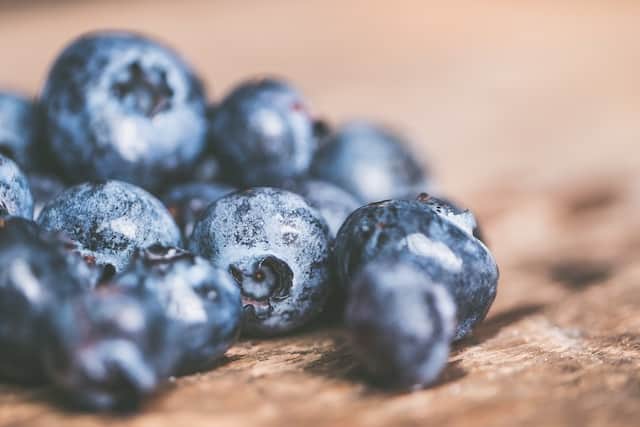 Here are the nutritional statistics for a grande size (16 oz) pink drink refresher beverage from Starbucks.
Calories: 140
Calories from fat: 25
Total fat: 2.5 grams – 3% DV
Saturated fat: 2.5 grams – 13% DV
Trans fat: 0 mg
Cholesterol: 0 mg
Sodium: 65 mg – 3% DV
Total Carbohydrates: 28 grams – 10% DV
Dietary Fiber: 1 gram – 4% DV
Sugars: 25 grams
Protein: 1 gram
Caffeine: 45 mg
Full ingredient list
ICE, STRAWBERRY ACAI BASE [WATER, SUGAR, WHITE GRAPE JUICE CONCENTRATE, NATURAL FLAVORS, CITRIC ACID, NATURAL GREEN COFFEE FLAVOR, COLORED WITH FRUIT AND VEGETABLE JUICE, REBAUDIOSIDE-A], COCONUTMILK [WATER, COCONUT CREAM, CANE SUGAR, CONTAINS 2% OR LESS OF TRICALCIUM PHOSPHATE, COCONUT WATER CONCENTRATE, SEA SALT, NATURAL FLAVORS, XANTHAN GUM, GELLAN GUM, CORN DEXTRIN, GUAR GUM, VITAMIN A PALMITATE, AND VITAMIN D2], FREEZE-DRIED STRAWBERRIES.
How to make a Starbucks pink drink at home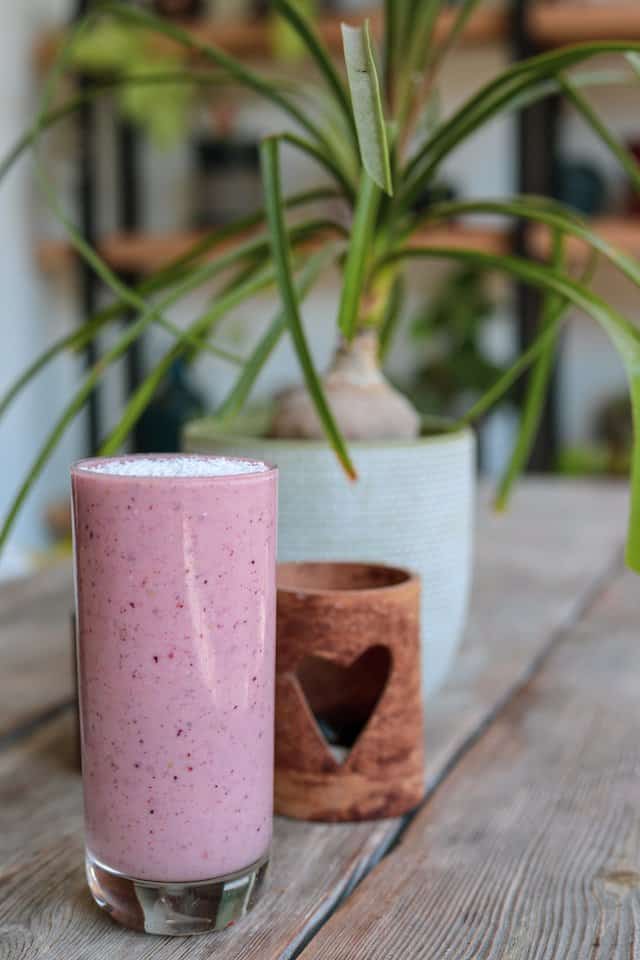 One of the best parts of making you own Pink Drinks at home, besides saving money, is that you can customize the drink to your preferences. You can increase or decrease the level of sweetness, increase or decrease the amount of coconut cream you use, and upgrade the quality of the fruit you use. 
You can do all of this and still save money over time.
However, the main difference between the Starbucks Pink Drink and the homemade Pink Drinks is whether or not people decide to use green coffee extract. Green coffee extract can be kind of expensive for the casual coffee drinker.
If you are looking to keep costs low, then you may want to use some type of infused green or black tea.  You could use acai tea, or you could use another infused tea like passionfruit, mixed berries, or hibiscus. You could also use another type of milk, like almond or soy milk, if you do not like the taste of coconut milk.
The point is, as we mentioned before, one of the best parts of making your own Pink Drinks at home is the fact that you can customize your drink however you want. 
Ingredient list
Acai berries: Enough berries for the number of drinks you wish to make.
Strawberries:Enough strawberries for the number of drinks you wish to make.
Hot boiling water: 1 cup per drink.
Infused green or black tea or green coffee extract: Whatever flavor tea you would like or green coffee extra. You are going to steep the boiling water with the tea or green coffee before mixing the entire drink.
Coconut milk: You can use sweetened or unsweetened coconut milk depending on how sweet you would like the drink.
Coconut cream (optional): For extra richness, you can add a bit of coconut cream.
Fruit juice: Any type of fruit juice you would like to add to the base of the drink to make it less thick. 
Ice: Pour the drink over ice and serve cold. 
Step-by-step instructions
Boil the water and pour the water over your tea or green coffee extract.
Let sit for a few minutes to steep. 
Pour into the blender.
Add the fruit juice.
Add the acai berries.
Add the strawberries.
Add the coconut milk and/or coconut cream
Blend the combination thoroughly.
Fill the glasses with ice.
Pour the Pink Drink mix into each glass.
Add some strawberry slices to the top of each glass.
Enjoy!
The Pink Drink is a wonderful summer drink to enjoy at home with your family or to serve to your friends and guests when you are entertaining. This is also why it is one of the viral drinks from Tiktok. The Starbucks Pink Drink does have caffeine, but only minimal. It is easy to make, relatively inexpensive, and absolutely delicious. If you are looking for a different kind of cold drink, you may also try Starbucks' Frappuccino Roast or Iced Shaken Espresso.
If you are looking for other fruity drinks, you may also check out our article about Espresso Romano
Want a stronger caffeinated drink? Try the red eye, black eye, and dead eye coffee.
Sources:
Coffee Has Never Read This Good!
Sign up for a FREE newsletter to the best home brewing tips and guides
Thank you for subscribing to The Cup Coffee House Crew! There's a surprise in your Inbox 🙂
Something went wrong.
About the Author
Latest Posts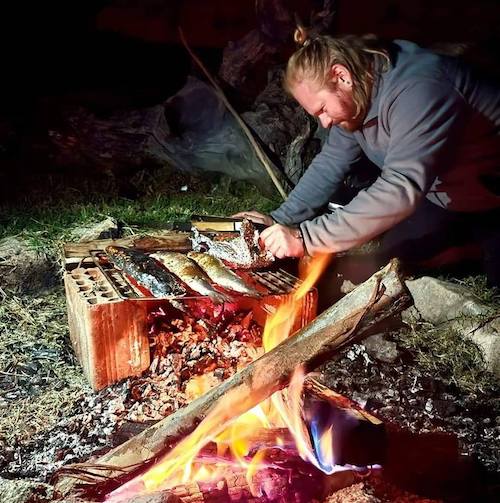 Garret is a content writer who has written thousands of articles on hundreds of subjects, all with the help of his favorite Peruvian blends of coffee grown near his home, a few hours from Machu Picchu. When he's not sipping his cup of joe or writing content, he enjoys hiking in the mountains, camping with friends, and enjoying a cold beer around a fire beneath a star-lit night.
Chief Editor