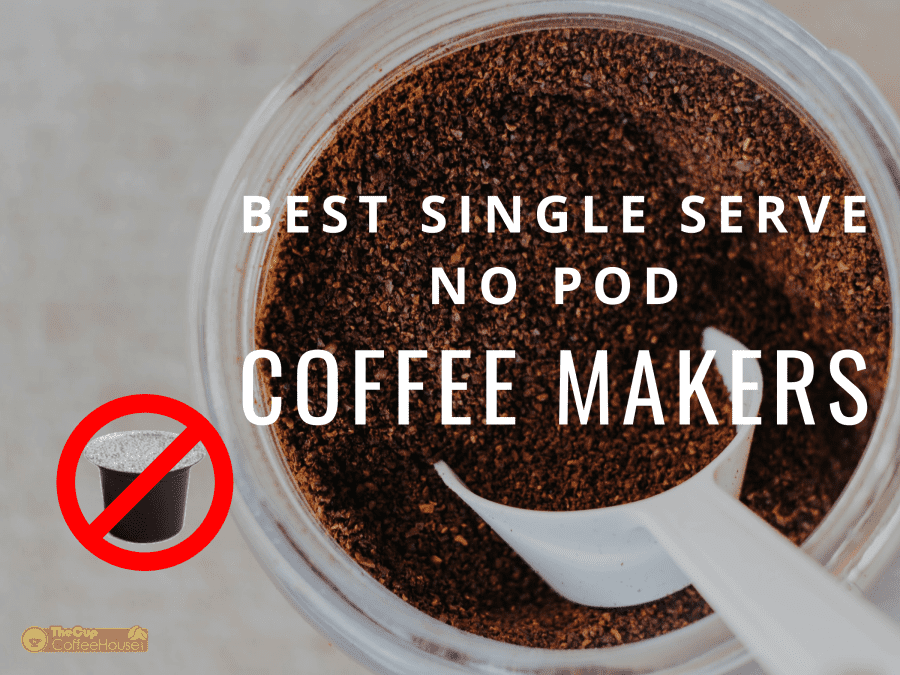 While coffee pods may make the morning brewing routine easier, many worry about the impact the resulting waste has on the environment. Also, if you do a price comparison, buying K-cups can be 4 to 5 times more expensive than loose coffee grounds. The waste and cost can add up quickly!
So, if you are wanting to be kinder to the environment, or cut your wallet some slack, there are more options on the table for a quick and easy cup of coffee than K-cup coffee machines. We've found several fast-brewing, single-serve coffee makers on the market that use ground coffee instead of coffee pods. 
After looking through a wide variety of options, we narrowed down our best single serve coffee maker without pods list to the top 8 choices. These machines have stellar reviews from our fellow coffee drinkers and range in price from $18 to $300. We included simple machines with just a one-touch start button as well as specialty coffee makers that will make lattes, cappuccinos, and even iced coffee.
Want the cliff notes? Our overall best pick for no-pod single-serve coffee makers goes to the Hamilton Beach Two-Way FlexBrew. This machine has a mid-price range and keeps a 4.5 rating with over 23,000 reviews. 
Sale
Last update on 2023-02-03
With its two separate sides, you can brew into a carafe, mug, or travel mug. On the single-serve side, you can use your favorite coffee grounds. However, it also includes a separate pod holder as a backup option. This single cup coffee maker covers all the bases and has the largest fan base on our list, as well.
Thirsty for more? Let's take a more in-depth look at the Hamilton Beach Two-Way FlexBrew coffee maker, and check out a few other great options as well.
---
Best Single Cup Coffee Maker Without Pods
For a little over $100, the Hamilton Beach Two-way FlexBrew allows you to make a single serving of coffee or a pot. You have the flexibility of using coffee pods or ground coffee. This popular coffee machine gets 4.5 stars with over 23,000 reviews. 
Things We Like:
Brews pods or ground coffee
Will brew 1-12 cups of coffee
Removable drip tray to accommodate travel mug
Separate water reservoirs for single-cup and glass carafe
Pause and pour feature
Bold brew setting
Keep warm for up to 2 hours
Auto shut-off
Easy touch programming
Things We Don't Like:
The single-serve side is messy when using grounds.
Review:
The Hamilton Beach Two-Way FlexBrew gives you options to brew coffee the way you want it. It has 2 separate brewers for the carafe and a single cup. You can program either side to brew fresh coffee in the morning. Choose the Bold Brew setting for an even richer cup of coffee.
On the single cup side, you can use either pods or ground coffee. It includes 2 separate filter baskets so you can make your choice. Brew directly into a mug, or remove the drip tray to brew into a taller travel mug.
The carafe side has a warming plate and a 2-hour automatic shut-off. The glass carafe will hold up to 12 cups of coffee. 
The Main Drawback:
This machine can be a bit messy when brewing with grounds on the single-serve side. Using a #1 filter should help keep the grounds in place and cut down on the mess.
What Others Are Saying About this Machine:
Most customers love the flexibility of this machine and agree that the coffee comes out piping hot.
Our Verdict:
This machine is a great option for a busy household with several coffee drinkers. If you are wanting to get away from pods, but other members of your household are not convinced, the Hamilton Beach FlexBrew can make everyone happy.
The Hamilton Beach model also allows you to brew yourself a single cup on weekdays AND be ready for a crowd on the weekends with its glass carafe. With over 20,000 positive reviews, this machine is a crowd pleaser and our overall best pick for a no pod single cup coffee machine!
The Hamilton Beach Scoop Single-Serve coffee maker can brew a fast 8 oz. cup in under 90 seconds. This machine runs around $50 and maintains a 4.3-star customer rating with over 16,000 reviews.
Things We Like:
8-14oz brew size
Permanent coffee filter doubles as a coffee scoop
Bold brew setting
Automatic shut-off
Compact footprint
Stainless steel exterior
Things We Don't Like:
Does not include travel mug.
Review:
The Hamilton Beach Scoop Single-Serve Coffee Maker gives you a quick and easy cup of coffee. This machine is user-friendly with its specially designed filter basket that doubles as a scoop. You can easily and quickly measure out your coffee using the filter and then pop it directly into the machine. So nifty! This filter is also dishwasher-safe.
The cup sizes range from 8 ounces to 14 ounces. The drip tray is made for a travel-size mug, but you can add a ledge for smaller mugs. This adjustable shelf will keep your coffee from splashing everywhere when it brews. 
After your coffee is brewed, this single cup coffee maker will shut off automatically.
The quality stainless steel parts on this machine are durable enough to withstand a regular coffee drinking habit. 
The Main Drawback:
While many single-cup coffee makers may throw in a travel coffee mug in place of a carafe, this machine does not.
What Others Are Saying About this Machine:
Most customers agree that this Hamilton Beach model is simple to use and that you can get a piping hot cup of coffee in a short amount of time. 
Our Verdict:
We like the 2-in-1 scoop and filter feature on this machine and the simple one-touch start. For a no-frills, convenient quickly made black drip coffee, the Hamilton Beach Scoop Single-Serve can be a great option.
The Ninja keeps up a 4.7 rating with over 12,000 reviews. This coffee machine has a solid fan base! 
Things We Like:
Programmable auto-start
Adjustable cup sizes (single-cup to full carafe)
Removable mesh filter
4 brew styles: Classic, Rich, Over Ice, or Specialty Brew
Fold-away frother
10 cup glass carafe
Auto shut-off
Auto-clean
User-friendly
Things We Don't Like:
Takes up more counter space than other models.
The milk frother does not heat milk.
Review:
The Ninja is one of the most versatile coffee makers on our list. You can brew an espresso-style 4-ounce cup, or up to 10 cups of coffee. The Ninja appeals to a wide variety of tastes with its brew options. You can make a regular cup of joe, a bold brew, or iced coffee with the Ninja Specialty Coffee Maker.
With the attached fold-away frother you can top off your espresso based coffee beverage with fluffy milk foam. 
This coffee pot also offers a programmable auto-start. Nothing better than waking up to freshly-made coffee! 
The Main Drawback:
The main drawback we see to this machine is that the milk frother does not heat the milk. So, you will have to heat up your milk separately for cappuccinos and lattes before you use the Ninja fold-away frother.
What Others Are Saying About this Machine:
Most customers agree that the Ninja Specialty coffee maker makes great-tasting coffee and is easy to set up and use. The carafe is even designed with a no-drip spout.
Our Verdict:
We love that the Ninja Specialty Coffee Maker gives you a wide variety of options. Even though it is packed with special features, it still manages to remain user-friendly with its simple display. This machine is a bit pricier than some of the other machines on our list coming in at around $150. However, with everything that this coffee maker has to offer, you'll still get a good bang for your buck.
For more discussion on different Ninja coffee makers, check out our full review on Ninja Hot and Cold Brew System.
This one-touch espresso and cappuccino machine from Mr. Coffee allows even beginners to make an impressive specialty coffee drink. Although it is the most expensive coffee maker on our list, its $300 price tag is middle of the road compared with other espresso machines.
Things We Like:
19 bar Italian espresso pump
Easy one-button interface
Single or double shot size
Adjustable cup tray
Steam wand
Milk reservoir is removable for storing in the fridge
Even heat with Thermocouple heating system
Things We Don't Like:
Makes only espresso drinks.
Costs around $300 to buy.
The milk steamer is loud.
Review:
If you enjoy making espressos and coffee shop-style specialty drinks, the Mr. Coffee One-Touch Espresso and Cappuccino Machine has got you covered. Pack your grounds for a single or double shot into the portafilter. Then press the one-touch start button for an espresso-making process that is simple and efficient. 
If you plan to make larger-sized lattes, you can brew them directly into tall mugs. After your espresso shot is brewed, top off your drink with creamy milk foam without moving your cup. 
This cappuccino machine is simple to operate and still gives you the 19 bars of pressure you need to make authentic espresso.
The Main Drawback:
The main drawback to this machine is the price. This Mr. Coffee cappuccino maker costs around $300 to buy, making it the most expensive model on our list.
What Others Are Saying About this Machine:
Most customers love the taste of the coffee drinks coming out of this Mr. Coffee machine. Most agreed it is easy to use and clean. It can be a bit loud, though.
Our Verdict:
If specialty coffee drinks are a daily habit, the Mr Coffee Espresso and Cappuccino machine may save you those Starbucks runs and pay for itself. We like that this machine makes single serve espresso drinks easily accessible to at-home baristas.
For more of Mr. Coffee's best coffee machines, check out our full review and comparison.
This SCA-certified coffee maker can make a little bit of coffee or a lot depending on your needs. The Braun has a mid to high range price compared with other machines on our list, usually selling at about $180. You can also make iced coffee and hot tea with this machine!
Things We Like:
Charcoal water filter
Warming plate
Freshness indicator
Brew settings: Light, gold, bold, and over ice
Cup sizes: 5, 8, 12, 16, and 20 ounces, ½ carafe, or full carafe
Gold-tone permanent filter
2-hour automatic shut-off
Things We Don't Like:
Loud beep alert when coffee is done.
Review:
The Braun MultiServe Coffee Machine has a lot of attention-getting features. You can alternate your coffee drinking style with the light, gold, bold, and over ice options. Even tea is an option! 
This coffee maker also puts emphasis on the flavor of your drink. It follows the Specialty Coffee Associations standards for brew temperatures to extract a high-quality cup of coffee. The charcoal water filter and gold-tone permanent filter also work together to give your drink a rich, clean taste. 
When your brew is done, a freshness indicator will let you know if your coffee is still good to drink or if it has past the point of no return. After 2 hours on, your coffee maker will turn itself off automatically, which is a nice safety feature that can put your mind at ease.
The Main Drawback:
The coffee machine gives loud alerts when it is done. So far, none of us have found a way to disable it. This can be a bit annoying when you are trying to quietly sneak a hot cup of coffee before the kids wake up.
What Others Are Saying About this Machine:
Most customers love the taste of the coffee the Braun MultiServe machine makes. However, some say that it is not the most user-friendly model. A few coffee drinkers complained that the machine continued to drip after the brew was finished creating a mess on the countertop.
Our Verdict:
We like the features that the Braun MultiServe coffee maker has to offer and the fact that it pays attention to the flavor of your brew. However, we feel that this pod free machine still has a few kinks that could be worked out for an even better coffee making experience.
This tiny wonder makes great-tasting coffee with freshly ground beans. At just $50, the price is right, too. You even get a travel mug as part of the package!
Things We Like:
6 oz to 16 oz cup size
Small footprint
Grinds coffee beans 
Accepts coffee grounds
Thermal travel mug with sleeve and lid included
Dishwasher-safe parts
Adjustable drip tray
Things We Don't Like:
Filter basket is made from thinner wire mesh.
Many plastic parts.
Review:
The PowerXL Grind & Go maker has adjustable single-serve brew sizes and it also includes a built-in grinder. This means you can easily brew your morning coffee with fresh grounds. Measure your coffee beans, adjust your grind size, add water, and the machine will grind and brew a great tasting cup of coffee for you.
If you don't want to grind fresh coffee, you can also bypass that option and just add coffee grounds instead.
The BPA-free plastic parts are removable and dishwasher-safe which makes clean-up time painless. 
The Main Drawback:
The plus of this machine is that you get a lot for a great price. However, to some extent you get what you pay for and the cheaper parts will show wear and tear faster than more high-end machines.
What Others Are Saying About this Machine:
Most customers said that this little machine makes great-tasting, hot coffee. Some customers noted that the wire mesh filter wears out quicker than most. However, replacement parts can be found for the PowerXL.
Our verdict:
The lightweight PowerXL Grind and Go costs about $50. That's not much considering this machine is basically a 3-in-1 giving you a drip machine, grinder, and travel mug. However, the lightweight plastic parts are not built to withstand a lot of wear and tear. 
If you want more single cup coffee makers with a grinder built in, check out this list of best contenders.
This basic Krups single cup machine comes with its own insulated stainless steel tumbler. Just press the start button and it is ready to go when you are! At about $40, it is one of the most inexpensive options on our list.
Things We Like:
Double-wall stainless steel travel tumbler included
Compact footprint
Simple one-touch brew system
On-off lit button 
Brews up to 12 ounces of coffee
Reusable permanent filter
Things We Don't Like:
No extra features
No automatic shut-off
Review:
The Krups Simple Brew Single-Serve To-Go is a basic machine with an on-off button and a stainless steel insulated tumbler thrown in. There are not many options with this simple machine, but it gets the job done.
Use the tumbler to fill this machine with up to 12 ounces of water then hit the start button to brew your coffee. While you won't be able to set up your coffee pot the night before or vary your brew type, you can still get a hot cup of coffee brewed straight to your travel mug.
The Main Drawback:
The Krups Single-Serve does not shut off automatically, so you'll need to remember to hit that red button after you are done. Or, you can set up this simple coffee maker with a separate smart device.
What Others Are Saying About this Machine:
Most love the simplicity of this machine and comment that it is long-lasting. However, some customers noted that the stainless steel mug is hot to the touch after brewing. You may need a protective sleeve for this one!
Our Verdict:
We like the Krups Single-Serve Coffee maker because it does exactly what it says it does… brews a hot cup of coffee to take on the go. So, if you appreciate a simple stop-and-go machine that doesn't require you to make a lot of choices first thing in the morning, this could be your machine.
For less than $20, you can add this coffee maker to your home or office. That's about the same cost as 4 trips to Starbucks!
Things We Like:
Easy to use
One-touch brew system
Brews direct to travel cup or mug
Auto-off function
16 oz travel mug included
Dishwasher-safe parts
Reusable filter
Things We Don't Like:
No extra features
Many plastic parts
Not as durable as other machines.
Review:
You can find the Black+Decker Single-Serve Coffeemaker for under $20. That's a steal! This machine may not be the fanciest in town, but it can still get the job done. With just one touch of a button, you can brew up to 16 ounces of coffee. When you are done brewing your coffee, the Black+Decker coffee maker will shut down automatically. 
You can save on paper waste with this coffee maker's reusable filter. Also, the clean-up process is pretty simple since this machine brews directly into a dishwasher-safe travel mug.
The Main Drawback:
This machine has a lot of plastic parts on it. This can affect both the flavor and durability of the coffee maker. 
What Others Are Saying About this Machine:
Most customers agree that the Black+Decker is pretty straightforward to use and can even fit into tiny spaces. 
Our Verdict:
We like the large 16 oz brew capacity and the simplicity of the Black+Decker Single-Serve Coffeemaker. However, the plastic parts may not hold up well to heavy use. This machine would be a great backup choice for travel and small spaces.
Buyer's Guide: How to Choose the Best Single Serve No Pod Coffee Maker for You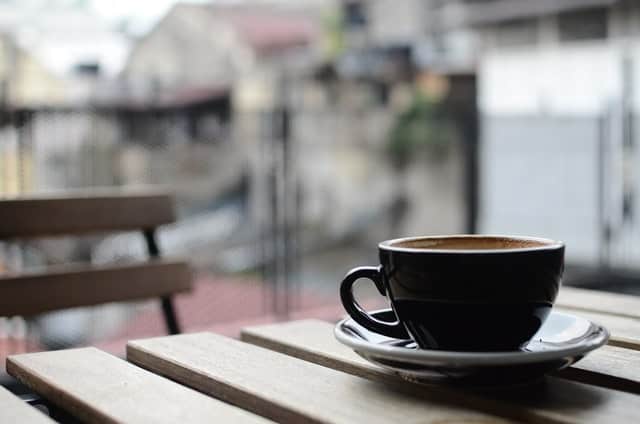 There are a ton of options on the market for single-serve coffee makers sans pods. But how do you narrow down the choices for the best one for you? Here is our buyer's guide to help you prioritize your needs and find your perfect coffee maker. 
The Size of Your Space
If you are looking for the perfect brewing machine for your kitchen counter, the size of your machine may not be a big concern. However, if you are looking for a single-serve coffee maker to travel with you in an RV or to sit on your desk at work, every square inch counts!
We found a few slim designs that can fit perfectly even in small spaces. Just remember that machines that are more compact in design will usually have fewer special features. 
Your Brewing Needs
Do you like a strong brew, an American-style cup of joe, or espresso? Or perhaps you ditch the classic hot coffee and always ice down your brew. We chose coffee makers with a wide variety of tastebuds in mind.  
For Here or To-Go?
When I am running the kids to school, or off to the office, I like brewing directly into the cup I am going to take with me. A coffee maker that fits a travel mug under the drip is ideal for mornings when you are in a rush.
However, not all machines give you that option! If you work from home or have leisurely mornings, the cup clearance on your coffee maker may not be an issue.
Filter Choices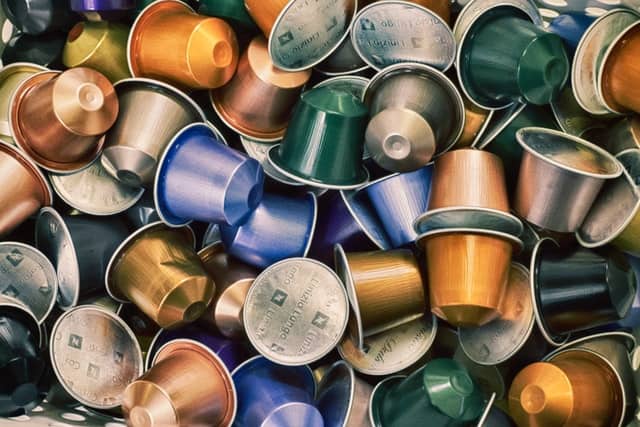 If you are trying to make more eco-friendly choices by forgoing coffee pods, you may not want to create waste by using disposable filters. In this case, you can choose a machine that has a permanent filter. These filters can be used over and over again. Some can even be washed in the dishwasher!
Another option would be to compost your paper filters and give back to the environment in that way.
One-Touch and Easy to Use or Loaded with Features?
Do you enjoy a coffee machine that you can start up with just one press of a button? Or, do you like to have more control over your brew to get that perfect taste you are looking for?
We chose some machines that do the work for you, and some that are packed with features and allow you to craft your coffee. You decide which design is best for you!
FAQs
Does a single-serve coffee maker make a good cup of coffee?
The advantage of single serve coffee makers is that they are designed to brew for just one cup of coffee. On the other hand, larger 10-12 cup drip coffee makers may not make a well-balanced brew for just one cup (unless they include a small brew option).
If you are the lone coffee drinker in your family, or live in a small space, a single-cup coffee maker can save you time while also giving you quality flavor.
How many ounces are in a cup of coffee?
One liquid cup is equivalent to 8 oz in the U.S. However, coffee makers measure cups differently. One "cup" for a coffee maker is just 5 oz. So, when you go to buy a coffee machine, keep in mind that a 4-cup coffee maker will make about 20 ounces of coffee. This is the size of one venti Starbucks drink.
What is a standard coffee mug size?
The standard mug usually holds about 8-12 cups of coffee. However, a travel mug can be much larger, generally holding anywhere from 12-20 oz. When you are looking to buy a single-serve coffee maker, make sure your favorite travel mug will fit under the drip.
Our Final Verdict
We've given you our thoughts on eight very different coffee makers that can brew you a single cup without the use of pods. Our overall pick for best single serve machine goes to the Hamilton Beach 2-Way Brew Machine.
This machine is durable, reliable, and will brew a full pot or directly into a travel mug. You even get the option to brew coffee pods if you want that as a fallback option.
Final Thoughts
Single-serve coffee makers offer convenience and ease, making your life easier if you take your coffee to go often. You can shave a few minutes off your brew time by just brewing one cup and still keep the rich flavor intact. Many single-serve coffee makers even drip directly into your travel mug for a streamlined experience. 
By choosing a single-cup coffee maker without pods, you can cut down on waste and save money. Also, the no-pod machines open the door to a whole new world of coffee tastes and brands. Let us know which machine is your favorite single cup coffee maker in the comments!
Want more brew styles? For a full list of the best coffee makers to choose from, see our guide on the Top Coffee Machines for beginners.
Coffee Has Never Read This Good!
Sign up for a FREE newsletter to the best home brewing tips and guides
Thank you for subscribing to The Cup Coffee House Crew! There's a surprise in your Inbox 🙂
Something went wrong.
About the Author
Latest Posts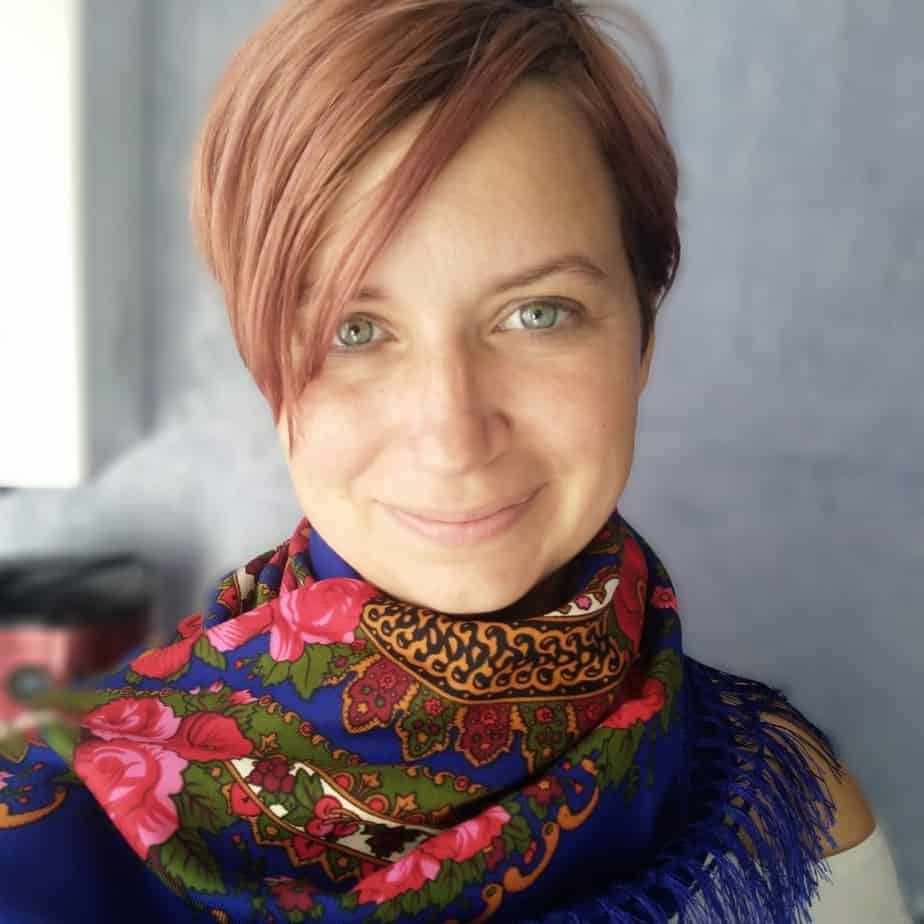 Alex Praytor worked her first job as a barista, finished college, and then took a tour to the other side of the globe. She fell in love with espresso and her would-be husband in Europe. She spends her spare time visiting native Texas landmarks, ancient castles, and all the coffee shops she finds along the way. At home, she is a mom, ESL teacher, and writer, who hones her coffee-making skills daily. She enjoys passing on her coffee findings to fellow caffeine addicts in search of the perfect cup.
Chief Editor