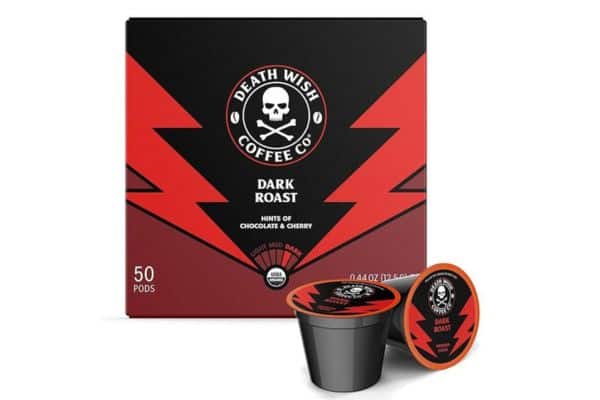 Keurig K-cups are a great way to brew a cup of coffee quickly with very little effort and mess. However, not every coffee pod gives you that kick of caffeine and bold coffee flavor that you crave. 
We've searched the market for 11 of the strongest K cup coffee brands that will knock your socks off. These pods are packed with intense flavor and some include an extra dose of caffeine to put a spring in your step.
Our top pick is Death Wish Coffee's Extra Kick of Caffeine Dark Roast Pods. These Keurig-compatible K-Cups blend Robusta beans with Arabica for increased caffeine and a full-bodied mouthfeel. Death Wish uses dark-roasted Organic coffee beans for a bold flavor with notes of chocolate and cherry. This smooth, rich-tasting brew packs in extra energy to start your day!
Sale
Last update on 2023-11-28
Whether you are burning candles at both ends, suffering to stay awake on lazy afternoons, or just want a quick and easy cup of coffee with great flavor, these 11 K-cup pods are ready to go when you are.
Let's take a look at 11 of the strongest K-cup coffees on the market today.
---
Our Top picks for the 11 Strongest K cup Coffee
Things I like:
Dark roast
Extra caffeine
USDA Organic Arabica and Robusta bean blend
Naturally-low acidity
Compatible with Keurig 1.0 and 2.0 brewing machines
Natural coffee notes of dark chocolate and cherry
Recyclable pods
Things I don't like:
Review:
The Death Wish Coffee brand is known for its richly flavored coffees and an extra kick of caffeine. Their K-cup coffee pods are fully recyclable and compatible with Keurig 1.0 and 2.0 brewers.
For these pods, Organic Arabica and Robusta beans are selected for quality and roasted until dark for full-bodied flavor. The extra caffeine in this coffee is naturally present in the Robusta beans. You can taste the natural hints of dark chocolate and cherry in each cup. 
Dark Roast Death Wish Coffee K-Cups are our top pick for taste, quality, and flavor. You'll get a strong coffee taste and an extra caffeine kick to start your day off right. Join thousands of other coffee lovers who have tried and loved this coffee.
Who knows? You may become a Death Wish fan for life.
Sale
Last update on 2023-11-28
Things I like:
Extra bold dark roast
South American coffee bean origins
Liquid caffeine is added after roasting for 2x the caffeine content
100% Arabica beans
Things I don't like:
Strong caffeine jolt, but overall, not as flavorful as other brands.
Review:
Red Alert Coffee Extra Strong Coffee Pods contain some of the highest caffeine content for Keurig Coffee pods and come at a decent price. The dark roasted 100% Arabica beans are roasted extra dark in small batches. After roasting, a caffeine extract is added to the beans for double the caffeine of the average cup of coffee.
Red Alert Coffee gets the job done by packing in the extra energy you need to get you through long days or white nights.
Last update on 2023-11-28
Things I like:
100% Arabica beans
Compatible with any Keurig K-Cup Brewers
Coffee bean blend from a variety of origins
Fully recyclable pods (depending on the area)
Dark, flavorful roast
Peet's gives back to many coffee-growing communities
100% responsibly sourced beans
Affordable price
Highly rated by 1000s of customers for flavor
Things I don't like:
Coffee beans are not necessarily grown in organic conditions
Review:
Peet's Coffee Dark Roast K-Cup Pods have a satisfyingly deep flavor and are one of the most popular strong K-cup coffees on the market among coffee lovers. The pods contain 100% Arabica beans that are sourced in some of the most flavorful coffee-growing regions around the world. 
After picking, Peet's Major D's beans are then roasted dark for a robust, full-bodied flavor. You should be able to use the pods in any Keurig K-Cup Brewer. Also, Peet's keeps the environment in mind by developing pods that are fully recyclable in many communities. 
Last update on 2023-11-28
Things I like:
100% Arabica coffee
Smooth medium roast
Starbucks' House Blend
Includes coffee extracts added for twice the caffeine
Genuine K-Cup pods
Pods are recyclable in some areas
Tasting notes of cocoa and toffee
Things I don't like:
Difficult to find in stores, but available on Amazon
Higher priced than some brands
Review:
If you are looking for a strong caffeine kick, but prefer a smooth coffee flavor to bold, dark brews, check out these Starbucks K-Cups. The popular Starbucks House Blend contains twice the amount of coffee as usual with its addition of coffee extracts.
However, the beans are Medium roasted for smooth, mellow flavors. You can enjoy the delicious cocoa and toffee tasting notes while the caffeine kicks your energy into full gear.
These recyclable pods are designed specifically for Keurig machines. Get the Starbucks flavor you love from your home with these House Blend Medium Roast K-Cup Coffee pods.
Last update on 2023-11-28
Things I like:
Full-city medium-dark roasted coffee
Extra boost of caffeine
Balanced flavors
Compatible with Keurig 1 and 2.0 brewers
Roasted in small batches for high-quality flavor
Added flavors of cinnamon rolls with icing
No added sugar
Recyclable pods
Things I don't like:
Review:
You can get the taste of a delicious iced cinnamon roll and coffee (without the extra calories!) when you drink this flavored coffee by Wake the Hell Up!. This coffee contains 50% more caffeine than the average cuppa and contains no added sugar. The beans are roasted in small batches to ensure the best flavor quality. 
You can enjoy the extra boost of caffeine with this uniquely flavored cup of coffee. A splash of cream makes this Cinnamon Bun Flavored Single Serve Coffee Pods a decadent treat you won't soon forget!
Last update on 2023-11-28
Things I like:
Arabica beans
Dark roast
Fruity flavor notes
Latin America blend
Full-bodied, espresso-style flavor
Perfect for adding milk and/or sugar
Inexpensive
Things I don't like:
Some customers have experienced leaking or damaged pods in shipping.
Review:
These Cafe Bustelo K-Cups are perfect for getting that flavor of a rich espresso using a Keurig machine. The Arabica beans are sourced in Latin American countries and contain natural flavor notes of exotic fruits. Then the beans are roasted until dark to give you deep flavors and full body. 
If you love to drink coffee with cream and sugar, this espresso-style coffee from Cafe Bustelo is a perfect choice. The rich coffee flavors still come through even after you add your favorite extras to your drink.
Last update on 2023-11-28
Things I like:
Select Delicioso coffee beans for 50% extra caffeine
Medium-dark roast
All-natural, no added caffeine extracts
Used in hundreds of military bases to keep soldiers awake while on duty
Roasted in small batches
Shock gives back to kids battling cancer
Things I don't like:
Not as rich or full-bodied as other dark roast coffees.
Adding cream may make this coffee taste watery.
Review:
Shock's 100% natural coffee pods contain up to 50% more caffeine than your average cuppa by using select high-caffeine coffee beans. The Delicioso coffee beans are selected for quality and roasted in small batches until medium-dark. 
Shock's coffee has been served in hundreds of military bases and featured on national TV shows such as The Today Show, ABC Nightline, CNBC, the Food Network, and more. The smooth flavor of this medium-dark coffee falls lightly on the palate and the extra caffeine puts a spring in your step.
Shock Coffee Single Serve Cups
Shock cups are all natural with 50% more added caffeine extracts to keep you awake. The company has a good cause as it gives back to children battling cancer.
Last update on 2023-11-28
Things I like:
Organic Arabica coffee beans
Blend of premium coffee beans from Africa and Central and South America
Dark roast with intense and smooth flavor
Compatible with Keurig 2.0 Brewers
Plant-based compostable pods
Pods are individually wrapped for freshness
Herbal notes, heavy body, and light acidity
Women-owned business
Things I don't like:
Compatible only with Keurig 2.0 machines.
Review:
Independence Coffee Co. is a small family business in Texas focused on bringing high-quality coffees to the market. The coffee beans are roasted in small batches and packaged quickly after to preserve freshness. 
These Jet Fuel coffee pods use a blend of premium coffee beans from the Americas and Africa. The smooth exotic flavors can give you the sensation of visiting foreign lands from the comfort of your home. The beans are roasted until dark and have a full, heavy body with a smooth aftertaste. A splash of milk can bring out the spicy herbal notes of this strong brew.
Last update on 2023-11-28
Things I like:
100% Arabica with coffee extract
Includes nutrient-dense ingredients such as Organic Lion's Mane and Chaga Mushrooms
Dark-roasted coffee for bold flavor
Dark chocolate flavor notes
High caffeine content
Organic ingredients
No funky mushroom taste
Increases alertness without the crash
Things I don't like:
Review:
If you need an extra kick to start the day, these Four Sigmatic High Caffeine Mushroom Coffee K-Cups cover your bases. The dark-roasted Arabica brew contains dark chocolate notes and a full-bodied mouthfeel. You get an extra boost through the addition of a high-caffeine coffee extract. Also, this coffee includes nutrient-dense mushrooms for increased brain function and alertness. 
Although this coffee contains healthy immuno-supporting ingredients, you don't have to worry about your coffee tasting like mushroom soup. The coffee tastes rich and chocolatey and helps you stay awake without the caffeine crash you may experience with other brands.
Last update on 2023-11-28
Things I like:
100% Arabica beans 
Origins from Central and South America
Compatible with Keurig 2.0
Plant-based plastic pods
Commercially compostable
Dark, bold, and smoky
Swiss Water Processed (SWP) decaffeination process
Things I don't like:
Some pods may collapse or leak grounds.
Pods are not individually packaged and can lose freshness after opening the bag.
Review:
These commercially compostable pods are made of plant-based plastic instead of petroleum-based products. Also, the bottom half is a paper filter so your coffee is not brewing directly through the plastic pod.
San Francisco Bay is so sure you'll love this coffee that it offers a satisfaction guarantee. Now that's music to my ears as a coffee buyer!
Last update on 2023-11-28
Things I like:
Genuine K-cup pods
Rich and creamy all-in-one latte
Delicious flavoring combinations of chocolate, walnuts, vanilla, and cherry
Pods are recyclable in some areas
100% responsibly sourced coffee
Things I don't like:
Contains sweeteners and extra calories.
Not suitable for those with milk allergens.
Review:
Original Donut Shop's Limited Edition Sundae Fundae is sure to put a smile on your face because it's so… well, fun!
This one-step latte includes milk and sugar so you can brew a quick fancy latte full of flavor on the go. The dark-roasted coffee base ensures that you still get the full coffee experience while enjoying a flavor explosion in your mouth full of chocolate, vanilla, and toasted walnuts. Oh, and don't forget the cherry on top! 
The Orginal Donut Shop is well-loved for its line of sweet, creamy coffees. However, this brand makes sure you still get a richly satisfying coffee flavor underneath all the extras.
Last update on 2023-11-28
How to Find the Strongest K-Cup Coffees With the Best Flavor (Buyer's guide)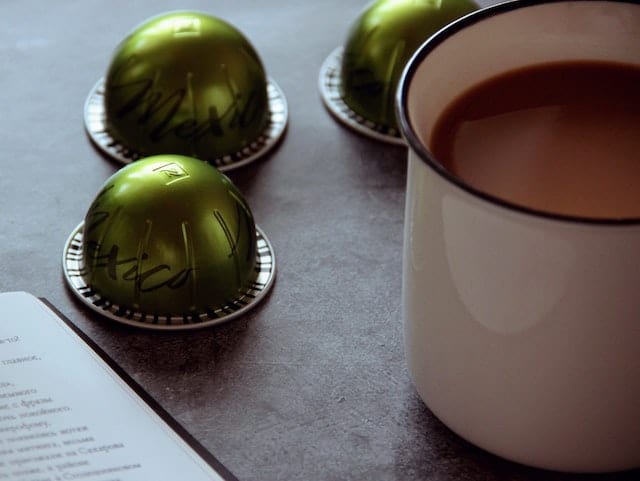 The great thing about drinking Keurig coffee is that you have so many options when it comes to pods. There are hundreds of pod flavors and brands you can choose from. However, when you have so many options, it can be difficult to sift through them all to find the strongest K-cup coffee available. 
Here are some factors that can help you narrow down the selection to find the best pods for you. 
Roast
If you are looking for the strongest-tasting brew, look for a dark roast coffee. Dark roasts are often roasted past the second crack. These coffee beans often contain rich or smoky notes. Also, dark roasts are usually lower in acid than lighter roasts. 
French roast, espresso roast, Italian roast, and Full-City are at the darker end of the spectrum. While a dark roast coffee gives you a strong coffee flavor, keep in mind that many dark roasts may actually contain less caffeine than light roasts. 
Caffeine content
Just because coffee tastes strong doesn't necessarily mean that it will give you an extra boost of caffeine. If you want your cuppa to pack in extra energy, look for labels that say "extra" or "double" caffeine. These coffees may use coffee beans that are naturally higher in caffeine (such as Robusta beans) or they may infuse the coffee beans with a concentrated coffee extraction. 
Some high-caff coffees can give you up to 50% more caffeine than the average cuppa. Highly caffeinated coffees can be useful to stay awake on a night shift, long drives, or early mornings.
Bean origins
Everyone has their preference when it comes to coffee flavor. Some prefer fruity or floral notes, while others prefer deep chocolate, caramel, or vanilla notes. These flavor notes are naturally inherent in the coffee beans and depend on the country's climate, soil, elevation, and processing. 
Many coffee brands let you know what flavors to expect by letting you know where the beans grow and what coffee notes they contain. If you prefer strong flavors, look for coffee notes such as smoky, chocolate, and caramel.
How Much Caffeine is too Much Caffeine?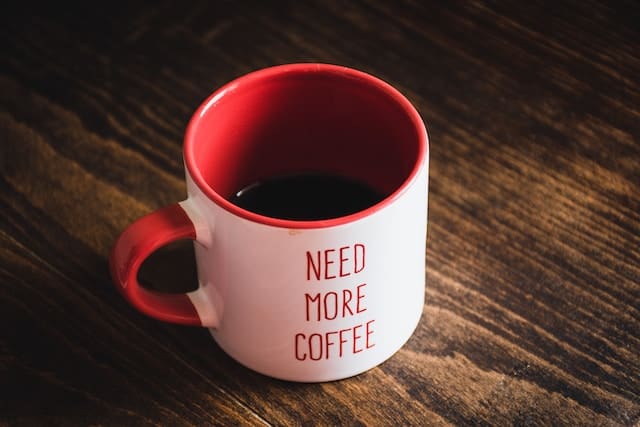 Caffeine can help boost your energy, help you concentrate, and may even come with some health benefits when you ingest it in moderation.  
The FDA suggests that the average healthy adult should drink no more than 400 milligrams of caffeine per day to prevent negative side effects. An 8-ounce coffee generally contains 80-100 milligrams of caffeine. This means that up to four or five cups of coffee should be acceptable for healthy adults. 
However, if you are pregnant most experts recommend choosing decaf options or severely limiting caffeine intake to less than 200 mg per day (one or two 6-ounce cups of coffee).
Headaches, insomnia, anxiety, irritability, bladder issues, increased heart rate, and muscle tremors are a few signs that caffeine may be negatively affecting your body. 
Discuss with your doctor the appropriate caffeine intake for your unique health situation.
Our Best Tips to get Stronger Coffee using K-cup Machines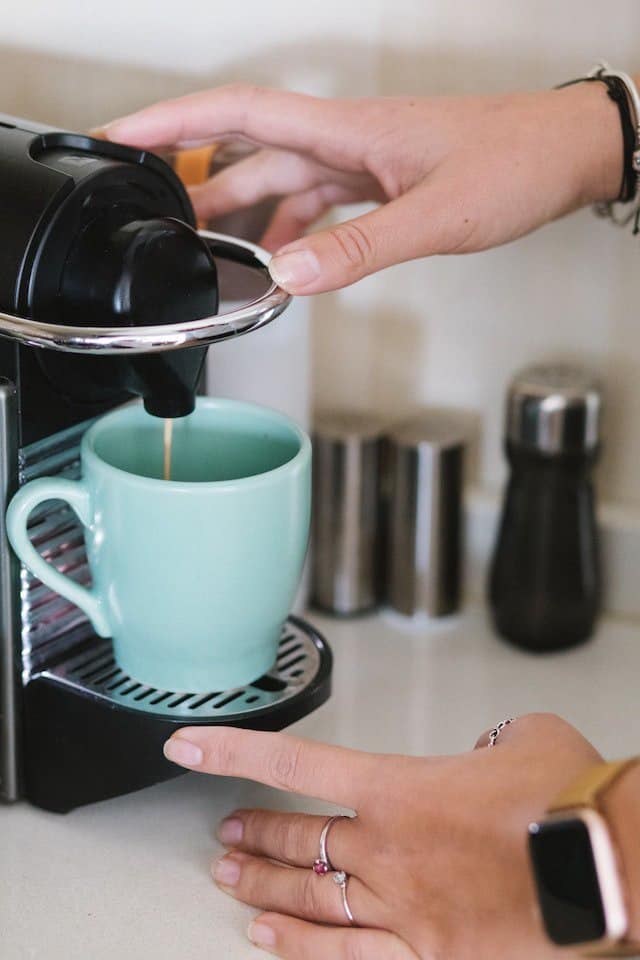 Time, temperature, and the coffee-to-water ratio are some of the most important factors for brewing a cup of coffee full of flavor. Although K-cup machines are known more for their simplicity than their ability to create craft coffee, there are a few ways you can increase the strength of your brew even in a Keurig Brewer. 
Here are a few simple hacks that can help you get the strongest K-cup coffee in your Keurig machine. 
1. Start with a strong K-cup
Pick a dark roast K-cup for a stronger-tasting coffee flavor. For extra caffeine, start with a coffee pod that says "double," "extra," or "high" caffeine on the label. 
2. Use the "Strong Brew" setting
Many Keurig brewers offer a "Strong Brew" setting. This setting gives you about half a minute of extra brewing time. The longer brew time allows the coffee grounds time to steep giving you a stronger flavor (and slightly more caffeine) than the usual quick-brew cycle.
3. Preheat your machine
A hotter water temperature can also give your coffee extra flavor. Since Keurig machines don't let you adjust the water temperature directly, you can warm up the machine by running a hot water cycle through the machine before you brew.
This "preheating cycle" allows the water to be just a little hotter than usual when you start brewing and extracts more flavor from the coffee grounds.
4. Use less water
Pods contain a standard amount of coffee grounds, so the less water you use in the brew cycle, the stronger your coffee will be. The inverse is also true. If you decide you want to tone down the strength of your coffee, you can choose to brew a larger cup size for weaker coffee.
Final Thoughts
A Keurig brewer can be a great choice when you need a quick, single-serve cup of coffee to-go. Although many K-cups may deliver disappointingly weak coffee, several brands out there can give you a gourmet cup of coffee in a quick-serve coffee pod. 
We've shown you 11 of our favorite brands. These include rich-tasting dark brews, doubly caffeinated cuppas, nutrient-rich mushroom blends, and delicious one-step lattes with milk and sugar.
Sale
Last update on 2023-11-28
Our top favorite is Death Wish's Dark Roast Coffee Pods. Like many European coffees, these pods blend Arabica and Robusta coffee beans for extra caffeine and a richly smooth flavor. The hints of chocolate and cherry will make your tastebuds ask for more!
After searching through the list of options, it's time for you to choose which of these strongest K-cup coffees you want to try first!
FAQs
What is the sweetest K-cup coffee?
What is the strongest decaf K cup? 
The point of decaf coffee is to keep the caffeine level to a minimum. However, you don't have to give up the rich flavor of your brew just because you're cutting the caffeine.
To get the strongest decaf K-cup, look for a darkly roasted coffee. Also, a Swiss Water Processed decaf coffee preserves more natural coffee flavor than the standard chemical processing method. 
Coffee Has Never Read This Good!
Sign up for a FREE newsletter to the best home brewing tips and guides
Thank you for subscribing to The Cup Coffee House Crew! There's a surprise in your Inbox 🙂
Something went wrong.
About the Author
Latest Posts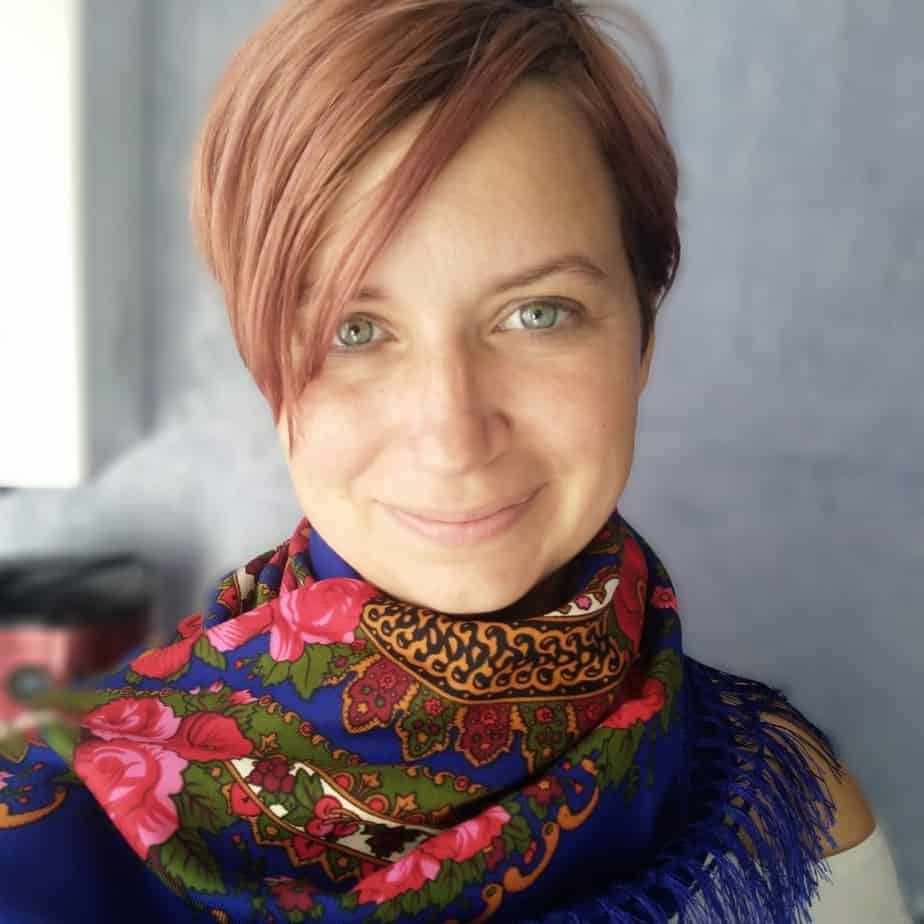 Alex Praytor worked her first job as a barista, finished college, and then took a tour to the other side of the globe. She fell in love with espresso and her would-be husband in Europe. She spends her spare time visiting native Texas landmarks, ancient castles, and all the coffee shops she finds along the way. At home, she is a mom, ESL teacher, and writer, who hones her coffee-making skills daily. She enjoys passing on her coffee findings to fellow caffeine addicts in search of the perfect cup.
Chief Editor