Last updated on July 2nd, 2023 by Alex Praytor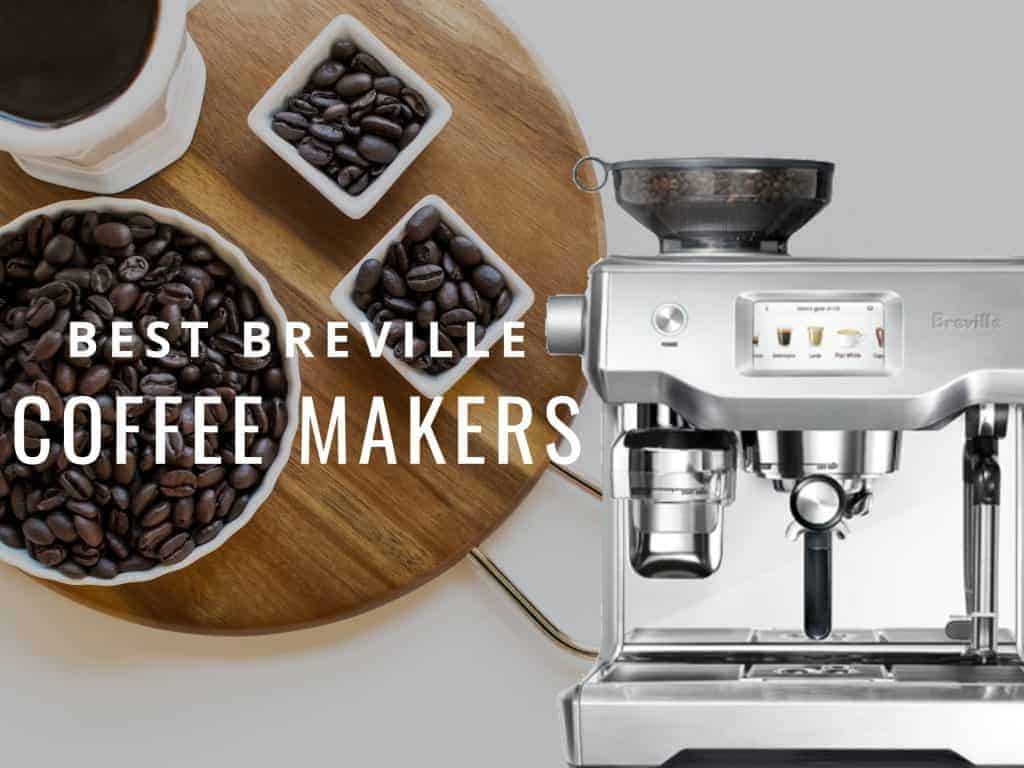 If you are in the market for a new coffee machine, you probably have run across a variety of Breville models in your searches. Although these coffee makers tend to be on the higher end of the price range, the quality you get with a Breville machine usually makes it all worth it. 
Breville coffee makers are known currently for being some of the best machines on the market for household use. Even brands like Nespresso have sought out collaboration with the Breville brand to ensure that their machine will make a great cup of coffee every time. 
Narrowing the list down to the best 8 wasn't an easy task as Breville has a wide variety of models available! But that's what we attempted to do in this list of top Breville coffee makers.
We pulled all the research on style of brew, quality, price, and customer reviews we could find into this easy to read guide. If you're looking to make a decision on which Breville coffee machine is right for you, keep reading.
In a hurry? Here's the cliff notes: Breville's specialty is in espresso makers. Our overall best-pick is the Breville Barista Express Espresso Machine based on quality, popularity, and price. We love that it is a commercial-style espresso maker with a mid-range price tag. Perfect for the avid coffee drinker who wants delicious quality at home while saving money from going to the coffee shop.
Sale
Breville Barista Express
We like the 15 bars of pressure, built in grinder, auto dosing, and temperature control to brew the perfect 1-2 shots of espresso every time.
Last update on 2023-11-28
---
What's so Good About Breville Coffee Makers?
Breville has a wide following in the gourmet coffee niche. The company began as the brain-child of Bill O'Brien, a radio salesman, and Harry Norville, an engineer. Together they founded Breville in Sydney in 1932, as a radio company in a time of national economic depression.
The company quickly became a success through their cutting edge technology. As television began to replace radios in homes in the 1950's, Breville began to focus on expanding their household and kitchen appliances, including a line of coffee machines. 
Breville continues to incorporate new and innovative ideas into their coffee makers today. They currently deliver to more than 70 countries worldwide and are well known for their quality coffee makers.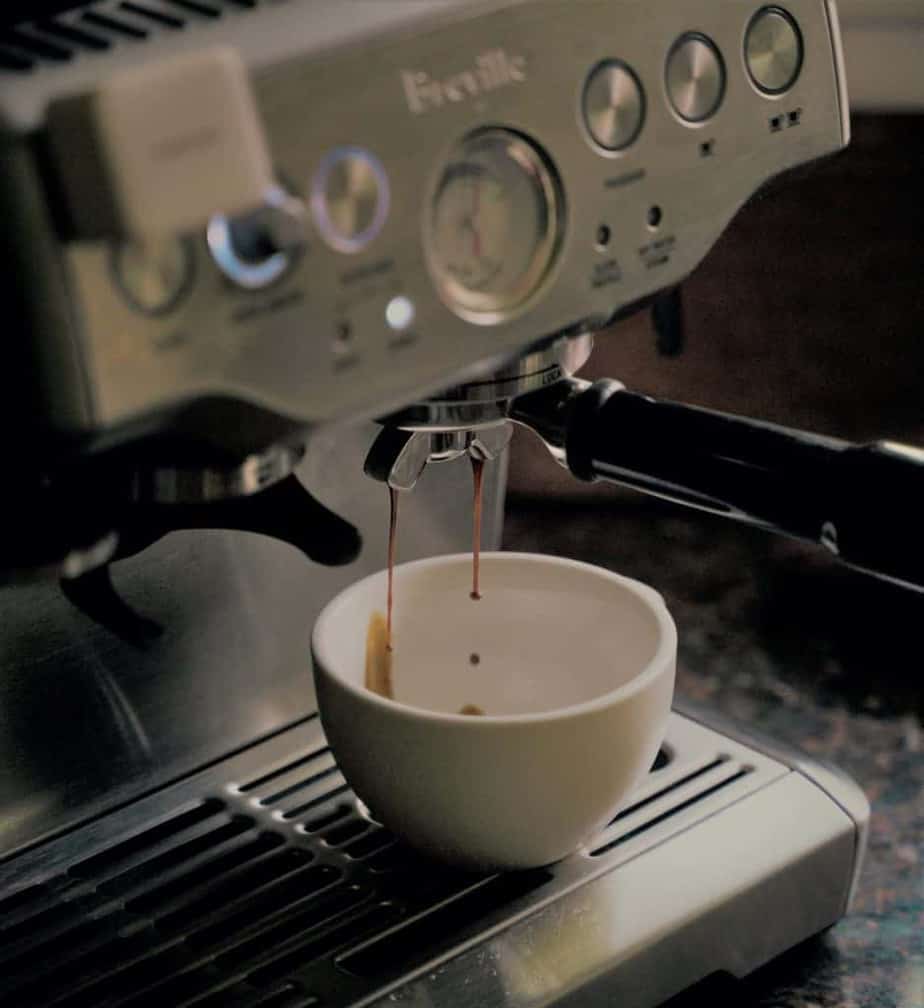 How to Choose the Right Breville Coffee Maker
The Breville brand makes three main types of coffee makers to fit different types of lifestyles. While they are most well-known for their espresso machines, they also make drip machines and have paired with Nespresso to add coffee pod machines to their line. 
When choosing which model is best for you, you should take into consideration the following:
Criteria #1: Size
How many people will be using this Breville coffee maker on a regular basis? If you have several members in your household who drink coffee every morning, a drip machine that brews one pot for everyone may be the way to go.
If you are looking for a quick cup that will get you started before you head to work each morning, you may be interested in an espresso machine or pod machine to make a quick individual cup.
Criteria #2: Quality
Before investing in a machine from any brand, it can be a great idea to read review articles and customer reviews. This can help you to weigh the pros and cons of different coffee makers and be able to make the right choice for your needs. After pouring through reviews, its clear Breville is widely-known for its quality machines that make a great-tasting cup of coffee. 
Quality materials like stainless steel, and performance metrics (temperature, water pressure, time of brew, etc.) are also top notch in most Breville coffee makers as you will see in our list below.
Criteria #3: Taste
What type of taste are you looking for in your perfect cup of coffee? Do you enjoy an American-style long coffee, a rich espresso, or enjoy a pod machine that offers both? If you love the taste of an espresso, you may not be happy with a drip method even though it might fit easier in the budget.
Inversely, if you enjoy an American-style brew, it may not be worth spending the extra money for a higher performing espresso machine. Decisions… decisions…
Criteria #4: Price
Although many Breville coffee makers can be at the top end of most budgets, the quality they offer may pay off in the end. Prioritize which features matter and don't matter to you in a machine when setting your budget. If you have to save, it may be worth the wait to be able to invest in the coffee maker of your dreams! 
How We Determined the Best Breville Coffee Makers
While there are many Breville coffee makers currently on the market, we chose to narrow it down to these top 8 Breville machines. Our updated list includes models for different price ranges and tastes, from high-end espresso makers to your regular American drip coffee makers and pod machines. Let's see how these Breville machines compare based on size, quality, taste, and price.
Best Features:
Integrated burr grinder
Low pressure pre-infusion 
Digital temperature control
Built-in steam wand
Grind size dial
Things We Like:
The Breville Barista Express Espresso Machine is one of Breville's most popular machines and our overall best pick for Breville.
This machine gives you many options to control the time and temperature of your brew to suit your personal tastes. You can use the automatic settings or change to manual controls to make your perfect cup. 
Integrated burr grinder. So instead of cluttering up your kitchen with several appliances, you can streamline with an all-in-one coffee maker plus grinder. There are settings to control your grind size, and the grinds go directly into your portafilter for coffee making ease! We love this feature as it ensures that you will always have the freshest tasting coffee. 
It also includes a steam wand to make quality lattes with micro-foam. You can practice your barista skills by trying your hand at latte art.
This machine can brew an espresso in under a minute! So for those who need a cup ready first thing in the morning before rushing out the door, this machine could be a good option!
Keeping this beast clean is pretty simple too. Use distilled water and you shouldn't have any problems with residue buildup. Otherwise you can just run vinegar through the water container, the steam wand, and grouphead as well.
Things We Don't Like:
The dimensions of this machine measure about a foot tall, but it is a heavyweight, weighing about 23 pounds. Once you find the right spot for this machine in your kitchen, we are guessing it will most likely stay there!
Also, this machine does not have a sensor when water is running low in its reservoir. It will be important to refill this tank regularly to keep your machine's motor from burning out. 
And of course the price: The range for this machine is generally $600+. Certainly not cheap, but you get every bit of quality you pay for from this Breville masterpiece.
Overall Thoughts:
We love that the Breville Barista Machine can grind your coffee, make an authentic espresso and steam your milk all in one machine! This espresso maker allows you (even as a beginner) to make an authentic coffee-shop style cup of coffee from the comfort of your own home. 
Sale
Breville Barista Express
We like the 15 bars of pressure, built in grinder, auto dosing, and temperature control to brew the perfect 1-2 shots of espresso every time.
Last update on 2023-11-28
For a more in-depth look, check out detailed review of the Breville Barista Express.
Best Features:
Low pressure pre-infusion
15 bar Italian pump
Steam wand
Flexible shot control
Maintenance alerts
3 sec heat-up
Compact footprint
In many ways this machine is very similar to the Breville Barista Express… except that the Infuser doesn't have a burr grinder.
Things We Like:
This Breville coffee machine also has the low-pressure pre-infusion which will help you get all the flavor out of your grind.
The heat up time is very fast at 3 sec so you don't have to stand around waiting for the machine to do its part before making your espresso.
When it is time to clean the machine, the Infuser alerts you that it needs cleaning. 
If you are a barista at heart, this machine allows you to participate in the coffee making process by allowing you to adjust many of the controls such as the volume of each pour, temperature controls, and pressure gauges. 
Things We Don't Like:
This machine comes without a burr grinder. So if you appreciate an all-in-one espresso machine, then the Barista Express may be a better model for you. There is some trade-off though, as the Infuser also tends to run $50-100 cheaper. 
Many people who bought this machine decided it was easier to clean a freestanding burr grinder as opposed to one attached to a coffee machine. But, more appliances also take up more counter space. 
Overall Thoughts:
This machine has many overlapping features with the Breville Barista Express, which we love! But it also comes in lighter in weight and more compact with a lighter price tag. This Breville coffee maker also comes in a fun red color option, which can add a bright spot in your coffee corner.
Sale
Breville Infuser
The Infuser has the fast heat up, solid extractions, and 15 bars of pressure of the Express, but with a lighter weight and price tag.
Last update on 2023-11-29
Best Features:
60 oz drip coffee maker
24 hour pre-set timer
Auto shut-off
6 unique brewing modes
Stainless steel thermal carafe
Dual filters
Things We Like:
The Breville Precision Brewer Thermal Coffee Maker is the most popular drip-coffee machine in the Breville line. One of our favorite features of this pot is that its brew-style resembles pour-over or French press style coffee. It showers the coffee to make sure the grinds are evenly submerged for a well-rounded and smooth-tasting cup.
This machine features a stainless steel thermal carafe to allow you to bring your pot of coffee to the table and still keep it warm. It has 6 unique brewing modes which include Gold, Fast, Strong, Iced, Cold Brew, and My Brew. These settings control the bloom time and strength of the coffee. The My Brew option allows you to customize your pot to personal preferences. 
Also you can pre-set the machine to make your first cup of coffee automatically for the time you wake up in the morning. This is a great option for stream-lining your morning! 
Things We Don't Like:
One of the main not so cool things about this Breville coffee maker would probably be the price. This machine can run in the $300-400+ price range, which is pretty steep for a drip machine. Also, some customers noted that the carafe did not keep coffee hot for as long as they would wish. Some mentioned that the heat held for about an hour at most. 
Overall Thoughts:
This Breville Precision Brewer has many great features for a drip machine including an automated pour over brewing style. We like that it allows the user to have as much control as he or she wants, but also has automatic functions for those who are just looking for a simple brew. This Breville coffee maker is a great option for larger households as you can fill up a pot to serve all at once. But, there is also a smaller filter option for when you want to brew in small batches. 
Breville Precision Brewer
The Breville Precision Brewer comes with all the customizations/tools a coffee drinker could ask for to brew the perfect cup of craft coffee.
Last update on 2023-11-29
For a more in-depth look, check out the hands on testing we did in this Breville Precision Brewer review.
Best Features:
15 bar Italian pump
54 mm portafilter
Thermojet heating system
47 oz removable water tank
Low pressure pre infusion
Compact and light weight
Steam wand
The Breville Bambino is a high quality semi automatic espresso machine from Breville. It really stands out as a simple espresso option to deliver quality full bodied espresso shots all in the most compact way possible.
Things We Like:
The Bambino pulls delicious espresso shots with perfect extractions using its well designed 15 bar pressure pump.
Combined with the Thermojet heating system, you can be up and running in 3 seconds and get fast shots for when you want bold espresso flavors as you run out the door in the morning.
If you want to create silky smooth textured milk foam for latte art or just the basic milk based espresso beverage, the steam wand is fairly simple to master.
We love this machine is small and compact taking up little counter top realestate. Good for those with smaller spaces to work with.
Price is fairly reasonable given the durable quality, enhanced performance from features like pre infusion and excellent customer reviews.
Things We Don't Like:
Comes with alot of plastic in its construction
No water temperature controls
Portafilter isn't the greatest quality. You may consider buying a separate one with better material.
Overall Thoughts:
If you want delicious third wave espresso coffee with the full bodied mouthfeel of bold yet creamy flavors with all the tools you need and none that you don't, the Breville Bambino is a great option. For a decent price, it works for those beginners who want flavors, ease of use, but want to conserve space too.
Breville Bambino
The Bambino features 15 bars of pressure, fast heating, and steam wand to pull quality flavorful espresso shots in a compact size.
Last update on 2023-11-29
For a more in depth look check out our full review on the Breville Bambino.
Best Features:
15-bar thermoblock pump
3 filter options: Single shot, double shot, and pod
Dual-wall filter system for excellent crema
Steam wand
Cup-warming plate
The Breville Cafe Roma espresso maker has a clean look and is very straightforward to use. This can be a great choice for those who are not interested in the bells and whistles and just enjoy making a great cup of coffee without needing a manual to understand machine settings.
Things We Like:
This machine makes a classic espresso at the sweet spot of 15 bars of pressure. It accepts both coffee grounds or coffee pods. 
The cup-warming plate will keep up to 6 cups of espresso warm at a time. So, if you want to serve a group of people at the same time, you can keep the espressos from becoming cold with this warmer while you prepare espressos for the rest of the crew.
This particular model includes a stainless steel frothing pitcher, and a measuring spoon which also acts as a tamping tool and cleaning tool. Three stainless steel filters are included for a single shot, double shot, and pod. Each filter includes Breville's unique dual wall crema technology to ensure a smooth, rich flavor in each cup of espresso!
Things We Don't Like:
The main con we found for this machine is that the steam wand uses the same pump as the espresso maker. This means that you have to wait to steam the milk until you are done with your espresso making. If you enjoy making lattes, this could double your coffee making time. Many solved this issue buying a separate milk steamer; it just depends on how fast you need your morning drink!
Overall Thoughts:
We love the simplicity of this Breville coffee maker and the fact that it can make a quality espresso at 15 bars of pressure. It is also a versatile machine as it accepts coffee grinds or pods depending on your preference. The cup-warming plate is a nice addition if you enjoy espressos but also serve larger groups. This is also one of the less expensive models that can be found priced under $200.
Sale
Breville ESP8XL Cafe Roma
The Cafe Roma uses 15 bars, multiple filter options to brew creamy espresso in an easy to use machine for a cheap beginners price.
Last update on 2023-11-29
For a full review, check out our indepth look at the Breville Cafe Roma ESP8XL.
Best Features:
One touch brew
Automatically adjusts brewing parameters to capsules
Automatic capsule ejection and storage
Removable water filter
Bundled with separate milk frother
Things We Like:
For those who can't decide between an espresso or longer coffee drinks, this hybrid coffee machine could be a great choice. The Breville Vertuo gives you 5 different choices for coffee size from a classic espresso size up to the Alto at 14 oz, all at one touch of a button! This single-serve machine offers a little something for everyone.
The machine also heats up in 15 sec so it is ready to serve when you need a cup of coffee. It has a 40 oz. removable water tank, and also automatically ejects and stores used grounds. The Vertuo is a great choice for busy households with different coffee preferences. 
The Vertuo comes with a complimentary set of pods and can also be bundled with an Aeroccino 3 milk frother for those who enjoy making from lattes and cappuccinos, to frappes and mochas.
Things We Don't Like:
This machine only works with Nespresso pods and is not compatible with K-cups. Many consumers have found the Nespresso pods to be more expensive and more difficult to find.
Also, while the Vertuo brews an espresso type coffee, it does not use the same pressure system as a classic espresso. Some coffee aficionados who are snobbish about their coffee note that the taste is not quite the same as an espresso, but most coffee drinkers are satisfied with the taste.
Overall Thoughts:
We like the versatility of this Breville coffee maker and that it is able to provide individual preferences in a household of different coffee tastes. Also, it delivers a quick and hot cup of Joe that is perfect for a busy morning! For a more detailed look, you can check out the full review we did on the Nespresso Evoluo and the our comparison between the Vertuo and Evoluo models.
Sale
Nespresso Vertuo Machine by Breville
We love the Vertuo as a single serve machine with multiple brew sizes, that whips coffee or espresso fast using pods for a tasty and convenient beverage.
Last update on 2023-11-29
Best Features:
Coffee + espresso
LCD high-resolution screen
Built-in milk frother
Automatic cleaning
3 drink sizes
3 sec heating time
Automatic Off mode
We love the sleek look of this Creatista Plus Coffee and Espresso machine! This is another machine that is a collaboration between Breville and Nespresso.
Things We Like:
The Creatista offers 3 distinct brew sizes, a Ristretto (0.5 oz.), an Espresso (1.35 oz.), and Lungo (5 oz.). The LCD screen assists you in your coffee preparation, setting choices, and maintenance aspects. This can take some of the headache out of using your coffee machine by letting you know exactly which steps come next and when you need to clean your machine! 
Like many of the other Breville models, this one also comes with a milk frother. You can try your hand at latte art the next time your friends come over for coffee!
This machine has one of the fastest heating times at only 3 seconds. It also automatically shuts off after 9 minutes of inactivity.
Things We Don't Like:
Like the Vertuo, this machine will only brew Nespresso pods and not K-cups. While the Vertuo offers 5 sizes for your morning cup of coffee, this machine offers only 3 sizes.
This Breville machine also generally costs over $400 which seems a bit steep for a pod machine and is much more than most of their competitor Keurig's machines, although with more quality too.
Overall Thoughts:
The Breville Nespresso Creatista coffee espresso maker has a classic look and we love its short heat-up time! This is a nice compact machine, which weighs just a little over 3 pounds, for those who enjoy a shorter and stronger type of coffee!
Sale
Nespresso Creatista Plus
The Nespresso Creatista Plus brews quick pod espresso beverages with 19 bars of pressure and an automatic adjustable milk frothing wand.
Last update on 2023-11-29
For a more in-depth discussion, check out our full Nespresso Creatista Plus review.
Best Features:
Commercial type coffee drinks for at-home use
Touch screen
Adjustable coffee strength, milk texture, and temperature
Save and name custom drinks
Conical burr grinder with automatic tamper
One or two shots
For those who have the money to invest, the Breville's Oracle Touch coffee maker could make your coffee dreams come true! This machine is for the at-home barista who is serious about the taste of his daily brew. The dedicated coffee drinker who will settle for nothing less than the finest brew money can buy at home.
Things We Like:
It does most of the work for you by automating many of the coffee making functions. The touch screen allows you to choose your coffee's grind, brew, and milk.
It comes with 5 pre-set coffee drinks. Swipe the touch-screen display menu and choose from an espresso, long black, latte, flat white or cappuccino. You can also personalize the settings to make your brew taste just as you wish and save up to 8 personalized settings. 
The built-in burr grinder will grind your coffee for your brew and automatically tamp it to be ready to make your favorite cup of coffee. This is Breville's top of the line machine and is designed to give you the type of coffee that a trained barista would make for you at your local coffee shop. 
Things We Don't Like:
The main drawback of this machine as you can imagine is the price tag. This Breville model can reach up to $3500. This is probably more than most are willing to spend on a coffee machine, but the customers that were able to have said that the quality matches the price!
Overall Thoughts:
The Oracle Touch is Breville's best of the best coffee contraptions. If you want top of the line grinding, extraction, brewing, and frothing all on complete autopilot, this is it. Instead of making a daily run to Starbucks to spend over twice the cost on a customized cup of coffee, you could make an investment in this machine and do it yourself at home! 
Breville Oracle Touch
With a built in grinder, automatic loading, extractions, and frothing, this fully automatic machine is for the most espresso obsessed.
Last update on 2023-11-29
Why Trust the TheCupCoffeeHouse.com
We are a group of people from all over who love coffee. From busy full time working parents to stay at home empty nesters. Some of us have worked in coffee shops in countries all over the world. Some of us have training in the pharmaceutical sciences and chemistry.
But regardless of our diverse backgrounds and expertise, we love coffee and sharing the experience with family, friends, and our community. So we spend the time to research, test, and report what we discover works and doesn't work from coffee makers, espresso machines, to brew methods and coffee facts. All so you can take home valuable information to make the best decision for you.
Breville FAQs
Are Breville espresso machines made to last?
Yes, Breville's stainless steel automatic and semi-automatic espresso machines are made to last. Breville is well-known for their high-quality espresso machines. Most Breville coffee makers come with a one-year warranty and Breville strives for good customer service if a machine needs repair. Many customers have reported that their espresso makers have lasted up to 10 years.
Can you use coffee pods in a Breville espresso machine?
Not all Breville espresso makers accept k-cup type pods. However, most espresso machines, including Breville espresso machines, can accept Easy Serving Espresso (E.S.E.) pods. Some Breville machines are also compatible with Nespresso pods and Dolce Gusto pods, as well.
Does Starbucks make ESE pods for espresso?
Yes, Starbucks sells fresh-roasted Starbucks Espresso Roast E.S.E. pods for home espresso machines. E.S.E. pods contain a correct dose of coffee and fit directly into the portafilter of espresso machines. Starbucks also sells k-cup type pods for Nespresso and Dolce Gusto.
How often should I clean a Breville espresso machine?
The portafilter and steam wands should be cleaned after each use. However, the grinder and water reservoir only need to be cleaned about every 3 weeks. It is also a good idea to descale your machine about every two months for the freshest tasting brew.
Do burr grinders make a difference?
Yes, a burr grinder is superior to blade grinders when it comes to the flavor of your cup of coffee. In a burr grinder, the two burrs rotate against your coffee beans creating a uniform grind, whereas blade grinders chop at coffee beans haphazardly.
When you add uniform coffee grounds to your espresso machine, the extraction will also be more even. In this way, a burr grinder can prevent over-extraction and under extraction.
Final Verdict: The Best Breville Coffee Maker
Out of the Breville coffee makers we researched, our overall best choice would be the Breville Barista Express Espresso Machine. The price is mid-range for espresso machines and this machine has several amenities that are useful for home-brewing.
We like that it provides you with a burr grinder, a steam wand, and manual or automatic brew settings depending on your preference. This is a solid espresso machine that can make a high quality brew and is perfect for beginner to avid drinkers alike who want to up their home brewing game.
Sale
Breville Barista Express
We like the 15 bars of pressure, built in grinder, auto dosing, and temperature control to brew the perfect 1-2 shots of espresso every time.
Last update on 2023-11-28
Final Thoughts
In this article we looked at different types of Breville coffee makers to fit different lifestyles. We chose a drip machine, pod machines, and espresso machines to see how they compare. Our ranking system was based on the model's features, popularity, and customer preferences.
If you are in the market for a quality coffee maker, there are many models and brands you can research before you make your final choice. Breville has earned its current renowned status due to their high-performing, innovative coffee machines. For those in search of that perfect cup of coffee, a Breville coffee maker may help you finally reach your goal! 
If you are looking for other high quality espresso machines to consider for home brewing, check out our review of the
 We hope our research helps you narrow down the best coffee machine for your household! 
Coffee Has Never Read This Good!
Sign up for a FREE newsletter to the best home brewing tips and guides
Thank you for subscribing to The Cup Coffee House Crew! There's a surprise in your Inbox 🙂
Something went wrong.
About the Author
Latest Posts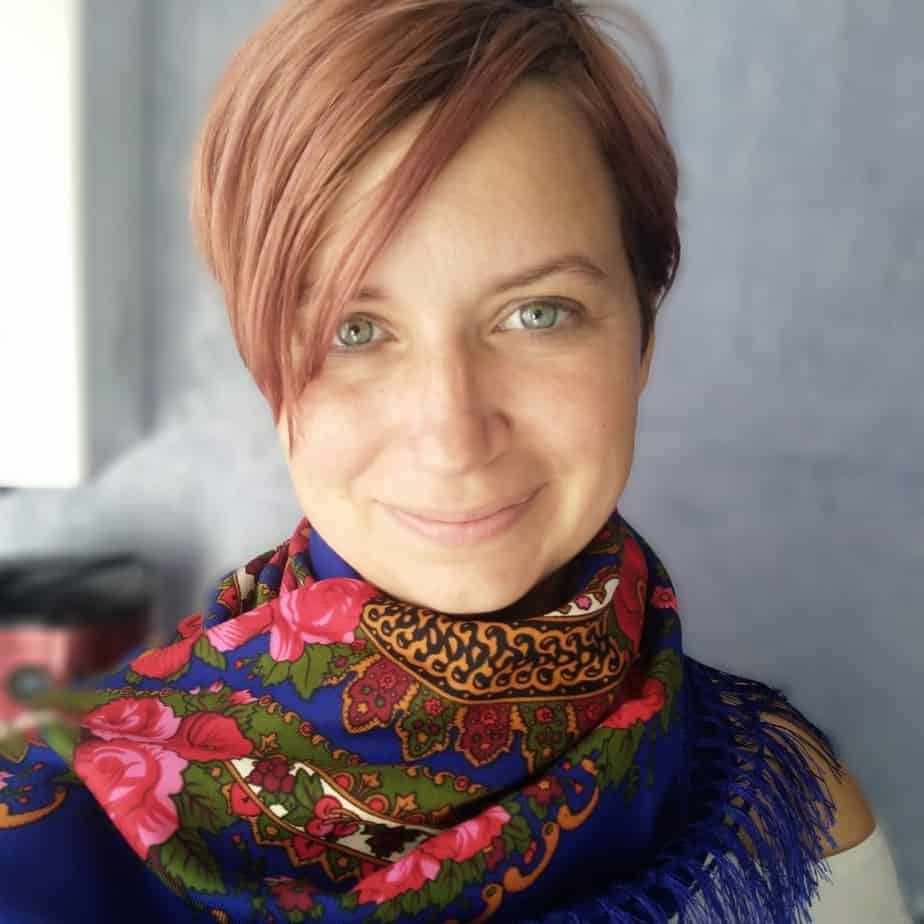 Alex Praytor worked her first job as a barista, finished college, and then took a tour to the other side of the globe. She fell in love with espresso and her would-be husband in Europe. She spends her spare time visiting native Texas landmarks, ancient castles, and all the coffee shops she finds along the way. At home, she is a mom, ESL teacher, and writer, who hones her coffee-making skills daily. She enjoys passing on her coffee findings to fellow caffeine addicts in search of the perfect cup.
Chief Editor