Last updated on July 5th, 2023 by Alex Praytor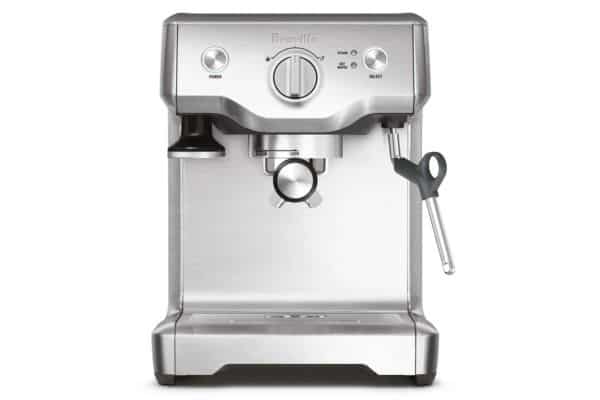 A hand-crafted espresso is a delicious way to start a morning. At a coffee shop, you may have to shell out two or three dollars for a demitasse cup of coffee. The expense can add up quickly if you make a coffee run daily. 
An at-home espresso machine can be a cost-effective solution to your coffee cravings. After the initial purchase, you can skip the drive-through lines and make a double shot of espresso in your kitchen for as little as $0.20. 
Our top pick under $500 is the Breville Duo Temp Pro Stainless Steel Espresso Machine. This semi-automatic machine looks sleek on your kitchen counter and includes many high-end features such as a PID temperature control, a pre-infusion cycle, and a 15-bar Italian pump.
Perfect for espresso drinkers looking to pull high quality full bodied brews on an affordable budget.
Sale
Last update on 2023-09-18
We've reviewed several high-quality machines that cost won't cost a fortune to bring home. These machines include travel-friendly manual presses, semi-automatic machines, espresso makers with automatic milk steamers, coffee pod machines, and super-automatic machines. 
Let's look at some of the best espresso machines on today's market for under $500. 
---
Our List of Best Espresso Machine Under $500
Things I like:
61 fl. oz. water tank
Stainless steel casing
Semi-automatic machine
Low-pressure pre-infusion
PID digital temperature control
15-bar Italian pump
The steam wand creates microfoam milk
Auto-purge function
Things I don't like:
Difficult to find replacement parts.
Review:
The Breville Duo Temp Pro is our top pick for an espresso machine under $500. This semi-automatic machine has some high-end features, but won't cost you a fortune. The Breville Duo Temp starts a brew with low-pressure pre-infusion to get all the flavor out of the beans. Its built-in PID temperature control ensures that each shot brews at a consistent temperature. 
This machine doesn't go over the top with bells and whistles. Instead, it keeps it simple with a simple on/off button, a knob to pull shots or heat milk, and a button to switch between steam and hot water. 
The Breville Duo temp allows you to create espresso, as well as cappuccinos, lattes, flat whites, and Americanos. With this machine, you get to call the shots and become a barista in your own kitchen.
Sale
Last update on 2023-09-18
Things I like:
15-Bar Pump
3-in-1 filter holder
Removable water tank
Accommodates tall mugs
Advanced Cappuccino System milk wand
Things I don't like:
Review:
The De'Longhi ECP3120 15-Bar Espresso Machine is one of the best semi-automatic espresso makers on the market for its accuracy, ease of use, and price. While a semi-automatic espresso maker may be intimidating for first-time owners, the De'Longhi ECP3120 has straightforward controls. 
To brew an espresso, tamp the grounds into the portafilter and turn the knob to "on" to  heat the water. Once the green light comes on, it is ready to use. Cut off the shot after 25-30 seconds for a classic espresso. 
This machine also includes an Advanced Cappuccino System steam wand. This steam wand mixes and steams to expertly texture the milk for cappuccinos and other specialty drinks. This simple-looking machine can give you high-quality espresso drinks for a great price.
Last update on 2023-09-17
Things I like:
20-bar pressure with visible pressure gauge
Thermoblock fast-heating system
Adjustable steam wand
Low-pressure preinfusion
Hot water
Includes traditional one and two-shot filters
Compatible with E.S.E. pods, bottomless portafilters, and Nespreso capsule portafilters (purchase separately)
Includes a coffee bean grinder with timer and cup measurements
Things I don't like:
The grinder may jam when set on fine grind settings.
Review:
The Gevi 20-Bar Compact Professional Espresso Coffee Machine is a great value for the price. This retro-looking machine heats quickly with its Thermoblock heating system. It brews with 20 bars of pressure and includes a gauge so you can see the amount of pressure you use when you pull a shot. One-shot and two-shot filters come with the machine. However, you can also purchase extra filters to use Nespresso capsules and E.S.E. pods. 
In this Gevi bundle, you also receive a separate coffee grinder. The grinder has a slot so you can fill your portafilter directly with freshly ground coffee. If you want to brew with a traditional drip coffee maker, you can set the machine to how many cups you plan to brew. 
The Gevi 20-Bar Compact Professional Espresso Maker is pleasing to the eye and comes with several amenities. This machine has a lot to offer at its price point. For other Gevi machine choices, check this article out.
Last update on 2023-09-18
Things I like:
Grinds coffee fresh
Classic milk froth wand
Intuitive touch display for one-touch recipes
Adjust the strength and size of your beverage
Removable water tank
12 grinder settings
3 temperature settings
Maintains optimum brewing temperature through its Aroma Extract system
AquaClean water filter 
Things I don't like:
No automatic milk frother.
Review:
The super-automatic Philips 1200 espresso machine is easy to use and makes delicious specialty coffee drinks. This machine includes a grinder with 12 grind size options so you can drink fresh-tasting espresso every time.
With one touch of a button, you can create espressos, hot water for tea, or regular coffee. The Classic Milk Frother System lets you steam or foam milk according to your recipe and craft latte art. 
If you are looking for an espresso maker that does most of the hard work, this streamlined Philips 1200 machine takes control from bean to cup. It also includes an AquaClean water filter so you only have to descale your machine after 5000 cups. 
Philips 1200 Series Espresso Machine
You can create different types of coffee with the Phillips 1200 fresh, from bean to cup with its 12-option grinder and innovative button display options.
Last update on 2023-09-18
Things I like:
Fully manual
Works without electricity
Can create 6-9 bars of pressure
Stainless steel spout, brewing cylinder, and portafilter
Compact, portable design
5-year warranty
Includes padded carrying case
Things I don't like:
You need a separate heat source for water.
Review:
The Flair Espresso Maker is compact and portable, so you can set it up anywhere. 
Flair recommends using a burr grinder to get the best flavor for this manual espresso press. After you add coffee grounds to the bottomless portafilter, pour hot water over them so they bloom. Then press the lever to create your espresso shot. The Flair Pro 2 requires no electricity and includes a gauge so you can maintain steady pressure for your shots. 
The Flair Pro 2 can achieve six to nine bars of pressure. With nine bars of pressure, it meets the SCA standard for authentic espressos. This manual espresso press may require some trial and error while you learn the machine. However, the gauge is a helpful guide to ensure you maintain steady pressure and achieve a tasty espresso.
Whether you are an experienced barista, or just looking for an espresso maker that uses green energy, the Flair Espresso Maker Pro 2 can be a great choice.
Flair Espresso Maker PRO 2
With Flair PRO 2, you can manually have your fresh espresso coffee anytime, anywhere without the need for electricity.
Last update on 2023-09-18
Things I like:
15-Bar Italian pump
Automatically starts and stops shots
Heats quickly
Thermoblock heating technology
PID temperature control
Pre-infusion bloom time
2-liter water reservoir
Steam wand
Cup warming tray
58 mm portafilter
Stainless steel milk pitcher, tamper, and cleaning pin
Easily switch between steam and hot water
Things I don't like:
The water tank is at the back of the machine and there is no low-water alert.
Review: 
The Calphalon Temp iQ Espresso Machine is a great machine for a barista on a budget. This espresso maker heats up quickly with a Thermoblock heating system. A PID control ensures that the water maintains a steady temperature. A professional-style wide 58mm portafilter ensures that the grounds are brewed evenly for the best extraction. 
You can start this fully automatic machine and walk away while it blooms the grounds and brews your espresso. Simply use the dial to choose between a single or double shot. Once your shot is done, you can add hot water to create an Americano, or steam milk to create specialty coffee drinks. 
The Calphalon Temp iQ automates how long your shot runs. However, it lets the user control the preparation of the portafilter and milk toppings. This espresso maker is perfect for a beginning barista who wants to create authentic espresso drinks.
Sale
Last update on 2023-09-18
Things I like:
Regular drip coffee filter and pod espresso maker
19 bar pressure system for espressos
Built-in fold-away milk frother
Compatible with capsules for espresso, lungo, and over ice 
Brew classic, rich, or over-ice coffee
Choose between nine different sizes including a demitasse mug, travel cup, and 12-cup carafe
Adjustable cup tray for different cup sizes
Capsule storage holds 20 capsules
Things I don't like:
Brews espresso only with pods.
Review:
The Ninja CFN601 Barista System is perfect if you enjoy drinking both regular drip coffee and espresso regularly. The espresso side is compatible with some Nespresso pods and brews using 19 bars of pressure. With its fold-away milk wand, you can create lattes, flat whites, cappuccinos, and more.
However, when you want to brew for a crowd, or you're just craving a regular cup of joe, you can use the drip coffee maker side. To brew coffee, choose your favorite grounds, add a filter to the machine, press a button, and watch the 12-cup glass carafe fill up. 
The Ninja Espresso & Coffee Barista System is a unique system that allows you to easily brew espressos, single-serve drinks, specialty coffee drinks, iced coffees, and more. The pod espressos brew using pressure, so you get a delicious layer of crema on top of your drink. Whether you are brewing for one or a crowd, the Ninja Barista System provides plenty of options to drink coffee the way you like it.
Last update on 2023-09-17
How to choose an espresso machine: Buyer's Guide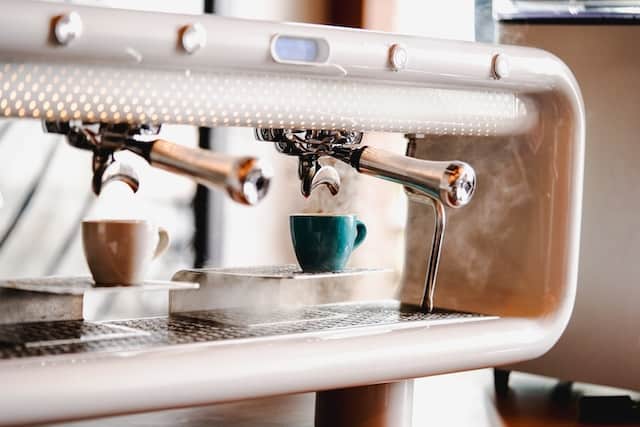 When you search for the best machine for the price, it can be hard to tell which is the superior model. Reading through the list of specifications, you may notice features like PID, Thermoblock systems, double boilers, pressure gauges, and various portafilter sizes. 
But, which features are the most crucial for a coffee that tastes great and a machine that will last?
We'll explore some quality features, and you can decide which ones go on your "must-have" wish list.
Do you prefer a manual, semi-automatic, automatic, or super-automatic machine?
Before you choose a machine, think about how hands-on you want to be in the process. Here are espresso maker types and their pros and cons.
Manual and semi-automatic espresso machines
Do you see the espresso-making process as an art? If so, you may want to choose a manual or semi-automatic machine. 
Many baristas prefer hands-on manual and semi-automatic machines to have the most control over their brew. You can adjust how long you pull your shot to create stronger-tasting espressos and ristrettos according to your preference. 
The downside to these machines is that they require more time and effort for the user.
Fully automatic espresso machines
If you enjoy having some control over your brew and some shortcuts, a fully automatic machine may be right for you. This machine lets you press a button and then walk away while it brews. It automatically cuts off when it senses the shot is complete. 
You don't have to worry about inconsistent brew times with a fully automatic machine. However, you still have to prepare the portafilter.
Super-automatic espresso machines
A super-automatic machine can do all the work for you. These machines grind coffee beans and pull a shot automatically. You don't even have to tamp the grounds! Some of the high-end models may also automatically steam milk foam to top off your drink in true barista style.
The size of the footprint
Bigger isn't always better when it comes to an espresso machine's size. If you have limited counter space in your kitchen, you may prefer to choose a machine without a grinder or automatic milk frothing tank. 
Instead, you can choose a small-scale espresso maker and a separate grinder or Aerrocino that you can store away when not in use. 
How durable is the machine?
Espresso machines in a higher price bracket often use higher quality parts than cheap machines. The more stainless steel parts you have, the better your chance is of a quality machine that will last. However, coffee makers with simple controls sometimes last longer than machines that have all the bells and whistles. 
It is a great idea to read review articles and customer opinions to find out the strengths and weaknesses of the machine before you buy. 
Is it user-friendly?
If you are a novice at espresso-making or just don't have the time to craft a perfect brew every morning, you want a user-friendly machine. You can look for machines that have features such as pressurized portafilters, large water tanks, and auto-frothing steam wands. 
A pressurized portafilter ensures that your espresso extracts evenly–even if you didn't tamp down the grounds with the proper pressure. 
A large water reservoir allows you to brew several cups without having to refill the tank.
An auto-frothing steam wand allows you to place the steam wand in the milk pitcher. Then, when you press the button, it froths automatically without requiring effort or barista skills. An automatic frothing tank requires even less effort. Simply add the milk to the tank and the machine can froth milk and top off your drink with the touch of a button.
Which extra features are non-negotiables for your espresso maker?
Many high-end espresso makers include upscale features such as built-in grinders, PID temperature controls, automatic milk frothers, double boilers, and more. 
Built-in grinders can grind your favorite coffee beans to your preferred size. Some machines grind directly into your portafilter. Other super-automatic machines often brew immediately after grinding without using a portafilter.
PID temperature controls detect the temperature of the water inside the machine. Then, it maintains a correct brewing temperature (usually between 195 and 205° Fahrenheit), allowing the flavor from your coffee grounds to extract evenly.
Automatic milk frothers allow you to choose your specialty drink of choice. After you choose your brew, the automatic frother creates steam or foam to top your coffee drink appropriately. These frothers require little or no effort–except you may have to spend a few extra minutes cleaning your machine.
Double boilers heat the water separately to brew espresso and foam milk. This feature allows you to create espressos and milk toppings simultaneously, making it easier to brew several specialty drinks back-to-back.
How easy is the machine to clean and maintain?
Many quality espresso makers include cleaning alerts when the machine needs attention. Espresso makers with built-in water filters are less prone to limescale build-up and don't require descaling as often as machines without filters. 
Dishwasher-safe, removable parts can also make your cleaning task easy. You may also check the market to see how easy it is to find replacement parts for your model.
How to maintain and care for your espresso machine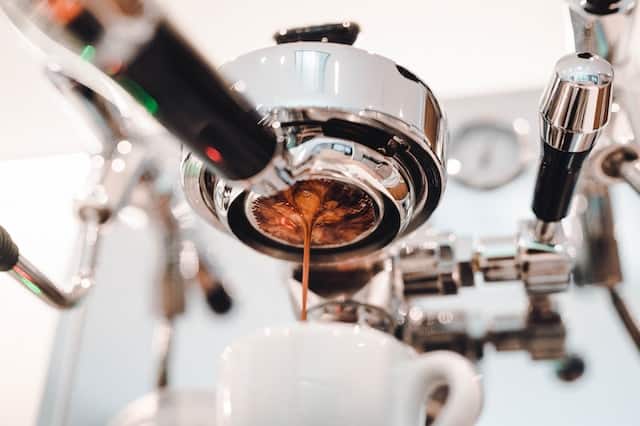 Once you purchase your dream espresso machine, you want to keep it in working order. Here are some tips and tricks to keep your machine in good condition for your daily caffeine needs.
The importance of cleaning and maintaining your machine
After brewing, empty the portafilter (or pod holder), wash the parts, and wipe down the machine's exterior. You also should run steam through the milk wand so no bacteria builds up. Before you brew your next shot, run water through the group head and portafilter.
A daily routine can keep bacteria from building up in and around your machine. However, you should regularly deep clean your espresso maker to keep it in tip-top shape.
How to clean your espresso machine
While cleaning the outside of the machine is important for daily care, your espresso machine also needs cleaning on the inside. To deep clean your espresso maker, change the water filters and descale your machine. Many have extra charcoal filters you can purchase so the water tastes clean for the best coffee flavor. 
Many machines have specific instructions to follow and special cleaning tablets you can purchase to descale. Read your machine's user guide for which products are safe to use and how to start the descaling process.
How often to clean your espresso machine
How often you should clean your espresso machine often depends on how hard or soft your water is. Using filtered water can cut down on how frequently you need to descale. 
Generally, experts recommend descaling your machine at least once every three to six months. Removing the limescale build-up can extend your machine's life span and enhance its performance. 
Final Verdict
Choosing the perfect espresso machine for your kitchen can be a tough decision. You have to decide on the features you want and other factors such as its size, ease of use, and the cost. As we searched the market for espresso makers under $500, we found several quality espresso machines with high ratings for a reasonable price. 
Sale
Last update on 2023-09-18
Now, it's your turn to choose which machine is best for you!
FAQs
How much should you pay for a good espresso machine?
Many professional-style espresso makers can cost upwards of $1,000. However, you can find a good espresso machine in the $400 to $700 range. These machines generally do a great job brewing espresso with 15 bars of pressure or more.
Many machines in this range also offer quality features such as a PID system for appropriate water temperature, a water filter system, a pressure relief system, and more.
What is the difference between a cheap and an expensive espresso machine?
You can find cheap espresso machines that use nine bars of pressure to achieve a rich crema. However, when you invest in a more expensive machine you can get higher-quality pieces that will last longer. Machines in a higher price bracket often have more stainless steel parts and less plastic. 
Also, you may notice a difference in the heating systems. Cheaper machines tend to have a quick and efficient Thermoblock heating system. However, many expensive espresso makers have high-quality double boilers that allow you to brew espresso and steam milk simultaneously. 
Coffee Has Never Read This Good!
Sign up for a FREE newsletter to the best home brewing tips and guides
Thank you for subscribing to The Cup Coffee House Crew! There's a surprise in your Inbox 🙂
Something went wrong.
About the Author
Latest Posts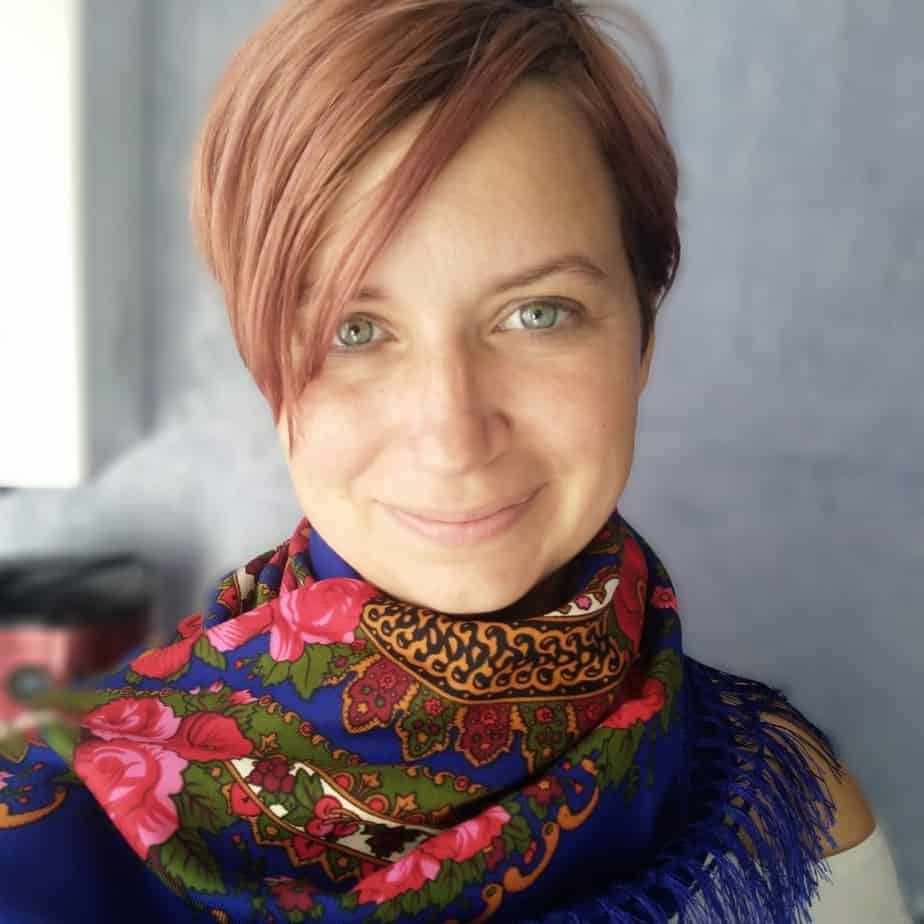 Alex Praytor worked her first job as a barista, finished college, and then took a tour to the other side of the globe. She fell in love with espresso and her would-be husband in Europe. She spends her spare time visiting native Texas landmarks, ancient castles, and all the coffee shops she finds along the way. At home, she is a mom, ESL teacher, and writer, who hones her coffee-making skills daily. She enjoys passing on her coffee findings to fellow caffeine addicts in search of the perfect cup.
Chief Editor