Last updated on April 1st, 2023 by Alex Praytor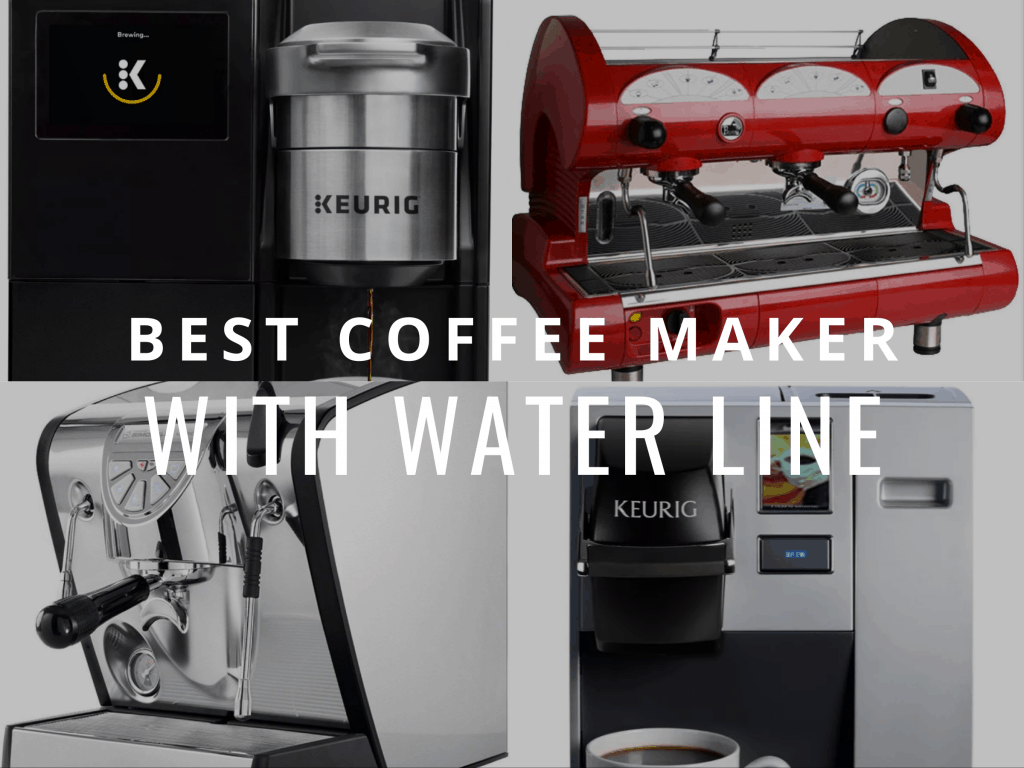 What is one of the easiest ways to burn out a coffee pot?
Being late to realize the water level in the reservoir has gotten too low.
If you are busy in the mornings with kids, a job, or school runs, the last thing you want to add to your plate is a high-maintenance coffee pot. Those that have lived through this traumatizing experience, may rejoice to know that there are actually machines on the market that refill on their own!
A plumbed coffee pot is hooked up directly to a water line, and automatically fills your coffee pot when you press "start." This gives you a clean-tasting cup of coffee and also frees you up from checking on (or forgetting!) the water level in your reservoir.
While we love the idea of a coffee maker with a water line that is wired in directly to a pot, you have to look a little harder to find these models on the market. We have done the searching for you and have ranked, reviewed, and critiqued 6 plumbed coffee pots to help make your final choice simpler.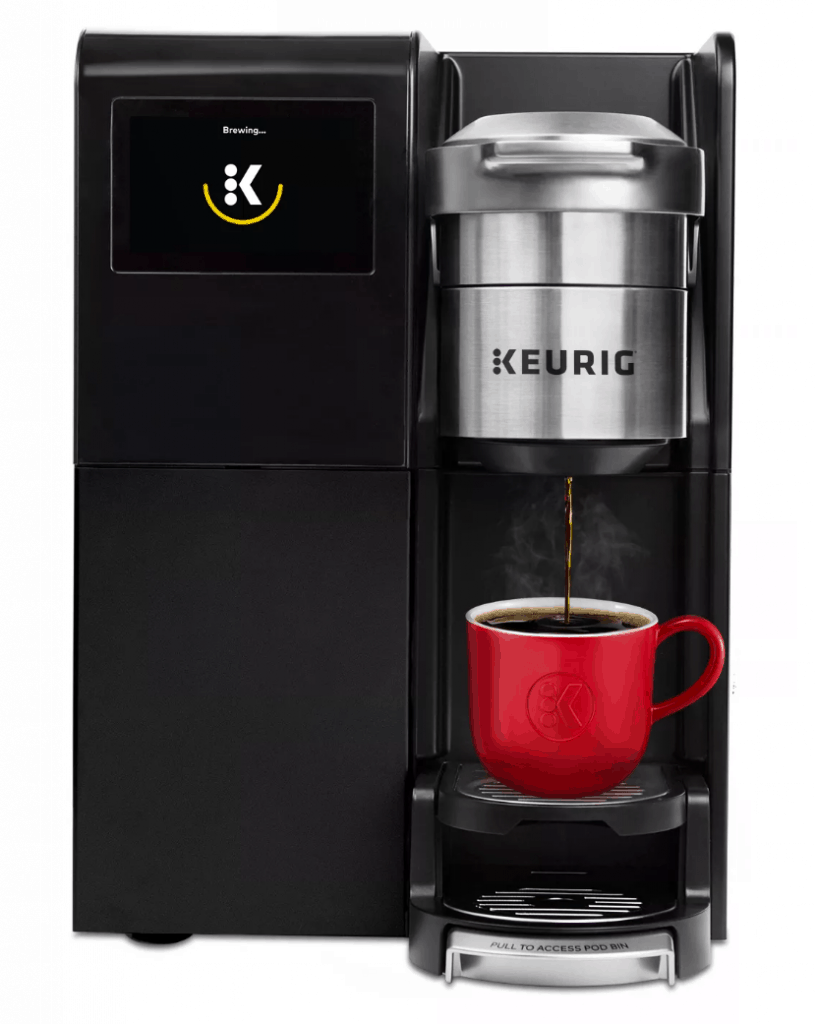 ---
In a hurry? Heres our overall impression: While the best coffee maker with water line for you will depend on price, ease of use, how many people you need to serve, and whether you want it for commercial use or home, we liked the Keurig K-3500 commercial coffee maker the most for its easy to use simple pod design, fast brewing, and simple direct line installation. If the price tag is on the high end, then the K-2500 would be our substitute.
Keurig K3500
The K3500 is simple to use, has a durable commercial build and connects directly to a water line for great tasting brewed coffee, a great overall pick.
Last update on 2023-11-28
---
How to Determine if a Coffee Maker with Water Line is Right for You
Is a coffee maker plumbed to your water line really the best fit for your lifestyle?
To decide, let's review the pros and cons you should consider.
Benefits of a Coffee Maker with Water Line
The pros to a plumbed coffee maker are that your cup never runs dry, so you don't have to worry about burning out your pot. Also you save yourself the hassle of constantly refilling a water reservoir thats too small every morning. This can be a benefit especially if there are many coffee drinkers in your household.
Also, while regular coffee pots can struggle with bacteria building up after being left for long periods of time filled with water, a plumbed machine brings in fresh water for each cup of coffee you make! This can help you achieve a clean tasting cup of coffee.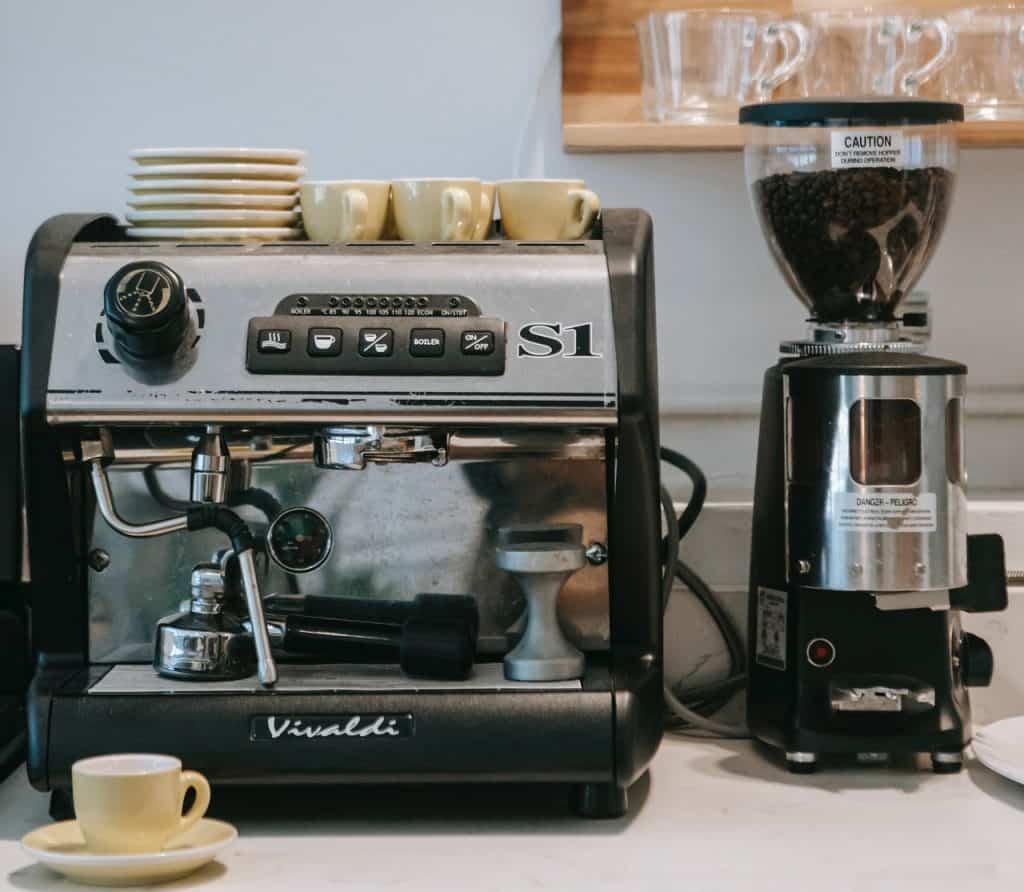 Disadvantages of a Coffee Maker with Water Line
But there are disadvantages to consider as well. For example, after your coffee machine is connected directly to your water line, you will no longer be able to move your coffee machine to a different location.
This can be an important factor when considering the placement of your coffee maker. It will need to be near a water hook-up and in a spot that is easily accessible to make your morning brew. Also, the fact that your water line is permanently wired in may make things tricky when you are trying to descale your coffee machine. 
Factors to Consider Before You Buy
So lets say you decide, I soo want a coffee maker with a water line!
When narrowing down your choices of plumbed coffee machines, factors you should keep in mind are:
How many people you need it to serve

The more people you have in the household, the larger the brewing capacity you need.
Capacity can range from 12 cups to several liters

Type of brewing

Are you a single drinker where a single serve coffee maker with water line will do. Or does a drip coffee maker or espresso machine make more sense?

Heating time

Most of these plumbed machines heat up pretty fast, anywhere between 3-6 minutes

Water temperature

A temp of at least 200 degrees F is around the standard

Quality and durability

Many commercial-grade items are made to be more durable and high-performance since they generally serve a larger consumer base

Your ideal price range

The price can be a lot steeper then your typical coffee makers. Anywhere between a few hundred bucks to thousands.
Also consider the cost of installation if it's a bigger job.

Is it for home or office use

Most coffee makers with a water line are for commercial use, but you can always install one in your home if your budget allows
Our List of Top Coffee Maker with Water Line
We took the above factors into consideration as well as customer reviews to rank this list of the 6 best coffee machines with a water line so you can decide if a plumbed coffee pot is for you. Lets see how they compare in terms of quality, features, utility, and price.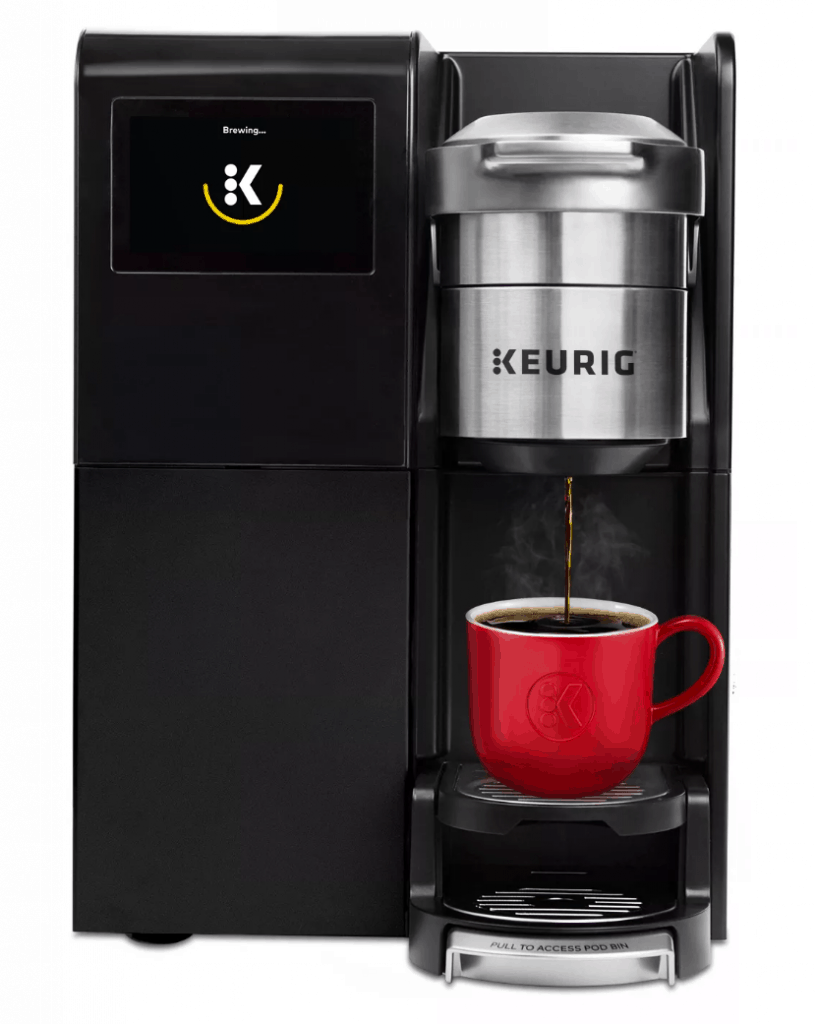 Standout Features:
Touch Screen
Strong Brew
5 cup sizes
K-cup Pod Ejection
Hot Water on Demand
Direct Line
Least Liked Features:
Sleep feature needs adjusting
Longer warm-up time
No water filter
Waterline should be disconnected for proper descaling
Not compatible with standard reusable K-cup
Heavier price tag ($1100+ range)
Keurig likes to stay on the cutting edge of ideas, so it's no surprise that they are one of the few brands to offer machines with a direct water line. The K-3500 is designed for back-to-back coffee making and can be an ideal option for the staff in a small office or to offer customers a complimentary cup of coffee. 
Things We Like:
The K-3500 can make a cup of coffee with a touch of the screen and is also capable of the ever-popular "strong brew" option. You can also choose from 5 different cup sizes and the drip tray can accommodate your choice by adjusting its height for a small cup or a travel mug. 
For those who prefer tea or hot chocolate, this machine also offers a hot water on-demand function. This model takes care of the clean-up by offering a K-cup pod ejection. 
Also, if you are not interested in testing out your plumbing skills on your coffee maker, it is possible to buy this machine with an installment package from Keurig. With this package, a Keurig technician will install your machine on-site to save you the hassle.
Things We Don't Like:
After going into sleep mode, some customers had trouble with the K-3500 "waking" back up. The sleep feature is an energy-saving mode, but this model apparently goes into sleep mode after a few minutes of inactivity, and then the water has to repeat its heating cycle for the next coffee drinker. This timing can be adjusted however by plugging in a passcode and changing the settings.
Descaling your machine will require a bit more effort as you will need to unhook the water line and drain any water left in the machine. To finish the cleaning cycle, reconnect the water line and run water through your machine.
Final Thoughts: Keurig is always a popular brand for those looking for a simple, reliable cup of coffee, and the K-3500 could easily meet the needs of a mixed age group or for those who like to have a fresh cup of coffee throughout the day that connects directly to the water line. While the price tag isn't cheap, the ubiquity of the Keurig brand and pods, durable commercial build, and simple use makes this our best pick for coffee makers with a water line.
Keurig K3500
The K3500 is simple to use, has a durable commercial build and connects directly to a water line for great tasting brewed coffee, a great overall pick.
Last update on 2023-11-28
If you're ok without dual internal water tanks, a dedicated hot water line, and automatic K pod ejection then the K-2500 is just as good with half the price tag too!
Last update on 2023-11-28
Standout Features:
Touch Screen
Single Serve
Adjustable Drip Tray
Offers a variety of cup sizes from 4 to 16 oz.
Direct Water Line
Compatible with K-cups
Least Liked Features:
Not compatible with all reusable cartridges
Heavy price tag
Things We Like:
The Bunn MyCafe coffee machine is a single cup brewer. Similar to Keurig models, it uses cartridges to brew.
This machine has a touch screen to easily select and brew your morning cup. 
It offers cup size choices between 4 and 16 oz and you can adjust between these sizes in 0.25 increments. The drip tray will raise or lower according to the mug you use to avoid splashing.
This machine automatically fills with water when you are ready to brew your cup. When you are done, the Bunn MyCafe will eject and store the used cartridge waste for easy clean-up.
One of the biggest benefits of this machine is that it is compatible with K-cups which are readily found in grocery stores near you. You can also choose to fill it with your own favorite grounds in a reusable pod. The Bunn MyCafe is a user-friendly machine and can be a good choice for those who love to try a wide variety of brews and blends.
Things We Don't Like:
Some customers have noted that not all reusable cups will work with this machine. Still, with the wide variety of K-cups available on the market and its own Bunn reusable pod, this should be a non-issue.
Final Thoughts: The Bunn MyCafe is an easy to use coffee maker with water line that automatically fills to make a single cup brew when you want it. And once again its not cheap. But if you appreciate the ease of use, compatibility with K cups and you like trying out new flavors, this is a great pick for your home kitchen counter.
Bunn MyCafe Single Serve
The Bunn MyCafe combines ease of use, K cup compatibility and a water line to make delicious coffee perfect for a small office setting.
Last update on 2023-11-28
Standout Features:
Brews a large volume at a time
Stainless steel
3 coffee warmers built in
Pour-over or direct brew options
Commercial grade design
Splash guard funnel
Least Liked Features:
Pricey
Lacks programmable features
A bit noisy
While a personal cup comes in handy for coffee users who want to drink a fresh cup throughout the day, The Bunn CWTF15-3 plumbed coffee brewer is perfect for serving larger groups.
Things We Like:
The Bunn CWTF15-3 is commercially built to withstand alot of use while still maintaining adequate temperatures and brewing consistency.
The Bunn automatic brewer uses coffee grounds, which is a more eco-friendly option than pods. This also means a perfect excuse to showcase your manual coffee grinding skills! But this may be more of a hassle when it comes to making coffee at the office.
It is capable of brewing 3.9 gallons per hour. Since this machine is capable of brewing a large amount of coffee at a time, it is an ideal coffee pot for conferences, staff meetings, large family get-togethers, or even busy offices and restaurants.
This coffee maker can give you the ease of connecting directly to a water line, or you can also choose to use it as a simple pour-over machine.
It can also offer hot water on tap for those who enjoy drinking warm tea or hot chocolate. 
Things We Don't Like:
The price is higher end for what most coffee drinkers at home would be willing to pay for. But for churches, offices, restaurants, etc, its around the expected investment.
It's not the most feature rich brewer and can be a bit noisy.
Final Thoughts: The Bunn CWTF15-3 automatic coffee brewer is a simple to use large volume coffee maker with water line option that can brew a lot of coffee pretty fast for a large group. It's easy to use and maintain. While it may be a bit pricey, its built to last the long-haul and could be a great investment.
Sale
Bunn CWTF15-3 Commercial Brewer
Simple, easy to use, the Bunn automatic CWTF15-3 works great to brew 3.9 gallons of hot coffee per hour, all with direct water line functionality.
Last update on 2023-11-28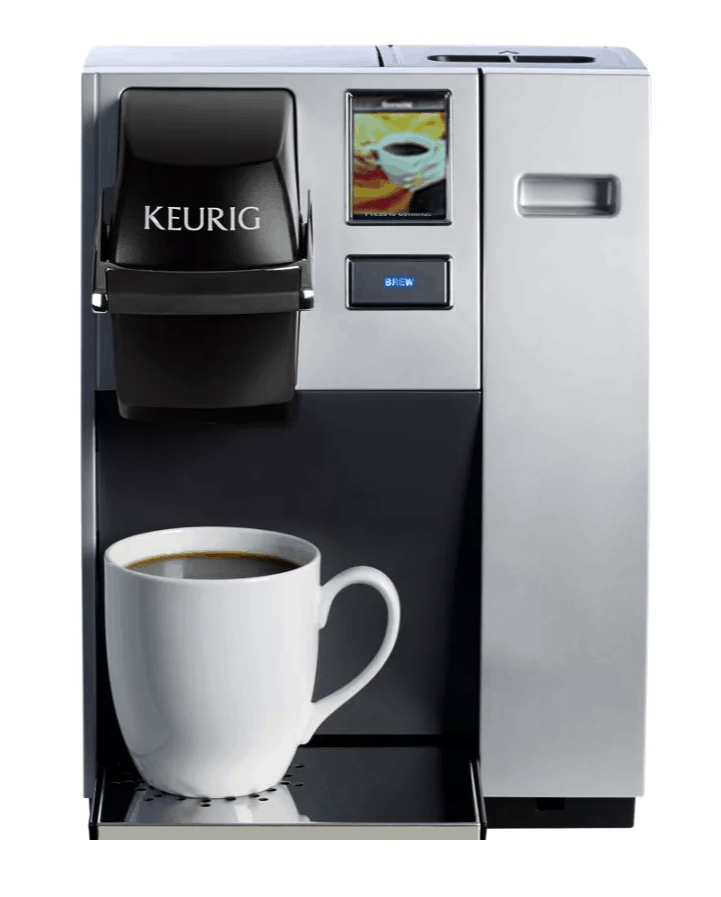 Standout Features:
Single-Serve
User-friendly
Touch-Screen
Direct Line
Filtered water line
Can switch between direct line and water tank
5 cup sizes
More affordable option (range $400)
Least Liked Features:
Tray does not adjust high enough causing splash-back
Direct plumb kit must be purchased separately 
Not compatible with standard reusable K-cup
The Keurig K-150P Commercial Brewing System is perfect for serving an office where there are several coffee drinkers who like to individualize their brew. With several users, the direct water line can protect your investment by ensuring that your machine never suffers from a lack of water!
Things We Like:
This model is user-friendly with a touch screen to help coffee drinkers select their preferred cup. It offers 5 different cup sizes ranging from 4 oz. to 12 oz. 
While the Keurig machines are easy to use and allow for a personalized drink, the K-150P requires you to purchase an adapter separately to make it a direct-line machine. The upside is that this model is flexible and can provide a direct line for ease of use, and you can always switch it back to a simple water tank if you need to move the pot to a different location. 
The direct line kit is made to specifically match the Keurig model. This ensures that your machine will make a seamless transition to becoming a direct line machine. It is important to note that you should choose the Keurig direct line kit that is specific to your model. Although another Keurig kit can be compatible, you could nullify your coffee maker's warranty by using it.
The price is very reasonable when you combine the cost of the base Keurig K-150 plus direct line water kit and water filter option.
Things We Don't Like:
A common complaint with this model was that the tray won't raise high enough for many mugs which causes coffee splatters on the machine.
We talked with Keurig customer service and at the time of this writing (7/29/2021), the K150P has been discontinued and is not available. Keurig is not sure when it will return. Boo. But the K-150 and K-155 which is a similar machine that is available, can be plumbed using this recommended direct plumbing kit.
Plumbing your K-150 (or K-155) is not hard but may seem complex because of the extra items you have to purchase separately. To get set up right you need the following:

The coffee machine itself. (Note: K-150 means its plumbable but you need a plumbing kit. K-150P means its plumbable AND already has the plumb kit installed)
This direct plumb kit (ONLY necessary if you purchase a K-150 without the P). Since Keurig isn't making K-150P's anymore, most likely you will need this.
and a filtering system to connect to it. While the filter system isn't required, the truth is the coffee taste and long-term performance of your coffee machine will improve with filtered water.
Final Thoughts: We like the Keurig K-150P Commercial brewing system as a great flexible coffee maker with water line option. You can install the kit and uninstall it whenever you like if you want to move your machine, while still enjoying the ease of use, and the great tasting cups of coffee all on an affordable budget. But our first Keurig options may be a better way to go if you have the increased budget and don't want to deal with buying a ton of separate pieces to install.
Keurig K155
The Keurig K155 similar to the 150P, is commercial brewer with water line and water tank dual function on an affordable budget.
Last update on 2023-11-28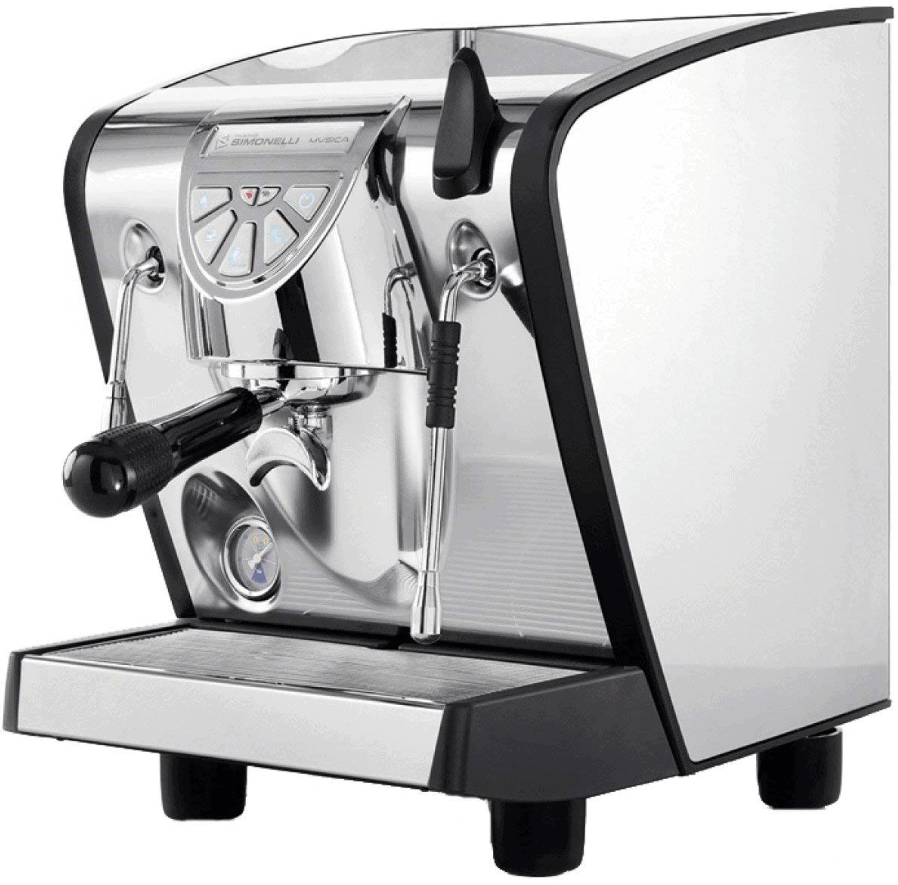 Standout Features:
Quiet Brew
Fast Warm-Up
Pre-infusion
Auto or manual shot options
Direct Line
Steam wand
Pod-adapter option
Lease Liked Features:
Espresso shots only. Does not have larger brew options.
High end price tag ($3200-$4200+)
The Nuova Simonelli Musica is a sleek-looking, intermediate-level espresso machine. It is equipped with the tools you need to make a delicious espresso, but can still be friendly for beginners learning the art. This machine can be purchased in 2 different options… a pour-over option or a direct line. We will be looking at the direct line model. 
Thing We Like:
The Musica is insulated to make a quiet espresso brew. It has a quick warm-up time to serve up espressos in a timely fashion and brews and maintains water at an ideal temperature for shot after shot.
For beginning users, it has an automatic espresso option. But, you can choose to override this feature to make a manual, designer brew.
If you enjoy the simplicity of a pod machine, the Musica espresso machine can also be purchased with a pod-adapter. 
The Musica Lux machine is lined with LED edges to add a touch of sophistication and fun to your machine. These lights also serve a practical purpose by providing light to make coffee even in low-light situations.
Things We Don't Like:
This machine tends to be in a higher price range than many direct water-line coffee machines, but it is still cheaper than other direct-line espresso makers in its field.
Final Thoughts: If you're looking for an espresso option that can be plumbed, then the Nuova Simonelli Musica is a great beginner friendly, stylish easy to use option for making endless espressos. It is pricey, but in exchange it takes up less counter space than many espresso machines and is ideal for a small coffee shop, office, or home use.
Nuova Simonelli Musica
The Nuova Simonelli is definitely not cheap, but offers beginners the best direct water line for an espresso machine option we know of.
Last update on 2023-11-28
If you don't mind your espresso machine not having a water line and looking for more budget friendly options, check out this list of top budget espresso machines!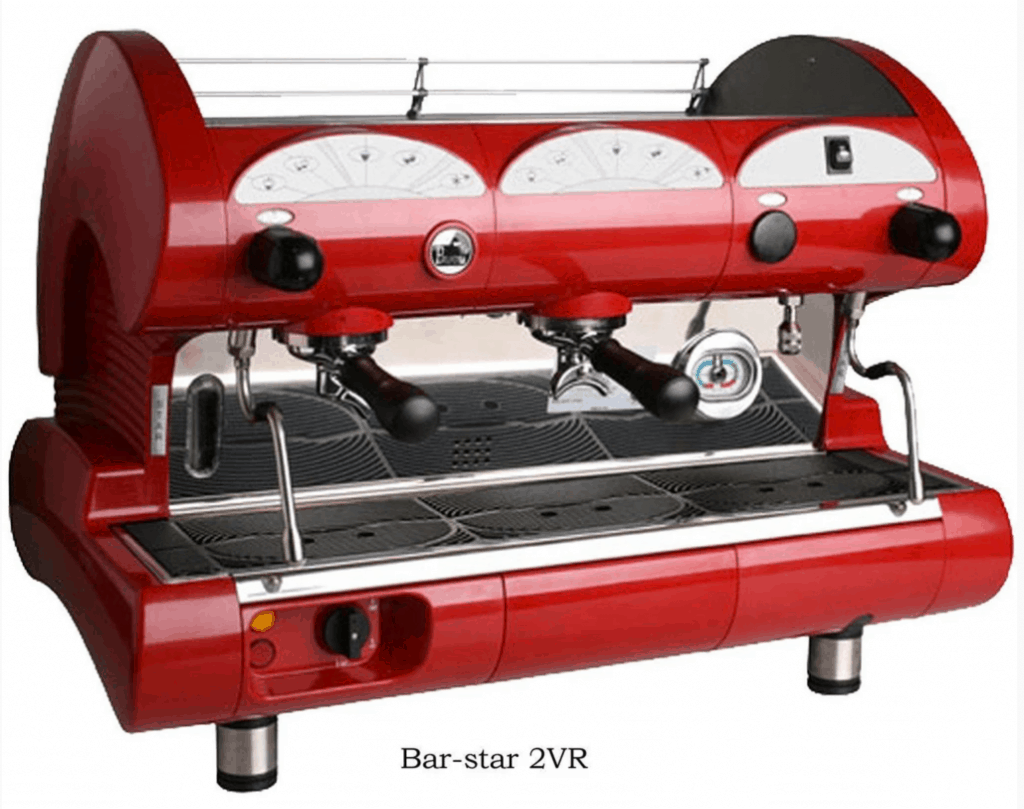 Standout Features:
Programmable/Automatic Coffee Dosing
Dual Pressure Gauge Monitors 
Electronic Automatic Water Level Control with Sight Glass
Water Softener to Reduce Hard Water
Least Liked Features:
The La Pavoni Bar-Star is for someone who is ready to invest in making a perfect shot. This model is one of the most expensive direct line models we found… but you are also buying quality with this price tag! This machine is intended for coffee shops, because they can expect to get a return on their investment by selling quality drinks.
Things We Liked:
It is capable of 4 different sizes of coffee and allows you to even brew directly into a 16 oz mug. 
It has 2 group heads and 2 steaming wands, with separate boilers. This allows you to double up on your coffee crafting and quickly get drinks into coffee lover's hands even during busy hours.
The La Pavoni is equipped with beginner tools to make it easy to step into the barista world. It also has a manual override for professional baristas ready to show off their skills. 
This machine has a direct water line with thermal stability, and a water softener to give you a top-notch, rich-tasting espresso. For espresso lovers out there, this machine is ready to wow you!
Things We Don't Like:
The downside to this machine is that it is generally priced over $6,000, which can make it unattainable for many homebrewers. 
Final Thoughts: The La Pavoni is ranked as our best high performing espresso maker with a water line and can craft high quality shots even for beginner baristas. But due to its cost prohibitive price tag, this machine is best for coffee shops or businesses.
Last update on 2023-11-28
Direct Water Line Coffee Makers vs. Coffee Maker Water Line Adapters
Direct line machines or plumbed coffee makers are made to be hooked directly into your water system. They often provide water filters as well for an easy, healthy, and great-tasting cup of coffee. Many coffee makers with a water line are geared toward commercial usage and come with a heftier price tag.
But for home use, there are some universal coffee maker line adapters like the Umjava, which allow you to tie into your water line via your refrigerator line. These adapters are definitely a cheaper option for converting a normal drip machine into a pot with a water line… usually costing less than 30 dollars! See video below for installation instructions.
So technically and coffee maker can be made into a direct water line machine. But, with many adaptations, you will need to drill holes into your coffee machine to allow the adapter to work its magic. This could potentially weaken the structure of your pot and may lead to cracking around the drilled areas and/or leakage. Also, these additions will nullify your warranty for your machine.
How to Choose a Coffee Maker With Water Line
As we have seen, there are plumbed coffee makers for different types of needs. So, when you are deciding which machine is right for you, you may want to keep in mind the following:
How many people will usually be using the machine per day?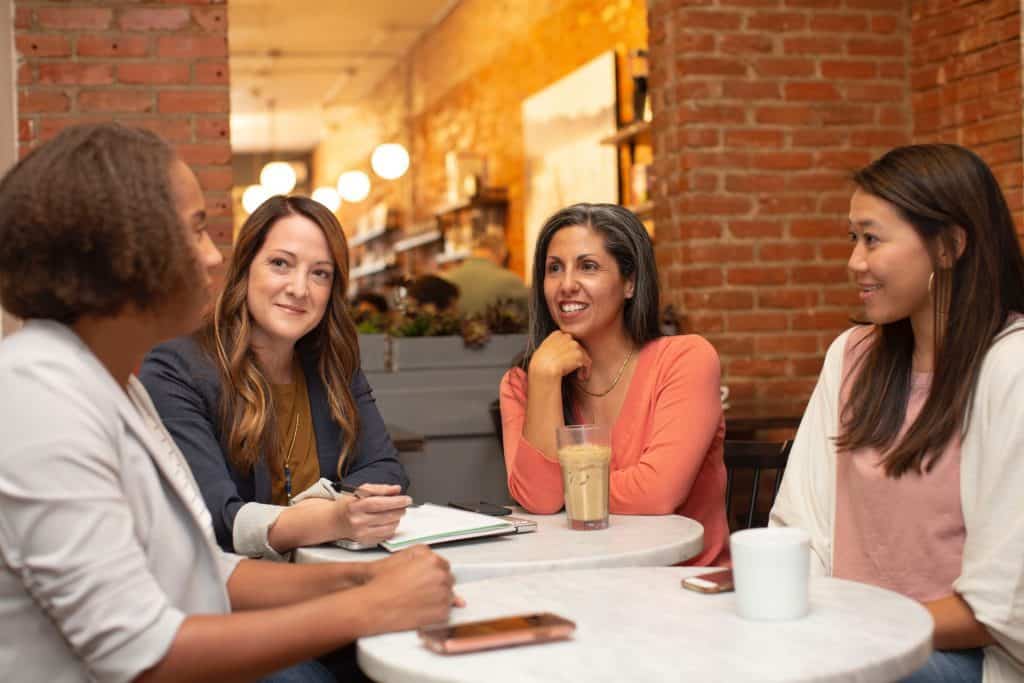 If you have several staff members in an office space, the Bunn Automatic Air Brewer will allow everyone to gather around the pot for a cup of coffee and then head back to their area for a productive workday. This can eliminate a coffee line and will be a simple way to get caffeinated. 
If you want to serve guests in an office, a Keurig machine or Bunn capsule machine can make a hot cup of coffee for each individual as they come in throughout the day. This will save you from leaving a full pot to either become cold or burning on its hotplate. It can also save you the waste of throwing away coffee every few hours.
If you own a coffee shop or want to set up your own espresso station in your home, you may decide on La Pavoni Bar-Star or Nuova Simonelli Musica. These machines will bring you an excellent espresso and have double boilers to make a few shots simultaneously. 
Looking for ways to keep your coffee hot? Check out our guide on Best Coffee Makers With a Thermal Carafe.
Do you feel comfortable enough to install the plumbing yourself, or will you want to hire an expert?
Installing a coffee maker with a water-line is considered "light plumbing" and many consumers choose to install these coffee makers on their own. There are many brand-specific videos that show you how to DIY the water line to your machine. So if you are a visual learner, this can help you make sense of the instructions.
If you are not interested in testing your skills on an expensive machine you can hire an expert to do it for you. Some coffee makers, like the Keurig K-3500, also allow you to buy a package that includes installation. 
Are you looking for a machine for home use, a coffee shop, or an office?
Deciding what your target consumer base will look like may determine which direct line machine will work best for your needs.
If you are planning on having a self-serve option at an office or home, a capsule coffee maker may work best.
If you want to make one pot of coffee for a large group and avoid creating a queue of coffee drinkers, you can try the Bunn Airpot maker. If you have time to spend crafting cups of espressos, you can go in that direction.
Do you have mad barista skills or do you want a cup that you can make with a press of a button?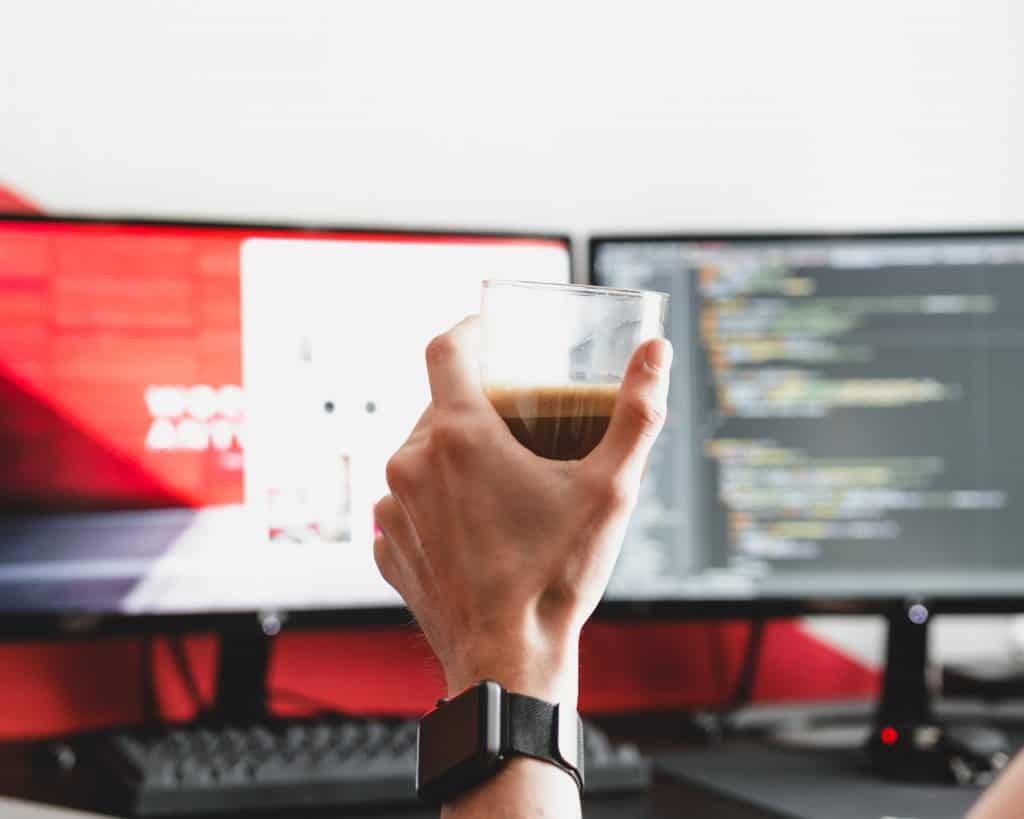 If you know the ins and outs of espresso-making, and can't start a morning off without the concentrated brew, it may be worth it to you to invest in a direct line espresso maker. The machines we mentioned are also accessible to beginners with some automatic functions, or you can bring all your skills to bear by using the manual functions. 
For your daily brew, it may be easier to choose a machine like a Keurig that requires less setup and can be made with a touch of a button to get you out the door faster. 
Also, think about how you drink coffee in your home and who will be using the machine beside you. This can help you to decide which is the best coffee maker for your household.
What counter space do you have to dedicate to a coffee maker?
No one wants to pick the perfect placement for their coffee machine only to bring it home to find that it doesn't fit in the spot. With a plumbed coffee maker, this factor can be even more important since the machine will need to have close proximity to your water line. You may want to take some measurements before investing in a coffee maker with a water line.
How much are you planning to spend on your coffee machine with water line?
Price can also be a deciding factor. As you have seen, there is a wide price range for plumbed coffee makers. These pots generally range from a little under $1,000 to over $7,000.
This is considerably higher than your average drip machine, but these machines are also built to last. If you plan to write a pot off as a business expense, the higher price tags of the plumbed espresso machines may be more accessible than if you are a private user. 
How to Install and Maintain a Coffee Maker with Water Line Step by Step
Ok, so are you ready to start your life of never having to refill a water tank manually ever again? Here's how to get it set up, installed and maintained. 
Installation Process
Gather Necessary Tools: First gather all the tools you will need including a wrench, drill, water line kit, shutoff valve, water filter, and teflon tape.
Select a Location: Next, pick a location to place your coffee maker with water line. Ideally you want a space near a water supply line (like under the sink or refrigerator line) and an electrical outlet.
Connect the Water Line
After selecting the location, follow these steps to connect the water line to your coffee maker:
Turn off the water supply to the line you'll connect to the coffee maker.
Using a wrench, install a shut-off valve to the water line.
Cut a section of the water line tubing (usually 1/4-inch) to the desired length. Be sure to leave some slack to prevent tension on the connections.
Attach one end of the tubing to the shut-off valve using a compression fitting or push-to-connect fitting.
On the other end of the tubing, affix a water filter following the manufacturer's instructions. This will help filter out impurities and prevent potential damage to your coffee maker.
Secure the tubing to the back of the coffee maker using a water inlet fitting, typically supplied with the unit or water line kit. Apply Teflon tape to the fitting threads for a secure, leak-free connection.
Connect the Power Supply
After connecting the water line, plug the coffee maker into a grounded electrical outlet. Be sure to follow the manufacturer's instructions for proper voltage and amperage to prevent damage to the unit. 
Maintenance and Cleaning
To ensure top notch performance and longevity of your now plumbed coffee maker, perform regular maintenance tasks, such as flushing the water line, descaling the unit, and replacing the water filter as recommended by the manufacturer. 
You know…the usual stuff.
Also, clean the internal parts and exterior surfaces to prevent build-up of coffee oils and debris. Taking care of these regular tasks will help keep your coffee maker running smoothly and provide the best-tasting coffee for years to come.
Troubleshooting and Repairs
When troubleshooting or repairing your coffee maker, always unplug the unit and let it cool down. Check your user manual for any error codes and specific instructions for your model. Some common issues include:
Power issues: Check the power cord and outlet for damage or debris. If necessary, use a test pen or multimeter to verify the outlet is functional.
Water line problems: If your coffee maker isn't filling with water, make sure the water line valve is open and the line is connected properly. Clear any clogs or kinks in the line.
Poor coffee taste: Another reason why regular descaling and filter replacements is important: it can help improve taste. But if the issue persists, it may be time to invest in a new coffee maker.
Verdict: Your Best Coffee Maker With Water Line
We love the simplicity of using a machine with an automatic water refill! These machines can come in handy in times when there are several coffee drinkers. While each model we chose has some great features, the overall best machine for you will depend on its price, ease of use, how many people you need to serve, and whether you want it for commercial use or at home.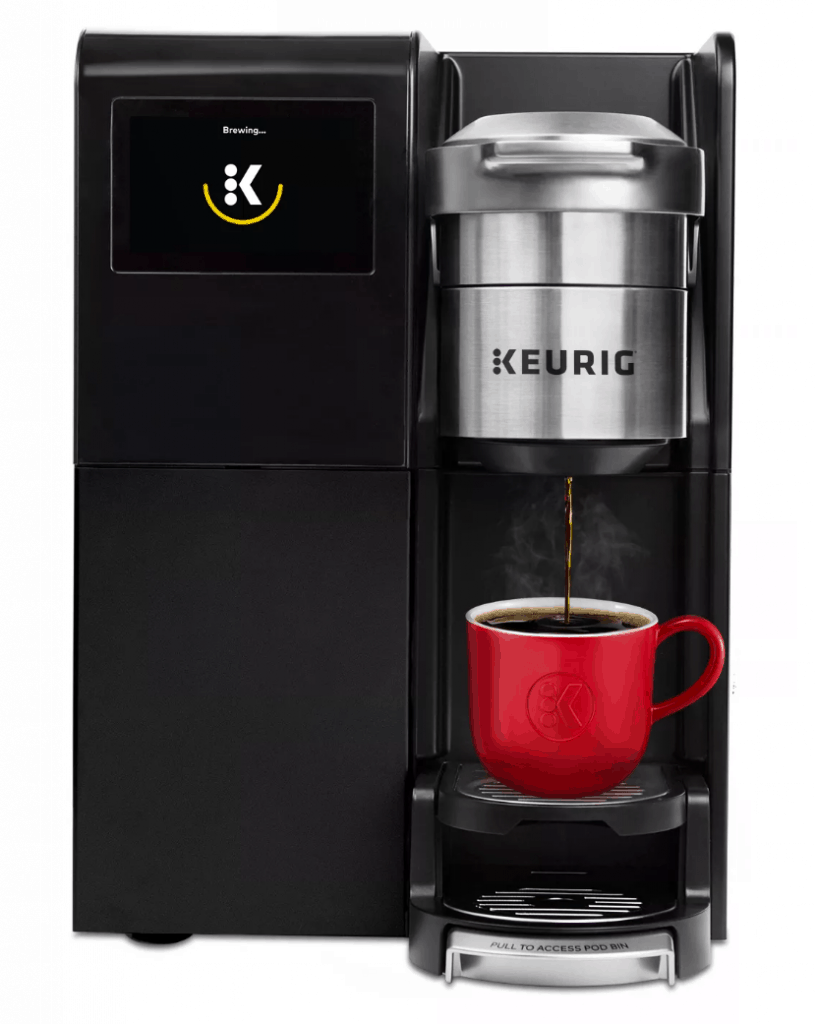 Nonetheless, we liked the Keurig K-3500 commercial coffee maker the most for its easy to use simple pod design, fast brewing, and simple direct line installation. If the price tag is on the high end, then the K-2500 would be our substitute.
Keurig K3500
The K3500 is simple to use, has a durable commercial build and connects directly to a water line for great tasting brewed coffee, a great overall pick.
Last update on 2023-11-28
Final Thoughts
A coffee machine with a direct water line can save you the hassle of constantly refilling a water reservoir and will bring clean water to your machine each time. These machines are perfect for someone who is serious about their morning brew and is willing to invest in an ideal machine.
They are also perfect for offices or restaurants which run through a series of guests or clients in a morning's work. These commercial-grade models are ready to take on a queue of coffee addicts and you should never have to worry about burning out your pot again!
If you're looking for ways to save more counter space and make your coffee brewing experience easier, consider coffee makers with a grinder built in. Or check out this list of best under the cabinet coffee makers.
Want more brew styles? For a full list of the best coffee makers to choose from, see our Guide on the Top Coffee Machines for Beginners.
Coffee Has Never Read This Good!
Sign up for a FREE newsletter to the best home brewing tips and guides
Thank you for subscribing to The Cup Coffee House Crew! There's a surprise in your Inbox 🙂
Something went wrong.
About the Author
Latest Posts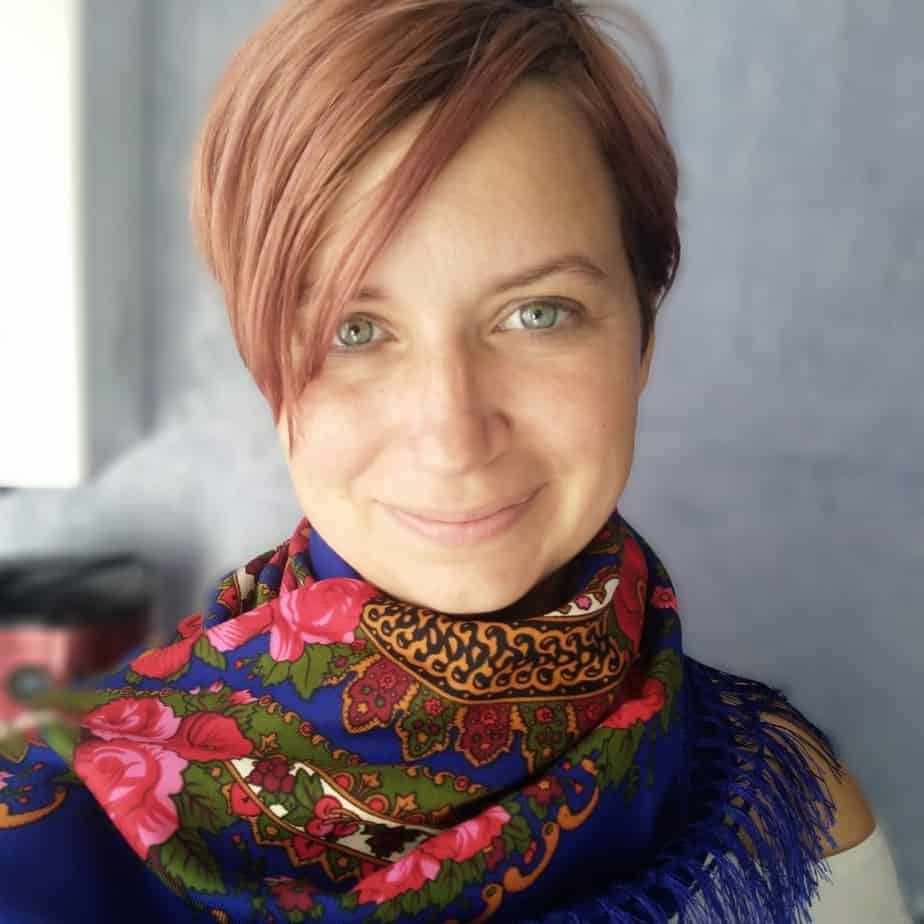 Alex Praytor worked her first job as a barista, finished college, and then took a tour to the other side of the globe. She fell in love with espresso and her would-be husband in Europe. She spends her spare time visiting native Texas landmarks, ancient castles, and all the coffee shops she finds along the way. At home, she is a mom, ESL teacher, and writer, who hones her coffee-making skills daily. She enjoys passing on her coffee findings to fellow caffeine addicts in search of the perfect cup.
Chief Editor