Last updated on June 20th, 2023 by Alex Praytor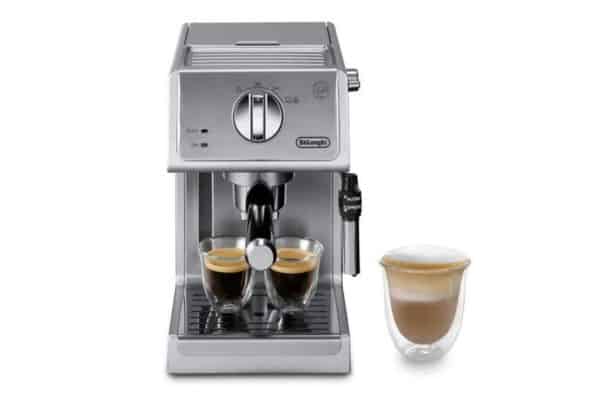 A rich, creamy espresso can be the perfect way to start a morning or finish an afternoon. However, spending $1000 to bring an espresso machine home is a luxury we can't all afford.
We've searched the market for quality espresso machines that cost under $200. For the price of a pod coffee maker, you can create espressos and Starbucks-style specialty coffee drinks at home even if you're a beginner.
Our best espresso machine under $200 is the De'Longhi Bar Pump Espresso ECP3630. This high-quality machine has thousands of positive reviews from other customers and often sells at a bargain price of under $150.
This machine has several professional-style features, like a stainless steel boiler, durable metal casing, and a 15-bar pressure pump. It can even accommodate E.S.E. pods.
Sale
De'Longhi Bar Pump Espresso ECP3630 
The Delonghi Bar Pump Espresso ECP3630 is a semi-automatic espresso maker that has a stainless steel boiler and a steam wand for making steamy frothed milk.
Last update on 2023-09-18
---
Check out the De'Longhi ECP3630 and six other espresso makers that you can find on Amazon for less than $200.
Our List of Best Espresso Machine Under $200
Things I like:
Semi-automatic espresso maker
Stainless steel boiler
15-bar barista-quality pressure pump
Steam wand for steamed milk and foamy cappuccinos
Durable stainless steel housing
Removable drip tray to accommodate taller cups 
Portafilter with options for single shots, double shots, and E.S.E.
Compact footprint
Things I don't like:
Plastic components inside the steam wand.
Review:
The De'Longhi Bar Pump Espresso 3630 is a high-quality machine for a great price. This machine has many features you don't often see on budget models, such as a stainless steel boiler, an adjustable steam wand, and stainless steel housing.
You can brew a single or double espresso shot. Or, take the easy route and use an E.S.E. pod. The steam wand lets you make steamed milk or a frothy cappuccino topping. 
This semi-automatic machine also gives you control over the timing of the shot. A 15-second shot can give you a rich-tasting ristretto, while a 25 to 30-second shot produces a classic espresso. 
The De'Longhi ECP3630 is a great budget option for serious baristas and novices. It lets you create great-tasting shots of espresso, stout ristrettos, or creamy cappuccinos and lattes at home.
Sale
De'Longhi Bar Pump Espresso ECP3630 
The Delonghi Bar Pump Espresso ECP3630 is a semi-automatic espresso maker that has a stainless steel boiler and a steam wand for for making steamy frothed milk.
Last update on 2023-09-18
Things I like:
Automatic espresso maker
15-bar pressure pump
Portafilter comes with single and double-shot filters
Automatic milk frother
Removable easy-to-clean milk reservoir
One-touch controls
Easy for beginners
Recipe book for a variety of specialty drinks
Things I don't like:
Milk frother and components are hand-wash only.
Review:
The Mr. Coffee Espresso and Cappuccino Machine gives you great value for the price. You can still feel like a barista by adding grounds to the portafilter and tamping. However, you can brew using one touch and don't need to hang around the machine while it brews.
Also, a cappuccino is easy to make using the automatic milk frother. You can adjust the dial for lattes and cappuccinos, and it will top your espresso directly with the appropriate milk froth.
This automatic machine has a list price of around $250. However, on Amazon, it often sells for less than $200. If you enjoy specialty coffee drinks often, the Mr. Coffee Espresso and Cappuccino Machine is a great option.
Sale
Mr. Coffee Café Barista
The Mr. Coffee Cafe Barista espresso maker is a semi-automatic machine that has an automatic milk frother, and removable water and milk reservoir.
Last update on 2023-09-18
For more of Mr. Coffee's best coffee machines, check out our full review and comparison.
#3. Best manual espresso maker under 200: Flair Espresso Maker
Things I like:
Fully manual
No electricity required
Capable of 6-9 bars of pressure
Stainless steel brewing cylinder
Compact
3-year warranty
Includes padded carrying case for travel
Things I don't like:
Requires steady pressure for a tasty shot.
Does not heat water.
Review:
The Flair Espresso Maker is compact and fits easily into any kitchen. Since it doesn't require an outlet, you can pack the Flair into the padded case and take it anywhere. 
For this manual pump, you need a separate heat source for water. It includes a bottomless portafilter and a spout to brew using two methods. Add the grounds to the stainless steel cylinder, then pour hot water evenly over the grounds. Using steady pressure, press the lever to achieve a full-bodied espresso. 
The Flair is a fun accessory for espresso lovers and baristas. It is capable of making an authentic espresso using nine bars of pressure. However, without a steady hand, it may fall short by a few bars, affecting the crema layer and the flavor of your shot.
You can buy the basic Flair for under $200. However, many customers upgrade to a bundle with a pressure gauge to ensure that each cup is perfect.
Flair Classic Espresso Maker
The Flair Cassic Espresso Maker is a manual-pressed, human-powered esspresso maker with a classic black and red styling and easy to use.
Last update on 2023-09-18
Things I like:
Italian ODM 20-bar pressure pump
Thermoblock fast-heating system
Automatic and manual shot options
Stainless steel milk wand
NTC Intelligent temperature control system 
Cup warmer 
Things I don't like:
Short frothing arm
The water level isn't visible until you open the tank.
Review:
The Gevi Automatic Espresso and Cappuccino maker can brew using up to 20 bars of pressure for a superb flavor and crema layer. It heats up quickly using a Thermoblock system and is ready to brew in less than a minute. 
Also, this machine comes with an NTC Intelligent temperature control system. This feature allows you to reach an ideal temperature for brewing espresso (about 197 degrees Fahrenheit) and frothing milk (approximately 212 degrees Fahrenheit). 
With a touch of a button, you can brew a single or double shot of espresso automatically. Or you can press the manual button to control the timing and strength of your espresso shot. This versatile espresso maker gives you the perks of an automatic and semi-automatic machine in one, and this is also why it is our top choice for the best Gevi machines in the market.
Sale
Last update on 2023-09-18
Things I like:
Durable stainless-steel espresso machine 
15-bar thermoblock pump
Semi-automatic espresso maker
Dual-wall filter system
Beginner-friendly froth enhancer
Cup-warmer rack
Single shot, double shot, and E.S.E. filters
Includes stainless steel frothing pitcher, tamper, measuring spoon, and cleaning tool
Things I don't like:
Review:
The Breville Cafe Roma Stainless Steel Espresso Maker has a classic look and high-quality features. This compact machine has a 15-bar Thermoblock pump and a dual-wall filter for rich crema. Place your mug on the cup warmer before brewing for a hotter espresso drink. 
The milk wand has a built-in froth enhancer, so even beginning baristas can top their drinks with a thick, creamy milk topping. Breville is well-known for its quality machines, and with the Cafe Roma Espresso Maker, you can get a well-built machine at a bargain price.
Sale
Breville Cafe Roma
The Cafe Roma has a stainless steel finish and a selector dial that controls the espresso extraction and steam wand.
Last update on 2023-09-18
Things I like:
Automatic espresso maker
20-bar pump
Removable automatic milk frother 
Stainless steel casing
One-touch espressos, cappuccinos, and lattes
Stainless steel single and double filters, drip tray, and tamper
Cup warmer
Removable drip tray for taller cups
PID temperature control system
Pre-soak cycle for a flavorful extraction
Visible pressure gauge
Things I don't like:
Not a well-known brand name–yet.
Review:
The MAttinata Cappuccino, Latte, and Espresso Machine may be the "new kid on the block" when you compare it to trustworthy brands such as De'Longhi, Breville, and even Gevi. However, this sleek machine may be worth a try.
This automatic espresso maker has many features you usually find in a higher price bracket, such as a 20-bar pump, a stainless steel casing, a PID temperature control system, and a pre-soak cycle. It also has a visible pressure gauge to add some class to your kitchen counter. 
You can make specialty drinks with a touch of a button. Or, if you want to pull a shot manually, simply hold down the espresso button for three seconds to start and press it again to stop it.
The automatic milk frother allows you to make a smooth milk foam topping worry-free. Then, you can remove and store the milk frother to save room on your counter. 
This MAttinata espresso maker is capable of delicious flavor for a fair price.
MAttinata Espresso Machine
The MAttinata Espresso Machine has a stainless steel casing with a pressure gauge. It also comes with an automatic milk frother and a detachable milk reservoir.
Last update on 2023-09-18
Things I like:
Less than $50
Brews using some pressure from steam
Creates up to four shots at once
Carafe included
Incorporated steam wand
Things I don't like:
It uses only 5 bars of pressure.
Many plastic parts
Fine ground coffee may clog the filter.
Review:
The Imusa 4-Cup Espresso Maker is an option for a tight budget. This machine runs for less than $50 on Amazon and has thousands of positive customer reviews. It brews up to four cups of espresso at once, so you can easily make specialty drinks for a crowd. Also, it comes with a steam wand to add foamy milk toppings to your coffee drinks.
Its main drawback is it reaches only five bars of pressure. While this is more than the average Moka pot, you won't get the full-bodied flavor and thick crema layer of authentic espressos. 
The Imusa is a decent machine if you are not too picky and enjoy making espressos at home at a great price.
IMUSA USA 4-Cup Espresso Maker
The IMUSA USA comes in dashing black color that is ready to make up to 4 cups of espresso. It also has steam control and nozzle that you can you use for frothing.
Last update on 2023-09-18
What's the difference between a manual, semi-automatic, automatic, or super-automatic espresso machine?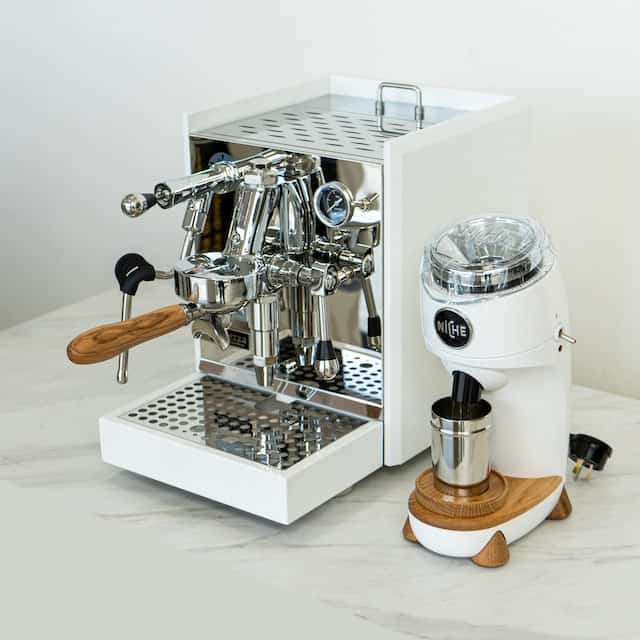 Espresso machines come in all shapes and sizes. Some coffee drinkers enjoy making espresso with the touch of a button, while others prefer to have a hand in the process. So, what are the differences between the different types of machines, and which one is for you? 
Here's a brief survey of the four main types of espresso machines:
Manual espresso makers
A manual espresso uses a lever to create the right amount of pressure for your espresso. You don't need a plug for this energy-saving machine. However, you do need to bring your own hot water, a bit of muscle, and some barista skills to the table to successfully brew your shot.
Semi-automatic espresso machines
A semi-automatic espresso maker creates pressure and heats the water for your espresso shot. You tamp the grounds and attach the portafilter to the group head. Then, you start and stop the water flow by manually pressing a button. With this feature, you can tailor the length and strength of the brew to your taste. 
Automatic espresso machines
An automatic espresso machine is similar to a semi-automatic machine in many ways. You still tamp the grounds into the portafilter and attach it to the group head. The main difference is an automatic machine starts and stops the espresso shot for you. You can walk away from it while it brews, and it cuts off for a consistent cup every time. However, you also have less control over your brew. Often, they can foam milk and top your espresso automatically.
Super-automatic
A super automatic does not have a classic portafilter. Instead, these high-tech machines take care of your drink entirely. A super-automatic espresso maker grinds the beans, pulls the shot, and adds your desired milk topping. Just ensure the water tank and bean hopper are full, and then press the right button to get your drink. These machines are the simplest to use and often cost hundreds of dollars. 
How to choose an espresso machine: Buyer's Guide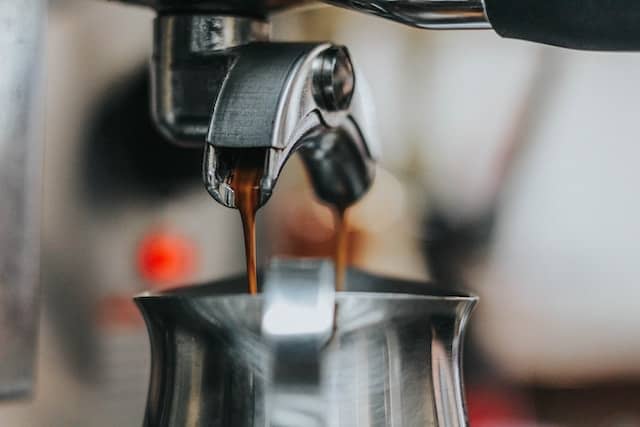 Choosing an espresso maker can be difficult with so many options on the market. You want a machine that makes delicious espresso, fits your budget, and matches your lifestyle. When you make a checklist of what you want from a coffee machine, your decision becomes easier. We've put together a guide to help you find the best espresso machine for your kitchen.
Are you looking for more control over your brew, or do you prefer a quick and easy route to espresso?
A manual espresso maker is easy to take on the go since it doesn't require electricity. However, this type of machine requires a lot of involvement from the user to get a quality cup.
Semi-automatic machines are often the baristas' pick since these machines automate water temperature and pressure while letting you control the strength of your brew.
An automatic espresso machine starts and stops the shot automatically so you can walk away from it while it brews.
A super-automatic is a bean-to-cup machine that makes the entire process automatic. You have the least creative control over your brew, but you get a consistent cup with just a touch of a button. You usually won't find super-automatic machines for less than $200.
What is the best boiler type?
Top-of-the-line espresso machines often have a double boiler. While a single boiler can only brew espresso or heat milk, a double boiler lets you do both at once. 
Budget models often have the cheaper and more energy-efficient Thermoblock boiler. The advantage of the Thermoblock boiler is that it only heats the water you need to use. However, the drawback is that the steam contains more water and may create inferior foam.
The material of your boiler can also make a difference. If the boiler is made from stainless steel instead of aluminum, you may notice a cleaner taste and fewer problems with limescale. Stainless steel boilers are generally also more durable and resistant than their aluminum counterparts.
Do you want a pressurized portafilter or a regular portafilter?
Espresso machines can come with one of two types of portafilters: pressurized or non-pressurized. Non-pressurized filters are the standard for baristas. These have several holes in the bottom of the filter for an even extraction and great flavor. 
Pressurized portafilters are more forgiving for beginners. These filters have a single hole so the espresso is put under more pressure as it runs through. If you don't tamp correctly or your grind is too coarse, you can still get a tasty espresso with a pressurized filter. 
How many bars of pressure does the machine use?
When it comes to espresso flavor, the main factor is how many bars of pressure the espresso machine uses. The Specialty Coffee Association classifies espressos that brew under nine bars of pressure or more as "authentic." 
With more bars of pressure, you'll notice an increase in the flavor quality and crema quantity. Many espresso machines come with 15 bars of pressure, while others often have up to 20 bars.
Should you choose a steaming wand or an automatic milk frother?
While your top goal may be to brew espresso, a steam wand or an automatic milk frother allows you to make Starbucks-style drinks at home. A steam wand allows you to top your drinks with latte art. Some steam wands have beginner-friendly features, so you can achieve the type of foam you want with little effort.
An automatic frothing system steams and foams your milk with a touch of a button. You can get consistent heat and never scald your milk. However, you won't be able to add a froth design to the top of your drink.
What is your budget?
You can get an espresso maker at a bargain price. However, not all cheap machines are equal in value. Make sure that your espresso maker can do everything you want. For example, check how many bars of pressure it uses and if it can froth milk for specialty drinks. 
What extra features do you want on your espresso machine? 
Many budget machines include the bare basics you need to brew espresso. However, the adage "You get what you pay for" is often true. For example, a pump espresso machine over $100 should have more features and quality parts than a $40 steam espresso maker.
Some machines come with manual and automatic settings, E.S.E. pod filters, a cup warming rack, stainless steel boilers, programmable settings, all-in-one coffee and espresso maker, and more. Once you decide which features are non-negotiable, you are ready to purchase a machine.
Tips for the maintenance and care of your espresso machine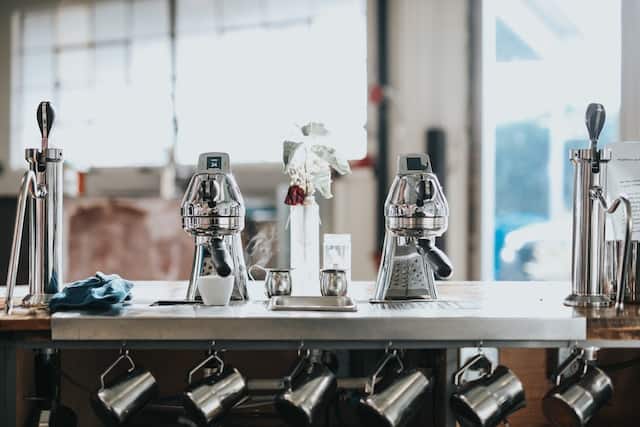 Proper maintenance and care give your espresso machine a longer lifespan. Even a cheap machine can last several years if you clean and maintain it regularly. This routine includes daily wipe-downs, regular descaling, and even changing worn parts when necessary. 
Read the user manual for specific care instructions for your machine. However, we'll give you some general tips to maintain your espresso maker and protect your investment.
Before you pull your first shot of the day, run an empty shot of water through your machine. This cycle warms up the portafilter to give you hotter espresso and cleans leftover coffee residue for a clean taste.
If you use a steam wand, allow it to purge before and after you steam milk. Then wipe it down with a clean cloth. Make sure to point the steam wand away from you so you don't burn yourself as it self-cleans.
When you finish brewing, remove the coffee grounds and wash the portafilter. You don't want to leave the portafilter in position as the heat from the machine can damage it over time. After rinsing, you can allow it to drain on the drip tray.
At the end of the day, clean the drip tray thoroughly and wash your wipe-down cloths.
You also want to descale your machine regularly. Otherwise, limescale from your water can build up, shortening the life of your espresso machine. Experts suggest as often as every three weeks if your water is hard. However, if you have soft water, you can wait as long as four months before descaling. 
Wrap up
If you have a $200 budget, you can find a decent espresso machine that gives you full-bodied flavor and rich foam. 
As we reviewed the espresso machines in this price range, the De'Longhi Bar Pump Espresso ECP3630 was our top pick for its durability, filter options, and stainless steel boiler. However, we found several espresso machine that deliver high-quality brews for a sweet price of under $200. 
Sale
De'Longhi Bar Pump Espresso ECP3630 
The Delonghi Bar Pump Espresso ECP3630 is a semi-automatic espresso maker that has a stainless steel boiler and a steam wand for making steamy frothed milk.
Last update on 2023-09-18
Now that you've seen some of the best budget-friendly espresso makers on today's market, you can decide which one you want to bring home. If you have a little higher budget, you may also check out this best espresso machine list under $500.
FAQs
Can $200 Espresso Machines Make Good Espresso?
Many espresso machines under $200 can make tasty espressos. The most important factor is for an espresso maker to be capable of over nine bars of pressure to achieve a rich flavor and a crema layer. 
What's the difference between a steam espresso maker and a pump espresso maker?
A steam espresso maker usually provides some pressure–usually 1.5 to three bars. However, to make an authentic espresso, a machine must be capable of nine or more bars of pressure. Steam espresso makers may create a weaker and more acidic espresso-like drink. In contrast, pump espresso makers are usually capable of nine to twenty bars of pressure.
What is an E.S.E pod?
An E.S.E (Easy Serving Espresso) pod is similar to a tea bag. These paper filter pods are filled with the right amount of coffee grounds to pull a shot of espresso. Many coffee users enjoy these pods since they require no measuring or tamping. Also, clean-up is simple and easy. However, these pods cannot equal the rich flavor of freshly ground coffee beans.
Coffee Has Never Read This Good!
Sign up for a FREE newsletter to the best home brewing tips and guides
Thank you for subscribing to The Cup Coffee House Crew! There's a surprise in your Inbox 🙂
Something went wrong.
About the Author
Latest Posts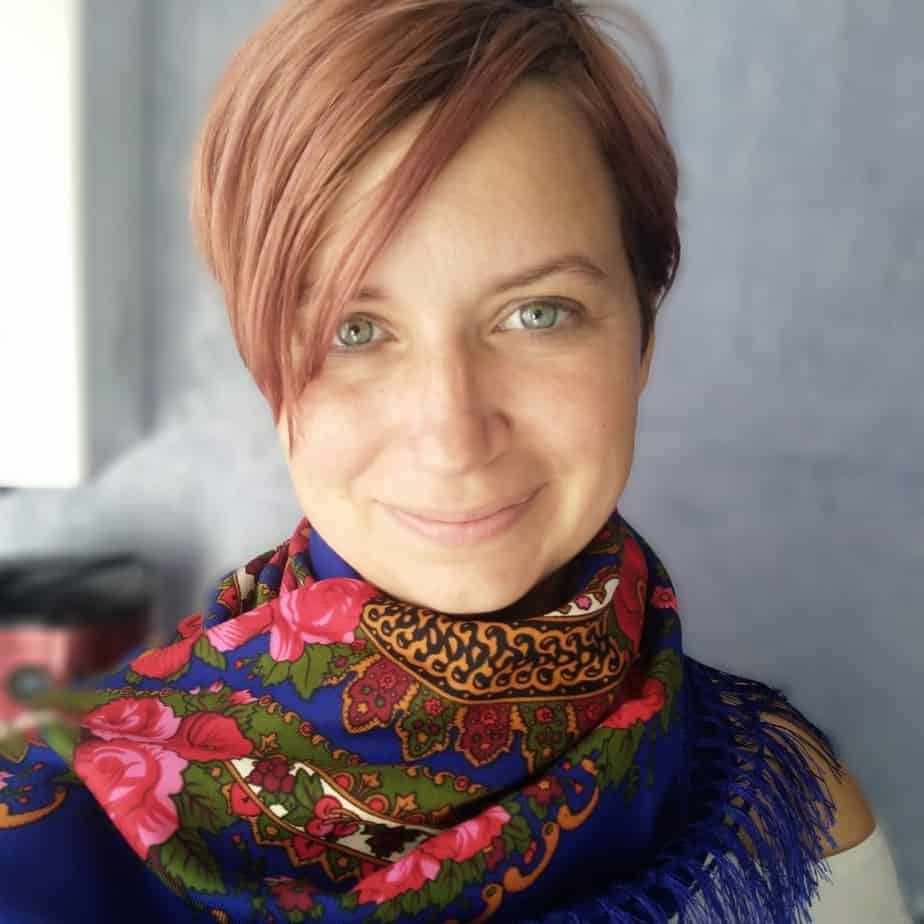 Alex Praytor worked her first job as a barista, finished college, and then took a tour to the other side of the globe. She fell in love with espresso and her would-be husband in Europe. She spends her spare time visiting native Texas landmarks, ancient castles, and all the coffee shops she finds along the way. At home, she is a mom, ESL teacher, and writer, who hones her coffee-making skills daily. She enjoys passing on her coffee findings to fellow caffeine addicts in search of the perfect cup.
Chief Editor