Last updated on October 30th, 2023 by Alex Praytor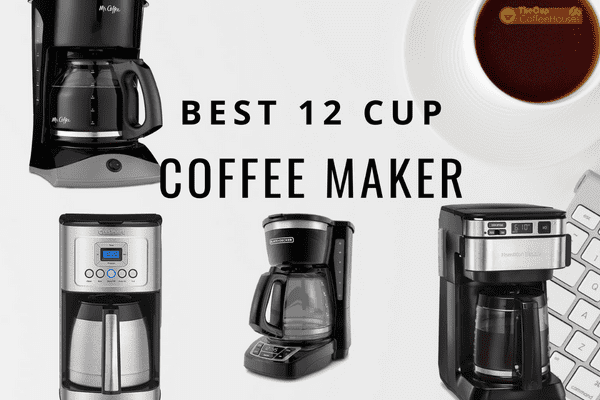 A 12-cup coffee maker is a perfect choice if you have several coffee drinkers under one roof, or if you just need to pour back the caffeine to get your day started. 
If you are a parent, you may need a durable thermal coffee pot to get a hot cup of coffee (sooner or later). College students may want a single-serve 12-cup coffee maker to fill up a to-go cup quickly. Or, a K-cup Dualbrew pod machine may be the best option if you work long hours away from home and have friends come over every weekend.
Whether you plan to serve a crowd or drink a pot alone, you want to find a 12-cup coffee maker that can fit into your budget and won't break after a month.
There are plenty of 12-cup coffee machines on the market. But which ones are the best? 
In a hurry?
Our top pick in this category of best 12 cup coffee maker is the Ninja Dual Brew Pro. Not only does it brew a delicious pot of coffee, but it can use either grounds or K-cup pods, will brew and froth specialty beverages, and its ease of use and high durability make it a crowd favorite for any coffee drinker.
Sale
Ninja CFP301 DualBrew Pro
With a singe serve option, auto programmable brewing, specialty beverages, and highly rated coffee flavors, the Ninja DualBrew Pro is literally everything you need in a 12 cup brewer.
Last update on 2023-11-28
We have intensely researched some of the highest-rated 12-cup coffee machines that can fit your lifestyle. We'll share some of their best points as well as their drawbacks. Take a look and see which coffee pot is right for you!
---
The Top 9 Drip 12-Cup Coffee Makers
What we like:
Carafe and single-serve serving options
Programmable 
Four brew styles, including specialty drinks and an over-ice option
Nine ground brew sizes from a small 6-oz cup to a 12-oz carafe
Removeable, multi-position 60-oz water reservoir
Milk frother
Independent hot water system for hot or boiled water
Compatible with k-cup pods and regular coffee grounds
Easy to clean with many dishwasher-safe parts
What we don't like:
Espresso does not reach 9 bars of pressure.
The milk frother does not heat milk.
Review:
Our overall best programmable 12-cup coffee maker is the Ninja DualBrew Pro System. This machine is versatile so you can brew coffee just how you like it. 
With this high-performance machine, you can brew an espresso-style base for specialty drinks, a single-serve brew to fill a travel cup or a 12-cup carafe. This Ninja has a milk frother to top off a coffee drink with fluffy milk toppings. The 60-ounce water reservoir can be positioned on the back or to one side of the machine to best fit your counter space.
Use your favorite grounds, or if you want to go a quick and easy route, you can buy a pod adapter and pop in a K-cup. It also has a dedicated hot water dispenser to brew hot tea or make instant breakfast cereal. 
The Ninja Dual Brew coffee machine has an extra-large showerhead and precise temperatures for top-notch flavor extraction. Customers rate it highly for its rich coffee flavor and quick, hot brews. 
Our verdict
Whether you want a quick brew for your travel cup, a fancy cappuccino, or a 12-cup carafe to serve a crowd, this Ninja DualBrew is durable and versatile enough to satisfy your coffee cravings. In general, all of Ninjas machines are pretty high quality, so its an easy decision in our book!
Sale
Ninja CFP301 DualBrew Pro
With a singe serve option, auto programmable brewing, specialty beverages, and highly rated coffee flavors, the Ninja DualBrew Pro is literally everything you need in a 12 cup brewer.
Last update on 2023-11-28
For a more detailed look, check out our full Ninja DualBrew Pro review.
What we like:
4-12 oz cup coffee maker
Affordable price tag
On/off light indicator
One-touch coffee
Auto-pause to grab a cup mid-brew
Dual water window to measure water-line easily
Cord storage
What we don't like:
No automatic turn-off
No pre-program option
Review:
The Mr. Coffee 12-cup coffee maker is a user-friendly option for coffee lovers who want a machine without bells and whistles. This machine is one of the cheapest 12-cup coffee makers available. However, it still maintains high ratings with over 37,000 reviews on Amazon. 
Simply fill the basket with grounds and the water tank with up to 12 cups. Then, press the on-off button and watch the pot brew. If you are impatient to grab your first cup, you can pour a cup in the middle of the brew. The pot automatically stops brewing when you remove the carafe. 
The machine keeps coffee hot with a warming plate. However, you have to remember to turn the pot off because there is no automatic shut-off. 
Our verdict
The Mr Coffee 12 cup coffee brewer is simple, practical, and gets the job done. Customers love it for its simplicity and its durability and so do we!
Mr. Coffee 12 Cup Coffee Maker
If you're on a budget and want to keep your coffee brewing simple, the Mr Coffee 12 cup brewer is the best machine for under $50 we found.
Last update on 2023-11-28
For a more indepth look, check out our full Mr. Coffee 12 cup coffee maker review.
For more of Mr. Coffee's best coffee machines, check out our full review and comparison.
What we like:
SCA-certified
Thermal carafe
Iced coffee and cold brew options
Precise digital temperature (PID)
3 different flow rates
LCD menu
Personalizable settings
What we don't like:
More expensive than other models.
It stands 16 inches tall and won't fit under all kitchen cabinets.
Review:
The Breville Precision Brewer 60 oz drip coffee maker is SCA-certified for a difference you can taste. This coffee maker allows you to control as much of the brewing process as you wish. Press a button to adjust the coffee's temperature, bloom time, flow rate, and strength.
However, if you prefer a simple preset option, you have six styles on the menu. Choose the Specialty Coffee Association's "Gold" brew standard to make a coffee at the perfect temperature. Or, you can try the fast, strong, iced, or cold brew options. 
Once you find the "perfect cup," you can save the setting in "My brew" to use again and again. The thermal carafe keeps your coffee warm without altering the flavor.
Our verdict
This Breville Precision Brewer is a good choice for baristas and those who take their coffee-making seriously. However, it is also simple to use for the average coffee lover. Buyers agree that this coffee machine makes hot, great-tasting coffee.
Breville Precision Brewer
We love that you can take absolute control of your 12 cup brew with precise temp, strength, flow and blooming settings for the best flavor extraction possible.
Last update on 2023-11-28
For a more detailed look, check out our full Breville Precision Brewer review.
#4. Keurig K-Duo Plus (Best 12-cup coffee maker with K-cup pods)
What we like:
Multi-position 60-oz water tank
Thermal carafe
Mesh reusable coffee filter
Automatic shut-off
Strong-brew option
Brews up to 12 cups in the carafe
Brews 6-oz to 12-oz single-serve cups
Programmable auto-brew for the carafe
Pause-and-pour option
Smart Start brews directly after heating
What we don't like:
The machine can take 3 to 7 minutes to heat up before each use.
Review:
With the Keurig K-Duo Plus, you can brew a full carafe by placing grounds in the reusable filter. Or, you can pick your favorite K-cup and brew a single cup of coffee into a travel mug. Choose from a 6 to 12-ounce brew size when you use your travel mug or up to 12 ounces for the full carafe.
This machine comes with a thermal carafe instead of a hot plate burner. The stainless steel carafe can keep your coffee warm after brewing. Also, it is durable and won't break as easily as a glass carafe.
Our verdict
The Keurig K-Duo Plus can be a great option for dorm life where no hotplates are allowed. Or, a busy household where versatility is important. With the ease of use and its features, it ranks easily as the best K pod option.
Sale
Keurig K-Duo Plus
The K-Duo Plus is a nice combo of convenience with a single cup pod coffee and the scale of a full 12 cup pot at a decent price.
Last update on 2023-11-28
For a more detailed look, check out our full Keurig K-Duo Plus review.
What we like:
Use whole beans or coffee grounds
Regular, bold, or strong brew options
User-friendly
Programmable
Many dishwasher-safe parts
Affordable 
What we don't like:
Uses a blade grinder, instead of a burr grinder.
No rain shower brew head or bloom cycle.
Review:
The Black+Decker CM5000B 12-Cup Mill & Brew Coffeemaker can give you freshly ground coffee and a hot brew all in one step. Simply add your favorite coffee beans and set it to grind. Or, you can also use pre-ground coffee in this machine. 
This machine also lets you decide how you want your coffee to taste. You can choose between regular, bold, or strong brew. The display panel is simple to navigate your options and the machine is easier to clean up than most grind-to-brew machines. Set up the machine the night before and wake up to a hot, fresh cup of coffee.
Our verdict
If you want a 12 cup machine that can make your coffee from bean to brew, the Black+Decker is an affordable, user-friendly option.
Black+Decker Mill & Brew CM5000
The Black+Decker Mill and Brew lets you get the freshest pot of coffee by grinding and brewing for you each morning at a great price.
Last update on 2023-11-28
For a more detailed look, check out our full Black+Decker Mill & Brew review.
What we like: 
Pause and serve
Programmable
2-hour auto shut-off
Front access
Swing out brew basket
Non-stick hot plate
Bold, regular options
Small batch brew option
What we don't like:
Some customers noticed the hot plate finish wears off after regular usage.
Review:
This Hamilton Beach 12-cup Coffee Maker can fit easily under your cabinet. Unlike other coffee machines that you have to push and pull to add water and grounds, this Hamilton Beach 12-cup has front access.
The swing-out basket means you can add coffee grounds without wrestling a lid. The water reservoir is simple to fill with a small flip-top lid. You can leave your machine under the cabinet as you brew coffee. (Just make sure the steam doesn't negatively affect the underside of your kitchen cabinet.)
You can program this coffee maker so your coffee is ready when you wake up. The coffee maker also has other useful amenities, such as a bold brew button, a small batch option, and a warming plate.
Our verdict:
The Hamilton Beach 12 cup coffee machine is an affordable, front-access machine that is user-friendly and brews a hot cup of coffee comfortably under your cabinets.
Hamilton Beach 12 Cup Machine
If you like the idea of easy coffee ground filling with a swing out brew basket and easy fill water reservoir, the Hamilton Beach is a good quality 12 cup brewer for you.
Last update on 2023-11-28
#7. Black+Decker CM1160B (Best programmable 12-cup coffee maker)
What we like:
24-hour programmable option
Sneak-a-cup technology
Washable brew basket
Front-facing water window
2-hour automatic shut-off
Non-stick warming plate
User-friendly 
Brews quickly
What we don't like:
Make sure the brew basket is fully closed to prevent leaks.
Review:
This Programmable Black+Decker coffee maker has a clear layout to make your coffee-making experience as simple as possible. You can program your coffee pot the night before so you have hot coffee first thing in the morning. 
This coffee maker brews 12 cups of coffee faster than many other machines in its gamut. However, if you can't wait to get your first cup, you can interrupt the flow to grab a quick mug. The brewing temporarily stops so you don't get messy coffee overflow on your counter. 
Most customers love the reliability of this simple machine. Also, the coffee comes out piping hot.
When you finish brewing, the coffee pot turns off automatically after 2-hours. If you lead a busy lifestyle, this auto-shut-off feature can give you peace of mind when you leave the house. 
Our verdict
With over 44,000 ratings on Amazon, this pot maintains a steady 4.5/5 star rating. The Black+Decker CM1160 12-cup coffee maker is one of the most popular, easy to use and affordable brewers in today's market.
Sale
Black+Decker CM1160
The Black+Decker CM1160 brews a delicious 12 cup pot anytime of the day you want just by using its simple to use pre programing features.
Last update on 2023-11-28
What we like:
Brew station with an easy-to-use dispenser
Programmable 
Iced coffee option
Coffee stays warm inside the machine
Works with 7-inch travel cups or mugs.
Self-cleans
Removable water reservoir.
What we don't like:
Some 20-ounce travel mugs may not fit under the spigot.
Review:
The Hamilton Beach Brewstation 12-Cup Coffee Maker lets you dispense the exact amount of coffee you want directly into your cup. This means you don't have to fight a carafe with a tricky pour spout every morning. Also, you don't have to worry about breaking a glass carafe rendering your entire machine useless.  
In this machine, the coffee brews and remains inside the machine's internal warming heater until you need it. You can get a hot cup of coffee all morning without the burnt, over-extracted tastes from hot-plate warming.
Our verdict
The Hamilton Beach 12 cup Brewstation is a spill-free, easy to use coffee maker and saves on clean-up. It can be perfect for a busy household or a small office setting.
Hamilton Beach Brewstation
What we love is the piping hot coffee from the internal dispenser, ease of use, self cleaning, and programmable tech features that make it a great value play.
Last update on 2023-11-28
For a more detailed look, check out our full Hamilton Beach Brewstation review.
What we like:
Charcoal water filter
Reusable gold tone filter
1-4 cup small batch brewing option
Regular or bold coffee options
12-hour pre-programming capabilities
Optional ready alert
Pause and pour option
12-cup thermal carafe
What we don't like: 
A small batch of coffee in this machine may be lukewarm.
Review:
The Cuisinart Brew Central is one of the best programable 12-cup machines on the market. This machine has a clear, user-friendly layout with just five main buttons. You can self-clean the coffee machine, make a bold brew, set the brewer to auto-on, turn the coffee pot on and off, or brew a 1-4 cup pot. 
This Cuisinart emphasizes the flavor of your brew. The small-brew option ensures you get the same rich flavor as a full pot when you brew one to four cups. You also get a charcoal water filter to filter impurities out of the water. The thermal carafe keeps the coffee warm for at least four hours without compromising the flavor.
Our verdict:
Customers love the Cuisinart DCC-3400 because it is simple, long-lasting, and makes great-tasting coffee, and we think you will too.
Cuisinart DCC-3400 12 Cup
The Cuisinart DCC-3400 is a quality brewer, with features we love like the auto programmable brewing and small batch brewing in a thermal pot.
Last update on 2023-11-28
For a more indepth look at all of what Cuisinart has to offer, check out our top list of best Cuisinart coffee makers.
How do I make coffee in a 12-cup drip coffee maker?
Making coffee in a 12-cup drip machine can vary from one brand to the next. Some coffee makers come with options to adjust the temperature and strength of the brew or pre-program it to start when you wake up. Others are much more simplistic with a simple on-off button. Whatever type of drip machine you have, there are some tips for making coffee that are universal. 
Here are some helpful hacks for getting the best-tasting coffee out of your 12-cup coffee machine.
1. Choose the best coffee grounds for a drip brew method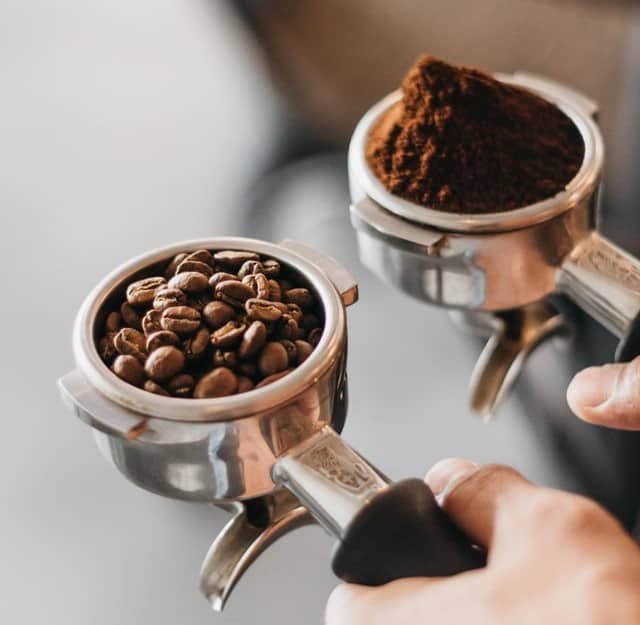 To make the perfect cup of coffee, you first want to start with the best coffee for your brew method. There are plenty of coffee beans to choose from on the market. However, if you find that your cup of coffee is subpar, it may be the fault of your coffee beans instead of your coffee maker.  
Twelve-cup coffee makers take longer to make coffee than other brew methods. In fact, it can take 10-15 minutes to finish a full 12-cup pot. 
Most coffee experts recommend using coffee beans with a medium to medium-dark roast for a full-bodied rich flavor. Additionally, use a medium or medium-coarse grind size and avoid fine grinds.
A fine coffee grind combined with a slower brew method can quickly become over-extracted, burnt-tasting sludge. However, if the grinds are too coarse, your brew may be under-extracted and watery. A medium to medium-coarse grind should be about the size of sea salt or sand.
As with any brew method, your coffee tastes the best when you grind the beans fresh in a burr grinder. 
2. Use the appropriate filter for your coffee machine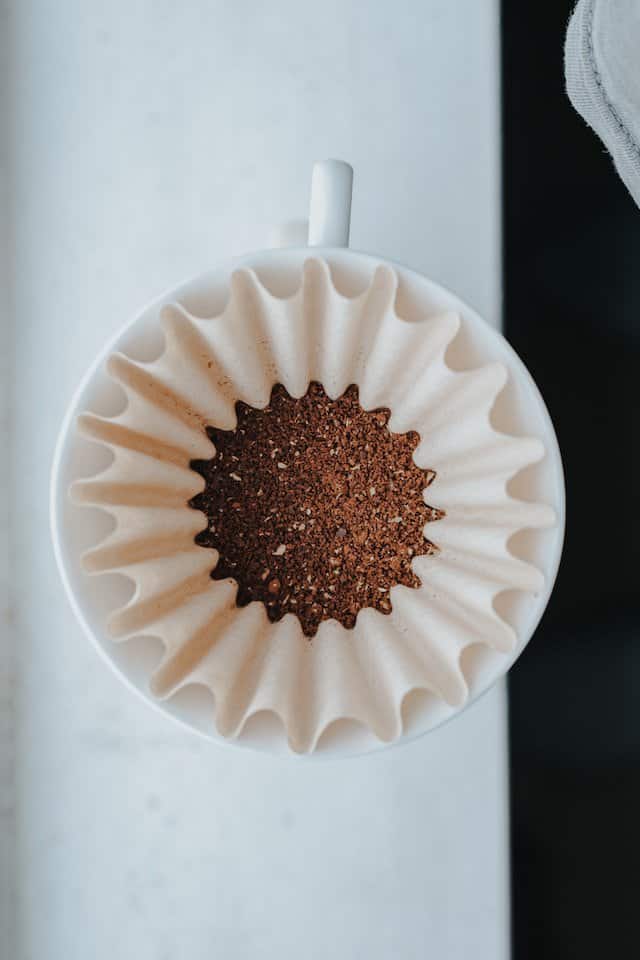 Once you pick your coffee and grind, it's time to set up your machine. Choose the right type of filter (cone or standard) for your coffee maker. 
If you want to reduce waste, many machines have permanent filters to purchase for your model. However, if you hate getting accidental coffee grounds in your coffee, many coffee drinkers add a paper filter to a permanent filter basket for double filtering. 
3. Use the proper coffee-to-water ratio to match your preference
The Specialty Coffee Association gives a coffee-to-water ratio to achieve the "golden cup standard." According to the SCA, "the recommended coffee-to-water ratio is 55 g/L ± 10%" or a 1:16 to 1:18 ratio. More simply stated, you should use one gram of coffee to 16-18 grams of water. 
Some coffee experts use a scale to weigh the water and coffee grounds for an exact cup. However, the average coffee drinker usually uses 1-2 tablespoons per 6 ounces. For a full 12-cup (60-ounce) coffee maker, use about ¾ to 1 ½ cups of coffee.
Other ways to adjust the taste of your coffee include choosing the bold or strong brew options on your machine or using a longer bloom time. 
4. Check the water temperature
The water temperature can also make a difference in the taste of your coffee. Some drip brewers let you adjust the temperature. However, on many drip coffee machines, this is pre-set. Many coffee pots use the SCA's Gold Cup water temperature standard (195-205°F degrees). When your coffee pot heats water within this temperature range, you can get the most flavor out of your coffee grounds. 
5. Keeping your coffee hot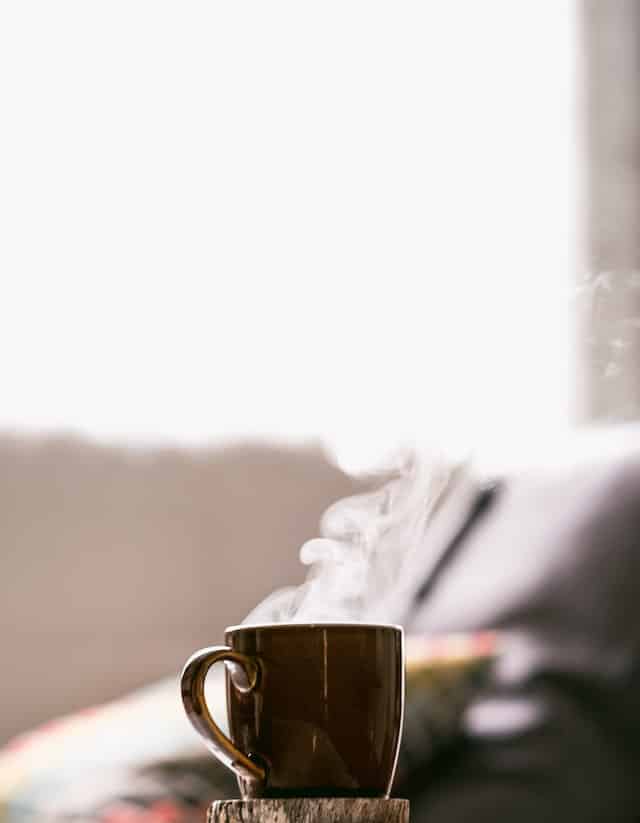 Many drip coffee pots have a hot plate to keep coffee warm. However, if you leave your coffee on the burner too long, it can begin to lose its rich flavor and taste burnt. Many coffee lovers use a thermal pot to keep coffee warm for longer without sacrificing flavor.
6. Cream? Sugar? Or black?
Once your coffee brews, add cream, coconut milk, sugar, cinnamon, cocoa, or your favorite additive, and drink up! If your coffee tastes too strong or weak, you can adjust your coffee-to-water ratio next time you brew a pot.
Final Thoughts
Coffee is a great way to wake up, and there are many methods you can use to get the first cup of the day. Although many coffee drinkers in the U.S. enjoy single-serve machines, pour-over, or cold brew methods, most Americans still prefer a drip coffee pot. 
A drip machine with a 12-cup capacity is one of the most versatile options available to coffee drinkers. This size pot can brew up to 60 ounces of coffee to have plenty to go around. Or, you can choose its small batch option to brew for just one or two. 
We've shown you nine top-rated 12-cup coffee makers currently on the market. While they all look pretty good and the one you choose will depend on your particular needs, we liked the Ninja DualBrew as our overall best pick.
Sale
Ninja CFP301 DualBrew Pro
With a singe serve option, auto programmable brewing, specialty beverages, and highly rated coffee flavors, the Ninja DualBrew Pro is literally everything you need in a 12 cup brewer.
Last update on 2023-11-28
It delivers delicious hot flavorful coffee using quality extraction methods, as well a versatility in brewing specialty beverages and using coffee grounds or pods, all for a great price.
Now, it's time to decide which 12 cup machine is best for you!
FAQs
How many servings does a 12-cup coffee machine make?
A 12-cup coffee maker brews about 60 ounces of coffee. The "cup" on coffee makers is not the same average 8-ounce measuring cup we use in the U.S. Nor does it indicate a standard mug of coffee. A "cup" on a coffee machine refers to a 5 to 6-ounce measurement. So, a 12-cup coffee maker can serve about seven 8-ounce mugs of coffee.
How many scoops of coffee do you use for a 12-cup coffee maker?
Most coffee drinkers add between 1 and 2 tablespoons per 6-ounce cup. So, since a full 12-cup coffee maker holds 60 ounces, you should use about 12-24 tablespoons of coffee. (This is roughly ¾ to 1 ½ cups of coffee). Adjust the measurements according to your preferences.
If your coffee tastes weak, try using more scoops of coffee. In contrast, for coffee that is too strong, scale back on some coffee grounds. 
How many cups of coffee can you drink per day?
The FDA recommends that healthy adults limit their caffeine to 400 milligrams per day. This is about the same amount as four or five daily cups of coffee. For those with health conditions, it is best to talk to your doctor about the appropriate amount of coffee to drink
Coffee Has Never Read This Good!
Sign up for a FREE newsletter to the best home brewing tips and guides
Thank you for subscribing to The Cup Coffee House Crew! There's a surprise in your Inbox 🙂
Something went wrong.
About the Author
Latest Posts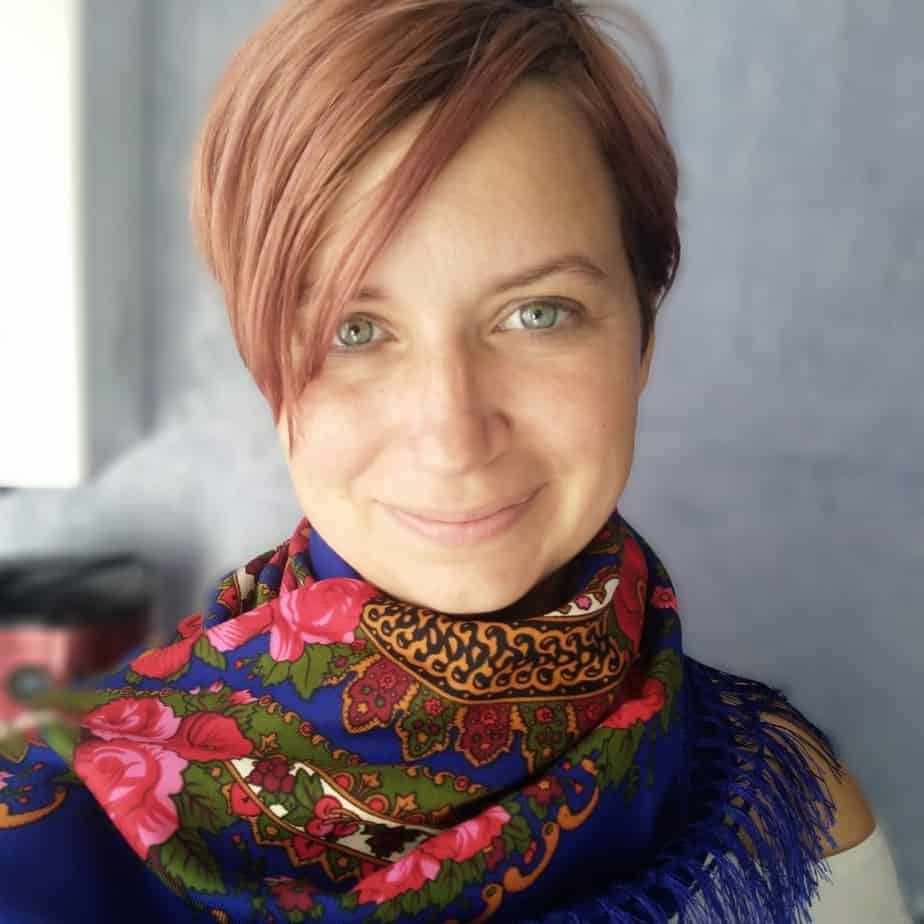 Alex Praytor worked her first job as a barista, finished college, and then took a tour to the other side of the globe. She fell in love with espresso and her would-be husband in Europe. She spends her spare time visiting native Texas landmarks, ancient castles, and all the coffee shops she finds along the way. At home, she is a mom, ESL teacher, and writer, who hones her coffee-making skills daily. She enjoys passing on her coffee findings to fellow caffeine addicts in search of the perfect cup.
Chief Editor