Last updated on July 27th, 2023 by Alex Praytor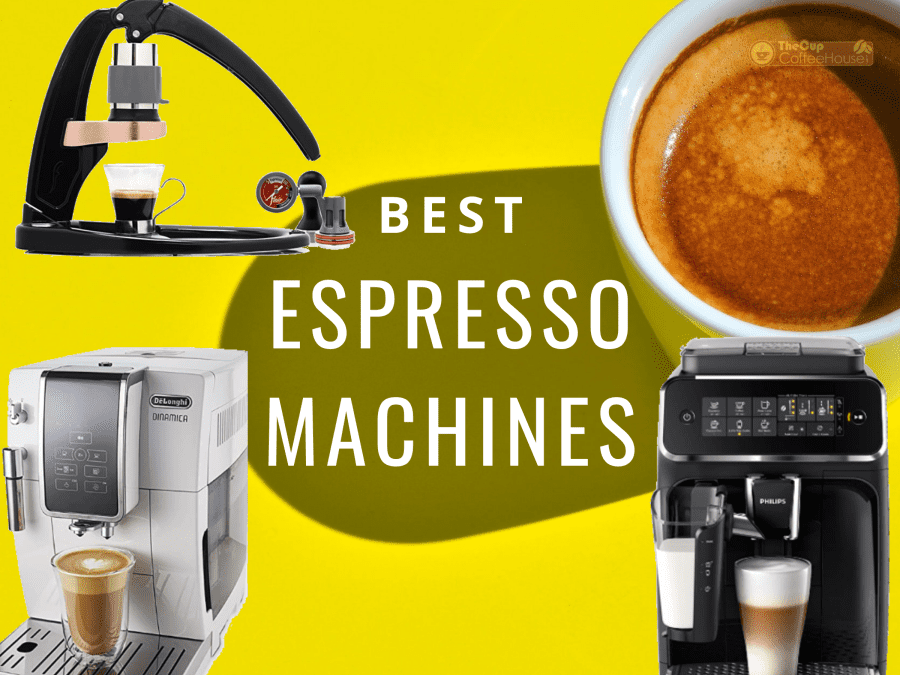 Ahh, there is nothing better than waking up to a fresh espresso in the morning. The delicious aroma and delicate layer of crema on top makes the day worth starting. Your local barista always seems to know exactly how much coffee to use and when to cut off the shot so you get perfection in a demi-tasse cup.
But if you want to be more mindful of your spending, you can also make the same quality espresso at home if you have the right machine! 
After hours of research and review, we've chosen the top 10 machines on today's market. If you like to have a hand in the process, we have some fully manual machines on our list that are worth a look. However, if you just want a machine to make your order at the touch of a button, a super-automatic espresso machine can help you out.
Want the cliff notes?
Our best espresso machine pick is the Philips EP3241/54 with LatteGo. With this machine, you can brew shots of espresso, specialty drinks, and even regular coffee. You don't even have to foam your milk because this machine will top off milk-based drinks automatically. If you want stronger coffee or extra foam, you can manually add these options to your order. 
Perfect for the on the go coffee drinker who doesn't have a lot of time but would love to enjoy an espresso during their commute. You can also switch between coffee and espresso as you wish.
Sale
Last update on 2023-09-17
Keep reading because we'll give you tips for buying the best espresso machine for you, and also walk you through the steps to make a perfect cup of espresso at home. With the right machine and some pro tips, your kitchen will soon become the coffee shop of your dreams.
---
How to Choose the Best Espresso Machine (Buyers Guide) 
When you are looking to find the best coffee maker for you, there are so many choices on the market that the process can be overwhelming. We've put together a buyer's guide to help you think through your wants and needs to find the best machine to fit your lifestyle. After all, you'll be using this machine for years to come!
Here are 6 elements to consider when you buy an espresso maker for your home:  
1. How many bars of pressure does the machine have?
To be an authentic espresso the Specialty Coffee Association of America specifies that a machine should be capable of at least 9 bars of pressure. This pressure is what gives the espresso its signature, velvety mouth-feel, and crema on top.
If you are just looking for a machine to make specialty drinks, you can often get away with coffee concentrate (as you find on Keurig and Ninja machines). However, if you look forward to drinking espresso on its own or with just a bit of cream or sugar, you'll want to make sure your machine is capable of 9 bars of pressure or more.
2. Does the machine have specialty drink options?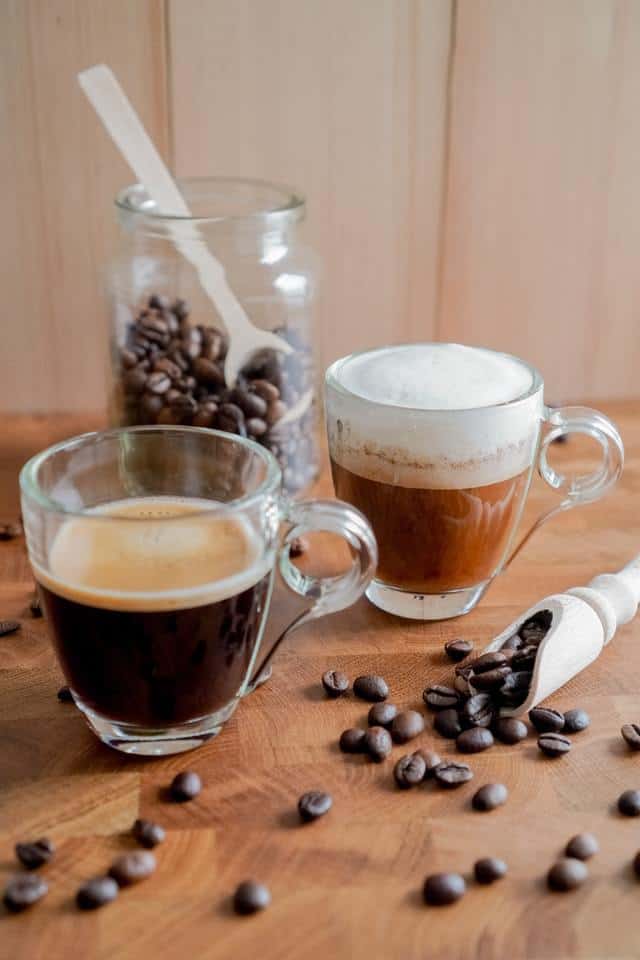 While cappuccino makers and latte machines come with some way to foam milk, an espresso maker may or may not include an option for milk. That being said, most semi-automatic machines up to super-automatics will include at least a milk wand.
However manual piston machines and stovetop Moka pots won't include a steam wand. If you want to make lattes, cappuccinos, flat whites, and other drinks, you may wish to choose a machine with a milk frother.
3. Will you make espressos for a few or many?
If you are planning to make back-to-back espressos often, you may want to budget for a more expensive machine. Generally, the top-of-the-line espresso makers will have a quick turnaround for brewing and steaming. However, value models often use the same heat system for both brewing coffee and steaming milk and will need pauses in between uses. 
4. How much room do you have on your kitchen counter?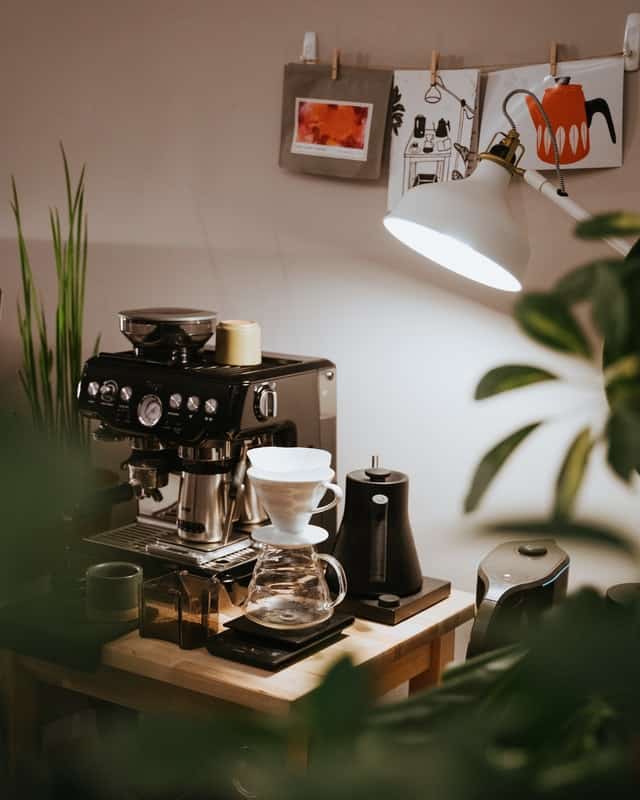 You'll notice that most coffee shops devote entire countertops to large high-performance espresso makers. While you probably won't need a professional-grade machine to brew espressos at home, some at-home espresso makers can still take up a lot of space.
If you have a tight space, check the size of the machine under its specifications. Better to measure twice than get a machine that overpowers your space.
5. Do you want a built-in grinder?
Freshly ground coffee can make a huge difference in flavor. If you want your machine to grind your beans fresh for each espresso, you can choose a super-automatic machine. These machines are designed with built-in grinders and can make your life easier. No need to keep a separate manual or electric grinder.
6. Which machine fits best into your budget?
Last but not least, you want a quality espresso machine that fits into your budget. While espresso machines have a reputation for being pricey, (many can cost over $1000!) you can find a good semi-automatic machine under $500 or even in the $100-$200 range. 
Now that you've checked off a few preferences, let's take a look at ten of the best espresso machines you can find on the market today.
The 10 Best Espresso Machines on the Market 
Things we like: 
Super-automatic machine
Built-in ceramic grinder
Touch display
Espresso, regular coffee, specialty drinks, and hot water
No milk tubes
AquaClean water filter
Dishwasher-safe parts
Things we don't like:
The price runs close to $800.
Review:
The Philips EP3241/54 can make all your espresso dreams come true. You can brew espresso or coffee, make specialty drinks, and even make hot tea with hot water. The simple touch display allows you to choose your drink. Then, the bean-to-cup machine will grind fresh beans and complete your order. 
The LatteGo milk steamer froths milk and air at a high speed and tops your milk-based coffee drinks with just the right amount of milk foam.  
Since the LatteGo has no milk tube, it is easy to clean and you don't have to worry about dangerous bacteria building up. Many of the parts on this Philips machine are even dishwasher-safe.
As icing on the cake, this machine uses an AquaClean water filter. Besides giving your coffee drinks a clean taste, this filter prevents scaling and can extend the life of your machine.
Although the price is a bit steeper than other espresso machines at $700, this super-automatic machine is cheaper than other machines in its gamut and has a lot to offer. Perfect for espresso drinkers who don't have a lot of time to devote to their espresso and prefer a hands off approach.
Things we like: 
15 bar pump
Stainless steel boiler
Steam wand
Compact design
Price
Things we don't like:
Review:
The De'Longhi Stilosa is a great semi-automatic espresso machine on a budget. This machine includes a 15-bar pump for authentic espressos and is compact enough to find a space on your kitchen counter. 
The frame may be plastic, but it's what's on the inside that counts, right? While many budget models use cheaper aluminum boilers, this De'Longhi machine comes with a stainless steel boiler. This can mean a longer life for your machine and a cleaner overall taste for your espresso. 
You can often find this machine for under $100 on Amazon. Now that is a steal! Many Starbucks baristas in their reviews, were satisfied with the quality of the De'Longhi Stilosa machine and the taste of its espresso.
Things we like: 
19 bar Italian pump
User-friendly
Compact size
One-touch
Foams milk automatically
The milk reservoir holds milk for 3-6 specialty drinks
Removable drip tray to accommodate taller mugs
Things we don't like:
Review:
The Mr. Coffee One-Touch CoffeeHouse comes with 19 bars of pressure for rich espresso brews. Not only does this espresso maker brew single and double shots, but it will also brew up lattes and cappuccinos with just the touch of a button. The milk reservoir holds enough milk for three cappuccinos or six lattes. You can remove the reservoir and return it to the fridge between uses.
This machine is user-friendly and makes it easy for the average Joe to brew up a fancy cup of coffee shop-style coffee. It may be a bit loud, but since it brews with pressure and steams milk, you wouldn't expect it to be quiet.
Many customers complimented this Mr. Coffee espresso machine for being easy to use and delivering quality drinks. 
For more of Mr. Coffee's best coffee machines, check out our full Mr. Coffee review and comparison.
Things we like: 
Super-automatic
Grinds coffee beans
Pre-infusion
Regular coffee or espresso
Iced coffee drinks
Specialty coffee drinks
Easy to clean
Adjustable steam and foam for milk
Things we don't like:
Price in the $1000 range.
Review:
For an espresso machine that does it all, check out the De'Longhi Dynamica. This high-performance super-automatic machine makes espresso and specialty drinks but doesn't stop there! It will also brew regular coffee and over-ice drinks. 
Choose the option you want, and watch the machine grind your beans with its steel burr to the right dose and brew your cuppa. For over ice options, the Dynamica uses preinfusion and then brews at a lower temperature so you can pour your drink over ice without melting it. 
You can also adjust the amount of steam and foam levels on the milk frother so you can top your specialty drinks how you like them. Most customers appreciated this bean to cup machine for its low-maintenance and high-quality brews. 
For a more in-depth look, check out our full De'Longhi Dinamica ECAM35025 review here.
Or if you're interested in the best of DeLonghi, check out our list of top DeLonghi espresso machines.
Things we like: 
15 bar Italian pump
Dose control
Pre-infusion
Automatic or semi-automatic brew style
Digital water temperature control
Built-in grinder
Hot water dispenser
Milk froth and steam wand
Things we don't like:
Review:
The Breville Barista Express comes with its own coffee grinder for fresh-tasting espresso. This machine will grind just the right dose of coffee directly into your portafilter. Once you attach it to the group head, you can decide how hands-on you do (or don't) want to be with your brew. The machine will allow you to pull your shot at your preferred length, or it will stop the extraction automatically for you. 
For housemates who prefer tea or instant soup, you can also use this Breville machine as a hot water dispenser. If you are dedicated to the espresso lifestyle, this sturdy machine can turn your kitchen into a coffee shop. However, for small kitchens, this 20+ pound machine can take over your counter space.
Most Barista Express users agreed that this machine makes great espresso. However, in the beginning, it is a bit of a learning curve to use this Breville machine to perfection.
For a more in-depth look, check out our full Breville Barista Express review here.
Or if you're interested in the best of Breville, check out our list of top Breville espresso machines.
Things we like: 
1 shot, 2 shots, or manual options
20 bars of pressure
Inteligent temperature control
Steam wand
Overheating protection
Auto shut-off after 15 minutes
Things we don't like:
Steam wand and espresso use the same heat system.
Review:
This Gevi espresso machine brews using 20 bars of pressure. As a semi-automatic machine, it comes with three choices: You can choose a single shot, double shot, or pull your shot manually. It comes with a steam wand to make specialty coffee drinks. However, the steam wand uses the same heat system as the espresso. This means you may have to let the machine rest after you pull your shot before you use the steam wand. 
The Gevi may not be a fancy machine, but is straightforward and comes at a reasonable price of about $170.
We also like that the Gevi adds safety features to protect your machine. It comes with overheating protection and automatic shut-down after 15 minutes. Most Gevi owners agree that this espresso machine does a good job for a reasonable price, and we do too, this is why this is the #1 option for our best Gevi espresso machine list.
Things we like: 
Heats up in seconds
Auto-shut off after 9 minutes
Long or short espresso
19 bars of pressure
Accommodates larger mugs
Things we don't like:
Creates pod waste
Can be a little loud
Review:
The Nespresso Inissia by De'Longhi makes some of the best espressos you'll find with a pod machine. Some pod machines just brew a cup of coffee with less water and call it an espresso. However, the Inissia creates up to 19 bars of pressure through its own patented system. Many purists argue whether this can be considered "true espresso" or not. We just know that this pressure system creates a difference that you can taste! 
The machine will heat up in less than 30 seconds so you can get a quick brew when you are in a hurry. Then when you are finished, it will shut off automatically after nine minutes. You can make an espresso that is a little over one ounce in size or a longer espresso at 5 ounces. To accommodate a larger mug, you can remove the drip tray. 
The Nespresso Inissia is compact, no-fuss, and cleans up easily. Many coffee-lovers who lead busy lives chose this pod machine to get their morning caffeine fix. Some even said that espresso from this machine was better than the espresso they get at Starbucks! Although the pods do create extra waste, Nespresso has recycling programs for many of their pods.
If you also have your own Nespresso milk frother, this article will guide you how to fix the problems that you would encounter in the future.
For a more in-depth discussion, check out our full Nespresso Inissia review.
Things we like: 
6-10 bars of pressure
Pressure gauge
Stainless steel brew head
No electric plug
Easy to clean
Things we don't like:
Review:
The Flair Signature espresso maker takes you back in time and allows you to make espresso unplugged in the style of old-fashioned European coffee shops. This manual coffee maker puts you in control of how much water to use, your water temperature, the dose of coffee grounds, and extraction time. So, brush off your barista skills! 
You'll have to heat 60ml of water separately since this machine does not have a boiler. Then add your dose of 12-18 grams of freshly ground coffee, and extract your shot. This Flair model comes with a pressure gauge so you can be sure you are achieving at least 9 bars of pressure as you press the lever. Many Flair users love the quality and taste of this espresso.
With this manual machine, espresso becomes an art form and you are the artist! Great for aspiring baristas who enjoy the skill of pulling quality espressos just as much as drinking them.
Things we like: 
18 bars of pressure
Travel-size
Durable
No electricity/battery required
Can be adapted for pods
Things we don't like:
Review:
This Wacaco Nanopresso ensures that you can still get a quality cup of espresso even when you are on the go or roughing it on a campsite. This handheld pump is capable of 18 bars of pressure and takes up almost no space in a bag. 
You can even purchase an adapter to make this device compatible with Nespresso Original pods. The lid of the Nanopresso doubles as a cup so you have everything you need for a fresh cup of espresso anywhere you have access to hot water! 
Most fans of the Nanopresso liked the compact size and affordable price of this tiny espresso maker.
For a more detailed look, check out our full review of the Wacaco portable espresso maker.
Things we like: 
Stainless steel
15.5 oz. capacity
Works on an induction stovetop
Things we don't like:
Only produces about 2 bars of pressure
Review:
The Bialetti New Venus Induction is perfect if you want to drink espresso or make specialty coffee drinks for a crowd. This pot brews about 15.5 oz of espresso to make up to 10 cups of espresso-sized drinks. 
Unlike other Moka pots which are made out of aluminum, the New Venus Induction is made out of stainless steel for a cleaner-tasting brew. You can brew your coffee on a regular or induction stovetop with this pot. 
While this Moka pot doesn't create enough pressure to make authentic espressos, most customers were satisfied with the rich, strong taste of the brew.
Things we like:
15-bar pump
ESE pod option
Steam wand with micro-foam
Professional-grade filters
Automatic shut-off
Things we don't like:
Many plastic parts
Single boiler
Review: 
This semi-automatic espresso maker has several features normally reserved for high-range machines. (Also, it definitely draws you in with its classic Italian charm!) You get professional-grade filters with 18-gram coffee ground capacity for a richer brew.
The Gaggia is capable of pre-infusion bloom and you can make microfoam with the attached steam wand. You even have a cup warmer on the top of the machine. The options are straightforward and clearly labeled. This makes it easy for even beginner at-home baristas to operate.
The Gaggia Carezza deluxe looks pretty impressive on any countertop with its sleek, retro design. You can be serious about your espresso at a reasonable price. While machines with a similar look and features can run up to $1000, you can bring this machine home for about $330. Your kitchen can become an instant coffee shop with the addition of this Gaggia espresso maker!
Sale
Gaggia Carezza De Luxe
If you're budget is tight, then the Carezza de Luxe and its easy to use manual brews, pod capability, and affordable price tag is worth noting.
Last update on 2023-09-17
What is the difference between manual, semi-automatic, automatic, and super-automatic espresso machines?
When you look at different espresso machines, you'll notice that some are labeled as semi-automatic, automatic, and super-automatic. While they all contain the word "automatic," there are differences between each type of espresso machine.
Manual
When espresso first became a thing, it was made using a manual (or piston) machine. This type of machine can make espresso without any electricity. 
To extract your shot, you press down a lever. But don't worry, this machine doesn't depend entirely on your brute strength to achieve nine bars! (That would be pretty much impossible.) A manual machine uses a system of pistons and levers to achieve the correct amount of pressure to brew an espresso.
As you pull your shot, the spring compresses. You need to use a steady hand for an even extraction. When you release the lever, the water is forced through your grounds. You'll see the espresso begin trickling to a stop when your shot is done.
Small portable hand-pump espresso machines also fall under the manual category of espresso makers.
Semi-automatic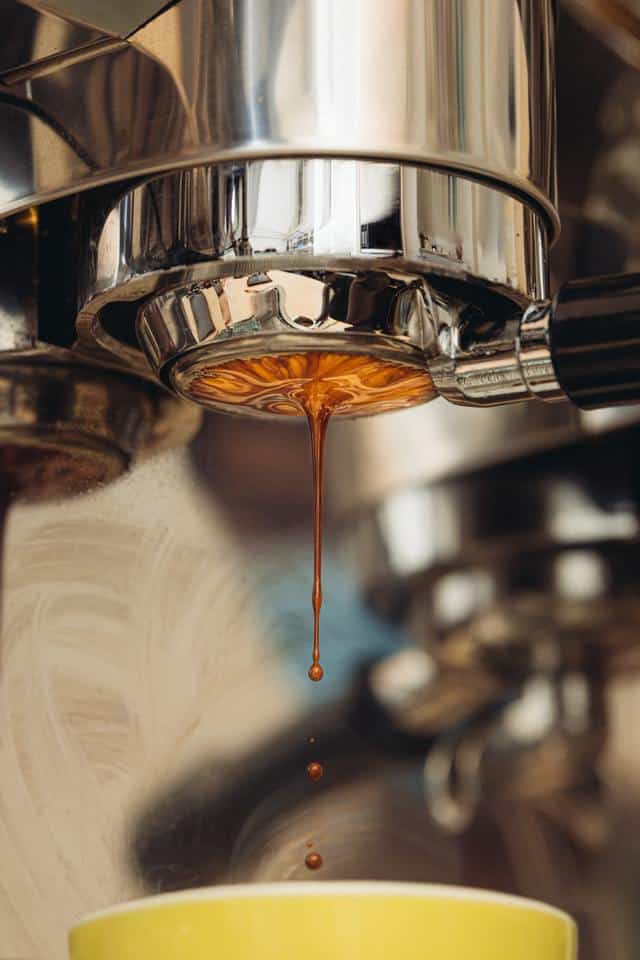 Many baristas prefer a semi-automatic espresso maker to an automatic or super-automatic machine. This is because a semi-automatic gives you more control over the outcome of your brew. These machines are designed with a built-in boiler, a portafilter, and group head. 
You will tamp your grounds into the portafilter and choose when to start and stop the flow of water through your brew. You will see the shot turn three colors and when it starts to become watery, you flip the switch to turn it off. In barista lingo, these layers are called heart, body, and crema. 
If you like a stronger espresso (called a ristretto) you simply cut off the flow of water sooner (at about 20 seconds). You'll want to cut off your shot before 30 seconds or your brew can become watery and sour.
Automatic
If you love the taste of espresso, but don't feel the need to be super involved in the process, an automatic machine may be for you. You'll just have to grind your beans and tamp down the grounds in your portafilter. 
Once you've attached the portafilter to the group head, press a button, and the machine will start and stop the flow of coffee automatically by timing the brew. 
Fully-automatic 
The term "fully-automatic espresso machine" is sometimes used synonymously with super-automatic. However, this term can also refer to a machine that is not quite as high-performance as a super-automatic but a slightly upgraded automatic machine. 
For this type of fully-automatic machine, you press a button and the machine starts and finishes your shot on its own like an automatic. However, while an automatic machine pulls your shot based on time-lapse (generally 25-30 seconds), a fully automatic machine also measures how much water is going through your grounds. This ensures that you get a perfect extraction for each espresso.  
Super-automatic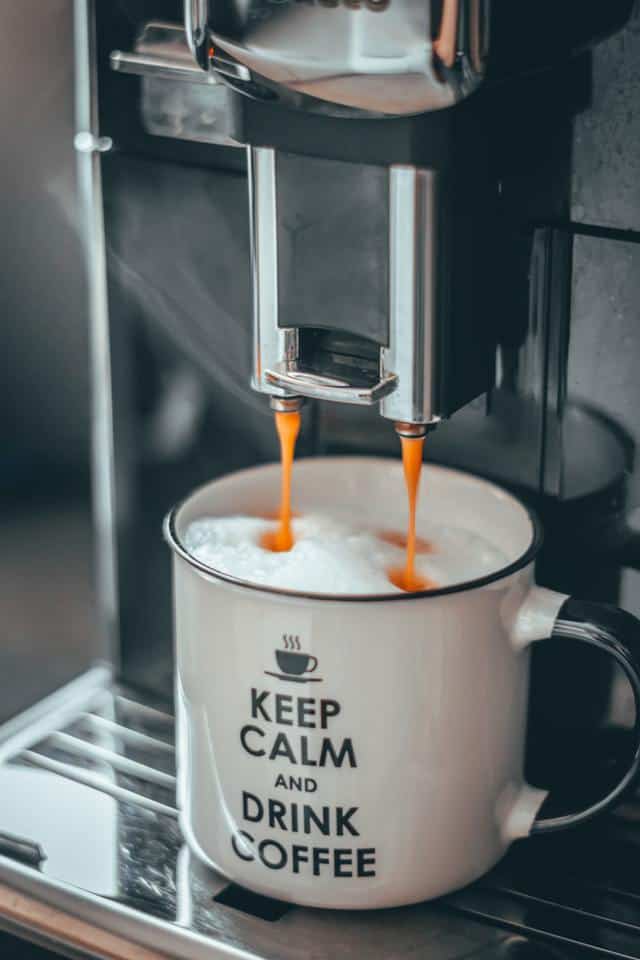 Super-automatic machines (also called bean-to-cup machines) come with their own grinders and do pretty much everything for you when you press a button. You won't even need to tamp your portafilter! Many machines also top off your cuppa with steamed milk. It's basically as if you had your own barista in your kitchen… only it never spells your name wrong on to-go cups. 
Brands like Miele, Jura, Gaggia, De'Longhi, and Siemens come to mind as top bean-to-cup machines.
How to Make a Good Espresso
If you've ever tried a good espresso, you may not be fully satisfied with drip coffee ever again. Because espresso when done correctly is just so good. The espresso brew method extracts the coffee quickly so that you get the best flavors of the bean without those less desirable qualities. 
However, there are a few steps to follow to make sure you don't get a poorly extracted brew that tastes burned or bitter. That can be a turn-off! Here's how to make an espresso that will convince your friends and family that an espresso machine is the way to go: 
Step 1: Grind your beans
Without a doubt, freshly ground coffee makes the best espresso. Since espresso is a quick brew method, you will want to use a fine grind. Most baristas recommend a grind size of 0.88 mm or 1.32 of an inch. Since you probably don't want to measure individual grounds, just know that on a Breville this would be a #5 grind size 5. If you use larger grounds, you may get a weak-tasting espresso due to under extraction.
Step 2: Make sure the portafilter and group head are clean
Before you brew, make sure the portafilter and group head are clean. Unlike your grandma's cast-iron skillet that only gets more flavorful with use, old coffee residue doesn't get better with age. Any leftover grounds or oils on the portafilter or group head will just make the new coffee taste stale.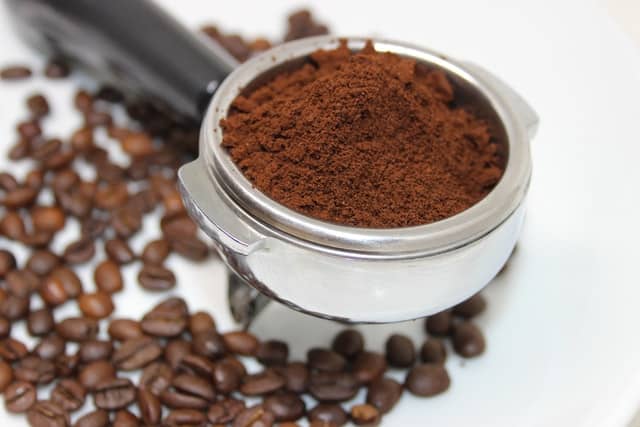 Step 3: Measure your dose
Use the correct coffee to water ratio. What is the golden ratio for espresso?
1:15-18
Meaning for every 1 gram of coffee, you will use to 15-18 grams of water (1:15-18). Not brewing within these ratios can leave your coffee weak, producing a bitter, dull flavor.
Step 4: Tamp your grounds
You want to firmly tamp your grounds into the portafilter for the best extraction. If you tamp too lightly, you may get a weak, sour espresso. However, tamping too hard can put undue pressure on your machine or you may overestimate how much coffee you should use. One firm press should be perfect. 
Step 5: Check your water temperature
The SCA recommends using 192 – 198 degrees F to brew coffee. Most automatic espresso makers will heat the water to an ideal temperature for you. But if you are using a manual machine, you'll want to check your temperature when you heat water. (Don't let it boil!)
Step 6: Pull your shot immediately after inserting the portafilter
Once you've inserted your portafilter into the group head, you'll want to start brewing immediately. Otherwise, the heat from the machine can burn the grounds before the water gets a chance to run through them. 
Step 7: Keep track of the time and yield it takes to brew
On a semi-automatic machine, you will let the shot run for 22-28 seconds before flipping the off switch. (For ristrettos, you can stop your shot at 20 seconds.) For manual machines, it may take slightly longer to pull your shot. If you have an automatic machine, the machine will cut your shut off at the right time.
Step 8: Enjoy!
Once you've brewed your espresso, you can add cream, sweetener, or toppings. Maybe some steamed milk for a bit of latte art. Or you can just enjoy the rich, full-bodied brew as-is!
Final Thoughts
Whether you like to make your espresso an art form, or you're looking for a simple one-touch brew method, there are plenty of machines to choose from. We've chosen our ten favorite espresso machines to show off. Let us know which one is your favorite in the comments!
Why Trust the TheCupCoffeeHouse.com
We are a group of people from all over who love coffee. From busy full time working parents to stay at home empty nesters. Some of us have worked in coffee shops in countries all over the world. Some of us have training in the pharmaceutical sciences and chemistry.
But regardless of our diverse backgrounds and expertise, we love coffee and sharing the experience with family, friends, and our community. So we spend the time to research, test, and report what we discover works and doesn't work from coffee makers, espresso machines, to brew methods and coffee facts. All so you can take home valuable information to make the best decision for you.
FAQs
How is espresso different from coffee?
In the U.S. when we order a cup of coffee, most of us mean a large mug full of drip-brew or pod coffee because that is what we are used to. However, "coffee" is a general term that refers to any drink made from coffee beans.
Espresso is a type of coffee made using a specific brew method. To brew espresso, you will need a machine that brews with pressure and a quick brew time. A single shot of espresso is roughly an ounce in size and takes less than 30 seconds to brew.
Can you make espresso out of regular coffee?
Many coffee lovers choose to use an espresso roast coffee to brew espresso. The espresso roast does not come from any special type of bean. Instead, these are beans that are roasted longer at higher temperatures. This ensures that you get the most flavor out of your coffee beans in this quick brew method. However, if you don't have espresso roast coffee, it is fine to use the regular coffee beans you have on hand. For the strong, rich espresso taste, a dark roast with a fine grind will be best.
Are espresso and cappuccino machines the same?
The terms espresso machine and cappuccino maker are often used interchangeably. However, if you want to get technical, there are a few differences in terms. Espresso machines make shots of espresso with crema on top. To be authentic, an espresso machine should be capable of at least nine bars of pressure. These machines may or may not have the ability to froth milk. A cappuccino machine must be able to brew espresso or concentrated coffee base and also be able to foam milk.
Coffee Has Never Read This Good!
Sign up for a FREE newsletter to the best home brewing tips and guides
Thank you for subscribing to The Cup Coffee House Crew! There's a surprise in your Inbox 🙂
Something went wrong.
About the Author
Latest Posts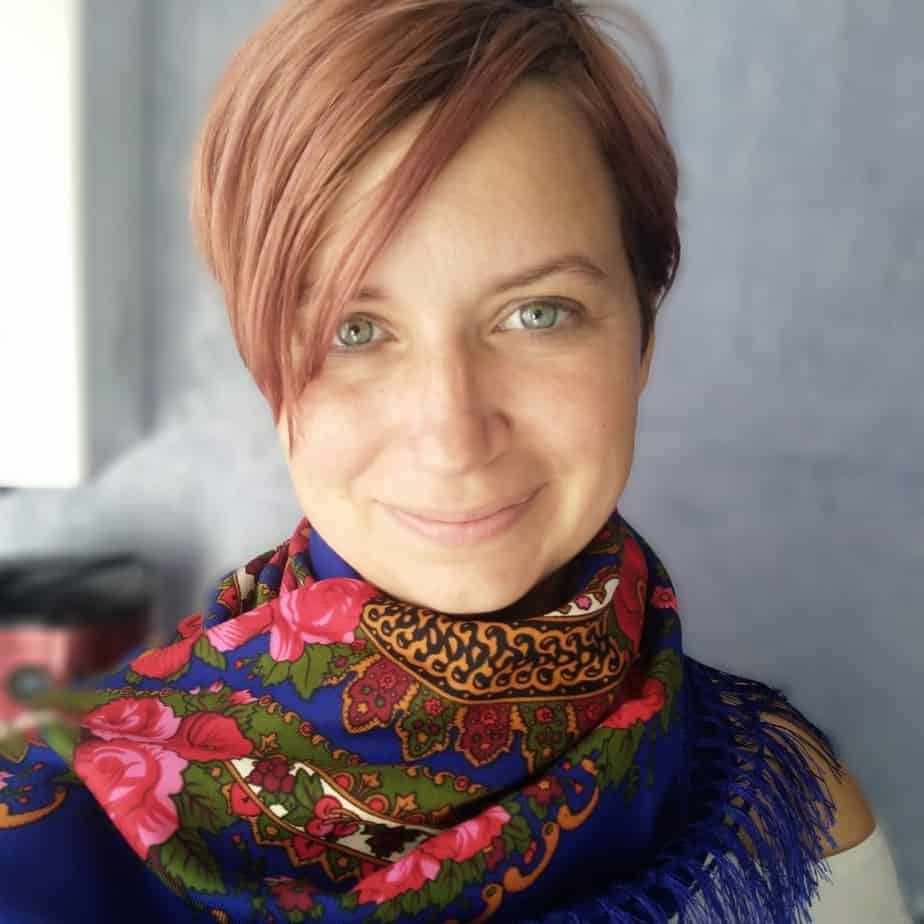 Alex Praytor worked her first job as a barista, finished college, and then took a tour to the other side of the globe. She fell in love with espresso and her would-be husband in Europe. She spends her spare time visiting native Texas landmarks, ancient castles, and all the coffee shops she finds along the way. At home, she is a mom, ESL teacher, and writer, who hones her coffee-making skills daily. She enjoys passing on her coffee findings to fellow caffeine addicts in search of the perfect cup.
Chief Editor