Last updated on September 13th, 2023 by Jules Winnfield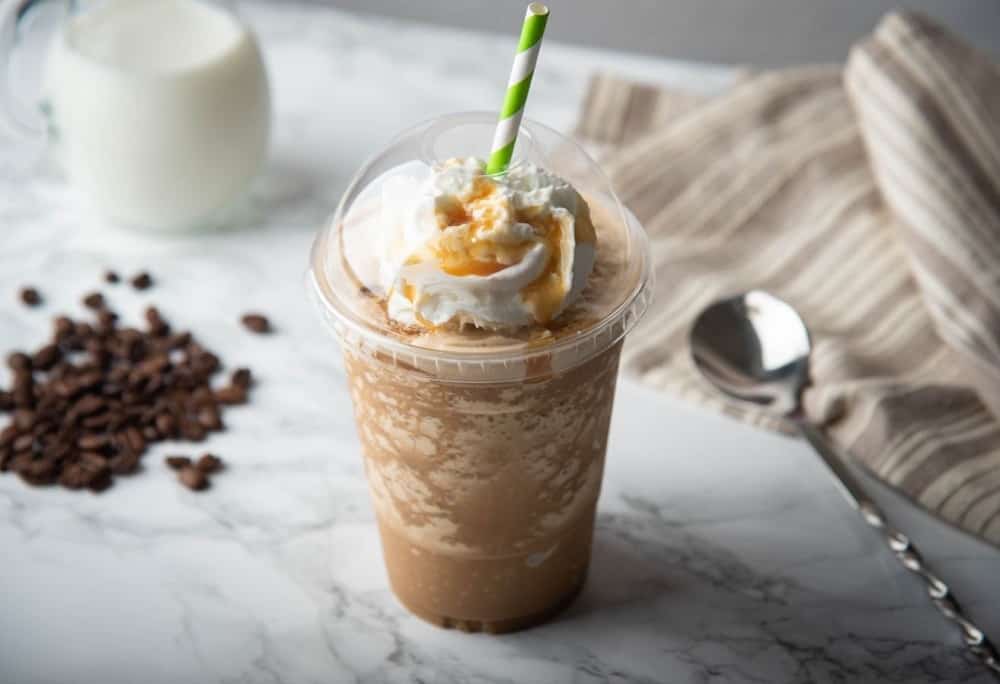 We all love a Frappuccino. It is currently one of the most popular and frequently bought beverages in the US, and honestly, what's not to love?
This drink combines the full, rich flavor of traditional coffee with the creamy sweetness of an ice cold milkshake, and adds whipped cream on top to finish the whole thing off. It is heaven!
Whether you are enjoying a coffee catch-up with a friend, grabbing a drink on the go, or snuggled up on your own in a cafe reading your favorite book, a Frappuccino is the perfect drink to sip and savor.
And yet… What is a Frappuccino exactly? Where does it come from? What is the recipe? And how can you make one at home? Read on to find out all there is to know about this delicious, creamy, sweet and refreshing, iced coffee drink.
---
What is in a Frappuccino?
A Frappuccino is an iced coffee drink served in Starbucks coffee shops. It contains a shot of espresso and lots of sweet sugary syrup, creamy milk and blended ice. It is usually topped with whipped cream and served in an especially designed plastic cup with a domed lid to accommodate all that whipped cream, and a (now iconic) green straw.
Frappuccinos can be made in many different flavors depending on what flavored syrups are added to the mix. Customers can even request custom blends if they know what they like.
Who is a Frappuccino for?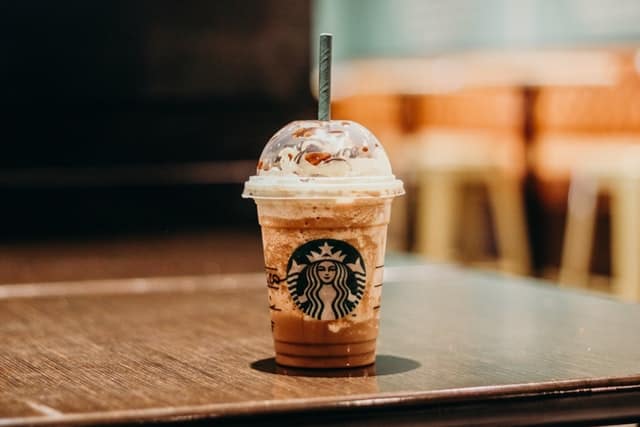 The Frappuccino is not as strong as regular coffee drinks like espressos, flat whites and americanos. They are designed to give a little caffeine kick and a big sugar rush, and are perfect if you want to feel refreshed because of the crushed ice cold element.
A Frappuccino is for anyone and everyone, but is particularly enjoyed by younger coffee drinkers, teens and students due to the sugariness. Serious coffee drinkers sometimes prefer to stick to stronger, more traditional coffee drinks.
Personally I tend to lean towards less sugar and cream in my coffee. If I do add some, its usually non dairy milk and plant extracts with sweet tones that I go for.
When is a Frappuccino best enjoyed?
Like other blended coffee drinks Frappuccinos are served by Starbucks all year round. They are very popular in summer because the blended iced coffee element makes them cold and refreshing on hot, summery days.
Yet, the whipped cream and coffee are rich and indulgent enough to satisfy wintery cravings, and many of the syrups are intended to complement specific seasons and holidays.
Due to the plastic cup and straw that Frappuccinos are served in, they are always good-to-go and can easily be enjoyed as you wander round the mall or sit in the park.
What Flavors and Varieties of Frappuccino are there?
The original Frappuccino drink has a slight coffee taste due to the shot of espresso that flavors the beverage. This means that Frappuccinos are caffeinated and will pep you up when you most need that caffeine hit.
Most Frappe and Frappuccino drinks are topped with whipped cream, and some have vanilla ice cream and caramel syrup. They taste like an iced cappuccino blended with milkshakes. Frappe and Frappuccino iced drinks are more indulgent than other iced drinks. A guilty pleasure you can enjoy on your day off!
The Frappuccino blended crème has a wonderful coffee taste, and the caramel Frappuccino has a great coffee flavor.
Syrups and Toppings
There are so many different and delicious syrups and toppings that are added to Frappuccino coffee to create the many flavors available. These include:
Chocolate syrup
Caramel syrup
Apple syrup
Espresso syrup
Pumpkin spice syrup
Cinnamon syrup
Strawberry syrup
Even fennel syrup!
These syrups can be combined to create amazing flavors, and can be customized to individual tastes if customers request something specific.
Want more texture and added flavor to your beverage, add some toppings! Choose from:
Cookie crumbs
Chocolate chips
Chocolate sauce
Strawberry sauce
Cinnamon dolce sprinkles
Powdered funnel cake
Pumpkin spice toppings
Variety of other drizzles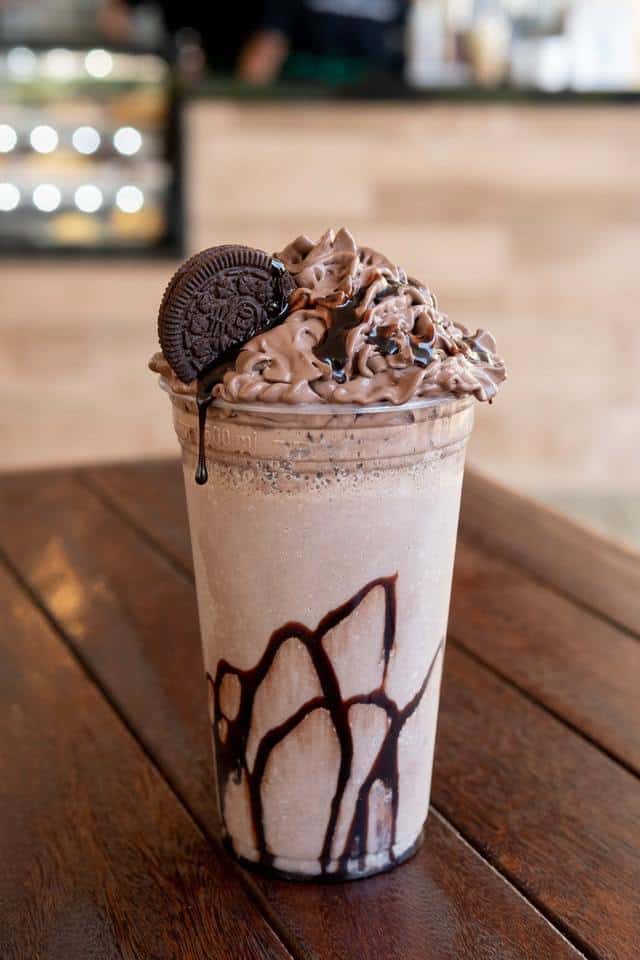 Available Frappuccino Flavors
Go into Starbucks like a pro knowing exactly what you want. The coffee Frappuccino flavors available at Starbucks include:
Pumpkin Spice Frappuccino
Apple Crisp Frappuccino
Strawberry Frappuccino
Mocha Cookie Crumble Frappuccino
Caramel Ribbon Crunch Frappuccino
Espresso Frappuccino
Caffe Vanilla Frappuccino
Caramel Frappuccino
Coffee Frappuccino
Mocha Frappuccino
Java Chip Frappuccino
White Chocolate Mocha Frappuccino
Crème Frappuccino Blended Drink
A Crème Frappuccino is a blended ice drink without the espresso coffee shot.  Crème Frappuccinos therefore have little to no caffeine in and no actual coffee bean content. Depending on the flavor, some Crème Frappuccinos will taste of coffee due to the addition of coffee-flavored syrup, but they actually have a coffee-free base.
They come in all the same flavor combinations as the Coffee Frappuccino options but also include flavors like White Chocolate Crème, and Matcha  Crème! Strawberry Frappuccino is one of the most popular Crème flavors, as is Vanilla Bean Crème and the Caramel Crème.
These Crème Frappuccinos are great for kids who don't want a coffee element in their drink, and for those trying to cut back on caffeine. They are closer to ice cream and milkshake style drinks than traditional coffee drinks.
Seasonal Coffee Blends
What makes the Frappuccino coffee drink extra exciting are the seasonal blends that become available at different times of the year. Examples include:
The Peppermint Mocha – originally brought in as a Christmas blend
The Toffee Nut Coffee blend – originally developed for the Fall season
The Gingerbread Coffee blend – a festive favorite!
Are Frappuccinos Dairy Free?
Starbucks offers dairy free alternatives to the usual milk element in Frappuccinos. It is possible to order a Frappuccino made with Coconut Milk, Soya Milk, Almond Milk and even Oatmilk. This is great for those who are dairy intolerant or are avoiding dairy products due to environmental or animal welfare reasons.
What is the Fat and Sugar Content in a Frappuccino?
Frappuccinos have a high fat and sugar content due to the creamy milk and sugar syrups. This means that they are high in calories. 
A Grande Frappuccino contains 230 calories which is 10% of your recommended daily fat allowance, and 17% of your daily sugars! Hence why I usually only indulge in a Frappuccino on special occasions!
A Grande Mocha Cookie Crumble Frappuccino contains 280 calories, which is 31% of your daily fat and 23% of your daily sugars. So it is no wonder that many customers ask for the reduced fat and low sugar options when ordering. 
The fat content can easily be reduced if you ask for Breve milk, which is half fat, 2% milk or nonfat milk. You can also reduce the calories by asking for the toppings to be left off and by not adding whipped cream.
And Starbucks developed their Frappuccino Light Blended option in 2004 which has barely any calories as it carries 30-40% fewer calories than a regular Frappuccino.
Sizes
Frappuccino coffee comes in three possible sizes:
Tall – 12 fl oz – (small drinks)
Grande – 16 fl oz – (medium drinks)
Venti – 24 fl oz – (large drinks)
Where does the Frappuccino come from?
The Frappuccino was first invented over 25 years ago by a man called Andrew Frank. Andrew lived in Eastern Massachusetts and worked for a coffee shop chain called The Coffee Connection that was owned by George Howell.
One day Andrew decided to make a delicious blend of strong, rich espresso coffee with crushed ice, creamy milk and sugar syrup and the Frappuccino was born!
The coffee shop patented Andrew's idea and recipe and the drink enjoyed healthy sales and lots of great feedback from happy customers who were delighted by the sweet, creamy sensation. 
Then, in 1994, a little known company called Starbucks bought George Howell's company for $23 million. Along with all the cafes in the Eastern Massachusetts chain, Starbucks bought the rights and trademark for the famous Frappuccino drink and kept the original name. They released the first official Starbucks Frappuccino Blended Coffee in 1995 and it was a Coffee Mocha flavor.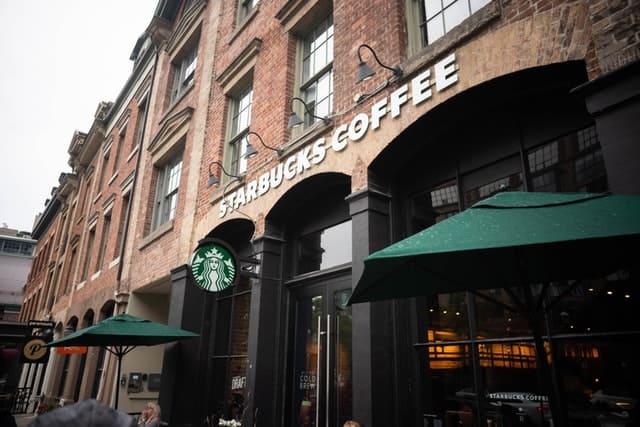 Since then the Frappuccino has been developed into all the many flavor combinations mentioned above and has become a favorite drink with customers the world over. It is a best seller and cannot be bought in any other café chain due to the recipe patent and trademarked name. In the first week of sales Starbucks sold over 200,000 Frappuccinos and they never looked back.
They soon had stores opening all over the US and made a deal with Pepsi in order to maximize production to meet the growing demand for these sweet, delicious coffee blend drinks.
The image of the Frappuccino became synonymous with Starbucks itself, and the company began to develop more and more Frappuccino options. Frappuccino sales went through the roof, with so many variations on the traditional Frappuccino including the mocha crème
In 2010 Starbucks brought out their However-you-want-it Frappuccino selection process, which allows customers to choose their own blend of coffee beans, syrup flavors, toppings and milk alternatives so that they can create the perfect Frappuccino for their individual tastes.
Today Frappuccinos are served in all Starbucks' stores across 66 countries of the world, and there are over 36,000 different flavor combinations in total!!
Some flavor combinations are specific to certain areas of the globe, for example the Red Bean Green Tea Frappuccino is only available in Asia, and the Algarrobina Frappuccino is only available in Peru.
But of course, the original coffee and mocha flavors are stables in all Starbucks stores and can be bought where ever you may be in the world.
What does the word Frappuccino mean?
The word Frappuccino is a portmanteau (or blended word) of the words Frappe and Cappuccino. The name was thought up by George Howell and his marketing manager Andrew Frank when they invented the drink for the Eastern Massachusetts coffee chain, The Coffee Connection. 
The Cappuccino part of the word is easy to understand, as it relates to the dark roast coffee element of the Frappuccino. The 'ccinno' part of the name makes reference to the strong espresso coffee and frothy steamed milk that are such loved ingredients in the Italian drink – cappuccino. The foamed milk is the distinctive element in a cappuccino.
The 'frappe' part of the word is less easily defined. Some say it refers to the word 'frap' used in New England to refer to milkshake style iced-coffee drinks. This term comes from the French 'lait frappé' meaning milkshake, but is pronounced by New Englanders without the accent. Others think it comes from the Greek frappe
Either way, Frappuccino is a hybrid of the words Frappé and Cappuccino, just as it is a blend of ice cream milkshake and iced coffee.
Where can you buy a Frappuccino?
Starbucks have coffee shops in cities all over the globe and wherever there is a Starbucks you can be sure to buy a Frappuccino. 
In 1996 Starbuck began selling the first bottled version in stores across the U.S. and Canada. These bottled versions were immediately popular as they made it possible for people to enjoy Frappuccinos in their own home and stock up their kitchen fridges with the sweet, delicious beverages.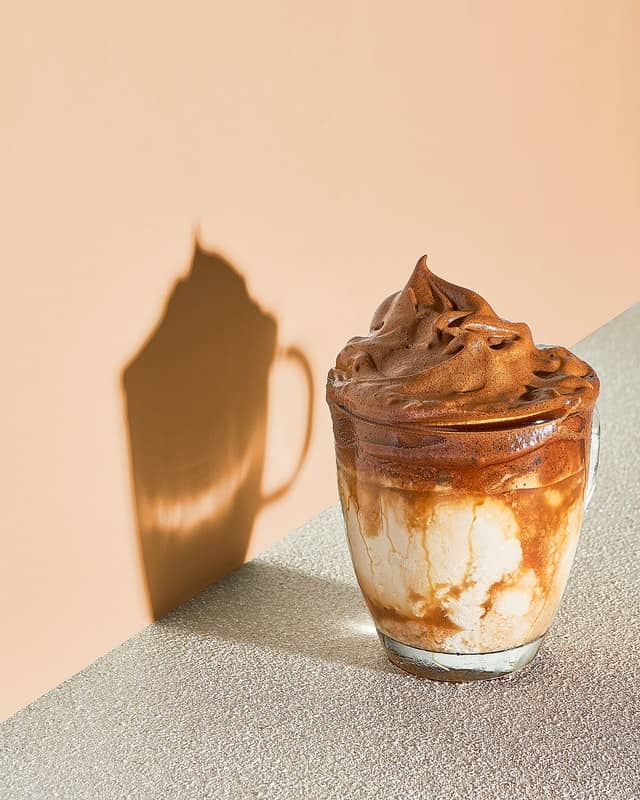 Nowadays bottled Frappuccinos can be bought in stores all over the world and are also available from Vending machines at companies and commercial buildings.
Other coffee chains cannot sell Frappuccinos because Starbucks own the sole rights, however there are many similar Frappe drink alternatives available. Caribou Coffee, Dutch Bros. Coffee and many many more chains and independents sell frappe drinks which are made from a blend from brewed coffee, creamy frothed milk, and flavored sugar syrups.
Some frappe drinks are as thick and creamy as milkshakes, and others are more slushy like iced-coffee. Most can be served with or without whipped cream. 
How can you make a Frappuccino at home?
As Frappes and Frappuccinos are so incredibly delicious, you may very well fancy making your own version at home. There is very little difference between a frappe and a Frappuccino, only that Frappuccinos taste slightly less coffee flavored. Starbucks Frappuccinos vs your home made coffee frap is a fun taste test to do.
And it really is very simple. Once you get the right ingredients and master the simple method you won't be able to stop making them and will be able to invite all your friends round to sample your creations too.
Ingredients
You will need:
One or two shots of espresso coffee (depending on how strong you like it, and whatever coffee types you enjoy)
Or alternatively you can use instant coffee or filter coffee if you don't have an espresso coffee machine available.
Crushed ice – you can blend ice cubes up in a whizzer if you don't have crushed ice
Milk (full, half or non fat milk) or any dairy free alternative you prefer
Sweetener (sugar, sweetener tablets or even honey)
Chocolate powder (for a mocha Frappe)
Any flavored syrups you can buy from the grocery stores
Whipped cream and chocolate sauce for the topping
Ice cream (optional)
Add a dash of boiling water to create a hot version
Method
Simply throw the espresso coffee, milk and sweetener (plus optional chocolate powder) into a food blender along with your ice cubes.
Whizz everything together until thick and creamy. Double the ingredients to make two drinks.
Pour into a tall glass and squeeze whipped cream and chocolate sauce on top.
Pop a straw in and enjoy with your feet up!
Final Thoughts
A Frappuccino. What's not to love? This iconic delicious mixture of iced espresso coffee with creamy milk, syrups, and whipped cream is the bedrock of our social culture.
It is loved by coffee enthusiasts who crave the caffeine buzz but want indulgence too, and by coffee newbies who haven't yet moved into the strong and sophisticated world of espressos and flat whites. Whether you're young or old, male or female, we all love a Frappuccino. 
Of course you do have to watch out for the excessive sugar and fat content which can impact your health. But there are plenty of alternatives to make your Frappuccino both cleaner and delicious.
Hope this guide on Frappuccinos has been helpful. Now go make your own!
More into chocolate-y drinks? Check this post to find your go-to Frappuccino order from Starbucks.
If you want to try an iced drink, check out the Iced Shaken Espresso.
Need an espresso machine? Check out our reviews on high quality machines like the De'Longhi, Breville, and Nespresso.
Want to sip on more coffee drink types? Check these out!
Coffee Has Never Read This Good!
Sign up for a FREE newsletter to the best home brewing tips and guides
Thank you for subscribing to The Cup Coffee House Crew! There's a surprise in your Inbox 🙂
Something went wrong.
About the Author
Latest Posts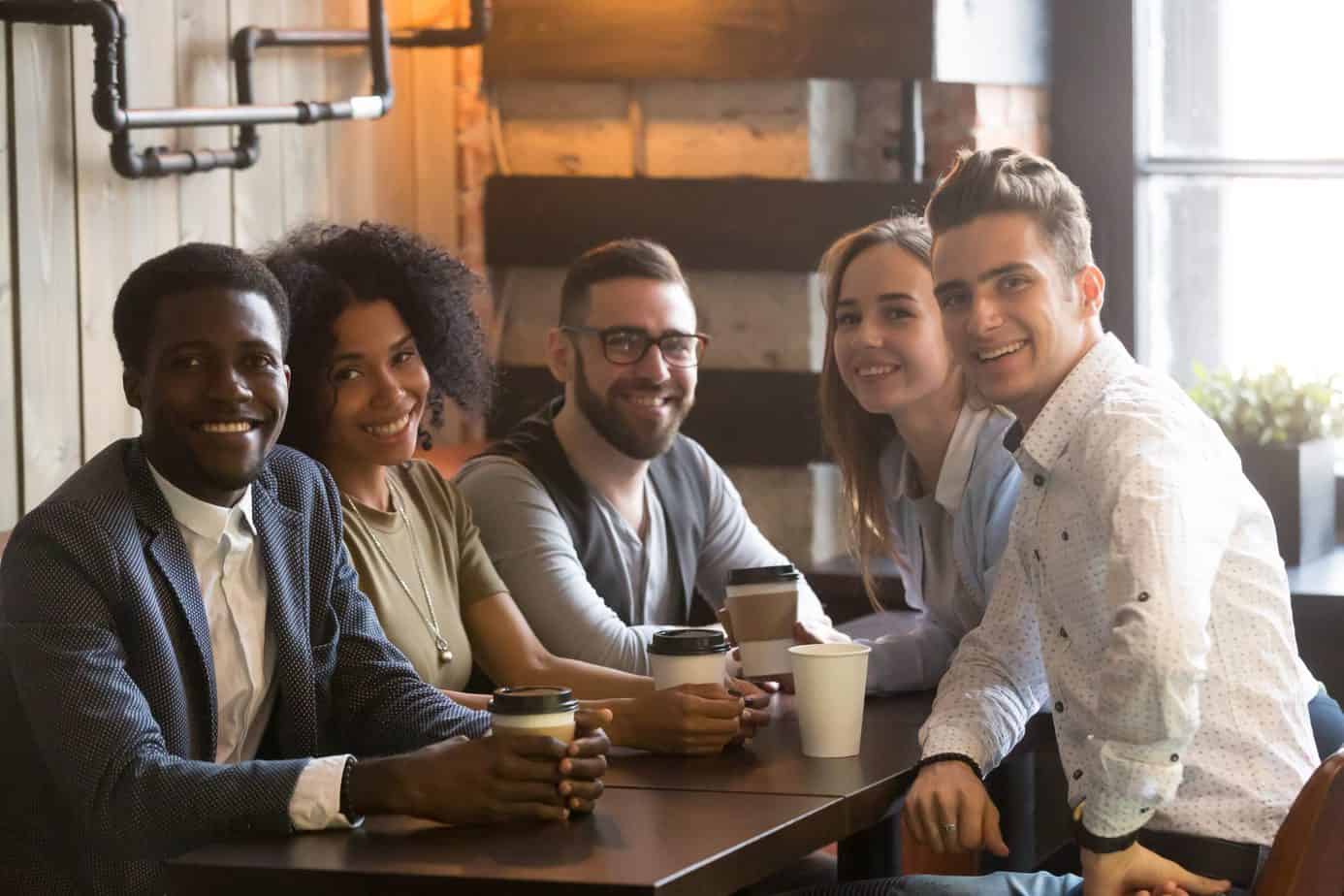 "Jules" is a pharmacist by day and investor, writer, and health nut by night. When he's not sipping on some coffee laced with MCT oil during an 18 hour fast, he is writing about how to get your coffee grind on or playing Monopoly with his 2 boys and wife. Ahh…life is good!