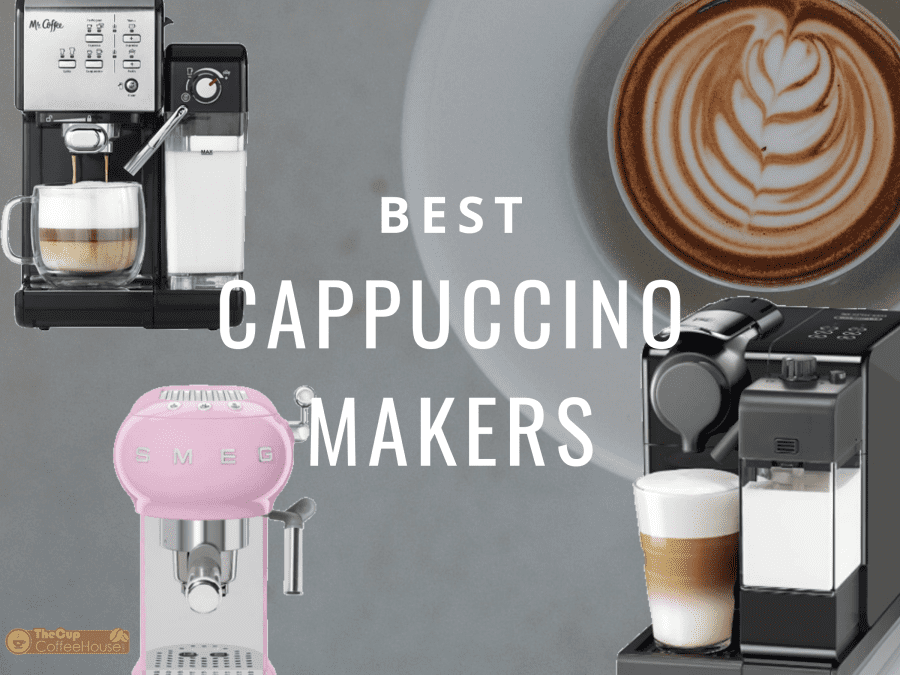 Cappuccinos are lovely to drink. That rich, creamy foam melts in the mouth and combines deliciously with a double espresso.
Luckily, you don't have to be a professional barista to make a good cappuccino! With good coffee beans, and the right machine, you can make cappuccinos at home that will rival even those at your local coffee shop. 
So, where should you start? We've researched some of the best cappuccino makers on the market for both novices and those serious about their technique. 
Want the quick summary? Our overall best choice goes to the Mr. Coffee One-Touch Cappuccino Maker. This machine has many automatic features. You can make a cappuccino or latte with just the touch of a button. Simply fill the portafilter with coffee grounds, select your size and brew style, and wait for the machine to get your cup ready.
The Mr. Coffee even tops your drink off with perfect cappuccino foam. You can now drink coffee shop-style drinks at home even if you're not a barista. Perfect for beginner to intermediate espresso drinkers looking to get started pulling foamy shots easily for a decent price.
Mr. Coffee One Touch Cappuccino Maker
A great choice for the cappuccino-lover who wants the best coffee drink without the hassle. With 19 bars, this Mr. Coffee makes an authentic espresso base and is both user-friendly and affordable.
Last update on 2023-02-07
Want to read more details? Hang tight, because we've got a few more cappuccino machines in store for you!
We'll point out the pros and cons for each model, and also give you a sneak peek at our buyer's guide so you can find your perfect machine.
---
What's the difference between a cappuccino and an espresso machine?
Often, you'll hear the terms espresso machine and cappuccino maker used interchangeably. This can lead to confusion. How are these two machines different?
First, remember that a cappuccino is basically a beverage with espresso as the base layer and some combination of steamed milk and milk foam on top, usually ⅓ espresso, ⅓ steamed milk, and ⅓ foam.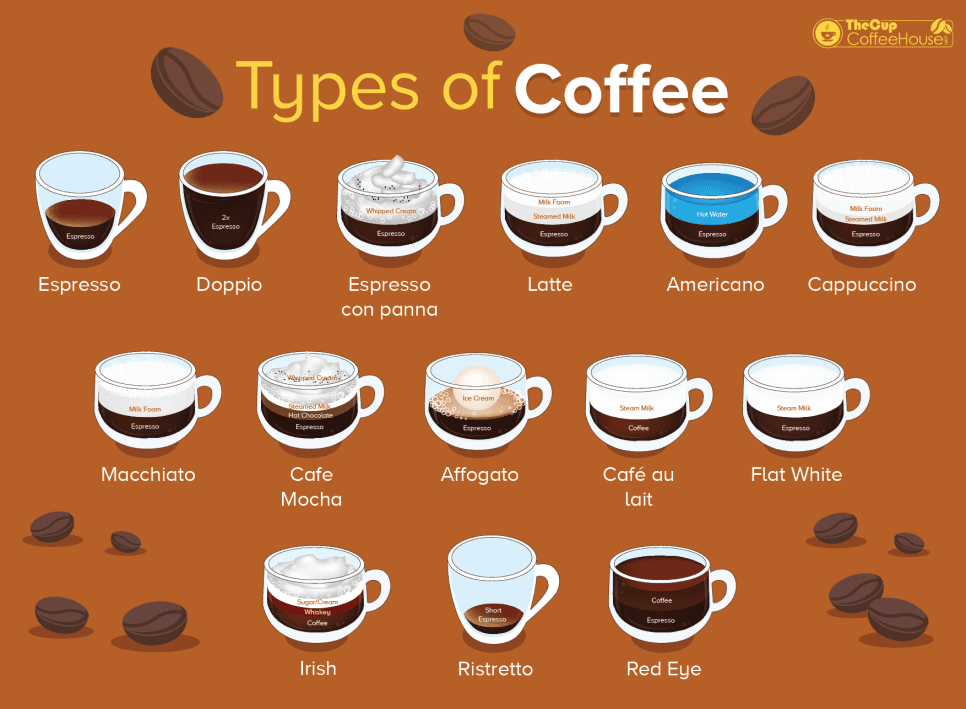 An espresso machine and cappuccino machine are similar in that they both create espresso. However, an espresso machine does not necessarily have an attached milk wand, while a cappuccino maker always does. (You can't make a cappuccino without frothed milk!)
Espresso machines can be manual, semi-automatic, or automatic. Most cappuccino makers will be semi-automatic, automatic, or even super-automatic.
Our List of 8 Best Cappuccino Makers
Who doesn't love to drink an Italian cappuccino? This creamy drink is a coffee-lovers' favorite and is perfect when you want to slow down and enjoy life European-style.
We've found 8 machines that are highly-rated by cappuccino fans. We chose machines to fit into your kitchen… and your budget! Some machines do most of the work for you, while others allow you to be the artist of your drink.
We've rated these machines based on the flavor of the brew, user-friendliness, and the overall value for the price. Let's have a look!
This cappuccino maker is simple to use. Just press the button that says "cappuccino" and watch it make your drink. It doesn't get much simpler than that! You'll get an authentic espresso base and consistent foam for each brew.
Things we like:
19 bar Italian pump
Easy to use
Compact size
Brews coffee with the touch of a button
Foams milk directly on top of your drink
Removable drip tray to accommodate taller mugs
Fair price
Things we don't like:
Review:
This Mr. Coffee One-Touch Cappuccino Maker is one of the simplest ways to get a good cappuccino. You don't have to be a barista to use it, either. Just fill the portafilter with your favorite coffee grounds and choose between a large or small cappuccino (or latte!). 
This machine will brew your espresso and add fluffy foam directly to the top of your hot drink. There is also a manual override button if you want to control the strength of your espresso and the amount of foam you use.
After you use the machine, make sure to clean it carefully–especially the tubes that bring the milk to your coffee.
With the Mr. Coffee One Touch Cappuccino maker you are sure to get a coffee shop quality cappuccino each time you press the button. The price usually runs at about $300 which is pretty fair for a cappuccino machine with automatic features and 19 bars of pressure.
What others are saying about this machine:
Most customers were very satisfied with the Mr. Coffee Cappuccino Maker. Customers agree that this machine is easy to use, and makes great coffee. However, many mention that it is not a quiet machine.
Our Final Verdict:
The Mr. Coffee is a great choice for the cappuccino-lover who wants the best coffee drink without the hassle. This machine makes an authentic espresso base and is both user-friendly and affordable making it our top choice.
For more of Mr. Coffee's best coffee machines, check out our full review and comparison.
#2. Best Cappuccino Maker under $100: DeLonghi EC155 
This cappuccino maker makes your espresso using 15 bars of pressure, and does so at an affordable price! For right at $100, you can get a solid brand name machine and craft your own cappuccinos.
Things we like:
Reliable semi-automatic machine
15 bars of pressure 
Capable of back to back cups of espresso
Less than $100
Things we don't like:
Low cup clearance
Manual pulling
Review:
DeLonghi is a well-respected brand among coffee fans and purists, and they bring a semi-automatic cappuccino machine to the table for less than $100 (ok, about 5 cents less, but still!).
You can brew one single shot of espresso, or two at a time. Its Advanced Cappuccino System keeps the water at a steady temperature. So, you don't have to wait if you need to brew a few batches of espresso back to back. 
With its 15 bars of pressure, you will get an authentic espresso and a layer of crema with this cappuccino machine. Once you've pulled your shot of espresso, use the steam wand to top off your drink with smooth and creamy milk froth. 
This machine is more compact than many other models and won't take up too much space on your countertop. However, its compact size is a bit of a blessing and a curse. The cup clearance from the drip pan to the bottom of the portafilter is only about 2.5 inches. So you will need to brew into an espresso cup or an extra-short mug with this machine. 
Also you will need to pay attention to the best time to stop your machine as it operates manually. With practice you can get pretty good at pulling an espresso shot with the perfect timing.
What others are saying about this machine:
Most customers thought the De'Longhi EC155 was a decent machine for the price. Many commented that it is a reliable machine and makes good espressos with tasty crema. 
Our Final Verdict:
This affordable machine has everything you need to make a yummy cappuccino. Simple, easy to clean and maintain. It may not be the fanciest cappuccino maker on the market, but for the price, we say you can't go wrong with the De'Longhi EC155.
Looking for a cappuccino machine that uses pods? The Nespresso uses 19 bars of pressure to brew capsules and foams milk, as well! 
Things we like:
Crafted in Italy
Uses coffee pods
19 bars of pressure
6 one-touch recipes
Heats rapidly
Milk froth regulator
Large milk container capacity for several uses
Easy clean-up
Recyclable pods (U.S.)
Things we don't like:
Nespresso coffee pods can be difficult to find.
Review:
The Nespresso Lattissima Touch is a pod cappuccino maker that makes the barista-life look easy. Just pop in a pod, select the specialty drink you want, and let it brew. This cappuccino maker heats up in less than 40 seconds for milk-based drinks.
If friends are over, you can even brew a few cappuccinos back to back with its extra-large milk tank. You can adjust the froth to suit your taste.
Nespresso not only makes it easy to brew your favorite coffee drinks, but they also make sure that clean-up is just as easy. The pods automatically drop into a waste container after the brew is done. When the waste container is full, the pods are safe to recycle according to U.S. standards. Even more points in Lattissima's favor!
This machine is a little pricier than your average pod machine, however. The Lattissima generally sells for a little above or below the $500 mark.
What others are saying about this machine:
Customers loved that the Nespresso Lattissima brews consistently great-tasting coffee drinks. Some say it is better than Starbucks.
Our Final Verdict:
This is very possibly the simplest espresso cappuccino machine to operate on our list. We love that the Nespresso Lattissima Touch gives you an easy way to brew a cappuccino (or latte or macchiato) by using pods. And, (unlike most pod machines) you can still get that authentic espresso taste with its 19 bars of pressure.
Nespresso makes the cappuccino process easy, but doesn't sacrifice the quality of your coffee brew. Perhaps the extra attention to flavor is because this machine was crafted in Italy?
For a more in-depth discussion, check out our full review on the Nespresso Lattissima Touch.
For Keurig fans, Keurig also has a pod cappuccino maker that is worthy of a look. Check out our review on the Keurig K-Cafe and other Keurigs.
The Barista Express is for those who are passionate about their craft. This professional-style cappuccino machine takes your brew from bean to cup for a mid-range price. 
Things we like:
15 bar Italian pump
Pre-infusion 
Conical burr grinder with dose-control
Grinds beans directly into portafilter
Adjustable grind size
Steam wand for textured milk foam
Things we don't like:
Review:
If you want to turn your kitchen into an at-home coffee shop, this is the machine for you! The Breville Barista Express is a professional-style cappuccino machine that will fit well on your kitchen counter top. It allows you much more control over the process of making your cappuccino. It also takes you from whole beans, to espresso, and down to the milk foam on top.
The Barista Express will grind fresh beans directly into your portafilter. It even measures out the correct dose you need for your espresso. As you start your brew, hot water pre-infuses your coffee grounds to extract the full flavor. After you pull your shot, the 360 degree swivel action on the steam wand allows you to texture your milk to foamy perfection. 
This Breville is one of the more expensive machines on our list running at about $700. Still, considering many other machines in its gamut sell for $1000 or more, we'd say the price is fair.
What others are saying about this machine:
Most customers love the taste of the Breville Baristas brew. They mention that you may need to learn the machine at the start, but it is worth it in the end.
Our Final Verdict:
If you want to bring the joy (and taste!) of a coffee shop to your home, the Barista Express can be a great option. This cappuccino maker allows you to be the artist and creator of your favorite drink. While it may be pricey, you're likely to reap a good return on your investment just from all the latte's and cappuccinos you will save from Starbucks.
For more discussion on Breville's top machines, see our review on the best Breville coffee makers.
This fully automated machine grinds your beans, brews espresso, and froths the milk for your cappuccino. It's also easy to clean after. If you enjoy the hands-off approach, it can't get much better than this.
Things we like:
8 coffee drinks
Ceramic grinder
LatteGo milk frother
Aroma extract brewing system
User-friendly display
2 user profiles + guest profile
Easy to clean
AquaClean water filter
Things we don't like:
The price tag (not surprisingly)
Review:
The Philips 4300 LatteGo is a user-friendly machine that takes your cappuccino from bean to brew to foam. You can just press a button and stand back and watch it go to work like a small automatic coffee shop on your counter! The only thing you may miss from the coffee shop experience is the barista calling you by the wrong name.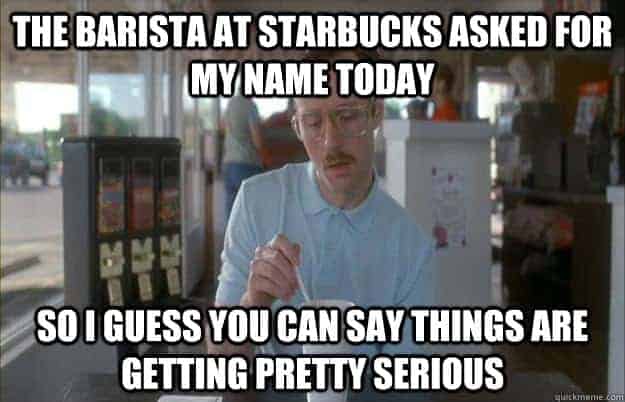 If you want to specialize your drink even more, you can create and save your drink under a user profile. That way, your personalized drink will be ready for you next time you go to brew.
One of our favorite features of the Phillips 4300 (besides the ease) is that it has no tubes or hidden pieces in its milk frothing system. The frother is made using two parts so you can clean it easily and don't have to worry about bacteria build-up. You can even place the parts in the dishwasher.
This dream machine may set you back a bit of cash though, about $900 to be more exact. Still, depending on how often you throw down $5 on your favorite drink at your local coffee shop, it could pay for itself within a year.
What others are saying about this machine:
Customers raved about the great taste and the friendly design of this Philips machine. 
Our Final Verdict:
The Philips 4300 LatteGo will make your cappuccino just like you order it with minimum effort on your part. And you won't have to stand in long lines to get it! We love that this super automatic cappuccino maker is easy to use and clean. You get what you pay for right?
For more great latte maker picks, check out our Guide to the Best Latte Machines.
The Smeg gets the award for the best looks! This retro-style machine is simple to use and you can even cheat and use ESE pods if you like. Pick a color to match your style.
Things we like:
15 bars
Single or double espresso button 
Steam wand
Adjustable Cappuccino system
Flow stop function
Adjustable water temperature
Sleek, user-friendly design
Cup-warmer
Includes filter for ESE pods
Things we don't like:
Review:
This eye-catching semi-automatic espresso maker looks like it comes straight out of the 1950s. You can choose from the classic black or red diner colors or go for pastel green, blue, cream, or pink. But this machine can do more than just look pretty on your kitchen counter!
The Smeg brews with 15 bars of pressure so you'll be sure to get the crema on top of your espresso. Its Thermoblock heating system allows this machine to heat up quick and maintain an ideal water temperature. You get to control the size and strength of your brew with this machine's flow-stop function. The Smeg even comes with a cup warmer on top!
This machine is user-friendly with just three main buttons to navigate. If you don't feel like grinding fresh coffee and tamping it into the portafilter, you can make it easy on yourself and use ESE pods in this machine. 
What others are saying about this machine:
Overall customers were delighted with this Smeg cappuccino machine. Many noted that it heats up quick, makes good tasting coffee with crema, and is cute on the kitchen counter. 
Our Final Verdict:
While the Smeg is a essentially a semi-automatic cappuccino maker like the affordable DeLonghi EC155, you will pay a little extra for the Smeg name and iconic look. This machine is sure to make a splash in your kitchen and deliver a tasty cappuccino for those who appreciate a designer feel.
Tried and true, the crowd favorite and reliable Ninja offers the flexibility of making great tasting coffee or delicious milk based espresso beverages for a fair price.
Things we like:
6 brew sizes (cup to carafe)
Over-ice option
1 hour auto shut-off
Built-in milk frother
Delay brew option
Removable water tank
Things we don't like:
Won't heat milk
No bars of pressure
Review:
The Ninja Speciaty coffee maker will make you a regular pot of joe, or specialty drinks such as cappuccinos and lattes. It even gives you the option to brew over ice. 
The Ninja brand is known for great-tasting coffee, and this machine is no different. It starts its brew cycle by blooming the coffee grounds with even temperature. Then it saturates the grounds evenly for a flavorful brew. 
While this machine has a lot going for it, the closest you get to espresso is concentrated coffee. The Ninja does not brew with pressure. Regardless, most customers have been satisfied with the taste of Ninja's specialty drinks.
What others are saying about this machine:
The Ninja gets 4.7 stars out of over 13,000 reviews, so it definitely has its own fan club. Customers commented that the coffee is rich with flavor. 
Our Final verdict:
The Ninja Specialty Coffee Maker is a great choice for coffee drinkers who like to keep their options open. This machine will brew for a crowd, or you can turn your kitchen into a mini-coffee shop and impress your friends with your lattes and cappuccinos. 
For more discussion on Ninjas top machines, see our review on the best Ninja coffee makers.
This cappuccino maker is both cheap and cute. It might not be from the most well-known brand, but it has 900 reviews to back it.
Things we like:
5 bars of pressure
Milk wand
Brews up to 4 cups
User-friendly
Things we don't like:
Review:
This super-compact machine tucks easily into any kitchen corner, however, it will still catch your eye for its cuteness. You can choose between a flashy red, or a more subdued black machine. 
For cappuccino makers, the Imusa is pretty simple to operate. And its portafilter holds enough grounds for 4 shots of espresso. This machine can be useful in a crowd. 
The Imusa brews with 5 bars of pressure, which means it doesn't quite get the SCA "authentic espresso" badge. However, you will get more pressure with this machine than a stovetop moka pot. After you've pulled your shot(s), you can use the steam wand to foam milk for your cappuccino. 
For 50 bucks, we are liking what we see!
What others are saying about this machine:
Most customers were pleased with the look, size and price of the Imusa cappuccino machine. Many were pleasantly surprised with the taste as well. Some said that they weren't able to tell the difference between specialty drinks from this machine and coffee drinks made by more expensive machines.
Our Final Verdict:
The Imusa is a machine that is simple to use, can brew an espresso base for 4 drinks at a time, and looks cute on your kitchen counter. For the price, we think this machine holds up its end.
The Imusa is the most affordable cappuccino maker on our list right at $50.
How do I make a cappuccino in a semi-automatic machine?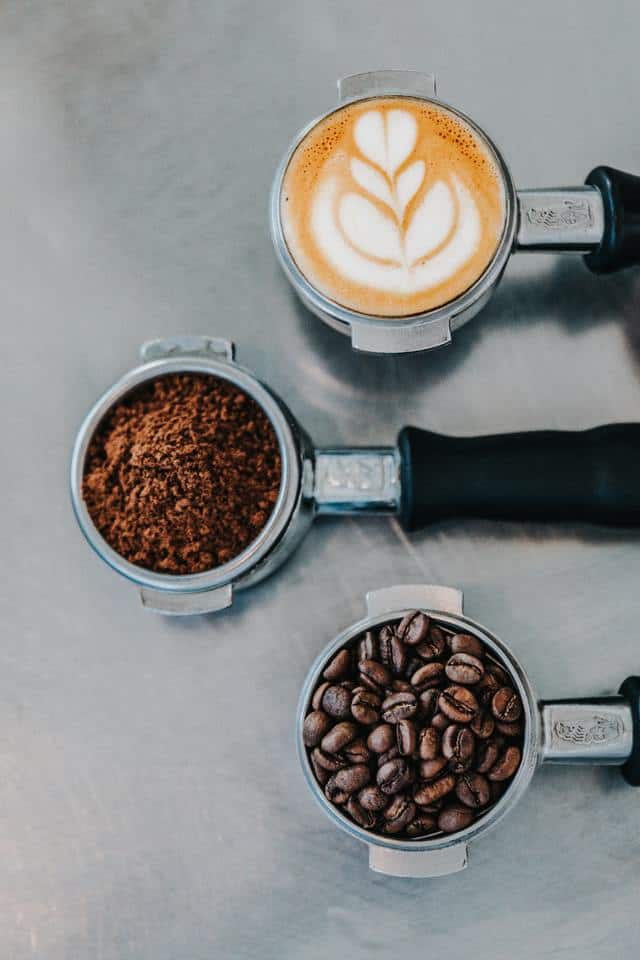 When you make a cappuccino using a super automatic machine, the process is pretty straightforward. You just fill the milk reservoir, choose your mug, and press a button. Voila! The machine makes you a cappuccino just like you ordered. 
However, when you use a semi-automatic machine, things can get tricky. You have to know a bit about your favorite beverage to make sure it comes out just right. 
A classic cappuccino will layer espresso, steamed milk, and milk foam equally. So, to start off, you'll want to pack your portafilter with coffee grounds. Then pull your shot into a mug that holds at least 5.5 ounces. 
You have to time your own shot with a semi-automatic machine. So aim for cutting it off between 25 and 30 seconds. After you've pulled your shot, use your machine's steam wand to steam and froth your milk.
To make milk foam for a proper cappuccino, you will want to steam and froth whole milk until it becomes smooth, velvety, and doubles in size.
First, tilt your stainless steel milk pitcher slightly and lower the steam wand below the surface of the milk. Place the wand so that it creates a whirlpool effect in your milk. The milk pitcher should not become hot to the touch.
Once the milk increases in volume and the pitcher is warm to the touch, you can top off your espresso.
Use a spoon to hold back the foam while you pour your steamed milk, then spoon the foam on top. Or, you can also try some fun latte art! Remember, you want to keep the balance of ⅓ espresso, ⅓ steamed milk, and ⅓ foam. 
Enjoy! Now you are ready to enjoy a proper cappuccino with rich, fluffy foam! Congrats on your barista skills.
What to Look For in a Cappuccino Machine: Buyer's Guide
When buying an espresso cappuccino maker, you'll find thousands of machines on the market. So, how do you narrow down this seemingly endless list of machines to find the best cappuccino maker for your home? 
We'll weigh in with a few of our thoughts to help you decide.
How many bars of pressure does it have?
Bars of pressure may be one of the most important considerations when buying a cappuccino maker. For the SCA, an authentic espresso begins with nine bars of pressure or more. 
Some cappuccino makers just brew a strong concentrated coffee base for specialty drinks. This will work for lattes and cappuccinos if you're not too picky. However, this espresso-like base won't taste that great on its own.
Other more top of the line machines will give you 15 bars of pressure or more for a smooth espresso with crema on top. For reference, Starbucks and most coffee shops use 19 bars to brew espresso for their cappuccinos.
Do I want to take the easy route or try out my barista skills?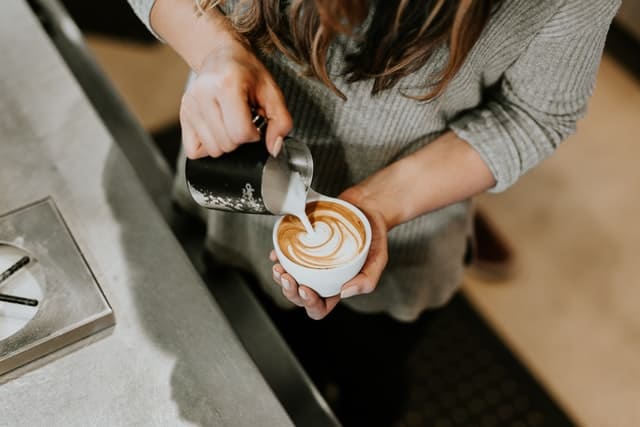 If you like a quality cappuccino, but don't need to necessarily be a part of the process, you may like an automatic or super-automatic machine. With these machines, you don't need to time your espresso shot, because it cuts off your shot for you at the perfect moment. Some fully automatic machines even grind your coffee beans, brew them and then froth your milk for you. This is basically like having a robot barista in your kitchen.
However, some like to take a break from a busy lifestyle and enjoy the time spent making coffee. If you like to treat your coffee drinks as an artform, you can choose a semi-automatic cappuccino maker. These machines allow you to have the most control over your brew. You'll get to fill your portafilter, tamp it, time your brew, and try your hand at milk frothing. 
Many coffee aficionados claim that you can make the best cappuccinos with semi-automatic machines. But it may take some trial and error on a new machine to perfect your art.
Does it include a grinder? If so, what kind?
Super-automatic cappuccino makers often include built-in grinders. This ensures that you get fresh-tasting coffee every time. However, not all grinders are created equally. 
Blade grinders tend to be a cheaper add-on. But ceramic burr grinders will give you a more consistent grind for a better extraction when you brew.
How much does it cost?
Cappuccino machines are usually more expensive than your ordinary coffee maker. Some high-end machines can even run up to (or over) $1000.
However, if you are looking for a machine on a budget, you can find some cappuccino machines under $200 or even under $100. That's about the same price range as a regular Keurig machine. 
How much space does it take up on my counter?
Cappuccino makers are known to hog the counter space. It just comes with the territory. But some take up more space than others.
If your space is tight, you may check the measurements of the espresso maker before you make your final decision. We've found a few compact models to check into.
Final Thoughts
Cappuccinos are the perfect comfort coffee drink for cold-weather days or a mid-afternoon pick-me-up. With the right cappuccino maker, you won't have to leave the comfort of your home for this delicious drink. 
Our best recommendation was the Mr. Coffee Cappuccino Maker. We like it as a great choice for the cappuccino-lover who wants a great tasting drink without the hassle. Not only is it user friendly and affordable, but it makes an authentic espresso base that both beginners and enthusiasts can appreciate.
Of course, you may also consider other high quality cappuccino espresso machines made by popular brands like Breville, Miele or Jura.
Overall, we've shown off some of our favorite cappuccino machines and let you in on some of our best cappuccino brewing tips. So, whether you like a machine that does the work for you, or enjoy testing out your barista skills, you can find the machine that is right for you!
FAQs
Is it worth it to buy a cappuccino machine?
Automatic cappuccino machines can be a great way to bring specialty drinks to your home. These machines can give you authentic espressos and perfectly frothed milk at the touch of a button. If you value a consistent quality espresso based beverage when you want it, then it may be worth it. However, if you really want to test out your barista skills, a semi-automatic machine lets you have more control over the flavor and texture of your cappuccino.
What is a portafilter?
A portafilter (also known as a portaholder) is a feature on semi-automatic espresso machines. It holds your filter basket and coffee grounds when you brew espresso. Fill your single or double filter with grounds, then, using the handle, twist and lock the portafilter into your machine's brew head.
How many bars of pressure should a cappuccino machine have?
Unlike your average cup of joe, espresso takes only 20 to 30 seconds to brew and it brews under pressure. The Specialty Coffee Association stipulates that authentic espressos should be made with at least 9 bars of pressure. However, many espresso and cappuccino machines have 15 or more bars. These bars of pressure pull the best flavors out of your beans and also give you a delicious layer of "crema" on top.
Coffee Has Never Read This Good!
Sign up for a FREE newsletter to the best home brewing tips and guides
Thank you for subscribing to The Cup Coffee House Crew! There's a surprise in your Inbox 🙂
Something went wrong.
About the Author
Latest Posts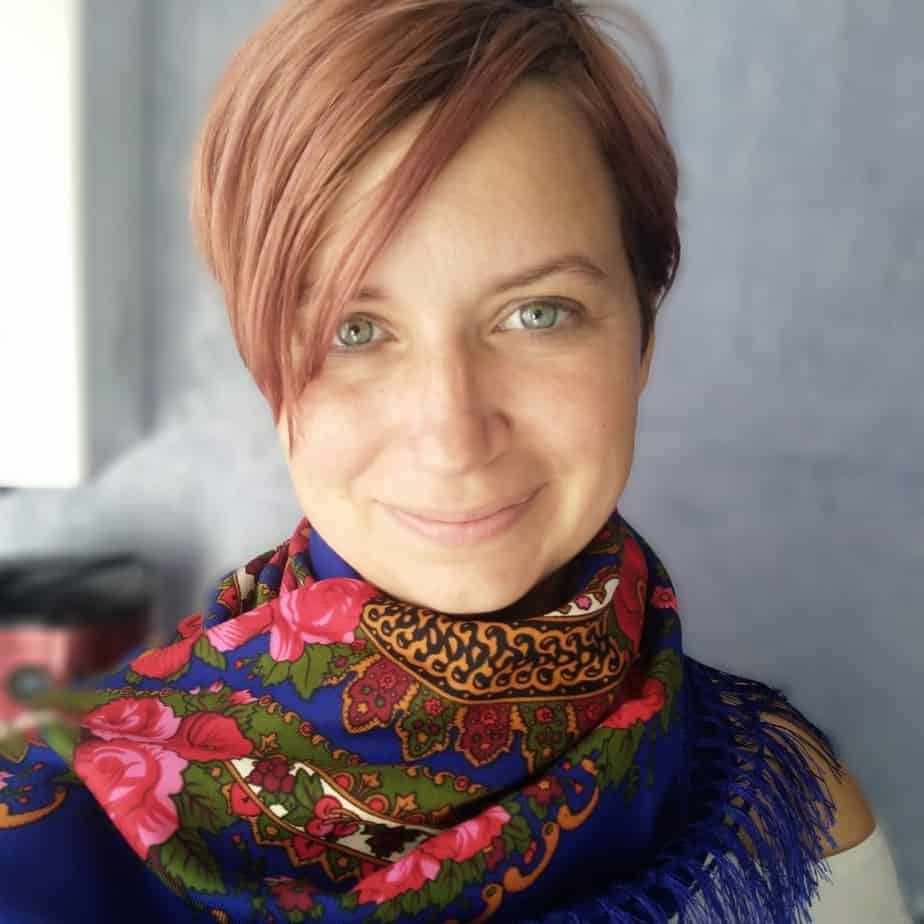 Alex Praytor worked her first job as a barista, finished college, and then took a tour to the other side of the globe. She fell in love with espresso and her would-be husband in Europe. She spends her spare time visiting native Texas landmarks, ancient castles, and all the coffee shops she finds along the way. At home, she is a mom, ESL teacher, and writer, who hones her coffee-making skills daily. She enjoys passing on her coffee findings to fellow caffeine addicts in search of the perfect cup.
Chief Editor