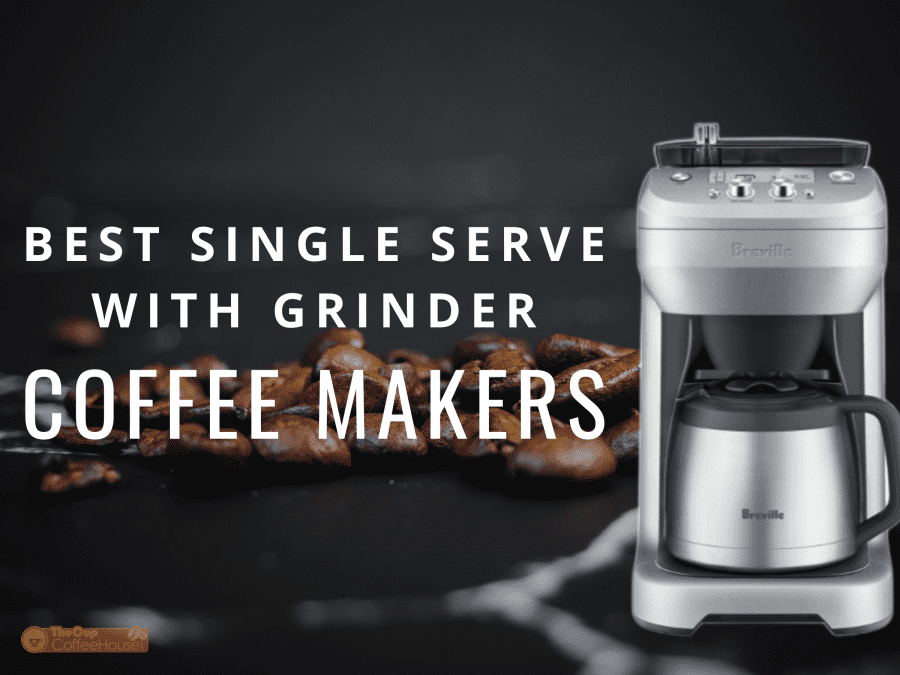 There is no arguing that freshly ground coffee beans are the way to go. However, if you are the lone coffee drinker in your family like I am, you may have run into some struggles.
I love the rich taste of a cup of coffee that is made with freshly ground coffee beans. But, it always seems like more trouble than it is worth to grind beans (manual or electric) every morning for just one person. This means grinding a batch that will hold me over for one or two weeks or just give in and buy the bags of pre-ground coffee. (don't judge me!)
But, what if there were a coffee maker that offered to grind your beans for you before brewing your single cup? Would this change your life for the better?
Well, there is. And it will!
For those of us who drink our coffee alone, there are single-cup coffee makers with built-in grinders. These coffee machines not only can brew us up a cup but will also grind the beans fresh each time. We searched the market for the best single cup coffee machines with grinders and have left our list of "bests" below. 
Last update on 2023-03-21
Want the cliff notes? Our top pick is the Breville Grind Control Coffee Maker. This machine has pretty much everything we could wish for in a single cup coffee maker with a built-in grinder. It allows you to control the grind size of your beans and strength of your brew. You can also brew directly into a travel cup or a larger thermal carafe. You get a top-quality burr grinder, a large bean hopper, and a 60 oz tank, as well. Perfect for on the go coffee drinkers who know exactly what brew and flavor they like.
---
Best Single Cup Coffee Makers with Grinders
While the Breville stole our first place spot, there are also a few more single serve coffee makers with built-in grinders that had a lot to offer. We included coffee makers that give you the most control over your brew and machines with a one-touch brew button. These machines can fit into every budget and range in price from $50-$800.
Take a look and find your best machine!  
Things we like: 
Stainless steel burr grinder
Stainless steel thermal carafe
60 oz. water tank
Large hopper 
LCD panel
Brew strength settings
Adjustable grind size
Programmable brew
Travel cup compatible
Things we don't like:
The gold-tone filter allows some sediment in your cup.
It comes with a higher price tag.
Review:
The Breville brand is well-known in the coffee circles for brewing an outstanding cup. And this machine lives up to those standards. This coffee maker uses a stainless steel burr grinder and can give you better flavor than a blade grinder. 
With the adjustable grind size, you have more control over your cup of coffee. A finer grind will give you more extraction and a stronger flavor, while a coarser grind will give you a more mellow cup of coffee. However, using the finest grind size with an oily, dark roast can clog a grinder, so just be aware.
The LCD screen keeps track of the options you have chosen for your brew. This makes it easy to adjust according to your taste and preferences.
We love that this single cup coffee machine will brew directly into a travel cup. So, if you have to get to work or take your kids to school, you can easily brew just one cup and take your coffee on the road.
What others are saying about this machine:
Most customers agree that the Breville can deliver great-tasting coffee. However, it may take a bit of effort at the beginning to calibrate your machine and get to know it. 
After you have successfully calibrated your machine, you will want to try out different grind-sizes and brew strength combinations until you find your "perfect cup." Also, paper filters can help you get the cleanest taste.
Our verdict:
We love that the Breville gives you the maximum control over the taste of your brew with its adjustable grind sizes, pre-infusion, and brew strength options. It can even brew directly into your cup!
If you like to adjust your brew to your personal taste, this machine may be for you. However, if you don't like to make so many decisions in the morning, we get that too. Keep reading…
Things we like:
Built-in conical burr grinder
1-4 cup setting or 12 cup capacity
Grind-off feature for pre-ground coffee
Brew pause
Charcoal water filter 
Reusable filter
Easy to clean (removable parts)
Dishwasher-safe
Auto shut-off
Things we don't like:
You must refill the bean hopper for each brew.
The grinder is noisy.
Review:
The Cuisinart coffee maker has a 12 cup pot, but also has the capability to brew a single cup of coffee. The flexibility of this machine means that you can fill it full to have coffee with friends. But, then when you are on your own, you'll still get a great, full taste with just a single cup.
One of our favorite aspects of this machine is that it has a built-in conical burr grinder. This could be worth the money on its own! A good quality burr grinder can cost the same amount as this machine.
If you want to try out a new flavor of ground coffee, you can choose the grind-off option. 
 Also, the charcoal filter ensures you get a great clean taste for your brew. 
The clean-up should also be easy since many of the parts can be removed and washed in the dishwasher. 
The biggest drawback we see for this machine is that you have to measure the right amount of beans for each brew. Still, this machine has a lot going for it in its $100 price range.
What others are saying about this machine:
Other customers state that this machine is well-made, designed well and durable. Some disliked that all the pieces of the machine have to be cleaned after each use. 
They also disliked that the machine won't measure your beans for you. You have to add the exact amount of beans to the grinder for each brew. 
While some complained about the noise of the machine, we feel like most will expect a machine with a grinder to be louder than your normal brewer.
Our verdict:
We think the Cuisinart Grind and Brew coffee maker has a good value for the price. While we like our single cup coffee makers to automatically measure and grind our beans from the hopper, we still love a lot of its features. This coffee pot can be a single-serve or brew for a crowd. It also accepts ground coffee if you so desire. The Cuisinart gets stars in our book for flexibility and makes a great option to sit on your kitchen counter top.
Things we like:
Burr grinder
Bold brew option
Adjustable grind size
Espresso or coffee
LED panel
Touch screen
Compact size
One-touch brew
Things we don't like:
No option for larger groups… but hey, this is a single-cup coffee maker article, right?
Review:
The Tchibo is a German-engineered machine that has made its way to the States. This means that you can get that great cup of strong, European coffee without having to buy a plane ticket. We love that this single-serve coffee maker can serve espresso with crema on top, or an 8-oz cup of coffee. It is rare that one machine can give you both!
This machine does most of the work for you…almost like going to your favorite coffee shop. So, if you like to just brew a straightforward cup of coffee without measuring out beans, or creating a profile for your drink, this could be your machine.
The Tchibo will grind your beans using a burr grinder and send the right amount to your brew. And, all you have to do is press "play." Life just got a lot simpler.
What others are saying about this machine:
Most say that this machine beats out Keurig with its great flavor and that you can get a nice foamy crema on top of your cup of coffee. Some say the removable water tank is a bit tricky to remove.
Our verdict:
We love that Tchibo puts flavor as a top priority and that you can get a Euro-style espresso or a regular cup of Joe out of this machine. It takes the headache out of the brewing process by measuring your beans for you. The price comes under $400 which is a fair value for an espresso machine that also grinds your beans.
Things we like:
Automatic pour-over coffee maker
Make and save your own brew profiles
Adjustable flow-rate, grind-size, and temperature
Intelligent scale
Cleaning up is easy
360-degree rotating spout
Touch-screen
Things we don't like:
The price tag. It's a little steep in the $800 range.
Review:
If you want to get your coffee making down to a science and you're not held back by a strict budget, this machine can be a treat. The Gevi 4-in-1 is a next-level automated pour over machine.
This Smart brewer allows you to adjust the grind size and save recipes and instructions. If you are a seasoned barista, you can experiment with different brew profiles. Or, even if you are just learning about the art of pour-overs, this machine can walk you through the steps to brew the perfect cup.
Most use this as a pour-over machine, but that is not carved in stone. You can forgo the hot water tap and adjust the grinder to the appropriate setting to make espressos, filter coffee, French press, and more. 
While this machine is costly, the price is slowly coming down a bit and currently runs in the $800 range instead of floating around the $1000 mark. Still, it's a chunk of change that not all are willing to shell out… even for a coffee maker as high-performing as this one.
What others are saying about this machine:
Customers agree that the Gevi makes an amazing brew each time. You can adjust the machine to get the taste you crave, and then get that customized brew each time. 
Our verdict:
If you have the money in the bank, and its available, this Gevi can be a dream come true. We love that you can set up this machine to brew exactly to your most precise specifications. While this machine may not be for the purist who likes a more tactical approach, the technology and precision can wow techies and coffee fanatics alike. 
Things we like:
2-10 cup coffee maker
Conical burr grinder
5 grind settings
3 flavor options
Dishwasher-safe parts
Pause and serve
LCD screen
Gold-tone reusable filter
Warming plate
Programmable brew
Things we don't like:
You have to agitate the beans to continue grinding.
The beep alert when the brew is done is loud and can't be turned off.
Review: 
The Krupps coffee maker with grinder will make you a single 10 oz. cup of coffee, or you can brew a larger batch at 10 cups of coffee. This machine also gives the coffee drinker several options to heighten the experience. You can choose a mild, regular, or bold brew and adjust the grind size until you get the perfect taste. 
The LCD screen is easy to use and you can program your brew for the next morning. If you can't wait for your pot to finish before getting a taste of your brew, the pause and pour feature allows you to pull the pot out early without suffering consequences.
We like the flexibility the Krupps offers and the fact that you can wash many of the parts in the dishwasher!
What others are saying about this machine:
The coffee tastes great and the hopper is easy to clean. Some customers had difficulty with the grinder clogging.
Our verdict:
We like a lot of the features the Krupps has to offer. It gives you a lot of options for grind size and brew strength to get the flavor you want. This single cup machine has a larger capacity and can make coffee for one or for many. You can also pre-program the brew. However, some customers found this machine to be hit or miss with its long-term reliability.
Things we like:
Compact size
Accepts beans or coffee grounds
Includes thermal travel mug with sleeve and lid
6 oz to 16 oz 
Dishwasher-safe, removable parts
Inexpensive
Things we don't like:
Blade grinder (not burr)
Plastic parts
Not built for heavy-useage
Review:
This single cup coffee maker with a grinder comes at a great price. You can find a PowerXL Grind & Go for about $50, in fact. It is pretty straightforward to use, just add the right amount of beans and it will grind them and brew them directly. You can adjust the grind size on this machine or you can choose to use pre-ground coffee.
Cleaning up is also easy with the PowerXL. The BPA-free plastic parts can detach from the machine and go in the dishwasher. 
This lightweight machine can be a nice coffee maker to pack and go or to use in small spaces. It even includes its own travel mug! However, if you are planning on brewing coffee several times a day, you may want to invest in a more durable coffee maker.
What others are saying about this machine:
Most say the PowerXL does a great job brewing coffee while it lasts! Some have had great luck with these cute and compact brewers. However, some customers had complaints with their machine when they chose a fine grind or set up the machine in high-traffic areas. 
Our verdict:
We like the compact size and features the PowerXL Grind & Go offers for its price tag. While it may not have the durability or a top-notch burr grinder like other single cup machines, you can save some dollars up front. 
How to Pick a Single Cup Coffee Maker with Grinder (Buyers Guide)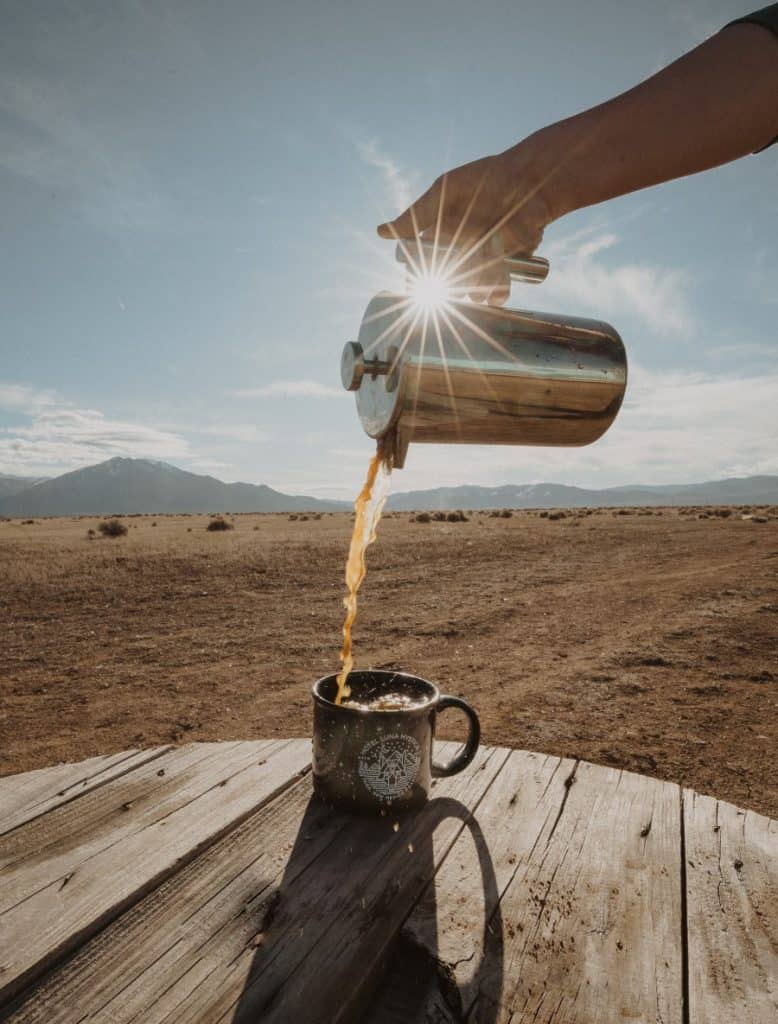 As you begin your search to purchase a single cup coffee maker with a grinder, you may want to take a check-list with you to make sure you are getting the best value for your money. Here are some things to take into consideration…
The Brew Size
If you are reading this article, you are probably looking for a machine that will brew for one person. Keep in mind that "2 cups" on a coffee machine means one 10 oz mug of coffee. (For reference, a Starbucks tall size is 12 oz.) However, some of the machines on our list offer you the option to brew for others, as well. 
If you drink alone on the weekdays, but frequently have friends over on the weekends, it may be worth considering a machine that is flexible on the number of cups it makes. One of our favorite points of the Breville Grind Control was that it will brew into a carafe or directly into a travel mug.
Your Brew Style
Do you like a regular American-style cup of Joe? Or are you a fan of pour-overs, or espresso? If you enjoy a rich cup of coffee or shots of espresso, you may be interested in the Tchibo which brews strong coffee and shots. If you like pour-overs, the Gevi offers precise brewing technology for a price. Once you decide what style of coffee is your groove, you can start narrowing down your options.
Brew Control or a One-Touch Button?
Some coffee fans like to have as much control over their brew as possible. And many single cup coffee makers with grinders give you a list of options. They allow you to choose your brew strength, grind size, flow rate, temperature, and more. This allows you to create a cup of coffee that is personalized to your tastebuds.
Then other coffee lovers, just want a cup of coffee that will brew itself with a touch of a button. You may not need to be part of all the decisions being made. You just want a reliable brew that will taste good and wake you up in the morning. There are also machines that will grant your wish.
So, which type of coffee drinker are you? 
The Travel Mug
I personally love a coffee maker that will brew directly into a travel mug. This saves you an extra step and gets your coffee ready to take on the go.
However, not all coffee makers are built to be compatible with a travel mug. Or, some coffee makers will limit what size travel mug will fit under the drip.
If in doubt, measure your favorite mug and see if it is compatible with your chosen machine. Then decide, do you look for a machine with taller access, or do you find a new favorite mug that is compatible with your top choice?
The Grinder Type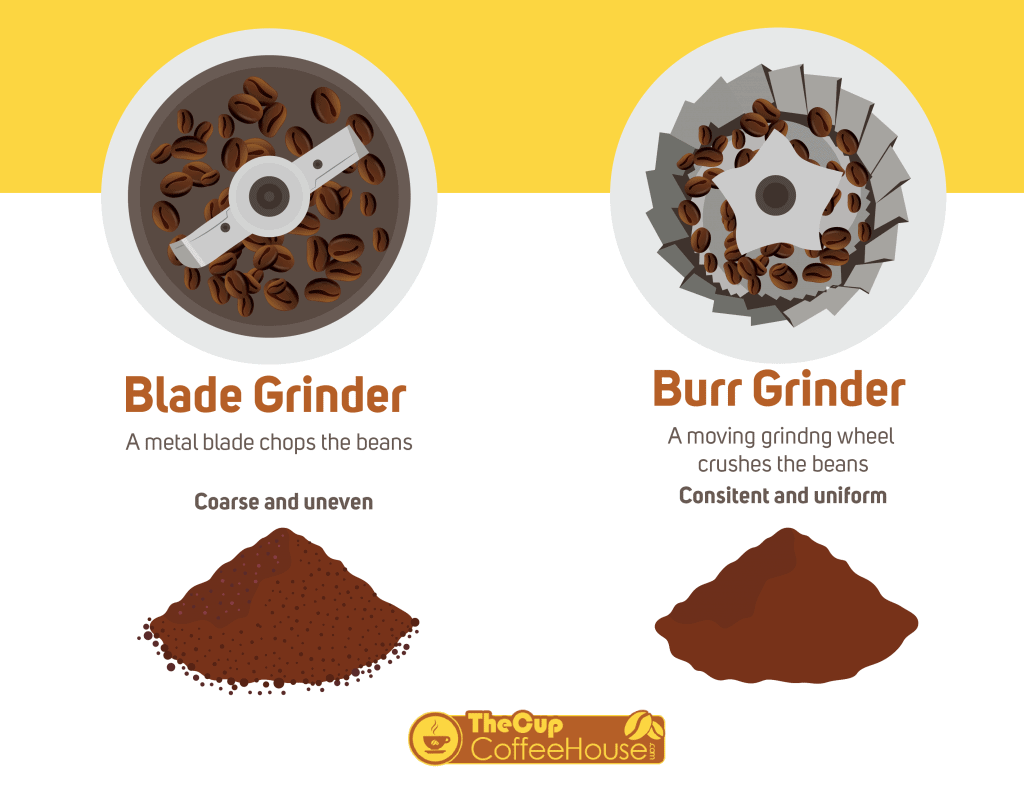 Coffee makers with grinders come in two types: burr grinders and blade grinders.
Burr grinders are the most desirable (and expensive) grinder. These grinders crush the beans evenly without adding any heat. This means that the overall flavor extraction will be more even because all the coffee grounds are the same size. Also, you won't lose any flavor by your beans being heated up prematurely before they hit the hot water.
Blade grinders, on the other hand, are cheaper to produce. However, they whack at your beans creating different sized grounds. The finer grounds will extract at a quicker rate than larger grounds which can cause an irregular brew.
Our Final Verdict 
While we liked several aspects of the machines on our list, our top pick is the Breville Grind Control Coffee Maker. This machine has a stainless steel burr grinder, allows you control over your brew size and type, and also lets you brew directly into your travel mug.
If you are looking for a single cup coffee maker with a grinder, this machine ticks off the boxes!
Final Thoughts
I personally love a single cup coffee maker because, as the only coffee-lover in my family, I often drink alone. And though I drink more coffee in a day than one person probably should, I like each cup to be freshly made and hot off the press. If this single cup coffee machine will also grind my coffee beans for a seamless process and a fresher tasting cuppa, so much the better! 
Alternatively you may also consider a single cup machine that requires no pods to brew if you're looking to save money on K cups.
Or opt to grind using a completely separate quality grinder if thats your preference.
I filtered through the coffee market to find my top machine, now it's time to find the coffee maker on the list that suits your tastes!
Want more brew styles? For a full list of the best coffee makers to choose from, see our guide on the Top Coffee Machines for Beginners.
Coffee Has Never Read This Good!
Sign up for a FREE newsletter to the best home brewing tips and guides
Thank you for subscribing to The Cup Coffee House Crew! There's a surprise in your Inbox 🙂
Something went wrong.
About the Author
Latest Posts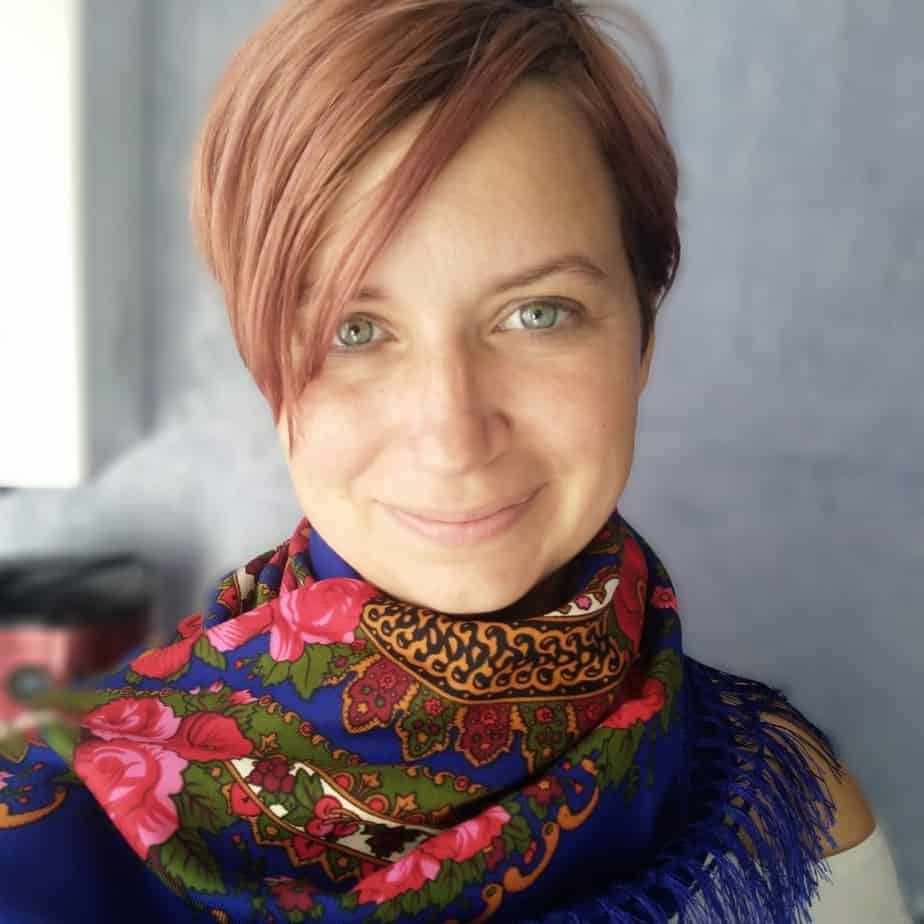 Alex Praytor worked her first job as a barista, finished college, and then took a tour to the other side of the globe. She fell in love with espresso and her would-be husband in Europe. She spends her spare time visiting native Texas landmarks, ancient castles, and all the coffee shops she finds along the way. At home, she is a mom, ESL teacher, and writer, who hones her coffee-making skills daily. She enjoys passing on her coffee findings to fellow caffeine addicts in search of the perfect cup.
Chief Editor