Last updated on September 16th, 2022 by Alex Praytor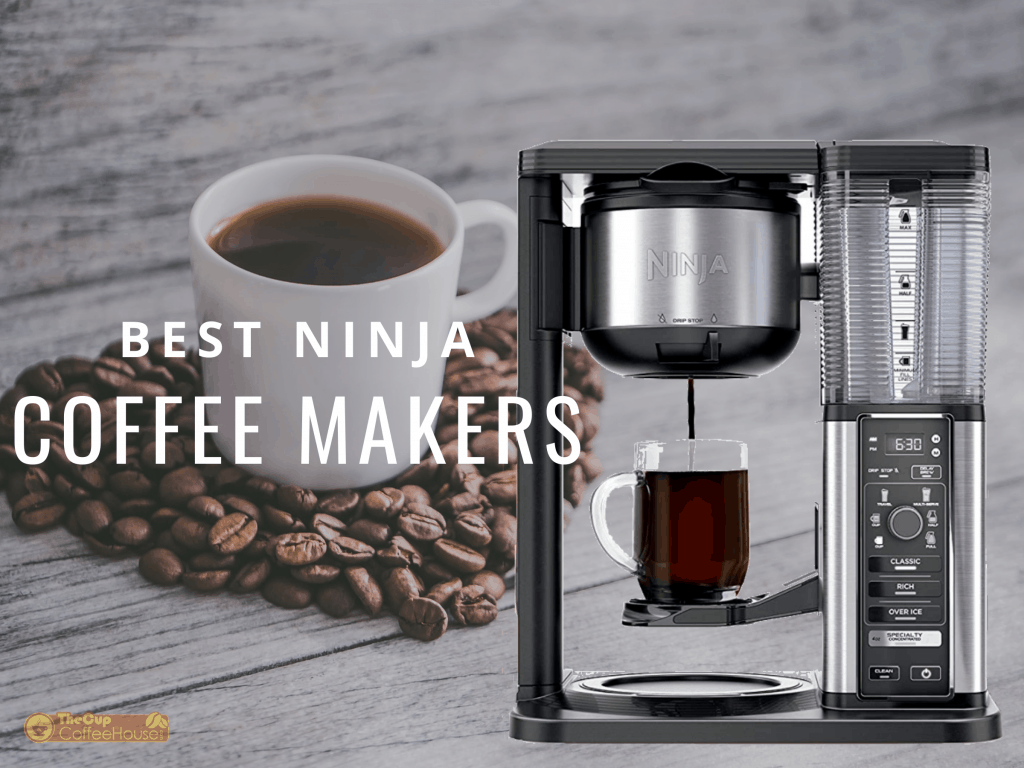 When browsing the coffee maker section to find a coffee machine to replace your old one, it's hard not to notice Ninja coffee makers screaming out for attention while sitting amongst their competition. The Ninja designs are just a little more edgy, sleek, and will never quite fit in with the crowd. Ironically they are also crowd pleasers as you will learn in this article.
After getting to know the Ninja clan a little better, we discovered that a Ninja coffee maker is not just another pretty face, either! Many Ninja machines have an impressive set of features to go along with their attractive designs. 
We checked out 5 Ninja coffee makers and dug deep to find out the good, bad, and the ugly on each. We pulled all the research on style of brew, quality, price, and customer reviews we could find into this easy to read guide. If you're looking to make a decision on which Ninja coffee maker is right for you, keep reading.
In a hurry? Here's the cliff notes: Our overall favorite machine on this list is the Ninja DualBrew Pro Specialty Coffee System. This machine has everything you need in a machine, and much more than you expect! 
This Ninja specialty coffee maker makes coffee, brews K-cups, comes with a frother for making lattes and other specialty brews, and has hot water on hand for tea and oatmeal. You ask for coffee, and it gives you breakfast, too! It brews pretty fast and is easy to use. While it is a bit pricey, this machine is ideal for you if you appreciate a drip brewer with a ton of versatility, durability, and a quality taste.
---
Are Ninja Coffee Makers Any Good?
Ninja coffee makers were a late-comer to the party among other long-standing coffee machine brands. The brand SharkNinja (often nick-named "Ninja") made their debut in 1998 in Montreal Canada. From there, their coffee machines quickly spread across the border to American households.
Ninja specialty coffee makers are known for their sleek, compact machines, and fold-away frothers. Their consistent quality high performing products make them a go to brand that consumers trust.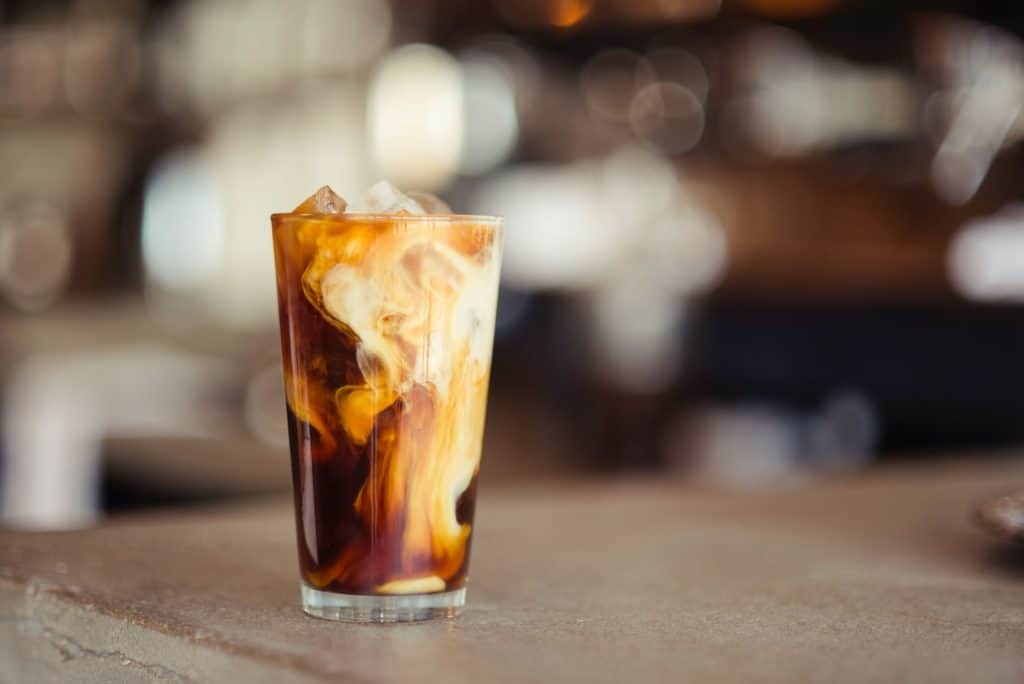 How to Choose the Right Ninja Coffee Maker
When looking for the best Ninja coffee brewer, we ranked them based on which machines would give you the most bang for your buck, including versatility, design features, and performance.
Criteria #1: Versatility
We like a coffee machine that conserves counterspace by including everything we need in one place. While Ninja specialty coffee makers are a pretty standard size for a coffee machine, we appreciate that some Ninja models include extra amenities to froth your milk, boil your water, brew k-cups, make an ice brew, and more. 
Deciding on which of these features are important and which you can live without is key to your overall decision.
Criteria #2: Design Features
Coffee machines that are simple to use and make life easier, get multiple stars in our book. It also helps if your coffee maker looks sleek and elegant enough to woo your house guests!
We ranked these Ninjas by sorting through the best design features. For example, the multi-positional and removable water reservoir ranked pretty high for us. Auto programing and a clean button may be big deal for you too.
Criteria #3: Value and Pricing
Budget can also play an important role when choosing a coffee machine. Although Ninja coffee makers don't run cheap, we did take into consideration the price when comparing these 5 machines. If a higher priced coffee machine ranked higher than a cheaper version, we made sure that the more expensive machine had more value to add as well.
Criteria #4: Performance and Taste
Last, but certainly not lease, is taste. We found that many customers were very pleased with the performance and final results of a Ninja specialty coffee maker. A coffee machine can have all the bells and whistles it wants, but in the end it's the taste that says keep it or ditch it.
Factors like coffee grounds vs pods or iced beverage options are things to think about. Personally, I was very happy to find the "rich brew" option on these Ninja coffee makers for those days you need a STRONG cup to get going for the day.
How We Determined the Best Ninja Coffee Makers
We narrowed down the Ninja coffee makers to our top 5 machines on the market. Our list includes something for the full service coffee bar enthusiast, to the simple no frills strong brew drinker. Let's see how these Ninja specialty coffee makers compare based on versatility, design, performance, and price.
Standout Features:
K-cup compatible
Fast brew
60-oz Multi-Position Water Reservoir
4 brew types
9 ground brew sizes
4 pod brew sizes
Fold-away milk frother
Delay brew timer
Independent hot water dispenser
Thermal Flavor Extraction Duo (grounds and pods)
Touch screen
Hot Coffee
Small footprint
Removable Water Filter
There are a lot of things we like about this high performing machine. The "Standout Features" list for the Ninja DualBrew Pro Specialty Coffee System just kind of keeps going with all the amenities it offers. 
Things we like:
Fast brew: While it's a little difficult to nail down the brew time with a total of 13 different brew sizes, this Ninja specialty coffee maker has a quicker warm up time when compared to the average Keurig machine's warm up time. The faster the better, when we're waiting on our first cup of coffee! 
60-oz multi-position removable water reservoir: For one, this is a nice size tank. Secondly, you can position the water tank for the easiest access for you. Keeping the water tank at the back allows you to have a nice slim design that fits well on a small counter space. But, at the side, you have easy access to refill your tank.
4 brew types: With this Ninja coffee maker, you can choose from 4 different brew styles and brew strengths, which include Classic, Rich, Iced Coffee, Specialty, and K-Cup coffee pods. Rich gives you super rich coffee, while specialty is an espresso-style brew for making specialty drinks. We also like the fact that you can pop a pod into this machine for the easy route to your morning coffee.
Fold-away frother: The flexible arm pulls out to froth your hot or cold milk and make delicious cappuccinos, lattes or even cortado drinks. Then the built in frother folds back into place after each use to keep your machine as compact as possible. 
The independent hot water dispenser comes with a hot or boil option. It is designed specifically in mind for hot tea, hot cocoa, or making instant hot cereals. Since it's a dedicated line just for hot water, you don't have to worry about your coffee tasting like tea or your tea like coffee. 
Thermal Flavor Extraction Duo: The Ninja Dual Brew Pro has an extra-large shower head to make sure that each ground is brewed evenly, whether you are using coffee grounds or pods. It then automatically adjusts the time and temperature for the brew size and type that you choose . This ensures that you are getting the best cup of coffee each time you press the button.   
Things we don't like: 
While we love the attached fold-away frother arm, we dislike the fact that it doesn't have the capabilities to heat the milk. It has a dedicated line for tea…but where is the heat for my froth? Anyway, it's not so hard to pop the milk in the microwave and then froth it.
Also, all these primo features come with a price tag… one that hangs over $200.
Customer Reviews: This machine is one of the newest on the market, but, so far, most customers seem to indicate that it is really as good as it sounds!
Final Thoughts: Overall, we love this high-performing, sleek-looking new model! One of my favorite features is that it keeps coffee and tea completely separate. I also appreciate that it offers regular coffee, cappuccino and even frappe and latte possibilities, iced coffee, and a quick k-pod option. Combined with the great tasting cup of coffee and quality you get, it's no wonder the Ninja Dual Brew Pro stands out as our overall number 1 pick for Ninja coffee makers.
For a more in-depth look, check out our full Ninja DualBrew Pro review.
Standout Features:
4 brew styles (Classic, Rich, Over Ice, and Specialty Coffees)
6 cup sizes
Fold away frother
Programmable Brew Timer
Thermal Flavor Extraction
Intelligent Warming Plate
Permanent Gold-tone reusable filter
50 oz Removable Water Reservoir
Flip-down cup rest
Thermal or glass carafe options
The Ninja 10-Cup Specialty Coffee Maker came out as the new and improved version of the Ninja Coffee Bar. Some of the kinks in the features of the older model were worked out to produce a high-performance machine at a decent price.
Things we like:
Brew timer: I like to have my coffee ready first thing in the morning. While this Ninja coffee maker may not have a quick pod option, it at least allows you to set up your brew machine up to 24 hours in advance. Nothing better than waking up to a full carafe that is ready and waiting for you.
Thermal Flavor Extraction: This system ensures 3 things to give your coffee the best flavor: even saturation, coffee blooming (also known as pre-infusion), and a consistent temperature (criteria that mirror what the SCA look for in their certified coffee makers). If you love the taste of Ninja coffee, you can thank this feature for playing a big role in your cuppa!
The Intelligent Warming Plate is designed to adjust the heat to the burner under your carafe. This lets you keep your coffee hot without it becoming bitter and burned.
The Ninja gold-tone filter is made from surgical grade stainless-steel woven mesh, which allows you to get the most taste out of your coffee. It does not contain BPA products and it saves you from having to stock up on paper filters, while reducing waste. It's also top rack dishwasher safe!
Things we don't like:
Unlike the Ninja Dual Brew Pro, the Ninja 10 Cup Specialty has no pod option.
Customer Reviews: The Ninja 10 Cup Specialty runs close to 5 stars on Amazon, so it looks like a pretty satisfactory Ninja coffee maker in the consumer department. One complaint that some had is that the steam comes out the back, which is not ideal if you are using this machine under a kitchen cabinet.
Final Thoughts: I've personally always loved the design of this Ninja coffee brewer! It has a stylish and a complex look, but is really pretty simple to use. If you loved the previous Ninja Coffee bar, and looking for a solid machine that makes a great cup of hot coffee or espresso-style specialty drinks for an affordable price, then the Ninja 10 cup Specialty Coffee maker is worth considering.
For a more in-depth look, check out our full Ninja 10 Cup Specialty Review.
Standout Features:
Auto-iQ
Coffee and tea brew settings
Cold brew coffee option
Smart basket recognition
Separate Coffee and Tea Brew Basket
Thermal carafe or glass pot options
6 brew sizes 
5 brew styles (Classic, Rich, Over ice, Cold brew, or Specialty)
Fold away milk frother
If you have a house divided between coffee and tea drinkers, the Ninja Hot and Cold Brewed System can keep everyone happy.
Things we like:
Coffee and tea brew settings: Not only does this Ninja specialty coffee maker brew coffee or tea, but it also has a dedicated brew basket specifically designed for coffee and another specifically designed for tea! This keeps your tea tasting like tea and your coffee like coffee.  Also you can brew either with tea leaves or tea bags.
Cold brew option: Cold brew coffee is the new trendy way to drink coffee, and the Ninja Hot and Cold allows you to brew up a batch of it in less than 10 minutes by using a low, accelerated temperature. You can get that rich, slightly-sweet brew a lot faster than the usual overnight cold brewing method. Then top it off with some sweet cream cold foam if you're feeling adventurous!
Iced Coffee: You can brew coffee or tea over ice at double strength. If you're into making iced coffee, this ensures you preserve a richly brewed taste and keeps your drink from tasting watered down.
Thermal carafe and individual cup options: While I usually prefer a glass carafe, many customers tend to rate coffee machines with the thermal carafe option higher. The Ninja Hot and Cold comes with a double-walled thermal pot (or glass carafe) that keeps 10 cups of your chosen liquid hot for up to 2 hours. You can also brew directly into a travel mug if you choose.
Things we don't like:
There is no pod option with this Ninja coffee maker, but it compensates by offering a wide-variety of brew styles.
Even though the Ninja Hot and Cold trends around the same price as the Ninja Dual Brew Pro, it doesn't seem to pack as many features as the Dual Brew Pro for the same price tag.
BONUS tip: Seems like, at the time of this writing, you can get the Ninja Hot and Cold for a cheaper price at the Ninja website vs Amazon.
Customer Reviews: Most customers have been pretty satisfied with the features of this Ninja coffee maker and it reaches close to 5 stars with over 4,600 reviews on Amazon at the time of this writing.
Final Thoughts: We really like the features on this Ninja specialty coffee maker… especially the cold brew and iced coffee quick brew option. Since I'm the only coffee drinker in my house, I appreciate that this Ninja coffee maker can also run a tea brew and my whole family can be happy. If you want a Ninja coffee maker that specializes in coffee and tea and ok with not having all the extra complexities of the Ninja Dual Brew Pro, then go with the Ninja Hot & Cold Brewed System.
For a more in-depth discussion, check out our full review on Ninja Hot and Cold Brew System.
Standout Features:
60 oz removable water reservoir
24-hour programmable delay brew
Adjustable Warming plate for keeping coffee warm
Mid brew pause
Classic or Rich Brew setting
Advanced boiler for a hotter cup of coffee
Flavor Straw in Glass Carafe
Small Batch setting (half carafe)
Dishwasher safe parts
Lower Price Bracket
The Ninja 12-Cup brewer is your standard coffee maker without a lot of bells and whistles. So, if you are just looking to brew your regular pot with nothing fancy, this Ninja coffee brewer may be for you. 
Things we like:
Classic or rich brew setting: While this Ninja coffee maker doesn't have the capabilities to make specialty coffees, it does allow you to choose between brew strengths like classic or strong. You're looking at 12-15 minutes to brew a full carafe. Half that time for a half carafe using the small batch setting.
Advanced boiler: The aluminum based advanced boiler system in this Ninja coffee maker ensures that you are drinking your coffee hot after each brew.
Flavor straw: The flavor straw inside the glass carafe helps to circulate your coffee while brewing. This ensures that your coffee has a rich, balanced flavor and makes sure that the bottom layer of coffee is not burning on the bottom while your pot fills. 
Top rack dishwasher safe parts, which makes for an easy and thorough clean-up process. 
Lower price bracket: This machine can be found under $100 so it is considerably lower in price than other Ninja models. 
Things we don't like:
This Ninja coffee machine is a straight-forward coffee maker with just the basic features included. You are not going to find a frother, k-cup capabilities, or specialty coffee options.
Customer Reviews: The Ninja 12 Cup has high ratings in customer reviews. Many complimented the taste of this pot. Some of the things customers had to say about this machine is that they like the rich brew option, it tastes like a pour-over brew, and is reminiscent of European-style coffee.
Final Thoughts: The Ninja 12 Cup coffee maker is a good option if you are looking to make a regular pot of good coffee every morning. Features such as the rich brew setting, and the delayed brew option can make your life easier, while delivering a surprisingly flavorful cup. If you are looking for something simple and straightforward in a reasonable price range, the Ninja 12 Cup Programable Brewer is your best bet.
For a more in-depth look, check out our full Ninja CE251 Programmable Brewer review
Standout Features:
Auto-iQ One-Touch Intelligence
Thermal Flavor Extraction
4 cup sizes 
4 brew types 
Intelligent Warming Plate
Delay Brew Timer
2 hour shut-off
Flip down tray for mugs
This Ninja specialty coffee maker had its heyday and has since been replaced with the Ninja 10-Cup Specialty Coffee Maker CM401. Still, the Ninja Coffee Bar has some nice features that we wanted to check out for the purpose of comparison. If you can find this machine in stock, you may even be able to get a good deal on it!
Things we like:
With a standard coffee pot, you have to put in the exact amount of water you want the pot to use each time you make your coffee, but the Auto-iQ saves you this step! Auto-iQ reads the size of coffee you want and siphons out the right amount of water from the reservoir for your brew size. This means you don't have to measure the water or refill the reservoir after every single serve brew… just when the water begins to run low.
The Ninja Coffee Bar was the pilot machine (the first Avenger for all my MCU fans!) for the thermal flavor extraction. This feature can now be found on models such as the Ninja 10-Cup Specialty Coffee Maker and the Ninja DualBrew Pro Specialty Coffee System. So, thank you, Ninja Coffee Bar for paving the way.
4 cup sizes: One of our favorite things about this Ninja coffee maker is that it brews for a full carafe or a travel mug, and it gives you both in the package! To choose your size, you can just turn the dial to your preferred option.
Comes with a ton of accessories and bonus add ons. Its like a small gift box! It includes a Ninja Hot & Cold 18 oz. Insulated Tumbler, Glass Ninja Easy Milk Frother, 40-recipe cookbook, a permanent filter, the Ninja coffee scoop, and 43 oz. glass carafe with warming plate.
We like that the Ninja Coffee Bar offers a flip down tray so you can fill a smaller mug without the splash.
Things we don't like:
This Ninja coffee maker doesn't have a K-cup option.
The included frother is separate and not attached.
Customer Reviews: The Ninja Coffee Bar included a lot of new features and some customers ran into some kinks with getting them all to function as designed.  While some customers had no problems, common problems other customers had with this machine was that the clean light stays on even when clean, and that the Auto-iQ water reservoir has problems regulating.
Final Thoughts: The Ninja Coffee Bar has a lot of great features (when they are all working properly). It was a pilot machine for much of the technology that was included in the updated Ninja CM401 model and other newer machines. We like its stylish look, ease of use. You might even find it for a budget friendly price since it's an older model. 
Many of the kinks reported with this Ninja coffee maker have been improved on later models, so unless you are getting a bargain basement price, a newer model may be the safer bet.
A Word on Ninja Milk Frothers
Milk Frothers
The Ninja easy frother is a new innovative design. We like that it saves space by tucking away when it is no longer needed. Though it froths milk to be silky smooth, it unfortunately does not steam it. Still, it is nice for cold drinks and gets you at least half-way for hot drinks.
For brewers that don't come with a built in frother you can purchase a Ninja Milk Frother separately. It's basically like a French Press that froths milk instead of brewing coffee (Yes that is a thing! See video below). Also, the glass on this frother is microwave safe so you can heat your cold milk in it first and then pump it until you get a nice foamy topping for your specialty drinks. 
Ninja Coffee Maker FAQs
Will a Ninja make an espresso?
No, a true espresso is made with at least 9 bars of pressure, and the Ninja machines currently on the market do not have this capability. That being said, some Ninja coffee makers do make a concentrated, espresso-like coffee that works well for coffee drinks such as cappuccinos and lattes and mochas. The Dual Brew Pro and 10 Cup Specialty are good examples.
Does the Ninja easy frother heat milk?
No, unfortunately the Ninja easy frothers do not heat milk. If you wish to top off your drink with warm, frothed milk, you will need to heat it before frothing.
Can I get a strong brew with a Ninja?
Yes, use the "rich brew" option on your machine for a stronger coffee.
Does the warming plate on a Ninja shut off automatically?
Most Ninja machines with warming plates automatically shut-off 2 hours after you brew your coffee. Check your machine's manual to be certain.
Can I use espresso coffee grounds with a Ninja?
Using an espresso or fine grind may cause coffee grounds to slip through the permanent filter. It is recommended to use medium ground coffee for the best taste and to reduce the risk of grounds in your coffee.
Can a Ninja frother be disconnected to clean?
Yes, the frother is a removable part on many Ninja coffee machines. You simply twist it to disconnect the frother. Clean it well, and then pop it back into place.
If I buy a Ninja with a glass carafe, can I also use a thermal carafe with this machine?
The glass carafe Ninja machines include a warming plate which is unsafe to use with the thermal carafes.
Are Ninja coffee makers BPA free?
Yes, according to Ninja, all Ninja coffee makers and containers (cups, tumblers, carafe) are made of BPA-free Tritan plastic
Final Verdict: The Best Ninja Coffee Maker
Overall, Ninja makes high performing quality coffee makers that most people enjoy using. Although there are a lot of great features on these machines, our overall favorite was the Ninja DualBrew Pro Specialty Coffee System CFP301. This machine has a little something for everyone. 
It's easy to use and offers a ton of options. If you want coffee, you got it. Specialty drinks? Sure. Tea-drinker? You are welcome here, too. Oatmeal? I don't eat that stuff, but you can if you want.
Seriously though, this Ninja coffee bar model does a lot for the amount of space it occupies. Tack on the quality tasting specialty brews, versatile options and features, it's no wonder it gets our nod for the best overall Ninja specialty coffee maker.
Final Thoughts
All of the Ninja coffee makers we covered in this article add a sophisticated look to your countertop while also making great-tasting hot coffee. Each model includes some high-quality features that are both simple to use and a joy to own.
Pick the one that best fits your needs. Whether its a full service coffee bar, coffee and tea flexibility, iced coffee beverages, or just a simple no frills rich brew, Ninja coffee makers have something for anyone. Regardless, you can be sure that you will likely find your favorite coffee maker here based on its high customer approval ratings too!
If you are looking for coffee brewed with other high quality machines that specialize in making espresso's then check out this list of the best Breville coffee makers or this De'Longhi espresso maker.
You might even consider Japanese inspired drip coffee makers with similar pour over style and taste. Or start from the top and pick out the best overall coffee brewer for you.
We hope our research helps you narrow down the best coffee machine for your household! 
Coffee Has Never Read This Good!
Sign up for a FREE newsletter to the best home brewing tips and guides
Thank you for subscribing to The Cup Coffee House Crew! There's a surprise in your Inbox 🙂
Something went wrong.
About the Author
Latest Posts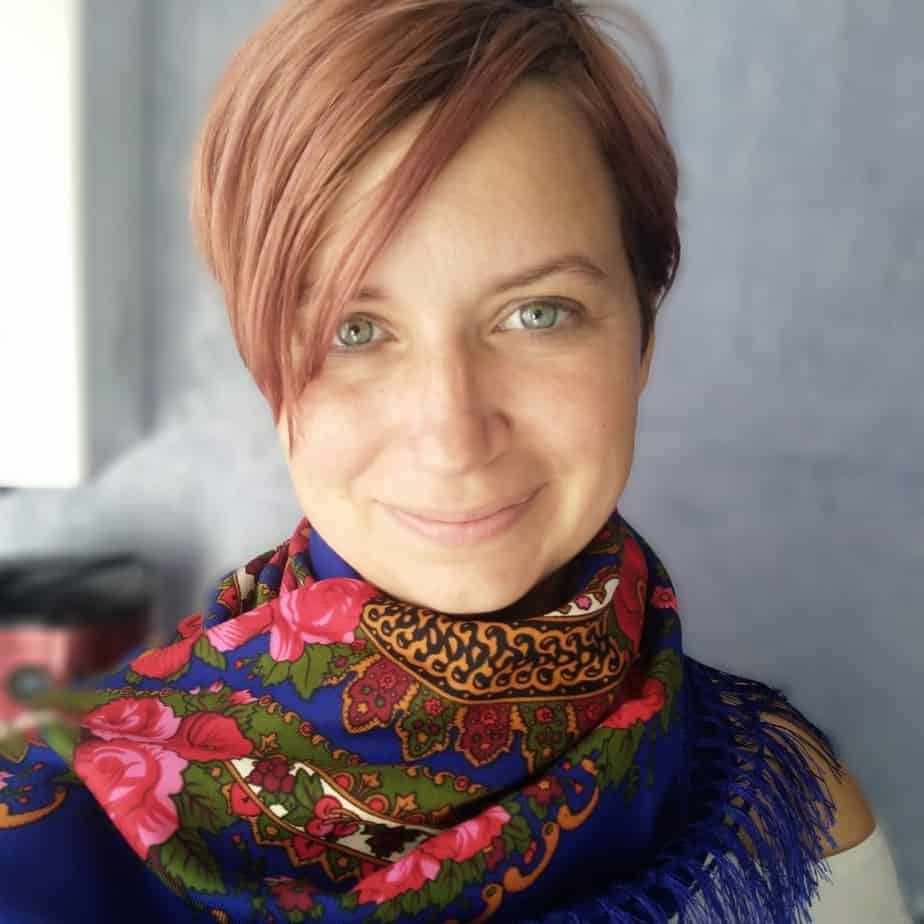 Alex Praytor worked her first job as a barista, finished college, and then took a tour to the other side of the globe. She fell in love with espresso and her would-be husband in Europe. She spends her spare time visiting native Texas landmarks, ancient castles, and all the coffee shops she finds along the way. At home, she is a mom, ESL teacher, and writer, who hones her coffee-making skills daily. She enjoys passing on her coffee findings to fellow caffeine addicts in search of the perfect cup.
Chief Editor