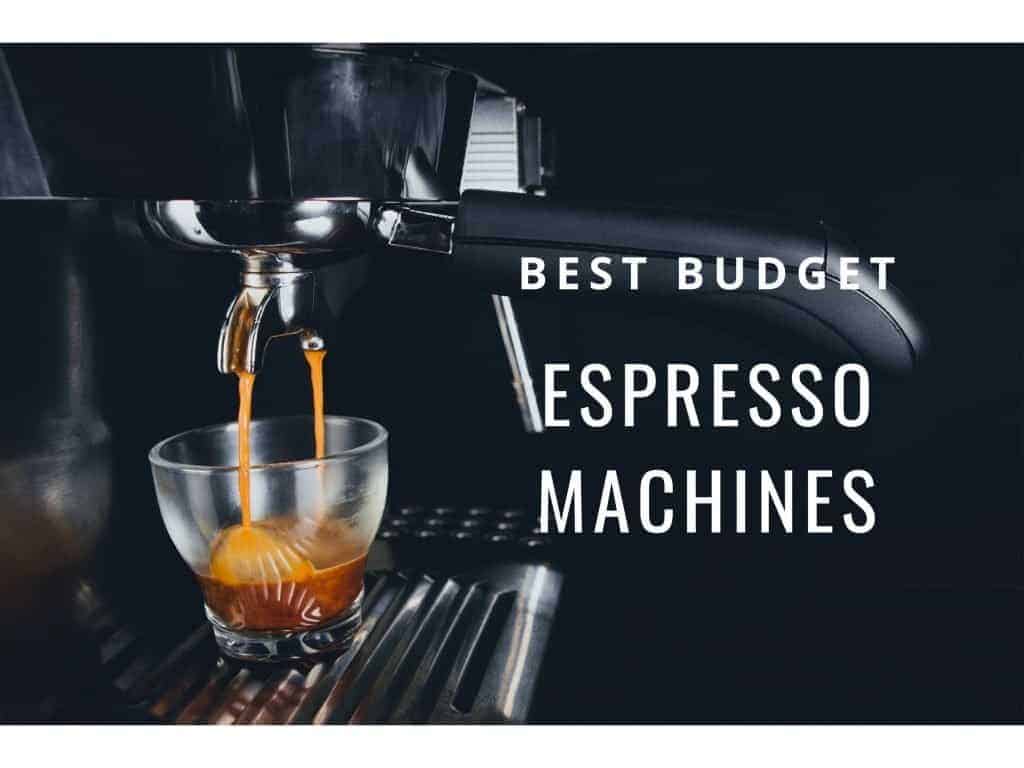 Millions of coffee lovers around the world wake up looking forward to a rich, creamy, delicious espresso every single morning to start the day.
But likely you have to go to Starbucks or your local coffee shop to get it. And didn't you make a promise to save your money this year? Plus, it may seem a little daunting to make espressos at home yourself too. 
Not to worry. Modern technology has made it possible to not only have your own espresso machine at home that whips up flavorful espressos in a whip like a professional barista (even latte art that looks good) but also have it at a ridiculously cheap price. 
So we made it even easier for you. After 50+ hours of in-depth research and analysis, we will share with you the 7 best budget espresso machines on the market. From size, to capacity, to flavor we tackle all the things you need to consider before making this big decision. So whether you want a higher end espresso machine with multiple functionalities, or something simple that makes espressos and coffee, we got you covered. Keep reading to get the full "scoop"! 
Don't have time? Check out our best value pick on Amazon right here. 
---
Are Cheap Espresso Machines Worth It?
An espresso is a concentrated form of coffee that is "espressed" through finely ground coffee beans using high pressure and hot water. You generally need espresso machines to do that. The result is a rich creamy espresso that is a bit more caffeinated than a regular cup of coffee.
We think it is possible to pull good quality espresso shots even with a budget machine. Keep in mind that often times these espresso makers come built with high quality steel, milk frothers, milk steamers, coffee grinders, automatic brew and cleaning, and other functionalities that can basically jack up the price.
So if you're ok with basic espresso makers that get the job done of creating a delicious espresso without all the fancy bells and whistles, a budget espresso machine may be right for you. But what features should you think about before you make the big decision?
What should I look for when buying a cheap espresso machine?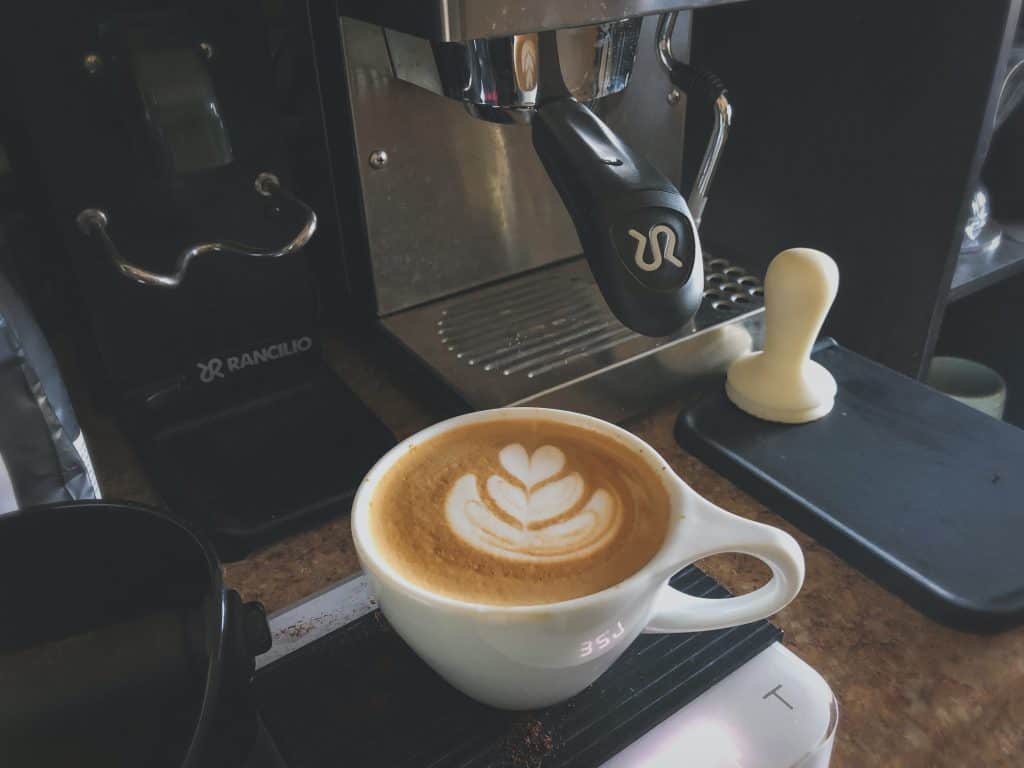 So, what are the things to look for in an espresso machine? Let's take a look at some of the criteria that can help you make the right decision for you.
Criteria 1: What size is it?
Espresso machines come in all kinds of sizes. This is a good thing considering that not every kitchen counter in the world will have a vast amount of space. So you want to take into consideration the size depending on how large your kitchen counter might be.
Are you ok with a larger machine or do you want something that's small and more of a space saver? Some budget espresso machines are actually small enough to be portable. You could even make a cup of your favorite espresso at the office, if you want to.
Criteria 2: How many cups does it make at a time?
Aside from size, the capacity should matter as well. Will it brew a single cup or multiple cups with the amount of water it can take in?  The greater the capacity, the more cups of coffee your espresso maker can make.
For example, espresso machines that can hold up to 1.5 liters of water have enough water to pull 12 cups of espresso shots. So consider how much espresso you plan to brew at a time and how often you want to add water to the machine before choosing a machine based on your ideal capacity.
Criteria 3: Is it easy to clean?
Nobody, and we mean nobody wants to deal with an espresso machine that is a real pain to clean. Especially when you need to clean and maintain it on a regular basis. That's why you should find an espresso machine that is made from materials like stainless steel.
Also, it wouldn't hurt to find an espresso machine that has a removable catcher so you can remove it, dump out any excess water into the sink, quickly clean the drip tray itself, and reattach it. Removable and washable are two things that you want to look for in budget espresso machines.
Criteria 4: Is it easy to use?
No one wants to feel overwhelmed by a bunch of buttons on a machine that look confusing. If simplicity is what you want, you can find a an espresso maker that is as simple as adding water, your favorite fine coffee grounds, grinding it up, pulling the first espresso shot, and more.
Even if you have no experience using espresso makers, they're actually very simple to learn. After a few sessions, you'll know how to press the coffee, and froth and steam the milk like a pro.
Criteria 5: How much bar pressure do you need?
Espresso machines are not like your standard coffee machines where you just add water and brew it. It requires adding a boost of pressure to give that espresso its rich and flavorful texture. The higher the pressure, the more intense the flavor.
Some of the cheap espresso machines that we'll be looking at use 15 or even 20 bars. At the end of the day, it comes down to personal preference and how intense you want the flavor to be.
Criteria 6: What's the price? How much does it cost?
Of course this list is focusing on the best cheap espresso machines in the market. As a result, they may not fit all the criteria you need in a good espresso machine.
In general, if the espresso machine is good quality and delivers more value than the price, investing in the best quality you can afford is what you want to aim for here. Sacrificing quality and the features you want the most just to save a buck always seems to come back around and bite you in the butt doesn't it?
Criteria 7: How many cups can it brew at once
Some budget espresso machines brew one cup at a time and others brew two separate cups. If you're brewing espresso and you live with someone and neither of you wants to wait, an espresso maker that brews two cups simultaneously would be the ideal selection.
Criteria 8: Can it grind coffee beans?
As we mentioned earlier, special features like grounding coffee beans for you can increase the price of an espresso machine. Generally you may not see this feature in cheap espresso machines. But its something to consider.
If you don't have a separate coffee grinder, than maybe you will like the added feature and convenience. But if you're ok with using a manual coffee grinder on your favorite coffee beans, then you can save yourself some money on your machine too.
For a full look at the best coffee maker with built in grinders on the market currently, check out our full guide.
Criteria 9: Does it froth milk?
If you want to take your espresso game to the next level and enjoy home made lattes, frappuccinos, cappuccinos and macchiatos, you will need a milk frothing steam wand feature.
Once again you can get a separate milk frother, froth without a frother, or find a budget espresso machine that is built with milk frothing capabilities to make things more convenient. Either way, you can get your latte art done just right if that's a big deal for you.
Here's How We've Determined The Best Budget Espresso Machine
If you are looking for an inexpensive espresso machine, then these 7 are among our top choices. We hand picked these not just on affordability, but also on some cool features that stood out to us as well. While looking through the list, it's important that you look through the features that stand out to you the most (and may fulfill your personal needs).
Let's start with the first one on our list that is considered our 'Best Value' choice:
First on the list is the Nespresso Vertuo Coffee and Espresso Machine with milk frother by De'Longhi. Simply put, this deserves the 'best value' nod because you get more than just an espresso maker for a pretty good price.
For one, the versatility is astounding. You can make a simple cup of coffee or dial it up a notch and make your favorite espresso. If you're feeling adventurous you can even make a coffee that has an espresso like crema foam on top!
It's small in size and makes the entire coffee and espresso making process pretty simple. With one touch brewing, and automatic adjustments for temperature, cup size, and brewing time you can sit back and let this machine wonder do all the heavy lifting.
What size is it? At 9 x 12.2 x 12.3, the dimensions are small enough to where you can be able to fit it in a small space.
How many cups does it make? You can choose to make a 5 ounce, 8 ounce, or 14 ounce cup of coffee and a single or double espresso. It can make up to 12 to 14 cups in a single fill.
Extra large water tank: At 54 ounces, you can brew plenty of cups of coffee and espresso without always having to fill up the tank every single time you need your morning fix.
Is it easy to clean? It has a removal water tank, drip tray, and other features which makes it easier to clean every time you finish using it.
Is it easy to use? With an extra large water tank and a one touch brewing system, it's one of the easiest espresso machines you can use. Just add water, an espresso or coffee Nespresso capsule of your choice and at the touch of a button, this machine will brew your cup in no time. That's it.
How many cups can it brew at the same time?  This cheap espresso machine can brew only one cup at a time.
Fast heat-up: It takes 15 seconds for the water to warm up. This means less waiting time for your perfect cup to brew, especially on those days you're already late for work!
Milk frother not built in: Want that richer tasting espresso? While the Nespresso Vertuo doesn't come built with an automatic milk frother, Nespresso does bundle their machines with an Aeroccino milk frother that you can use to create that perfect latte finish.
Cons:
Coffee may come out a little cooler than expected
Water tank may leak at times
Can make loud noises after short-term use
Only uses Nespresso pods, which can be pricey
Final Thoughts: If you are looking for the best tasting cup of coffee and espresso you can make from the comfort of your own home at a cheap budget, the Nespresso Vertuo is probably the best value you can find. Its simple to use, easy to clean, can be bundled with a milk frother, and makes a delicious cup of smooth flavored espresso that will likely get you hooked (it did for my wife!). If you want your money to go the farthest, and want to leave Starbucks in the rearview mirror, this is our best pick for you.
For a more in-depth look at the Nespresso VertuoLine of machines, see our full Nespresso Evoluo review and our in depth comparison of the Nespresso Vertuo and Evoluo models.
For a full list of Nespresso machines, check out our review of Nespresso's best coffee machines.
Typically, a coffee shop will have an espresso machine that has 9 bars of pressure to make that cup of espresso perfect. However, why not take it a bit further in terms of flavor and quality? The Gevi 15 Bar Espresso Machine is our choice for the best 15 bar espresso machine.
If you are looking for the best flavor, the 15 bar Italian pump will do just that. Plus, the Gevi espresso machine is easy to use and easy to clean.
What size is it? If you are looking for something that can be a space saver, the measurements of 12.2 x 10.4 x 13.5 might be just enough to tuck it away in a corner somewhere in your kitchen.
How many cups does it make? With a 1.5 Liter water tank, it can make up to 12 cups in one fill.
Is it easy to use? The Gevi 15 bar is very easy to use. Many reviewers reported just adding coffee grounds, pressing the power button, letting the water heat up, then pressing the coffee button, then the milk froth button and the whole process is done fairly effortlessly.
How many cups can it brew at the same time?   2 cups
Professional grade 15 bar pressure: With 1350 W and 15 bar pressure feature, this inexpensive espresso machine can pull espresso's that maximize on flavor. There is nothing quite like that smooth taste in the morning before heading out the door.
Milk frothing steam wand: Rich quality is possible with the use of the milk frothing wand. Although the steam wand is a bit short, it does move at 360 degrees and steams up milk nicely. Silky, smooth, and delicious are just three things that come to mind once you sip your favorite flavor espresso.
Double temperature control: This accurate temperature control feature allows you to brew coffee and steam milk separately at the perfect temperature. Not too hot and not too cold, but just right where you want it.
Easy to operate and clean: This affordable espresso machine comes with removable parts that you can clean with just good old fashioned soap and warm water. It also has a water tank that is transparent so you know how much water you have (and when you can refill it).
Price: One of the most affordable espresso machines on this list at just over a $100 bucks.
Cons:
May not always warm up a lot
May feel cheap and plasticky
May be difficult to take apart at times
Milk frothing wand is short
Final Thoughts: If you place flavor and ease of use over all else, then this budget espresso maker really stands out. For a 15 bar espresso machine, it brews hot espressos, is super easy to use, and makes frothing milk simple. If you're looking for an espresso maker that will give you an excellent burst of flavor with just the right amount of pressure, on a super cheap budget, and don't mind the little imperfections, this espresso machine is a good pick for you.
If 15 bars is not enough for you, what about 20 bars of pressure? Say hello to the Gevi 20 Bar Automatic Espresso Machine. As we've said before, the more pressure, the more intense the flavor.
This white stainless steel beauty can also brew not one but two cups of espressos at the same time. So the Gevi 20 bar will not only make your guests think you're are a sophisticated coffee connoisseur but they won't have to wait long to get a cup in their hands either.
What size is it? The Gevi 20 Bar is measured at 14.45 x 14.06 x 9.17 inches. So a little bigger but it will also make your kitchen look like a professional barista lives there!
How many cups does it make? This machine has a 1.2L removable water tank, which can make up to 10 cups.
Is it easy to clean? Typically, what needs to be cleaned is the steam nozzle and the seal ring. You can also clean the drip tray by easily removing it.
Is it easy to use? Yes. Decide on what you want, espresso, latte, or cappuccino maker, add your coffee grounds, then press a few buttons and viola!
Thermoblock fast heating: If you want your water to heat up fast, then this is the espresso machine you'll want. At 1350 W, this gives you plenty of power to warm up the water and brew your ideal cup of espresso in less than sixty seconds.
20 bar pressure system: The pressure pump gives you a fast and stable extraction of flavor. When your cup is brewing espresso, the scent will be so rich, you will be salivating in anticipation of that hot creama brew!
Adjustable brew settings: You can choose between manual control, one shot, or two shot brews at the same time. Adjust the size to your liking and press the button.
Precise temperature control: Three built in thermostats, each used to measure separate temperature of the water and milk. For the coffee snob who has to have it perfect!
Steam control: With a manual steam wand, you can stir the milk with the right steam pressure to ensure that the smoothness and overall quality is exactly how you want it. Made from stainless steel, the steam wand is easy to clean for repeated use.
Cons:
Coffee filter basket is poor quality
Heating element may not last as long
Final Thoughts: At 20 pressure bars, you'll probably get the maximum amount of flavor out of your espressos. If that's what you're aiming for, this affordable espresso machine gets the nod. Easy to use, and easy to clean and maintain, on a budget under $200. If you're looking to get started as an at home barista and enjoy your own caffeinated beverage when you want it without investing too much, the Gevi 20 bar espresso machine will get you there.
Next is the Lavazza Expert Classy Plus Machine. We like this machine as a great single serve espresso maker option for a few good reasons. It's small enough for space savers, gives you plenty of brewing selections, and has a built-in milk frother for that rich espresso taste that you want.
Unfortunately it only works with Lavazza Expert capsules. Yes more capsules. But nevertheless, you do get an inexpensive espresso machine that may as well be high-end with all the features for a reasonable price.
What size is it? The Lavazza is measured at 18.9 (L)  x 7.87 (W)  x 13.78 (H), so it can fit in a nice corner in your office or kitchen counter.
How many cups does it make? This machine can make up to 10 cups of espresso depending on the size of the cup.
Is it easy to clean? The Lavazza Expert Classy has detachable and removable parts, including the drip tray that you can simply clean with warm, soapy water.
Is it easy to use? All it takes is one touch to get the cup of coffee you want. Just load it with a Lavazza Expert capsule and you're good to go.
Six selections, one single serve: The good news: This cheap espresso machine can brew one cup of coffee at a time. The great news: you can choose between six different types of coffee. With just one touch of a button, you can brew a cup of coffee, a cappuccino, a macchiato, espresso, lungo, or a latte. It's your in-home barista that can do it all.
Built in milk pitcher and frother: The Lavazza comes with a milk pitcher. From there, the machine will froth your milk for that perfect, rich texture each and every time.
Cons:
Capsule can get stuck at times
Does not include a 'froth milk only' option
May overflow on occasions
No coffee grounds, only uses Lavazza capsules
Final Thoughts: If you're looking for nice easy to use budget espresso maker that uses espresso pods, the Lavazza is worth checking out. As an all-in-one brew maker (cappuccino maker, espresso maker, and coffee maker) you can make almost any cup of brew you want. It's the perfect espresso machine for you if you want something like a macchiato, a cappuccino, or just a regular espresso for yourself in the office or at home.
For a semi automatic espresso machine option that will whip up nice espressos with minimum effort, the Mr. Coffee espresso maker is a good budget option. It not only has a well known brand but it also delivers simple easy to make espressos that are flavorful and satisfying to make.
What size is it? This semi automatic espresso machine is measured at 13 x 10.6 x 14.3 inches. It will take up a decent amount of counter space.
How many cups does it make? There is enough water capacity to make 3 cappuccinos or 3 lattes total.
Is it easy to clean? The Mr. Coffee espresso maker does come with an automatic cleaning function. However, some have reported it needs several runs to get it clean, especially the milk frother.
Is it easy to use? The one touch panel system makes the Mr. Coffee pretty easy to operate and pull a hot cup (or double shot) of espresso. It even comes with pre programmed recipes but the manual system is so simple you may just ignore the recipes.
How much bar pressure does it have? Amongst our list of best budget espresso machines, Mr. Coffee sports one of the highest, 19 bars of Italian pump espresso extracting pressure for top notch creamy flavor.
Fast heating: Hot coffee fast is the mantra you and I live by these days. Luckily the thermocouple heating system built into this espresso machine delivers on this nicely.
Built in automatic milk frother, steam wand and reservoir: You can get your froth on and steam your milk nicely with the Mr. Coffee. It even comes with a separate milk reservoir so you can detach and save your work in the fridge for another session.
Cons:
Machine is fairly loud
Pre programed recipes may deliver inconsistent amount of coffee
Cleaning still requires cleaning the container and frother manually
Final Thoughts: If you're looking for a simple cheap espresso machine that can create foamy latte's with a few buttons, the Mr. Coffee One Touch espresso maker is a good option to consider. Easy to use, makes single or double espresso shots, and has a milk reservoir. If you don't mind the noise, this semi automatic espresso machine at around $270 brings coffee shop style espresso beverages right into your home for an awesome price.
If you are looking for the best espresso machine of high quality that carries a price tag south of $100, then the Capresso Espresso and Cappuccino Machine might be what you need. It has plenty of features that will make you wonder how you paid so little for such a nice espresso machine.
What size is it? If you are looking for something that's really small, but not portable, then the item measurement of 10.25 x 8.25 x 11.75 might be something to your liking.
How many cups does it make? With a water tank at 46 ounces, it can make up to at least six cups.
Is it easy to clean? This affordable espresso machine has a removable drip tray that is easy to clean. The rest of the machine is also easy to clean as well.
Is it easy to use? The Capresso is very easy to set up and easy to use. Just load up your favorite coffee blend of choice and use the milk frother for a very smooth texture that will make you feel Starbucks has seen the last of you!
15 bar pressure heating system: This heating system is lined with stainless steel and comes with 15 bars of pressure so you can get the best high-pressure brewing for your espresso.
Makes 2 cups of coffee at a time: You can use two filters at the same time with this setup. You can brew a flavor for yourself and another for your houseguest or anyone who is stopping by for a cup of coffee.
Made with heavy duty stainless steel : The stainless steel build makes for a more durable machine. The Capresso also comes with an integrated warming tray so your cup stays warm every time you brew.
Swivel milk frother and steam wand: Want the perfect frother for a smooth cup of espresso? The swivel frother will not only deliver a smooth frothed milk for your cappuccino, but you can also switch to get steamed milk for your latte.
Cons
Pump is slightly weak, despite its reliability
Espresso may be a little diluted after brewing
May leak water sometimes
Final Thoughts: If you're looking for a decent budget espresso maker without spending any higher than $100, then the Capresso Espresso and Cappuccino maker is a good option worth considering. It's decent in quality, easy to clean, and quite useful for everyday purposes. If you're looking for Starbucks quality then you won't get it here. But for what you get for the price your paying?…Seriously…the Capresso is pretty good.
Absolutely want to spend the least amount of money on your first espresso machine? Then the Hamilton Beach espresso machine is worth looking at if you don't feel like spending any more than $100 to get a decent shot of espresso with creama on top.
What size is it? This budget espresso maker is measured at 13 x 8.2 x 12.31 inches. This will fit most countertops if you are looking for something that won't give you a lot of clutter.
How many cups does it make? With a water tank that can fill up to 40 ounces of water, it can make anywhere from 8 to 10 cups of espresso with a full tank.
Is it easy to clean? Yes. It has removable parts (including the tank, the frothing nozzle, brew head and drip tray) that let you to clean it with ease.
Is it easy to use? Yes. You can even choose between espresso pods or regular coffee grounds, making it less of an effort to make an espresso with more variety.
How many cups can it brew at the same time? It can brew two cups at the same time.
Easy to use milk frother and steam wand: The Hamilton Beach has a milk frother and steam wand that will help you get that perfect and smooth milk blend for your espresso so you can enjoy it just how you like it. Smooth, silky, and very tasty.
15-bar Italian pump: The more pressure you get, the better the quality. With 15 bars of pressure, you'll get an intense flavor that will leave you craving the next cup.
Simple push-button operation: All you need to do is load up the coffee, fill up the water tank, press the button and it'll brew quickly.
Cons:
Coffee may not get as hot as expected
Some complained about it making a weak cup of espresso
Takes a long time to steam and froth milk hot
Made with plastic parts
Final Thoughts: If you are looking for a decent budget espresso machine that pulls a decent cup of espresso at an extremely affordable price, you really probably can't get any better than the Hamilton Beach. Its simple to use, and fairly easy to clean. It may not last as long before replacing parts, and you may end up with alot of water in the portafilter after brewing. But the quality and price you are paying still makes it worth considering.
Verdict: Your Best Budget Espresso Machine
If you want the best value for your money, then the Nespresso Coffee and Espresso Machine with Aeroccino Milk Frother is likely the best overall choice.
For rich flavor, but nothing too intense, we suggest the Gevi 15 Bar Espresso Machine.
For a 20 bar pressure espresso machine that rivals your Starbucks addiction, go with the Gevi 20 Bar Automatic Espresso Machine.
For a convenient, single serve espresso machine, look no further than the Lavazza Expert Classy Plus Espresso Machine.
If you appreciate simple one touch semi automatic systems, then consider the Mr. Coffee One Touch Espresso Maker.
For a budget espresso machine under $100 that pulls good espresso shots, then go with the Capresso 116.04 Pump Espresso and Cappuccino Machine.
If you're looking for the lowest priced option that still tastes great, then check out the Hamilton Beach Espresso Machine.
Final Thoughts
If you're an espresso lover, but don't want to break the bank on your next espresso machine, then these seven budget espresso machines listed above are a good start. Ultimately, choosing the best cheap espresso machine will come down to your own personal preferences (like how rich you want the espresso to be, maintenance, and longevity).
If you want a more higher quality espresso machines that are made of better quality material, last longer, and willing to pay more, then consider machines like the Gaggia Classic Pro or the Verismo.
Or you may even want to check out our list of the best Breville coffee makers. Breville is a well known high quality brand and they specialize in espresso machines. They're not cheap but you can find beginner Breville espresso machines that are affordable!
Either way, most budget espresso machines make a quality of cup espresso with surprisingly decent crema and froth, and are small in size, making space saving a lot easier. So no matter your budget, there's an espresso machine out there with your name on it. 
Coffee Has Never Read This Good!
Sign up for a FREE newsletter to the best home brewing tips and guides
Thank you for subscribing to The Cup Coffee House Crew! There's a surprise in your Inbox 🙂
Something went wrong.
About the Author
Latest Posts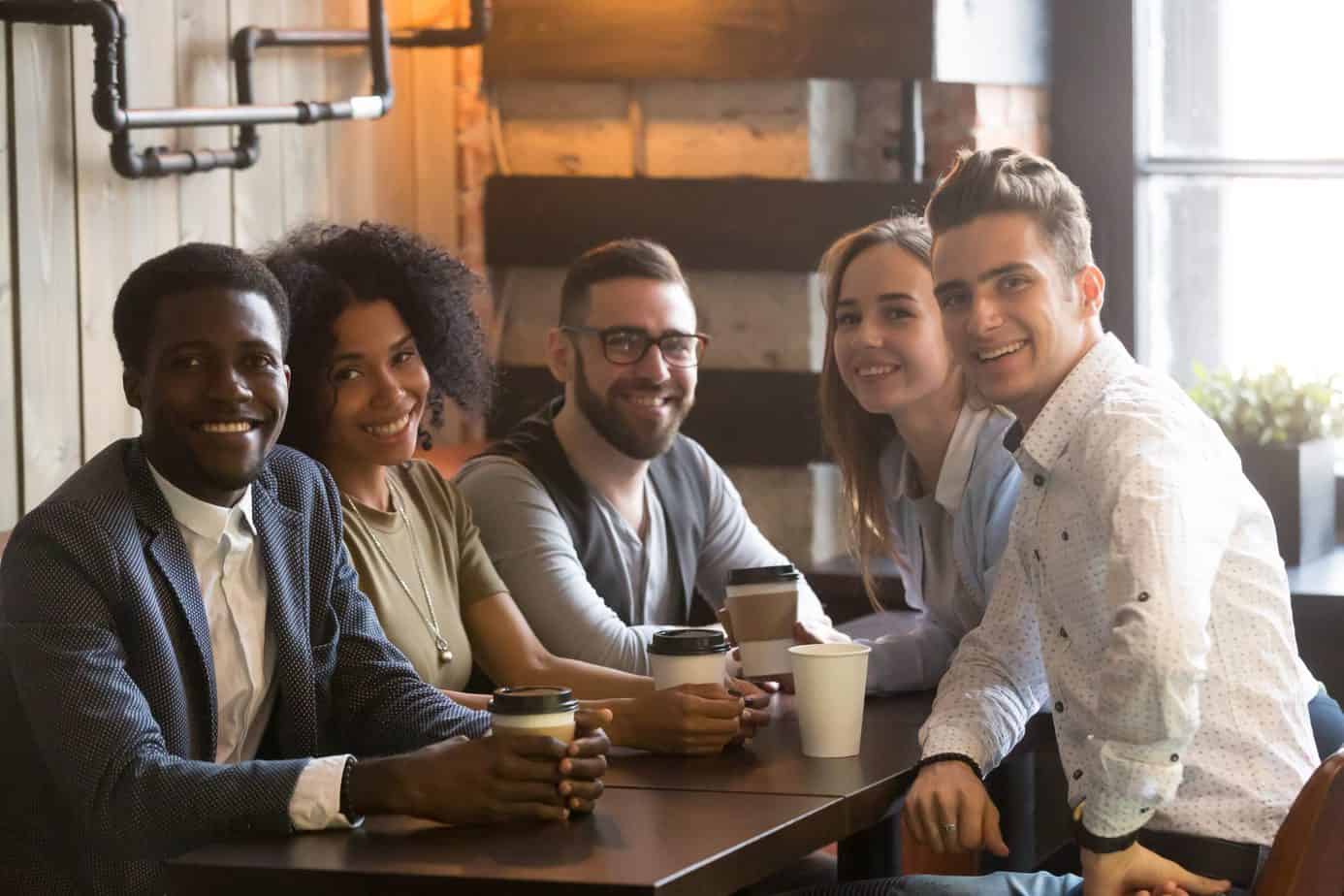 "Jules" is a pharmacist by day and investor, writer, and health nut by night. When he's not sipping on some coffee laced with MCT oil during an 18 hour fast, he is writing about how to get your coffee grind on or playing Monopoly with his 2 boys and wife. Ahh…life is good!