Last updated on June 1st, 2023 by Jules Winnfield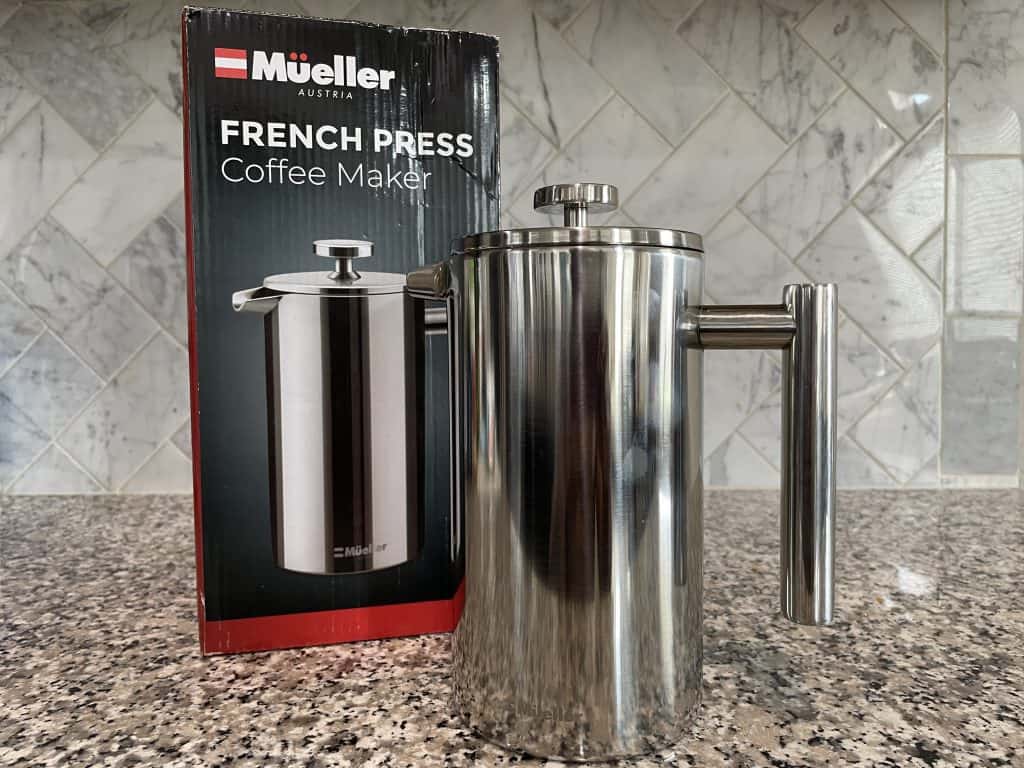 During the week, its busy. So all you really want, including myself, is a nice cup of joe that tastes great but is quick. Throw my cup under the single coffee brewer, throw my clothes on, and come back to a nice hot cup of coffee.
But on the weekends, thats the time I like to relax. Sleep in. And really enjoy the rich intoxicating aroma of a well crafted brew. Sometimes I could go for a nice pour over with my Chemex. But lately, I've really enjoyed the balanced full flavored taste of a french press.
In fact, I recently purchased the Mueller French Press coffee maker. I will share with you everything you need to know, so you can decide if it's worth adding to your coffee arsenal.
In a hurry? Here's my overall impression: If you want a simple, easy to use, well crafted pot, that steeps and brews a great tasting cup of French press, without a complicated cleaning aftermath, this may be worth your consideration. The Mueller French press coffee maker is best for beginners and pros alike who like it simple, appreciate durability, and don't want to spend too much money…a great value deal when you compare what you get for what you spent.
---
Is Mueller a Good French Press?
To make a great cup of French press coffee, probably the most important aspect is the technique. But technique (grind size, roast profile, steeping time, etc.) takes time to develop the way you want it. So what's the next most important thing?
Your equipment. And the Mueller French Press coffee maker seems to deliver on that promise.
With the right equipment, you can extract precisely the full spectrum of bold flavors from your favorite coffee blend even if you are just getting started. So because your coffee maker is built so well, you can appreciate a delicious cup even if you made some mistakes in the process.
Mueller is known for making some of the highest quality kitchen products in the market. And that includes coffee makers, which generally fetch high customer ratings. Let's check out a few of the features that compelled us to choose the Mueller French Press coffee maker over all others.
Important Feature #1: Made with stainless steel durability
One of the main things we wanted in our French Press coffee maker was durability and reliability. With all the talk of plastic materials and their impact on our health, we stayed away from anything made of plastic given the high temperatures used to brew. We also didn't like the idea of glass since it has the potential to break. Everything has the potential to hit the ground when you have 4 and 7 year olds running around the house!
So the all stainless steel build of the Mueller French Press was a definite stand out feature. From top to bottom to the handle, its forged with a 310 professional grade polished stainless steel. This gives it durability. The likelihood of rusting or breaking down is minimal too.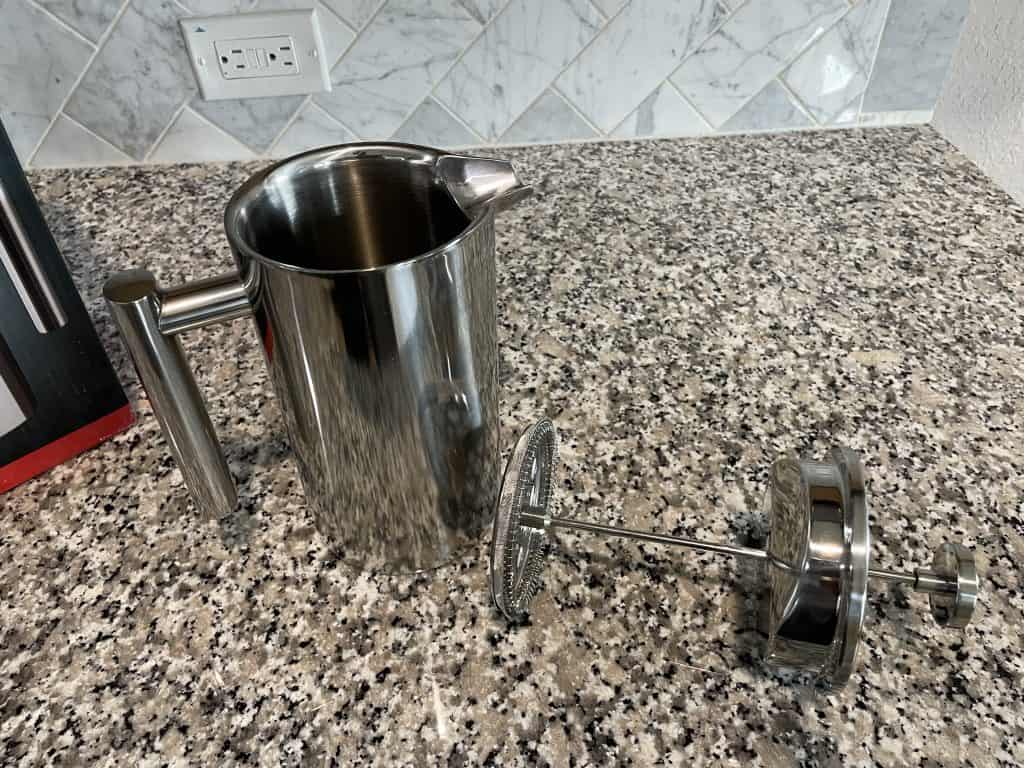 But also the Mueller French press has a double layered steel body. This allows it to hold heat (or cold) longer which means a warm pot of coffee for at least 60 minutes longer than single layered steel or glass. And you can also handle the pot without risk of burning yourself. A hot cup of coffee a couple hours later from when you made it is always appreciated!
Important Feature #2: Quadruple filter system
To make a great tasting cup of French press, you need to extract as much of the delicious coffee oil flavors into your brew while keeping the grounds out. No one wants a gritty taste in their morning coffee!
So its advantageous that the Mueller French press coffee maker comes with an extensive 4 layer filter system made of fine stainless steel mesh. This means it will last a long time and resists eroding. This also means an almost zero chance of getting grounds in your coffee, so you can enjoy every sip.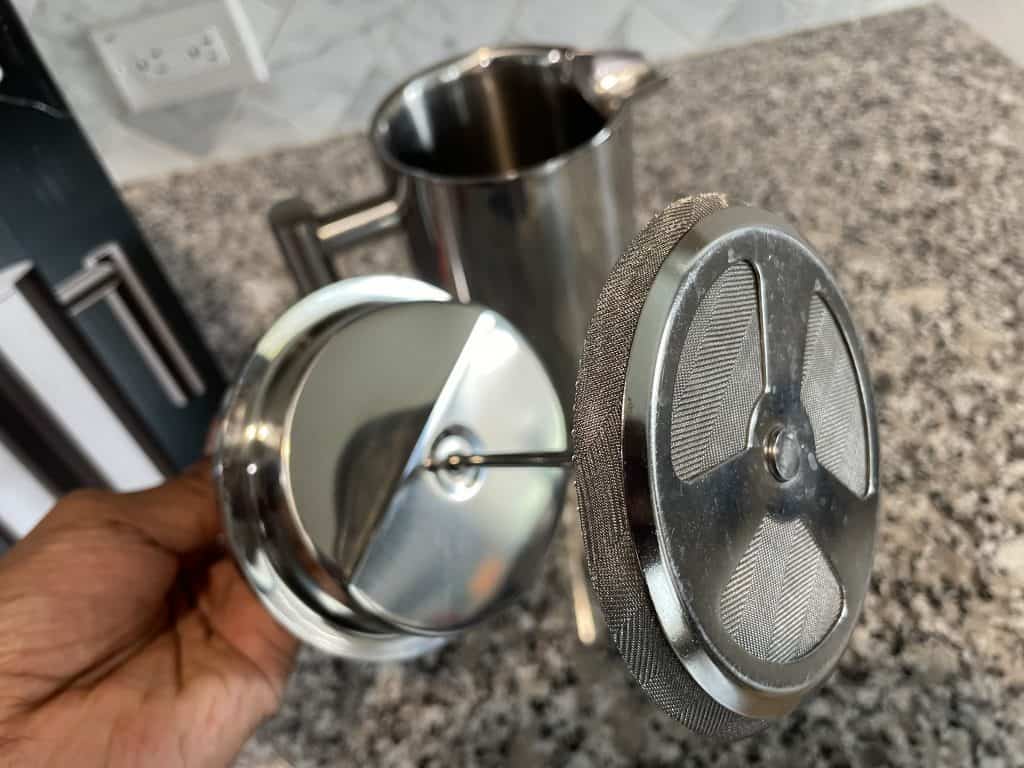 But of course the filter system isn't perfect. Depending on the size of your coffee grounds, the system can fail. For example. Course grounds is the preferred size. But if the coffee is ground too fine, you can clog the filter system and pressing down the plunger can be a lot harder than normal.
Looking for other methods to brew coffee without a coffee machine? Read How to Make Coffee Without a Coffee Maker: 8 Easy Methods That Work.
Important Feature #3: Affordable price
Honestly, you might think something as well made and crafted as the Mueller French Press coffee maker would cost a pretty penny. Afterall, quality can fetch a higher price tag right?
Well in this case, not only do you get a pretty well made French press pot, that can brew up to a liter of hot and cold beverages alike, but it won't run you more than $30 either. Seems like one of those times a great product meets a great price to breed a great deal!
Can Do and Can't Do
If you're going back and forth on whether you should purchase the Mueller French Press coffee maker, here is a quick pros and cons list …
It can last a long time – made of stainless steel…not glass
It can filter a great tasting cup of coffee – uses a 4 layer stainless steel mesh filtering system. No paper filters required!
It can brew up to 1 liter at a time
It can keep coffee hot for a long time
It can guide you with how much water to add: Mueller must have listened to their customers because they added fluid measurement markings inside the 1 liter carafe to help you as your brew.
It can come with a bonus stainless steel coffee canister – Although, its so small, it really has no value for me and most users
It can be bought on a budget
It can come with a 2 year limited warranty
It can not be placed on a stove: Since its double insulated stainless steel, you don't want to put this French press on the stove to heat the water. Instead you will have to heat your water first then add to the pot.
It can not press easily IF you press too fast or use too fine coffee grounds.
It can be used to froth milk or make cold foam.
How Do You Use a Mueller Austria French Press – Step by Step (Plus Bonus Tips)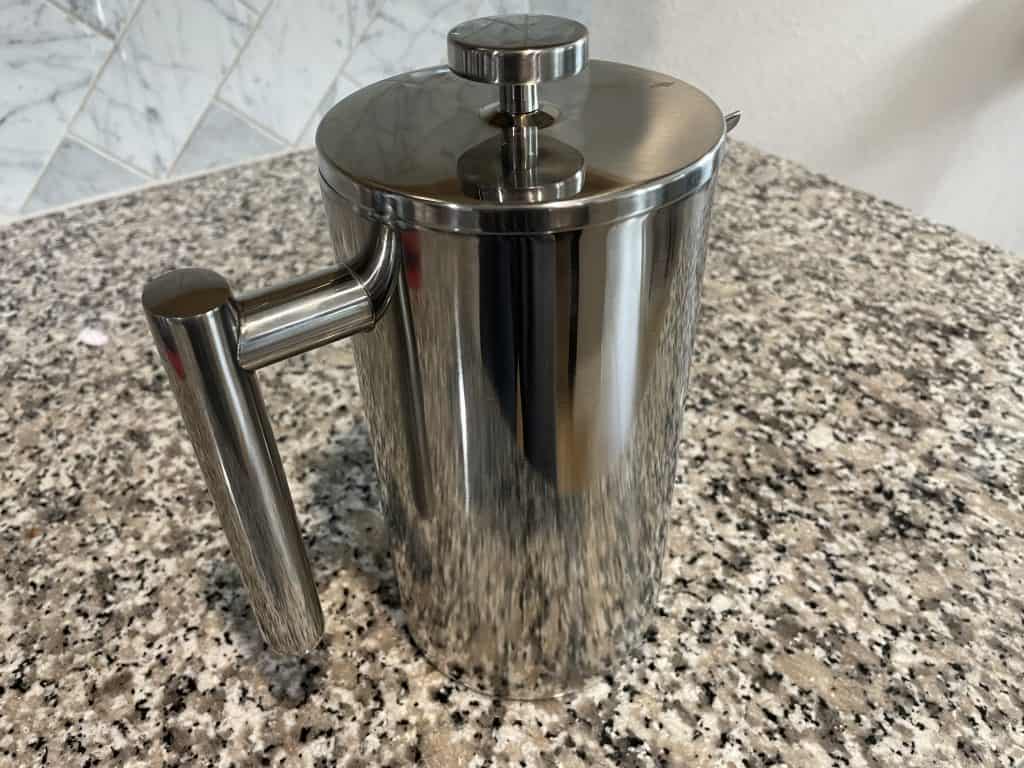 Brewing a nice cup of French press coffee isn't hard to try. Actually it can be really alot of fun. But if you want that perfect flavored balance of acidity and bitterness, then that will require some practice and experimenting.
Not to worry. I will walk you through a simple step by step process on how to use the Mueller French press coffee maker like a future pro!
Step 1: Wash out your French press carafe and parts using a little bit of soap and water. Dry the carafe container.
Step 2: Decide on how much coffee you want to make. In general, most people use a ratio of coffee grounds to water that ranges from 1:12 to 1:16 depending on how strong you want your coffee. So for a 1:16 example, for every 1g of coffee, you'll use 16g of water. And remember, 1g of water = 1 ml of water.

So we decided to make a 6 cup press or 24 oz of brew.
24 oz = 720 ml (30 ml per oz) = 720 g water
Using a 1:16 ratio, 720 g water = 45 g of coffee

Step 3: Measure your water and bring it to a boil in a separate pot. Your supposed to get a precise temperature of 195-205 F but we didn't have a thermometer to do all that.
Step 4: Pour hot water into the carafe just to get it warm and preheated. Cover the carafe and let it sit for a few minutes.
Step 5: While your waiting, measure out your coffee beans. Use only course ground. Whip out your manual grinder or electric grinder and get to work! If you don't have a scale, you can use a level teaspoon to approximate how much coffee. you need. Use 3 g = 1 teaspoon as a good conversion. Want to find the perfect grinder for you? Check this article out.
Step 6: Pour out the water from your French press carafe. Dry it out. Add your coffee grounds.
Step 7: Add your hot water into the grounds. But only add just enough water to rise slightly over the soaked through grounds. This is to let the blooming process take place.
Step 8: Stir and wait for 30 seconds.
Step 9: Pour in the rest of your measured water and stir.
Step 10: Place the plunger on top of the carafe, with the plunger fully extended. Close the lid and wait. Be sure the angled opening of the lid isn't facing the spout so no heat or pressure is allowed to escape. (I made this mistake on the first go!)
Step 11: The usual wait time is about 4 minutes. Once time has passed, begin to SLOWLY press the plunger down. This is important as we will discuss in the reviews. But if you go too fast, hot coffee can come shooting out!
Step 12: Pour yourself a delicious full flavored cup of French pressed brew! You deserve it!
Step 13: Cleanup easy by unscrewing the filter assembly and washing everything with light soap and water. Its also dishwasher friendly. I easily scooped out the coffee compost with a paper towel before washing too.
What Do the Reviews Say?
Before I give you my overall feel of the Mueller French Press coffee maker after using it myself for a couple of brews, lets go over what other customers and users felt about it.
After reading over 100 reviews, its pretty clear that the overwhleming majority of people were satisfied with the Mueller French Press. Like myself, most liked the simple sleek design, ease of use, the really hot full bodied coffee it brews and keeps, and the simple clean up.
Of the biggest complaints we found, most were centered around the carafe pot having no liquid measurements on the sides. As I mentioned earlier, Mueller has since corrected that. I was able to view and use etched measurements in my pot.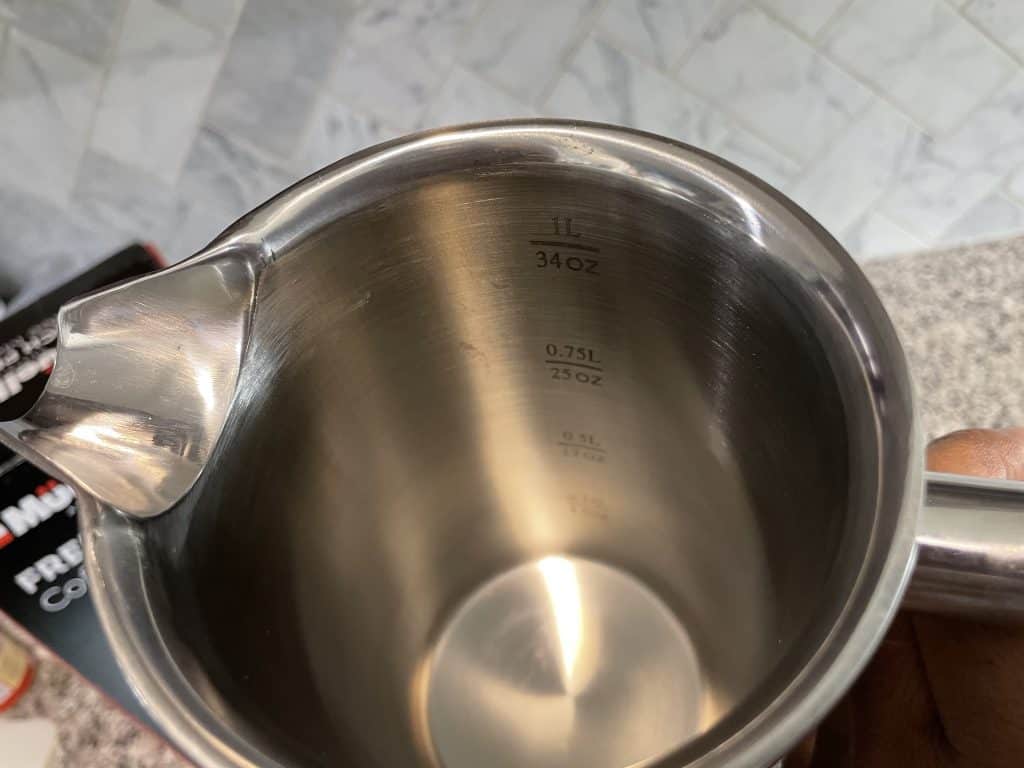 Also, people complained of having a hard time pressing down on the plunger during the filtering process. Personally, I found it simple and effortless to press down after waiting 4 minutes of steeping. But I was careful to first: use course ground coffee. If the coffee is too fine, it can clog the filter and make it alot harder than it should to press down.
And secondly, I pressed down slowly. Pressing too fast can make the task more labor intensive since water is being filtered through a fine mesh filter. This also helps prevent the third major complaint…hot coffee liquid exploding from the French press pot.
Lastly, even though I didn't experience any quality issues with my French pot, some users did. But the customer service was spot on with rectifying the matter quickly. Many commented on the "quality, speed and ease of the customer service".
In summary, if you take your time grinding your fresh coffee beans, and filtering, you will likely have a great experience with this French press…similar to the 26,000+ positive Amazon reviews!
How Does it Compare?
To give you a real assessment of how the Mueller French Press coffee maker performs in a broad context, we wanted to compare it to similar high quality French pots in the market. Here are a few we found.
The first we decided to compare was the Veken French Press coffee maker. Similar to the Mueller, its very popular and highly rated. Why?
Like the Mueller, the Veken is a 1L compact French Press made of high quality stainless steel material. It filters coffee using a 4 mesh filter system. And it comes with measurement markings to make it easier to brew the right amount of coffee you want. But the Mueller and Veken differ in the following areas…
The Veken uses thick borosilicate glass. This kind of glass is supposed to be super resistant to breaking or cracking even in the presence of extreme temperature changes. The Mueller is all stainless steel.
The Veken has no double insulated layer for keeping coffee hot longer like the Mueller.
The Veken comes with extra mesh filters and wooden spoon. The Mueller comes with a coffee bean canister.
The Veken may have a different taste profile compared to the Mueller. This is really subjective, but some coffee drinkers can taste a difference in a cup made from a stainless steel pot vs a glass pot.
The Veken is slightly cheaper compared to the Mueller.
If you like a more designer and aesthetically sophisticated look and don't mind the glass for a cheaper price, then go with the Veken. But if you don't want to deal with glass, and like the idea of your coffee staying hot longer in the pot, then the Mueller French Press coffee maker is your pick.
Once again, the comparison between these 2 French Press coffee makers is tough. They are practically similar. Similar quality (stainless steel build), similar filtration system (4 layers), similar capacity (1L) and easy cleanup. But they are different…
The Cafe du Chateau also uses thickened borosilicate glass. Nice if you like the idea of seeing the coffee steeping and filtering process.
The Cafe du Chateau comes with a lifetime warranty. That's a HUGE nod to the manufactures level of confidence you will be satisfied with this pot. The Mueller has a 2 year warranty.
The Cafe du Chateau is slightly more budget friendly.
If you want a coffee maker that sounds like you live a well cultured refined lifestyle, and makes a nice pot of French press you will never have to pay to replace ever again, then check out the Cafe du Chateau. If you want to stay away from glass and appreciate the flavors of a stainless steel pot, then go with the Mueller French Press.
The Final Verdict
Drip coffee makers are nice. But the beauty of French Press coffee is the ability to enjoy the full bodied flavor and subtle notes of your favorite coffee beans as they were designed to. And in our experience, the Mueller French Press coffee maker is a great tool to help you maximize that experience.
The Mueller French press coffee maker is a simple, easy to use, well crafted pot, that steeps and brews a great tasting cup of French press coffee. Cleanup is simple and easy. And the price tag makes it a great value bargain for the quality and durability you are getting.
I also like it as a clean, BPA plastic free option for making coffee. Pure untainted flavor is the only outcome.
But keep in mind it can sometimes be difficult to press the plunger down during filtration and hot coffee can shoot out from the pot. But this is rare and can be mitigated by going slow.
Overall, I found the Mueller French Press coffee maker to be pretty easy to use. The coffee taste is great. You can even make espresso in it too! I do need to refine my technique to balance the acidic and bitter tones, but thats not the pots problem! Convinced?
Click Here to Grab the Mueller French Press Coffee Maker from Amazon.
Coffee Has Never Read This Good!
Sign up for a FREE newsletter to the best home brewing tips and guides
Thank you for subscribing to The Cup Coffee House Crew! There's a surprise in your Inbox 🙂
Something went wrong.
About the Author
Latest Posts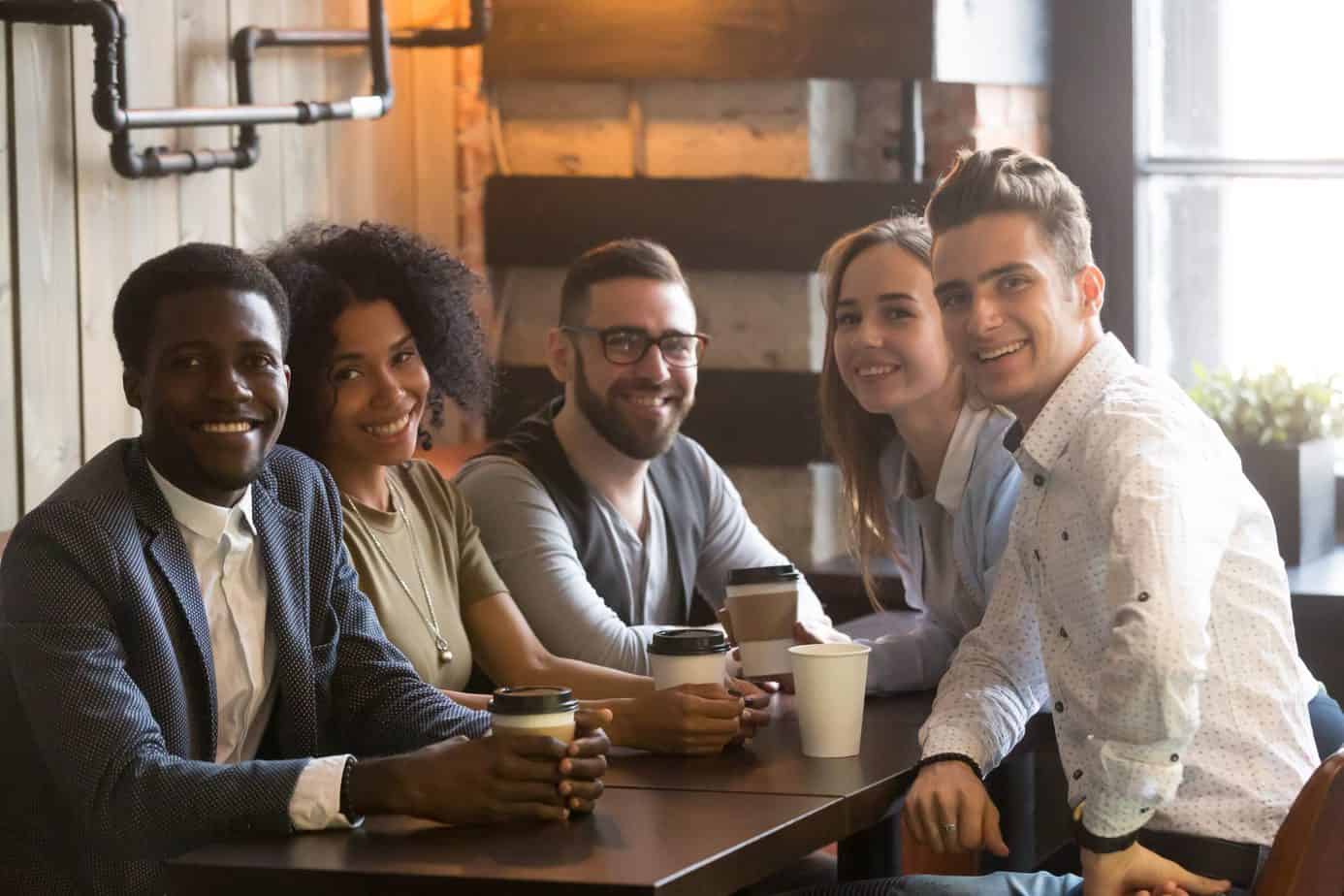 "Jules" is a pharmacist by day and investor, writer, and health nut by night. When he's not sipping on some coffee laced with MCT oil during an 18 hour fast, he is writing about how to get your coffee grind on or playing Monopoly with his 2 boys and wife. Ahh…life is good!