Last updated on August 23rd, 2023 by Alex Praytor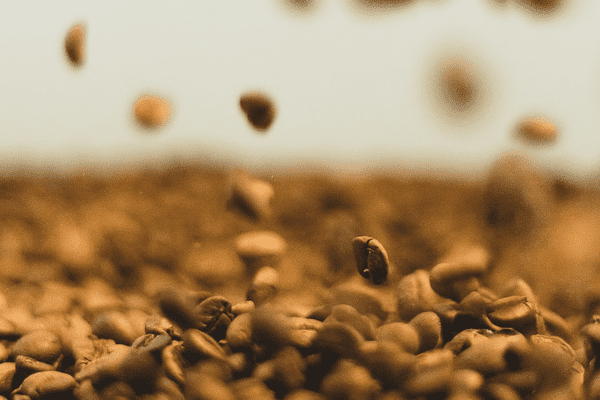 A warm cup of coffee is the perfect way to start off a day. However, if caffeine is giving you too much of a jolt, or affecting your health adversely, you may need to switch to decaf. 
Choosing decaf doesn't mean that you have to suffer through cups of bland, tasteless coffee, though. We've seen the memes that make decaf coffee look like a forgotten stepchild compared to regular coffee!
Luckily, there are many decaf coffees on the market today that can equal the rich flavor of regular coffee. 
After hours of research and investigating, we've chosen a few of the best decaf coffee beans, grounds, instant coffees, and pods on the market to make a day without caffeine a little brighter.
Want the quick summary?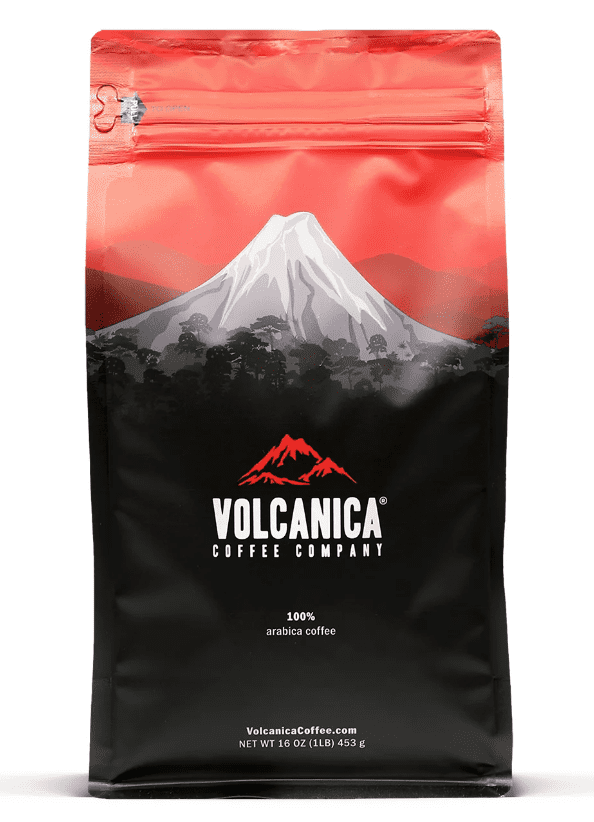 Our overall best decaf coffee is the Volcanica. We love not just the story behind its origins in Brazil, ethical sourcing, and clean water processing, but also the delicious smooth chocolate flavors it produces. Grab yourself a bag and forget that its decaf!
Volcanica Brazil Decaf Coffee
Volcanica decaf coffee is single origin, Swiss water processed and known for its fresh roast, and chocolatey notes for a nice no caffeine beverage.
Last update on 2023-09-18
Take a look at these 10 brands below, and find a new favorite coffee to add to your daily routine.
---
Our Top 10 Decaf Coffee Brands
Pros:
100% chemical-free Swiss Water Process Decaf
Whole bean
Origins from the Bracosta Estate in the Minas Gerais region. 
Sweet, chocolate notes with balanced acidity
Beans are freshly roasted on demand
Organically grown, Rainforest Alliance Certified, and Fair Trade certified
Cons:
Swiss Water Processed coffees appear darker than their actual roast.
Review:
This exotic Volcanica Brazil Decaf Coffee has its origins in the Minas Gerais region. The beans are harvested from the Bracosta Estate and contain the sweet, chocolate notes, and balanced acidity characteristic of Brazil. This coffee estate also is a reserve that provides a sanctuary for wild animals and birds.
After the beans are harvested, they are washed and patio dried. For a decaf variety, the beans are then processed using the Swiss Water method.
Volcanica works directly with coffee farms to ensure quality from bean to cup. This organic coffee has a rich, clean flavor, is ethically sourced, and is environmentally friendly, making it easily our best overall pick for you to consider.
If you prefer other origins besides Brazil, Volcanica also has Colombian, Costa Rican and others to choose from too.
Volcanica Brazil Decaf Coffee
Volcanica decaf coffee is single origin, Swiss water processed and known for its fresh roast, and chocolatey notes for a nice no caffeine beverage.
Last update on 2023-09-18
Pros:
Add to cold or hot water
Arabica instant decaf coffee is water-processed
7 types of mushrooms are sourced from natural farms
USDA-certified organic, NON-GMO, fair trade
Vegan-friendly
Smooth, mild flavor with chocolate notes
Cons:
Many customers recommend adding more than one teaspoon to an 8 ounce glass for a strong coffee flavor.
Review:
The La Republica Organic Decaf Mushroom Coffee is full of nutritious mushroom extracts to get the day started. This coffee is crafted in Los Angeles and uses a water decaffeination process.
While you won't feel a caffeine buzz, you can enjoy the natural energy that the seven different types of mushrooms provide. These seven mushrooms are chosen carefully to benefit brain function, boost energy, and add a creamy texture to your brew.
This blend of decaf 100% Arabica beans with mushroom extracts have a rich coffee flavor with chocolate notes. Add this instant powder to hot or cold water (or milk!) to start the day off right.
Last update on 2023-09-18
Pros:
Decaf medium roast 
%100 Arabica whole beans
Flavor notes of cocoa and rich praline
Latin American bean origin
Smooth and rich coffee tastes
Cons:
Decaf Pike Place coffee is often difficult to find in stores.
Review:
Pike Place coffee made its debut in Starbucks stores in 2008. Since then, it has become one of Starbucks' best sellers.
Many customers enjoy Pike Place coffee for its rich flavor and tasty chocolate and nutty undertones. This medium roast coffee is smooth, rich, and everything a coffee should be. It now comes in a decaf version.
Although Decaf Pike Place coffee may be difficult to find in stores, you can find the whole beans at Amazon and grind them fresh for your morning brew. 
Starbucks Pike Place Decaf
With its reliable flavors and smoothness, this decaf coffee is a tried and true favorite amongst Starbucks drinkers.
Last update on 2023-09-18
Pros:
100% Arabica
Decaf medium roast
Flavor notes of chocolate, caramel, orange blossom, and jasmine
Certified compostable pods
Compatible with E.S.E. machines from any brand
Illy blend uses beans from all around the world.
Fast and convenient method to make espresso
Easy clean-up
Makes a rich espresso with crema
Cons:
These pods are only compatible with machines that accept Easy Serve Espresso pods. They are not coffee tea bags to use directly in a mug.
Review:
These E.S.E. decaf pods by illy allow you to make an authentic Italian espresso quickly and easily. The illy Blend uses beans from different origins to create a rich-tasting brew with delightful notes of chocolate, citrus, and jasmine.
E.S.E. pods are compatible with many different popular espresso machine brands including DeLonghi, Philips, Gaggia, and Saeco.
Once you brew a single shot of espresso, you can easily remove the pod. Unlike many plastic coffee capsules, these E.S.E. pods are fully compostable and environmentally friendly.
Last update on 2023-09-18
Pros:
Ready-made decaf coffee concentrate
Smooth, low-acid flavor
No coffee machine needed
More compact than most cold brew makers
Budget-friendly
Packaged in a glass bottle for a clean flavor
No artificial flavors added
Coffee beans and cacao extract are sustainably sourced from small reliable farmers
Cons:
Many customers had difficulty opening the bottle.
Pouring can be messy.
Review: 
Cold brew has a smooth, delicious flavor. However, this tasty drink often contains much more caffeine than your average cup of joe.
Javy Cold Brew concentrate can give you the delicious coffee flavor you love, without the caffeine jitters. This bottle of concentrate is made from 100% of Arabica beans and can make up to 30 cups of hot or cold coffee.
It contains very little bitterness and acidity. Instead, it is rich and smooth on the palate. At less than a dollar a cup, Javy coffee is budget-friendly, and it allows you to make a satisfying cup of decaf iced coffee quickly and easily.
Last update on 2023-09-18
Pros:
Flavor notes of roasted hazelnuts and chocolate
Dark-roasted whole coffee beans
Deep flavor with a mellow finish
Swiss water process
Central and South American origins
All organic, fair-trade, and Kosher
Best for French press and pour-over brew methods
Cons:
More expensive than many regular coffees.
Review:
Kicking Horse Dark Roast Organic Coffee is a dark roast coffee with origins in Central and South America. This coffee is naturally decaffeinated through Swiss water processing.
We like that it has a strong coffee flavor and is delicious when brewed in a drip machine, French press, or Chemex. Grind these organic whole beans fresh for a deliciously rich cup of natural decaf coffee.
Last update on 2023-09-18
Pros:
100% Organic Arabica decaf coffee
99.9% caffeine-free
Decaf low-acid coffee grounds
No additives
Chemical-free water processing
Flavor notes of butterscotch, toffee, and caramel
Low in chlorogenic acid and high in antioxidants
Designed with pregnant and nursing mothers in mind
Cons:
Fine grounds may require a paper filter
Opening the package wastes some grounds
Review:
This Mommee Coffee Decaf Low Acid Coffee was designed by moms specifically for moms.
However, anyone can enjoy this low-acid decaf coffee. The decaffeination process uses chemical-free water processing to remove 99.9% of the caffeine. Then, the beans are roasted to perfection removing the chlorogenic acid and keeping many of the antioxidants.
This coffee is full of flavorful butterscotch, toffee, and caramel notes and low in acidity. Mommee's low-acid decaf coffee allows pregnant and nursing mothers to drink coffee guilt-free. Also, those who struggle with acid reflux can again enjoy the delicious taste of coffee.
Mommee Decaf Low Acid Coffee
100% organic, caffeine free, low acid and rich in flavor means anybody including pregnant women can still enjoy great coffee.
Last update on 2023-09-18
Pros:
High-quality Arabica beans
Medium roast decaf K-cups
Recyclable K-cup pods
Quick and easy single-serve pods
Each pod brews up to 12 ounces
Compatible with Keurig K-Cup Pod Single-Serve Coffee Makers
Delicious "extra-bold" flavor
Kosher
Cons:
Pods may not be recyclable in some communities.
Review:
The Original Donut Shop Decaf single-serve K-Cup pods have the great flavor of a classic donut shop coffee.
This extra-bold coffee is made from high-quality Arabica beans and is perfect for dunking a donut. Each pod can brew up to 12 ounces of decaf coffee.
If you like a stronger brew, you can choose a smaller cup size. The pods are easy to pop into a Keurig maker and leave little to no mess behind.
Also, in many communities, these Keurig pods are now recyclable.  With these pods, you can get a reliable and convenient cup of great-tasting coffee each time you brew.
The Original Donut Shop Decaf Kcups
Like Homer Simpson, theres no other way to start the day off than with coffee and donuts. So make your coffee donut flavored and decaf for the trifecta!
Last update on 2023-09-18
Pros:
Medium roast ground coffee
No chemicals, sugars, or artificial sweeteners
Flavors of nuts, caramel, brown sugar, and a rich sweetness
Flavor-infused using aromatic oils
Water processed
Low acid and smooth body
Keto and Vegan-friendly
Best for drip-brew coffee
Cons:
More expensive than many regular coffees. However, this brand is cheaper than many other boutique decaf brands.
Review:
Lucky Goat Flavored Decaf Ground Coffee Southern Pecan is a naturally flavored coffee that can spice up your morning coffee routine.
This Southern Pecan coffee is infused with aromatic oils to give your coffee a sweet and nutty flavor. Lucky Goat uses a Swiss water process, mountain water process, or a combination of the two to decaffeinate its coffee.
This medium-roasted decaf coffee is perfect for a drip brewing method. Customers rave over this coffee's full-bodied, robust flavor. Lucky Goat's coffees come packaged in resealable zippered bags for freshness.
Last update on 2023-09-18
Pros:
Naturally caffeine-free
Gluten Free
Non-GMO 
No Sugar
May contain health benefits
Delicious, smooth flavor
Cons:
Not as bold in flavor as coffee.
Review: 
Chicory has been a valued coffee substitute in France and New Orleans since the 1800s. The chicory plant is naturally caffeine-free, and when it is roasted, it has a satisfying taste similar to coffee.
Chicory is also widely known for its many health benefits, including its antifungal, antiviral, antibacterial, and immune-building properties.
Add Anthony's Instant Chicory Root to a mug, and pour hot water over the granules for a delicious-tasting drink morning, noon, or night. Or, you can use half of your favorite coffee and half chicory powder to create a half-caf beverage.
Last update on 2023-09-18
Beginners Buyer Guide for Decaf Coffee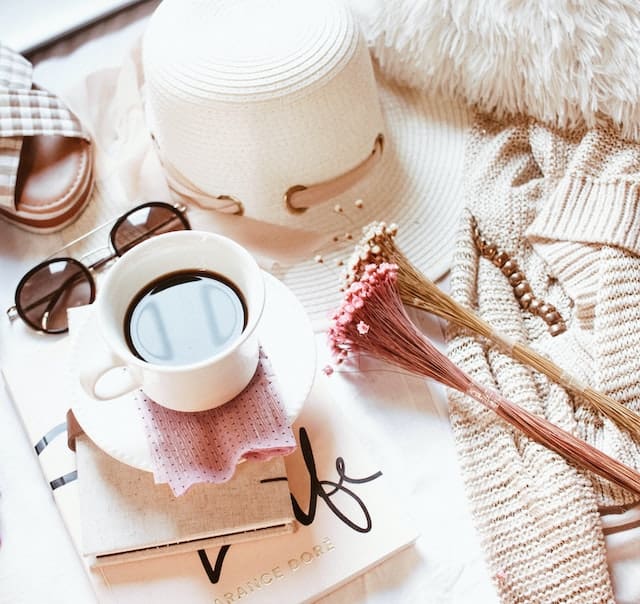 While most of the caffeine is removed in the decaffeination process, you want to make sure you get the full coffee flavor. With modern processing, decaf coffee no longer has to be a tasteless substitute for coffee. Here is a checklist to find the best decaf coffees available in today's market.
How is the coffee processed?
When it comes to decaf, one of the biggest questions is how it is processed. Decaf coffees traditionally are processed using chemical solvents. Although these chemicals are considered safe by the FDA, many have discovered that more natural processes give your brew more flavor.
High-end coffee brands often use a Swiss Water Process or a Mountain Water Process. If a water process is used, you should find it proudly displayed on the coffee's package.
Choose dark, medium, or light roast
Are you a fan of the rich dark flavors of coffee? Or, do you prefer a light, fruity roast?
You can find your favorite roast style in a decaf coffee. Many choose to go darker roast when it comes to decaf coffee, so you are sure to get a strong coffee flavor you love.
Whole beans, coffee grounds, or pods?
You can find decaf coffee in whole beans, grounds, or single-serve pods and capsules. Whole beans can give you a delicious fresh flavor, while pods and capsules allow you to get your morning brew quickly and relatively mess-free.
Many popular brands make your favorite roast and flavor in decaf as well as full caf. 
Full caf to decaf. Why make the switch?
According to a recent study, 32% of Americans drink decaf coffee. Here are some of the most common reasons coffee drinkers choose decaf over fully caffeinated.
1. Lower anxiety and regulate your mood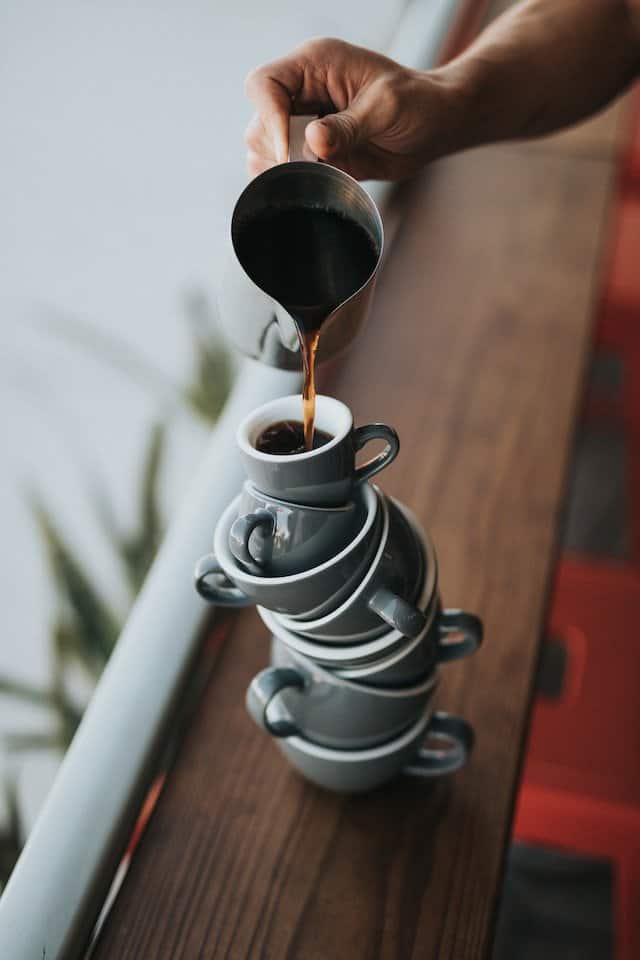 Caffeine increases your metabolism and cortisol. It can be beneficial for weight loss and alertness.
However, too much caffeine can also cause your heart to race, triggering a "flight or fight" response. Increased anxiety, energy crashes, and panic attacks can be signs that caffeine is overwhelming your body.
2. Get some sound sleep
Many coffee drinkers choose a fully caffeinated coffee as a morning beverage. However, as the day wears on, some choose to switch to decaf.
Decaf coffee allows you to enjoy a tasty treat, but you don't have to lie awake at night regretting your decision. If insomnia has become a prevalent issue, coffee drinkers may forgo caffeine altogether and switch to all decaf–at least until they regulate their sleep cycle.
3. A healthy pregnancy
Many expectant mothers need to keep caffeine levels in check during pregnancy for their health and the health of the baby.
The American College of Obstetricians and Gynecologists (ACOG) recommends no more than 200 mg daily. This equals about two small cups of coffee per day.  Decaf coffee can give you the delicious taste of coffee while staying within a safe caffeine limit. 
How is decaf coffee made?
Decaf coffee starts out the same as regular coffee. Once the beans are harvested, however, they are processed differently.
To make a batch of decaf, the beans are heated and soaked in liquid. Then, they are decaffeinated by applying solvents directly or indirectly, through Swiss or mountain water processing, or through liquid carbon dioxide. 
The solvent method
Most often, decaf coffee is processed using chemical solvents, such as methylene chloride or ethyl acetate through a direct or indirect method. 
The direct method first steams the beans and then rinses them using a solvent to remove caffeine. 
The indirect method follows a similar process. However, the chemicals don't directly touch the beans in this method. Instead, the beans are soaked for hours. Then, chemicals are added to remove caffeine from the coffee-flavored water before it is reinfused into the beans.  
After the caffeine is removed in a solvent method, the beans are washed, steamed, and roasted, and the liquids from the decaffeination process evaporate.  The FDA strictly regulates this process and only trace amounts of chemicals are allowed.
Water processing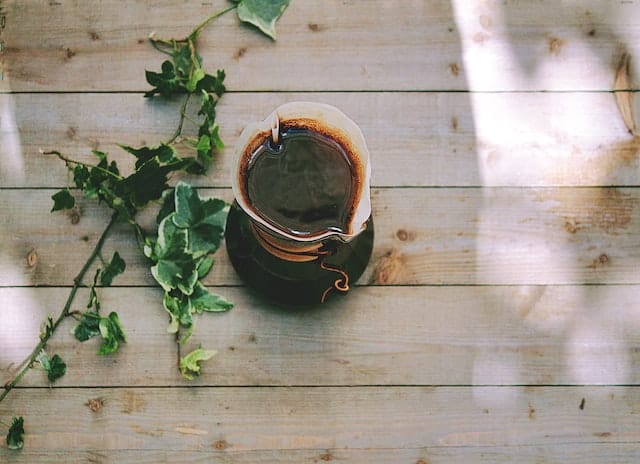 The Swiss Water Process and Mountain Water Process are both trademarked methods to remove up to 99.9% of the caffeine from the beans. These processes use heat, time, and water to remove caffeine from the beans. 
Green Coffee Extract goes through special filters to remove caffeine molecules while keeping the rich coffee flavor. Then the oil and flavor are infused back into green coffee beans without the caffeine. These water processes maintain the rich flavor of coffee while effectively removing the caffeine. 
The main Swiss Water Process plant is currently located in Canada while the main Mountain Water Process plant is in Mexico. 
Liquid carbon dioxide
The supercritical carbon dioxide method uses CO2, high temperatures, and pressure.
In this method, the beans soak for many hours, and the caffeine is removed using CO2. The CO2 can enter the beans like a gas while leaving the beans' proteins and carbohydrates untouched. CO2 then acts like a liquid to dissolve the caffeine component before evaporating. 
While the solvent method is the most common, the Swiss and Mountain Water Processes are the most highly sought after.
Whichever decaffeination method is used on the beans, the FDA stipulates that it must remove 97% or more of the caffeine. This means that one cup of decaf coffee can contain as little as 2 mg of caffeine.
Final Thoughts
Coffee is a routine that is hard to give up. However, when you need to limit your caffeine intake, there are many brands of decaf that can still give you a rich coffee taste. We've found several options that taste delicious, and some that include natural energy-boosting properties.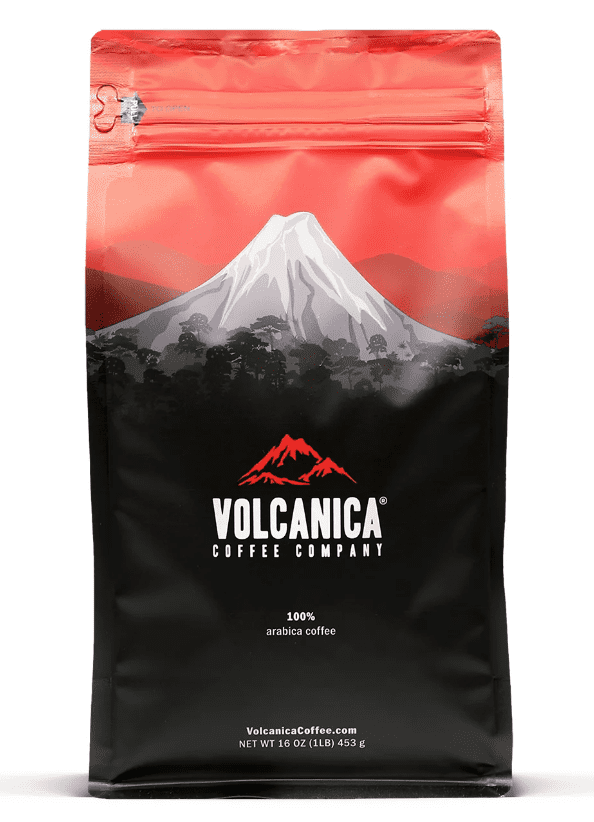 Our overall best decaf coffee is the Volcanica. We love not just the story behind its origins in Brazil and ethical sourcing, but also the delicious smooth chocolate flavors it produces. Grab yourself a bag and forget that its decaf!  
Whether you enjoy authentic Italian espressos with crema, use a drip method, or prefer cold brew, you can find a tasty decaf option to satisfy your cravings.
FAQs
Is it healthier to drink decaf coffee?
It depends. While caffeine may improve mood or energy for many, some may experience nervousness, nausea, insomnia, or other adverse effects from too much caffeine. Decaf coffee contains many of the same healthy properties as regular coffee while keeping your caffeine intake in check.
Is decaf the same as caffeine-free?
While the decaffeination process removes 97% of caffeine or more, decaf is not the same as caffeine-free.
Caffeine-free products do not contain any caffeine at any point. Decaf means that caffeine was removed from a product either chemically or through water or liquid carbon dioxide methods.
Decaf products usually contain some caffeine. However, the amount of caffeine in decaf coffee is negligible.
What decaf coffee does Starbucks offer?
You can buy many of its beloved coffee flavors in a decaf version. While you may not find your favorite decaf blend on the shelf, Amazon is a reliable source for Starbucks decaf coffees.
Also, you can order Starbucks decaf coffees and decaf specialty drinks from the menu. According to Starbmag, Starbucks uses the chemical, methylene chloride, to remove up to 97% of the caffeine from its decaf coffees
How much caffeine is present in decaf coffees?
The FDA stipulates that brands must remove at least 97% of caffeine to receive the decaf label.
Most 8-ounce cups of coffee have about 7 mg of caffeine. However, the amount of caffeine varies according to the brand of coffee and your brewing method.
For example, at Starbucks, an 8-ounce Short Decaf Pike Place coffee contains approximately 15 mg of caffeine when you order it from the menu. This is still well below the average amount of caffeine in a regular cup of coffee.
Why does decaf coffee give me a headache?
If you usually drink regular coffee, you may have withdrawals when you switch to decaf. The sudden lack of caffeine can leave you with a headache.
Also, methylene chloride, which is used to process decaf coffee, is known to cause headaches and lightheadedness when you inhale the substance directly. However, the FDA approves and regulates its use to process decaf coffee. During the roasting process, the chemicals evaporate leaving only a trace amount in the final product.
Coffee Has Never Read This Good!
Sign up for a FREE newsletter to the best home brewing tips and guides
Thank you for subscribing to The Cup Coffee House Crew! There's a surprise in your Inbox 🙂
Something went wrong.
About the Author
Latest Posts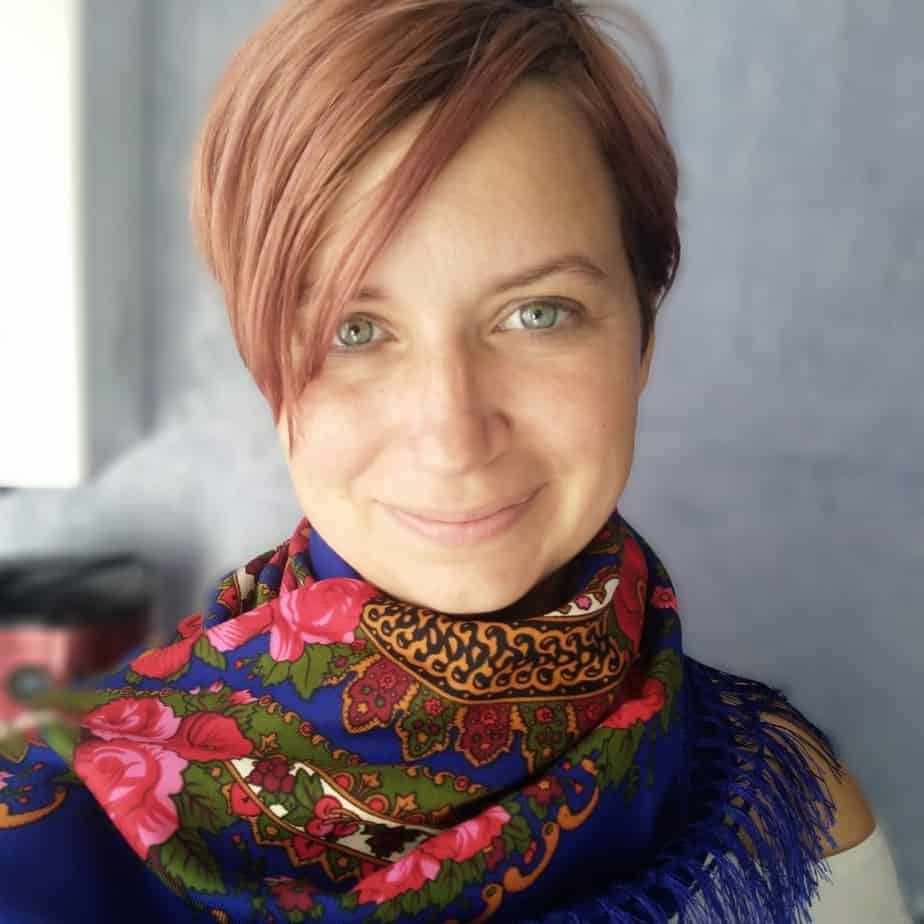 Alex Praytor worked her first job as a barista, finished college, and then took a tour to the other side of the globe. She fell in love with espresso and her would-be husband in Europe. She spends her spare time visiting native Texas landmarks, ancient castles, and all the coffee shops she finds along the way. At home, she is a mom, ESL teacher, and writer, who hones her coffee-making skills daily. She enjoys passing on her coffee findings to fellow caffeine addicts in search of the perfect cup.
Chief Editor