Last updated on June 14th, 2023 by Jules Winnfield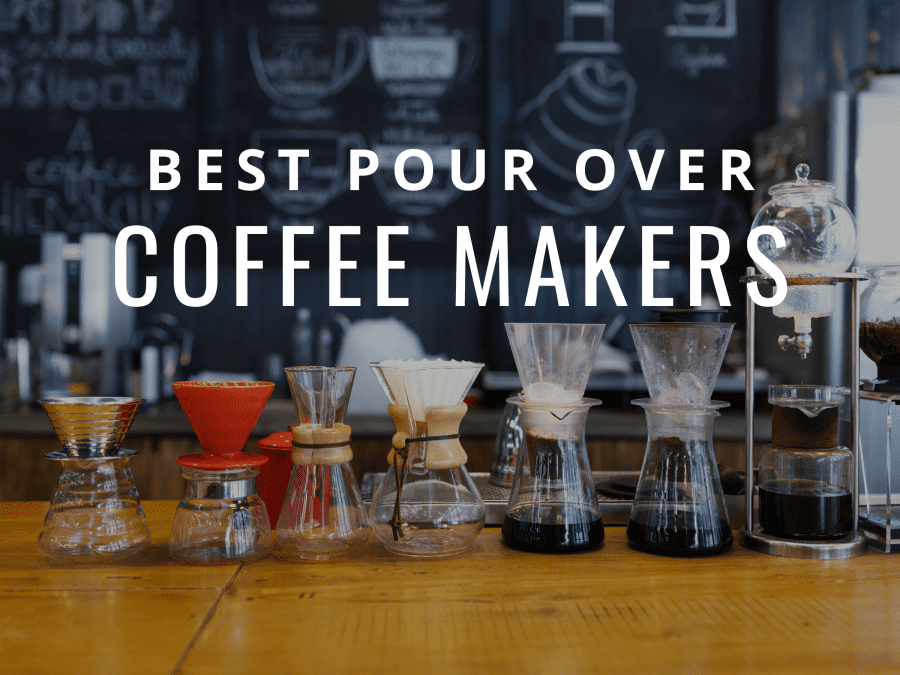 It can be really difficult to get the most out of your coffee beans at home, especially with our busy on-the-go lifestyles. And going to a high-end barista can get pretty expensive after a while. 
So, if you're splurging on top quality coffee beans or ground coffee to make at home, you probably should use the best method and equipment to really get the full flavor profile out of your coffee. Otherwise, you risk wasting a good product. 
Despite the huge variety of coffee makers on the market today…from expensive espresso machines to affordable stovetop espresso makers or the classic cafetière, there's a good reason why pour-over is still the preferred method of high-end baristas. 
Oftentimes, simpler is better when it comes to catching all those intricate flavors with every cup.
So to help you make sense of all the options out there, we compiled a detailed list of the best pour over coffee makers available on the market. We reviewed the details of each product, their unique features, and pros and cons so you can pick the best one to fit your coffee brewing needs. If your mouth is watering for a delicious pour over brew, keep reading!
In a hurry? If we had to choose the best all around pour over coffee dripper, it's the Chemex. It isn't super difficult to use, and is a high-quality coffee maker that not only looks beautiful but performs consistently and effectively.  Its design also makes it a timeless classic and it is widely recognized around the world for good reason. 
---
How to Choose the Right Pour Over Coffee Maker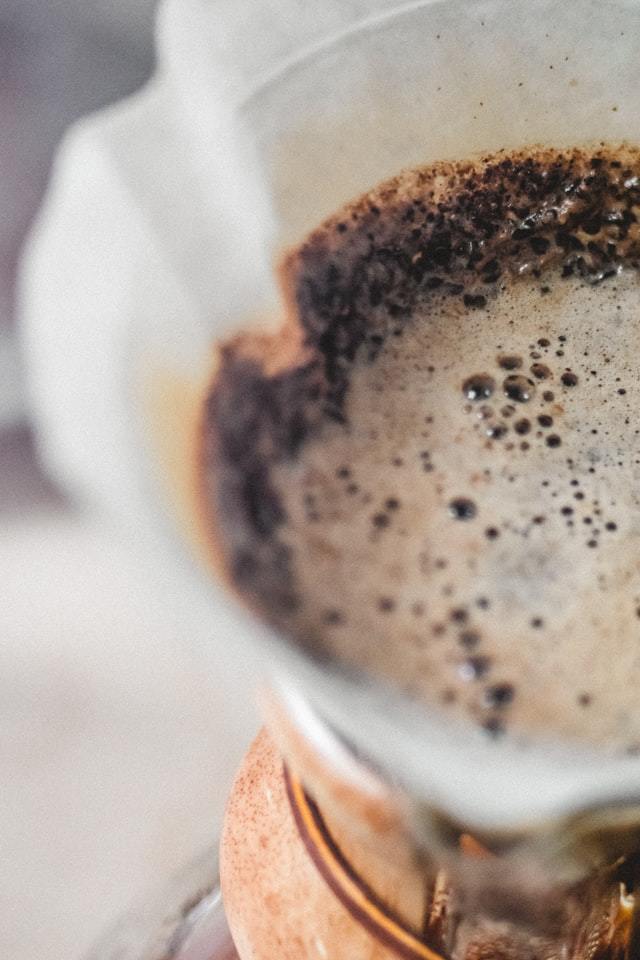 You'll be surprised how easy the perfect 'cup o' joe' can be.  With these pour over coffee drippers, you'll be able to brew up a pot like a master barista and start your morning right, every day. 
When looking for the best pour over coffee maker, here's a few key things to keep in mind so you end up with the right one for you.
Quality: What is it made of? Glass, Stainless steel, ceramic, or plastic? The material will impact water temperature, and thus overall flavor and results
Ease of use: Is it simple to use? Simple to clean and maintain? How quickly does it make coffee?
Quantity and size: How many cups of coffee does it make per batch? Enough for a group or just for a single person?
Brewing options and control: Can you adjust the brew time, temperature, and flow rate like a manual drip coffee maker? Or is automated for you?
Price: How much does it cost compared to the value you are getting?
Versatility: Does it come with any special features? Design advantages?
Performance: Does it consistently extract evenly brewed coffee?
How We Determined the Best Pour Over Coffee Makers
Considering all the factors above, we ranked the best pour over drip machines available. Honestly, it's probably not fair to rank them since each has its own features and benefits that work for certain coffee drinkers. Review each and find the one that makes the most sense for you.
The Chemex is a very popular pour over coffee maker, and for good reason.  It has many fans of its elegant and timeless design all over the world.  It was invented by chemist Peter Schumbohm in 1941 and has remained relatively unchanged since. It's even included in the Museum of Modern Art's permanent collection! 
A very classy-looking piece of hardware, the Chemex coffee maker can make several cups worth of coffee at once.  Perfect for making a big batch of coffees for your colleagues in the office or for when having guests over. 
As well as being very pleasing to the eye, the coffee that the Chemex brews is delicious, well-rounded and floral.  It also has an extremely usable, elegant design, with a built-in carafe and large cone for maximum flavor extraction.  
Made from high-quality, non-porous Borosilicate glass, the Chemex does not absorb odors and does not leave any chemical residue.  It also features a very aesthetically pleasing and elegant wooden handle to pour your coffee without running the risk of burning your hands. 
They're also very easy to clean and store.  Chemex claims that this coffee maker can give you a lifetime of service, as long as you take good care of it, of course. 
In order to keep your batch of coffee warm, you can place the Chemex on a glass stovetop or a gas flame stove on low heat.  If you don't finish your whole batch of coffee, you can even cover the top of it and reheat it later.  
Like most of the other coffee makers on our list, the Chemex uses proprietary coffee filters, although these can easily be found online and in many specialty coffee shops.
Pros
Classic, elegant design 
Built-in carafe 
Large capacity 
Great flavor 
Dishwasher safe, stovetop safe 
Cons
Requires proprietary paper filters 
Narrow neck of the pitcher makes it difficult to clean by hand
If you're a beginner when it comes to brewing your own coffee with a dripper, the Kalita Wave 185 is a great place to start.  Very inexpensive and easy to use, it's a great option if you're looking for an easy way to get a balanced, consistent flavor.
This is thanks to its flat bottom coffee bed and three-hole design, which promotes good water drainage for an even flavor extraction. 
Because of this simple design, it's the ideal pour over coffee maker for beginners to get consistent results with every cup. 
The Kalita Wave 185 comes in three different materials for you to choose from; glass, ceramic and stainless steel.   With it, you can brew directly into your cup or a larger pot. 
With the 185 sized models, you can brew between 26 to 45 grams of coffee grounds.  This will yield between 16 to 26 ounces of brewed coffee. 
One drawback of using this model to brew your coffee is that it requires you to use their proprietary "Wave" filters, which are a little more expensive than the basic coffee filters or alternatives that you can buy at the store. 
They can also be difficult to find in your local store, so they're usually only available from online retailers.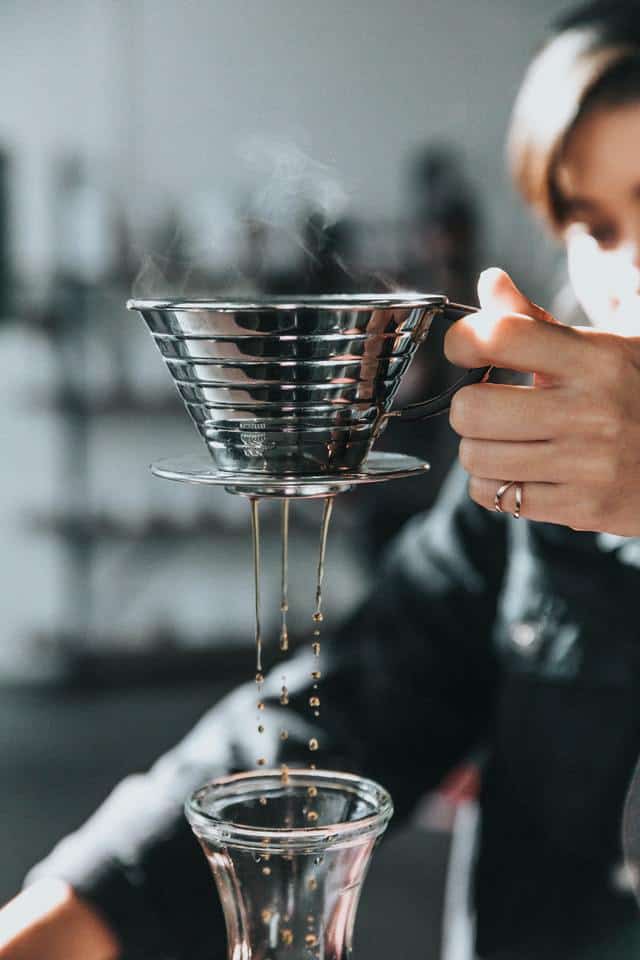 Pros
Easy to use for beginners 
Designed for consistent flavor 
Choice of 3 different materials 
Cons 
Requires proprietary paper filters that can be difficult to source 
Doesn't produce fullest flavor possible 
One of the most satisfying things about the pour-over method of coffee brewing is that there is a kind of ritual and precision when it comes to your pouring technique.  If you have some experience in this and you're confident in your barista skills, then the Hario V-60 is a terrific option for you to up your coffee game.  
With this manual drip coffee makers wide conical shape, it's a fun challenge to pour like an expert, paying close attention to your aim and the rate of your pour.  The wideness of the dripper will allow you to spiral your pour around the parameter of the dripper's cone just like a real pro. 
While this may take a little more practice and focus in order to get consistent results, the satisfaction you get from making the perfect cup of coffee will make the process worthwhile.  
The benefit of using a ceramic dripper is that the material retains heat more than plastic or stainless steel.  This means you will get a constant temperature throughout the brewing process.  The large cone and ribbed shape allow for maximum expansion of the coffee grounds during the brewing cycle, which is ideal to accentuate coffees with floral or fruit flavor notes.  
With three sizes to choose from to suit your needs, the Hario puts you in control of your brew.  It features a single hole, allowing you more control over the speed of your pour which affects the resulting flavor of your cup of coffee.  As we mentioned previously, it may take a little more practice but the results will speak for themselves. 
Like the Kalita Wave 185, the Hario also uses proprietary filters, but these are more widely available from specialty coffee shops as well as online.  
Pros
Made from ceramic for good heat retention 
Full-bodied flavor profile 
Choice of 3 sizes 
Allows you more control over your brew
Cons
Requires proprietary filters
Not ideal for beginners 
Requires some practice for a consistently perfect brew
This pour over coffee dripper is more on the basic side.  If you value convenience and ease of use rather than mastering the nuances of the perfect brew then this would be a good option for you.  The Bee House ceramic coffee dripper uses more affordable and common coffee filters that are available in grocery stores, making it ideal for beginners or those who just want a simpler way to brew a cup of coffee.  
Because of the smaller size and basic design, the flavor profile this coffee dripper produces isn't as deep, nuanced, and multifaceted compared to other coffee drippers, but it nonetheless succeeds in making a good cup of coffee.  It's without a doubt better than a cup of instant coffee, that's for sure. 
Like the Hario V-60, the ceramic dripper retains heat for a constant temperature during the brewing process. The smaller size of the cone, however, doesn't allow for the best flavor extraction possible, and the coffee brewed by the Bee House dripper has a far less complex flavor profile.  It also only holds enough coffee grounds to make between 2 and 4 demitasse cups.
Pros
Uses common coffee filters
Made from ceramic for good heat retention 
Very affordable 
Available in a large variety of colors 
Cons
Basic design 
Doesn't produce the best flavor 
Small capacity
With such an elegant design, this porcelain set containing a pour-over cone and a matching carafe wouldn't look out of place in even the classiest of homes. 
Available in a variety of pastel colors or plain white, not only does it look great but it makes a great cup of coffee.  The large coffee cone allows for great flavor extraction, producing a very full-bodied and floral flavor profile to your coffee.  
The carafe has a 20-ounce capacity, which equates to two and a half cups of coffee. The carafe also features an anti-drip spout for the perfect pour every time, mess-free.  This is the ideal set for your morning coffee with your breakfast to start your day in the best way possible.  
The Melitta Pour Over set is dishwasher safe, so cleaning couldn't be simpler.  However, unlike the Chemex, the Melitta carafe is not safe for heating on the stovetop, although this isn't much of an issue considering its relatively small capacity.  
Pros
Eye-catching, elegant design
Comes with a matching carafe 
Comes in a variety of colors 
Anti-drip spout for mess-free pouring
Cons 
Carafe is not stovetop-safe 
Relatively small capacity 
A little different from the other products listed here, The Clever Dripper is a sort of a cross between an immersion brewer and a pour-over dripper.  This device is aptly named as it's almost impossible not to say "wow, that's clever!" when using it. 
All you have to do is add a filter, your coffee grounds and then pour hot water into the coffee cone and let it steep for a few minutes, as you would when using a French press. 
After that, simply place the Clever Coffee Dripper over a mug and watch as your fresh brew is released into your mug waiting below.  
With the Clever Coffee Dripper, you get the full, rich flavor of an immersion brew with the simplicity and easy cleanup of a pour-over coffee. The best of both worlds!
And with this new glass version of the Clever Coffee Dripper, the heat retention is improved allowing for a more constant temperature during the brewing process. 
Although this is an improvement from the older glass model, the use of glass does make it less durable for travel.  
The cone of the Clever Coffee Dripper is sized for a standard #4 paper coffee filter and it can brew up to 4 cups of coffee at a time.  
Pros
Easy to use
Deep, rich flavor 
Easy to clean 
Uses common standard cone coffee filters 
Cons 
Isn't a true pour-over, as it's combined with an immersion brewer 
Glass model isn't as durable compared to glass or stainless steel
Heat retention isn't as good as other ceramic pour over coffee makers 
If you're not sure that you want to immerse yourself in the intricacies of the perfect pour-over brew, the Oxo Brew Pour-Over Coffee Maker has made what we think is the easiest to use pour-over coffee maker on the market.  
It features a water tank on top of the cone, which drips over your ground coffee in an even distribution and at a consistent rate, so the hard work is done for you.  
All you need to do is equip the Oxo Brew Pour-Over Coffee Maker with a standard #2 filter (10 are even included when you buy the product), add your ground coffee, and fill the tank with hot water.  It even features a lid above the water tank to retain as much heat as possible.  The 355 ml cone can brew up to two cups of coffee at a time.  
The water tank above the cone features a pattern of holes that allows the water from the tank to shower over your ground coffee evenly and consistently. This guarantees a consistently good cup of coffee each and every time, without any hassle and regardless of your skill level.  Perfect for those of you who, in the morning, would rather set it up and forget it and have your hot cup of coffee waiting for you.  
Pros
Quick and easy to use 
Consistent results 
Comes with 10 coffee paper filters 
Easy to clean 
Very affordable
Cons
Doesn't produce the best flavor possible 
Made from affordable plastic 
Small capacity, only produces up to 2 cups 
The Woodneck is a glass pot system that originated in Japan.  It makes a small quantity of very, very high quality coffee. 
It consists of a glass cone with a cloth filter, a wooden holder and a small serving vessel, all in one system.  Because it comes with its own cloth reusable filter, that means you don't need to buy your own paper filters, like all our other pour over coffee makers on our list.  This makes it great value for money.  
The cloth filter of the Hario Woodneck Drip Pot is responsible for the deep, intense flavor this drip pot can produce.  It's not as intense as an espresso but far richer than your typical drip coffee. 
Because the cloth filter is much thicker compared to more common paper filters, it gives the coffee an unmistakable flavor that resembles a French press coffee but without the mess, similarly to the Clever Coffee Dripper. The shape and design is similar to that of the Chemex, with its curved glass shape, in-built carafe and wooden collar.  
The design of the Hario Woodneck Drip Pot is eye catching and elegant.  It would look great on any countertop.  It's also suitable for pros and beginners alike, and produces a great full-bodied flavor profile. 
This system is better suited for medium-fine grinds, and darker more robust coffee roasts.  It is not so suited for lighter, more acidic roasts or more coarse grinds.  
Pros
Great looking design
Rich, full bodied flavor 
Does not require you to buy paper filters for it
Easy to use 
Cons
The filter requires additional cleaning 
Not ideal for lighter roasts 
Buyers' Guide and Verdict
So after reading all this information that we compiled for you, we hope we've managed to give you a better understanding of which pour-over coffee maker is the right one for you.  We included these products in our list because we think they're the best on the market to choose from, but we also tried to include ones better suited for beginners rather than experienced coffee brewing enthusiasts only, so there's something for everyone.
For beginners or people who simply prioritize convenience over the best possible flavor, the ideal pour-over coffee makers would be the Kalita Wave 185, the Bee House Ceramic Coffee Dripper, The Clever Coffee Dripper, or the Oxo Brew Pour-Over Coffee maker. 
These coffee makers rank high on the easy-to-use scale, but they also all feature quality, durable materials and they all make a great tasting coffee, even if they aren't the best the market has to offer. 
The easiest one to use one out of all of these has to be the Oxo Brew Pour-Over Coffee Maker, simply because of the ingenuity of its water tank system. It provides you with a great pour-over drip coffee with a fraction of the effort and time.  
The Oxo Brew Pour-Over Coffee Maker really couldn't make it any easier for you to make a delicious pour-over coffee.  They even provide you with 10 coffee filters with your purchase, so you can get started.  All you need to add is the ground coffee and the hot water.  The water tank also takes the hassle out of the pouring process. 
While some coffee purists may claim that this is an integral part of the pour-over coffee brewing process, some simply don't have the time or patience to master this art, and just want a quick pour-over coffee in the morning.  And we don't blame them! 
A consistently delicious cup of coffee with so much ease, without the hassle of worrying about the rate of your pour or the water temperature, and an incredibly easy cleanup.  There are measurement lines on the water tank too, so you know exactly how much coffee you're brewing.  
Want more automated pour over options? Check out our review of the Best SCAA Certified Coffee Makers.
On the other side of the scale, we have the high-end coffee makers, which produce the most well-rounded, full-bodied, and complex flavor possible.  For the best taste, you should go for the Hario V-60, the Chemex Classic, the Melitta Porcelain Pour-Over Carafe Set, or the Hario Woodneck Drip Pot. 
With any of these, you can expect a delicious coffee with every brew, and you will get the most out of your coffee beans by extracting the best flavor possible, encapsulating the whole flavor profile.  If you're passionate about coffee, these are the coffee makers that should be grabbing your attention.  
The best all-rounder, we believe, is the Chemex. It isn't terribly hard to use, and it is a high-quality coffee maker that not only looks beautiful but performs consistently and effectively.  Its design also makes it a timeless classic and it is widely recognized around the world for good reason. 
When used properly, the Chemex makes coffee that is simultaneously smooth and full of flavor.  Although it does take some practice to get consistent results, we believe that this effort is totally worth it.  The ritual of using a kitchen tool like the Chemex every morning is something we feel that any coffee lover would enjoy.  
The Chemex also has a long and storied history.  It isn't only a high-quality kitchen tool, it's a work of art! It also has a kind of scientific look to it, as if it should belong in a laboratory rather than your kitchen counter. 
Made from a single piece of glass that can hold up to 34 ounces of coffee, its sleek and timeless design is a favorite among coffee lovers across the globe.  With an inbuilt glass carafe and polished wood collar complete with a leather tie, it makes an elegant and noteworthy addition to anyone's kitchen.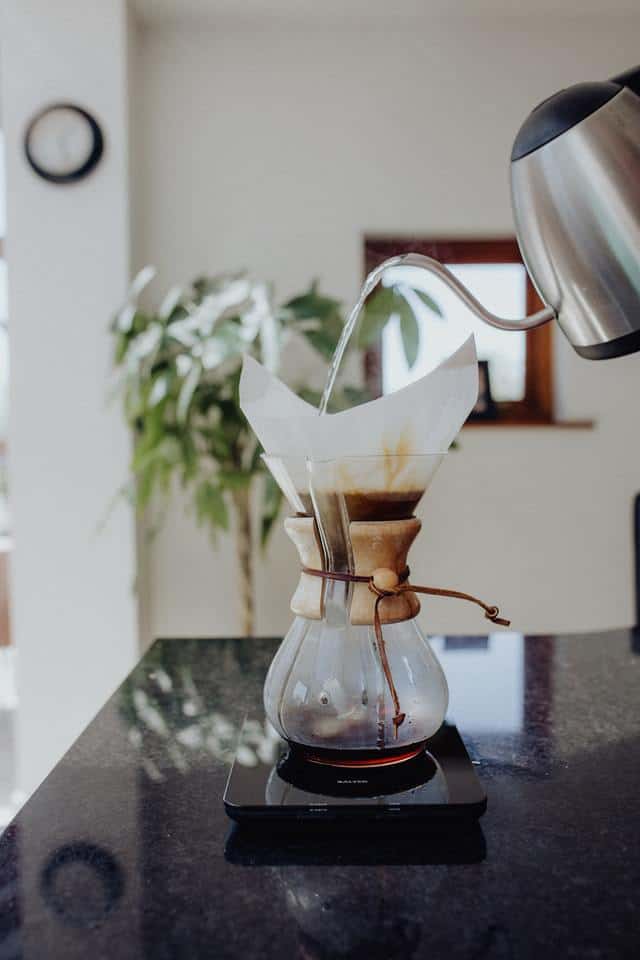 Frequently Asked Questions
Is pour-over coffee better?
For many coffee lovers, yes, pour-over coffee is the preferred brewing method, especially for black coffee. Since the brewing process is longer, there is a more intricate flavor extraction which makes for a more flavorful clean brew. But its love is tapered by the difficulty of mastering the brewing process and brewing a consistent cup each time.
Is pour-over coffee bad for you?
It depends. Filtered coffee removes alot of oils called diterpenes. These oils can increase LDL and bad cholesterol but also may have cancer, cardiovascular, and metabolic health benefits. So if you have high cholesterol and still want to enjoy coffee, pour over is probably your best bet.
What is the healthiest way to prepare coffee?
Studies have shown that filtered coffee is the safest. Research published in the European Journal of Preventive Cardiology found that unfiltered coffee contains substances that increase blood cholesterol. Using a filter removes these and makes heart attacks and premature death less likely.
Does pour-over coffee have more caffeine?
Pour-over coffee can contain more caffeine than drip coffee, cold brew, or French press. This is because the brewing method uses very hot water and a gravity pull, which extracts more of the caffeine from the coffee grounds. But this assumes all things are equal like the roast and grind profile of the coffee beans.
When did pour-over coffee become a thing?
The method of making pour over coffee originated in 1908. It was invented by a German entrepreneur named Melitta Bentz who was dissatisfied with the current brew methods that left coffee bitter with coffee grounds in the cup. Today pour over is the go to method for specialty coffee enthusiasts.
What is the difference between pour-over and drip coffee?
They are basically the same, except pour-over coffee gives you more control over the rate and pattern at which you pour the hot water over the coffee. Drip coffee machines do that for you in a basic simplistic manner. Meaning drip machines do not always account for blooming, speed of pour, temperature, etc.
But despite that, drip coffee remains the most popular among coffee drinkers.
Why are Chemex coffee filters so expensive?
Chemex paper filters are made with lab-grade filter paper. The process of manufacturing this paper is more expensive. Also, because of the way the Chemex filter is folded, it uses more filter paper than a standard, glued paper filter.
Is pour-over coffee better than espresso?
It really depends on your personal preferences. Filter coffee, including pour-over, tends to draw less acidity than espresso. That means it accentuates the more subtle, intricate flavors of the coffee. But espressos are much quicker to prepare and can be a real tasty beverage when milk is added.
Is pour-over coffee stronger than espresso?
What grind should I use for pour-over coffee?
The pour-over method of brewing coffee works best with a medium-course grind.
Can I add milk to my pour-over coffee?
Because this method makes a less bitter coffee compared to espresso, and it accentuates the subtle nuances of your coffee, it is recommended that you don't add milk to your pour-over brew.
Final Thoughts
So whether you are a beginner pour over coffee drinker practicing your pouring technique or want great coffee without all the work or you're a coffee enthusiast who takes great satisfaction pouring the perfect full flavored cup, any of these pour over coffee makers will serve you well.
Choose the one that fits your needs and start enjoying freshly brewed coffee as it was designed: Simple and delicious!
Interested in the pour-over method but lacks accessories? Check this out to view the best coffee scales in the market.
Not in the mood for manual brewing or don't have the time? Check out our deep look at some of the best automatic pour over brewers like the Bonavita Connoisseur and Cuisinart Perfectemp. The DeLonghi TrueBrew is also a great product for an automatic drip coffee maker.
Want more brew styles? For a full list of the best coffee makers to choose from, see our Guide on the Top Coffee Machines for Beginners.
Coffee Has Never Read This Good!
Sign up for a FREE newsletter to the best home brewing tips and guides
Thank you for subscribing to The Cup Coffee House Crew! There's a surprise in your Inbox 🙂
Something went wrong.
About the Author
Latest Posts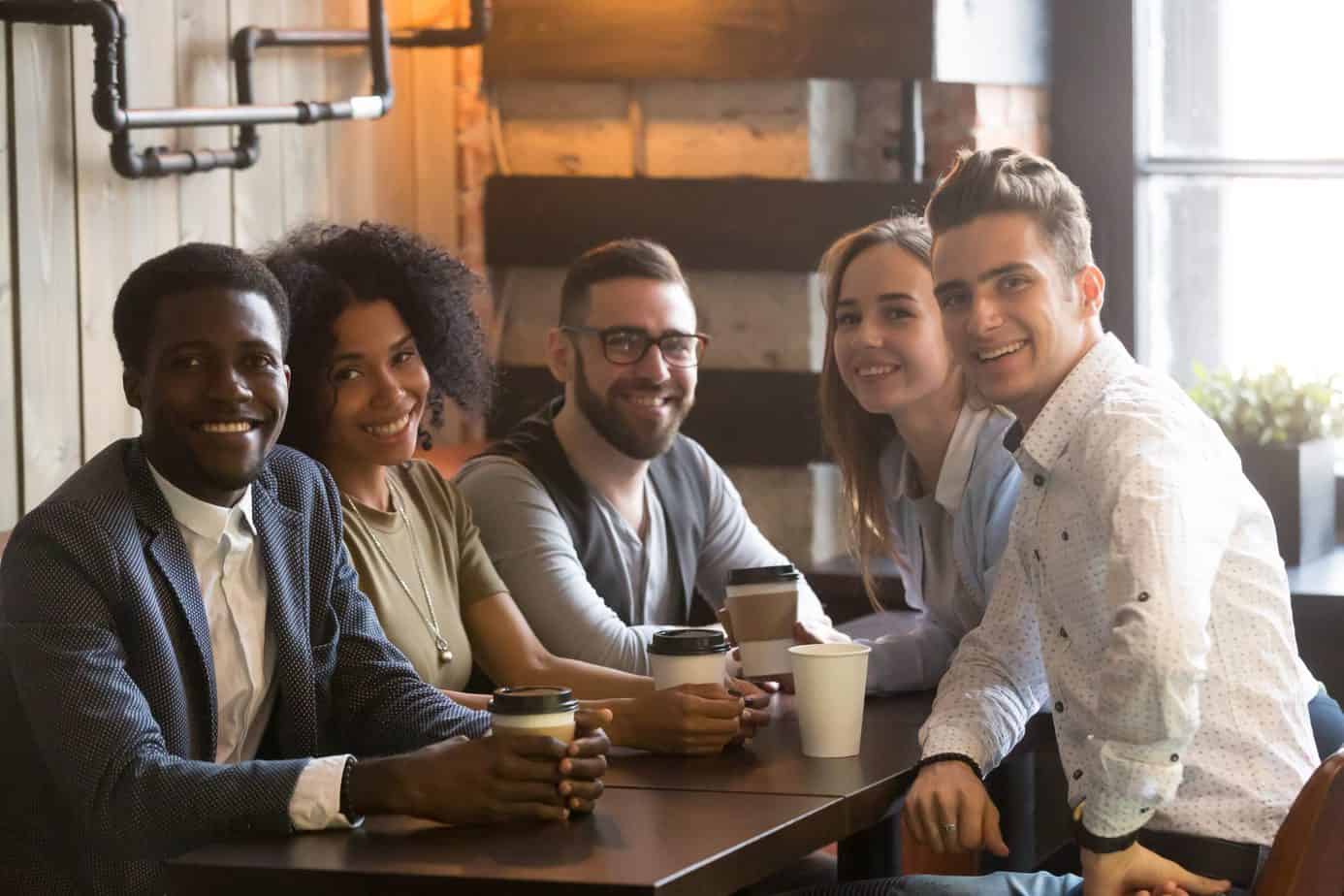 "Jules" is a pharmacist by day and investor, writer, and health nut by night. When he's not sipping on some coffee laced with MCT oil during an 18 hour fast, he is writing about how to get your coffee grind on or playing Monopoly with his 2 boys and wife. Ahh…life is good!