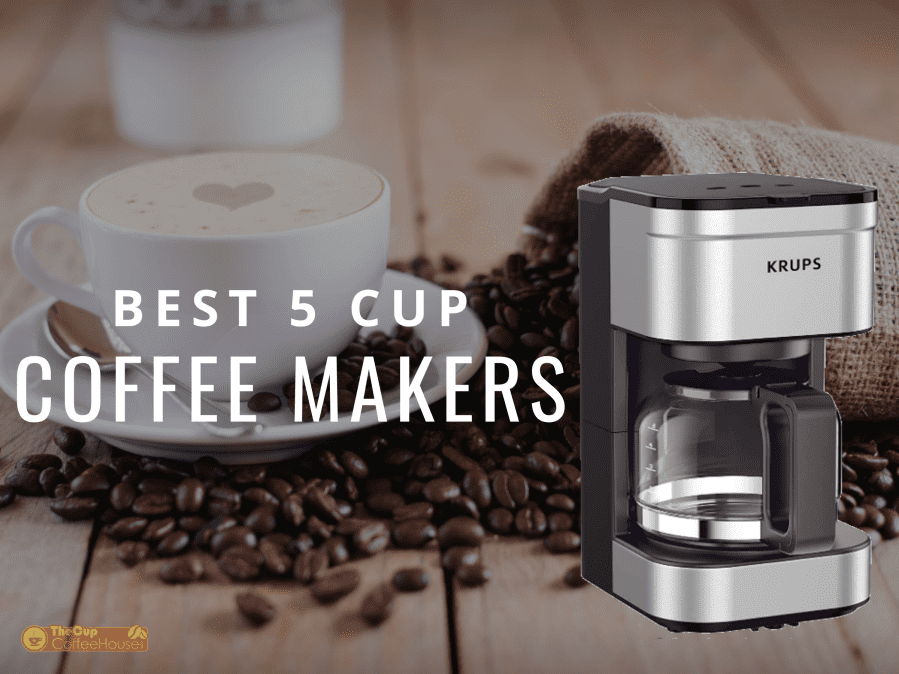 If you live in a cozy space with a small household of just one or 2 people, a 5 cup coffee maker could be for you. While many choose to buy a bigger machine even when they drink alone, there are some pluses for matching your coffee maker to your daily drinking style.
Choosing a smaller machine means you can save space on your kitchen counter, save money, and save energy. This sounds like a win, win, win! You can expect to get 2 full mugs of brewed coffee out of a 5-cup coffee maker. If company does come over, you can always run an extra pot of freshly brewed coffee and pour your coffee in a thermos to keep it warm.
We've done the legwork and have invested time and research to find the best picks for your new 5 cup pot. We found many great designs that have 1,000s of positive ratings from other coffee drinkers.
Want the quick summary? Our top pick for the 5-cup pot is the Krups Simply Brew Coffee Maker. This coffee machine is compact and has several great features including a dishwasher-safe carafe, one-touch brewing system, an anti-drip function, and more.
Compared to other machines in its gamut, it has a mid-range price in the $30 neighborhood. Thousands of customers were pleased with this simple, quality machine; Perfect for the avid coffee drinker who values space and doesn't need to brew a large batch each morning.
---
Why Choose a 5-Cup Coffee Maker?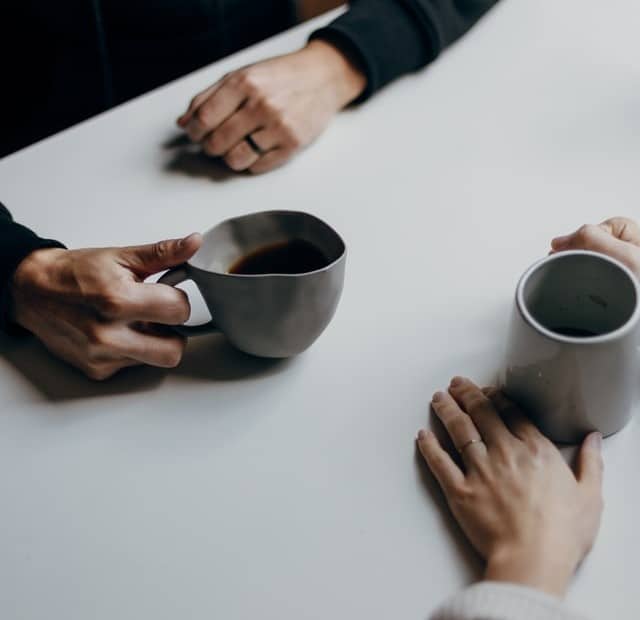 If you are looking for the best coffee brewer as a single coffee drinker or as a couple, you have a few small coffee maker options. There are the single brew, the 4 cup coffee makers, or the 5 cup coffee makers. The 5 cup may be right for you if:
1. You want to brew the full amount of coffee you want to drink in one batch.
You don't want to keep going to a Keurig, and have to wait for it to heat up all over again to get your second cup. Instead, you may prefer to nurse your cup along with "warm up" coffee as you drink.
2. You want to drink as a couple.
As a couple, you may like to drink your cups at the same time. With a single brew machine, one person may already be half done with their coffee while you are just getting your cup. Where is the romance in that? If you brew a small batch together, you can share the coffee drinking expereince.
3. You want more than what a 4 cup coffee brewer can give you.
Let's face it, a 5 cup coffee maker gives you five more ounces than a 4 cup will. A 4 cup coffee maker will give you two scant cups, while a 5 cup coffee maker will give you two full cups. Five ounces might not seem like a lot, but when you are talking about coffee it can make a difference!
4. You don't like to waste coffee.
If I have a 12 cup brewer, I fill it almost full whether I need to or not. For one thing, it looks so empty if I brew less, and for another, my machine (like many coffee machines) gears the taste of the coffee towards a full pot. You actually can mess up the ratio if you brew a small batch of coffee in a larger machine.
Unfortunately, this vicious cycle can leave you throwing away coffee, drinking it cold, or burning the extra on the warmer burner. It's such a shame to waste a cup of coffee! By choosing a 5 cup, you can efficiently have your pot and drink it too!
5. You have a small space.
If you live in a small space, saving a few inches on your countertop can be important. A 5 cup drip coffee maker is ideal for RVs, tiny homes, dorm room, apartment living, or your smaller than average kitchen.
How We Ranked the Best 5-Cup Coffee Makers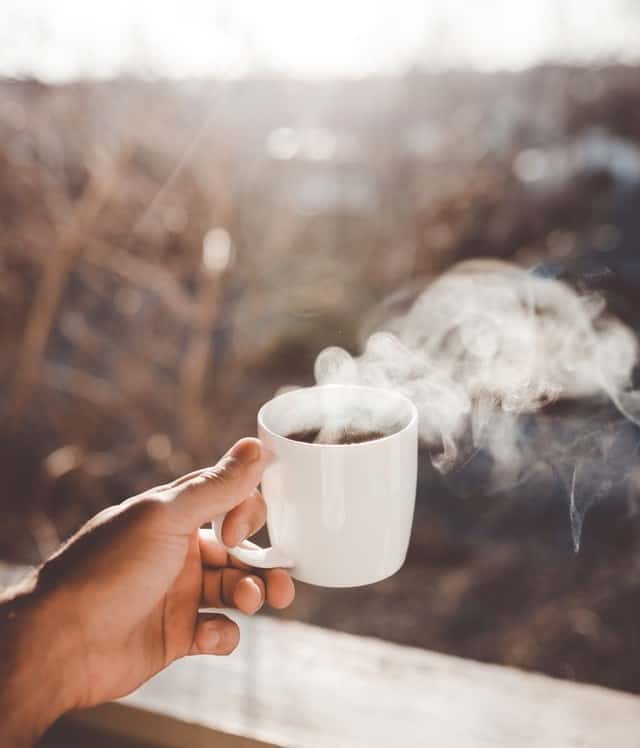 When we looked for our perfect coffee maker in the 5-cup coffee machine category, we went in with a list of questions and came out with several name brand machines, and a few unique models. Here are some of the questions we asked when searching for and ranking our top 5-cup coffee makers.
1. How easy is it to use?
When looking for the best machine to buy, we look for machines that are user-friendly. Many of these 5-cup machines have a simple on/off switch and are straightforward to use. If it's parts can also be cleaned in the dishwasher at clean up time, even more points!
2. What makes it standout from the crowd?
We also looked for standout features with each machine. What does this machine have that others don't? How is it unique? We like to find features on our best machines that will make our coffee brewing experience the most enjoyable.
3. Does the price match its value?
"You get what you pay for" holds true many times, but not all times. Just because a machine is inexpensive doesn't mean its a dud. And an expensive machine may not always have better features.
We like to find the machine that hits the sweet spot of having solid features at a decent price. Or, if we pay more than the median range, we want the machine to blow us away with its features. If the value seems to match the overall package, the machine will rank higher on our list.
4. What do other coffee drinkers think?
When choosing our best list, we also wanted to know what other coffee drinkers think about it. Coffee drinkers are usually not shy about saying what works or doesn't work about their machine. If other consumers have great things to say about a machine's features, or have common complaints about the machine, we took this into consideration when deciding if it will work for us.
Our Top 7 5-Cup Coffee Makers Ranked
There were a lot of great machines in the 5-cup category. These coffee makers have many similar features which made this one of the hardest lists to rank! Also, most of the machines made it under the $50 mark. This mean you can get a solid 5-cup machine for a great price.
Check out the list below and let us know which is your favorite!
Standout Features:
Stainless steel build
Dishwasher safe glass carafe
Anti-drip feature
Drip-free spout
Reusable coffee filter and measuring spoon
One-touch brew
Water reservoir window
Things We Like:
The Krupps got our #1 spot because there were a lot of things we could check off our list with this coffee maker.
To load coffee grounds into this pot, you are not going to need to use a paper filter, because it comes with its own reusable coffee filter. This means you can buy less paper filters and more coffee!
It also comes with its own measuring spoon so you can make sure you are getting the best coffee-water ratio for each brew. Pair it with a Krups coffee grinder and you're good to go!
Another thing we liked about the Krups was that it has a wide area for you to pour your water into the tank. You don't have to worry about prematurely sloshing your water into your grounds anymore. Keep your grounds dry and your water where you need it.
If you fill the urge to pull your first cup out while the second one brews, you can rely on the anti-drip feature to pause your coffee for you. Steal your first cup without wasting your coffee and making a mess!
This coffee machine is easy to use with its 1-touch brewing system. When you have loaded your pot, you can just flip the switch and wait for the delicious aroma to hit you.
Get ready for easy cleaning after you are done with your brew! The Krupps machine offers dishwasher safe parts.
Things We Don't Like:
If we could change something about this machine, we would add an auto shut-off. With this machine you will need to remember to turn it off when you are done.
Customer Reviews:
Most customers loved the taste of the Krupps machine and mentioned that the machine makes a great cup of hot coffee. Criticism for this pot mainly rotated around the fact that it has no auto shut-off and that the on/off switch is on the side of the machine and not the front. Many solved this problem by using a Smart cord to control the shut-off feature.
Overall, most customers were happy with the performance of this compact machine!
Final Thoughts:
The Krupps appears to be sturdy built drip coffee maker with a nice mid-range price in the neighborhood of $30. It brews coffee without taking up a lot of counter space. This is a solid machine with a ton of useful features. Great pick if you are in the market for a 5-cup coffee maker!
Standout Features:
Auto shut-off
Unique water line markers
Reusable soft mesh filter
Anti-drip function
Price
Things We Like:
Amazon came out with its own brand for a coffee maker and we like what we see!
This machine has a reusable, soft mesh filter so it won't create paper filter waste. You also don't have to worry about unexpectedly running out of paper filters.
The glass carafe has unique line markers that tells you how much water you need to fill up your pot and how much coffee you can expect to get back.
If you don't like to wait for your coffee to brew the full pot, this machine will politely pause while you grab a cup.
A great selling point for the Amazon basics coffee machine is its auto shut-off feature. This safety feature makes sure that you don't burn up your machine or cause a fire hazard if you forget to turn it off. It does not have a set time it turns off. It will only turn off on its own if it is getting too hot.
Things We Don't Like:
Unfortunately, the pieces are not dishwasher safe. You will have some hand-washing to do at clean-up time.
Customer Reviews:
Most customers were very happy with this Amazon machine and some found it at a price under $20. A complaint with this machine was its filter basket. A few noticed that its permanent coffee filter doesn't click into its place and it may create a mess if it happens to be out of its line.
Final Thoughts:
This Amazon brewer has some great features at a good price. We love its auto shut-off feature and helpful line markings on the pot. It is definitely worth checking out to see if it could work for you!
Standout Features:
Reinforced glass carafe
One touch brewing system
Compact footprint
Dishwasher safe filter basket and carafe
Cord storage
Water reservoir window
Burner hot plate
Things We Like:
The Black+Decker coffee maker has a compact footprint and brews a cup of coffee simply and reliably with its one-touch brewing system.
Its Duralife glass carafe is reinforced to hold up well under regular usage. It also has a sturdy handle on the pot. Nice if you hate dealing with replacing easily broken carafes!
The water window makes it easy to fill up your machine with just the right amount of water. The non-stick hot plate will keep your coffee hot for an ideal coffee drinking experience.
When you are done, the Black+Decker tidies up nicely with its dishwasher-safe filter basket and carafe. It also will store its power cord to leave your countertop uncluttered.
Things We Don't Like:
The Black+Decker machine does not have a permanent filter so you will need to buy paper filters or buy a permanent filter seperately. We tend to like having a permanent filter even if you want to add paper filter just so you have a back up when you run out.
Also, it does not have an auto shut-off feature or an anti-drip feature.
Customer Reviews:
Customers overall were pleased with the taste of the coffee and simplicity of the operation.
Final Thoughts:
With this Black+Decker coffee machine, it looks like the manufacturers put in a little extra effort to make sure your glass carafe is durable and will stand the test of time. Its in the same price as the Krupps coffee maker, except you will not be getting a permanent filter or an anti-drip function with this machine. Overall, it seems to be a solid drip coffee machine that will last.
Standout Features:
Anti-drip feature
Reusable filter
One touch brew
Small Footprint
Fun Colors
Hot plate
Price
Removable cone filter and measuring spoon
Things We Like:
The first thing that catches your eye with this machine is "Color!" We love the fun color varieties that come with the Holstein. If you have a small kitchen area, this machine can make a splash!
Aside from the fun factor, this coffee brewer also has some solid points. It comes with an anti-drip feature so you can sneak a cup on the sly without making a mess on your counter.
Like other 5-cup coffee makers, the Holstein has a one-touch brewing system and a compact design.
You can keep your coffee warm for as long as you want with the non-stick coffee burner.
It is priced in the $20 range which makes it one of the cheapest machines on our list.
It is also one of the most compact machines we found.
Things We Don't Like:
This machine has no auto shut-off so you will need to be in charge of turning off your pot after each use. Like the Krupps, the on/off switch is on the side which can make it more difficult to notice.
Customer Reviews:
Customers agreed that they loved the look of this tiny pot! Some mentioned that it is hard to find a filter to match the cone shape of the filter and the filter that comes with the machine lets grounds through.
Other customers noted that, despite its small size, it's not a machine you can brew under your cabinet.
Final Thoughts:
The Holstein is an adorable coffee machine and one of smallest and cheapest on our list. You can buy this drip coffee maker to make coffee every day, or the equivalent of 4 coffee drinks from Starbucks, saving you money. It comes with a one-year warranty, which makes this purchase even more risk-free.
Standout Features:
Ergonomic coffee pot
One-touch brew
Pause and pour
Ounce markings
Non-stick warming plate
Water window
Price
Things We Like:
Mr. Coffee is a classic in the coffee maker world. While prices fluctuate on the market, this machine is currently the cheapest option on our list coming in at under $20.
It is simple to use with its 1-touch brew. We also like that it shows you ounce markings as well as the cup markings. This can give you a clearer idea of just how much coffee you are brewing.
You can get a first cup from this machine while the second cup brews with the handy pause and pour option.
The ergonomic coffee pot is easy to pour and can reduce accidental spills.
Things We Don't Like:
Like many other 5-cup coffee makers, the Mr. Coffee has no auto shut-off. However, it does have the switch on the front with indicator lights. This can make it easier to keep tabs on whether it is on or off when you head out of the door in the morning.
You will also need to hand-wash the pieces of this machine as they cannot go in the dishwasher.
Customer Reviews:
Most customers liked this tiny machine, especially for the price! Some customers found its side-opening top lid to be difficult to navigate.
Final Thoughts:
We like this drip coffee machine (especially if you can find it under $20!). Mr. Coffee is well-known for their reliable coffee makers, and it looks like this 5-cup keeps up the basic design, and quality brew that we've come to expect from this brand.
For more of Mr. Coffee's best coffee machines, check out our full review and comparison.
Standout Features:
One touch brew
Charcoal filter
Removable water reservoir
Ice Coffee Option
Keep warm burner
Small Footprint
Things We Like:
The Zojirushi, as always, comes with a bit of a surprise packed in. This 5-cup coffee maker starts off with a one-touch brew like the others, but when it comes to the filter basket, it strays from the norm.
The basket holder rests directly in the carafe in quasi-pour-over style. The brand claims that this is a space saving technique, although it looks like they just changed out the filter basket for an extra large pot.
At the top of this filter system is a charcoal filter. The charcoal filter will give your coffee a better taste and will not need to be replaced for up to 2 years.
The Zojirushi also has a removable water reservoir, which makes it easy to take over to the sink and fill up.
We like the ease of clean up with this machine. With a removable filter basket and removable water tank, this pot should clean up in no time!
Things We Don't Like:
Out of all the 5 cup machines, the Zojirushi is the most expensive option. However, it also offers value with its charcoal filter and iced coffee option.
Customer Reviews:
Customers noted that the Zojirushi made good hot coffee. Some felt like the filter basket got in the way when trying to pour coffee. Others wished the parts were dishwasher-safe and that the glass carafe was thicker.
Final Thoughts:
Overall, we like that the Zojirushi has some features that the other 5 cup coffee makers don't offer with its charcoal filter and iced coffee option. Unfortunately, the price tag is also more than double the cost of most of the other machines. We'd like to see this machine come with a permanent filter, a reinforced carafe, or with dishwashable parts for this price.
Standout Features:
Fast brew
One touch brew
Anti-drip
Auto shutoff hot plate
Reusable Filter
Removable brew basket
Small Footprint
Things We Like:
The Boscare machine gives another unique look to a classic coffee maker.
This machine is a one-touch brew like the rest. Just press the button and start brewing!
It has a filter with a clear basket so you can feel like a part of the brewing process. There is no need to buy paper filters with this machine as it has its own permanent basket-shaped filter.
The Boscare can brew up a quick pot at about 1 minute per cup and takes up minimal space on your counter.
We also like the auto turn off after 2 hours feature, to protect your pot from burning (boil dry protection).
Things We Don't Like:
The price of the Boscare is more expensive than many of the other brand name pots (although, still not as expensive as the Zojirushi). But it does offer a few more features than some, including a reusable filter and auto shut off.
Customer Reviews:
Most customers were happy with the hot brew from this pot. Some customers noted that the glass and plastic are thinner than expected and fit together loosely.
Final Thoughts:
We like the unique look and design of this pot and many of its features. One of our favorite features of the Boscare 5 cup coffee brewer is the clear brew basket, which is just cool. Plus you will get a high quality cup of hot coffee fast. For about $40 you can try out this pot and see what you think!
5 Cup Coffee Maker FAQs
How many mugs will I get out of a 5 cup coffee maker?
A coffee maker cup is different than your average measuring cup, usually smaller. As a result, a 5 cup coffee maker will not give you five cups of coffee in the usual mug sense of the word. The coffee maker measuring system seems more confusing than it needs to be, and we're not sure why.
In general, a 5 cup coffee maker brews 25 oz. of coffee, or, if you prefer milliliters, it makes 740 ml. Thats about 5 oz of coffee per cup. For a reference point, this would be 2 tall coffees at Starbucks with 1 extra ounce thrown in.
What is the average kitchen cabinet height?
The average height between a kitchen counter and the upper cabinets is 18 inches. Most coffee makers will be under 15 inches tall. However, some coffee makers will need to be pulled out from under the cabinets to add water and/or coffee grounds.
Compact machines have a better chance of being able to stay in their spot on the counter and under the cabinets (just watch out for steam!) We also have an article which is dedicated entirely to under cabinet coffee makers for your perusal.
Which is better? A glass carafe or a thermal carafe?
The answer to this question is subjective and comes down to mainly personal preferences. Many enjoy watching their pot brew into a glass carafe, while others prefer the durability of a thermal carafe. Machines with glass carafes also usually come with a built-in warming burner to keep your coffee hot. A stainless steel carafe rarely comes with a burner. Instead, it will generally keep your coffee warm for about 2 hours using insulation.
Our Final Verdict
It was hard to narrow down the best 5 cup coffee maker in the market currently. These machines were very similar in many ways, but each had its own unique spark! Some of our favorite features were the clear filter basket of the Boscare, the fun colors of the Holstein, and the basket dropped in the Zojirushi glass carafe.
Still, for our overall favorite, we picked the 5 cup drip coffee machine that checked many marks on our wish list. The Krupps took the cake on this one for being user-friendly, easy to clean, and for its anti-drip feature which allows us to steal a cup when we want one.
A great pick for coffee drinkers who want a quality delicious cup of fresh brewed coffee for just themselves or a partner that takes up little real estate.
Final Thoughts
For those who live in small spaces or are on a budget, a 5-cup coffee maker can help you save on space, money, and even time. Whether you are looking for a classic design or are wanting something colorful and unique, you can find your new pot in one of these 7 machines. If you are looking for a coffee machine for your dorm room, apartment, or home, one of these 5-cup machines could be a great fit!
Looking for other space saving and budget friendly coffee options?
Want more brew styles? For a full list of the Best Coffee Makers to choose from, see our Guide on the Top Coffee Machines for Beginners.
Coffee Has Never Read This Good!
Sign up for a FREE newsletter to the best home brewing tips and guides
Thank you for subscribing to The Cup Coffee House Crew! There's a surprise in your Inbox 🙂
Something went wrong.
About the Author
Latest Posts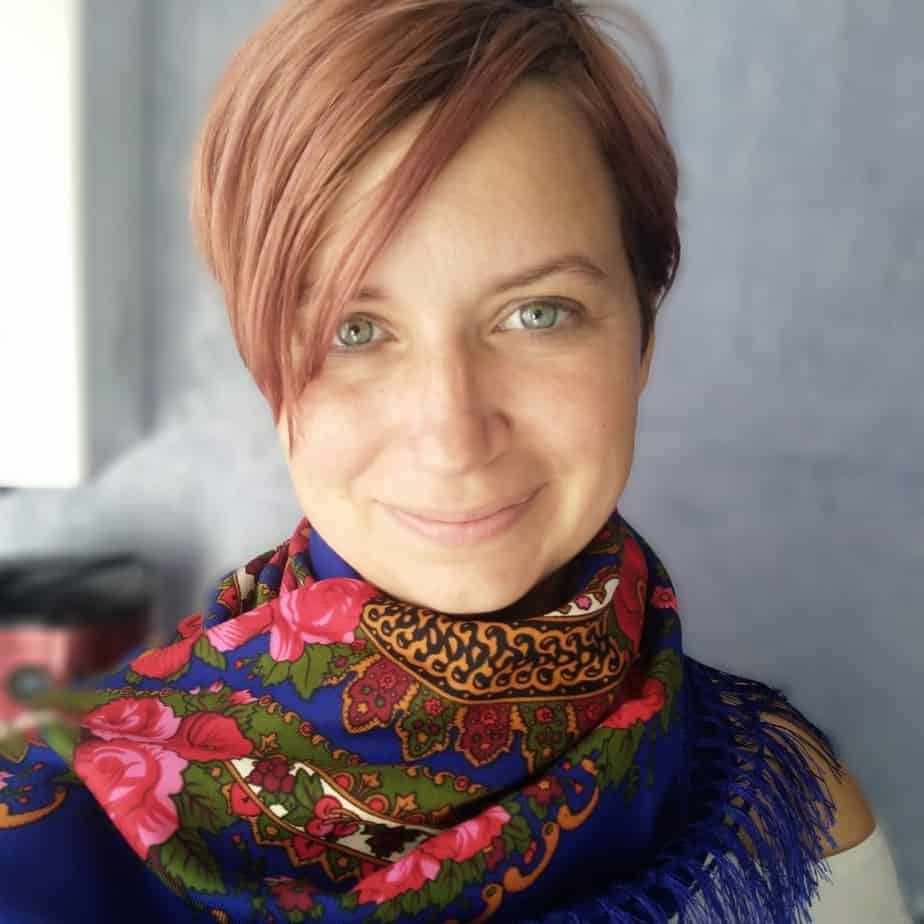 Alex Praytor worked her first job as a barista, finished college, and then took a tour to the other side of the globe. She fell in love with espresso and her would-be husband in Europe. She spends her spare time visiting native Texas landmarks, ancient castles, and all the coffee shops she finds along the way. At home, she is a mom, ESL teacher, and writer, who hones her coffee-making skills daily. She enjoys passing on her coffee findings to fellow caffeine addicts in search of the perfect cup.
Chief Editor