Last updated on March 7th, 2023 by Alex Praytor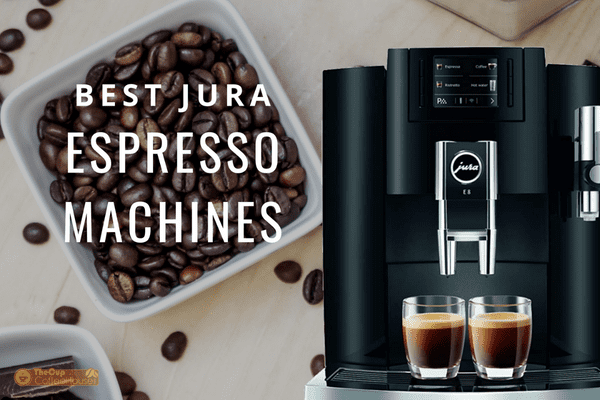 If you want a coffee machine that can do it all, a Jura super-automatic coffee machine is an excellent choice. These high-end, luxury machines have many premium features that can make your life easier. 
However, many of the coffee makers in the Jura line look alike on the outside. So, how do you know which coffee machine is the best choice? 
We researched, ranked and reviewed eight of the best Jura coffee machines based on what they have to offer. From there, you can narrow down your choices to the right coffee maker for you!
Our top Jura coffee maker is the Jura E8. This super-automatic machine comes with 17 drink choices and a Professional Aroma Grinder for the fresh coffee taste you love. It also comes with an integrated milk frother to create specialty drinks. With this machine, you just have to choose your brew and press a button. The Jura will take care of the rest.
Jura E8
The Jura E8 is a great overall super automatic espresso machine for the coffee drinker who wants high quality coffee beverages served with minimum effort.
Last update on 2023-09-17
Perfect for the press it and forget it kind of coffee drinker who doesn't mind investing to get high quality coffee beverages served with minimum effort.
Jura also has many other options worth a glance. We'll look at the perks of the Jura brand and see eight of Jura's deluxe coffee machines. Then we'll dive into the key features that are packed into Jura Coffee Machines.
---
Why choose a Jura coffee maker?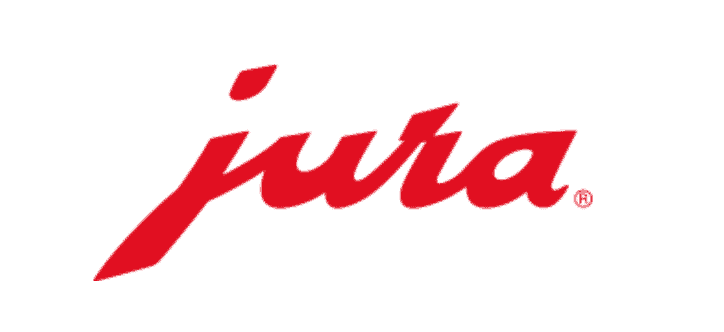 Jura is a Swiss brand that manufactures super-automatic coffee machines. Jura tries to make barista-style drinks available to coffee drinkers from the comfort of their homes. With just a touch of a button, you can brew espressos, specialty drinks like lattes, cappuccinos, mochas or just a regular cup of coffee. 
Each person's taste in coffee is different. And a Jura coffee maker also allows you to personalize your beverage. Some of the top machines are decked out with tech features like AI (Artificial Intelligence) to remember your personal preferences for each brew, Programmable brews, Pulse Extraction Process, and Intelligent Water System.
These super-automatic machines will grind the beans fresh and brew you a hot coffee fast. While you wait, you can admire the premium quality and design Jura's are designed with. If you are looking for a coffee maker that offers ease, durability and a bit of luxury, a Jura machine may be for you. 
Let's take a look at some of our favorite Jura machines that offer high-tech features and value.
Our Top 8 Jura Coffee Maker Picks
#1. Jura E8 (Top Pick)
Pros:
17 coffee drink choices
Has a milk frother
Professional Aroma Grinder
Pulse Extraction Process (P.E.P.)
Extra Shot function for stronger drinks
Automatic cleaning for milk frother
Brews coffee fast
64 oz. water tank
10 oz. bean container
Cons:
No cold coffee options
water filters can be pricey
Review:
This Jura offers a sleek design with six buttons and a simple user-friendly interface. You can choose from 17 different drink styles to spice up your coffee-drinking experience. The Jura E8 grinds coffee beans using a Professional Aroma Grinder for a rich, aromatic taste. Then it brews your coffee drink of choice using a Pulse Extraction Process (P.E.P). 
P.E.P. ensures the best extraction possible no matter the size of your coffee drink. Combined with a regulated temperature, you know you are getting the most flavor in your cup.  
The Jura E8 is also able to use A.I. technology to detect your preferences. The machine prioritizes your favorite coffees at the top of the menu. You can also find care instructions directly from your machine's menu. No more searching for your user manual.
At clean-up time, you can set the machine to auto-clean the milk system with just one touch of a button. This makes sure the machine is clean and ready for the next cup of coffee.
With the Jura E8 machine, brewing your favorite coffee drink has never been easier! It comes in as our top pick for its combo of features, performance, and value.
Jura E8
The Jura E8 is a great overall super automatic espresso machine for the coffee drinker who wants high quality coffee beverages served with minimum effort.
Last update on 2023-09-17
#2. Jura Z10 (The Dream Machine)
Pros:
32 unique drink choices
Brews both hot and cold coffee drinks
Product recognizing grinder (PRG) grinds beans to the right size for your beverage choice
The Cold-Extraction Process makes sure that even cold brews contain rich flavor.
Double-speed touch display to easily choose drinks.
3D brewing technology for best extraction
Sleek aluminum front plate for easy cleaning
81 oz water tank
Cons:
This coffee machine is the most expensive on our list
System software can be difficult to navigate
Review:
The Jura Z10 is the newest coffee maker in this line. We've labeled this the "dream machine" because it has all the features you need, plus some amazing extras. 
In this new model, Jura pioneers its Cold Extraction Process. To brew cold drinks, the water pulses through the coffee grounds using pressure. This extracts as much flavor as possible for a rich-tasting cold drink. 
Another new feature is the "P.R.G." or Product Recognizing Grinder. This highly intelligent grinder grinds your coffee to the right grind size based on your drink type.
Also, this eighth-generation brewing unit brews coffee using 3-D technology. It brews coffee drinks at multiple levels whether the coffee drink is a hot or cold beverage.
This coffee espresso machine prioritizes the flavor of your brew. You have 32 different styles to choose from–including the increasingly popular drink, the Flat White.
For a quality cup of coffee that won't leave you disappointed, the Jura Z10 has got you covered, provided you are willing to invest the high dollar amount.
Sale
Jura Z10
With new tech like PRG and cold brewing extraction, the Jura Z10 is a masterful machine for hot and cold espresso beverages.
Last update on 2023-09-17
Pros:
32 specialty coffee choices
200 cup capacity
Built for professional use
2 Ceramic disc grinders
Dual-spout
Two Thermo-block heating units
High-resolution intelligent touch display
Automatic Grinder Adjustment (A.G.A)
Pulse Extraction Process (P.E.P.)
Intelligent Water System (I.W.S.)
Hot water for tea 
169 oz. water tank
17.7 oz. bean container
Cons:
Won't fit under a standard kitchen cabinet.
Review:
The GIGA X8 is an updated version of the well-loved professional Jura models. This machine is even more durable and intelligent. It streamlines your coffee-making so your morning goes that much smoother. 
This machine is set up for professional users with its dual-spout. And, the touch display makes the process of brewing your favorite coffee quick and easy.
The Intelligent Water System teams up with CLARIS Pro Smart for the cleanest water, and as a result, the best-tasting coffee. 
You can use the Giga X8 as-is or purchase add-ons such as an accounting system or cup warmers. Just make sure it fits in your space. Standing at 22 inches tall, this machine most likely won't fit under a kitchen cabinet.
This high-performance machine contains two grinders and two Thermoblock heaters. It can brew up to 200 cups of coffee before you need to refill the machine. This makes the Jura Giga X8 a perfect choice for an office break room or welcome center. 
Jura Giga X8
The Jura Giga X8 brews a ton of beverages using a massive water tank and bean holder, perfect for larger groups like at the office.
Last update on 2023-09-17
#4. Jura D6 (Great Value)
Pros:
Brews 7 styles of coffee
Regular coffee and hot water option
Pulse Extraction Process (P.E.P.)
LED interface with plain text
Fine Foam Frother
Smart Connect App control option
Integrated grinder
Adjustable coffee strength, water level, and temperature
64 oz. water tank
7 oz. bean container
Cons:
Limited drink choices
Oily beans may disrupt the feeder
Review:
This Jura coffee maker is one of the more affordable from this brand and sells for under $1000. The drink menu is more limited than other models. However, it still has several premium features such as the Pulse Extraction Process, a Fine Foam Frother, and an integrated grinder. You can even connect it to a Smart App for a streamlined brewing process. 
The LED interface allows you to choose between coffee, espresso, regular coffee, or hot water for tea. Frothy cappuccino foam tops off milk-based drinks perfectly. You can also make a cup of hot tea (or instant oatmeal) with the hot water option.
The Jura D6 allows you to get the quality taste of the brand for a more affordable price. If you are happy with espressos, cappuccinos, and black coffee, this basic super-automatic machine may be for you.
Jura D6
If you want premium features like P.E.P., integrated grinder and foam frother in an affordable price tag, the Jura D6 is your best value option.
Last update on 2023-09-17
#5. Jura A1 (Best for black coffee fans)
Pros:
3 barista-quality coffee drinks: ristretto, espresso, and coffee 
Pulse Extraction Process (P.E.P)
AromaG3 grinder
Inexpensive compared to other Jura coffee makers
37 ounce water tank
4.4 ounce bean container
Space saver compared to other models
Cons:
No milk frother
limited coffee drink options
Display is not as eye catching as more expensive models
Review:
This super-automatic machine grinds fresh coffee beans and can brew a short espresso (ristretto), espresso, or regular coffee. Jura includes their innovative Pulse Extraction Process with this machine, which assures you of quality flavor. 
However, this coffee maker doesn't come with a milk frother. If you generally brew black coffee drinks, the lack of a milk frother may be a positive for you. It is one less piece to need cleaning and the size of the coffee maker is more compact. 
The Jura A1 may not have as many options as the other Jura coffee makers. However, it comes in under $800 making it one of the least expensive machines in the Jura line.
For straight-up coffee with no frills, the Jura A1 may be the machine for you.
Jura A1
The Jura A1 is a great way to get your hands on high quality black coffee or espresso from Jura without paying typical premium Jura prices.
Last update on 2023-09-17
#6. Jura E6 (A Baristas Choice)
Pros:
Brews 7 styles of coffee
Pulse Extraction Process 
Intelligent Water System (I.W.S.)
Eight Coffee strength levels
Milk frother
G3 grinder 
64 oz. water tank
10 oz. bean container
Cons:
Limited coffee drink menu
Buttons instead of touch-screen
Review:
The Jura E6 brews 7 coffee drinks including espresso doppio, macchiatos, barista lungo, and more. The Pulse Extraction Process extracts the best flavor from the grounds. And the eight coffee strength levels allow you to personalize your brew so you get that perfect cup of coffee every time.
This machine is a nice mid-level machine in the Jura brand. You get freshly ground coffee, a nice amount of drink choices, and steamed milk toppings.
The Jura E6 offers many premium features and a decent amount of options. It has a medium price range compared with other Jura machines. This coffee maker can give you a good value and simplify your coffee-making experience.
Jura E6
As a mid level machine, the Jura E6 has all the premium features and drink choices a beginner at home barista could want.
Last update on 2023-09-17
#7. Jura Z8 (The Mini Coffee Shop)
Pros:
21 pre-programmed drinks
Milk frother
Operates with touch-screen or Smart App
Pulse Extraction Process
Fast AromaG3 grinder
81 oz. water tank
10 oz. bean container
Cons:
Review:
The Jura Z8 has a wide range of coffee drinks to choose from. You can make a choice from the menu through the touch-screen or Smart App. 
Once you make your selection, this super-automatic machine prepares your brew from start to finish. The G3 grinder is twice as fast as other models, which means you can get a tasty brew quickly and to order. This beats standing in line for 30 minutes at Starbucks!
The Jura Z8 uses P.E.P. technology to bring the same high-quality taste no matter the size of your beverage choice. The result is a high-quality barista-style brew with very little effort on your part. You don't even have to foam the milk as this high-performance espresso machine handles this step for you as well. 
If you want to bring the coffee shop into your home and willing to make the investment, the Jura Z8 is a great pick. If you can't find it since it's been discontinued, check out its newest replacement, the Jura Z10.
Jura Z8
The Jura Z8 is for coffee enthusiasts looking to recreate all the aroma, flavors, and drink choices of their local coffee shop right from home.
Last update on 2023-09-17
Pros:
Rotating coffee spout can brew one or two drinks
Adjustable coffee spout height (1.2″ to 4.4″)
4 oz. air-tight bean hopper for ultimate freshness 
Stainless Steel ThermoBlock heat system
15 bars of pressure
Cons:
No milk frother
Limited drink options
Review:
The Jura ENA Micro 5 does not froth milk for specialty drinks. However, it has some features that make it unique from other Jura machines. The Micro 5 uses an intelligent coffee spout to brew one or two cups at a time. You can easily adjust your brew size by turning the spout to the "one cup" or "two cup" options. Then choose your drink from the six choices shown on the touch panel. 
You can adjust the strength of your brew and also adjust the height of the spout. Whether you opt for a demitasse espresso cup or a larger mug, you can count on getting a rich layer of crema to top off your espresso.
The Micro5's great-tasting coffee and compact size make it a great choice for a small kitchen corner. But this machine too may be difficult to find, so opt for its newer cousin the Jura ENA 4 Metropolitan.
Jura ENA Micro 5
The Jura ENA Micro 5 combines quality rotating espressos with a compact size to give the minimalist a luxury feel for a change.
Last update on 2023-09-17
Are Jura machines worth it?
Jura machines make a delicious cup of coffee every time and adhere to strict quality standards. The brand has been in business since 1931 and it offers quality machines coffee drinkers can count on. 
While most coffee makers last an average of six years, Jura machines can last nine years or more.
Jura continues to come up with innovative ideas to make your experience easy and keep your coffee tasting delicious. Each coffee drinker can find a perfect coffee maker to fit their taste and budget.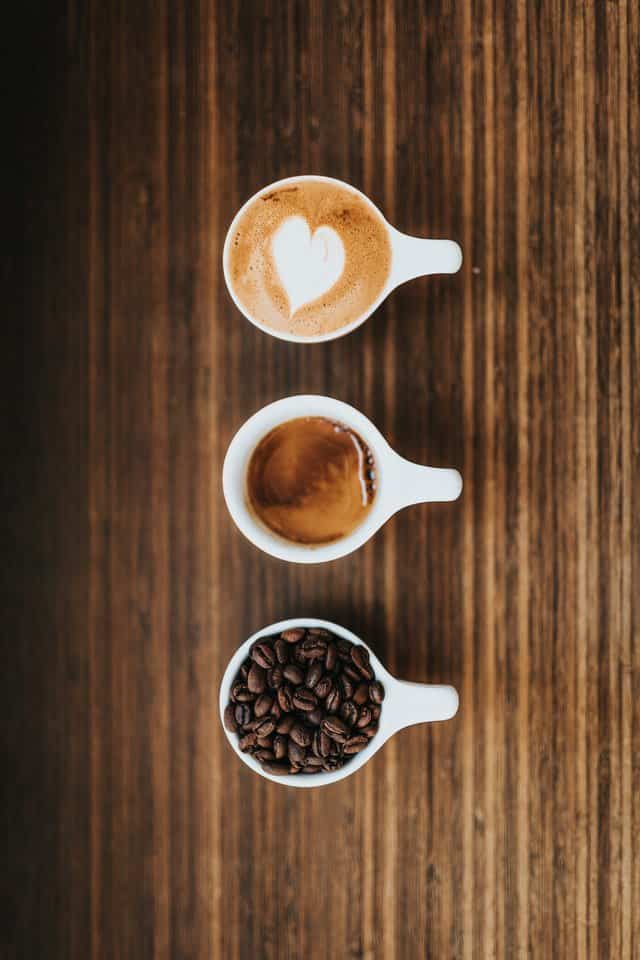 How to clean a Jura
Many Jura coffee machines come with an Intelligent Water System. This filter system cleans the water before brewing your coffee. This gives you fresh-tasting coffee, and also means that your machine stays clean longer.
However, Jura machines still need to be cleaned regularly and descaled to continue to make high-quality brews.
Many Jura machines have self-cleaning cycles and even automatic clean cycles for the milk frother. You want to clean the milk frother after each use and wipe down your machine. Then every one to three months it is a good idea to clean your machine thoroughly.
To clean your coffee machine, you should follow the instructions in the manual for your specific Jura model. Each machine is different, but most of the top-line machines give you a warning when you need to descale it. Jura sells its own descale 3-phase cleaning tablets. You can use these once a month or as needed. 
Over time, the build-up from coffee and tap water can inhibit the flavor of your coffee. So, if you notice that your morning brew is starting to lose its rich flavor, this may mean it is time to descale and thoroughly clean your machine!
Premium Features of Jura Coffee Makers
Jura machines are known for using innovative technology to brew up a quality cup of coffee. If you're wondering why these luxury machines are so expensive, then this is why! Here are some of Jura's best brand features that can make your life easier:
The Pulse Extraction Process (P.E.P.®) brews each cup of coffee by pulsing water through the grounds and regulating the temperature. It preheats the water to begin the extraction and then delivers a quality beverage into your cup. 
P.E.P. intuitively brews both small espressos and large specialty drinks with the same great coffee tastes.
The Aroma Grinder is added to most coffee machines in the Jura line. These conical grinders are made out of stainless steel, or ceramic. It's called an "aroma grinder" because this essential piece of equipment grinds coffee for a 12.2% increase in aroma and flavor. With the right grind, you can get the best extraction for a tasty coffee.
Energy Saving Mode (E.S.M.) cuts down on as much as 40%of your energy output. When you aren't using your machine, it automatically goes into E.S.M. or sleep mode. This means you can save on your energy bill while also prolonging the life of your machine.
Fine Foam Technology (F.F.T.) froths your milk twice to create microfoam. This is just the right foam texture to top your drinks.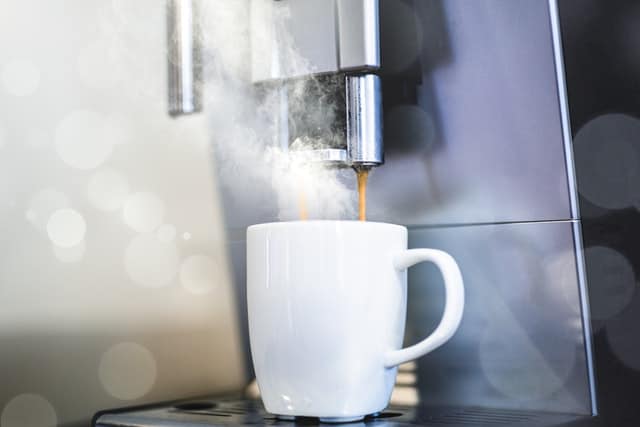 The Intelligent Water System (I.W.S.) pairs up with the CLARIS filter to give you the cleanest water. This feature enhances the taste of your coffee drinks, and also means you won't have to descale your machine as often. This high-quality filter team can even prolong the life of your machine.
A.G.A. (Automatic Grinder Adjustment) adjusts the grind size according to your drink size. Generally, regular coffee drinks use a medium grind size while espresso uses a fine ground. By matching the correct grind to your beverage, you get the best extraction for your brew style.
Intelligent Pre-Brew Aroma System (I.P.B.A.S.) soaks your coffee grounds before brewing. This process is also known as coffee bloom. This technique is used by many S.C.A.-certified machines to add an extra layer of flavor to your cup of coffee.
While each machine may not have every one of these features, these features are some of the most popular from the Jura brand. Choose your favorite features to narrow down which Jura machine is right for you.
Final Thoughts
Jura is a luxury brand with a range of coffee espresso machines packed with unique features. These super-automatic machines allow you to have coffee shop-style coffee drinks from the comfort of your own kitchen. 
Although more expensive than some brands, you can be sure you are getting a quality innovative high end machine with Jura.
Jura E8
The Jura E8 is a great overall super automatic espresso machine for the coffee drinker who wants high quality coffee beverages served with minimum effort.
Last update on 2023-09-17
Our top pick was the Jura E8 for its variety of beverage choices and overall value. Now, which espresso machine will you choose?
FAQs
Is Jura or Miele better?
Jura and Miele are both top brands in the coffee world. Many think they are so similar that they must be under the same company, however, they are completely separate companies. Jura manufactures machines in Switzerland while Miele is a German brand.
Overall, Jura machines tend to bring high-quality machines for a better price than Miele. Also, Jura targets a wider range of coffee lovers with more unique options.
Is a Jura coffee maker better than a Breville coffee machine?
Both Jura and Breville make excellent coffee makers and are well-respected among coffee lovers. These at-home coffee makers are durable and have many features to help you make the best coffee possible.
Between the two brands, Jura machines tend to have more innovative and unique features. However, Breville also brews a delicious cup of coffee and is usually the more affordable brand. Your budget and brew preferences may be the deciding factor when choosing between these two top brands.
Can you add pre-ground coffee to a Jura coffee machine?
You can add ground coffee to the Jura filter of most Jura coffee machines. However, you should never add instant coffee, chocolate powder, coffee additives, sugar, or chicory coffee. You can use naturally roasted decaf or regular coffee grounds.
If the "not enough ground coffee" message pops up on your machine, you need to add more grounds. Make sure the grounds are not too fine when you add them to the filter as this can clog your coffee maker.
Can you make iced coffee in a Jura machine?
Most Jura coffee makers brew hot specialty drinks. However, the Jura Z10 is one of the first machines to offer cold coffee on its extensive menu of 32 drinks. With many espresso makers, you have to heat up a hot coffee drink and wait for it to cool before you add ice.
However, with the Z10, Jura adds pressure to the cold brew to extract a rich coffee. You can brew it directly over ice. With the Jura Z10, you don't have to worry about the ice melting into your brew and watering it down.
Coffee Has Never Read This Good!
Sign up for a FREE newsletter to the best home brewing tips and guides
Thank you for subscribing to The Cup Coffee House Crew! There's a surprise in your Inbox 🙂
Something went wrong.
About the Author
Latest Posts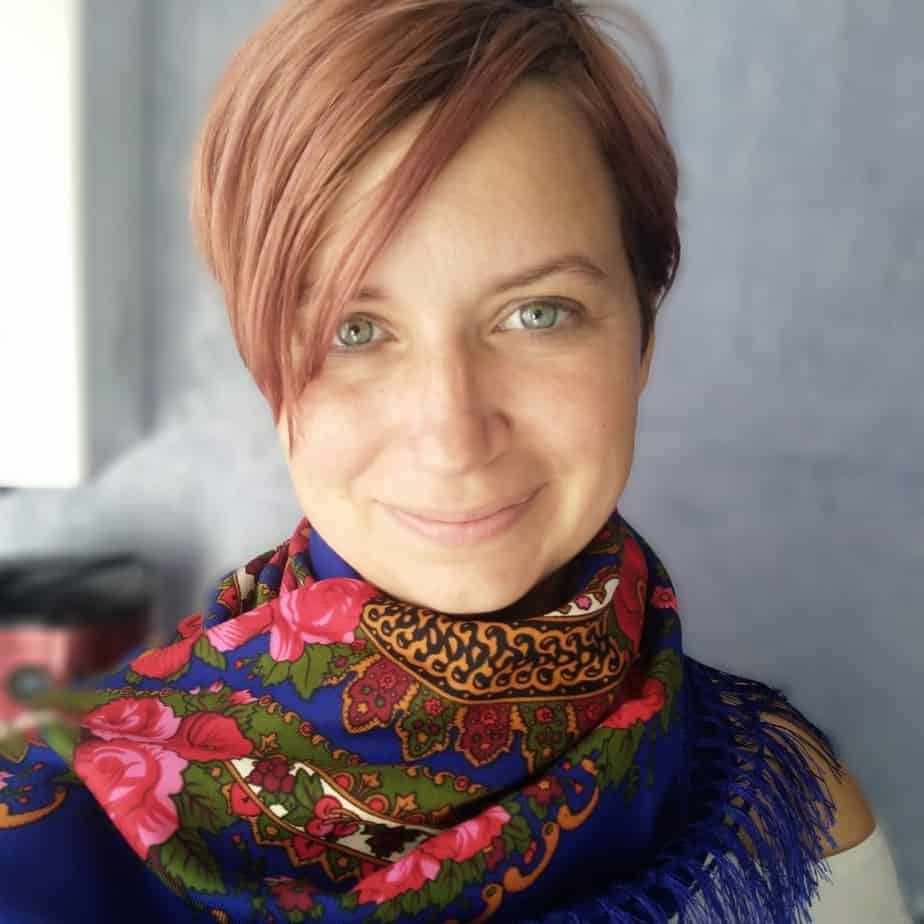 Alex Praytor worked her first job as a barista, finished college, and then took a tour to the other side of the globe. She fell in love with espresso and her would-be husband in Europe. She spends her spare time visiting native Texas landmarks, ancient castles, and all the coffee shops she finds along the way. At home, she is a mom, ESL teacher, and writer, who hones her coffee-making skills daily. She enjoys passing on her coffee findings to fellow caffeine addicts in search of the perfect cup.
Chief Editor