Last updated on June 19th, 2023 by Catherine Reed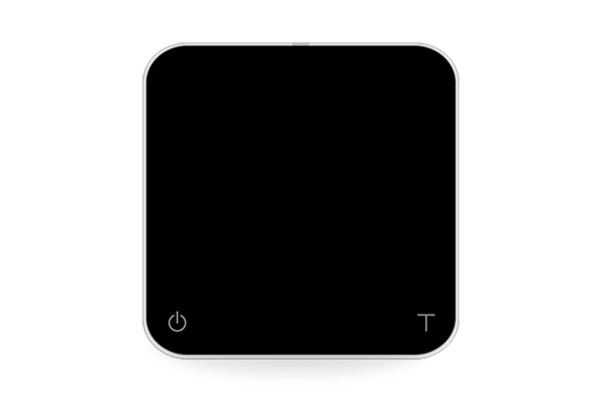 When you're looking to level up your coffee game, it's normal to focus on traditional steps up, like roasting and grinding your own beans for extra freshness. However, don't underestimate the power of the right coffee scale. By having the best coffee scale possible, you add something new to the mix: precision.
By having the correct ratio of coffee to water, you get reliable, balanced results. Plus, when you create your ideal brew, you know exactly what it takes to do it time and time again. You can get that exact flavor repeatedly by simply using the same ratio, giving you the perfect cup every single day.
As an added bonus, coffee scales don't take up much space. They can sit on your counter since they're compact and typically look quite nice. Additionally, they're often small enough to fit into a drawer or cabinet with ease, allowing you to put it away if you prefer. And we've found seven of the best coffee scales on the market, making it easy to find your ideal solution.
Don't have time to read every coffee scale review? No problem! Here's a quick look at our top choice for the best coffee scale of 2023.
The Acaia Pearl is our overall pick before the best coffee scale. Yes, it's a bit of an investment, but many coffee connoisseurs feel it's worth it. It offers exceptional accuracy and is lightning-quick to use. The controls are also incredibly intuitive, and the provided Bluetooth connectivity gives you even more interface options.
With the Acaia Pearl, you can quickly recalibrate the scale to ensure long-term accuracy, too. Plus, there's a flow rate indicator to assist with pouring speed, leading to better saturation and superior brewing. It also has a clean, modern design, so it looks great on a counter. And that's just the tip of the iceberg.
Acaia Pearl
The Acaia Pearl scale is the best in our list due to its fast but high degree of accuracy, flow rate indicator and brew timer.
Last update on 2023-09-18
Ready to learn even more about the best coffee scale of 2023? Let's take a closer look at the Acaia Pearl, along with our other top picks.
---
Our List of Best Coffee Scales
#1: Overall Best Pick: Acaia Pearl
For around $150, the Acaia Pearl is a top-quality coffee scale with extra features you don't always find in scales from competitors. It doesn't just ensure you get the right weight; it also monitors flow rates and brewing times, adding extra degrees of precision.
Things I like:
Accurate to 0.1 gram
Intuitive controls
High degree of accuracy
Fast
Bluetooth syncing
Modern styling
Built-in brew timer
Flow rate indicator
Adjustable lit numbers for visibility
Things I don't like:
More expensive than many alternatives
Review
The Acaia Pearl is a high-end coffee scale with far more features than you find with most competitors. While it's beginner-friendly, the included capabilities make this an excellent choice for discerning coffee drinkers who value accuracy and want repeatable results.
Since this Acaia coffee scale is accurate to 0.1 gram and has flow rate tracking and a brew timer, getting your perfect cup every single day is a breeze with this option. Plus, since it's simple to recalibrate, you don't have to worry about losing accuracy after using it for months or years, creating even more overall value.
Acaia Pearl
The Acaia Pearl scale is the best in our list due to its fast but high degree of accuracy, flow rate indicator and brew timer.
Last update on 2023-09-18
If you're looking for the best coffee scale with timer that doesn't require a large investment, the Coffee Gator digital coffee scale has plenty of features with an affordable price tag. It typically costs less than $40, and it's popular with shoppers, securing 4.4 stars across more than 1,200 reviews.
Things I like:
Multiple measuring units, including pounds, grams, milliliters, and ounces
Removable silicone mat for easy cleaning
Can weigh up to 6.6 pounds (3,000 grams)
Precision to 0.1 gram
Battery-operated for portability
Compact size
Customers appreciate the easy-to-read display
Things I don't like:
Slight readout delay when weighing
Not as attractive as some alternatives
Review
Generally, the Coffee Gather digital coffee scale is a solid choice for anyone, but it's particularly well-suited to anyone looking for the best coffee scale under $50. Also, it's an excellent choice for any coffee drinker that isn't sure whether a scale is something they'll use regularly, as you aren't putting a lot of money on the line.
Plus, it's incredibly intuitive to use and has solid precision. The larger weight quantities also mean you can use it for baking, making it more useful than some alternatives.
Sale
Coffee Gator Coffee Scale
The Coffee Gator Coffee Scale has great precision, removable mat for easy cleaning and easy to read display.
Last update on 2023-09-18
Sometimes, you don't just want a budget-friendly option for your espresso machines; you also need something cheap even for the accessories. With the Apexstone coffee scale, you can up your pour-over coffee game for less than $18. Plus, it has a 4.4-star rating across more than 2,400 reviews, so a small price tag doesn't mean subpar results.
Things I like:
Incredibly inexpensive
Battery-operated for portability
Intuitive controls
Five different measurement units
Built-in timer
Precision to 0.1 grams
Silicone mat for easy cleanup
Customers love it for Chemex coffee
Things I don't like:
Readout delay when weighing
Short battery life
Review
For coffee drinkers who aren't sure whether a coffee scale is something they'll use long-term, the Apexstone coffee scale is a perfect choice. It's less than $20, is easy to use, and includes a timer. Since it's battery-operated, this coffee scale is also very portable and easy to store. With the included silicone mat, cleanup is also a breeze. Just be aware that it relies on batteries, and some users say that the battery life leaves a bit to be desired.
Apexstone Coffee Scale
The Apexstone Coffee Scale is an affordable choice that doesn't compromise on durability and longevity. We like its great precision, silicone mat for easy clean up, battery-operated portability.
Last update on 2023-09-18
#4: Best Coffee Scale for Pour-Over or Chemex: Hario V60 Coffee Scale
The Hario V60 coffee scale is an excellent choice for pour-over and Chemex coffee, offering a non-slip base and water-resistant design. It's also precise to 0.1 grams, and it comes with a built-in timer for consistent, accurate brewing. Plus, customers gave it a 4.4-star rating across more than 5,600 reviews, and it's moderately priced at under $60.
Things I like:
Precise to 0.1 grams
Built-in timer
Water-resistant
Non-slip base
Attractive design
Fast startup
Customers appreciate the easy-to-read display
Wide variety of colors
Things I don't like:
Customers say the power button requires a surprisingly firm press
Review
If you're looking for the best coffee scale for Chemex or pour-over, the Hario V60 stands out. Along with excellent precision and a user-friendly design, it's water-resistant and comes with a non-slip base. The screen is easy to read, and the controls are intuitive, too. Plus, the wide variety of colors makes it easy to find one that works with your other kitchen décor, which is a nice bonus.
Sale
Hario V60 Coffee Scale
The Hario V60 Coffee Scale is quite popular for Chemex. It is water-resistant, comes in different colors and built-in timer.
Last update on 2023-09-18
#5: Best Espresso Scale: Acaia Lunar
For a coffee scale that's designed explicitly for espresso, the Acaia Lunar is a top pick. It's incredibly compact, so it can fit on an espresso drip tray in many cases. Plus, it provides fast readouts and offers a high degree of accuracy, ensuring you get the ideal espresso shot every time. It also provides Bluetooth connectivity to connect to the companion app for even more controls. While it's an investment at $250, many feel it's worth it.
Things I like:
Very compact
Modern design
Water-resistant
Highly accurate
Fast readouts
Intuitive design
Bluetooth connectivity with a companion app
Heat-proof silicone pad
Things I don't like:
Expensive
Too small for most pour-over makers
Review
Generally, Acaia makes high-end products, and this espresso scale fits that bill. It's an excellent choice for espresso aficionados who are willing to invest, as it offers exceptional precision and ample control. The fast readouts also lead to greater accuracy, allowing you to get exactly how much espresso you want and not a drop more. As a bonus, the app can even log your brew data, making it easy to get high-quality results every time you use the scale.
Acaia Lunar Scale
Best for espresso, Acaia Lunar scale can be connected to bluetooth, and is accurate with fast readouts.
Last update on 2023-09-18
With the OXO Brew Conical Burr coffee grinder with scale, you get two functions in one. First, there's the high-end stainless steel conical burr grinder. Next, there's the built-in scale for measuring grounds. This OXO coffee scale and grinder also has a 4.1-star rating across more than 650 reviews, which is respectable.
Things I like:
Combines a grinder and scale
38 grind settings
Stainless steel conical burr
Customers appreciate that the motor is designed to avoid overheating beans during grinding
Cups and grams modes
Holds up to 16 ounces of coffee beans
Intuitive controls
Attractive design
Things I don't like:
Is a bit of a financial investment
Can only weigh grounds, so not ideal for managing water-to-grounds ratios for pour-over or Chemex
Review
Overall, the OXO Conical Burr Grinder with Scale is an excellent solution for anyone that wants to start grinding their own beans and is also looking for precision. The 38 different grinds ensure you get the right level of coarseness or fineness, while the scale lets you get the exact amount of grounds you're after, all in one machine. It's also an attractive appliance, so it looks nice when sitting on a counter or coffee bar.
Sale
Last update on 2023-09-18
The Timemore digital coffee scale is a capable option that works well for people on the go. It features a rechargeable built-in battery and comes with a USB charging cord for added convenience. Plus, customers give it a 4.4-star average rating across more than 450 reviews, and it's moderately priced at about $65.
Things I like:
Rechargeable battery with USB cable for charging
Precise to 0.1 grams
Compact design makes it easy to carry and pack
Automatic shutoff for longer battery life
Provides up to 10 hours on a single full charge
Attractive design
Customers appreciate the built-in timer
Things I don't like:
Lower maximum weight capacity (2,000 grams)
Review
For coffee lovers that spend time in hotels, the Timemore digital coffee scale has a lot to offer. We consider it the best portable coffee scale since it has a rechargeable battery and uses a USB-C cable for charging. That means the charging port is compatible with many smartphone and tablet charges, limiting the number of cables you may need to carry. Plus, it's compact, so it's easy to fit into a bag, and the battery life on a single charge is solid, adding convenience.
Timemore Digital Coffee Scale
The Timemore Digital coffee scale is easy to carry due to its compact design and USB cable charger that automatically shuts off for longer battery life.
Last update on 2023-09-18
Types of Coffee Scales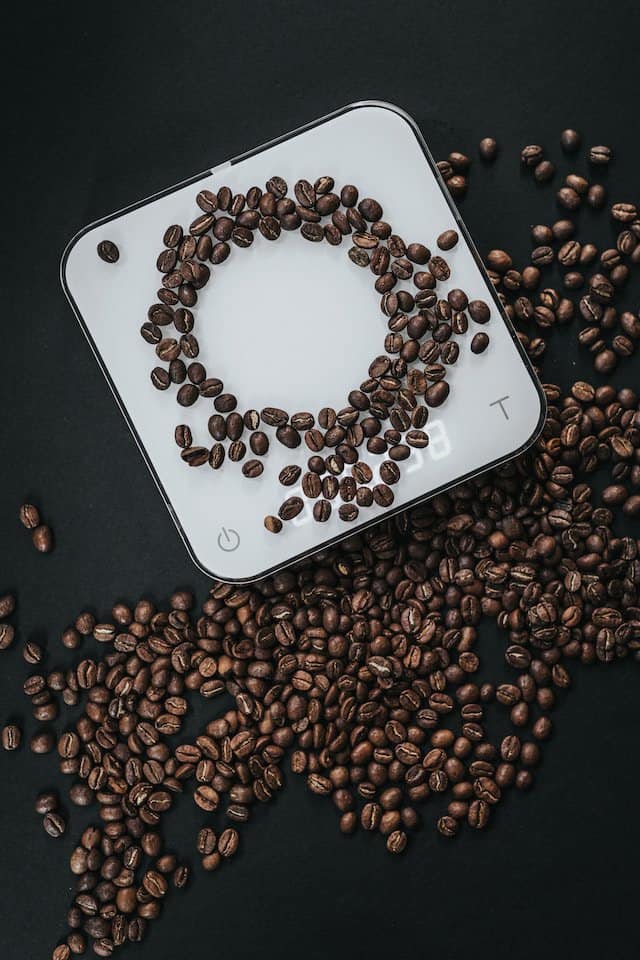 Gram Scales
Gram scales are coffee scales that focus solely on measuring weight. They can accurately calculate the amount of grounds you create when grinding and can help ensure that your coffee-to-water ratio is correct when making pour-over or Chemex coffee.
While they're referred to as gram scales, most of them are accurate to the tenth of a gram. As a result, you get extra precision, leading to optimal results.
Timing Scales
Timing scales have timers that allow you to add water to your pour-over or Chemex coffee at the right speed and to the proper amount. Additionally, they typically track brew time, letting you know when the coffee is ready to drink.
Combination Scales
Many coffee scales are combination scales, offering both gram-based measurement capabilities and built-in timers. As a result, they can help you ensure you're using the right amount of grounds, adding the correct amount of water, and allowing enough time for the coffee to brew correctly.
Some combination scales even go further by helping you manage your flow rate. If you're making Chemex or pour-over coffee, that makes it easier to ensure you're pouring the water over the grounds at the right speed, improving saturation and leading to a better cup of coffee.
Buyer's Guide: How to Choose the Best Coffee Scale for You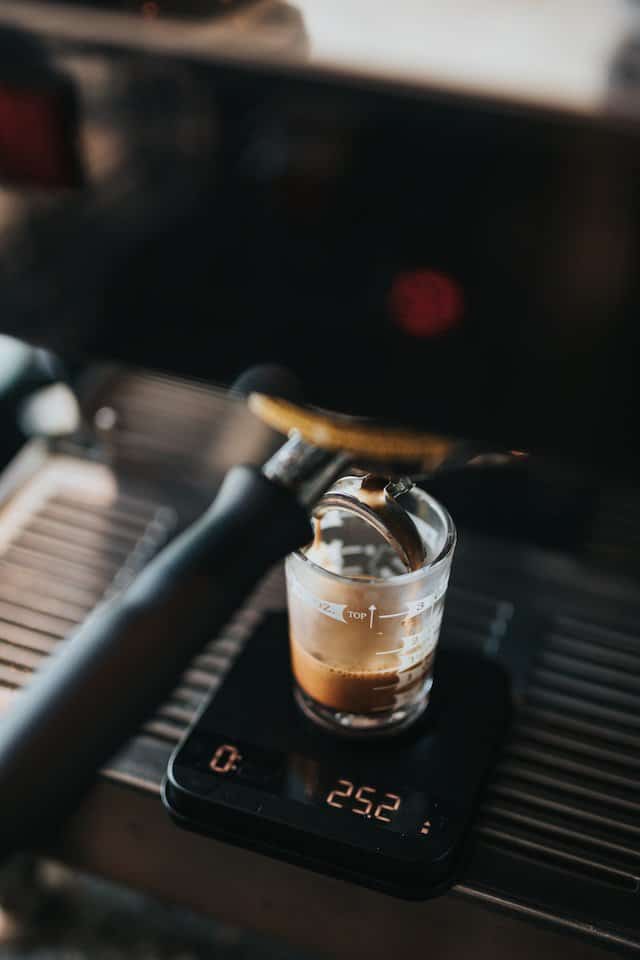 Let's face it; there are a lot of coffee scales on the market. So, how do you choose the best coffee scale for you? Primarily, you do that by ensuring it provides you with the right features to meet your needs. If you aren't sure where to start, our buyer's guide makes finding your ideal coffee scale a breeze.
Capacity
Coffee scales can come in different capacities. Some may handle 3,000 grams, while others have lower maximum weight limits that are closer to 2,000 grams.
The weight matters as it determines how much weight you can place on the scale and still get accurate ratings. If you normally brew or grind larger amounts of coffee or use a heavier pour-over carafe, a higher capacity is a must. Similarly, larger maximum capacities may let you use the scale for other purposes, such as measuring weights when baking. However, if you plan to only brew a cup or two at a time, you might not need higher capacities.
Accuracy
The entire point of having a coffee scale is to gain the ability to make your coffee precisely. As a result, how accurate the scale is matters.
Generally, accuracy is a two-fold issue. First, there's the size of the measuring increment. For example, 0.1-gram accuracy is better than 1-gram accuracy, as the ability to measure tenths of grams adds precision.
Second, there's the general accuracy of the scale. Some brands are better at ensuring the weights displayed on the screen line up with the genuine weight than others. Usually, how a scale performs in this arena shows in the customer reviews, so keep that in mind.
Size
As with all kitchen appliances, how big they are matters. The size determines the amount of room the coffee scale takes up on a counter or coffee bar. Additionally, it may impact whether the scale will fit comfortably in a drawer or cabinet.
Further, some coffee scales may be small enough to fit on an espresso machine drip tray, while others are too large. Ultimately, you need to consider how you plan on using and storing the scale, allowing you to determine what size works best for you.
Durability
Similarly to espresso machines and coffee makers, whether a coffee scale is inexpensive or a significant financial investment, ensuring it will last is a smart move. At a minimum, you want to make sure you're getting your money's worth, so it's wise to look at overall durability.
When you're examining durability, consider it from a few angles. Are there features that help prevent water damage? Is it tested to show that it stands up to daily use? Will it give you enough years of use to make the price worthwhile?
Also, look at any warranties offered by the company. Typically, warranties are designed to last at least as long as the coffee scale should. As a result, longer warranties are often indicative of higher durability. Plus, you get peace of mind that if something goes awry, the manufacturer will make it right.
Additional Features
As you narrow down your choices, the last point to consider is the presence or lack of extra features. Some coffee scales are relatively basic, allowing you to weigh grounds, espresso, or pour-over coffee with reasonable precision. Others offer additional capabilities, allowing you to elevate your coffee-making experience.
While extra features aren't always necessary, they can create value. Built-in timers help you track the brewing process, so they're nice additions. Multiple weight measurements can expand how you use the scale, so they're worth considering.
When it comes to advanced features – like Bluetooth connectivity and companion apps – whether you'll deem those as musts depends on what you're after. They can make logging your brews easier or may allow you to access more controls. However, some may not get enough value from them to make them worthwhile.
How to Use a Coffee Scale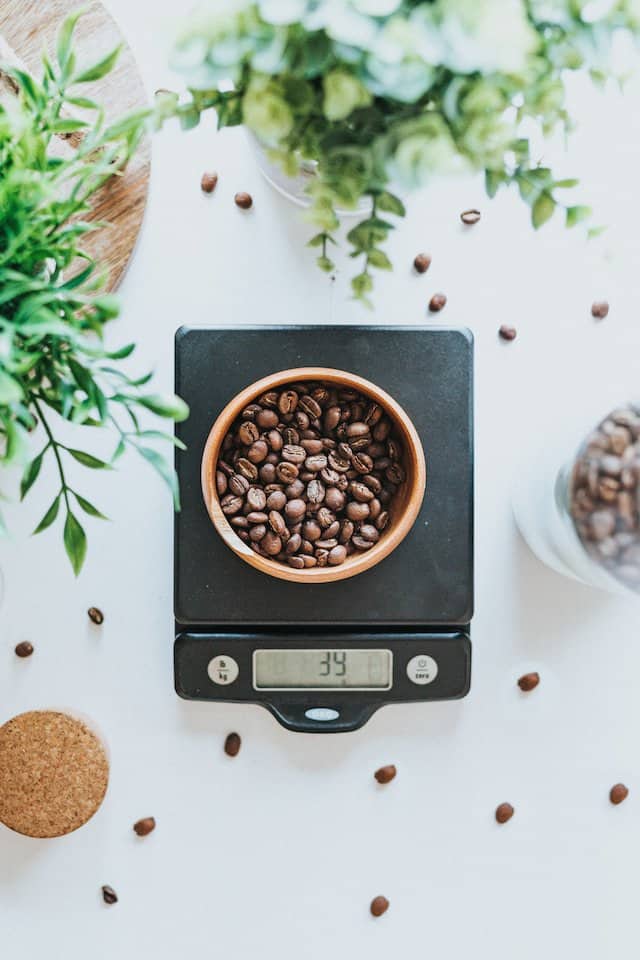 Using a coffee scale is reasonably straightforward. Here's a quick overview of how to use a coffee scale.
1. Tare Your Scale
First, you need to tare – or zero out – your scale. Usually, you turn on the scale and hit a designated button, ensuring the screen reads the current weight at zero.
2. Weigh the Coffee and Place it in the Carafe or Chemex
Next, weigh out the coffee you'll need for your brew. Once you have the right amount of coffee, place it in your brewing container if you're making Chemex or pour-over coffee.
3. Add the Carafe or Chemex and Zero-Out Again
Place the Chemex or the pour-over carafe on the scale and tare the scale again, ensuring the readout is listed at zero.
4. Pour the Water
Pour heated water into the Chemex or carafe, monitoring the weight until the correct amount of water is added.
5. Brew and Enjoy
After you add the correct amount of water, you can leave the container on the scale or remove it. Then, let it brew for the right amount of time. Finally, pour the coffee into your cup and enjoy.
Final Verdict
Ultimately, the Acaia Pearl is our top choice for the best coffee scale of 2023. When it comes to precision, it's tough to beat. Plus, it offers fast readouts for enhanced accuracy when pouring, a built-in timer, and a companion app with a slew of intriguing features. As a bonus, it's also an incredibly nice-looking scale, so it shines when it comes to aesthetics.
However, there are also other amazing choices. For budget-conscious shoppers, the Coffee Gator and Apexstone coffee scales are excellent alternatives. If you're focused on espresso, you may appreciate the Acaia Lunar instead. Ultimately, there's a fantastic option for any coffee drinker, so consider your needs and budget to find the best coffee scale for you.
Acaia Pearl
The Acaia Pearl scale is the best in our list due to its fast but high degree of accuracy, flow rate indicator and brew timer.
Last update on 2023-09-18
FAQs
What Is the Difference Between a Coffee Scale and a Kitchen Scale?
Typically, coffee scales are designed to measure both weight and time, while kitchen scales focus solely on weight. Additionally, coffee scales are more commonly water-resistant, and they usually measure weights in grams, typically with 0.1-gram accuracy. Kitchen scales may not be water-resistant, and the weights used may include grams or other measurements, potentially with less than 0.1-gram accuracy.
Are Coffee Scales Worth It?
Coffee scales are worth it if you appreciate precision when making coffee. They allow you to accurately measure the grounds you're using and the water you're adding, leading to improved coffee-to-water ratios. Plus, when you develop your perfect cup of coffee, you know exactly what you need to do to replicate it.
Do I Need an Expensive Coffee Scale?
You don't need an expensive coffee scale to get good results. However, price and quality often go hand-in-hand. Additionally, higher-cost coffee scales may include more features, such as flow rate monitoring. As a result, investing can give you tools for even greater precision, which some discerning coffee drinkers may appreciate.
Coffee Has Never Read This Good!
Sign up for a FREE newsletter to the best home brewing tips and guides
Thank you for subscribing to The Cup Coffee House Crew! There's a surprise in your Inbox 🙂
Something went wrong.
About the Author
Latest Posts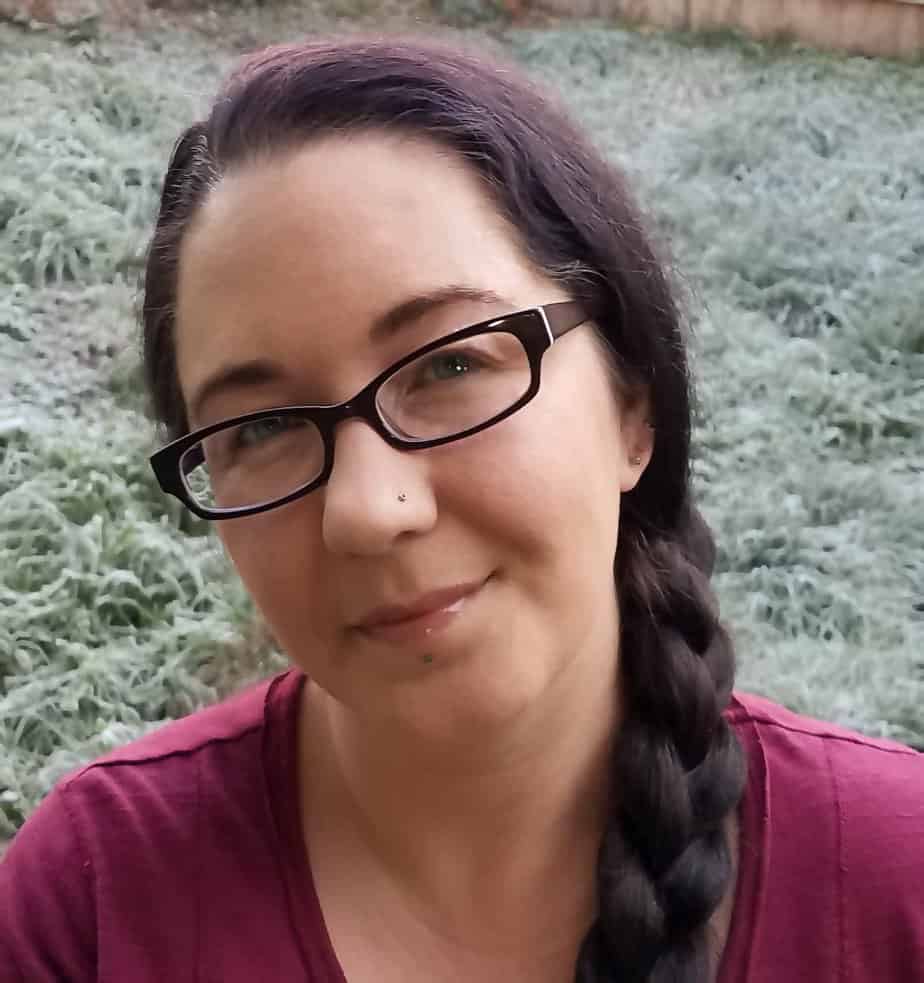 Catherine Reed is a freelance writer and coffee enthusiast. She has been a lover of coffee, espresso, and various café-style concoctions for more than 20 years, and enjoys exploring everything the world of coffee has to offer. Whether it's trying out new coffee technologies or exploring small-batch creations from independent micro-roasters, Catherine is open to any coffee experience, and aims to share everything she's learned with discerning readers interested in leveling up their coffee game.
Chief Editor