Last updated on August 15th, 2023 by Alex Praytor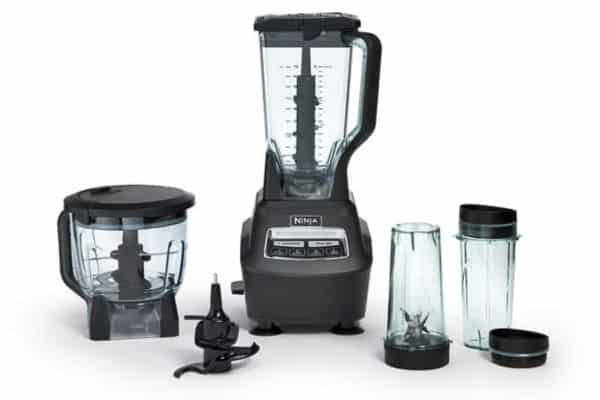 Iced coffee drinks and frappuccinos can be delicious afternoon treats–especially when the weather gets hot. However, ordering these delectable coffee drinks regularly at Starbucks can quickly drain your bank account. 
To make frappes at home, you need a blender that can grind ice without the motor overheating. So, if you are planning to make icy drinks regularly, a blender with a motor of more than 1,000 watts may be your best pick. 
Our top pick in this category is the Ninja Mega Kitchen System. This blender has a 1500W motor to crush ice into snow. Also, it comes with two personal-size pitchers, dough blades, and a food processor attachment. 
Sale
Last update on 2023-09-17
Whether you plan to set up a coffee shop in your kitchen or pack a blender for a beach vacation we've found some great options. Take a look at seven of the best blenders to crush ice for your favorite coffee beverages.  
---
Our List of Best Blender for Ice
Things I like:
1500 Watts
Includes 72-ounce blender pitcher, 64-ounce processor bowl, and two 16-ounce to-go pitchers
Dough blade and chopping blade
5 speeds
Crushes ice into a snow-like consistency
Things I don't like:
Doesn't heat soups or hot drinks.
Review:
The Ninja Mega Kitchen System is a great choice for making smoothies and frappes. It can crush ice effortlessly with its 1500W motor and five adjustable speeds. 
The two 16-ounce attachments allow you to make coffee beverages directly into a to-go cup. Or, you can blend frozen drinks for a crowd using the 72-ounce pitcher. 
This multi-purpose Ninja also includes a food processor attachment and a dough blade to blend batter and knead the dough. The Ninja Mega Kitchen System is a perfect addition to a barista's or chef's kitchen.
Sale
Last update on 2023-09-17
Things I like:
1200 watts and 900 watts for crushing ice
7 speeds
3 pre-programmed settings
Dual direction blades
Dishwasher-safe Boroclass 6-cup glass pitcher
Includes 24-ounce personal smoothie cup
Things I don't like:
Relatively small blender pitcher
Review:
If you are looking for a blender on a budget, the Oster Blender Pro is a durable option for less than $100. This blender has pre-programmed settings to create frozen smoothies, and milkshakes, or to chop food. Its large dual-direction blades ensure smooth, well-blended beverages. 
The 6-cup glass pitcher is dishwasher-safe making clean-up easy. Or, if you want to create a single-serving size, you can blend a small batch in the 24-ounce personal smoothie cup. 
The Oster Blender has a motor that is powerful enough to crush ice for blended drinks and iced coffee and comes at an affordable price. 
Sale
Oster Blender Pro
The Oster Blend Pro is a small blender on a budget with pre-programmed settings for smoothies, milkshakes and even for food.
Last update on 2023-09-17
Things I like:
1100 Watts
9 touch programs
5-speed settings
Compatible with Vac Q
Ring-pull on lid for easy opening
Surgical-grade stainless steel blades
LCD screen
Measuring lines for liters and cups
50-oz BPA-Free Tritan Jug
User-friendly
Compatible with hot liquids
Things I don't like:
Review:
The Breville Fast and Furious Blender is a great option for making frappes, green smoothies, and ice cream shakes. This blender has over 1000 watts to crush ice into a snow-like texture. It also includes a timer so you can blend your drinks consistently every time. The contoured, bowl-shaped base of the pitcher allows the blades to grind evenly for a smooth texture. 
While this blender is a great option for coffee drinks, oat milk, and green drinks, the fruit smoothie texture is slightly chunkier than other blenders.
Breville, The Fresh & Furious
The Breville, Fresh and Furious crushes ice into a snow-like texture that includes a timer to blend the drink consistently.
Last update on 2023-09-17
Things I like:
900-watt motor
Stainless steel extractor blade
BPA-free 32-ounce cups
Two flip-top travel cup lids
Grinds dense foods such as nuts, seeds, and fruits.
Things I don't like:
Does not include a large-capacity container.
Review: 
The NutriBullet Pro is simple to use and does a great job of creating cocktails and iced fruit drinks with a smooth consistency. This model has a more powerful motor than the original NutriBullet with a stainless steel extractor blade. It can crush ice or grind dense foods such as nuts and seeds. The two 32-ounce blending cups allow you to make a personal-size coffee drink or shake to take on the go. 
This compact machine is tougher than it looks. Priced around $100, the NutriBullet Pro has a great value for the price.
Sale
NutriBullet NB9-1301W Pro
The NutriBullet NB9-1301W Pro comes in many colors, with a powerful motor and stainless steel extractor blade to crush ice and food.
Last update on 2023-09-17
Things I like:
1440 watts
Can heat soups
Many dishwasher-safe components
Large 64-ounce capacity
Simple, adjustable controls
Program the blend with a timer
Cool-running motor
Perfect for smoothies, slushies, cocktails, ice cream shakes, nut butter, and more
10-year warranty
Things I don't like:
No preset controls
Expensive
Review:
The Vitamix A3300 is a multipurpose blender that can create hot soups and cold smoothies, slushies, and cocktails. It can also tackle the tough job of grinding foods to make nut butter and hummus. 
You can use the dial to adjust the speed or set a timer to turn off the blender automatically. It  detects your pitcher's size using wireless connectivity to adjust the maximum speed setting accordingly. This blender is extremely durable and comes with a 10-year warranty. 
The Vitamix A3300 is more expensive than many other blenders. However, it is a kitchen workhorse that can fulfill your blending needs.
Sale
Last update on 2023-09-17
Things I like:
Durable BPA-free plastic jar
Fits easily into a purse or bag
Cordless unit
Recharges using a USB
Accepts blending while charging
Dishwasher-safe 14-ounce to-go cup
Includes a mini ice tray
Things I don't like:
You must cut fruit into inch-cubes and use only mini ice cubes from the ice tray provided.
Not suitable for hot liquids or bullet-proof coffee.
Review:
Whether you take a road trip in the States or travel abroad to foreign lands, iced coffee drinks, and smoothies can give you energy on the go. Your hotel room may not be equipped with a blender, but you can easily pack your own with this PopBabies Portable Blender. 
The 14-ounce travel cup has a handle on the lid making it easy to carry. This cordless blender charges using a USB, so it is compatible with any outlet worldwide. 
PopBabies blenders come in several fun colors, so you can find a model to match your style. 
This mini-blender is quiet and convenient and is backed by thousands of positive customer reviews.
Sale
PopBabies Portable Blender
The PopBabies Portable Blender has a BPA-Free jar that comes in a variety of colors. It is easy to carry and can be charged using a USB, compatible for travel.
Last update on 2023-09-17
Things I like:
Blends directly into a 14-ounce to-go cup
BPA-free portable travel jar with lid
Dishwasher-safe jar, lid, and blades
Durable stainless steel blades for crushing ice and frozen fruits
Small footprint
Less than $25
Things I don't like:
Must have access to a plug to use.
Only 175 Watts of power.
Review:
The Hamilton Beach Personal Smooth Blender is compact to fit easily into a tiny kitchen or dorm. It blends drinks directly into a 14-ounce travel cup. Add the travel lid to the jar and you are ready to hit the road with a cold coffee drink in hand. The cup also fits in most cup holders to make your life easier. The jar, lid, and blades of this Hamilton Beach are dishwasher-safe, so clean-up is easy. 
The motor may not be as powerful as larger models. However, this small blender has durable stainless steel for crushing ice and frozen fruits. Many customers say it is the perfect size for cocktail drinks and personal smoothies. 
With over 99,000 ratings on Amazon, this cheap and compact blender maintains a positive rating of 4+ stars.
Last update on 2023-09-17
How to choose an ice blender: Buyers Guide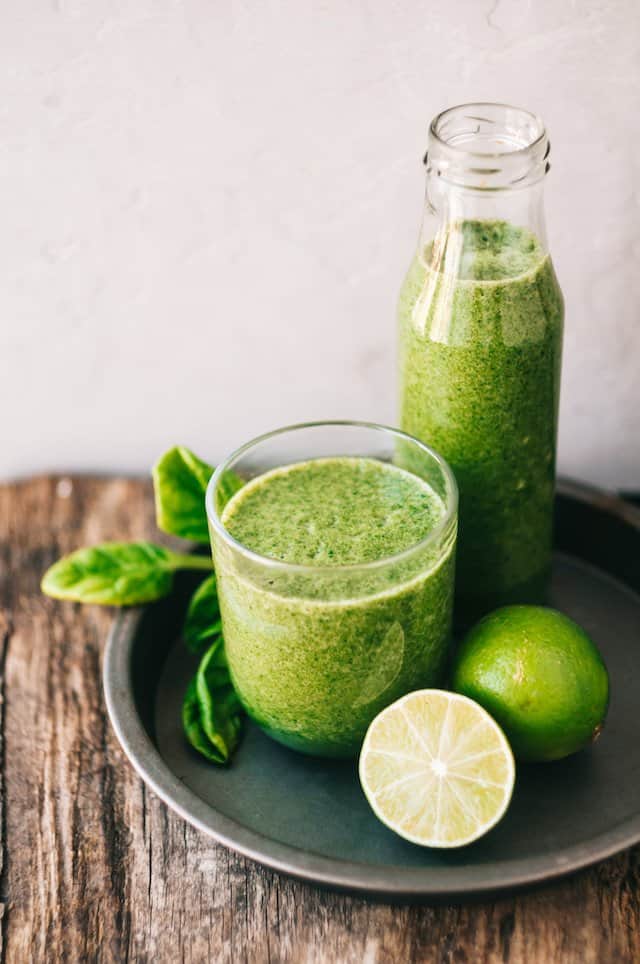 If your goal is to make iced coffee drinks and frozen fruit smoothies, you want a blender capable of handling the job. You'd think that any blender on the shelf can make a smoothie. However, many blenders are not powerful enough to blend ice and frozen fruits efficiently. A cheap blender can leave ice chunks and fruit lumps in your drink. 
Here are some tips for finding a blender that can crush ice and blend frozen fruits smoothly into your drinks.
Motor power
If you don't need to use a large quantity of ice for your cold drinks, a blender with 250 to 500 watts should be enough. These low-cost blenders are equipped to make milkshakes, sauces, and some smoothies. However, they won't be able to handle large frozen fruit chunks or large amounts of ice. To use frozen fruits, you may need to thaw them or cut them into small pieces before blending.
If you prefer silky-smooth, ice-cold drinks a blender with 1000 to 1500 watts or more will help you do the job. These blenders can stand up to the heavy-duty job of grinding nuts, crushing ice, and chopping frozen fruits. Some even have a separate ice-crush button to turn ice into the consistency of snow.
Blade design
If your main goal is to create iced coffee drinks, frappes, smoothies, and slushies, you can choose a blender with a wing blade style. These blades can crush ice using blunt edges. To chop food, an "X" shaped blade works best. These blades are generally sharper to cut foods for salsas, sauces, and soups. 
More expensive blender models may combine the best points of the wing and X-shaped blade to create a multipurpose blade. A multipurpose blade is perfect for frozen coffee drinks, smoothies, soups, salsas, ice cream, nuts, and more. Some upscale kitchen blenders may even include a variety of blade attachments for specific purposes.
Jar size
A blender jar with at least a 64-ounce capacity can accommodate more ice and liquids. These large pitchers usually also come with larger, more powerful blades making it easier for your blender to grind your drink to a silky-smooth consistency. 
However, if you enjoy the ease of a small personal blender, you can use less ice to avoid burning out the motor.
How to Use a Blender for Ice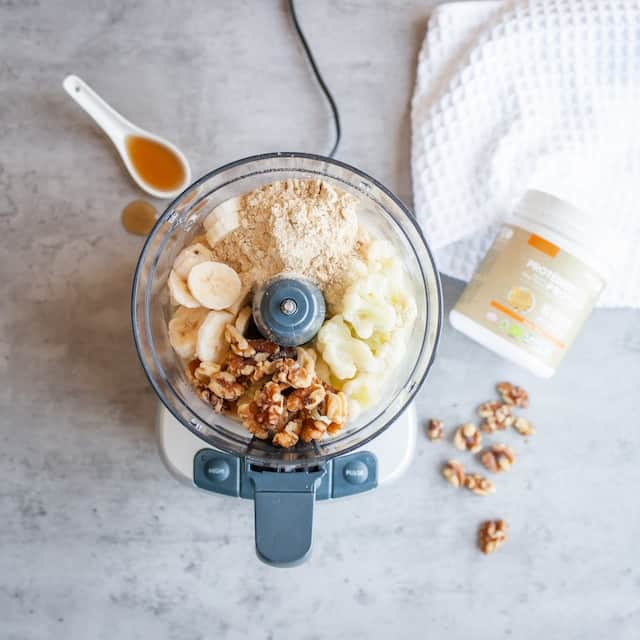 A blender with a powerful motor can do an excellent job of crushing ice. However, using a few techniques can make your machine's job easier and ensure your drink has the smoothest texture. Here are some helpful tips to use for crushing ice in a blender.
How to crush ice effectively
Use an ice crush button if your machine has one. If not, you can pulse the ice to create crushed ice. If you add large quantities of ice to smoothies or coffee drinks, blend the ice at a high speed until it reaches a smooth consistency. For single-serve drinks, try a medium setting instead.
Achieve the consistency you desire
To make crushed ice in a blender, add ice cubes directly from the freezer. Blending the ice can leave you with different-sized ice particles, which is not ideal. Instead, use the pulse button to chop the ice evenly and achieve a smooth consistency.  If your machine doesn't have a pulse button, you can blend the ice at high speed in short bursts. 
If you are using a machine with a weaker motor, add some water to make your blender's job easier. After you finish, place the ice in a strainer to remove excess liquid.
Ways to use crushed ice in your favorite beverages
Cocktails: Cocktails such as Mint Juleps and Frozen Daiquiris are delicious when you add crushed ice. Crush ice in the blender on a pulse setting until it has the texture of shaved ice. 
Coffee: To make icy frappes, add cold espresso (or instant coffee), milk sweetener, ice, and your favorite flavoring. Blend these ingredients until you have a smooth beverage. Top with whipped cream, chocolate shavings, or syrup. 
Smoothies: In a high-powered blender, you can use frozen fruits, yogurt, juice, and a sweetener to create smoothies. If your blender has a weaker motor, try using fresh fruit instead of frozen and add just a few ice cubes.
Crushed ice desserts: On hot days, a crushed ice dessert can be a refreshing snack. Crush ice in a blender until it is the consistency of snow to make shaved ice desserts. Add snow cone syrups to flavor the ice and top with fresh fruit or heavy whipping cream. 
Maintenance and care for your blender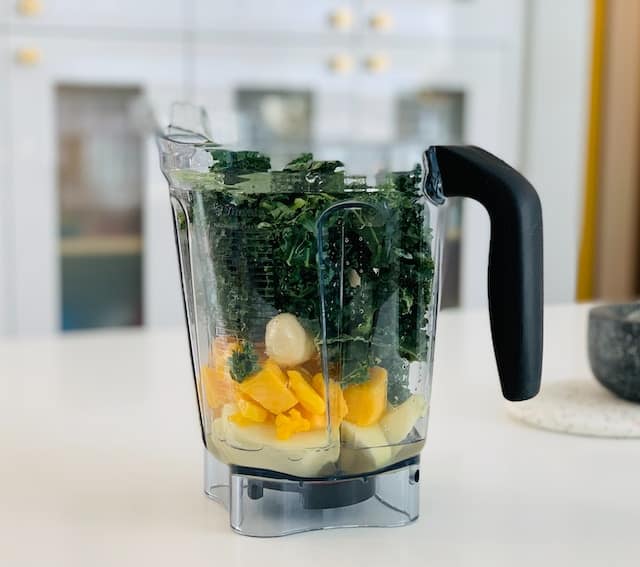 After each use, you clean the blender thoroughly. Waiting to clean until later can create stubborn residue around the blades. This can cause your blade to rust and weaken prematurely. 
Start by unplugging the machine and wiping the base with a slightly damp towel. (Never submerge the base in water.) 
Many blender pitchers, lids, and blades are dishwasher-safe, making your job easy. Other blenders are not dishwasher-safe and, instead, can self-clean. 
To clean your blender without a dishwasher, you can rinse the pitcher of food, liquids, and residue. Then fill the jar with warm water about halfway and add a drop of detergent. Blend the water and soap combination for one to two minutes at a low or medium speed. Rinse the blender and wipe it dry or turn it upside down to air-dry.
For stubborn residues, squeeze the juice from one lemon into the blender. Then add a cup of water and a few spoonfuls of baking soda. Blend this combination for 30 seconds. This should loosen hardened food debris and sticky residues. Then, pour this cleaning solution and handwash the pitcher with detergent and a sponge. Always be careful of the sharp blades while cleaning.
Wrap up
Finding a blender that is right for your needs can be a tough decision as finding the perfect espresso machine. To make crushed ice and fine-textured smoothies, a powerful motor with durable steel blades is key. However, a small-scale, portable blender can be great for making yummy coffee drinks on the go. 
Our best blender for ice is the Ninja BL770 Mega Kitchen System. This machine has one of the most powerful motors on the market and comes with large and travel-sized pitchers. Now that you've seen some of the top blenders on today's market, which one will you pick?
Sale
Last update on 2023-09-17
For a great Ninja coffee maker to pair with your blender, check out this Ninja Hot and Cold Brewed System review.
FAQs
Is it OK to blend ice in a blender?
You can blend ice in a blender. However, if you have a motor of fewer than 1000 watts, you should limit the amount of ice or use smaller cubes to avoid overtaxing the motor. Adding water, juice, or other liquids can help the blender do its job easier. For a blender with less than 500 watts, you can use crushed ice from your refrigerator to blend into drinks.
How strong does a blender need to be to blend ice?
Typically, a blender needs to have at least a 1,000-watt motor to be able to crush ice efficiently. However, a blender with a more powerful motor often comes with a higher price tag. You can make smoothies and iced drinks in cheaper blenders, as well. However, the result may be chunkier. You may also need to compensate for a weaker motor by limiting the amount (or size) of frozen fruit and ice cubes. 
What is the difference between a frappe and a Starbucks Frappuccino?
A frappe and Frappuccino are essentially the same drink. Since Starbucks owns the name "Frappuccino," all the other coffee shops call their frozen coffees "frappes." These frozen coffee drinks generally include ice, milk, coffee, and sweeteners. Starbucks uses an instant coffee blend, while others use espresso shots as a coffee base.
Coffee Has Never Read This Good!
Sign up for a FREE newsletter to the best home brewing tips and guides
Thank you for subscribing to The Cup Coffee House Crew! There's a surprise in your Inbox 🙂
Something went wrong.
About the Author
Latest Posts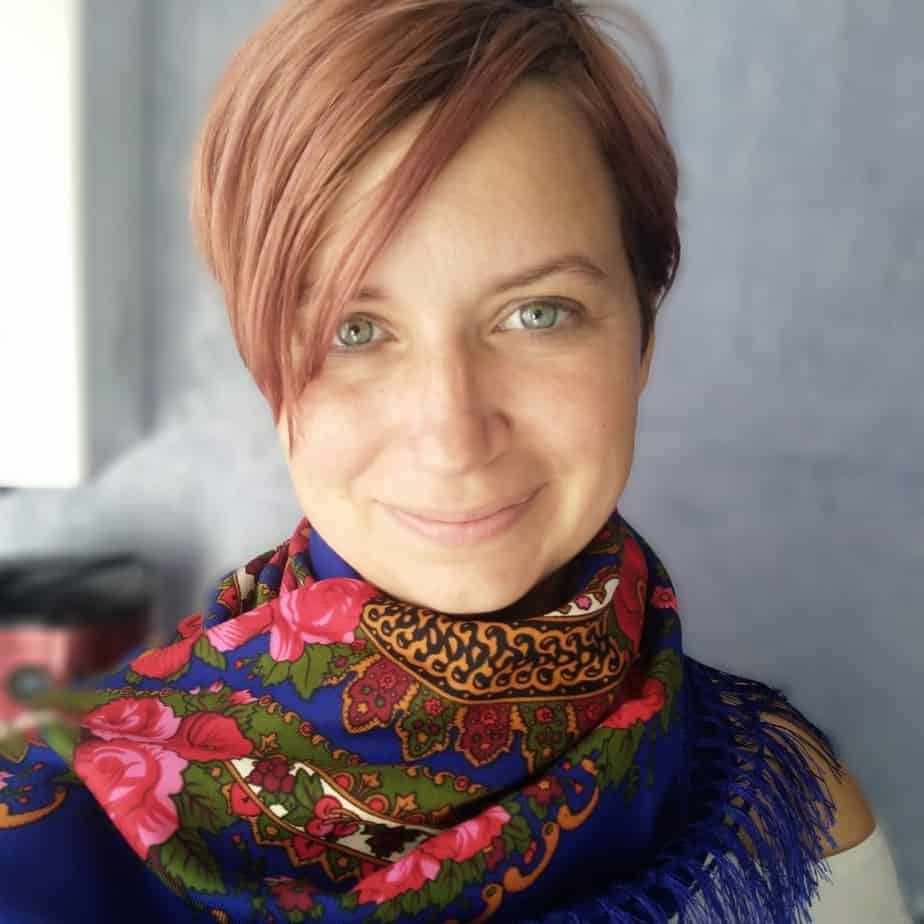 Alex Praytor worked her first job as a barista, finished college, and then took a tour to the other side of the globe. She fell in love with espresso and her would-be husband in Europe. She spends her spare time visiting native Texas landmarks, ancient castles, and all the coffee shops she finds along the way. At home, she is a mom, ESL teacher, and writer, who hones her coffee-making skills daily. She enjoys passing on her coffee findings to fellow caffeine addicts in search of the perfect cup.
Chief Editor