Last updated on September 9th, 2023 by Alex Praytor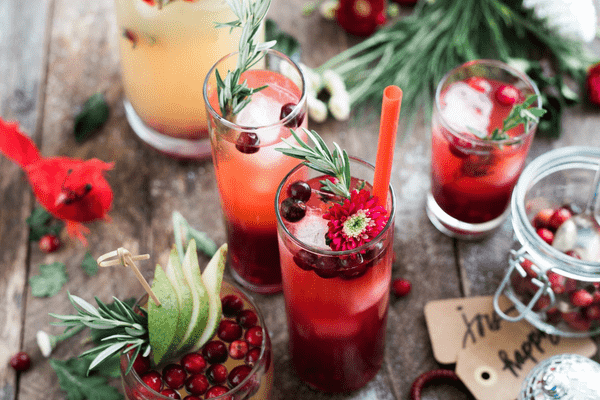 Cutting back on caffeine? Luckily you don't have to give up your Starbucks run. The green Starbucks siren that beckons us in for a hot cup of coffee also has many tasty caffeine-free offerings.
You can find steamers, herbal teas, lemonades, and even frappuccinos without caffeine on the Starbucks menu. There are also several low-caffeine Starbucks drinks.
This is good news if you are looking for kid-friendly drinks to order, you're pregnant, or you're just trying to stay within the FDA's limit of 400 mg of caffeine per day. 
Here are some of the best Starbucks drinks without caffeine that you will want to try to get your fix without the jitters!
---
Our List of Best Caffeine Free Starbucks Drinks
#1. Vanilla Bean Crème Frappuccino® Blended Crème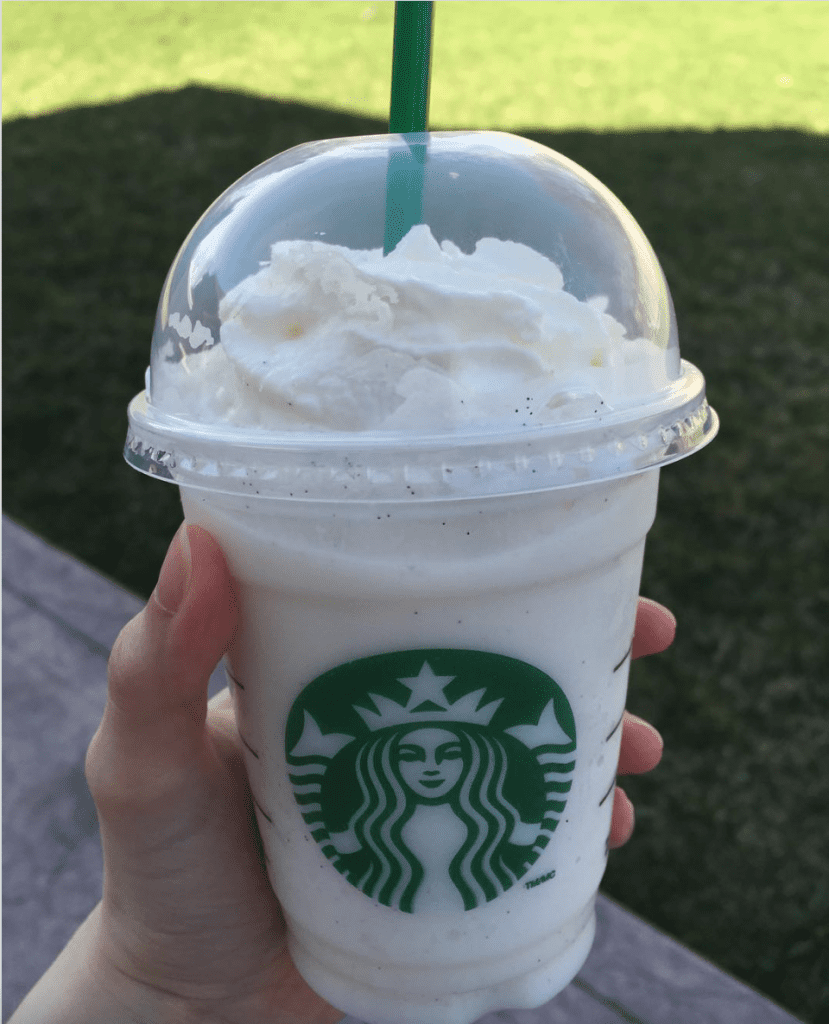 380 calories
The Vanilla Bean Creme Frappuccino is definitely a caffeine-free treat for your tastebuds. It is basically drinkable ice cream in a cup! This blended drink contains milk, ice, vanilla bean, and Starbucks' signature creme frappuccino syrup. With a dollop of whipped cream on top, this drink is a vanilla masterpiece.
#2. Blended Strawberry Lemonade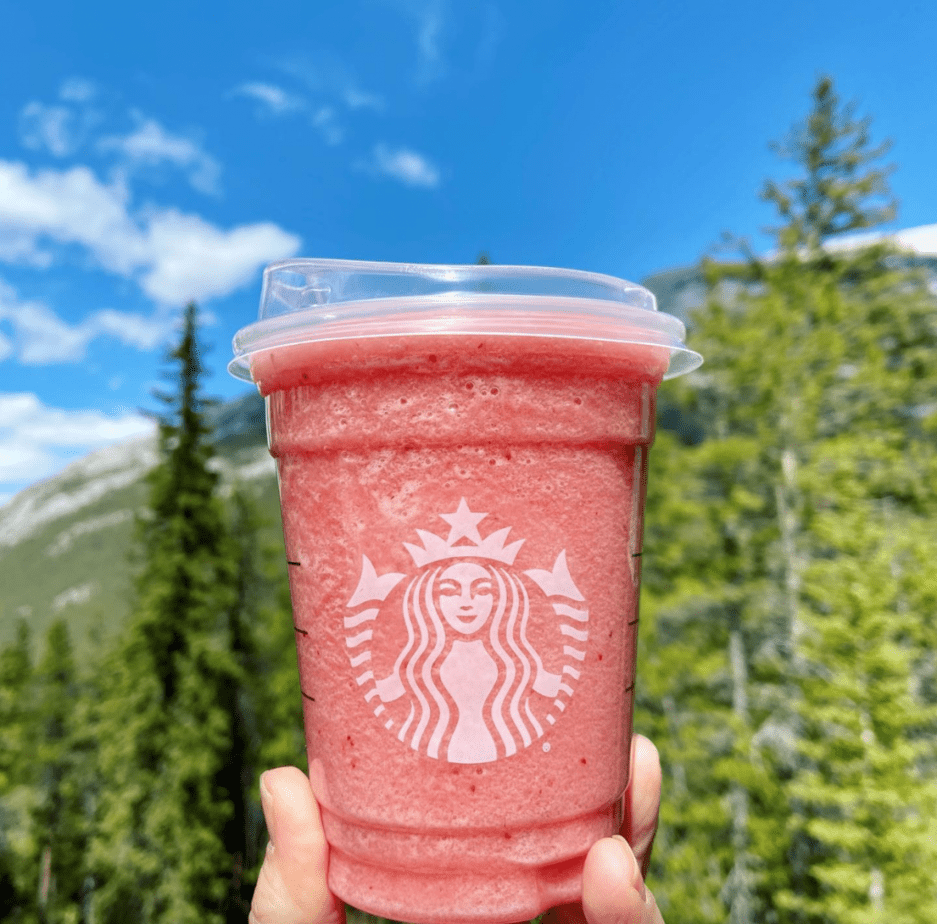 190 calories
The Blended Strawberry Lemonade takes the best parts of a lemonade and a smoothie and combines them. This drink uses the regular Starbucks lemonade recipe and dresses it up with the Creme Frappuccino syrup and strawberry puree. Baristas then blend this recipe with ice to create a delicious cold drink your tastebuds can't resist.
The Blended Strawberry Lemonade contains no caffeine. However, this cold sweet and sour drink can still give you an energy boost. 
#3. White Hot Chocolate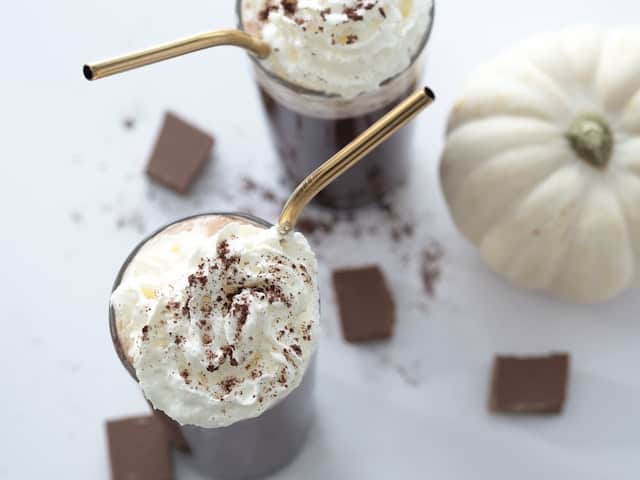 350 calories
If you are a chocolate lover going off caffeine, try white chocolate flavors. Starbucks' White Hot Chocolate is a caffeine-free white chocolate option. It is basically a white chocolate mocha without the espresso base. White chocolate sauce melts into steamed milk and then gets topped off with whipped cream. This simple recipe is creamy, hot, and oh so good!
If you want to dress it up, you can go to the drink bar and add cinnamon or cocoa. Then find a cozy corner with a comfy chair, relax and enjoy. This classic drink never goes out of style.
#4. Pumpkin Spice Crème 
400 calories
Pumpkin Spice Lattes have become synonymous with the beginning of the fall season. If you are a fan, you can still get the taste of Pumpkin Spice without the caffeine. Simply ask for a Pumpkin Spice Creme.
This drink combines pumpkin puree, cinnamon, nutmeg, and cloves with steamed milk. Then you get whipped cream with tasty spices on top. 
Pumpkin Spice Creme tastes like autumn and is a cozy drink to welcome a new season. However, unlike PSL, this drink contains zero caffeine.
#5. Apple Crisp Oatmilk Crème Frappuccino® Blended Beverage 
380 calories
This new addition to Starbucks' seasonal beverage list gives you a fall festival in your mouth. The Apple Crisp Oatmilk Creme Frappuccino combines oat milk and the flavors of apple, cinnamon, and brown sugar. Then it is blended with ice and topped with whipped cream and spiced apple drizzle. 
This drink takes all the best flavors of apple pie and turns it into a cold, addicting drink. Surprisingly, only the drizzle topping contains apples, but your tastebuds are none the wiser.
#6. Caramel Ribbon Crunch Crème Frappuccino® Blended Beverage
420 calories
Caramel Ribbon Crunch may win the most popular award among the Starbucks Frappuccinos. If you love caramel, you will love this drink. It pulls out all the stops and combines all types of Starbucks caramel flavors in one drink. 
You get dark caramel sauce, buttery caramel syrup, and caramel drizzle on top. Don't forget the crunchy caramel that tops off the whipped cream! 
If you want to forgo coffee, make sure you ask for the Creme version of this frozen drink. 
#7. Peach Tranquility
0 calories
This hot Starbucks drink comes without caffeine, sugar, or dairy. It also contains zero calories. Peach Tranquility also packs in a surprising amount of flavors.
When you drink this herbal hot tea, you can taste peach, candied pineapple, chamomile blossoms, lemon verbena, and rose hips. It is peachy and tranquil, then finishes with a zing. 
With no sugar, calories, or caffeine, Peach Tranquility is one of the healthiest choices on the Starbucks menu.
#8. Strawberry Crème Frappuccino® Blended Beverage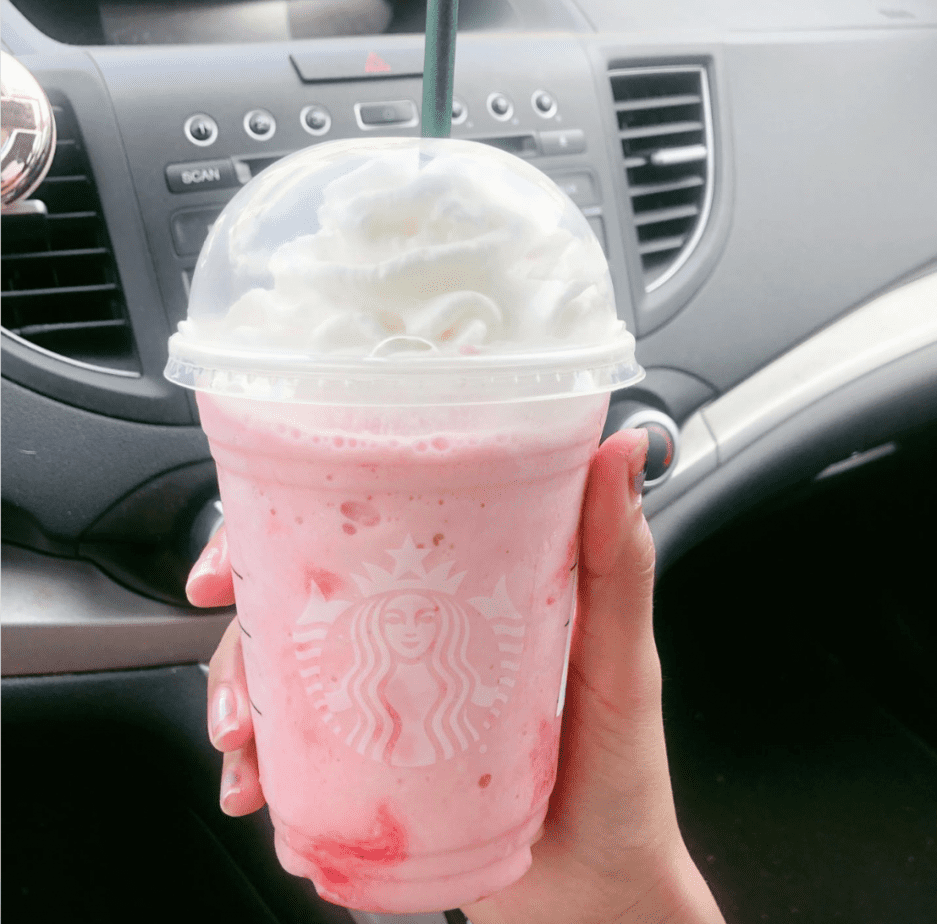 370 calories
When you drink a Strawberry Creme Frappuccino, you can get a taste of summer at any time of the year. This caffeine-free drink is fresh and fruity. You get layers of strawberry puree blended with milk and ice. Vanilla whipped cream tops off this fresh-tasting, smoothie-like drink. 
#9. Caramel Apple Spice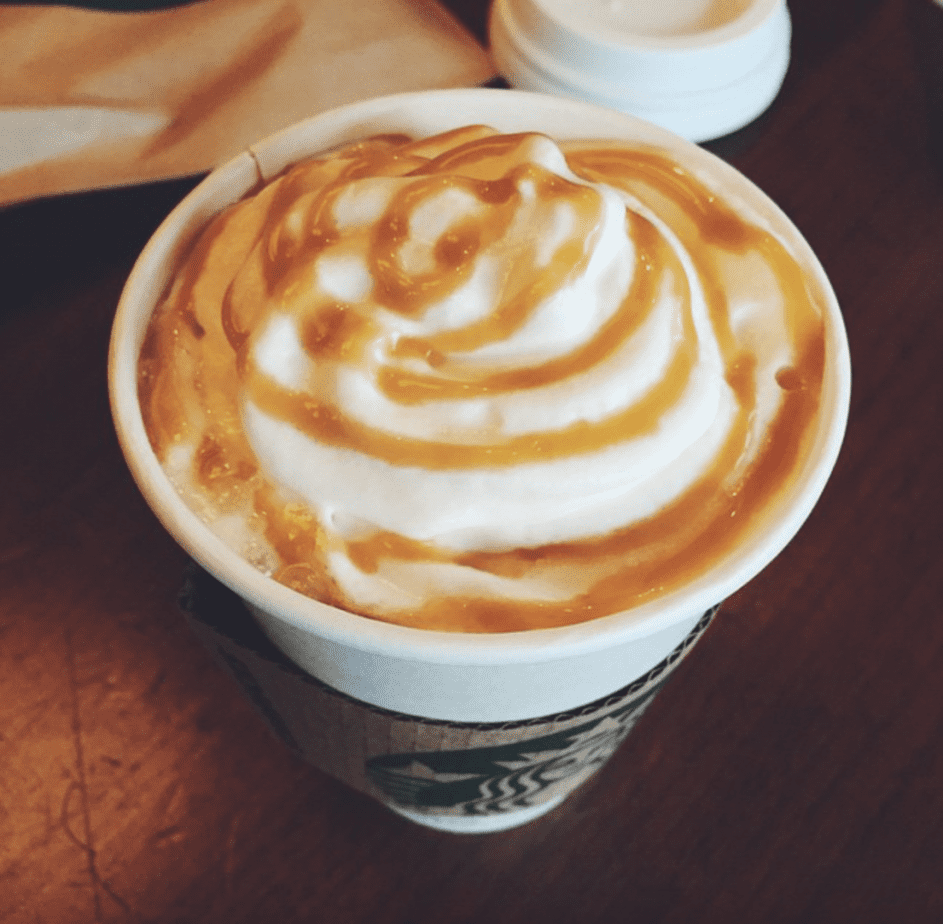 380 calories
The Apple Crisp Oatmilk Creme Frappuccino may be low on apple content. However, the Caramel Apple Spice makes up for it. Unlike most of the hot specialty drinks on the Starbucks menu, this drink is not milk-based. Instead, it is steamed apple juice with cinnamon syrup. 
For a festive touch, you also get a whipped cream topping with caramel drizzle. If this drink sounds sweet, you're right… it is. In fact, with 70 grams of sugar in a grande size drink, this is one of the sweetest drinks on the menu.
#10. Iced Passion Tango Tea
0 calories
Starbucks Iced Passion Tango Tea is a caffeine-free iced tea option. It also comes without sugar or calories, but, it still packs in a full amount of flavor. This vegan drink is a combination of hibiscus, lemongrass, and apple. It is shaken with ice until it is refreshingly cold. 
With the sweet and sour fruity flavors, you don't miss the sugar. However, if you prefer sweet tea, you can ask the barista to add a shot of simple or vanilla syrup to your drink before it is shaken.
A syrup shot may cost a few cents extra. However, it blends much better into an iced drink than sugar packets from the bar. Or, you can try the sweetened Iced Passion Tango Tea Lemonade. 
#11. Sugar Cookie Almondmilk Crème Frappuccino® Blended Beverage
310 calories
Starbucks' Sugar Cookie Almondmilk Creme Frappuccino comes without coffee and is certainly "extra." The festive-looking drink is made using almond milk and a special sugar cookie-flavored syrup. Then it is blended with ice and topped with whipped cream and red and green sprinkles. 
If you cut the whip, this can be a kid-friendly treat for lactose-intolerant children. Even adults can enjoy the blend of sweet and nutty flavors and its colorful topping. 
#12. Peppermint White Hot Chocolate
520 Calories
Peppermint White Hot Chocolate can get you in the mood for winter weather. This seasonal hot drink deviates from the regular hot chocolate recipe and spices things up for the holidays. It is steamed milk, white chocolate mocha sauce, and peppermint syrup. On top, you get whipped cream and dark chocolate curls. 
If you are in the mood for this minty treat all year round, you can ask the barista to make the recipe. However, the dark chocolate curl topping only comes once a year when the drink is in season.
#13. Eggnog Crème
500 calories
Who doesn't love the taste of eggnog to kick off the holidays? The Eggnog Creme is a favorite among Starbucks customers but unfortunately may not make an appearance this fall season.
For this classic holiday drink, eggnog is steamed and topped off with nutmeg. It is the perfect way to warm up on a cold winter's day. Or, if you want the same delicious flavor in a cold drink, try the Eggnog Creme Frappuccino. 
Both of these seasonal drinks are non-caffeinated–and delicious! 
#14. Secret Menu Pumpkin Smoothie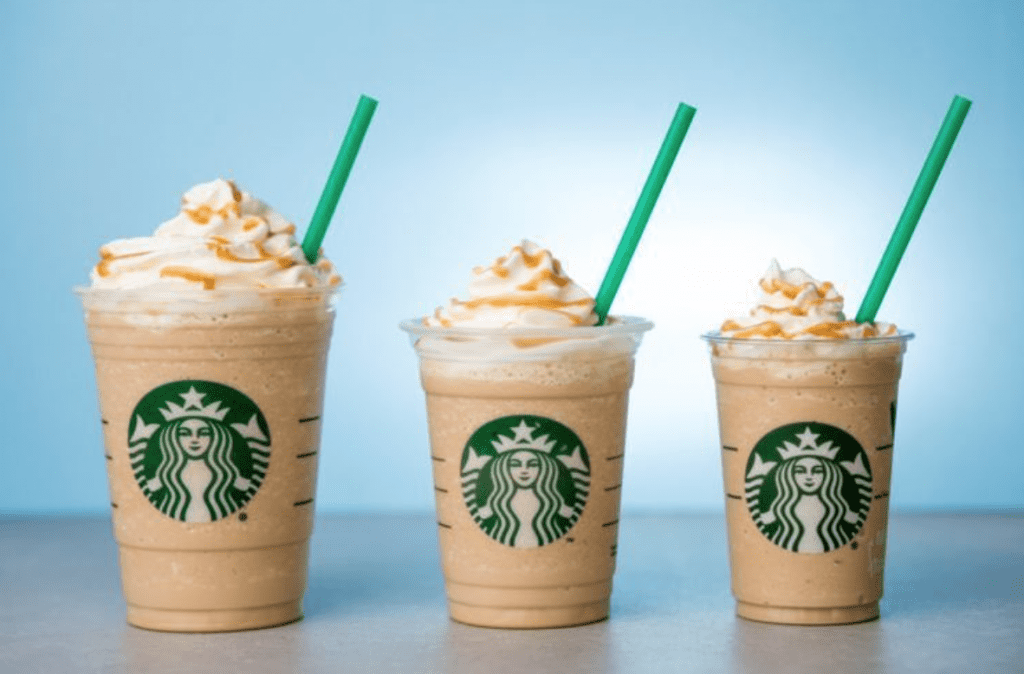 (Calorie count unavailable for Secret menu drinks)
If you have to skip your morning coffee dose, you can find other ways to boost your energy. And this Pumpkin Smoothie can be the perfect way to start off your day. 
It has ice to wake you up, a banana for energy, and protein powder to keep you going. This drink also packs in the Pumpkin Spice flavor so you get to enjoy the PSL season while it lasts.
As with all Secret Menu drinks, you need to give the barista the recipe since it isn't on the official menu. So here is how to ask for this drink at your local Starbucks store:
Ask the barista to pour whole milk up to the middle line.
Add 6 pumps of Pumpkin Spice sauce
Add in one scoop of protein powder
Add one whole banana
Then blend with ice
They say go big or go home. And this Secret Menu Pumpkin Smoothie drink definitely goes big! 
#15. Secret Menu Blackberry Cobbler Frappuccino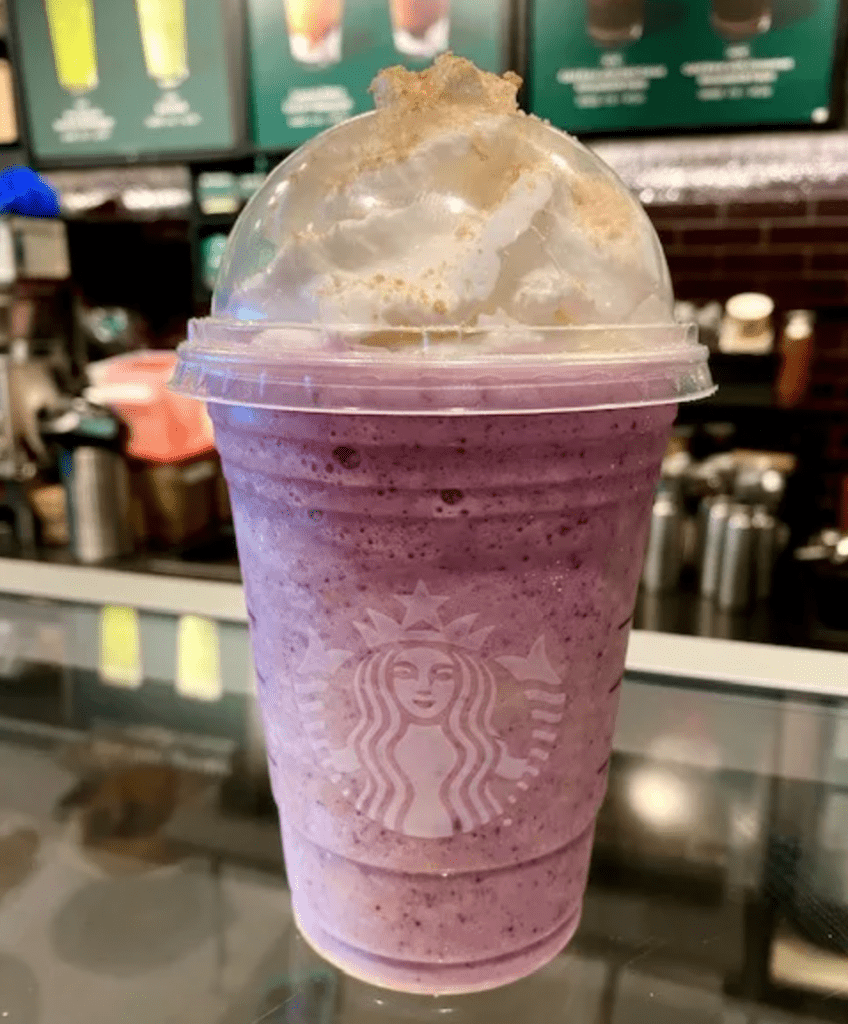 (Calorie count unavailable for Secret menu drinks)
The Starbucks Secret Menu opens the door to a new world of flavor combinations. These drinks are off the menu. However, most of them are thought up by Starbucks baristas or avid Starbucks fans. The Blackberry Cobbler Frappuccino is a tasty Secret Menu drink without coffee or tea. So, what's the recipe?
First, ask for a Vanilla Bean Crème Starbucks Frappuccino.
Add one and a half pumps of white mocha syrup for a grande-size drink.
Add blackberries.
This drink is easy to remember the recipe and is delicious going down. 
There are plenty more Secret Menu recipes to leave you drooling. Take a peek at the Starbucks Secret Menu drink list here.
#16. Evolution Fresh® Organic Super Fruit Greens
180 calories
For a natural boost of energy, you can skip the caffeine and try Evolution Fresh Organic Super Fruit Greens. It contains both fruits and veggies including mango puree, spinach, spirulina, romaine, kale, and chlorella. This green drink comes loaded with vitamin C and has no added sugars. 
You can find Evolution Fresh Organic Super Fruit Greens in Starbucks' refrigerated section. So, if it looks like the baristas are slammed with orders, you can get in and out quickly by choosing this ready-made drink.
Tips for finding drinks with no caffeine or low caffeine at Starbucks 
When you go to Starbucks, there are plenty of no-caffeine and low-caffeine options to try. However, it can be difficult to sift through all the menu items to find which drinks contain caffeine and which don't.
Here are some common Q&As to help you navigate the Starbucks menu and find the best drinks for you at Starbucks.
Does decaf coffee contain caffeine?
Most decaf coffees retain some caffeine. At Starbucks, a Grande Decaf Pike Place coffee contains 25 mg of caffeine which is the same amount of caffeine as Regular Grande Hot Chocolate. This is a low-caffeine drink that contains much less caffeine than black tea or regular coffee drinks. To put it into perspective, a regular Tall Pike Place coffee contains 235 mg of caffeine.
Are Starbucks refreshers caffeinated?
Unfortunately, no Starbucks Refreshers are entirely caffeine-free. Starbucks refreshers look like fruit-based drinks, however, these drinks contain green coffee powder. This coffee addition gives Refreshers 45 mg of caffeine for a Grande size. This is still a low amount of caffeine when you compare it to a cup of coffee. 
Which Frappuccinos do not have caffeine?
There are many Frappuccinos at Starbucks. Some contain coffee, and some come without caffeine. If you want a drink without coffee, choose a Creme Frappuccino. These drinks are the non-coffee counterparts of the regular Frappuccino list.
Also, if you want a Frappuccino with zero caffeine, make sure you choose white chocolate additions instead of regular chocolate.
Does tea at Starbucks contain caffeine?
Most teas at Starbucks do contain some level of caffeine. The popular Chai Tea latte and London Fog latte are caffeinated beverages. Also, Honey Citrus Mint, Emperor's Clouds and Mists contain low levels of caffeine (less than decaf coffee).
The only non-caffeinated teas currently on Starbucks' menu are Peach Tranquility, Mint Majesty, Iced Passion Tango Tea, and Iced Passion Tango Tea Lemonade.
No caffeine, no problem
If you're looking for low-caffeine options or going off caffeine altogether, you could brew your own caffeine free beverage. But there are plenty of Starbucks drinks you can try too.
Many frappuccinos, steamers, cremes, Secret Menu, and seasonal drinks come without coffee. You can also ask for low-caffeine options such as decaf coffee drinks, Refreshers, and some teas.
Let us know which non-caffeinated drink you plan to get on your next Starbucks run!
Want to check the strongest Starbucks drinks? We got you!
Coffee Has Never Read This Good!
Sign up for a FREE newsletter to the best home brewing tips and guides
Thank you for subscribing to The Cup Coffee House Crew! There's a surprise in your Inbox 🙂
Something went wrong.
About the Author
Latest Posts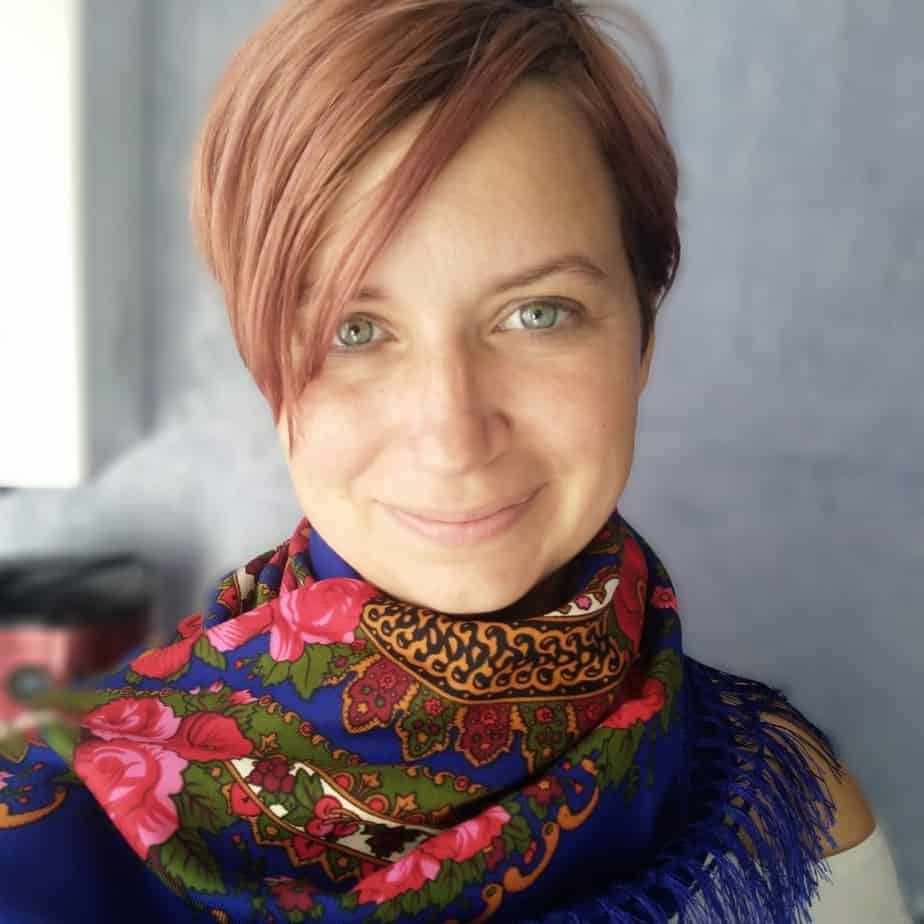 Alex Praytor worked her first job as a barista, finished college, and then took a tour to the other side of the globe. She fell in love with espresso and her would-be husband in Europe. She spends her spare time visiting native Texas landmarks, ancient castles, and all the coffee shops she finds along the way. At home, she is a mom, ESL teacher, and writer, who hones her coffee-making skills daily. She enjoys passing on her coffee findings to fellow caffeine addicts in search of the perfect cup.
Chief Editor