Last updated on September 19th, 2023 by Alex Praytor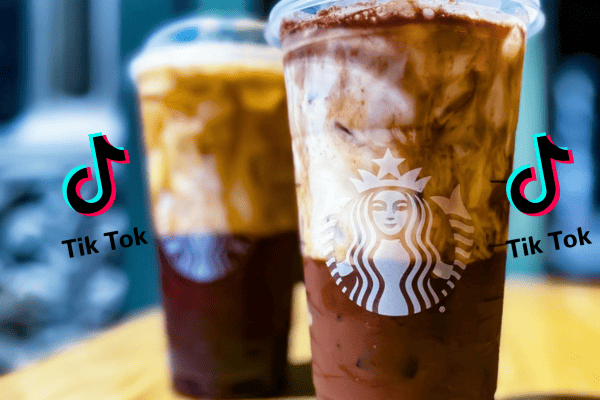 Are you a Starbucks' regular customer? Then, you probably have your go-to order ready when it's your turn in line, and the Starbucks barista may have even learned to spell your name correctly on your cup. 
However, even if you have a favorite Starbucks drink, there are new flavors begging for your attention all the time. Some drink flavor combinations come out seasonally on Starbucks' menu, while others are created by baristas and influencers. 
As you scroll through TikTok, your mouth can start watering over strange and wonderful secret recipe concoctions that you won't find on the regular menu. 
We've ranked 14 of the best Starbucks TikTok-inspired recipes according to popularity and taste. We'll also share insider tips so you can order these tasty drinks like a pro at a Starbucks near you!
---
Our List of Starbucks TikTok Drinks
#1. Iced White Chocolate Mocha TikTok Drink with Sweet Cream Cold Foam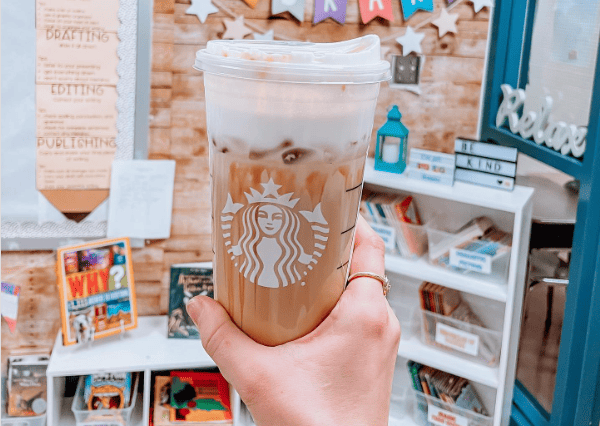 This Starbucks TikTok drink with sweet cream cold foam is currently one of the most famous TikTok drinks on the internet. And why wouldn't it be?
This drink combines Starbucks' classic favorite White Mocha with caramel flavors to create an intoxicatingly sweet and delicious iced cold coffee drink. The cup is lined with caramel sauce and this drink is topped off with a light layer of sweet cream cold foam.
The TikTok Iced White Mocha is sweet, creamy, and simply delicious. But be careful– it can become addicting!
The recipe:
Order an iced Venti White Mocha
Ask for a caramel drizzle to line the cup. 
Add a sweet cream cold foam.
Top with caramel drizzle.
#2. TikTok Pink Drink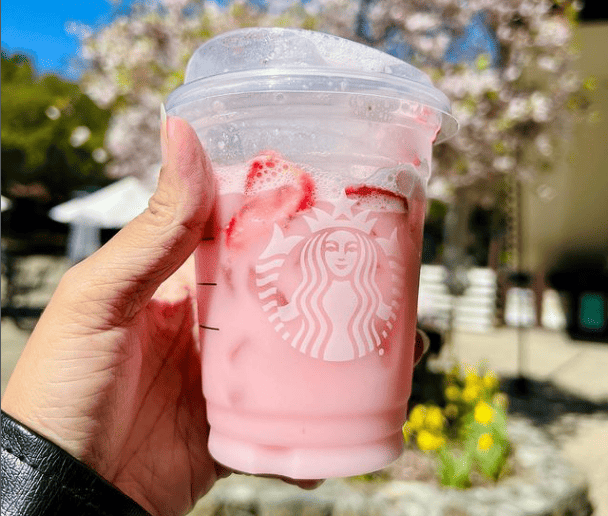 The Pink Drink took the internet by storm a few years back. In fact, this fan favorite became so popular that Starbucks added it to its permanent menu. Since the Pink Drink made its debut, TikTok-ers keep refining this drink to keep it 'relevant.' 
The TikTok Pink Drink is not vegan (or low-cal) like the original Pink Drink, but your tastebuds will approve. The rich cream and strawberry flavors combined with zingy açaí and passionfruit give you the taste of summer in your mouth!
The recipe:
Order a Starbucks Pink Drink.
Ask for heavy cream instead of coconut milk. 
Add vanilla bean powder.
Ask for a whipped cream topping. 
#3. Sour Patch Kids Refresher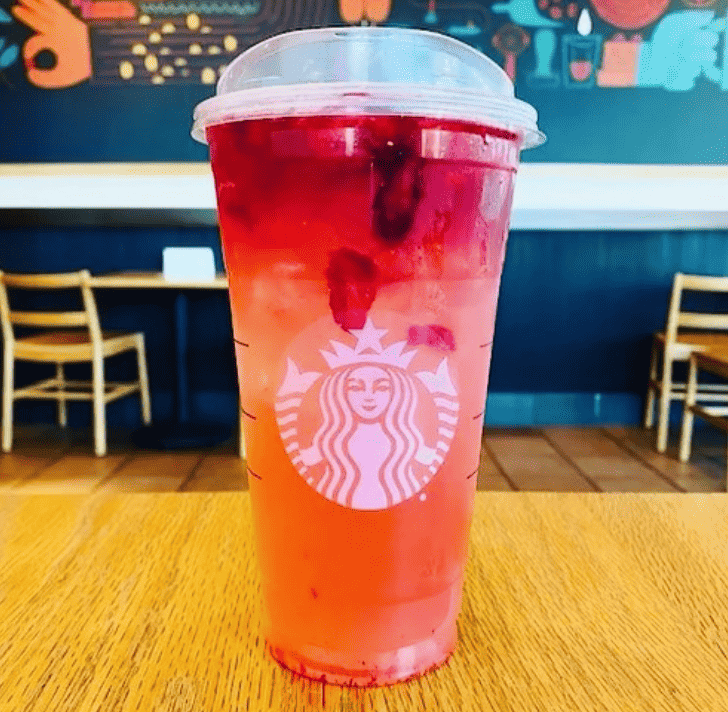 Sour Patch Kids candies make your eyes water and your lips pucker, but we still can't get enough of them. TikTok has found a way to make a drink with this nostalgic flavor. 
The Sour Patch Kids Refresher is sweet and sour to make your taste palate tingle with delight. This cold tangy drink has no caffeine, but the burst of bright flavors is sure to wake you up. It's a perfect choice for the young and the young at heart.
The recipe:  
Order a Venti Strawberry Acai Lemonade 
Add three pumps of raspberry syrup 
Add three pumps of classic syrup. 
Top the drink off with a splash of Starbucks Iced Passion Tango Tea. 
#4. Cookie Dough Frappuccino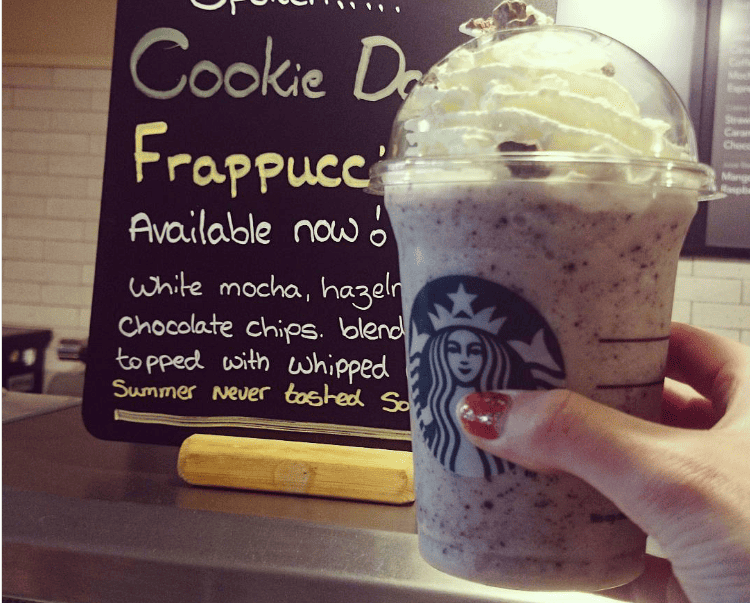 This TikTok drink can bring you back to the days when Grandma gave you a beater to lick after she made a batch of cookies. However, with this TikTok drink you don't have to worry about consuming uncooked eggs. 
The Cookie Dough Frappuccino Starbucks drink is an icy treat for a hot day. Also, it contains real mocha cookie crumbles! Yum. 
The recipe:
Order a White Chocolate Crème Frappuccino. 
Add three pumps of brown sugar syrup.
Add five scoops of Java chips. 
Top it with whipped cream and mocha cookie crumbles.
#5. Caramel Sugar Swirl Latte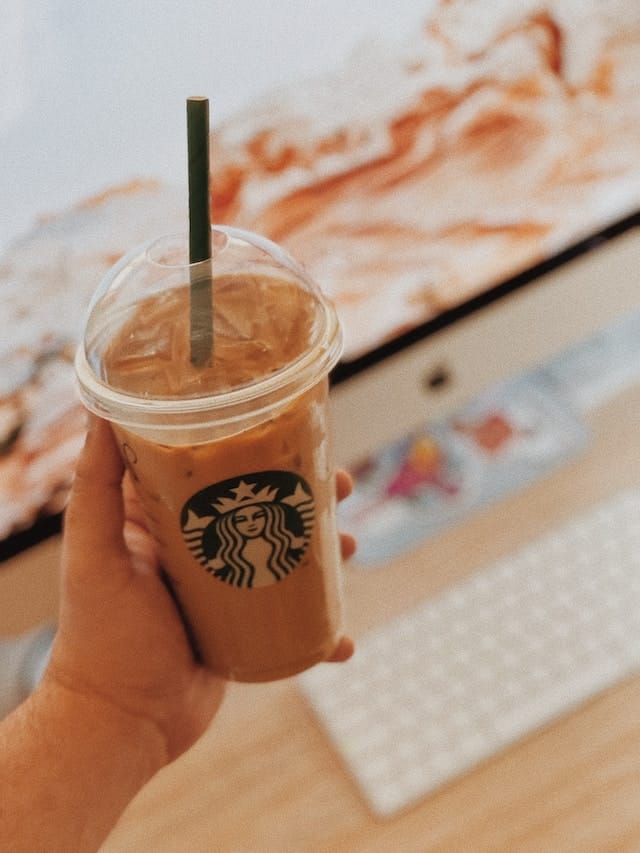 This Starbucks TikTok caramel drink certainly swirls with sweetness. It contains nine total pumps of sauces and syrups, so you're sure to get a sugar and caffeine buzz that will perk up your day.
The dark caramel sauce paired with brown sugar syrup gives this drink a deep, rich flavor that takes the edge off the sweet and melds well with espresso. Vanilla sweet cream cold foam and caramel drizzle are the perfect finish for this sweet treat.
The recipe:
Order a Grande iced latte. 
Add 3 pumps of dark caramel sauce. 
Add 6 pumps of brown sugar syrup. 
Top with vanilla sweet cream cold foam and caramel drizzle.
#6. TikTok Rose Gold Refresher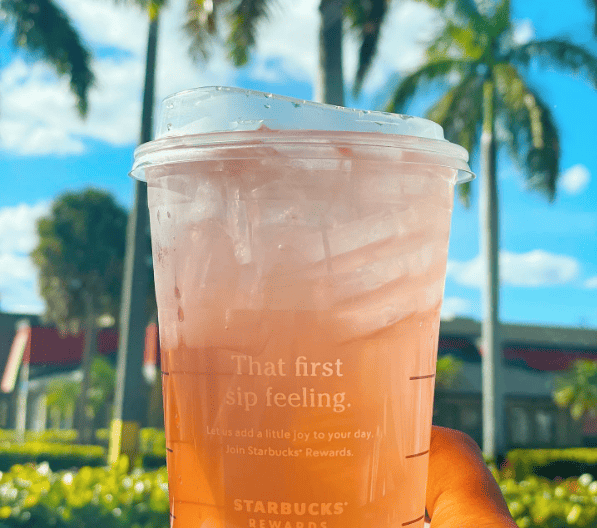 The TikTok Rose Gold Refresher is truly a work of art. Its light pink color is Instagram-worthy and a few drops of green coffee extract add a slight caffeine kick to this pretty drink. This drink is much sweeter than the original Mango Dragonfruit Refresher. However, on a hot day, this cold fruity-flavored drink may be just what the doctor ordered.
The recipe:
Order an Iced Mango Dragonfruit Refresher without fruit inclusions.
Instead of water ask for peach juice.
Add two pumps of classic syrup.
Add two pumps of raspberry syrup.
#7. Tropical Sunrise Slushy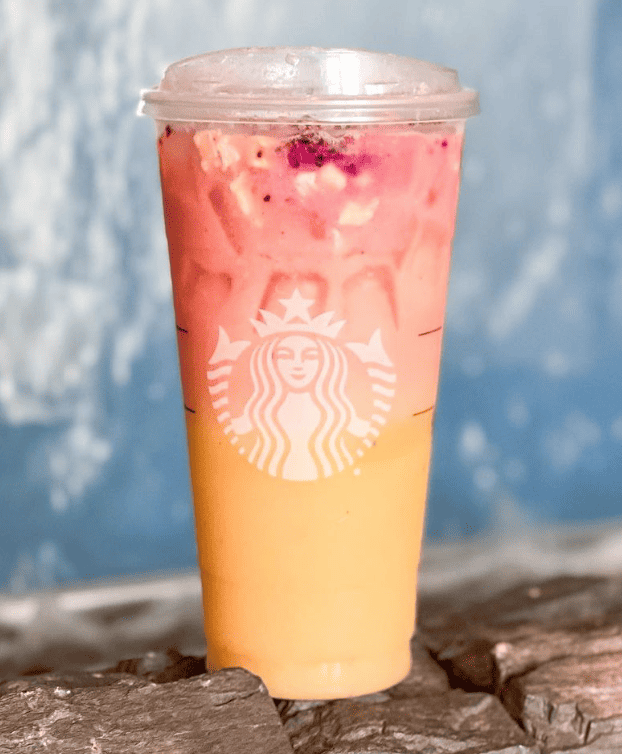 The Starbucks Pineapple Passionfruit Lemonade gets a makeover with the addition of strawberry puree. This TikTok Starbucks drink looks like a vibrant sunset you'd see in Hawaii, and its tropical flavors are a beach party in your mouth. 
The Tropical Sunrise Slushy is a refreshing drink that can help you cool down on a hot summer day. It can also take you on your own private beach vacation–at least in your imagination.
The recipe:
Order a double-blended Pineapple Passionfruit Lemonade. 
Add strawberry puree to the base of the cup and pour the blended lemonade over it. 
#8. Vietnamese Iced Coffee TikTok Drink
Vietnamese Iced Coffee is a delicious blend of strong coffee with sweetened condensed milk over ice. While you can't find Vietnamese coffee (or sweetened condensed milk) at Starbucks, TikTok fans have created a Starbucks iced coffee recipe that is a close replica. This TikTok drink recipe has only three ingredients and is simple to order.
If you love a strong iced coffee drink to perk up in the middle of a long work day, this Vietnamese Iced Coffee Tiktok Drink is one you should try.
The recipe:
Order a Venti Doubleshot on Ice.
Choose Starbucks' classic syrup as a sweetener
Ask for extra vanilla sweet cream.
#9. Chocolate-Covered Strawberry Drink
Chocolate and strawberries are a match made in heaven–however, they are labor-intensive to make and expensive to buy. This TikTok Chocolate-Covered Strawberry Drink can give you all the luxury of a fancy dessert and it's easy to order at your local Starbucks store. 
The mocha cold foam compliments the sweetness of the strawberry and coconut flavors. Also, the small amount of caffeine in this drink can give you a subtle energy boost.
The recipe:
Order a Pink Drink with no fruit inclusions. 
Add mocha cold foam. 
#10. Strawberry Foam Matcha Latte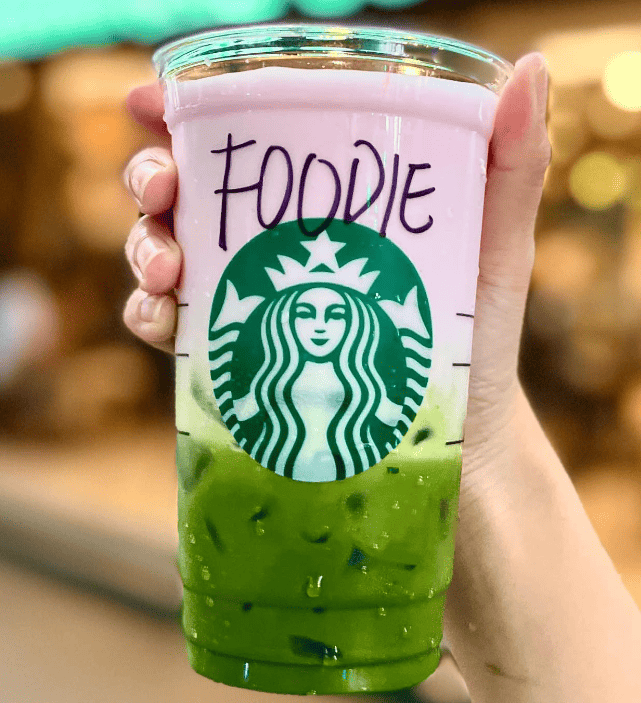 This Starbucks TikTok Strawberry Drink is perfect for those who prefer coffee to tea. Green tea and fresh strawberry fruit flavors are topped off with a lightly sweet cold foam topping. 
The Strawberry Foam Matcha Latte is a delicious non-coffee drink with a caffeine bite. This summery Refresher is a tea lover's dream come true.
The recipe:
Order an Iced Matcha Latte.
Add freeze-dried strawberry inclusions.
Blend in strawberry puree.
Ask for a vanilla sweet cream cold foam topping.
#11. Tres Leches Chai Latte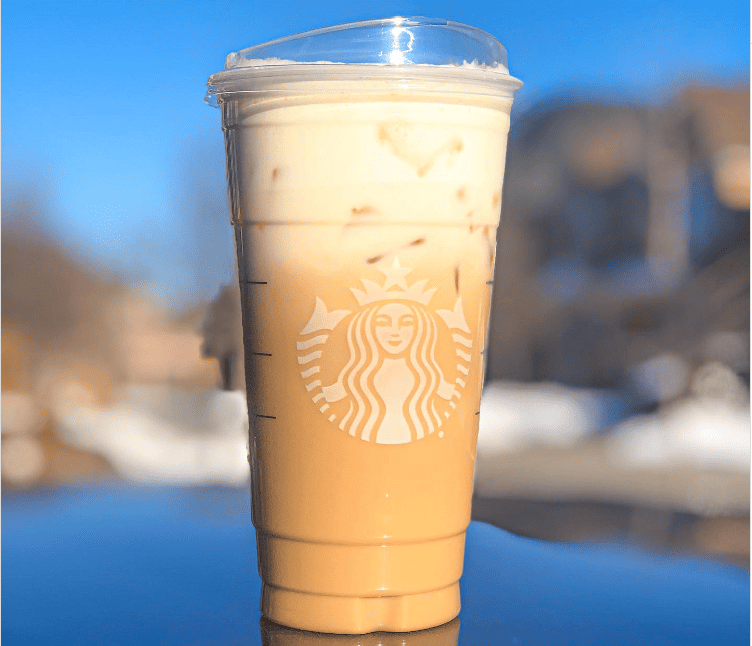 The Iced Chai Latte is already one of my favorite drinks at Starbucks (especially when you make it dirty by adding a shot of espresso). However, TikTok-ers may have even improved on this classic drink with a few simple customizations. 
With the TikTok Tres Leches Chai, a classic favorite meets up with a fiesta and is never the same. The additions of toasted vanilla syrup and a vanilla sweet cream cold foam make this drink melt-in-your-mouth creamy.
The recipe:
Order an Iced Chai Latte. 
Add four pumps of toasted vanilla syrup.
Top with vanilla sweet cream cold foam. 
#12. Dragonfruit Shortcake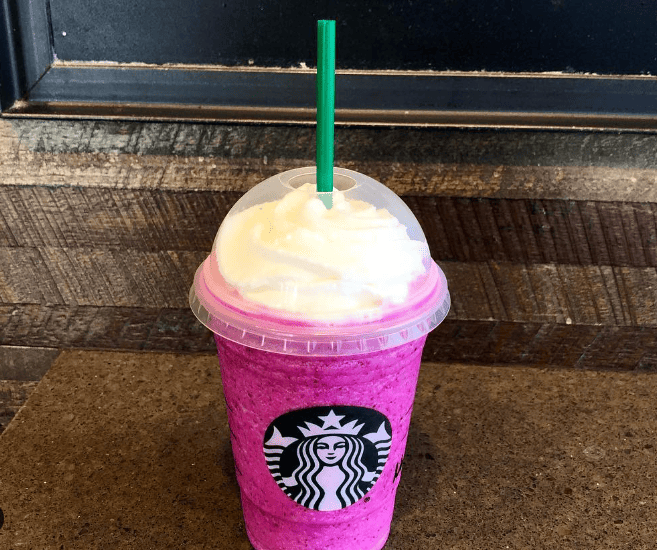 The Dragonfruit Shortcake gives the plain Vanilla Bean Frappuccino a new look–and taste. This drink is a true treat with a creamy layer of whipped cream on the top and bottom. Blended with the icy vanilla is a healthy scoop of dragonfruit. This eye-catching hot pink TikTok drink is sure to turn heads. 
The recipe:
Order a Vanilla Bean Frappuccino with whipped cream at the bottom of the cup.
Add a scoop of dragonfruit.
Top with more whipped cream.
#13. Strawberry Cheesecake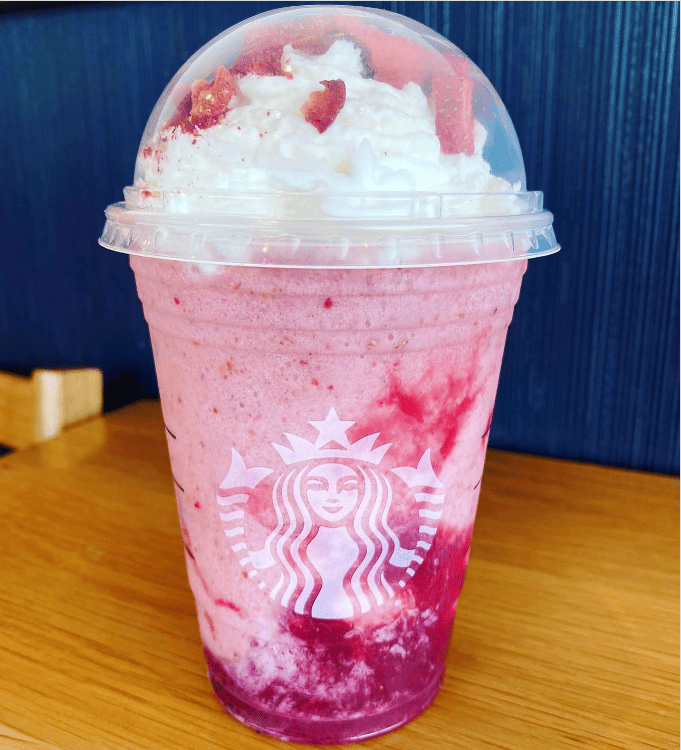 The Strawberry Cheesecake Drink overpowers you with its rich goodness, however, it's a sweet temptation you'll give into again and again. 
The regular Starbucks Strawberry & Cream Frappuccino gets a makeover with the addition of strawberry fruit pieces and hazelnut syrup blended in. The graham cracker layer on the bottom of the drink completes this dessert-in-a-cup to perfection.
The recipe:
Order a Grande Strawberries & Cream Frappuccino with strawberry inclusions.
Blend in one pump of hazelnut syrup. 
Ask for a graham cracker layer at the bottom.
Top with strawberry inclusions. 
#14. Iced Matcha Latte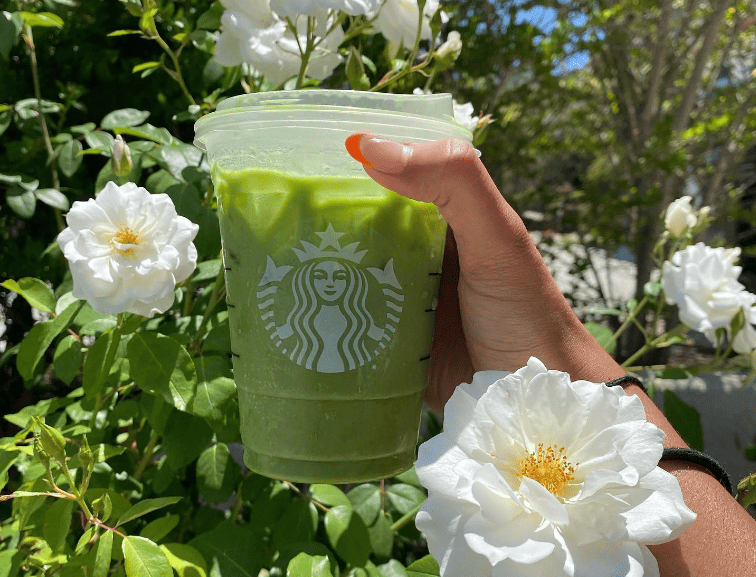 Starbucks Iced Matcha Latte is a creamy green tea drink that falls lightly on the palate. However, you can dress up this plain-jane drink with a bit of sweetness and some nutty flavors with the addition of Macadamia syrup. 
The simple addition of one pump of flavored syrup can add a new twist to your favorite Starbucks green tea latte.
The recipe:
Order a Grande Matcha Latte.
Add one pump of macadamia syrup.
How to order TikTok drinks from Starbucks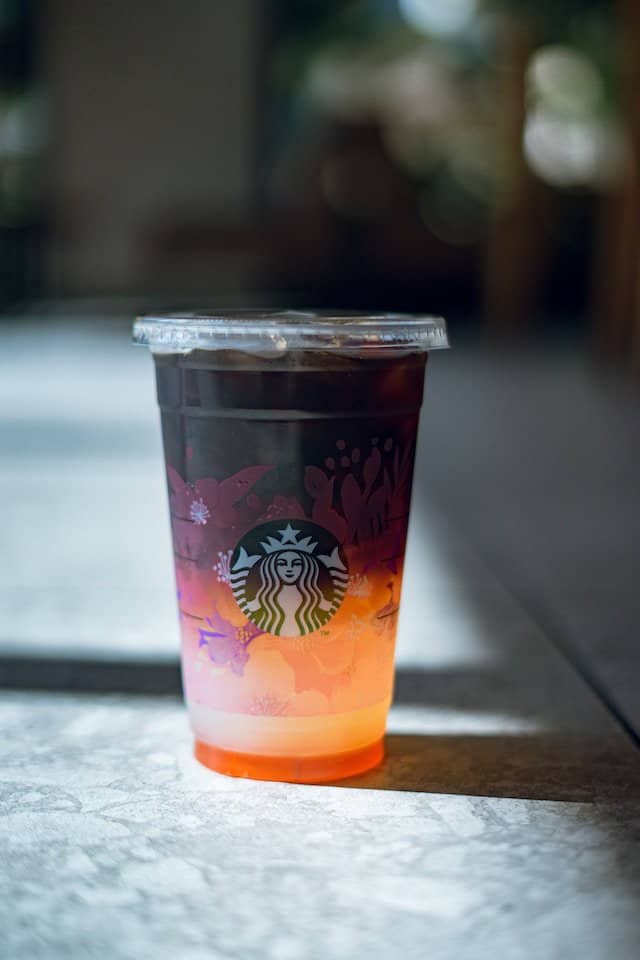 Watching influencers slurp up a creative Starbucks TikTok drink concoction can make your mouth water. But, when you show up to a Starbucks to recreate the drink, how do you make sure you get the exact flavors you want? 
Here are a few of our best tips for ordering TikTok drink recipes at Starbucks.
Bring the recipe with you when you order
Ordering a TikTok drink at Starbucks is just like ordering from the Starbucks Secret Menu–you have to give the barista the recipe for your drink with all the add-ins, substitutions, and toppings. 
The barista on duty won't know if a "TikTok Strawberry drink" means the one with a Pink Drink base or a Matcha powder add-on. To make a successful order, write the recipe down (or screenshot it on your phone) before you get in line. (We've given helpful TikTok recipes above that are ready to read off to your local barista.)
Be aware that some add-ins are not possible to order through the Starbucks app (We're looking at you, Vanilla Bean Powder.) To save on confusion, you may want to skip the drive-thru and order complicated drinks at the counter. Also, some flavors like Pumpkin Spice are only available in certain seasons.
List off your drink order in the appropriate sequence:
First, mention if your drink is hot or iced. (This lets the barista knows whether to write on a paper cup or plastic.)
Next, choose the size of your drink: Tall (12 oz.), Grande (16 oz.), Venti (20 oz), Iced Venti (24 oz.), or Trenta (31 oz.).
If your drink is decaf mention it.
Choose your milk type and if you want your drink sugar-free or "skinny."
Say the name of your base drink: Macchiato, latte, Frappuccino, or other.
Request add-ons and customizations that aren't a part of the regular drink order. This can include shots of espresso, extra syrups, light ice, etc.
For example, an appropriate sequence would be:
"I'd like an Iced Venti Decaf Skinny Soy Caramel Macchiato with an extra shot of espresso and light ice."
Be prepared to pay extra
At Starbucks, some add-ons (such as whipped cream) are free. However, vegan milk, extra shots, and some syrups and sauces may cost extra if they are not part of the basic Starbucks drink. Many TikTok Starbucks drinks cost seven dollars or more in the medium Grande size. 
However, if you are a part of the Starbucks Rewards program, you can get at least one handcrafted beverage free on your birthday each year.
Counting calories goes out the window
Most TikTok drinks are not designed for dieting. These specialty drinks often include extra syrups and toppings that up the calorie count. 
Starbucks offers nutrition information for its standard menu drinks, but once you customize your order, the calorie count is left to your best guess. If you're watching your waistline, you may not want to drink a TikTok drink every day. However, an over-the-top drink can be a fun treat on the occasion. 
Ask nicely (like your mama taught you)
While TikTok Starbucks drinks are fun and tasty for customers, they can create extra work for the baristas. Be patient and prepared to clarify your order as necessary. 
A tasty new beverage can be a bright spot in your day. You can shine a light on your barista as well by leaving them with a kind word, a tip in the jar–or both! 
Final Thoughts
You may be a frequent Starbucks customer or rarely darken their door. However, if you scroll through TikTok you are sure to find some delicious Starbucks concoctions that you can't wait to try.
If you are more into chocolate drinks, there are a lot of entries from this list that you would find in our best Starbucks Chocolate drinks post.
We've shown you a few of our favorite drinks and created a cheat sheet for how to order the best 14 Starbucks TikTok drinks like a pro. 
Speaking of favorite, unique drinks, you can also try Dirty Coffee, which is not as dirty as it sounds!
Now it's your turn to try new TikTok coffee tastes at your neighborhood Starbucks and spice up your life! Let us know your favorite Starbucks drink recipe!
FAQs
What is the most popular TikTok drink at Starbucks?
The Iced White Mocha TikTok drink with its sweet cream cold foam topping is probably the most famous Starbucks TikTok drink. Starbucks White Mocha and Caramel Macchiato have always been fan favorites. This new TikTok drink combines the best of both of these drinks.
What is the TikTok Starbucks drink with sweet cream?
Many of the TikTok Starbucks drinks have sweet cream cold foam toppings, including the Tres Leches Chai Latte and internet sensation Iced White Mocha TikTok Drink. The cold foam topping is whipped to rest on top of iced drinks.
However, sweet cream is also an add-in that mixes into your drink like a splash of milk. It's made from 2% milk, heavy whipping cream, and vanilla syrup and is not whipped. Sweet cream can be found in drinks such as the Vietnamese Iced Coffee TikTok Drink.
Does the Starbucks Pink Drink give you energy?
The Starbucks Pink Drink is one of Starbucks' Refresher drinks. These drinks are mostly fruit based. However, they do include a few drops of green coffee extract which gives them a small amount of caffeine. The caffeine content is much less than regular coffee, black tea, or green tea. The green coffee extract is also relatively tasteless.
What are fruit inclusions at Starbucks?
Fruit inclusions at Starbucks are simply freeze-dried fruit slices. Once these fruit pieces are added to your drink, they have a texture similar to fresh fruit. Most Starbucks Refresher Drinks have fruit inclusions as part of their recipe.
If you don't want fruit chunks in your drink, you can ask the barista to blend them into your beverage. The most common types of fruit inclusions at Starbucks are blackberries, limes, dragon berries, and freeze-dried strawberries.
Coffee Has Never Read This Good!
Sign up for a FREE newsletter to the best home brewing tips and guides
Thank you for subscribing to The Cup Coffee House Crew! There's a surprise in your Inbox 🙂
Something went wrong.
About the Author
Latest Posts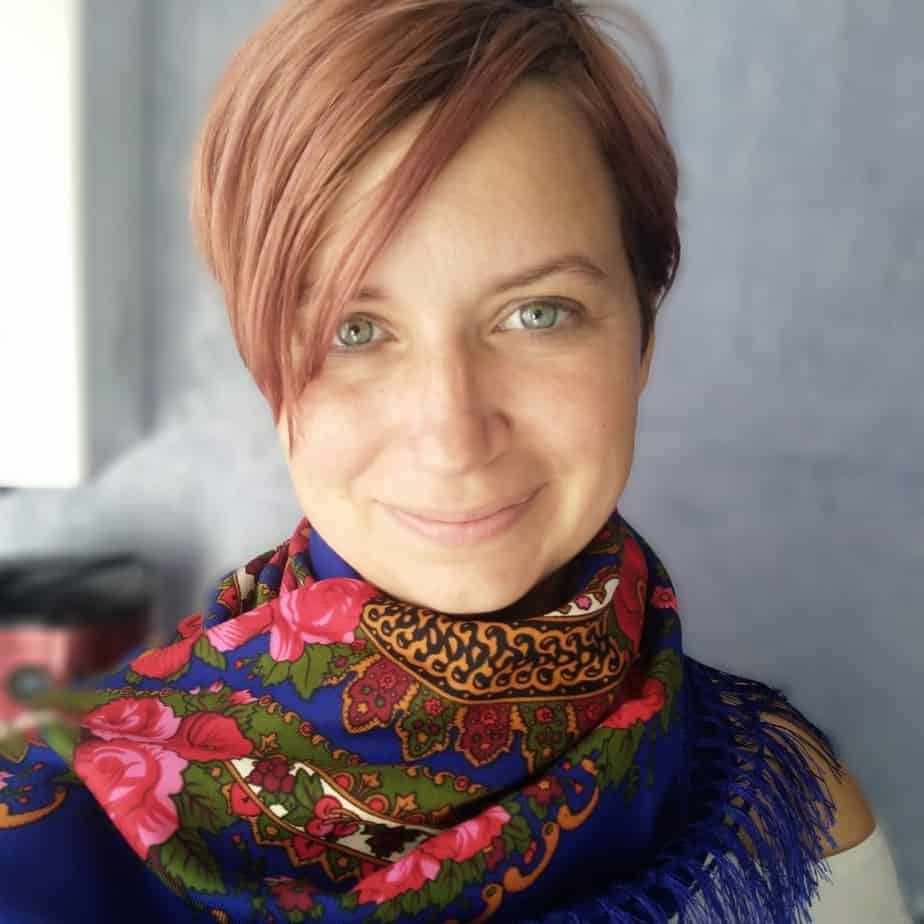 Alex Praytor worked her first job as a barista, finished college, and then took a tour to the other side of the globe. She fell in love with espresso and her would-be husband in Europe. She spends her spare time visiting native Texas landmarks, ancient castles, and all the coffee shops she finds along the way. At home, she is a mom, ESL teacher, and writer, who hones her coffee-making skills daily. She enjoys passing on her coffee findings to fellow caffeine addicts in search of the perfect cup.
Chief Editor