Last updated on July 27th, 2023 by Alex Praytor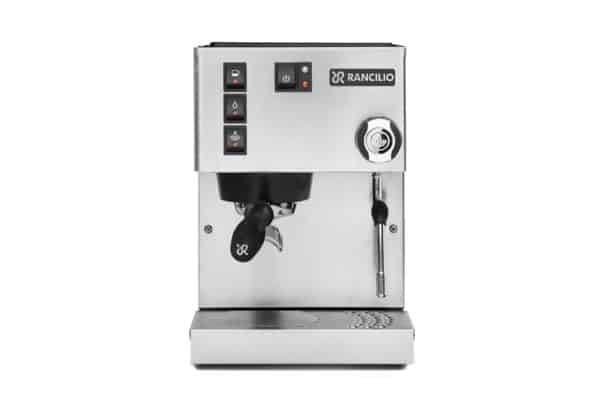 Italy gets the credit for inventing espresso. So, if you love a good espresso and are looking for a quality machine, then Italian espresso machine brands should be on your radar. 
Italian espresso machines are known for their high-quality and rich-tasting authentic espressos. You can find semi-manual machines, professional espresso makers, and even quick-serve coffee pod machines that are designed and manufactured in Italy.
We've researched some of the most famous Italian coffee machine brands and narrowed down the list to some of the most popular espresso makers in today's market. 
In a hurry? Here is our best pick:
Our top pick for best Italian espresso machine brand is the Rancilio Silvia Espresso Machine. This machine combines the best of high quality stylish commercial performance and precision with the user friendliness and classic design of a home espresso machine, all for a price less than $1000. 
Want more options? Take a look at these twelve high-quality Italian espresso makers.
---
Our List of Best Italian Espresso Machine Brands
1. Rancilio 
About the brand:
Roberto Rancilio founded his Italian coffee machine business in 1927 in Parabiago, Italy. Along with many other innovations, Rancilio was the first to invent the vertical espresso boiler. This long-standing Italian brand creates quality espresso machines that are often found in bustling coffee shops. Rancilio also offers professional-quality machines that are compact and sell for under $1000 which appeal to at-home users.
Professional baristas and laymen alike can enjoy Rancilio's industrial-strength machines. 
Things I like:
Ergonomic porta filter handle
Commercial grade group head
Articulating steam wand with a complete range of motion
Professional steam knob
Classic stainless steel design
Compatible with pod adaptor kit 
Things I don't like:
Does not have a PID controller or pressure gauge
Review:
The Rancilio Silvia has a modern stainless steel design with simple controls. This model is made for at-home baristas. However, it has many high-end features such as a commercial-grade group head, a professional steam knob for precise temp, and an articulating steam wand. 
The large capacity of its single boiler shortens the recovery time of the machine between shots. This allows you to pull shots and add milk toppings back-to-back in record time. You can also purchase a pod adaptor kit to fit this machine for days when you want to make a quick, low-effort brew.
The Rancilio Silvia is perfect for coffee lovers in the market for a professional-style, straightforward semi-automatic espresso maker to brew tasty espressos at home.
Rancilio Silvia Espresso Machine
The Rancilio Silvia has a stainless steel design with a few classic color combinations. With a pro single boiler, steam knob and articulating steam wand, the shots are tasty and precise.
Last update on 2023-09-17
2. La Spaziale 
About the brand:
La Spaziale has been in the coffee machine manufacturing business for over 65 years. La Spaziale tailors its machines to the customer's order and each model has a beautiful artisan design.
This Italian brand specializes in machines intended for use in the hospitality industry. However, it also offers a few small-scale models for home use. With these luxury machines, you can get the features you need to create the best espressos.
Things I like:
Stainless steel front and back panels
Pressure gauge
Dual boiler
Programmable pre-infusion
Stainless steel steam wand
Direct plumbed
Manual semi-automatic button
PID controlled adjustable to one degree Fahrenheit
Built-in clock with programmable timer
Shot counter and timer
4 programmable profiles
Things I don't like:
The menu can be complicated to access.
Review:
The S1-DREAM is beautifully crafted with walnut side panels and stainless steel front and back panels. This gorgeous machine also comes with great features so you can make hand-crafted espressos with ease. It includes a pressure gauge, a stainless steel steam wand, semi-automatic adjustable controls, and a built-in timer. 
This espresso maker is directly plumbed into your water line so you never have to worry about running out of water and burning the motor. A shot timer allows you to pull your shots with precision, and the dual boiler allows you to steam milk while pulling your next shot. 
The S1-Dream is certainly a dream machine for espresso lovers.
LaSpaziale Espresso Machine S1-DREAM
The S1-DREAM has a programmable timer, profiles, and pre-infusion. The front and back panels is made of stainless steel and comes in three colors.
Last update on 2023-09-18
3. Gaggia 
About the brand:
The Gaggia brand started in Milan, Italy with Giovanni Achille Gaggia. Gaggia started working in his family's coffee shop in the 1930s. He created a steam-free espresso machine that created pressure and crema. These machines began to be installed in coffee bars in Italy and the 1950s, Gaggia's espresso machines became an international success. 
In 2009, the Gaggia brand was bought by Phillips. However, Gaggia is still a Made in Italy brand known for its durable, high-quality espresso machines.
Things I like:
14 pre-programmed specialty coffee drinks
Includes integrated coffee bean grinder
Stainless steel boiler for a clean taste
Integrated milk carafe 
Easy to clean with its automatic rinse cycle
Capable of 4 user profiles
Things I don't like:
No Wi-Fi or water plumbing options
Review:
The Gaggia Cadorna Prestige Espresso Machine allows you to get a delicious espresso, latte, macchiato, flat white, and more with just the touch of a button. This super-automatic machine grinds beans fresh for each cup of espresso and also tops off your drink with the appropriate milk topping. 
Its stainless steel boiler and water filter system give coffee drinks the cleanest taste, and the automatic rinse cycle makes clean-up a dream. This at-home espresso machine is a fast and easy way to get a cup of Starbucks-style espresso drinks without waiting in lines.
Sale
Last update on 2023-09-17
4. Bialetti 
About the brand:
Bialetti is an Italian brand that has been around since espressos first became popular in Italy. The brand first started as an aluminum manufacturing company. One of its products was the Moka Pot. This compact, lightweight stovetop espresso maker was created so Italian coffee lovers could enjoy the great taste of espressos at home. It is still one of the most popular brewers in Italy and well-loved around the world.
Things I like:
Suitable for gas, electric, and induction stoves
Brews up to six espresso shots
Stainless steel design for clean flavor
No electric plug
Easy to clean
Things I don't like:
Brews using less than the standard 9 bars of pressure
Review:
Many Moka pots are aluminum just like the original Moka pot design from the 1930s. However, the Bialetti Venus Stovetop espresso maker is made from high-quality stainless steel. This espresso maker can brew up to six espresso shots at one time and is safe to use on gas, electric, and induction stoves. 
This espresso maker does not require an electrical outlet. Simply add grounds to the filter basket and water to the base of the espresso maker. Make sure to keep the water level below the safety valve and brew over medium heat. Then, wait as the water rises through the coffee grounds to create a delicious stovetop espresso. 
This straightforward espresso maker is compact and easy to store or pack for an adventure.
Last update on 2023-09-18
5. De'Longhi 
About the brand:
The De'Longhi brand has been around since 1974. However, it didn't enter the world of coffee until 1993 when De'longhi debuted a pump espresso model. In 1995, this Italian brand patented its revolutionary Instant Froth Dispenser (IFD), which laid the groundwork for automatic cappuccino technology.
Super-automatic machines were added to the espresso machine line in 2003. In 2004, De'Longhi entered into a partnership with Nespresso to add capsule coffee makers to its brand. 
Currently, many De' Longhi products are manufactured in factories in other parts of the world including China. However, each factory adheres to rigorous "made by De'Longhi Group" standards. Since the beginning, De'Longhi has included quality parts and innovative technology in its espresso machines. This Italian brand is well-loved by many at-home baristas.
Things I like:
Built-in conical burr grinder with 8 grind settings
3 infusion temperatures
My Latte Art wand for silky milk foam
Many detachable dish-washer safe parts
Thermoblock heating system
Active temperature control
Things I don't like:
Review:
The De'Longhi La Specialista Arte offers a good value for the price. This machine comes with many high-end features but often costs less than $500 on Amazon. The stylish machine grinds beans fresh for each brew and comes with three temperature ranges. Its Thermoblock system heats up quickly to make a hot cup of espresso. 
This machine has three presets for espresso, Americano, and hot water. Although this espresso maker does not automatically top drinks with milk foam, the My Latte Art wand is easy to use and provides deliciously smooth microfoam. 
The fully-automatic La Specialista Arte offers many automatic settings but still allows you to easily adjust the strength and temperature of your brew.
Sale
De'Longhi La Specialista Arte EC9155MB
The La Specialista Arte comes with a conical burr grinder with 8 grind settings, a Thermoblock heating system with 3 infusion temperature levels and a complete barista kit.
Last update on 2023-09-18
6. Lavazza 
About the brand:
The Lavazza brand began in 1895 when Luigi Lavazza opened a shop to sell coffee beans and blends. He made a trip from Italy to Brazil to discover new flavors to bring to customers back home.
Lavazza is still known today for its delicious line of coffee beans. However, it also has its own line of Italian espresso machines. Lavazza capsule machines are user-friendly, have a small footprint, and give you the great taste of Lavazza coffees.
Things I like:
One-touch brewing method
User-friendly
Standby Eco Mode
The capsule drawer holds 5 used capsules
Adjustable cup height
Brew one or two shots
High-pressure system
Winner of the Red Dot design award
Compact design
Things I don't like:
Brews only espresso.
Only accepts BLUE or Expert Lavazza pods.
Review:
The Lavazza Blue Mini Single-Serve machine is Lavazza's most compact Blue model and it fits well in small spaces. It comes in a stylish dark blue color and is easy to use. You can choose either a single or double shot and adjust the height of the drink stand to fit both large and small mugs.
Choose from Lavazza's Blue or Expert coffee pods which are made exclusively in Italy. This compact pod machine can brew a quick and tasty cup of espresso to take to-go.
Sale
Last update on 2023-09-18
7. La Cimbali
About the brand:
La Cimbali has been one of Italy's top coffee maker brands since 1912 when Guiseppe Cimbali opened his doors in Milan in 1912. This brand continues to lead the way in the Italian espresso machine market with innovative ideas and up-to-date technology.
Its Cup4You app allows you to prepare specialty drinks even when you are away from your machine, while the SmartBoiler conserves energy so you can make back-to-back drinks without overtaxing the machine. La Cimbali's technologically advanced machines have a lot to offer espresso lovers.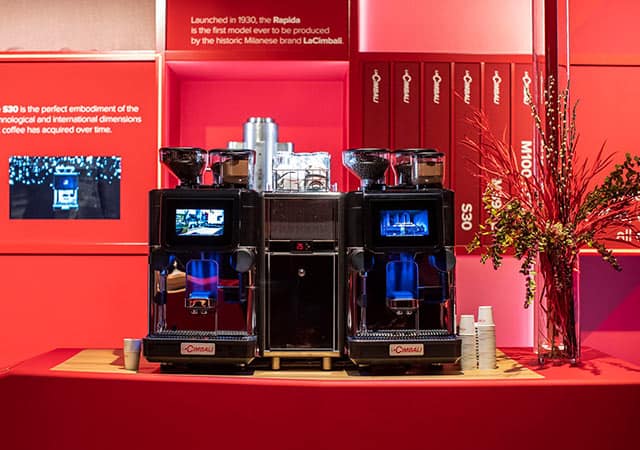 Things I like:
Fully automatic machine
96 possible recipes
Can brew up to 200 cups a day
Preheated metal brewing unit
High-capacity boiler
CUP4YOU app option
Remote control function
Bidirectional telemetry
Things I don't like:
Very large and not home use friendly
Review:
La Cimbali S20 fully automatic espresso machine has some of the most innovative features on the market. It can brew up to four shots at once and up to 200 cups per day. Use the full-color digital menu to select from up to 96 possible drinks. 
The high-capacity boiler conserves energy to make drinks back-to-back. You can brew a drink from afar by using La Cimbali's CUP4YOU app or its remote control. 
This machine is perfect for an office, buffet, or small bakery. But may not be ideal for individual home use.
8. Nuova Simonelli 
About the brand:
The Nuova Simonelli brand began as a result of Orlando Simonelli creating his first espresso machine in 1936. His model was revolutionary for its time and made a splash in the espresso machine market. This success gave Simonelli the courage to move his operations to central Italy where he continued to manufacture espresso machines with unique features. 
Nuova Simonelli has much to offer the professional world. Professional offices, the hospitality industry, and even at-home users can find espresso machines that are the perfect size to suit the need.
Things I like:
Durable stainless-steel and ABS body
Ergonomic steam lever
Timed dosage
Copper boiler
Professional-size group head
Things I don't like:
Can only brew two shots at once.
Review:
Nuova Simonelli's Oscar II is created for the home user, but has many professional parts. It has a sleek stainless steel and ABS casing for a modern look. Inside, this machine uses a copper boiler to maintain a steady temperature for the best extraction. Each dose of coffee is timed to precision to create a consistently delicious brew. This machine can bring the feel of a trendy coffee shop into your home. 
Nuova Simonelli Oscar II Espresso Machine
The Nuova Simonelli Oscar II is made of stainless steel and ABS body with either red or black sides. It has an ergonomic steam lever, improved steam wand, and timed dosings for perfect extractions..
Last update on 2023-09-18
9. Diletta 
About the brand:
Diletta espresso machines are made by hand in Milan, Italy and sold around the world. This brand has a partnership with Seattle Coffee Gear and an Italian manufacturer. Diletta specializes in espresso machines for home-use. Its machines are designed with many professional-style features and reliable for your daily coffee-making needs.
Things I like:
Simple push-button controls
Energy efficient
PID Brew Boiler
Second steam circuit for cappuccinos and lattes
1000W thermoblock
Shot timer
Pressure gauge
Adjustable Over Pressure Valve
Things I don't like:
Not beginner-friendly. (Relies on the user's ability to accurately dose and tamp each espresso shot.)
Review:
The Diletta Mio Espresso Machine is a treat to use for at-home baristas. This machine has a stainless steel casing with simple push-button controls. Its PID Brew Boiler keeps water at a constant temperature for an even extraction. It has a pressure gauge so you can keep tabs on the quality of your shots. Also, a shot timer lets you pull precise shots. 
The Diletta semi-automatic machine requires some barista skills to operate. However, for those familiar with the art of espresso shots, this Made in Italy machine can be a dream come true.
Diletta Mio Espresso Machine
The Diletta Mio comes with PID brew boiler, thermoblock system and comes in three colors: stainless steel, white, and red.
Last update on 2023-09-18
10. Dalla Corte 
About the brand:
In 1947, Bruno Dalla Corte began as a technician at the Cimbali espresso machine company. As builds espresso machine, he invents the innovative steam circulation technology. In 2001, Bruno and his children Paolo and Elsa found the brand Dalla Corte and continue to build machines with the original multi-boiler technology and new innovative features.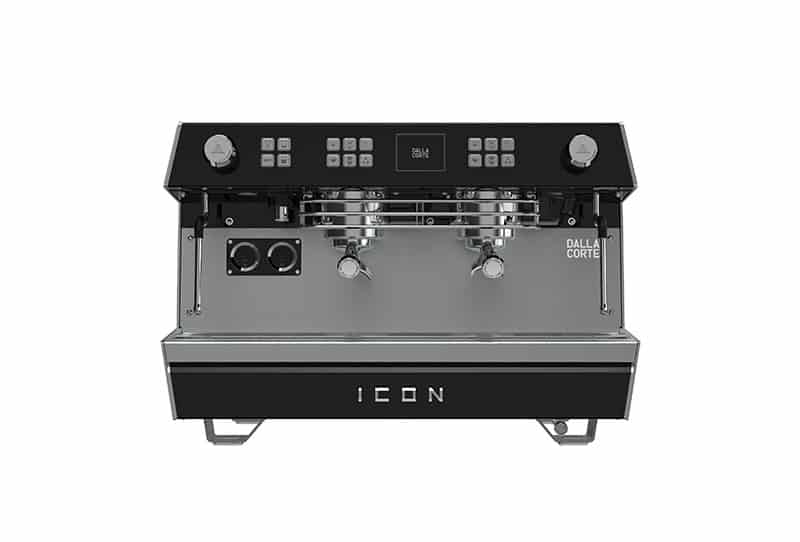 Things I like:
Customizable options
Choose designs to match your brand
Machine can come with two or three groups
7.5-13 liter capacity
Equipped for a high workload
Optional Grinder Control System
Optional Milk Control System
Things I don't like:
Not for home use.
Extremely heavy.
Review:
Dalla Corte's Icon machine has a stark modern design that is built to match your brand. This machine is customizable and can come with two or three groups depending on how much traffic you expect. You can choose to add a grinder control system and a milk control system to this machine. This machine can weigh up to 95kg (209 lbs.), so once you set it up, it's there to stay. 
With the Dall Corte Icon, you can customize your machine until it is exactly what you need for your bakery or coffee shop.
11. La Marzocco 
About the brand:
The La Marzocco brand began in 1927 in Florence, Italy, with Giuseppe and Bruno Bambi as its founders. Over the years, La Marzocco has earned its spot among the great Italian espresso machine brands for its unique designs and fine craftsmanship. It also gets credit for the fist coffee machine with a horizontal boiler.
La Marzocco continues to put quality first to bring its customers the best hand-crafted machines on the market.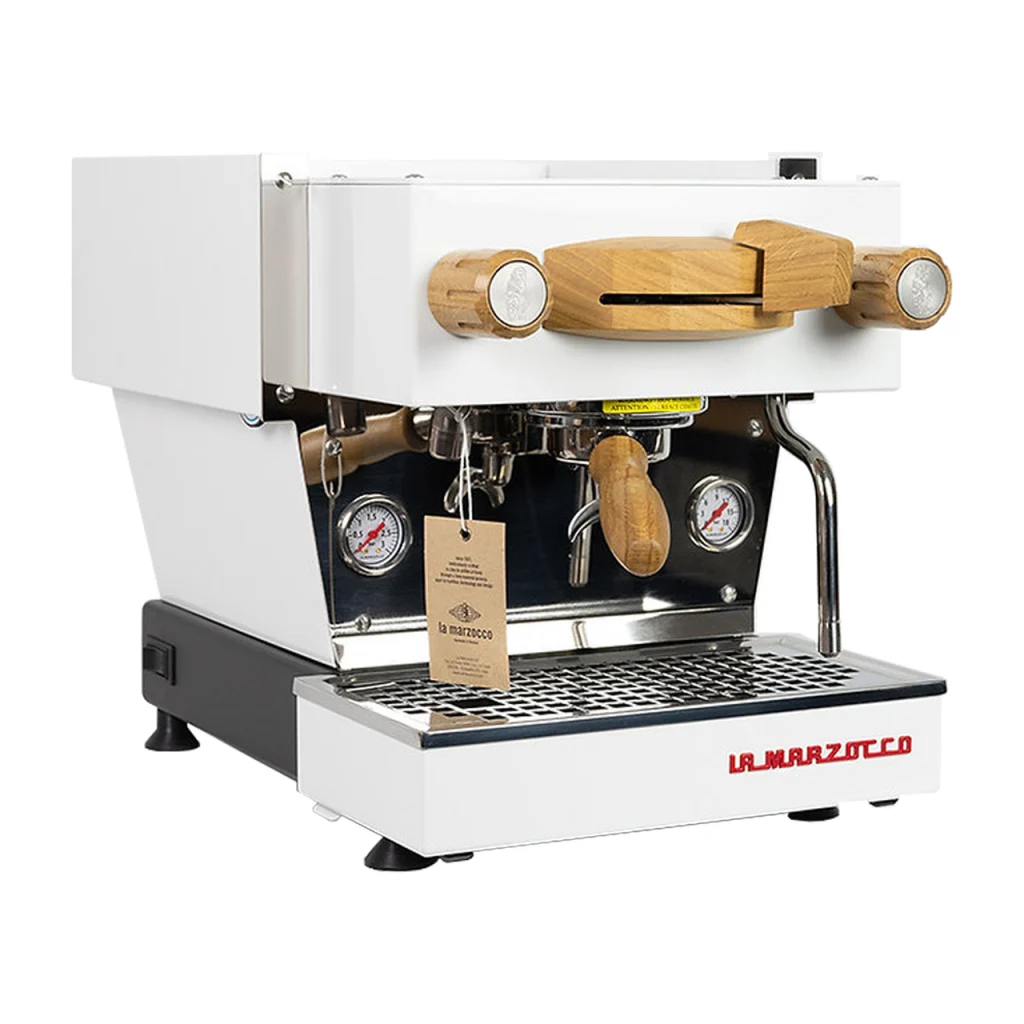 Things I like:
For professional or at-home use
Interior water reservoir or plumbed options
Wifi capability and a dedicated mobile application
Includes Standard European 58mm tamper, milk pitcher, and four filter basket sizes
Things I don't like:
Review:
The Linea Mini is capable of high volume coffee shop orders, or it can be an espresso workhorse in your home kitchen. This model is designed to equal the brewing power of commercial espresso machines in a compact size. 
This semi-automatic espresso machine has many customizable design options for the perfect accent piece to match your decor. Its Wifi capability and dedicated mobile application keep pace with the latest technology, while its look remain classically chic.
12. Lelit 
About the brand:
Lelit is one of the most popular Italian brands on the market. It started operating in the 1980s and has stayed true to the high reputation and quality of Italian espresso machine brands. Lelit's coffee makers bridge the gap between the professional world and your home kitchen. Its machines meet commercial standards, however, they are compact enough to fit on your counter at home.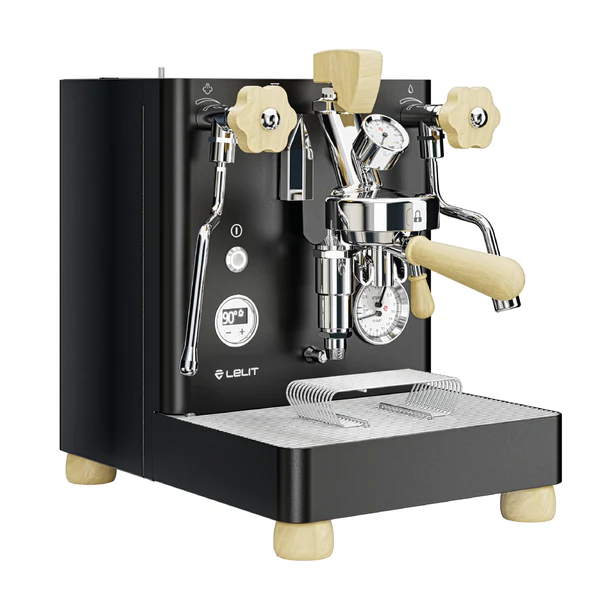 Things I like:
For use at home or professionally
Attractive matte black stainless steel frame with maple wood accents
PID temperature controls
OLED display
Adjustible pre-infusion settings
Anti-burn steam and hot-water wands
Accomodates large and small cup sizes
Includes 2.5L water reservoir, or water line plumbing kit
Things I don't like:
Review:
The attractive Lelit Bianca V3 comes in a black stainless steel finish with wood accents. Its PID temperature controls allow your brew to maintain a steady heat level, while the adjustable pre-infusion cycle gives you the best-tasting flavor. It comes with a large 2.5 liter water reservoir, or you can directly hook it up to a water line. You can check the external pressure gauges to make sure your machine is pulling shots appropriately.
This sophisticated machine is sure to be a conversation piece when your friends come over for a cup of coffee.
The History and Significance of Italian Espresso Machines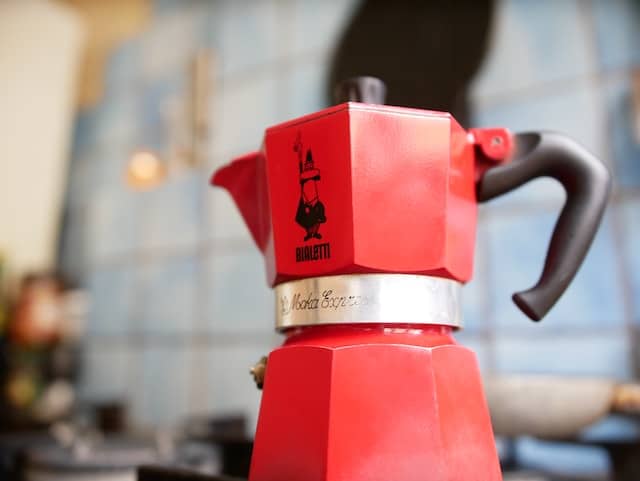 All roads may not lead to Rome, but they do lead to Italy when we look at the origins of espresso.
Even the word espresso is Italian. The term "espresso" has a few possible meanings. It may mean: "pressed out under pressure," "quick," or "individualized for the customer." Many experts think that the original term combined all these meanings to refer to a brew that was pressed out quickly on the spot for the customer.  
The invention of the espresso
The exact etymology of the word espresso remains somewhat a mystery. However, experts agree that this tasty coffee brewing method originated in Italy at the turn of the 20th century by the Milanese inventor Luigi Bezzara. 
In 1901, the Italian inventor wanted to find a way to shorten the brew time for coffee. He invented a boiler system with portafilters and group heads that could brew up a strong shot of coffee in less than a minute. Along with the help of Desidero Pavoni, Bezzera introduced this new quick-brew espresso machine to the world at the 1906 World's Fair in Milano. 
The idea of a quick-brew coffee took off and many coffee bars in Italy began brewing individual cups of coffee for customers using manual lever espresso machines. These machines were too big and bulky for home use, which meant that espressos were mostly enjoyed by Italian businessmen at coffee bars. 
The origin of at-home espresso makers
Later, an Italian aluminum manufacturer by the name of Alfonso Bialetti invented an espresso maker for the home. This lightweight coffee maker was called a Moka pot. It could brew a few shots of espresso at once and was small enough to fit on a stovetop.
As the popularity of espresso increased, Italian espresso machines were refined to use even more bars of pressure and even shorter brew times. 
Today, many coffee lovers steer away from manual presses and choose to bring home electric semi-automatic, fully automatic, or super-automatic espresso machines. These machines are easy to use and can create delicious espressos using nine or more bars of pressure.
Italian espresso machines still influence the global coffee industry today
The espresso extraction process is still heavily influenced by Italian culture all around the world. Most quality espresso makers worldwide use portafilters and group heads, and can create nine or more bars of pressure to achieve a delicious brew. 
However, each country or coffee shop may put a new spin on espresso specialty drink recipes. For example, a macchiato at Starbucks will look very different from an Italian macchiato. Also, an Italian cappuccino may use half as much milk as an American cappuccino.
Italy also uses a higher percentage of Robusta beans to achieve a thicker layer of crema, while U.S. espresso coffees often use 100% Arabica coffee beans.
Although coffee drinkers across the globe may gravitate toward different espresso drink recipes, most still look to Italian coffee machine brands as the standard of quality and innovation in the world of espresso. 
What to look for in an Italian espresso machine: Buyer's Guide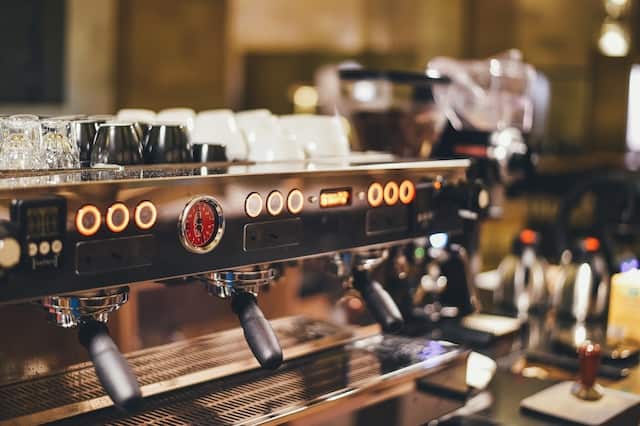 Italian espresso machines lead the market with their high-quality construction and innovative amenities. However, if you are overwhelmed by which espresso maker is best for your needs, we've created a helpful guide to help you narrow down your options.
Are you looking for an espresso machine for home use or commercial use?
Before you decide on an espresso maker, first decide how often you plan to use it. If you just want to brew an espresso base for specialty drinks a few times a year, you may not want to take up counter space with a large espresso machine. Consider a stovetop Moka pot or a compact pod machine. 
If you are serious about your espresso, choose an espresso maker that is capable of nine or more bars of pressure for excellent crema.
For an espresso machine that will get constant daily use in an office or coffee shop, choose a commercial-style machine that is built to last.
What's the difference between manual lever, semi-automatic, fully automatic, and super-automatic machines?
Although many of the first espresso machines used manual levers to pull shots, most of the market has shifted towards automatic espresso machines. 
A semi-automatic machine requires more effort than many higher-tech machines, but it also offers the user more control of the outcome. You can adjust the pull time manually to create richer brews. 
A fully automatic machine is similar in style to the semi-automatic espresso makers. However, these machines stop and start the brew automatically. This allows you to walk away from the machine while it brews.
A super-automatic "bean-to-cup" machine can brew espressos and specialty drinks with the touch of a button. However, it can be difficult to adjust the strength of the brew or create personalized latte art with these high-tech machines.
Does it include a pump-driven system, dual boilers, stainless steel parts, or other quality features?
As you choose your machine, check out which key features it offers. Italian espresso machines may include durable stainless-steel parts and pump-driven systems. 
You may want to invest in a machine with a double boiler which allows you to make back-to-back drinks quickly. Or, you can look for PID temperature controls to keep water in the best heat range. 
While cheap espresso machines often have small portafilter diameters, many Italian espresso machines use standard commercial 58mm portafilters for an even extraction and bolder flavor.
How many bars of pressure and what type of temperature controls does it have?
For authentic espressos, a machine must use nine or more bars of pressure according to the Specialty Coffee Association's standards. Many Italian espresso machines use 15 to 20 bars of pressure for a thick layer of crema and great taste.
Also, many top machines have automatic temperature controls to keep the water heat at the appropriate levels for an evenly extracted brew.
Is this espresso maker easy to use, program, clean, and maintain?
Some coffee lovers prefer to have a high-tech machine that you can program with just the touch of a button. However, the trade-off is that you may have to get out its user manual to adjust the settings in the menu. Others prefer a simple semi-automatic machine that has just a few simple controls. 
Super-automatic machines often have self-rinse and descaling cycles for easy clean-up. However, semi-automatic machines have simple, detachable parts that you can wash easily.
What is your budget? Does the price match the quality of the machine?
Italian espresso makers have a wide range of prices. You can find Moka pots for less than $50 or you can spend a few thousand dollars on a machine. If you plan to use your espresso machine daily, spending a few extra bucks on a quality machine may be a worthwhile investment.
Final Verdict
Italy is known for its delicious coffee. You can bring the essence of an Italian coffee shop home when you choose an Italian espresso machine brand. Italian espresso machines are known for their attention to detail and high-quality brews.
Our top pick in this category is the Rancilio Silvia Espresso Machine. This machine costs less than $1000 and has many commercial grade parts. 
Rancilio Silvia Espresso Machine
The Rancilio Silvia has a stainless steel design with a few classic color combinations. With a pro single boiler, steam knob and articulating steam wand, the shots are tasty and precise.
Last update on 2023-09-17
Now that you've seen twelve of Italy's top espresso machine brands, it's time to decide which machine is best for you!
FAQs
What is the best coffee machine in Italy?
Italy is the center for many well-known brands. However, the Bialetti Moka pot may be its most famous espresso maker. This small stovetop espresso maker revolutionized the coffee market by allowing espresso lovers to brew coffee at home. You can still purchase an aluminum Bialetti that resembles the original models, or choose a stainless steel Moka pot that can brew six shots at once.
What coffee maker do Italians use?
Although many Italian coffee brands are available in Italy today, the Moka pot still remains a household staple throughout the nation. This simple pot can create 1-3 bars of pressure for a rich-tasting brew with some crema. It is also portable and affordable, which may be why it remains popular to this day.
Coffee Has Never Read This Good!
Sign up for a FREE newsletter to the best home brewing tips and guides
Thank you for subscribing to The Cup Coffee House Crew! There's a surprise in your Inbox 🙂
Something went wrong.
About the Author
Latest Posts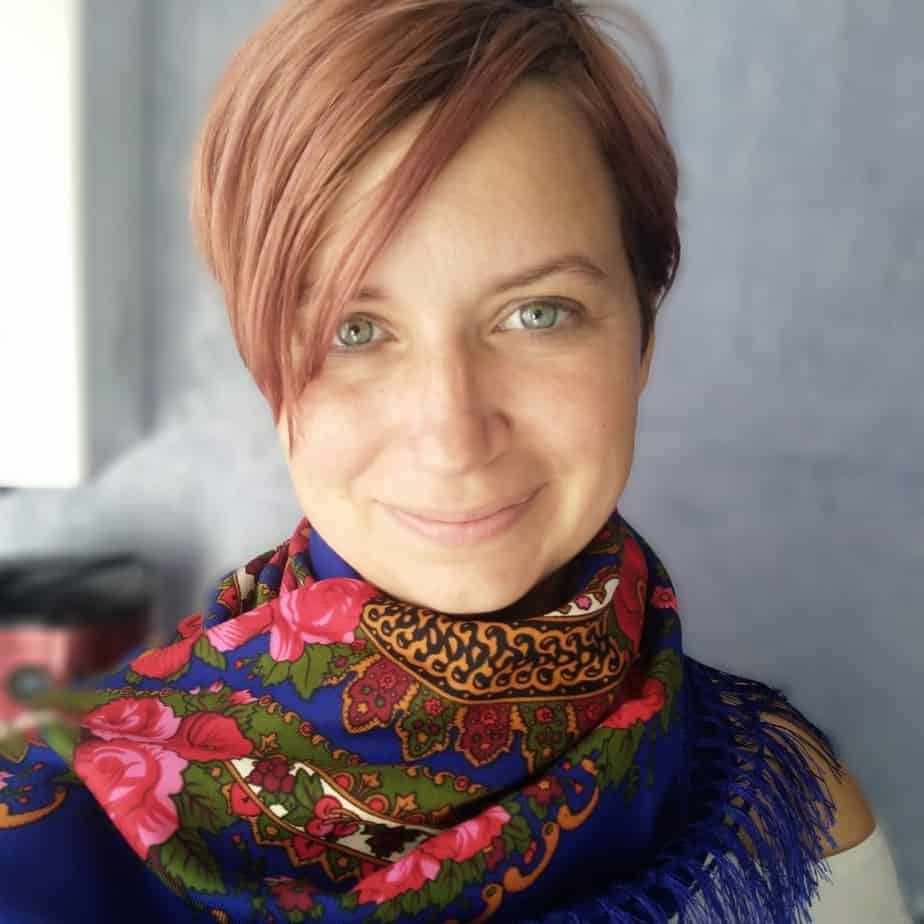 Alex Praytor worked her first job as a barista, finished college, and then took a tour to the other side of the globe. She fell in love with espresso and her would-be husband in Europe. She spends her spare time visiting native Texas landmarks, ancient castles, and all the coffee shops she finds along the way. At home, she is a mom, ESL teacher, and writer, who hones her coffee-making skills daily. She enjoys passing on her coffee findings to fellow caffeine addicts in search of the perfect cup.
Chief Editor