Last updated on July 27th, 2023 by Alex Praytor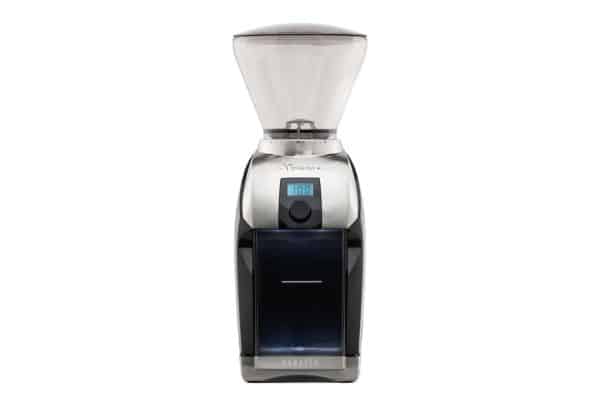 If you're an avid coffee drinker, you've probably experimented with many brewing methods to get the best flavor. For each method, you know to use the right amount of coffee, the correct length of time, and a proper temperature range. However, there is another factor to making the perfect cup that is often overlooked–the grind size. 
Using a grind size that is too coarse for your brewing method can result in under-extracted coffee. This coffee can taste weak and acidic. However, if you use a grind size that is too fine, your coffee may taste bitter or burnt. 
You can easily find coffees in a fine-grind size for espresso, a medium grind size for drip coffee, or a coarse grind size for cold brew coffee on store shelves. However, for French press coffee, many coffee drinkers prefer a grind size between medium and coarse. 
Investing in a coffee grinder gives your brew a fresher flavor and helps you achieve the best grind size for your brew method.
We've found nine high-performance manual and electric coffee grinders to make grinding coffee for French press coffee a breeze. 
Our top pick is the Baratza Virtuoso+ Conical Burr Coffee Grinder. This grinder has won awards from the Specialty Coffee Association, is simple for beginners to use, and has many professional-grade features. With 40 grind settings and a digital timer built into a compact space saving design, it's easiest the best coffee grinder for French press available.
Last update on 2023-09-21
You can also choose from ceramic conical burr grinders, stainless steel flat burr grinders, electric grinders, and manual models. These nine coffee grinders come in a variety of styles and price ranges to fit your needs. Let's look at some of the best coffee grinders for French press on today's market.
---
Our List of Best Coffee Grinder for French Press
Things I like:
An SCA award-winning grinder
40 grind sizes
Commercial-grade 40 mm conical hardened alloy steel burrs
Digital timer display
Small footprint
User-friendly controls
LED backlit grounds bin
Grinds at a speed of 2g per second
Things I don't like:
Review: 
The Baratza Virtuoso+ is a high-end coffee grinder that is capable of creating professional coffee grounds for your French press. It is our top choice for its durability, quality grind, and ease of use. It is also a winner according to the Specialty Coffee Association's standards. 
The electric coffee grinder offers 40 unique grind size options and a digital timer to grind only as much as you need. Its 40mm conical burrs are commercial-grade and durable to withstand regular use.
The Baratza's straightforward controls are simple for beginners to use and its quality will please experienced baristas. This highly durable grinder can be a part of your French press coffee-making routine for years to come.
Last update on 2023-09-21
Things I like:
Durable conical burrs
Large bean hopper capacity of 240g with UV-blocking tint
The ground coffee container holds 130 g of coffee
35 precise grind settings
Automatic stop using a timer or cup measurements 
Coffee automatically rests after 3 minutes of working
User-friendly control panel
Built-in portafilter holder
Removable parts can be washed directly with water
Budget-friendly at under $100
French press label with grind range from 26-35
Things I don't like:
Review: 
The Gevi Burr Coffee Grinder is an affordable option for grinding coffee beans fresh at home. It sells for less than $100 on Amazon, however, it also has many top-tier features. The large bean hopper holds up to 240 grams of beans and is UV-tinted to protect your coffee from deterioration. It has 35 grind settings and 10 of those settings are labeled for French press. This conical burr coffee grinder is easy to use and you can bring it home for a decent price. 
Gevi Burr Coffee Grinder
The Gevi Burr Coffee Grinder has a digital LED wide screen touch, anti-static technology for less mess, and comes with 35 grind settings.
Last update on 2023-09-21
Things I like:
LCD user-interface
Stainless steel conical burrs 
60 precise grind settings from the finest Espresso to the coarsest French Press Grind. 
Precision Electronic Timer adjusts in 0.2-second increments 
18-ounce capacity coffee bean hopper
Grinds into 50mm, 54mm, and 58mm portafilters, filter baskets, and paper filters
Things I don't like:
Can be complicated for first-time users.
Review:
The sleek-looking Breville Smart Grinder Pro is loaded with high-quality features. Choose from 60 labeled grind settings from espresso to French press. The Precision Electronic Timer lets you choose the exact amount of coffee you want within a 0.2-second range. 
This Breville conical grinder can hold up to 18 ounces of coffee beans, and it grinds directly into a portafilter or coffee filter. Check the LCD interface to see the dose, grind size, and grind time. 
The Breville Smart Grinder Pro may require you to pull out the user manual for the first few grinds. However, this durable, high-performance machine will make your coffee routine much simpler in the long run.
Breville Smart Grinder Pro BCG820BSS
The Breville Smart Grinder Pro has a stainless steel sleek design with many colors to choose from. Comes with 60 unique settings from finest to coarsest grind.
Last update on 2023-09-21
Things I like:
Stainless steel professional-grade 64mm flat burrs
Sleek design
11 settings and 31 steps between
Automatically stops when the hopper runs out of coffee beans
Things I don't like:
Small capacity 
Not compatible with fine espresso grinds
Review:
The Fellow Ode Brew Grinder is one of the more expensive grinder options available. However, it comes with professional-quality flat burrs to grind coffee like a boutique cafe. These 64mm flat burrs can grind even more consistently than conical burrs and are especially compatible with coarser grind sizes.
You can choose from 11 different settings with 31 steps in between. The single-dose Fellow Ode grinder grinds until there are no beans left in the hopper. It automatically stops when it detects that the hopper is empty. The Fellow Ode Brew grinder can be a sleek addition to a coffee connoisseur's kitchen counter.
Fellow Ode Brew Grinder
This Fellow Ode Brew Grinder has a stainless steel finish with black and white colors to choose from and 31 grind settings with quiet grinding features.
Last update on 2023-09-21
Things I like:
Smart Dosing Technology measures grounds using cups, shots, or a timer
10-ounce hopper capacity
Offers grind sizes from espresso to French press using helpful labels
70 precise grind settings
Commerical-grade stainless steel conical burrs
Attractive retro style
The bean hopper is easy to remove and refill
Anti-static technology
Works quietly
Includes adjustable holder for 54-mm or 58-mm portafilters
Things I don't like:
No UV-tint on the bean hopper or grounds container.
Review: 
The KitchenAid Burr Coffee Grinder can add a bright spot to a coffee corner and does its job well. This mid-range coffee grinder offers up to 70 precise grind settings from espresso coffee to French press. It uses commercial-grade stainless steel conical burrs to grind coffee beans evenly for a smooth-tasting cup of coffee. An adjustable portafilter holder allows you to also grind a dose directly into your filter. 
The 10-ounce bean hopper is easy to remove and refill. However, it is not tinted to block UV rays, so fill it with just as many beans as you plan to use. 
The KitchenAid grind works more quietly than many other grinders, so you don't wake up the family when you brew your morning French press coffee. This retro-looking KitchenAid Burr Coffee Grinder is versatile for many different brew methods.
You can find the KitchenAid Burr Coffee Grinder at the top of this Best KitchenAid grinders list.
Sale
KitchenAid Burr Coffee Grinder
With the KitchenAid Burr Coffee Grinder, you have the precision to control your brew with easy and consistent grinding from its 70 grind settings.
Last update on 2023-09-21
Things I like:
Stainless steel conical burrs
15 grind size settings with additional micro settings for fine to coarse grounds 
One-touch start 
Built-in timer
Remembers your previous grind setting
Large-capacity 12-ounce hopper 
UV-blocking tint protects coffee beans 
Stainless steel anti-static container 
Powerful DC motor 
Doesn't overheat beans
Things I don't like:
The bottom burr is not removable making it complicated to clean.
Grounds are not visible in the stainless steel container.
Review:
The Oxo Brew Conical Burr Grinder is a popular at-home grinder with thousands of positive reviews to recommend it. This entry-level grinder is built to last and offers many high-quality features at a fair price. 
With 15 grind settings and additional micro-settings, you have close to 40 grind sizes to choose from. You can set the built-in timer to grind only as much coffee as you need. 
The Oxo's powerful DC motor grinds quickly without heating the beans in the process. This efficient and durable conical burr grinder has great value for the price.
OXO Brew Conical Burr Coffee Grinder
The OXO Brew grinder has a stainless steel black and silver finish with large 12 oz hopper capacity. It only has 15 grind settings but multiple microsettings for your perfect grind.
Last update on 2023-09-21
Things I like:
8-ounce bean hopper
Flat disc metal burrs
12 grind settings from fine to coarse
2-12 cup measurement dial
Compact footprint
Removable ground container with lid
Budget-friendly
Things I don't like:
Noisy
No timer
Plastic housing 
Review:
With the Krupps Precision Flat Burr Grinder, you can grind coffee easily and efficiently for your French press. This grinder does not have as many grind settings as more expensive models. However, you can find a French press-friendly setting from one of the 12 grind sizes available. Dial in how many servings you wish to make, then walk away as this electric grinder prepares freshly ground coffee. 
This electric machine's flat disc burrs grind your coffee beans evenly and precisely for the best extraction. The durable Krupps flat burr grinder has a budget-friendly price tag and delivers quality fresh-ground coffee for a French press.
If this is not the best Krups grinder for you, this Krups Coffee Grinder is another option that we've reviewed.
Sale
Krups Precision Flat Burr Grinder
The Krups Precision Flat Burr Grinder comes only in black and 12 grind settings with a flat disc metal burr and a removable container for convenience.
Last update on 2023-09-21
Things I like:
Adjustable, professional-grade ceramic burrs
18 precise grind settings
No electricity or batteries required
Grinds quietly
Weighs less than 10 ounces
Portable 
Things I don't like:
Fine grinds can take several minutes.
Review: 
The JavaPresse Manual Coffee Grinder is one of the lightest weighing coffee grinders on the market. This hand-crank coffee grinder has a durable stainless steel exterior and professional-grade ceramic burrs.
It doesn't need electricity to work making it a tool for French press on the go. You can choose from 18 grind sizes to create the perfect grind for your brew. With over 20,000 Amazon reviews, this popular grinder maintains a positive rating of 4+ stars.
Sale
JavaPresse Manual Coffee Grinder
The JavaPresse Manual Coffee Grinder has professional-grade ceramic burrs and stainless steel exterior that can be used on the go with 18 grind settings to choose from.
Last update on 2023-09-21
Things I like:
50 unique grind settings
The grinder handle doubles as a carabiner clip
Ergonomic grip
Highly durable materials include aircraft aluminum and stainless steel
Compact size for travel
Weighs only 12.7 oz (360g)
Includes cotton carry bag and cleaning brush
Things I don't like:
Small 20g capacity 
Expensive 
Review:
The VSSL Java Manual Coffee Grinder is our top pick for brewing French press coffee at a campsite or on the go. This coffee grinder does not require electricity and is built with highly durable materials such as stainless steel and aircraft aluminum. 
You can choose from 50 unique settings to find the perfect grind size for a single-serve cup of French press coffee. The grinder's handle retracts to become a carabiner clip so you can attach the coffee grinder to a hiking backpack. 
This lightweight coffee grinder comes with its own cotton carry bag and cleaning brush. The price tag is steeper than other manual coffee grinders. However, with proper care, this grinder can last a lifetime.
VSSL JAVA Manual Coffee Grinder
The VSSL JAVA Manual Coffee Grinder is built with durable aircraft grade aluminum and stainless steel, that can be used anywhere on the go with 50 grind settings.
Last update on 2023-09-21
What is French Press coffee?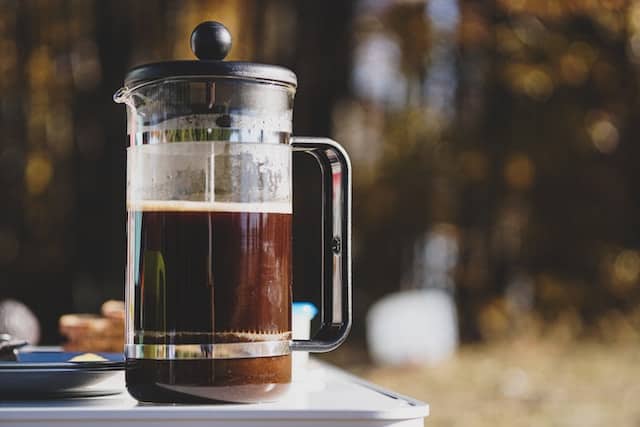 Using a French press to brew coffee is a popular method among third-wave coffee drinkers. French press coffee is considered a slow-brew method and generally takes four to five minutes to steep. Since the coffee grounds remain in contact with hot water longer, the result is a flavorful, strong-tasting brew.
French presses have two main components: A glass or stainless steel exterior and a plunger with a wire or nylon mesh filter. Medium or dark roasts in a medium to coarse grind size complement this brewing style by offering flavor depth. A French press is simple to use and doesn't require an electrical outlet. 
This method is perfect for the coffee drinker who prefers a rich, full-bodied cup of coffee.
Blade vs Burr Grinders: Which type of coffee grinder is best?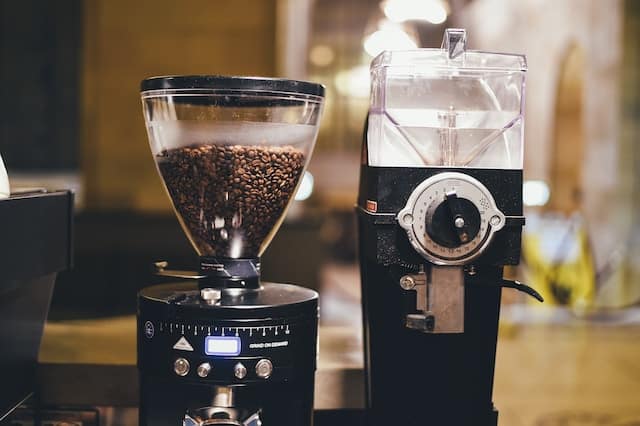 There is a wide assortment of coffee grinders on the market. However, not all grinders work well for French press coffee. Blade grinders are often more affordable. However, burr grinders offer more exact settings and a higher quality grind.
Here is a look at the main differences between blade versus burr grinders. 
Electric blade grinders
Electric blade grinders are inexpensive to buy. However, these grinders don't offer reliable settings. Instead, you often have to hold down a button and watch the time to get the approximate grind size you want.
The blades work like a blender and grind beans from the bottom first. As a result, you can get a mix of small coffee bean particles and large particles. Also, the quick speeds of electric blade grinders can prematurely heat the coffee beans, reducing their flavor.
As you brew, the smaller grinds will extract quickly, while the larger ones extract slowly. This can result in an uneven extraction tending toward sour and bitter tastes. The French press uses a longer brew time than other methods, which makes the unbalanced flavor especially noticeable.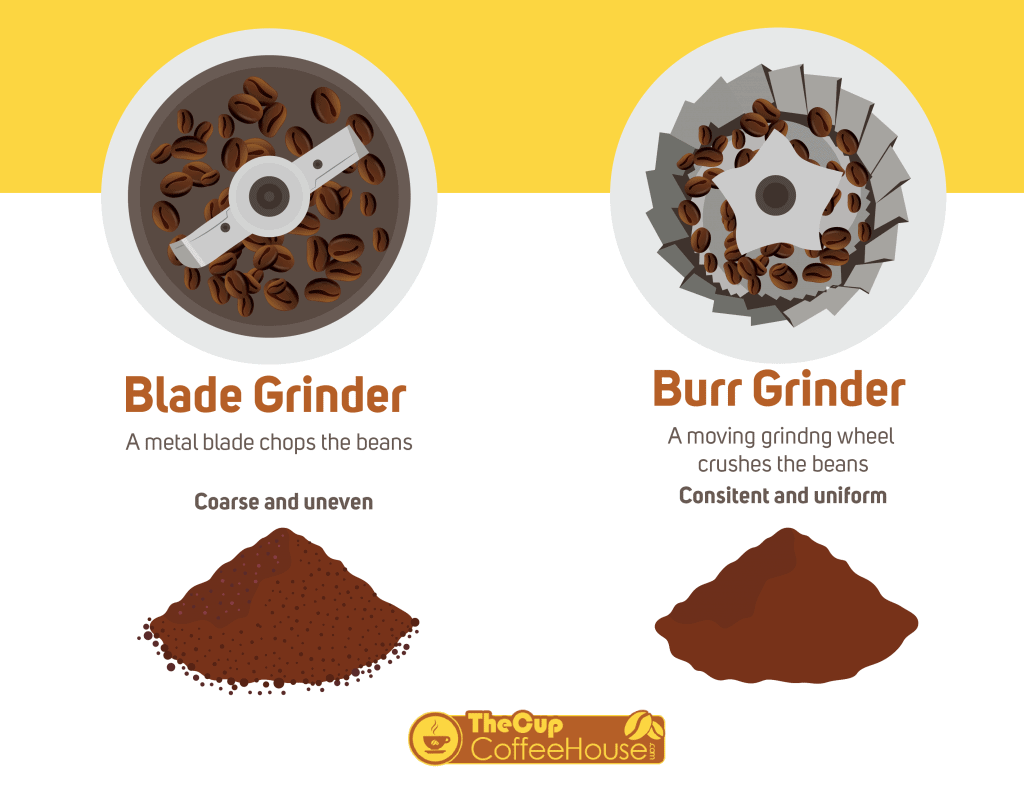 Burr grinders
Coffee experts prefer burr grinders for French press coffee. Although they tend to run in a higher price range than blade grinders, burr grinders are generally more durable and reliable. With these grinders, coffee beans are guided through two burrs, and ground into even particles without heating the beans prematurely. 
You can find both manual and electric burr grinders available to create the medium-coarse grind size you need for a French press. 
How to choose a coffee grinder for French Press (Buyer's Guide)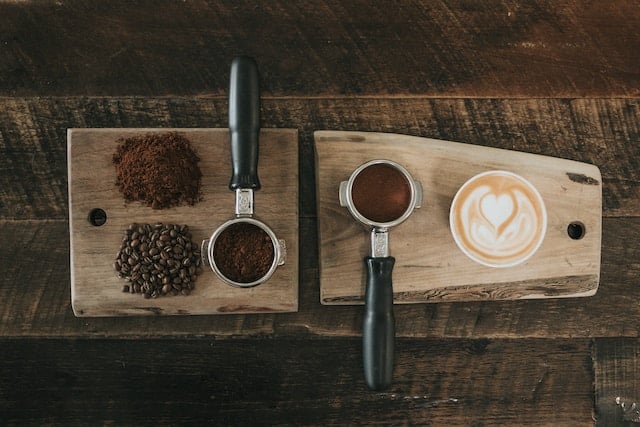 Choosing a coffee grinder for French press can be overwhelming. You can find a wide variety of burr and blade grinders on the market, but which features are best? 
Here are some specifications to look for when you choose a coffee grinder for French press.
Consistency of Grind
One of the most important features of a grinder is the consistency of the grind size. For a French press brew, an even medium to coarse grind size using a burr grinder is best. Burr grinders are designed to give an even, consistent. Blade grinders work quickly but create an uneven grind size. Flat-burr grinders tend to have the most consistent grind size on the market. 
Which type of burr is best?
If you decide to purchase a burr grinder, you still need to decide which type of burr grinder you want to buy. The most common burrs are made from ceramic or steel and come in conical or flat shapes.
Ceramic vs Stainless steel
Ceramic burrs are often preferable to stainless steel as they have less heat transfer, preserving the coffee flavor. Also, the burrs can remain sharp and ready for action for up to five times longer than stainless steel burrs. However, ceramic burrs are more susceptible to chips and breakage.
Flat burrs vs conical burrs
Flat burrs offer the most precise and consistent grind size but can be costly to buy. They may also heat faster than conical burrs and create more noise. Conical burr grinders tend to be more affordable and work quieter. However, their grind size may not be as precise.
Electric or manual?
Most coffee lovers prefer the ease of an electric coffee grinder, while purists often choose a manual version. Both electric and manual burr grinders can give you an excellent grind. Consider your budget and arm strength before you make your final decision.
Electric grinders, on average, are the more expensive option. However, they can save you energy and time. 
On the other hand, manual grinders can give your arm muscles a workout and have a smaller capacity. Still, they are lightweight, portable, and often cost less.  
Grind Settings
More expensive electric grinders offer more grind settings, which allow you to adjust your grind size to perfection for French press. 
If you want to change the grind size of a manual burr grinder, you may have to disassemble the grinder and adjust the gears. Achieving the grind size you want may require some trial and error. 
Most blade grinders do not have any precise grind settings at all. Instead, the grinds become finer the longer it runs.
Price
Blade grinders are some of the cheapest options on the market, often costing less than $30. Burr grinders tend to be the most durable with the best performance. However, a good electric burr grinder can cost upwards of $100. 
If budget is an issue, a manual burr grinder can offer the best value for your money. These may be more labor intensive. However, they are built to last and can create a consistent grind size. Many manual burr grinders run in the same price range as blade grinders. 
Ease of Use and Maintenance
Electric coffee grinders are user-friendly and offer many pre-set settings. With a simple touch of a button, you can grind coffee in a minute or less.
While electric coffee grinders may be the easiest to use, manual burr grinders may be the easiest type of grinder to maintain. Cleaning your grinder is important as the residue from old grounds and bean oils can add a rancid flavor to your coffee. 
You can't wash electric grinders with water, but many electric grinders allow you to disassemble the burrs to thoroughly clean and dry them. A manual burr grinder often has fewer parts, and no electric plug, making it easy to clean. 
An electric blade grinder may be the most difficult to clean. Many blade grinders cannot be disassembled so you settle for wiping them down or grinding a batch of rice to clean them.
How to Grind Coffee for French Press (Step-by-step)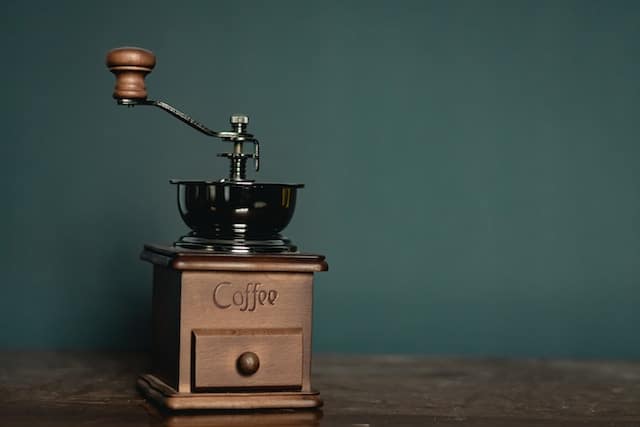 Once you invest in a quality coffee bean grinder, it may take some trial and error before you achieve the perfect grind size for French press coffee. Here are the steps to take to get started:
Step 1: Choose your grind size
When you grind beans for French press, a burr grinder can give you the best flavor. Many coffee drinkers choose a coarse grind size for this method. When you use a coarse grind size, fewer grounds can escape through the filter and into your brew. Also, the flavors release slowly and evenly. When out of filters, here are some filter substitutes that may work for you.
Other coffee drinkers prefer a medium-coarse grind size so the flavors extract quicker. With this grind size, you can achieve a stronger-tasting coffee, or you can shave a minute off your brew time. 
Step 2: Set your grinder
Once you choose your grind, set your grinder to the appropriate size. This is simple to do on an electric burr grinder.
However, if you are using a manual grinder, you may have to remove the handle and change the position of the gear. For a coarser grind, turn the manual adjusting ring counterclockwise. Try grinding a few beans and check to make sure they are the desired size. A medium-coarse grind should be the size of coarse sand, while a coarse grind should be the size of grains of sea salt.
If you are using an electric grinder, you most likely won't be able to pre-set your grind size. Instead, use less grind time to achieve coarser grounds.
Step 3: Measure your coffee
For French press, many coffee experts use a 1:12 coffee-to-water ratio, while others use a 1:15 ratio. This means for one part coffee grounds, you should use 12 to 15 parts water. Some use measuring cups to achieve the appropriate ratio, while others choose the more exact method of weighing the coffee and water using a scale.
Many electric burr grinders have timers and cup measurement settings, so you can portion your coffee as you grind. 
Tips and tricks for getting the perfect grind for French press
Invest in a quality grinder and quality coffee beans.
Add more coffee to the hopper than you intend to use so the hopper remains at least one-third full. The extra weight helps drive the beans to the burrs.
If you are using a blade grinder, stop the grinder occasionally, and shake the coffee grounds to achieve an even grind size.
For ultimate freshness, empty the remaining contents of the bean hopper into an air-tight opaque container after each use. Store the beans in a cool, dry area.
Clean the burrs or blades of your grinder regularly. By removing stale oils and residue, you can get delicious, fresh-tasting French press coffee at each brew.
Final verdict
The flavor of your French press coffee can benefit from a high-quality grinder. We found nine manual and electric burr grinders capable of creating medium to coarse grinds for slow brew methods. 
The Baratza Virtuoso+ Conical Burr Coffee Grinder is our top pick in this category. This burr grinder is simple to use and produces commercial-quality grinds for French press.
Last update on 2023-09-21
Now, it's your turn to decide which one fits your needs.
FAQs
Do you need a special coffee grinder for French press?
Most burr grinders can achieve a medium-coarse grind size to brew French press coffee. Some grinders may even offer a range of pre-set grind settings with the label "French Press" between "medium" and "coarse." Other coffee grinders may require you to adjust the burrs manually to get the perfect grind.
Is a blade grinder OK for French press?
Blade grinders are generally the cheapest type of grinders on the market. However, they are inferior to burr grinders for brewing French press coffee. Blade coffee grinders grind coffee beans in uneven particles which can negatively affect coffee extraction and taste. 
Does grind size matter for French press?
A French press uses a slow brew method. To avoid over-extracting your coffee, you should use a medium-coarse grind. Unfortunately, most pre-ground coffee comes in a medium grind size which may extract too quickly for French press coffee. When you buy your own coffee grinder, you have the most control over the taste of your French press coffee.
Should I boil water for French press coffee?
For French press, heat the water just below a boil. The Specialty Coffee Association standard for brewing coffee is from 195 degrees to 205 Fahrenheit. You can use a water thermometer to test the temperature, or you can boil the water and then allow it to rest for 30 seconds before pouring it over the grounds. 
Coffee Has Never Read This Good!
Sign up for a FREE newsletter to the best home brewing tips and guides
Thank you for subscribing to The Cup Coffee House Crew! There's a surprise in your Inbox 🙂
Something went wrong.
About the Author
Latest Posts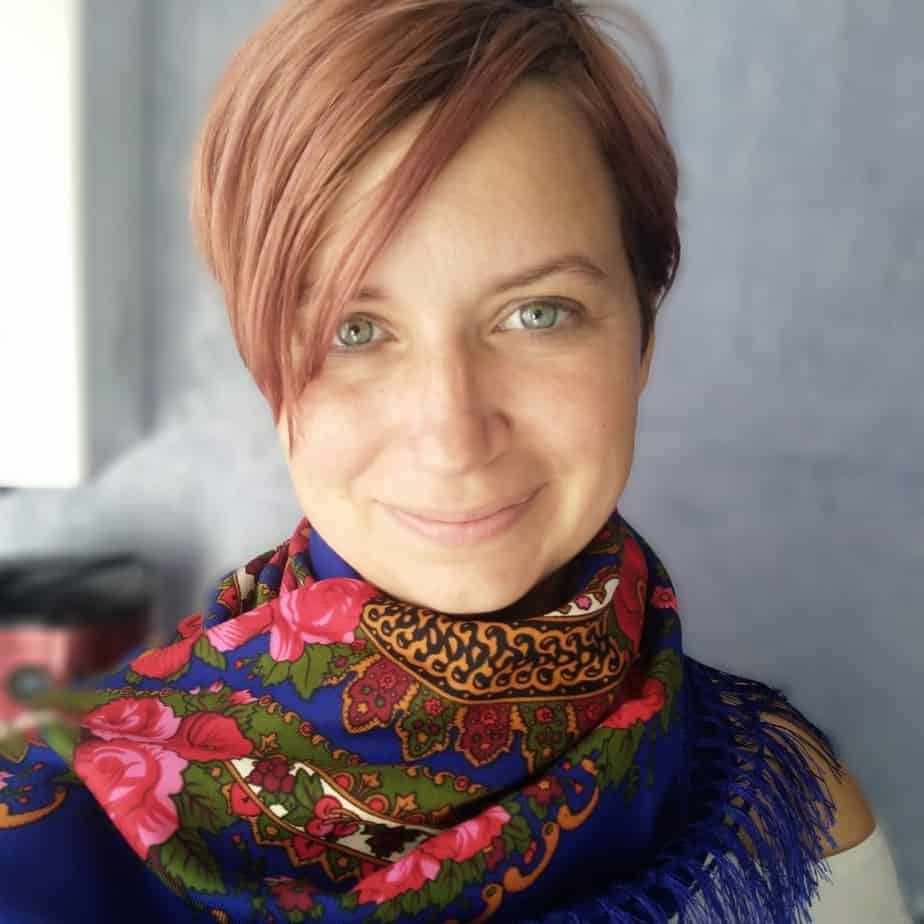 Alex Praytor worked her first job as a barista, finished college, and then took a tour to the other side of the globe. She fell in love with espresso and her would-be husband in Europe. She spends her spare time visiting native Texas landmarks, ancient castles, and all the coffee shops she finds along the way. At home, she is a mom, ESL teacher, and writer, who hones her coffee-making skills daily. She enjoys passing on her coffee findings to fellow caffeine addicts in search of the perfect cup.
Chief Editor