Last updated on July 12th, 2023 by Alex Praytor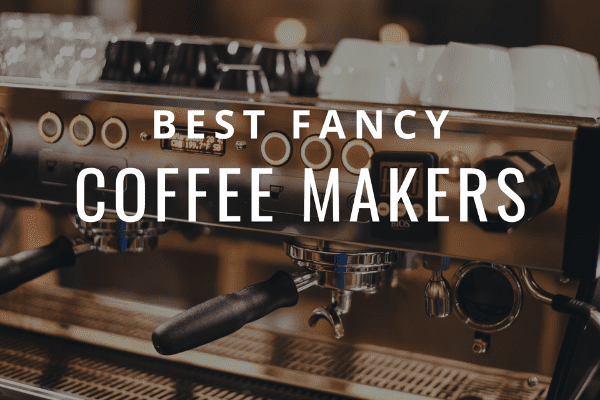 For serious coffee drinkers, flavor is king. You know with one sip whether the coffee is over-extracted, burned, weak, or just right. To get the perfect cup, you first need a coffee maker that brews with precision and accuracy. From the heating elements to the steam wand, a high-end coffee maker takes care to bring you the right tools for the best flavor.
After hours of research, we've found some of the best fancy coffee makers on today's market. They include features such as innovative technology, double boilers, precise steam wands, burr grinders, and more. 
These high-end machines are definitely not cheap but may be worth every penny to the coffee aficionado who demands precise flavors consistently.
Want the quick summary?
The Jura E8 Automatic Coffee Machine is our overall best choice of high-end coffee makers. The Jura E8 can make regular coffee, espressos, cappuccinos, and many other specialty drinks. This machine can grind beans and uses pulse extraction to achieve a great-tasting brew. It also can whip up some delicate microfoam to top off your drink. This is a great overall pick for the serious coffee drinker looking to invest long term into a quality cup of coffee from home.
Jura E8
The Jura E8 is a great overall super automatic espresso machine for the coffee drinker who wants high quality coffee beverages served with minimum effort and ready to make a long term investment to that end.
Last update on 2023-09-17
Ready to invest in a coffee maker that delivers a perfect cup of coffee each morning? Let's take a look at some of the finest machines available.
---
Are high-end coffee makers worth it?
The phrase, you get what you pay for may be a trite expression. But, in the realm of coffee makers, this statement is usually true. The more expensive the coffee maker, the better you can expect the flavor of the coffee to be. Here are some perks you can expect from a fancy coffee maker:
Quality parts – Expensive coffee makers are usually made with high-quality, stainless steel and copper parts with minimal plastic. Materials such as plastic and aluminum can wear out much quicker and affect the taste of your brew. The durable parts on a high-end machine can extend its lifespan.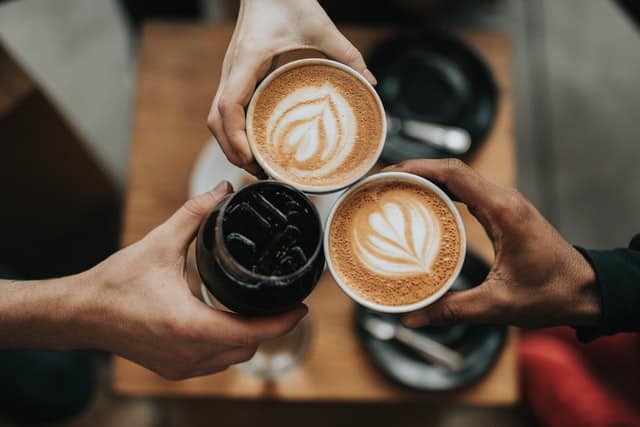 Great coffee flavor – Also, high-end coffee machines ensure that your cup of coffee tastes great. Copper elements and PID heating systems can keep water temperatures stable for the best extraction. You are less likely to get a burnt-tasting or under-extracted brew. You may have to learn the ins and outs of your machine and try out different coffee to water ratios in the beginning to get the most out of your machine.
Ease of use – These machines can also make your life much easier by including perks. Some time-saving features that many high end machines include are built-in grinders, automatic milk steamers, and commercial-grade steam wands. Some machines even allow you to make a cappuccino with one touch of a button!
When you buy a fancy coffee maker, you are investing in quality, taste, and ease.
The 9 Best High-End Coffee Makers
On our list of fancy coffee machines, we've included super-automatic machines, automatic pour overs, drip coffee makers, an upscale pod machine, and a cold brew drip tower. These machines all stand out a bit above the competition. 
But, which machine is best for you? Check out these nine amazing options:
What we like:
User friendly
LCD menu screen
Coffee, espresso, specialty drinks
Fast coffee grinder
Pulse extraction process for better aroma
Fine foam technology
What we don't like:
Filters and cleaning tablets can add up.
Review:
The Jura E8 is simple to use and makes coffee, espressos, ristrettos, and other specialty coffee drinks. It has an LCD menu to choose your favorite drink from the list of options. You can even make a flat white! This machine is equipped with a fast grinder and a pulse extraction process for rich-tasting coffee. 
Once the espresso base is brewed, the fine foam technology tops your drink off with perfect, fluffy milk. Owning the Jura E8 Automatic Coffee Machine is like having an automatic barista in the house.
Customer thoughts:
Most customers loved how user-friendly the Jura E8 is and enjoyed the taste of the coffee. Some customers admitted that the daily milk cleaning tablets and water filters can add up. However, most customers enjoyed this durable and multi-functional machine.
Our verdict:
The Jura E8 automatic coffee machine can make regular coffee or specialty drinks. This high end machine uses innovative technology for the best-tasting coffee and the foam is rich and light. You can enjoy specialty drinks from the comfort of your home with this coffee maker. This a great overall pick for the serious coffee drinker looking to invest long term into quality cup of coffee from home.
Want more Jura options? Check out our full review of the best Jura coffee machines.
What we like:
Adjustable brew size
Stainless steel filter
Automatic mode
Superfast heating system
Commercial burr grinder
Intelligent scale
Easy clean-up
360-degree rotating spout
Touch-screen
What we don't like:
The menu can be complicated to use at first.
Review:
The Gevi 4-in-1 is an automatic pour-over coffee maker with Smart technology. With this machine, you can find your brewing preferences and save them under a profile in the menu. It weighs your beans with a scale, grinds them, and heats the water to 208 degrees in minutes.
The coffee maker's nozzle rotates 360 degrees to get the same effect as a steady manual pour. You can also adjust the speed as the water flows through the grounds in the metal filter to adjust the strength of your brew.
This fancy machine is easy to clean and has a descaling option. You can also take apart the burr grinder to clean it thoroughly. The Gevi is sleek, compact, and makes a cup of coffee to make your tastebuds tingle in delight.
Customer Reviews:
Most reviews stated that the Gevi pour over coffee maker makes a delicious cup of coffee in minutes. After you save your preferences, it can be very easy to set up and brew. Others appreciated that the Gevi exterior is mostly metal, not plastic.
Our verdict:
The Gevi Smart Pour-Over grinds coffee fresh and brews using an automatic pour-over method. The result is a delicious brew with a hand-crafted flavor. Once you save your preferences, this machine does an excellent job of brewing with precision and accuracy. A good pick for those who like convenience and technology to make their coffee experience easier.
For other Gevi coffee machine options, check this article and see if one suits best for you.
What we like:
Eight drink options
Espresso and coffee machine
Commercial-style steam wand
One-touch cappuccino
Flow knob to adjust strength
Accommodates travel mugs
Ceramic burr grinder
10.58 oz burr hopper
Integrated milk carafe
What we don't like:
Only makes one drink at a time
Many different parts to clean
Review:
The Gaggia Babila is a two-in-one super automatic espresso machine that makes regular coffee or espresso drinks. You can use pre-ground coffee or grind your own beans in the ceramic burr hopper. Then, choose from eight different coffee drinks and brew with a one-touch button system.
If you are making specialty coffee drinks, you can choose to manually foam the milk using a steam wand. Or, you can allow the machine to top your drink off automatically with creamy foam. The Gaggia Babila allows you to be involved in the coffee-making process if you want.
However, if you don't feel the need to be hands-on, you can sit back and watch it make a cappuccino by pressing one button. With this machine the options are endless.
Customer thoughts:
Most customers agreed that the Gaggia a very user-friendly high end machine and makes great coffee drinks. Some use the steam wand for individual drinks and pop in the automatic milk carafe when friends are over. 
Our verdict:
The Gaggia Babila is a great coffee espresso machine combo for those who want a great coffee drink but don't want to put in a lot of effort to make one. This machine not only handles the grunt work for a consistently good espresso but can also top your drink off with perfect foam. If you just want a plain cup of coffee, you can brew up a cup with just a touch of a button.
Sale
Gaggia Babila RI9700/64
The Gaggia Babila with its grinder, double boiler, one touch recipes, temp and strength customizations is a nice mix of automation with manual excitement for the eager barista.
Last update on 2023-09-17
What we like:
Single or double shot options
Manual or automatic brew styles
Personalized temperature
Dual boiler
LCD display
Shot timer
Commercial grade microfoam steam wand
Dedicated hot water tap
What we don't like:
May need more counter space than other coffee makers
Review:
The Breville Dual Boiler coffee machine is an excellent choice if you want to make specialty drinks fit for a coffee house. Not only does it create microfoam for smooth, velvety milk toppings, but it also has two separate boilers.
With a double boiler, not only do you get precise temperature control, but you can create latte art on top of a finished espresso while another one is brewing. This means you can make several specialty drinks for a group in record time. This fancy espresso machine also has a hot water tap to make Americanos or hot tea. 
The LCD also has a shot timer. You can use this to make ristrettos or a long shot when you turn the machine to manual mode. The PID heat system ensures you get the perfect extraction for every shot.
This Breville espresso maker is larger than many coffee machines. However, it doesn't take up as much counter space as many other espresso makers do.
Customer thoughts:
Customers enjoyed this commercial-style machine built for at-home use. Most say the Breville was easy to use and you can make microfoam or a fluffier foam depending on what you want. 
Our verdict:
The Breville Dual Boiler BES920XL espresso maker costs around $2,300 on Amazon. This machine is similar to those used in coffee shops. Perfect for latte, cappuccino, macchiato drinkers who want coffee shop level quality from home. However, it's still user friendly enough that even beginning baristas feel comfortable using it.
What we like:
SCA certified
10-Cup Coffee Maker
Brews half or full carafe
Pause and pour
Copper boiling element for fast heat-up
Five-year warranty
What we don't like:
No 24-hour pre-program option
Review:
The Technivorm Moccamaster KBT makes coffee with the taste of manual pour-over. However, instead of meticulously hand-pouring, the pot does it for you automatically. This ensures that you get that perfect flavor every time. This Technivorm KBT is currently the only coffee pot that is certified by the SCA to brew a full carafe or a half carafe.
This coffee pot is user-friendly with a simple on-off switch. It has one other button so you can choose to brew either a full carafe or a half. The heating element is copper so your water heats quickly and maintains a steady temperature. Also, the shower head allows for even extraction of your coffee grounds. With its stainless-steel carafe, your coffee can stay hot without tasting burnt.
Customer thoughts: 
Most customers agree that the Technivorm Moccamaster is durable and made with quality parts. Some say that, compared with other brands, this machine has the best-tasting drip coffee.
Our verdict:
The Techinivorm meets the SCA standards for the proper extraction of coffee. It is hand-made in the Netherlands, easy to use, and makes great-tasting coffee. At about $300, this is one of the cheaper models on our fancy coffee maker list. What more could you want from a coffee pot? 
Want a deeper look? See our full review of the Technivorm Moccamaster.
What we like:
Professional-style manual espresso machine
Pressure gauge
Steam mechanism for cappuccinos
38-ounce boiler
Makes one or two shots
Made in Italy
Long lifespan
What we don't like:
May overheat when making back-to-back espresso shots
A bit longer learning curve
Review:
Want a statement espresso machine that doesn't take up too much space on your counter? The La Pavoni Lever Espresso maker is for the avid espresso-lover who wants to make an espresso in retro, Italian style. This machine is also made in Italy and built to last. 
The pressure gauge lets you know how to control the lever for the best extraction. You can make one or two shots at a time. The boiler holds enough water for 16 two-ounce shots. (Do not pour cold water into the machine after the boiler is hot.) When your shot is ready, you can use the steaming mechanism to top your espresso with milk foam. 
There are also add-ons that you can buy aftermarket to make your brewing experience more interesting. These added features include shower heads, naked portafilters, and PID controllers. For those that love to have the most control over their brew, this professional coffee maker is full of possibilities.
Customer thoughts:
Most customers loved the simplistic design of this lever espresso maker. However, most say that you need time to learn the machine to be able to make the best shots. Some customers say this machine can last from 10-30 years with proper care. 
Our verdict:
The LaPavoni PC-16 manual lever espresso maker has fewer parts to break and wear down and can last decades. At first, it may be difficult to find the right pressure. However, once you practice with the machine, you can make great-tasting shots of espresso. When you use this old-fashioned Italian method, coffee truly is an art!
What we like:
Upscale pod machine
Great-tasting coffee
Built for home or business 
Brews espresso, coffee, and specialty drinks
Used capsule storage
Empty tank alert
Milk frother for milk-based drinks
What we don't like:
Uses only Lavazza expert and Lavazza blue capsules
Review:
The Lavazza Expert Classy Plus Pod Machine allows you to brew espresso or coffee from capsules. You can also choose from three different milk based drinks. For these drinks, use the included glass milk pitcher to measure out the appropriate amount of milk for your drink. Then, add the frothing attachment and put it in place to heat and steam the milk on the machine.
This fancy pod machine can be used at home, but is also durable enough for conference centers and businesses. 
The Lavazza Expert has a simple layout and can make fancy coffee drinks with just the touch of a button. When you are done making your coffee, the pod is stored in a container in the machine. It also lets you know when the water is running low and when it needs cleaning.
The Lavazza brand makes great-tasting coffee. The pods may be more difficult to find at your regular grocery store, but you can order them off of Amazon. 
Customer thoughts:
Most customers found this high end single serve machine easy to use and clean. They loved the flavor of the specialty drinks. Most couldn't tell a difference between the taste of a cappuccino made in this pod machine and one made by a traditional cappuccino maker.
Our verdict:
The Lavazza Expert Classy Plus machine can make specialty drinks easily. However, you also get the benefit of steamed fresh milk. Using fresh milk (instead of powdered milk in a pod) can make a huge difference in flavor. This machine is perfect if you want quick single serve specialty drinks that are easy to make and take up little counter top space.
What we like:
10-cup capacity
Small batch option
Retro design in many different colors
Full-metal casing 
Strong brew option
Auto-off after 1 hour
24-hour programming
Optional alarm sound
LED display and clock
What we don't like:
Plastic permanent filter basket
Review:
The Smeg Drip Filter Coffee Machine has a retro charm and can match other kitchen appliances in the Smeg line. It comes in a variety of colors including pink, pastel blue, pastel green, cream, black, and stainless steel. The outer casing of the machine is metal for durability. It also includes built-in user friendly features such as a strong brew option, automatic turn-off in one hour, and a LED display with a clock. 
If you want your coffee ready when you wake up in the morning, you can choose to preprogram the machine to the appropriate hour. You can make 10 cups of coffee in this machine or brew a small 4-cup batch with the same rich coffee flavor.
Customer thoughts:
Most customers were pleased with this Smeg statement piece. They said it was simple to use and looked adorable in any kitchen. However, some customers complained of a plastic taste when they made coffee. 
Our verdict:
If you want a classy drip coffee maker that looks cute in your kitchen, this fancy Smeg coffee maker may be just what you are looking for. The metal casing adds durability and the colors are adorable. It has decent basic features for a coffee maker. With its $230 price, though, you are paying mostly for the brand name and style.
What we like:
6-8 cups of coffee
Vintage cold brew maker
Adjustable drip valve
Easy to set up and clean
Filters included
What we don't like:
Specialized filters may be difficult to find
Review:
The Nispira Cold Brew Drip Tower is a vintage statement piece that can make smooth cold brew coffee. Set up the machine with ice, water, and coffee grounds. You will need specialized filters to place above and below the grounds. Then open the adjustable drip valve to drip once per second.
The glass pieces and cold brew method can give your coffee a clean, smooth brew that is low on acid. It even has a slightly sweet flavor. 
After you brew your coffee, you can pour your cold coffee from the glass carafe. The pieces are easy to disassemble and clean (just make sure not to break the glass pieces!)
This brewing method requires no electricity and is fascinating to watch. It's kind of like something out of a 1980's science lab!
Customer thoughts:
Customers enjoyed the flavor and style of this fancy cold coffee maker. Some said they also use the Nispira to infuse liquor. They agreed it is easy to use and clean.
Our verdict:
At just over $100, Nispira cold brew coffee tower can save you money in the long run. Also, it is a work of art! The cold brew coffee tastes good going down and is easy on the stomach. If you don't mind waiting for the brew to drip slowly to make your brew, this can be a great way to get ice cold coffee.
How to Find the Best High-End Coffee Maker: Buyer's Guide
Precision and accuracy
Buying a more expensive coffee machine can ensure you get a quality cup of coffee. These high-end machines are better equipped to brew a cup of coffee using precision and accuracy. The heating elements can keep the water temperature at a steady heat for an even extraction.
Many coffee makers are also equipped with burr grinders to give you the freshest tasting coffee. If you are looking for a machine to make you that "perfect cup," a high-end coffee maker can help you ace the flavor.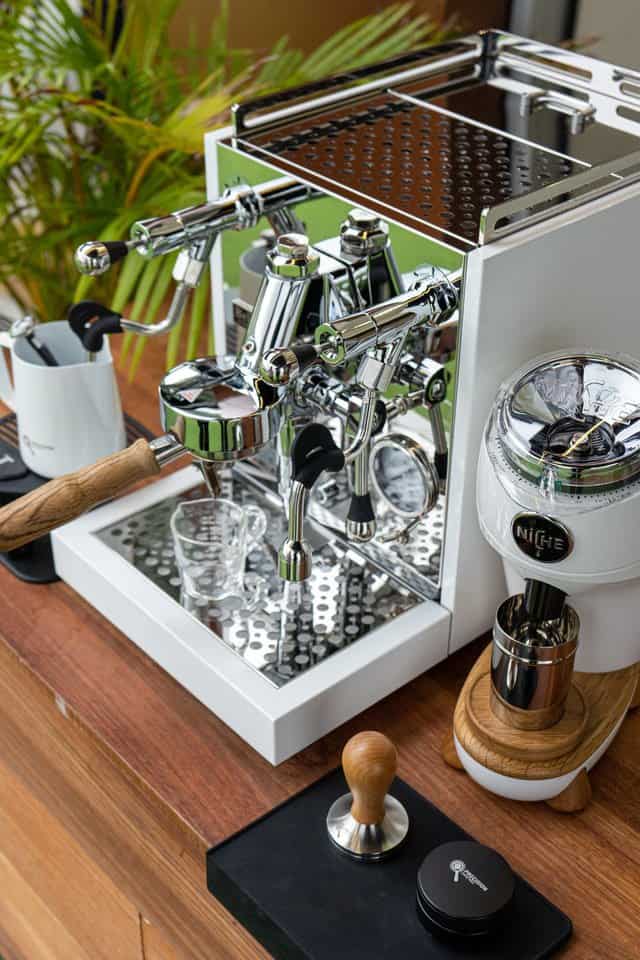 Boiler system
The boiler system is one of the most important parts of a coffee maker. Mid-range coffee makers usually have just one boiler system. This means that you have to take turns steaming milk and making espresso. You also may have to allow the machine to rest between shots.
However, a fancier espresso machine may include luxuries like a double boiler. This allows you to work both the espresso side and steam wand at the same time and easily make back-to-back shots. Also you have even more temperature control to ensure even extraction.
Manual or automatic brew method
Some coffee fans enjoy having a hand in the brewing process. You can be a barista at home with a manual lever espresso maker or a semi-automatic machine. These options give you the most control of the outcome of your drink.
However, others just want a great-tasting cup of coffee and like to take the simple route. In this case, you may want to choose a super-automatic espresso machine or a drip machine you can preprogram for the morning.
Espresso or regular coffee
What kind of coffee do you like to drink? Coffee drinkers who like to begin every morning with a regular cup of joe may consider a drip machine or an automatic pour-over. If you are an iced-coffee drinker, a cold brew maker may be your best bet. Those that spend every afternoon in a drive-thru line at Starbucks may wish to invest in a specialty coffee maker. 
Durable parts
The more durable the parts your coffee maker is built with, the longer it should last. Check to see if the machine is made of stainless steel or has plastic parts.
Also, read up on what is inside the machine. Does it have a high-quality stainless steel boiler or aluminum? Does it have a copper heating system? If you live in a busy household you may also consider purchasing a machine without a glass carafe, such as a super-automatic espresso maker. 
Warranties
Some high-end coffee makers include a five-year warranty, while others may only guarantee the parts for two years. You might also check to see how available the glass carafes and other parts are to replace in case you have issues down the road.
Once you invest in a fancy coffee maker, you want it to last several years. Cleaning and descaling your machine regularly can also help to extend its lifetime.
Serving size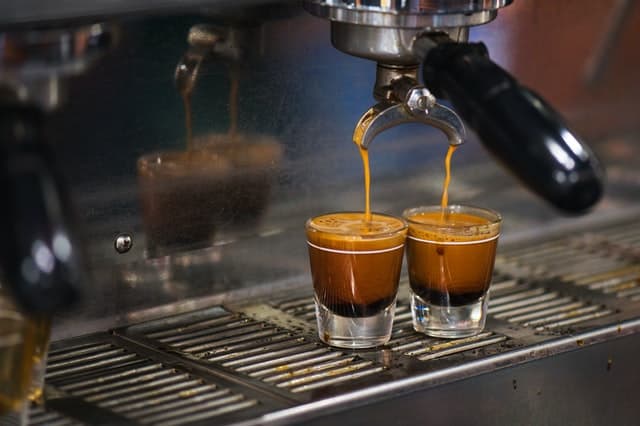 If you are investing in a pricier coffee maker, you want to be sure it fits your needs. If there are many coffee drinkers, you may want to consider a machine that serves more people at once. This could be a 10-cup coffee maker, a cold brew machine, or even an espresso maker with a double boiler.
If you have a single-person household, or mostly take coffee to go, a super-automatic machine or pod machine can make a quick cup.
Final Thoughts
The Jura E8 gets our top spot in the best fancy coffee maker category. However, there were so many great options available. 
If you have the funds to invest in one of the best coffee makers out there, first choose your brew style. This could be pour-over, drip coffee, espresso, cold brew, etc. Decide if you want a single-serve or a larger serving size. Check off your other "wants and needs" from the buyer's guide. Then, go for it! 
Although a fancy coffee maker may cost more upfront, you may save money in the long run. You will no longer need a daily run to a coffee shop to lay down $5 to $10 bucks a day for a coffee and treat. Now you can make coffee at home with a professional machine that is built to last. 
What is your favorite fancy coffee maker? Let us know in the comments.
Frequently Asked Questions
What is the best commercial coffee maker?
Commercial coffee makers are built to endure high traffic areas. This may be an office break room, hospital waiting room, or welcome center. Some of the top brands for commercial coffee makers are Bunn, Keurig, and Hamilton Beach, among others. Commercial machines are often larger, withstand frequent use, and are more expensive than at-home machines.
What is the most expensive coffee for sale?
Some of the most expensive coffee you can buy is made in Indonesia and processed through civet cat poop. This coffee is called monkey poop coffee or kopi luwak and can cost from $100-$600 per pound.
The acids from the civet cat's stomach are said to enhance the sweetness and reduce the acid in the coffee. Elephant poop coffee (or black ivory coffee) is another expensive type of coffee at about $500 per pound.
What type of coffee machine does Starbucks use?
If you love the taste of Starbucks coffee, you may be curious about what brand of espresso machine they use. Most stores make coffee using a Mastrena High-Performance Espresso Machine. This machine is a fully automatic espresso machine. However, these machines are made exclusively for Starbucks stores and not for sale for home or office use.
What coffee should I use in an espresso machine?
Many coffee lovers use an espresso roast in their espresso machine. However, this rule is not carved in stone. An espresso roast is usually a dark roast that is finely ground. This type of coffee usually gives you the best extraction and flavor in a quick brew method like espresso. You can experiment with different types of coffee to see which is your favorite. Lighter roasts tend to be a better choice for pour-over coffees.
What is a super-automatic espresso machine?
Super-automatic espresso machines usually feature a built-in grinder, hands-free milk frothing options, and many automatic settings. From grinding the beans to tamping the grounds and then brewing, a super-automatic machine can do it all.
Many super-automatics even let you make a cappuccino by just pressing one button. If you want the easiest route to a complicated specialty drink, you may consider investing in a super-automatic espresso maker.
Coffee Has Never Read This Good!
Sign up for a FREE newsletter to the best home brewing tips and guides
Thank you for subscribing to The Cup Coffee House Crew! There's a surprise in your Inbox 🙂
Something went wrong.
About the Author
Latest Posts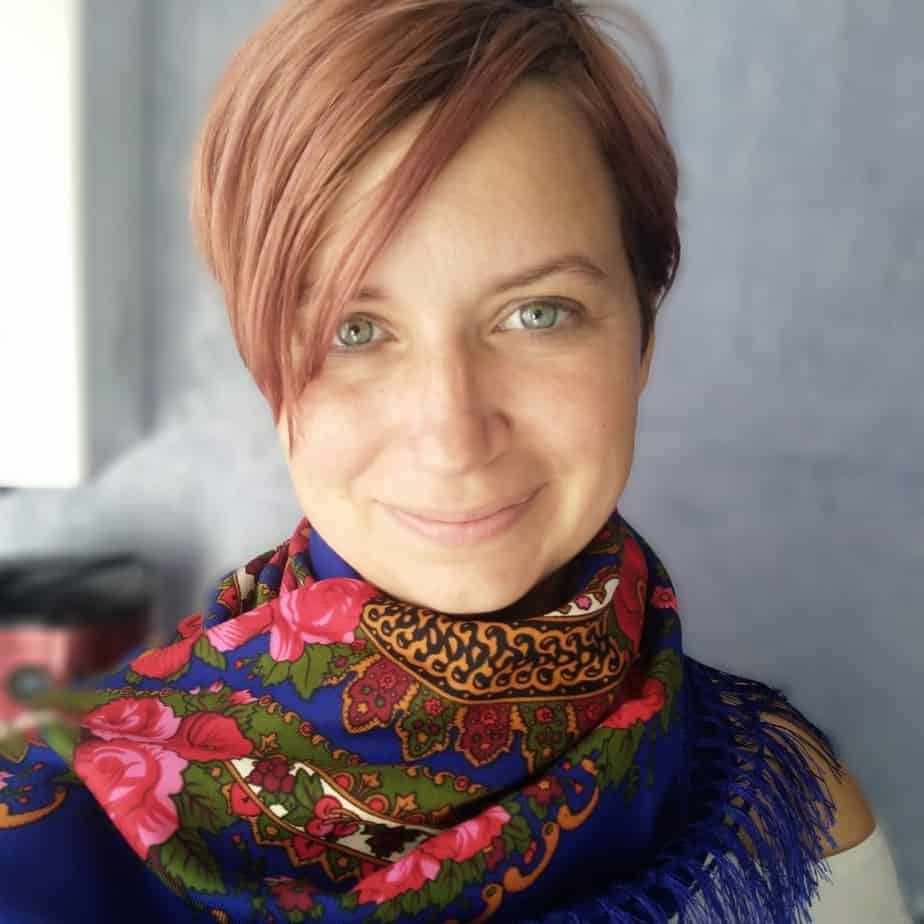 Alex Praytor worked her first job as a barista, finished college, and then took a tour to the other side of the globe. She fell in love with espresso and her would-be husband in Europe. She spends her spare time visiting native Texas landmarks, ancient castles, and all the coffee shops she finds along the way. At home, she is a mom, ESL teacher, and writer, who hones her coffee-making skills daily. She enjoys passing on her coffee findings to fellow caffeine addicts in search of the perfect cup.
Chief Editor