Last updated on March 23rd, 2023 by Alex Praytor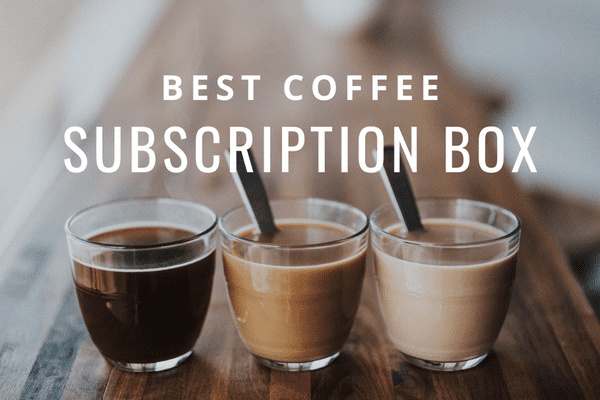 Coffee lovers can and must start the day off right with a favorite brew as part of their morning ritual. But, what about those days when you wake up to an empty coffee canister because you forgot to replenish your stock?
Oh the humanity!
Enter coffee subscriptions, which are changing the way many coffee fans take their coffee. You can subscribe to your favorite brands, and the coffee arrives at your doorstep so you never have to go without.
And the best part is you can try a new coffee every month, or stick with your favorite flavor. Some subscriptions also include sweet treats like gourmet chocolates or cookies that complement the coffee flavors.
It's like Christmas every month of the year!
Want the quick summary?
In the category of best coffee subscription box, we leaned on Atlas Coffee Club. We love that you can get single origin freshly roasted coffees from all over the world. You even get a cool post card about the origin which makes you feel like you're traveling while enjoying your coffee. Tack on the simple process to get started, good pricing and popularity, and it's a solid way to enjoy different coffees each month without breaking a sweat.
Atlas Coffee Club
With 50 different countries, a variety of roasts and flavors, and simple monthly plans, the Atlas Coffee Club is one of the best coffee subscriptions for the money.
Last update on 2023-09-19
But there are so many other subscription choices that it can be difficult to decide which brand and plans are right for you. So after hours of research and investigation, we've listed 14 coffee clubs that are popular in coffee circles today. Take a look and see which is your favorite.
---
Our Top 14 Coffee Subscriptions to Choose From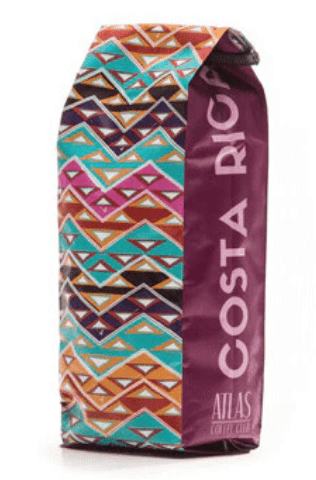 Available Roasts: Light to medium, medium to dark, or a combination of roasts
Frequency: Every two weeks or once a month 
Bean origins:  Different beans from 50+ countries are represented each month.
Highlights: 
Single-origin coffees from around the world
Receive a postcard about the origins of coffee of the month
Each coffee comes with tasting notes & brewing tips
Personalize the roast and grind for the coffee of the month
Ethically sourced; Atlas pays coffee farmers more than the Fair Trade price.
Review: 
Atlas Coffee Club is one of the best-loved coffee subscriptions available. Altas offers many perks to the consumer. You get to try coffees from over 50 different countries, grown in different soil types and processed using different techniques. 
Each month, you get a postcard to learn about exactly how the beans are grown, the tasting notes, and brewing tips. This brand works directly with farmers to create flavorful coffees and pays them above an average Fair Trade wage.
Coffee connoisseurs love this plan for the variety of high-quality, ethical coffee beans it offers. With Atlas, every cup is an adventure.
Atlas Coffee Club
With 50 different countries, a variety of roasts and flavors, and simple monthly plans, the Atlas Coffee Club is one of the best coffee subscriptions for the money.
Last update on 2023-09-19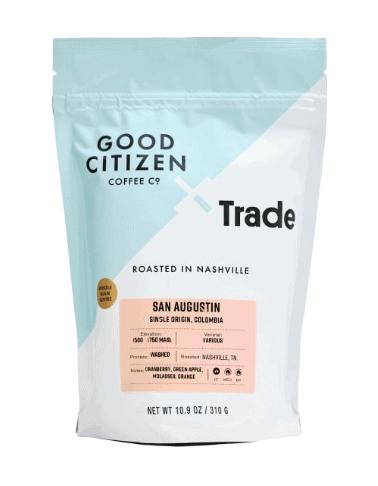 Available Roasts: Light, medium, or dark 
Frequency: Customizable; Pause or skip a month at any time.
Sourcing: Trade coffee works with U.S. roasters to source specialty coffees
Bean origins:  Coffees from over 20 countries
Highlights: 
450+ high-end coffees represented from 20+ countries
Curate your own coffee list
Recommendations offered according to your feedback
Roasted to order for ultimate freshness
Ethical and sustainable sourcing
Up to 30% off retail prices
Review:
Trade Coffee makes it easy to personalize your options using a variety of filters. Start by taking a quiz about your coffee experience level, usual brew method, and favorite flavors. Then, Trade offers a list of coffees according to your taste preferences.
You can also use specific filters to choose a country, roast type, flavor profile, price, processing style, and more. Or, allow Trade to choose coffees for you. Leave feedback about coffees you like and don't like to further tailor your coffee-drinking experience. 
Trade will send the coffee order to you directly from the roaster at its peak freshness. You can choose your preferences and order to fit your schedule. With over 450 coffees to try, you will never get bored with your morning brew!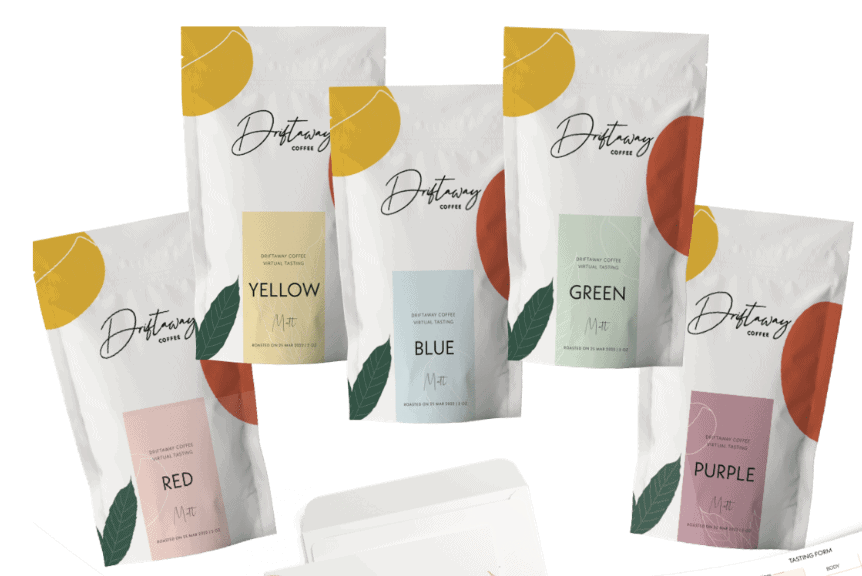 Available Roasts: Light, medium, dark, decaf, and cold brew
Frequency: Weekly, bi-weekly, or once a month
Sourcing: Single-origin coffees roasted every Sunday at Driftaway
Bean origins:  Various
Highlights:
Tasting kit to discover your preferences
Ethically-sourced, single-origin coffees (no blends)
Coffees from smallholder coffee farmers
Each delivery includes a bean origin story
Give-back programs for farmers and sustainability programs
Whole bean, grounds, or cold brew bags
Review: 
Driftaway allows you to taste four different coffee types from different countries before you set up your plan. In 10 to 30 minutes you can do a blind taste test to discover which beans please your palette.
Armed with this information, Driftaway will choose coffee beans according to your preferences. Each bag of coffee comes with detailed information about the beans and the coffee farm where they are grown. This small brand roasts each batch of beans once a week for freshness. 
Besides offering whole beans and grounds, Driftaway Coffee also offers cold brew bags. Steep the bags for 16 hours, and you can drink this ready-made coffee for up to a week.
Driftaway Coffee
We love the ethically sourced beans roasted fresh every week, that will delight your taste buds in the perfect way for you.
Last update on 2023-09-19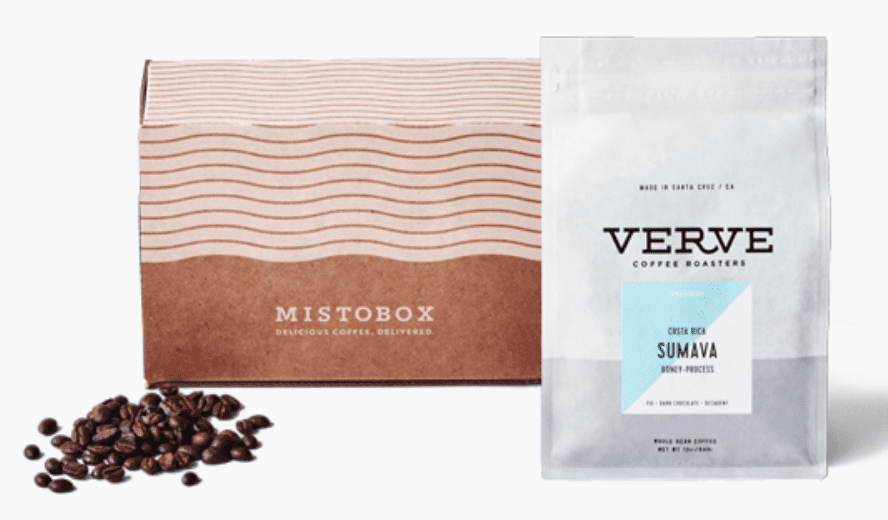 Available Roasts: Light, medium, dark, espresso, and decaf 
Frequency: Every week, bi-weekly, every three weeks, or every month
Sourcing: Misto Box sources from over 60 artisan coffee roasters
Bean origins: Various
Highlights:
600+ coffee choices
Single-origin or blends
12-ounce coffee bags (about 25 cups of coffee per bag)
Coffee selected according to your preferences by a coffee expert
See upcoming coffee choices in the queue and edit the list as you wish
Choose your price tier for the finest coffee
Review:
With MistoBox Coffee, you answer questions about how you drink your coffee, your preferred roast, and more. An expert will then narrow the 600 coffee choices down to match your taste.
Each coffee comes in a 12-ounce bag and you can choose how often you want to receive a package. You can see future coffee orders in your queue and edit the list as you wish.
We like MistoBox as a fun way to try a variety of coffees without ever leaving your home.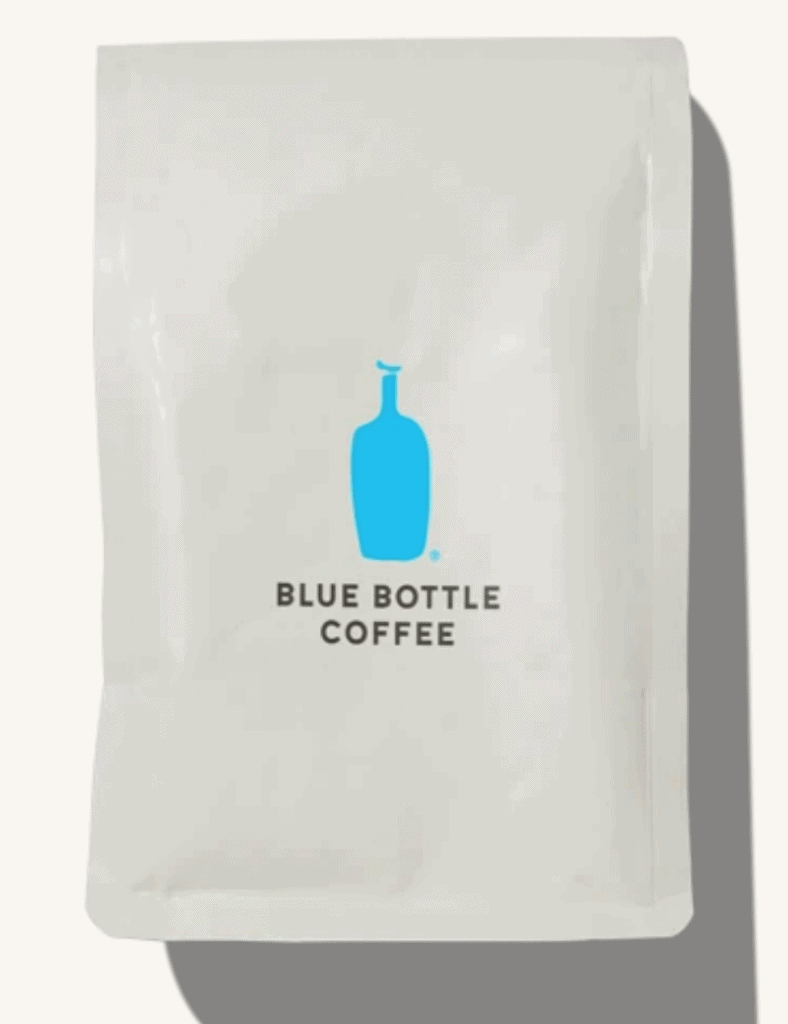 Available Roasts: Light, medium, dark, espresso, and decaf
Frequency: One, two, three, or four weeks
Sourcing: Ethically sourced, Farmers are paid fair-trade wages or higher
Bean origins: Various
Highlights:
Single-origin, blends, decaf, cold brew, and instant espresso
Each type of coffee is tested by over 50 coffee experts
Sells only highly-rated specialty coffees
Many organic coffees
Small batch roasts
Skip, change, or pause your subscription at any time
Ships within 48 hours of roasting
Blue Bottle also offers chocolate and coffee pairings.
Review:
Blue Bottle has many different subscription plans tailored to different tastes and brewing styles. Its most popular plan focuses on single-origin coffees.
However, there are also five different plans dedicated to espresso lovers. These plans can include a combination of single-origin coffees and blends suitable for espresso. Or, you can choose an instant espresso subscription to create hot or cold specialty drinks in record time.  
Blue Bottle offers hundreds of coffees for the connoisseur to enjoy. You can also try their delicious coffee and chocolate pairings!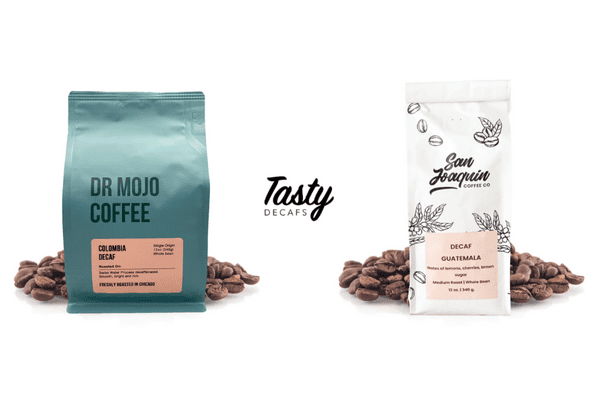 Available Roasts: Decaf (light to dark roasts)
Frequency: Shipped in 12-ounce bags at customizable intervals
Sourcing: Local coffee roasters across the USA.
Bean origins: Various countries
Highlights:
Processed naturally through sugarcane decaf process, mountain water process, or Swiss water process
Over 60 decaf options
Coffee beans, drip bags, and Nespresso-compatible capsules
10% discounts through the subscription
Coffee is shipped within 24-48 hours after roasting for freshness.
Review:
Tasty Decafs compiles some of the finest decaf coffee options available across the U.S. and allows you to choose your favorites. Many of the coffees are single-origin and rich in flavor.
You can choose to subscribe to one U.S. coffee roaster or several. After the batch is roasted to your preferences, it ships out in 24 to 48 hours so you are sure to get the freshest coffee. 
These decaf coffees are processed naturally through sugarcane, mountain water, and Swiss water processes. If you need to limit your caffeine, Tasty Decafs makes sure that you can still get delicious boutique coffee flavors in your morning cuppa.
Need more decaf coffee options? Check out our full guide on the best decaf coffees on the market.
#7. Best cold brew coffee subscription – Cold Brew Club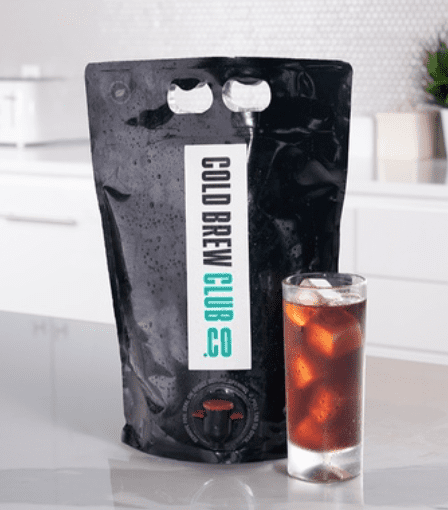 Available Roasts: Cold brew concentrate
Frequency: Every two, four, or eight weeks
Sourcing: Sustainably sourced
Origins: Single-origin, From the Sul de Minas region in Brazil 
Flavor profile: Strong coffee with chocolate-caramel notes and a nutty undertone
Highlights:
Ready-made cold brew concentrate delivered to your door
Just add cold water
Approximately 200 mg of caffeine in each serving
One pouch makes about 2.5 gallons
Review:
Unlike other coffee bean subscription boxes, the Cold Brew Club brings ready-made coffee concentrate to your door. The beans are sourced from Brazil and the water is from the Meijendel dunes of the Netherlands.
The cold brew processing method reduces bitterness and acidity, leaving you with a strong, smooth flavor. You can taste the rich caramel, chocolate, and nutty flavor notes in this brew.
Once the concentrate arrives, add two ounces of water per ounce of concentrate to enjoy a delicious cold brew coffee drink.  
Available Roasts: Light, medium, dark, flavored, specialty, tea, and cocoa
Frequency: Customizable 
Highlights:
25% off subscription orders
Extra member discounts 
100s of K-cup options available 
Smart subscription options
Change, pause, or cancel at any time without penalties
Review:
With Keurig's coffee subscription service, you can have your favorite K-cups delivered to your home. Choose how many pods you want to order and receive a 25% discount when you set up an automatic delivery system.
Make sure you never run out of pods again when you pair your Smart Keurig brewer with a Smart subscription plan. The BrewID can decipher when your K-cup stock is running low and order more automatically to replenish your supply.
A Keurig Coffee Subscription box can save you time and money and ensure that you always have enough coffee on hand, and a pod ready to pop into your Keurig fast.
Keurig Coffee Subscription Pack
If you go through K-cups fast in your home like we do, then the Keurig coffee subscription makes alot of sense so it's one less thing to worry about in the morning!
Last update on 2023-09-19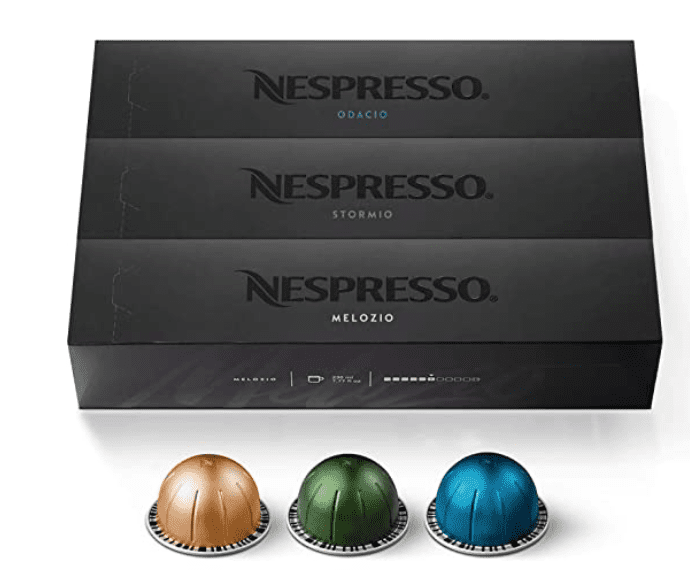 Available Roasts: Variety
Frequency: Monthly or custom
Highlights:
Two subscription plans: Recurring coffee plan, or machine and coffee plan
Free deliveries for orders with 50+ capsules
Extra discounts and perks as part of the subscription box plan
Rated five stars by customers for taste and quality
Modify or cancel the plan at any time
Review:
Like Keurig, Nespresso also has a subscription option for its pods. You can choose to buy just the pods. Or, use a subscription to purchase a machine and pods (applies to Australians only apparently). In two years, you can watch the machine practically pay for itself.
You can also enjoy benefits, such as free delivery, and other discounts, when you buy Nespresso pods in bulk.
Nespresso is top-rated for its quality coffee pods and received the Canstar Blue's Most Satisfied Customers Award last year.
Some customers find Nespresso pods more difficult to find at a local grocery store than K-cups. However, this subscription plan ensures that you never run out of coffee and you don't have to go searching for them either.
Theres a ton of flavors to choose from, so be sure to check out our guide on the best Nespresso pods to help you decide!
Nespresso VertuoLine Pods
A Nespresso pod subscription is probably cheaper and less hassle then having to purchase them every time you're about to run out.
Last update on 2023-09-19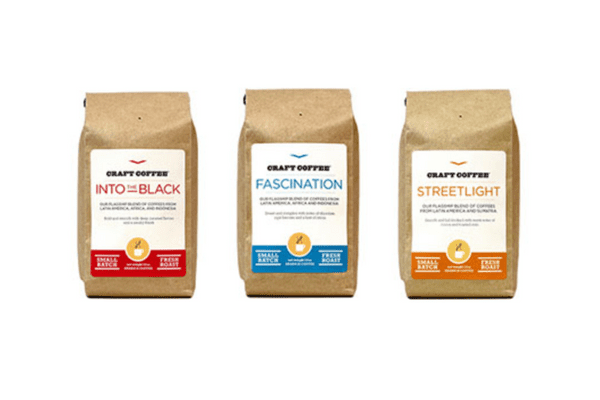 Available Roasts: Light to dark roasts
Frequency: Every two weeks, every four weeks, or a customized schedule
Bean origins: Africa, the Americas, and Asia
Highlights:
12-ounce bags
Sampler sets
Grocery store prices
Ships within 24 and 72 hours of roasting
Farmers are paid Fair Trade prices or above
Free shipping in the U.S.
Review:
If you are looking for a budget option, Craft Coffee is one of the cheapest coffee bean subscription boxes available. To set up your subscription, you can type in your favorite brand and roast. Then, Craft can match you to coffee beans with a similar flavor profile.
You can pay the same prices (or less) as you would at the grocery store. In many cases, Craft will even price match.
Craft Coffee sells quality, specialty-grade coffees, and the beans are roasted to order. You can tailor your subscription to your taste and set up customized delivery times in your profile. 
Available Roasts: Light, medium, dark, espresso, and decaf, or a combination
Frequency: Weekly, bi-weekly, monthly, or custom
Sourcing: Beans from 50+ roasters throughout the U.S.
Sustainability: Farm-to-cup
Highlights:
Order subscription coffee boxes, try a Tasting Flight or enjoy chocolate and coffee pairings
Artisan, small-batch roasted coffee
Each coffee includes tasting notes, roaster profiles, brewing tips, and a gourmet treat
Free shipping
Review:
The Bean Box works with different roasters around the U.S., including Seattle and Washington. To begin, you can choose the roast type and flavor profile you want, or try many different kinds through the "all roasts" option.
You can also start with a Tasting Flight and try four 1.8-ounce bags of artisan, small-batch coffees. 
If you are giving a gift, the eight-piece coffee and chocolate subscription gift box is sure to make a friend's day.
This box includes four coffee types and four gourmet chocolates. The pairing notes let you know why a particular chocolate goes so well with a coffee roast. Yum!
Bean Box Coffee
We love that you can get your fresh roasted coffee brew paired with a sweet chocolate treat each month. What a combo!
Last update on 2023-09-19
#12. Best coffee and cookie subscription box – Match Made Coffee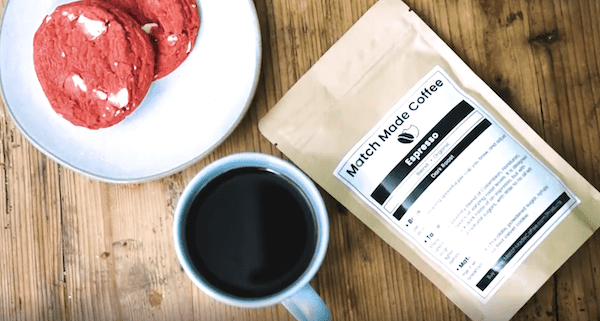 Available Roasts: Light to dark roasts
Frequency: Weekly, bi-weekly, or monthly
Origin: Various, worldwide
Highlights:
Four-ounce bags of coffee and two gourmet cookies or 12-ounce coffee bags
Each coffee includes flavor notes and pairing advice
Single-origin coffees and blends
A different cookie flavor each month
Include a personal note for gifts
Review:
Match Made Coffee offers something a little different for coffee lovers. You can subscribe to receive just a bag of coffee, or you can spice up your order with a cookie pairing.
Each month, a different gourmet cookie shows up on the menu. Some of the flavors you can try are Birthday Cake, Cookies N Cream Milkshake, Pancakes and Bacon, and many more.
This fun coffee subscription set allows you to try different single-origin coffees and blends from around the world, while also indulging in sweet treats. If you are not in a cookie mood, you can choose a 12-ounce bag of coffee instead.
But seriously…who can resist a chewy delicious cookie with their warm coffee?!
Available Roasts: Light to dark, caffeinated, decaf, flavors
Frequency: Once a month
Highlights:
Four new surprise coffee flavors each month
A postcard with roast details and a fun activity
Each miniature-sized coffee is available in a larger size on Coffee Beanery's website
Hand-flavored coffees
No sweeteners added
Kosher
Woman-run and owned
Review:
If you don't take your coffee too seriously, you can enjoy diving into some fun flavors with Coffee Beanery.
This subscription service contains four 2.5-ounce bags of pre-ground flavored coffee. Each coffee is hand-flavored and contains no added sweeteners. The beans are roasted fresh and four surprise coffees are sent out each month.
In the gift box, you also receive a postcard with information about the coffee flavors and a fun activity to try. Often the box will follow a seasonal theme.
Customers enjoy Beanery Coffee for its fun attitude and fresh, great-tasting coffees. And isn't that what enjoying a cup with friends and family is all about?
Last update on 2023-09-19
#14. Best coffee shop at home experience – Yes Plz
Available roasts: Decaf, regular, flavors
Sourcing: Worldwide
Frequency: Every week, two weeks, three weeks, or monthly
Highlights:
New flavor profiles every week
8 to 12-ounce coffee bags
Each box includes a pamphlet with information about the beans, fun facts, and a Spotify list to complement the coffee.
Single-origin coffees and blends
Discounts with recurring plan
Free shipping
Review: 
Yes Plz has a fun and funky vibe that millennials (or any generation) can enjoy. This brand releases a new flavor profile each week with a pamphlet so you can learn all about it. It even pairs a playlist with your bag of beans, letting you enjoy the fun atmosphere of a coffee shop from the comfort of your home.
Yes Plz selects high-quality beans from around the world. Then they roast and blend the bean flavors for a unique freshness you can taste. 
A Buyer's Guide to Coffee Subscription Plans: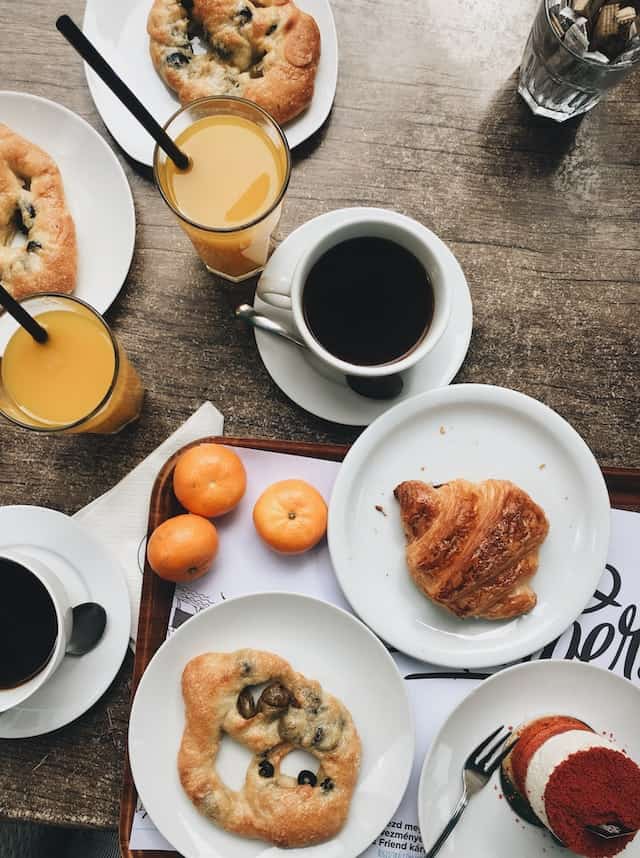 Coffee clubs are designed to cater to coffee lovers' wants and needs. There is a plethora of options available. So, before you choose a subscription plan, decide what type of coffee you enjoy the most and how often you want it to come to your door. 
Here is a guide to help you narrow down your options.
What coffee flavor notes do you prefer?
Coffee beans can have vastly different flavors depending on where they originate and how they are processed. Some coffees may have rich aromas of toffee, nuts, and chocolate, while others may have berry, citrus, or floral notes.
When you look at different subscriptions, check out what flavor profiles they have to offer. You may find boutique single-origin coffees or blends that combine the best of a few flavor profiles.
What is your favorite roast? 
Many subscriptions offer a range of roasts to choose from. You can limit your preferences to a light-to-medium or medium-to-dark range. Or, you can ask for a mix of all types of roasts. The brewing method you choose may also influence which bean roast you choose.
Which brewing method do you use?
As you sign up for a plan, keep in mind what brewing method you use most often. Espresso lovers may look for rich, dark roasts and a fine grind, while a Chemex fan may prefer light, single-origin roasts with floral overtones.
If you use many different methods to brew coffee (or even eat them), a variety of coffee types may be the spice of life.
How much coffee do you drink?
Do you go through a bag of coffee in a month or a week? Many coffee subscriptions offer deliveries once a week, or once every two months. You can also choose the amount of coffee you want in your shipment.
You want to order enough so you don't run out. However, you don't want to stash coffee until it gets stale either. 
Do you grind your own beans?
Buying whole beans and grinding them fresh for each batch of coffee can give you the best-tasting coffee. Whole beans tend to last longer than pre-ground coffee.
So, if you prefer the ease of pre-ground coffee, you may want to choose a subscription with smaller bags and more frequent deliveries. 
Do you enjoy variety or prefer reliability?
Coffee subscription services can deliver according to your preferences. You can try new types of coffee from around the world. Or, you can choose to get the same bag of coffee beans that you know and love.
How does a coffee subscription work?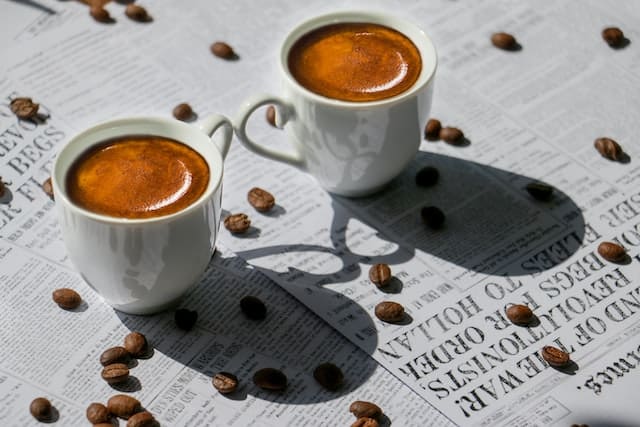 To start a coffee subscription, research brands that offer what you need, then sign up for weekly, bimonthly, or monthly deliveries. Many plans allow you to customize the type of roast you want, choose a flavor profile, decide between whole beans or grounds, and settle on the amount of coffee and delivery frequency. 
Then, you can expect your coffee to come to your door like clockwork for the duration of your subscription. Many brands offer discounts depending on the amount of coffee you order. Also, they may run special promotions around the holidays or for first-time customers.
Subscriptions ensure that coffee lovers get fresh, high-quality coffee delivered to their door when they need it. You can try out new coffee flavor profiles from all around the world at fair prices. Many brands also put a strong emphasis on ethically sourced coffees and encourage sustainable practices. 
Final Thoughts
Coffee subscriptions grew exponentially in 2020, and they continue to gain in popularity. These plans make buying coffee simple and exciting. Whether you own a pod coffee machine, enjoy pulling shots, or you're trying your hand at pour-overs, there is a subscription plan waiting for you.
Our top pick is the Atlas Coffee Subscription club for its price, flexibility, and an array of options. Let us know which coffee subscription plan is your favorite.
Atlas Coffee Club
With 50 different countries, a variety of roasts and flavors, and simple monthly plans, the Atlas Coffee Club is one of the best coffee subscriptions for the money.
Last update on 2023-09-19
FAQs
Is a coffee subscription box worth it?
Coffee subscriptions pride themselves on delivering quality coffee. These plans are easy to set up and you don't have to leave your home to restock. You can choose a variety of coffee flavors, or stick with your old faithful.
Signing up for a subscription may not be cheaper than buying run-of-the-mill brands from the grocery store. However, you can get high-end coffees for less when you sign up for regular deliveries. Coffee subscriptions offer an easy way to get quality coffee.
Will I be penalized if I cancel a coffee subscription?
Most coffee subscriptions allow you to cancel the subscription at any time without having to pay any penalties. This flexibility allows you to subscribe to a different brand whenever you want.
However, if you purchased a coffee maker as part of your plan, there may be fees involved to cover the payment of the machine. Check the details of your subscription agreement to see the cancelation terms for your unique plan.
Does Starbucks offer a coffee subscription service?
In 2015 Starbucks launched a subscription plan in some areas for Starbucks Reserve coffees. However, currently, Starbucks does not offer subscription services directly.
If you wish to order Starbucks coffee beans or grounds regularly, you can go through Amazon's Subscribe and Save program. Simply choose your favorite Starbucks roast, quantity, and delivery schedule.
Amazon allows you to seamlessly create recurring orders and often offers free shipping and other discounts.
What is the difference between specialty and commercial-grade coffee?
Specialty coffees often come from unique microclimates and have a superior flavor when compared to commercial coffee. Specialty coffees get a score of 80 or more at a cupping table and bring in higher prices. Commercial grades lack the flavor nuances of specialty coffees. They may rate 75 points or lower at a cupping table and come at cheaper prices or in bulk.
Coffee Has Never Read This Good!
Sign up for a FREE newsletter to the best home brewing tips and guides
Thank you for subscribing to The Cup Coffee House Crew! There's a surprise in your Inbox 🙂
Something went wrong.
About the Author
Latest Posts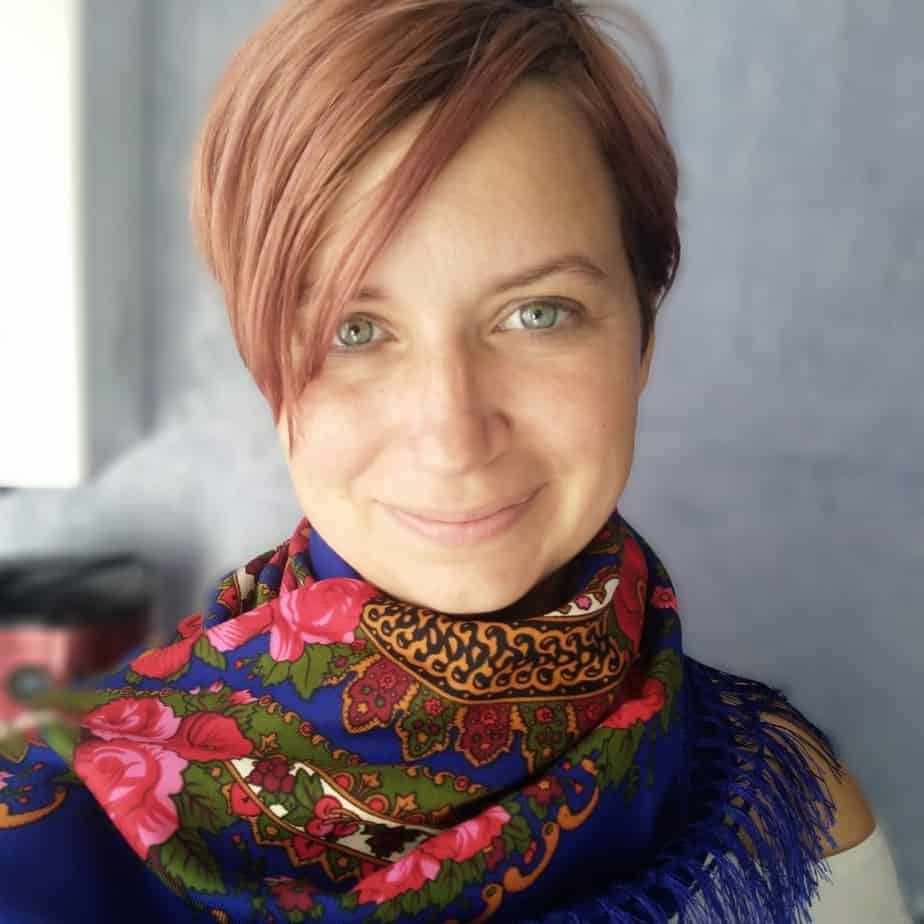 Alex Praytor worked her first job as a barista, finished college, and then took a tour to the other side of the globe. She fell in love with espresso and her would-be husband in Europe. She spends her spare time visiting native Texas landmarks, ancient castles, and all the coffee shops she finds along the way. At home, she is a mom, ESL teacher, and writer, who hones her coffee-making skills daily. She enjoys passing on her coffee findings to fellow caffeine addicts in search of the perfect cup.
Chief Editor