Last updated on July 27th, 2023 by Alex Praytor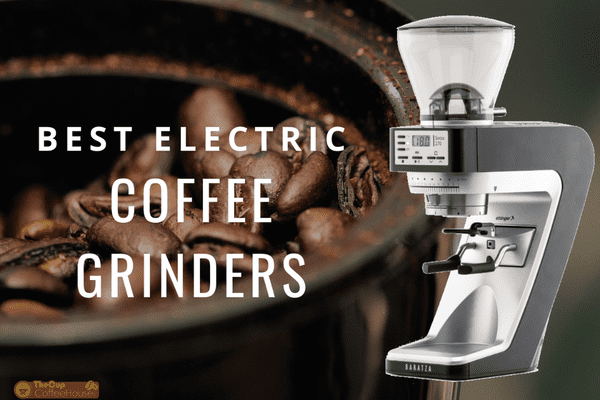 Coffee lovers are always in search of the "perfect cup of coffee." However, many disagree on what that cup looks like. Should it be extra-hot, strong, nutty, chocolatey, or fruity? Is espresso the best method, or is a Chemex pour over the only way to go?
It's almost like talking politics sometimes!
However, there is one area coffee aficionados agree: the most delicious cup of coffee starts with freshly ground coffee beans. 
Outside of roasting your own beans, that is the single biggest yet simplest change you can make towards improving the taste of your morning cup.
And I know what you're thinking, I don't have the luxury of time to grind beans before I rush out the door in the morning!
Trust me, I get it.
And that's why we poured hours of research and investigation to find the best electric coffee grinders that speed up the process of grinding.
Want the cliff notes?
We had to award the best electric coffee grinder to the Baratza Sette 270. Not only does it check off all the boxes you're looking for in a grinder including consistent precision grinding for any brew method, easy to use, built strong and durable, but it also has features to make grinding easy and streamlined in the morning like pre-programmable grind settings and dosings.
Yes it's pricey. But this is one of those situations where you get what you pay for. And if quality consistent grinds is what you're looking for, this is your best choice.
Last update on 2023-09-19
Once you start looking for a grinder, you'll find a whole range of possibilities on the market. From conical burr grinders to affordable blade coffee grinders, we've dialed in the best options available. So, which one is right for you?
Take a look at these 12 top-rated electric coffee grinders for every budget.
---
How to Choose the Best Electric Coffee Grinders For You
While it may sound like a simple task of choosing an electric grinder, there's a few things to consider. We took into account the speed, durability, material, and ease of use and included machines from various price points. Go through each one to find which satisfies your own particular needs.
Things we like: 
270 grind settings
3 programmable dosing memory settings
Grind directly into a portafilter, filter, or grounds bin
Capable of finer grinds for espresso, Aeropress, and Chemex
High-speed grinding at 5g/sec
Highly rated by the Specialty Coffee Association
Consistent grinds
Digital display
Minimal bean retention in the burrs
Can handle fine grinds without clogging
Things we don't like:
Often messy when grinding directly into a portafilter
Pricey
Review:
The Baratza Sette 270 Conical Burr Coffee Grinder is our overall favorite machine for its precision, durability, speed, and flavor quality. Why?
This burr grinder allows you to dial in the exact coffee dose you need for your brew method and grinds it accurately within a tenth of a second. Talk about fast service!
You can grind coffee directly into a portafilter or a drip machine filter. It can handle fine grinds for a flavorful espresso, or you can choose from the 270 possible grind settings to match your brew method. 
This electric grinder can even remember three of your favorite grind settings to streamline your grind-to-brew process. That means no thinking. Just hit a button and get fresh grinds fast!
The Baratza Sette 270 grinds coffee quickly and consistently for the best coffee flavor. This sleek, high-performance machine may be pricier than most. However, it is built to last and is undeniably one of the best burr grinders on the market. 
Last update on 2023-09-19
Things we like:
Stainless steel conical burrs
Minimal grinding heat
60 precise grind size settings
Dosing iQ
LCD screen
165W motor
Large 18-ounce coffee bean capacity
Grind directly into a portafilter or brew basket
Easy removal, storage, or transfer of bean hopper
Includes portafilter cradle to accommodate espresso grinds
Geared specifically toward espresso brews
Things we don't like:
More expensive price tag.
Review:
This professional-style Breville Smart grinder has many perks to make you feel like a barista in your own kitchen. The stainless steel conical burrs grind beans evenly and with minimal heat for the best-tasting brews. Its 60 precise grind-size settings allow you to choose the perfect grind for your brew method. 
The gears are adjusted with espresso brews in mind. However, you can manually adjust the burr position, giving you a wider range of coarser grinds.
Instead of grinding all the beans in the machine, this Smart grinder uses a dosing iQ to grind only the amount of coffee you need. With its 18-ounce coffee bean capacity, this machine is one of the largest at-home grinders on the market. 
This Breville coffee grinder is simple for the average coffee lover to use and has many amenities that the serious barista will love. Definitely worth it if you are serious about optimizing your espresso brews and don't already have an automatic machine with built in grinder.
Last update on 2023-09-19
If you go Breville, be sure to check out our guide on the best Breville coffee maker to pair it with!
Things we like:
5.8-ounce coffee bean capacity
17 precise grind size settings from extra-fine to coarse
High-quality stainless-steel burrs
Turns off automatically when there are no more beans in the hopper
Much quieter than the average coffee grinder
Fresh ground coffee in under a minute
Grinds beans uniformly
Removable burrs for thorough cleaning
Affordable when compared to other burr grinders
Things we don't like:
Cannot clean the burrs with water, only a brush.
Review:
The Mueller coffee grinder fits in snuggly as a nice grinder because it is easier to use than a manual grinder and gives you more precise grind size options than a blade grinder.
And it does what it does nicely. You can choose from 17 grind settings from extra-fine to coarse. These settings allow you to get the perfect grind size to match your brew method. The stainless-steel burrs are durable and grind beans evenly for the best extraction. 
And it's a little quieter than most grinders, so thats a nice touch.
Whether you need an extra fine grind for Turkish coffee or a coarse grind for a Chemex or delicious cold brew, this Mueller machine can do the job. This burr grinder can give you an excellent-tasting cup of coffee.
Last update on 2023-09-19
Things we like:
Durable stainless steel casing
18 variable grind settings
LCD user interface
Dispense grounds into a storage container or directly into a De'Longhi portafilter
Removable upper burrs for thorough cleaning
Grinds up to 14 cups
3 strength settings
Airtight storage container for grounds
Things we don't like:
The portafilter cradle is designed for only De'Longhi brand portafilters.
Review:
What we like the most is the sleek De'Longhi coffee grinder can grind enough coffee for a 14-cup pot. You can choose from 18 different grind sizes and the Espresso, Drip, Pour-Over, and French Press labels guide you to the right size.
The LCD screen allows you to save your favorite grind settings. However, if you unplug the machine, all the settings may be lost. 
This grinder lets you grind directly into a ground coffee container that seals with an air-tight lid. It's also compatible with De'Longhi portafilters which can streamline your morning.
The De'Longhi burr grinder is one of the most expensive grinders on the market, but it does deliver a great-tasting brew.  
Last update on 2023-09-19
If you go DeLonghi, be sure to check out our guide on the best DeLonghi coffee maker to pair it with!
Things we like:
Large capacity 8-ounce bean hopper for approximately 32 cups of coffee
18-position sliding grind selector for ultra-fine to extra coarse
Precise, uniform grind
The removable bean hopper and grind container are easy to clean
One-touch start
Built-in timer for automatic shut-off
Budget-friendly
Includes a coffee grounds measuring scoop
Things we don't like:
Removing the ground container can be messy for larger doses.
Review:
The Cuisinart Supreme Grind Automatic Burr Mill has a large 8-ounce capacity. One of our favorite features is that instead of grinding all the beans in the hopper, this machine allows you to set the machine's timer to grind your preferred dosage. This means less waste and more efficiency.
It has a sleek, durable stainless steel casing with a transparent hopper and a grounds bin. You can choose from 18 different grind sizes ranging from extra-fine to extra-coarse.
This machine gives you a consistent grind size full of flavor for 4 to 18 cups of coffee, and its automatic grinding system allows you to walk away while it works.
The Cuisinart grinder has many precise and user friendly features. For less than $50, it offers great value to coffee drinkers looking to upgrade or add a new grinder to their arsenal.
Last update on 2023-09-19
If you go Cuisinart, be sure to check out our guide on the best Cuisinart coffee maker to pair it with!
Things we like: 
3-ounce bean hopper capacity 
Small and compact
Durable stainless steel casing
More even grind size than most blade grinders
Grinds whole beans in 10-15 seconds
Quieter than many other coffee grinders
Powerful motor with heat-free blade rotation
Affordable price
Things we don't like:
No separate container for ground coffee.
Review:
Clearly the people have spoken! The Krups coffee grinder is the most popular blade grinder on our list with a 4.6 rating on Amazon in over 58,000 reviews. Also, you can often find this machine for under $30, so the price is right. 
We love that the Krups One-Touch Blade Grinder has a solid construction and grinds beans more evenly than many blade grinders on the market. It is small and compact and can grind using a heat-free rotation.
Hold the button down for finer grinds, or pulse the beans until you achieve the grind size you want. 
You can grind enough coffee for a full 12-cup pot in just 10 seconds. This powerful grinder can also handle nuts, seeds, herbs, and spices.
Last update on 2023-09-19
For a deeper look, check out our in-depth KRUPS electric coffee grinder review.
Things we like:
2.5-ounce capacity
2 blade types for coffee and spices
2 dishwasher-safe removable stainless steel bowls
2-in-1 spoon and brush
200W powerful motor
Stainless steel blades
Press the lid to grind
Things we don't like:
No precise grind size control.
Review:
We like that the Shardor Electric Grinder stands out by having two separate grinding bowls with different blade types. The two-blade grinder is perfect for grinding coffee, nuts, and spices, while the four-blade grinder can mince garlic, ginger, and herbs.
This machine is also simple to use. Simply press the lid down to start the grinder and release it to stop. In 5 to 20 seconds, your coffee is ground and you're ready to brew. 
The stainless steel bowls have measurement markings, so you can grind the exact amount you want. Also, they are dishwasher-safe.
This Shardor electric grinder is affordable and versatile for grinding coffee, spices, and herbs.
Last update on 2023-09-19
Things we like:
Adjustable for 5 grind sizes
Easy access to coffee grounds container
One-touch grind
Automatically stops when bean hopper is empty
Compact and portable to take on the go
Conical ceramic grinding core
Washable grinding core
Affordable at under $50
Things we don't like:
Doesn't grind fine espresso grounds.
Grinds very slowly.
Review:
If you are often on the go, this Icuire Portable Electric Grinder can give you freshly ground coffee any and everywhere. It allows you to grind beans in five different sizes. However, the "fine" setting is still larger than most espresso grinds. 
The grinder automatically stops when it runs out of beans in the hopper. This feature can save the battery and protect the motor. When the charge does run down, a red light alerts you to its low battery. 
The Icuire grinder has a small footprint and can fit in a kitchen drawer, a purse, or a backpack. It is simple to use, and you can access the grounds without turning the machine upside-down. Simply twist off the grounds container to add the grounds to your coffee machine. 
Although it is compact and portable, it grinds slower than many manual coffee grinders. However, this electric grinder is simpler to use than many handmills and easy to clean.
Last update on 2023-09-19
Things we like:
Grinds for up to 12-cups of coffee
Hands-free grinding
Automatic shut-off
Durable stainless-steel blades
Hidden cord storage
Dishwasher-safe grinding bowl
Affordable
Grinds in 10-20 seconds
Things we don't like:
Review:
If you're looking to just dip your toes into grinding, this Hamilton Beach Electric Coffee Grinder is an affordable option for fresh ground coffee. On Amazon, this small electric coffee grinder often runs for under $20.
It can grind enough coffee for up to 12 cups of drip coffee, and the durable stainless steel blades can hold up to regular use. Use the measuring lines to decide how many beans you want to grind and then pulse or use the hands-free grinding option. 
This small grinder doesn't offer grind size options. Instead, let the machine run until the grounds look the right size for your brew method. A guide shows you approximately how long the grinder should run to get different grind sizes.
The Hamilton Beach Coffee Grinder can get the job done in seconds saving you valuable time. It maintains a 4.6 rating out of approximately 50,000 reviews. This popular machine is easy on the budget and a favorite among coffee lovers.
Last update on 2023-09-19
Things we like:
Small and sleek stainless steel casing
150W motor
Durable stainless steel blades
Transparent lid 
Pulse or continuous grinding action
Tidy cord storage
Start safety feature
Grinding capacity of over 2 ounces
Things we don't like:
Machine parts cannot be washed with water, only brushed clean.
Review:
We like the Bodum Bistro coffee grinder as a nice small grinder since it comes with a stainless-steel casing and is sleek and compact for at-home baristas.
The 150W motor and durable stainless steel blades grind coffee quickly and efficiently. We like that a safety feature won't allow the blades to spin until the lid is locked into place. 
Use the push control button to pulse or continuously grind the beans. While you wont get any precise grind control, the transparent lid allows you to gauge how coarse or fine your coffee is so you can stop at the right moment.
You can store the cord in the base for a clean-looking countertop. To clean the machine, use a brush or microfiber cloth to wipe down the blades and container. Easy peasy!
Last update on 2023-09-19
Things we like:
Grinds for up to 14 cups of coffee
Powerful 150-watt motor grinds beans quickly 
Measuring lines on the lid
Durable 304 stainless-steel blades
Safety on/off switch
Cleaning brush included
Things we don't like:
Noisy
Often grinds beans unevenly
Review: 
The Kaffe coffee grinder is another small electric coffee grinder we like. It has a powerful motor that can make speedy work of your coffee beans without overheating the machine. It grinds up to 3 ½ ounces of coffee, which should be enough grinds to fill up a 14-cup coffee pot. 
Its also designed to grind your herbs, spices, and nuts. Although you may have to clean the machine out throughly before you grind coffee so you don't intermingle flavors.
You can watch the machine at work through the transparent lid. The chamber design guides the beans toward the blades. However, for the most even grind, you may need to stop the machine and stir the beans.
Customers appreciate this Kaffe coffee grinder for its durability and simplicity and fairly even grinding. 
Last update on 2023-09-19
Things we like:
Grinds coffee or spices
Variable settings for coarse, medium, or fine grinds
Choose your dosage for 4 to 12-cup coffee makers
Easy to clean with Chamber Maid Cleaning System 
Easy pour lid to reduce mess and waste
Things we don't like:
Grind particles may not be uniform in size.
Review:
The coolest part about the Mr. Coffee 12-Cup Electric Coffee and Spice Grinder is that it takes a lot of the guesswork out of your coffee grinding. Many blade grinders make you eyeball the grounds to gauge the correct size.
However, the Mr. Coffee grinder allows you to set your grind size and dosage to your specifications. You can choose to grind for 4 to 12-cup coffee makers.
When you are done, the Chamber Maid Cleaning System sweeps the walls of the grinding chamber to remove dust and leftover grounds. The pour spout allows you to fill a ground basket with less mess. 
Last update on 2023-09-19
If you go Mr. Coffee, be sure to check out our guide on the best Mr. Coffee coffee maker to pair it with!
Electric coffee grinder vs. Manual: Which is best?
When looking at the coffee grinders on the market, you will run into hundreds of possibilities. You can choose an electric grinder or buy a manual coffee grinder. So, which one is the best choice? 
Let's look at electric grinders and manual coffee mills side-by-side to see which one is right for you.
Electric coffee grinders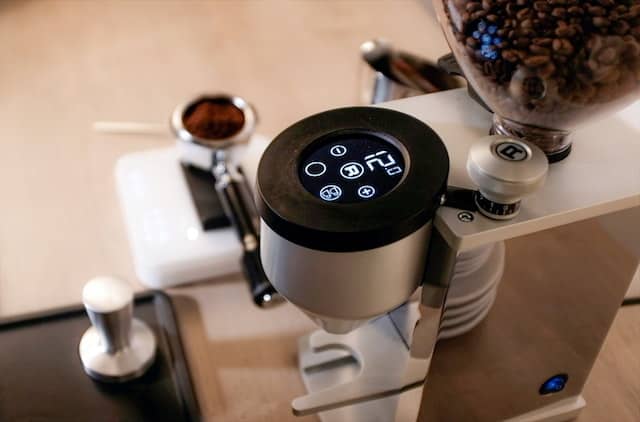 Pros:
Many precise grind controls
Quick grinding capabilities
Time and energy efficient
Capable of larger batches
Cons:
More expensive
Noisier
Require an electrical outlet
Are more difficult to clean and repair than manual models
Electric coffee grinders come in a wide range of prices. You can find some grinders for around $20, while other high-performance machines can cost hundreds of dollars. Generally, blade grinders are much cheaper than burr grinders. However, a manual grinder can give you a better grind in the same low price range. 
If expense is no option, an electric coffee grinder can be an asset to your coffee-making process. A high-quality machine can grind a larger capacity of beans quickly. You can set the grind size and dose and then walk away to set up your coffee pot while the machine grinds. This precision can save you time and energy, especially when you brew coffee for a crowd. 
Also, electric grinders usually give you many more precise grind options than a manual device can provide.
Manual coffee grinders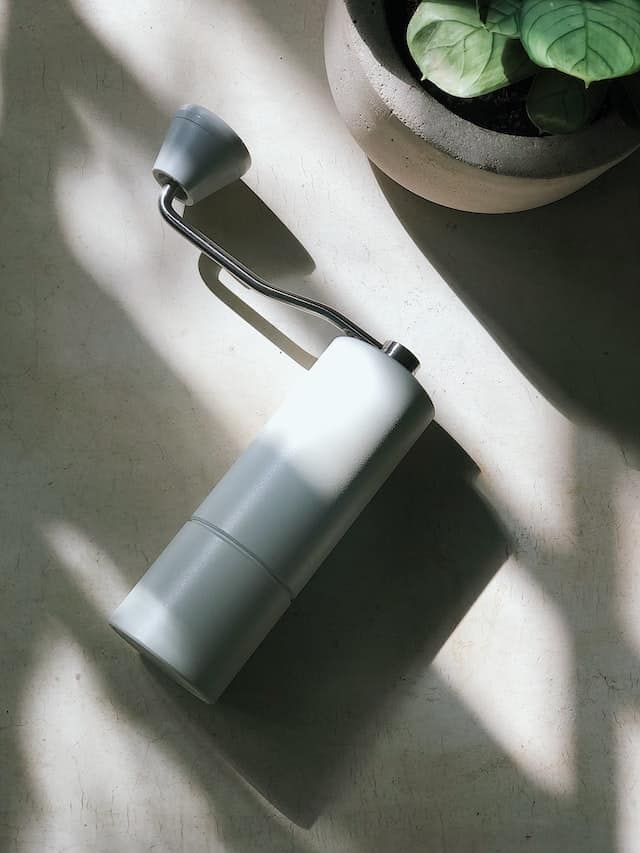 Pros:
Portable
Quiet
Adjustable grind settings
High quality at cheaper prices
Long-lasting
Cons:
Small capacity
Less time and energy efficient
It can be tricky to adjust the gears to the correct grind size.
Manual grinders can achieve uniform-size grinds, which are important for an even extraction. These compact, quiet devices are perfect for brewing freshly ground coffee at a picnic, on a hiking excursion, or while your baby sleeps in a nearby room. They don't require electricity, but they do require a bit of muscle on your part.
Generally, manual grinders are less expensive than many electric burr grinders and can give you the same great-tasting result. You can adjust manual grinders to achieve different grind sizes. However, most can't offer you the hundreds of size options that some electric grinders have. 
If you are looking for an excellent grinder that fits into the budget, many high-quality manual grinders are available for under $100.
Check out some of the top manual grinders on today's market: Best Manual Coffee Grinders For 2023: Get Your Grind On! 
Buyer's Guide to Electric Coffee Grinders
The price, portability, flavor quality, and ease of use are factors that come into play when you are choosing the best grinder for your needs. This buyer's guide can help you narrow down your options. 
Burrs or Blades?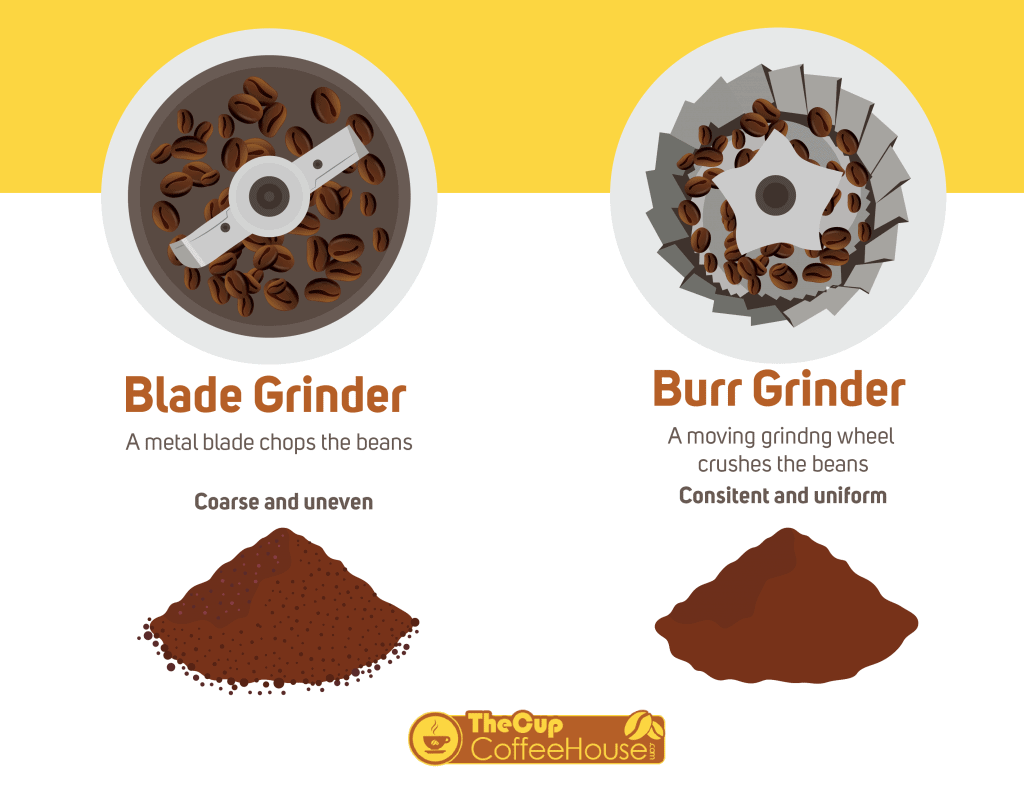 Burr machines usually give you the most accurate and even grind size for the best extraction. You can choose from stainless steel burr grinders and ceramic burrs. Ceramic burr grinders grind with low heat and are highly recommended by coffee experts. However, these grinders often come at higher prices and can be an investment.
Blade grinders are easy to use with a one-touch system. However, you often end up with an uneven grind size which can affect the taste of your brew. These machines are generally cheap and grind quickly. Many coffee lovers still prefer fresh ground coffee with a blade grinder to store-bought, pre-ground coffee that's been left sitting on a shelf.
Grind size options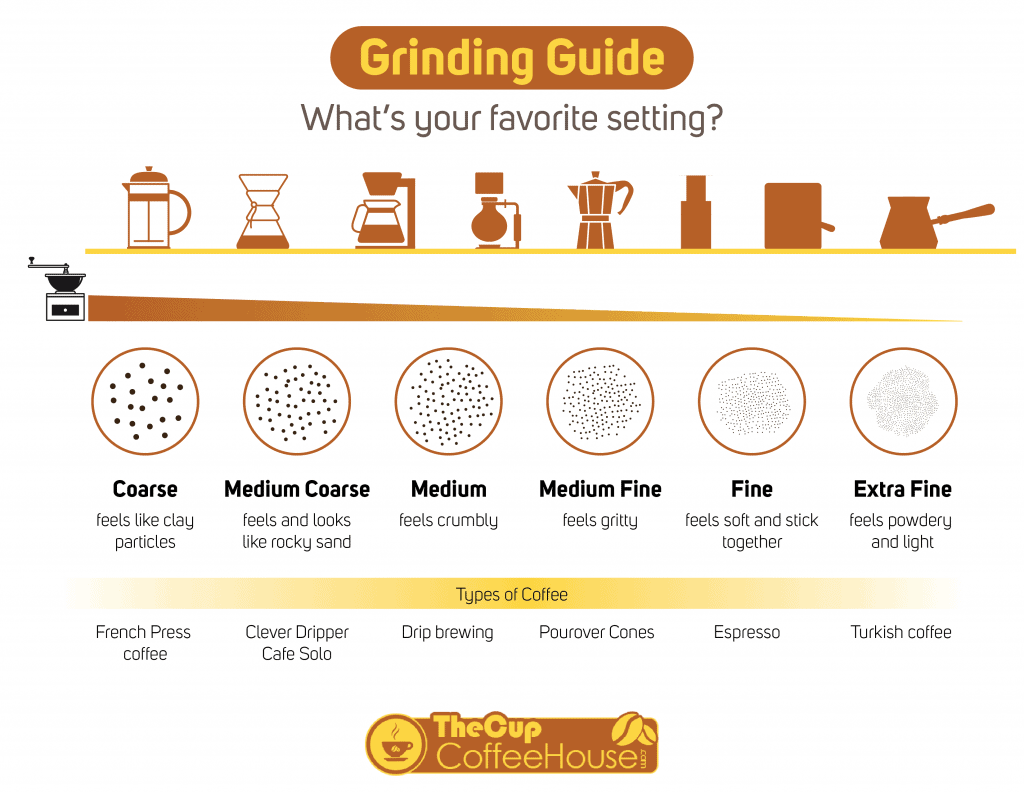 Brew methods need different grind sizes. For example, quick brew methods, like Turkish coffee and espressos, require fine grinds, while drip coffee and cold brews use coarser grinds. Some burr coffee grinders have less than 20 grind size options, while others have over 200! 
Most blade grinders don't have any precise options, so you have to use guesswork to determine when to stop grinding. Many electric machines have guides, so you know how many seconds to hold down the button to achieve the approximate grind you want.
A precise grinder can help you tailor your grinds to your preferred brewing method.
Capacity
Do you brew for a crowd, or are you the only coffee lover in your household? Many electric coffee grinders hold up to 2.5 ounces of coffee beans in the hopper. This is enough to make up to 12 cups of coffee. 
On the other hand, some high-end models allow you to fill up a large hopper with around 18 ounces of beans. This capacity is perfect for when you want to grind a lot of coffee frequently. However, don't leave coffee beans in a hopper for days or weeks. Most bean hoppers are not airtight, so the flavor may begin to deteriorate.
Portability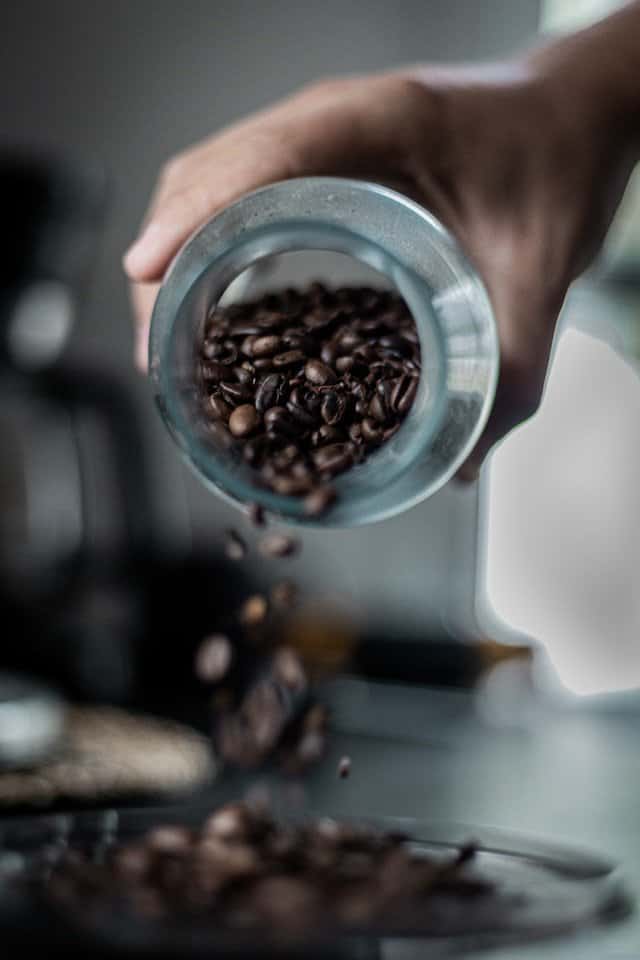 Portable grinders usually grind only enough coffee for a cup or two, so it's not the best option for crowds. However, if you live in a tiny house or travel frequently, a portable electric grinder can be a great choice. Once you charge the device, you are ready to take your coffee off-grid. 
These coffee grinders are compact and can fit easily into a drawer or backpack. They aren't the fastest grinders. However, you can keep fresh-ground coffee at your fingertips wherever the road takes you.
Affordability
While a $300 grinder may give you the best quality, you may need to stick to a tighter budget. Blade grinders are usually the cheapest option. However, you can also find some burr grinders for less than $50. If you settle on a cheaper option, look at customer reviews and the machine's specifications to get the best value for the price bracket.
Final Thoughts
We searched through the slew of electric grinders to find the best available. We found several highly-rated models and chose our top 12 machines based on positive customer reviews, ease of use, consistency, and accuracy.
Our dream machine is the Baratza Sette 270 Conical Burr Coffee Grinder. This machine does it all, giving you grind size precision, dosing, and durability. It has also gotten a stamp of approval from the Specialty Coffee Association, easily making it our pick for overall best electric coffee grinder.
Last update on 2023-09-19
Whether you invest in a burr grinder or choose a budget-friendly blade coffee grinder, freshly ground coffee can take the flavor of your daily cuppa up a notch. So there's no excuse to not have one!
Pair it with your favorite coffee maker, a monthly coffee subscription and start enjoying coffee as it was meant to.
FAQs
Chief Editor