Last updated on June 2nd, 2023 by Jules Winnfield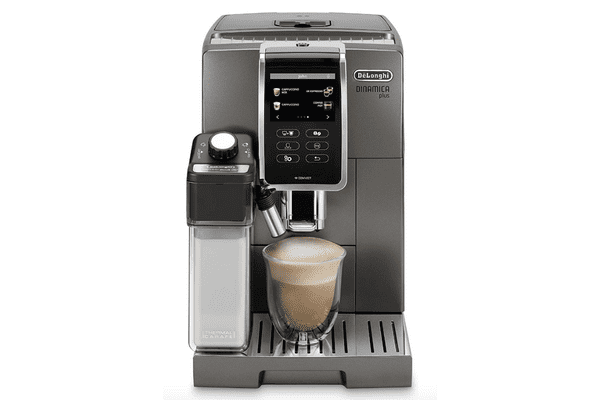 DeLonghi is known for producing some of the highest quality Italian designed espresso machines in the industry. And the Dinamica Plus more than lives up to everything you could want from a high end automatic espresso machine.
But even if it's an espresso Autobot with "transformative" powers, is it the right machine for you? Can it truly turn your kitchen into a snobby sophisticated coffee shop?
DeLonghi Dinamica Plus ECAM 37095
Performance -

9.6/10

Ease of Use/Maintenance -

9.4/10

Build & Quality -

8.9/10

Design & Features -

9.4/10

User Satisfaction -

9/10
Final Verdict
The DeLonghi Dinamica Plus is everything you could want from a super automatic machine, including a built in grinder, strength control, and automatic adjustable milk frothing to brew a plethora of creamy rich foamy beverages. It's automation, techy features make it easy to use, and simple to clean. But on the other hand, this machine is crazy expensive, and requires a pretty steep learning curve to use and maintain. This machine is ideal for those who love and drink a cup of high quality espresso coffee daily but don't want to get involved in all the details to brew one.
In this quick straight to the gist DeLonghi Dinamica Plus ECAM37095 review, we answer the question and give our overall rating to help you decide.
De'Longhi Dinamica Plus ECAM37095
The Dinamica Plus is a super automatic machine with built in grinder, strength, temp, volume, and milk froth settings and convenient app; Perfect for the all in espresso drinker.
Last update on 2023-09-17
---
DeLonghi Dinamica Plus Review and Rating
Build/Quality (8.9/10)
| | |
| --- | --- |
| What is it made of? | Plastic, but has a sleek titanium look |
| How durable is it? | This machine is relatively new in the last few years. But it seems to be holding its own and lasting well to date.  |
Performance (9.6/10)
What brew modes does it have? 
16 different drink recipes available including:  Espresso, Long, Coffee, Doppio+ (a double espresso shot), Coffee Pot, Over Ice; 
Plus specialty drinks like: Cappuccino, Latte Macchiato, Cappuccino+, CappuccinoMix, Hot Milk, CaffeLatte, Flat White, Espresso Macchiato 
Pressure? 
19 bars 
Strength control? 
Yes, 5 different strengths from extra light to extra strong 
Temperature control? 
Yes; either low, medium, high, or maximum 
How fast does it brew one cup or batch? Heat up time? 
Pretty fast; You're looking at about <1 minute to get a cappuccino for example 
How many cups does it make? 
Since you can adjust the volume of each pull, it depends on your preferences. But the ranges are: 
Espresso: 0.7-6 oz. (20-180 ml) 
Long: 3.9-8.4 oz. (115-250 ml) 
Coffee: 3.1-8.1 oz. (100-240 ml) 
Doppio+: 2.7-6 oz. (80-180 ml) 
Hot water: 0.7-14.2 oz. (20-420 ml) 
Over Ice: 1.35-8.11 oz. (40-240 ml) 
Steam wand for frothing? 
LatteCrema system, which is basically a milk jug which steams and froths your milk separately from the machine and dispenses automatically into your espresso. Something very similar to the Nespresso Lattissima machines;  
Detachable so you can store your milk in fridge for next time;  
Adjustable milk froth settings to get different kinds of foam  
How quiet is it? 
Decent level of noise, but a little louder when it grinds 
How is the taste and flavor? 
Almost unanimous agreement that you get the most delicious, creamy, flavored espresso beverages possible from home. Will definitely make you forget about Starbucks! 
Ease of use/ Maintenance (9.4/10)
How big is it?
At 9.3″ wide x 17.32″ long x 14.17″ high the Dinamica Plus isn't massive but it takes up a decent amount of space.  
How heavy? Portable? 
20.8 lbs.; so it's not something you want to move around alot 
LCD display or push buttons or both? 
TFT LCD colorful display 
How easy is it to use? 
Pretty easy, just pour in your coffee beans, water, and milk, select your beverage, strength, temp, and milk froth settings and hit brew; 
Learning curve in the beginning, but the Smart One Touch system remembers your preferences and brews with just a press to make things easier.  
Maintenance reminders? 
Yes, for milk container needing cleaning, filter replacement, and descaling 
How easy is it to clean?  
Most of the parts are not dishwasher safe, but does come with a self-cleaning feature; Be sure to keep a cup underneath spout as machine will self-clean before each use.  
The day to day cleaning is not too bad, you just have to empty out the drip tray, coffee grounds container and clean the milk container; 
There are other additional maintenance like cleaning out the inside of machine and descaling, but they are more sparingly needed
Design/Features (9.4/10)
Does it use pods or ground coffee or both? 
Coffee beans, either whole or pre ground (has a pre ground single serve option) 
Heating mechanism 
Dual boiler 
Built in grinder? 
Yes, conical burr with 13 different settings, and a coffee bean hopper capacity of 10.5 oz. 
Permanent coffee filter included? 
Reusable filter yes 
Programmable? 
Yes, via the Coffee Link app you can actually program it to brew automatically at the time you want.  
Auto shut off, energy saving mode? 
Yes, will shut off after 15 minutes. Can be set to as long as 3 hours. 
Any other notable tech features? 
Comes with the De'Longhi Coffee Link app, so you can remotely control your espresso machine and manage preferences via Bluetooth 
Removable water reservoir? How big? 
60 oz., can be positioned to the side!  
But could be a little bigger since it self-cleans after each use.  
Come with carafe? Thermal or glass? Size? 
No, but can make a whole pot of coffee for you albeit not alot (8.45-25.4 oz.) 
Can it dispense hot water? 
Yes, has a hot water button; perfect for making oatmeal, tea, or hot chocolate 
Drip tray removable to accommodate larger mugs? 
Yep.  Also coffee spouts height are adjustable for even more flexibility! 
Any other unique features? 
Water hardness setting capable  
Come in different colors? 
Silver Titanium sleek look on your counter tops 
Pricing 
A steep $1700+ 
User Satisfaction (9.0/10)
Warranty? 
2 year warranty 
Specific customer feedback, good AND bad 
Most users rave almost incessantly how delicious the beverages are, the ease of use, the versatility of espresso and drip coffee, and simple maintenance.
Biggest concerns were small like the size of water reservoir, and uselessness of the app. No complaints about price; if you're already looking at a machine this quality, you know to expect a price to match it.  
Pros and Cons 
Things We Like 
A ton of drink recipes and coffee modes to choose from 

Either indulge in any espresso style you like for yourself or brew up a latte or cappuccino for a group of friends and family.  
You definitely look like a legit barista with this thing even if you're not! 

Built in grinder with 13 settings 

Not only do you get fresh coffee grounds for every cup, but you don't need a separate grinder do it and you can really dial in the right grind profile for your perfect cup 
Nothing beats waking up to the aroma of freshly ground coffee! 

DeLonghi Coffee Link App 

Great if you're techy kind of person and you're into the whole smart home thing. But you may not use it as much.  

Drip coffee too?! 

Can make a full pot of coffee, almost eliminating the need for a whole other drip machine…kind of 

Customizable drink profiles 

So once you get the grind, strength, temperature, volume, and milk froth settings you love, you can easily find it next time and press a button to get it fast.  
Boom, I love anything that saves me brain thinking power!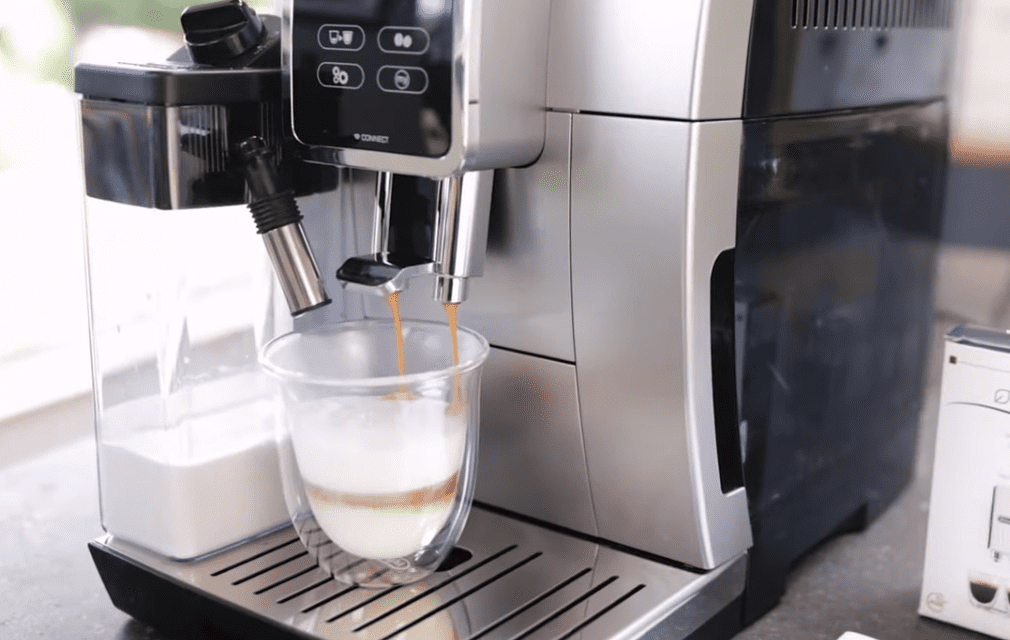 Things We Don't Like 
Maintenance could be a bit much  
Lots of bells and whistles 

If you don't like too many choices, this machine could be overwhelming 

Steep learning curve to use and maintain machine 
Price is more than excessive but obviously worth it to the right person 
Preprograming a cup is hard if you have a bowl sitting under the spout. And you want the bowl there since it auto-cleans…unless you're ok with an overfilled drip tray 
How Does it Compare? 
So how does the Dinamica Plus stack up against another super automatic of equal class like the Gaggia? Lets see.
In term of similarities, both machines: 
Brew up a slew of different beverages (lattes, macchiatos, cappuccinos, etc.) and even coffee that are hot, delicious, and flavorful.  
Come with an external milk frothing jug system that is detachable with adjustable settings 
Customizable settings like strength and temperature and automation features like self-cleaning 
Cost an arm and leg in the pricing! 
But there are a few differences: 
Dinamica Plus has more coffee recipes than the Gaggia 
The Gaggia has a 50 oz. water reservoir that is top loading compared to Dinamica's 60 oz. side positioned tank 
The Gaggia has an automatic and manual steam wand milk frothing option 
The Gaggia built in grinder has 15 settings vs Dinamica's 13 
The Gaggia is built with stainless steel and more durable exterior compared to the Dinamica 
Overall, these isn't a huge amount of difference between both of these behemoths. But I would say if you value more coffee recipes, an app, and less frequent maintenance, then go with the Dinamica Plus. If you value a stainless steel build, and manual milk frothing capabilities for latte art, the Gaggia is probably the best option for you.  
Final Verdict 
Like the original Dinamica, the Dinamica Plus is well…DYNAMIC! This super automatic espresso machine is everything you could want from a machine, including a built in grinder, strength control, and automatic adjustable milk frothing to brew a plethora of creamy rich foamy beverages. It's automation, techy features make it easy to use, and simple to clean. The convenience of well brewed fresh espresso coffee from home is quite frankly awesome.  
But on the other hand, this machine is crazy expensive, and requires a pretty steep learning curve to use and maintain.  
Honestly I believe this machine is for a specific type of coffee drinker: the person who is a fanatic over delicious high quality espresso coffee (barista level), and drinks a cup everyday BUT does not want to get involved in the grinding, tamping, pulling, and frothing necessary and is willing to pay for it to be done for them. There is practically no reason to visit a coffee shop ever once you get this badboy! 
If that's you, you will likely absolutely love the Dinamica Plus. 
De'Longhi Dinamica Plus ECAM37095
The Dinamica Plus is a super automatic machine with built in grinder, strength, temp, volume, and milk froth settings and convenient app; Perfect for the all in espresso drinker.
Last update on 2023-09-17
Otherwise, you may consider starting off with espresso machines without all the bells and whistles and more of an entry price level, but still make aromatic flavorful brews. We like Nespresso machines a lot for this.
You may also consider the lower model DeLonghi Dinamica, which is just as powerful but a few less features at about half the price!
For more quality DeLonghi machines to consider, check out our favorites here:
Full and Super Automatics
Manual and Semi Automatics
Coffee and Espresso Maker
FAQs
Does the Dinamica Plus make hot chocolate? 
While it doesn't have a specific function for hot chocolate (because I know you didn't spend almost 2 grand for a hot chocolate machine), it does dispense hot water so you can whip up a cup for those cold weekend mornings.  
Does DeLonghi Dinamica Plus make iced coffee? 
Yep sure does. The Dinamica Plus carries over the TrueBrew over ice feature from the Dinamica ECAM35020 so you can make cool refreshing iced lattes to your hearts content. 
Coffee Has Never Read This Good!
Sign up for a FREE newsletter to the best home brewing tips and guides
Thank you for subscribing to The Cup Coffee House Crew! There's a surprise in your Inbox 🙂
Something went wrong.
About the Author
Latest Posts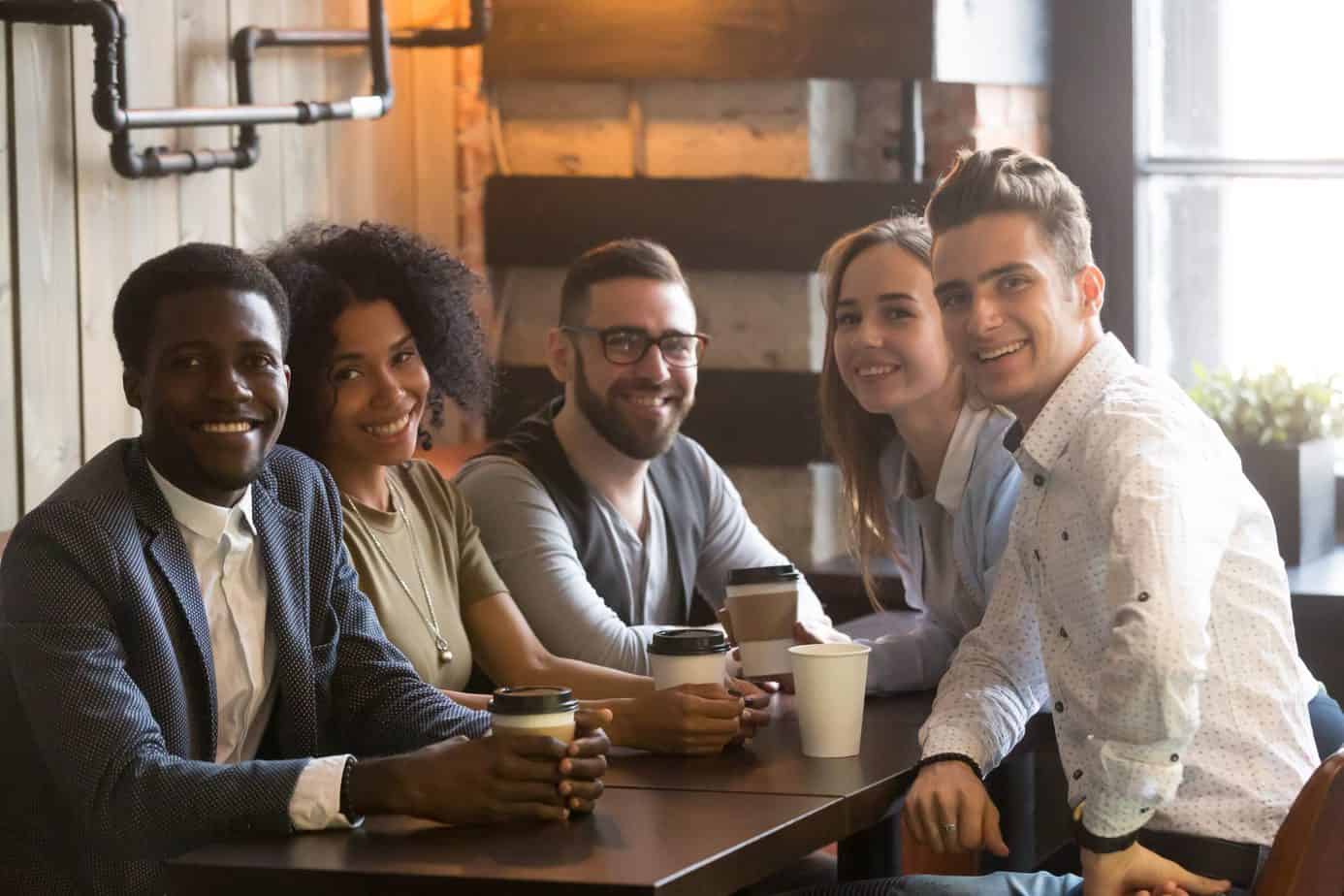 "Jules" is a pharmacist by day and investor, writer, and health nut by night. When he's not sipping on some coffee laced with MCT oil during an 18 hour fast, he is writing about how to get your coffee grind on or playing Monopoly with his 2 boys and wife. Ahh…life is good!