Last updated on February 18th, 2023 by Alex Praytor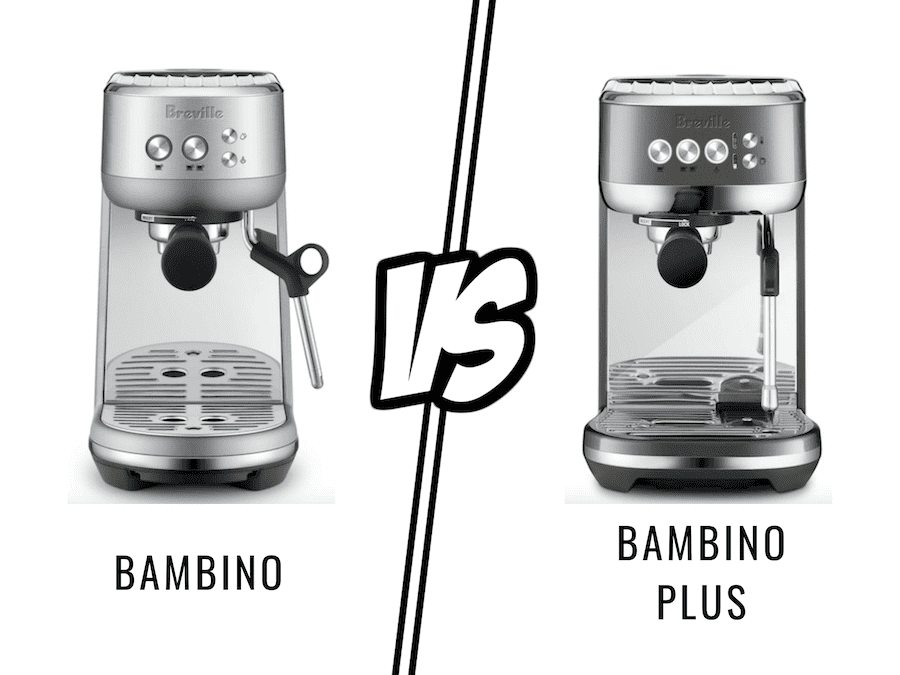 The rich nutty flavor of a fresh espresso is hard to beat! But, you can't get this same taste or that foamy layer of crema with your regular drip brewer. To bring espressos and specialty drinks from the coffee shop to your home, you will need to invest in an espresso machine with a milk wand.
But many espresso machines can hog your kitchen counter and may set you back $1,000 or more. That's a lot of space and cash to set aside for your favorite drink!
However, if you are looking for a quality machine, that won't take over your kitchen (or drain your bank account), Breville has some compact espresso makers that are worth a look. 
Two of their most compact models are the Breville Bambino and the Bambino Plus. The Breville Bambino has an accessible price for an entry-level machine. However, the Bambino Plus upstages the Breville Bambino with fancier features at the cost of a few hundred dollars extra.
To understand more about their differences, let's put them both to a head to head matchup: the Breville Bambino vs Bambino Plus. We'll show you why the Bambino Plus costs more and help you decide whether or not the extra features and money is worth it to you. 
---
Are Breville Espresso Makers good machines?
Breville stands out among other brands for its high-quality espresso machines. Some features that are common to Breville espresso makers are pre-infusion, built-in grinders, and quick warm-up times. These espresso machines also meet the SCA standards for espresso with 9 or more bars of pressure. 
In terms of durability and features, Breville espresso machines get close to professional-grade quality. The Breville home-use espresso maker performs well and are touted by amateurs and baristas alike.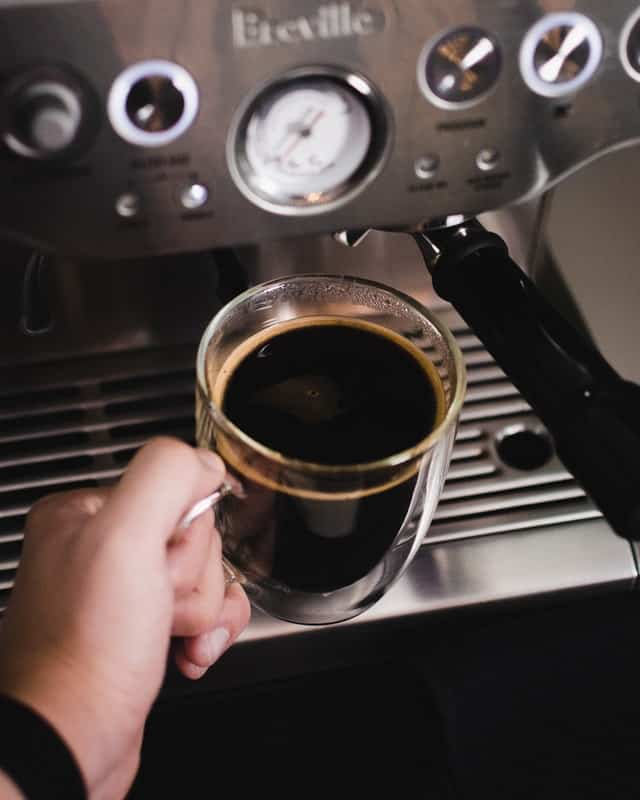 When we take a look at the Breville Bambino and Bambino Plus, you'll notice that these machines are solid, durable, and simple to use. However, these compact machines won't include some of the higher-end features you see commonly in super automatic espresso machines such as built-in grinders and double boilers. 
Still, they can both make a flavorful espresso, latte, macchiato, or cappuccino that meets SCA standards. Let's take a closer look at these two machines.
What do the Bambino and Bambino Plus have in common?
The Breville Bambino and Bambino Plus look very similar and have a lot in common. Here are some of the features that overlap between these two models:
15 bar Italian pump
Stainless steel parts
Simple user-interface
Single and double espresso options
Rapid 3 second heat-up time
PID controlled water temperature (200 °F) for espresso
Thermojet heating system
Both the Bambino and Bambino plus can brew authentic espressos with their 15-bar Italian pressure pumps. This adheres to the SCA standard for espresso machines. They are both constructed with durable stainless steel parts and the interfaces are simple to use for even a beginner barista. You just have a few buttons to choose from to brew delicious espresso. 
To pull that delicious espresso, the portafilter gives you the option to make either a single or double shot of espresso. Both machines each come with a quick thermojet heating system for super fast heating time, and precise water temperature control.
So far, these two fully automatic espresso makers look pretty similar. But what are the key differences between the Bambino and Bambino Plus that makes the price tag on one $200+ more expensive than the other?
Breville Bambino vs Bambino Plus: The Differences
The Breville Bambino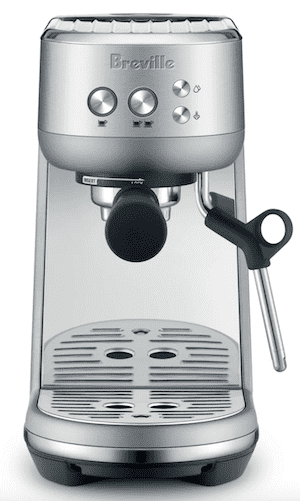 Pros:
47 oz water tank
Pre-infusion
Manual control override
1-year limited product warranty
Manual milk texturing
3-second water heat-up
Hot water and steam buttons
More affordable
Cons: 
No handsfree milk frother or microfoam
Shorter warranty than the Bambino Plus
Smaller water tank 
Review:
This entry-level espresso maker may not be quite as high-performance as the Bambino Plus but for what it does do, the price is right. The Bambino is comparable in size, coming in about 1 inch less-wide than the Plus version (however it is also about 1 inch deeper.)
Like the Bambino Plus, this espresso maker comes with a milk jug and tamper. 
One of our favorite features of the Bambino is the steam and hot water capabilities on the steam wand. This allows you to add a little water to your espresso to make Americanos or long blacks. You can also use the hot water to warm up your demitasse while you pull your shots!  
This automatic espresso maker can cut off your shot when it is done. However, if you want to adjust the length of your shot to make a ristretto or a long espresso, you can choose the manual override option. Like the Bambino Plus, this model also pre-infuses your coffee grounds for the ultimate flavor. 
You can brew one or two shots of authentic espresso and froth milk to create lattes. It may not allow you to adjust the temperature or texture of your milk, but the manual control steam wand can still give you a warm, creamy topping to your drink. 
Customer thoughts:
Customers loved the taste of espresso from the Breville Bambino. They also appreciated that the machine comes with its own cleaning tools so you can take care of your machine. One customer added that the Bambino espresso maker is the same size as her 12-cup coffee maker. The Bambino is not readily available for purchase on Amazon.
The Breville Bambino Plus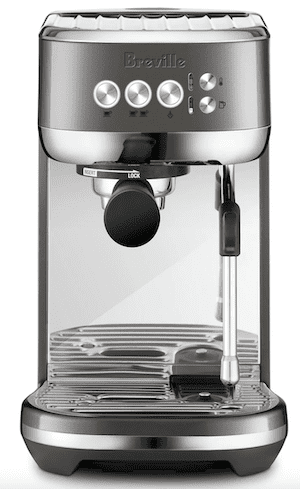 Pros:
64 oz water reservoir 
Automatic hands-free milk frothing
Adjustable milk temperature and texture
Three-second heat-up time
Low-pressure pre-infusion 
Two-year warranty
Cons: 
No hot water option
No coffee grinder
You can't pull a shot and use the milk frother at the same time
Pricier
The Bambino Plus takes the good points of the Bambino and improves upon them. This gives you a few more options and an overall easier brewing experience. 
Of course the Bambino Plus is focused on the third wave coffee experience, and is designed to give you the best-tasting extraction.
But when it comes time to frothing milk, the Bambino Plus really shows up the original Bambino. The Bambino Plus has an automatic milk frother. This means that you get to choose between three different temperatures and three unique textures for your milk.
So, if you like your milk super-hot when you are topping off your coffee, you can adjust accordingly. Or if you want to experiment with microfoam, the Bambino Plus has got your back. 
Another nice feature is that the Bambino Plus comes with a larger water reservoir so you can make more shots without having to refill the tank.
However, one drawback is that with the improvements in the milk frother, you lose the hot water option on the steam wand.
The Breville Bambino series does not come with a grinder on the machine. You also won't be able to pull shots while steaming milk simultaneously. What you do get, though, is a compact espresso maker with a flavorful brew. 
Customer thoughts 
Customers loved the taste of the espresso from the Bambino Plus. Some customers advised not to tamp the grounds down too hard. Overpacked coffee grounds can negatively affect the flavor of your brew. 
How to Make Espresso in the Bambino and Bambino Plus
Step 1: Measure out your coffee grounds 
For a consistently rich-tasting brew, measure out your coffee grounds using a kitchen scale. The general rule is to use seven to nine grams of coffee for a single shot of espresso (1 ounce). And 14-18 ounces for a double shot of espresso (also known as a doppio). 
Step 2: Add the grounds to your portafilter
Once you have measured the grounds, add them to your portafilter. Choose the appropriate filter (single or double). 
Step 3: Tamp down the grounds lightly
Tamp down the grounds with a light touch. You don't want to overdo it as this can make the extraction process difficult for your machine. Tamp just enough so that the grounds are evenly spread through the filter with no mound in the middle.
Step 4: Add the portafilter to the group head
Now add the portafilter to the group head and make sure it clicks into place. The handle should be perfectly centered in the front of the machine.
Step 5: Select a single shot or double shot
Choose a single or double-shot depending on how many grounds you added to the filter basket. Or, you can manually override and cut off the shot quicker, or let it run longer than usual depending on your preference. You may want to time your shot if you choose a manual control option. Usually, you should pull a single shot between 25 and 30 seconds.
Step 6: Steam the milk
Now that your shot is ready, it's time to steam the milk.
If you have a Bambino machine: You will need to manually steam your milk. Add milk to your metal milk pitcher and hold the pitcher at a slight angle under the frother. Turn on the steamer and position the wand so that the milk begins to spin in the pitcher. The pitcher should remain just warm to the touch. If it becomes hot, quickly turn off the steamer so that you don't scald the milk.
For the Bambino Plus machine: Place your milk pitcher on the automatic steamer sensor and place the steam wand downward in your pitcher. The machine will steam your milk for you!
When the milk is done, the Bambino Plus will also purge the steam wand on its own. This leaves you a clean wand for the next time you want to make a latte or another specialty drink. If you want to be part of the creative process and steam the milk yourself, you can! Just refrain from placing the pitcher on the sensor and use the wand to steam milk as usual.
Step 7: Top off your espresso with creamy milk foam
Now that your milk is good to go, you are ready to top off your espresso with creamy milk foam. For a latte, hold back the foam layer with a spoon and allow the steamed milk to pour out, first. Then, use the spoon to give your coffee drink a light layer of foam on top.
Step 8: Enjoy!
We've left you a few tips to make your Bambino espresso-making process a simple one. Now it is time to sit back and enjoy your delicious cup of espresso coffee. 
Which is better? Our Verdict
The Breville Bambino and Bambino Plus have a lot of similarities so it's hard to choose which one comes out the winner when you put them side by side. 
If you are looking for a good quality espresso machine at a fair price, we'd say the Bambino is the way to go. This machine is significantly cheaper than the Bambino Plus and has many of the same great features. If espressos are your preference, or you are handy with a steam wand, it won't be worth it to spend a few hundred dollars more to get a hands-free frother. We're putting this one down as a winner in our books.
However, if specialty drinks and latte art are your main-stay, the automatic milk-frother on the Bambino Plus will allow you to do so much more. The Bambino Plus is also a great espresso machine for beginning baristas since it will pull a shot and automatically steam your milk.
You can have your own mini-coffee shop in the comfort of your kitchen! Instead of paying $5 a day for specialty coffee drinks, you can invest in a home espresso machine and drink a cafe pro latte whenever you want. The Breville Bambino Plus could pay for itself over time. 
So, depending on what you want out of your machine, you have two great options from Breville to choose from. These compact models are easy to use, beginner friendly, and take up a small footprint on your kitchen counter. 
We've given you a side-by-side comparison of the Breville Bambino and Bambino Plus. 
Now, it's your turn to decide which one is right for you to buy.
For more quality Breville machines to consider, check out the reviews on our favorites here:
For your drip coffee enthusiasts:
For more espresso maker options:
FAQs
Is Sage Bambino Plus the same as a Breville Bambino plus?
The Breville Bambino Plus and the Sage Bambino Plus are essentially the same machine and sell in the same price range. However, the Sage Bambino Plus is made specifically for the UK market with a European-style plug. Both the Sage Bambino and Breville Bambino Plus are made with durability and quality in mind. Depending on your location, you can decide which machine is right for you.
Are Breville espresso machines high-end?
Breville is known for its solidly constructed espresso makers and household appliances. Although this brand may be pricier than others, you will get good quality with a Breville machine. You can find entry-level espresso makers such as the Bambino for around $300. Premium espresso makers like The Oracle are also available in the $2,000 range. Depending on your budget and coffee goals, you can choose the machine that is right for you!
Can I use pods in the Breville Bambino?
The Breville Bambino Plus does not accept coffee pods or even ESE pods. You should only use regular coffee grounds in a Bambino espresso maker. For the best results, grind your coffee fresh before you make coffee. Most baristas choose an espresso roast coffee, which is a dark roast with a fine grind.
Coffee Has Never Read This Good!
Sign up for a FREE newsletter to the best home brewing tips and guides
Thank you for subscribing to The Cup Coffee House Crew! There's a surprise in your Inbox 🙂
Something went wrong.
About the Author
Latest Posts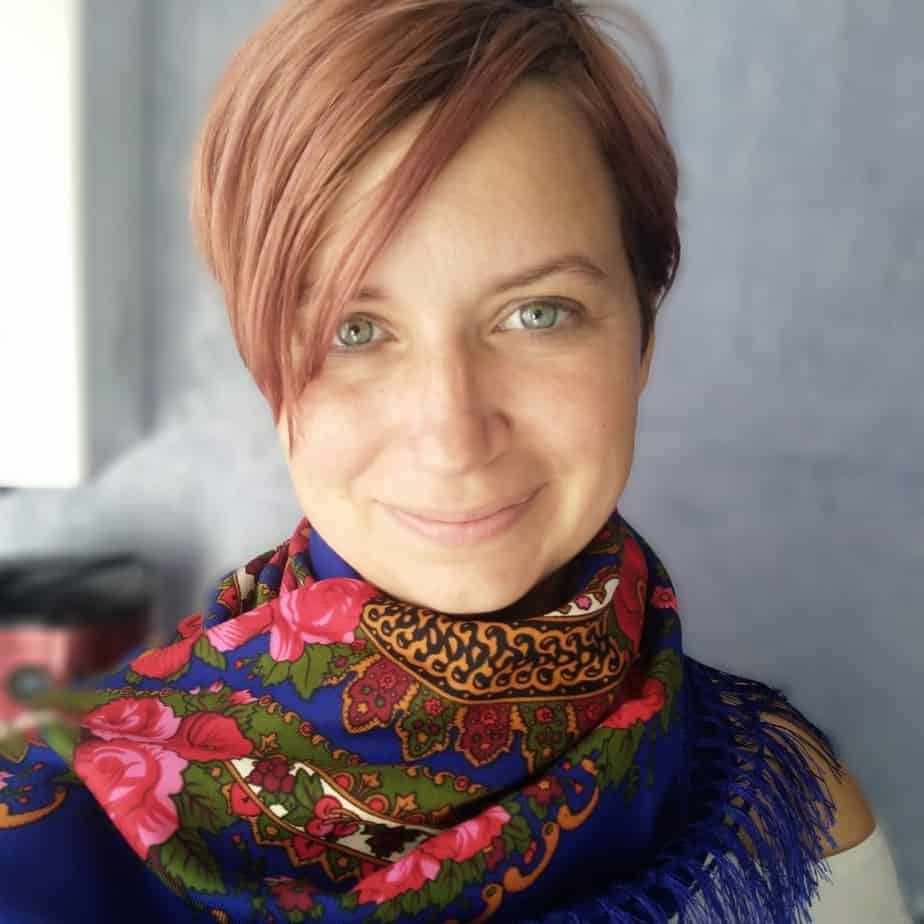 Alex Praytor worked her first job as a barista, finished college, and then took a tour to the other side of the globe. She fell in love with espresso and her would-be husband in Europe. She spends her spare time visiting native Texas landmarks, ancient castles, and all the coffee shops she finds along the way. At home, she is a mom, ESL teacher, and writer, who hones her coffee-making skills daily. She enjoys passing on her coffee findings to fellow caffeine addicts in search of the perfect cup.
Chief Editor