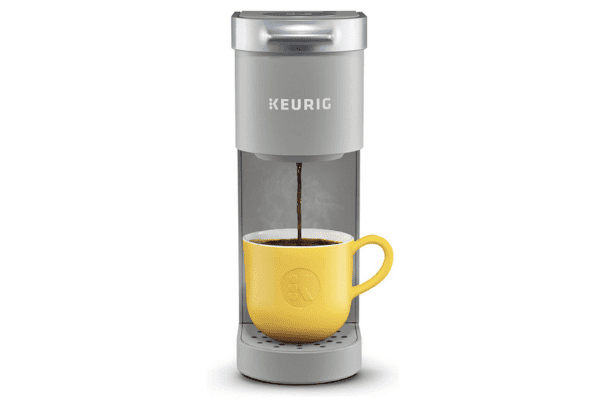 While Keurig coffee makers may not be the coffee snobs ideal method of a perfect cup of coffee, most of us appreciate its convenience and the quick hot cup it provides on our busy days.
We've been using Keurig machines in our house for a while now and we know what to expect from them. In fact, we upgraded to their commercial line, the K1500 not too long ago and my wife says it makes really good hot coffee.
But if you're just starting out, a single cup coffee brewer may be a good choice. The question is should you consider the Keurig K-Mini?
Well it depends on your needs of course. In this quick Keurig K-Mini review, we will help you decide the answer to that question.
Want the cliff notes version? The Keurig K Mini is a nice starter coffee maker for the casual to consistent coffee drinker with limited counter top space who drinks hot coffee alone. Its quick brew, portable size, and ease of use and maintenance can make for a great replacement at the office or addition if you're on the road or traveling.
Sale
Last update on 2022-06-25
It may not last you as long given its durability issues but for the price, it's a pretty good deal.
---
What's so special about the Keurig K-Mini?
Keurig has been doing the single cup coffee maker thing for awhile now. And have been pretty successful I might add. With over $599 million in sales in 2021, they have a good grip on the home brewer market.
And the K-Mini adds to that dominance. But what makes the K-Mini special amongst its brothers and sisters in the Keurig family?
1. Environmentally friendly design
It's no secret that one of the biggest problems we have is the amount of plastic waste in our environment. It's in our farm land, sea water, air, fish, and birds, contaminating and disrupting human health and the ecosystem.
So if you're concerned with those environmental issues, you will like the fact that the Keurig K-Mini is designed specifically with much less virgin plastic…like 1 million pounds less since 2020 according to Keurig! This means less plastic that is wasted and introduced into the environment.
2. Portable and slim design
Because less plastic is used, it obviously means the K-Mini is smaller. And we love that. With a 5-inch width and almost a foot-long length and height, the K Mini is not only light and portable but it also fits sleekly pretty much anywhere you want to put it.
It could make for a great office coffee maker for your afternoon pick me ups or a nice on the road travel coffee maker. That last bit may be of interest to you if you particularly dislike the quality of hotel coffee.
3. Fast fresh coffee (or tea, cocoa, soup) in a snap
One of the geniuses of the Keurig K-Mini is that it is literally a single serve coffee maker. Meaning it will make up to 6-12 oz. of coffee at a time, producing an equal amount of coffee from whatever amount of water you put into it.
This may be annoying if you drink more than a cup at a time or if there's more than one of you waiting for a hot cup.
But it also means you get a fresh cup of hot coffee every single time. Throw in the fact that the pod makes for easy cleanup and the coffee brews in minutes, the cons aren't all that bad. In fact, the quick hot water dispensing for tea or hot chocolate on the go is a big plus you won't find in many coffee makers.
Pros and Cons to consider
Ok so let's break the Keurig K Mini brewer story down so you can easily determine if it's the right coffee machine for you.
Things we like
Can make coffee fast (2-4 minutes); the volume of water you put in is what you get out.
Makes hot water fast
Uses K-cup pods
Will work with My K cup universal reusable coffee filter (so you can use coffee grounds too!)
Lightweight (<5 lb.), portable for travel
Small footprint, space saving
Will fit taller mugs
Auto shut off feature after 90 sec of non-use
Cord storage in the back
Environmentally conservative plastic use
Doesn't require regular cleaning
Reasonably priced
Comes in a variety of eye pleasing colors (oasis blue seems to be my favorite!)
Things we don't like
Brews only a single serving at a time
Reservoir small – have to refill for each brew
Reservoir not removable (unless you get the K mini plus!)
Made of mostly plastic (and according to Keurig not all plastic in their brewers are BPA free)
No strong brew option (unless you get the K mini plus!)
Doesn't make specialty drinks
No special tech features
May splatter
Our Ranking
Quality, build – simple and sleek. Space saving. Made of plastic mostly. Average durability.
Ease of use – Compared to other Keurigs, the K-Mini is just as simple and easy to use if not simpler. Pop in the pod, and press a button and you're good to go. The K Mini doesn't have an LED display screen like its other Keurig siblings though.
Performance – Makes a nice cup of satisfying hot coffee with average amount of noise. You get a single cup per brew in a bout 2-4 minutes. Taste is good for this type of brewer.
Maintenance – Simple and easy. Just take out the pod and dispose of it (they're not recyclable unfortunately). Since it's a single run, there's no lingering water to clean out from the reservoir.
Reviews – Pretty strong reviews, but not perfect.
How to use the K-Mini
There's not much to say here that you probably don't already know. The K-Mini operates pretty much the same as any Keurig. We've talked about the specifics of operating a Keurig before.
But in general:
Place your favorite pod in to the receptacle and close
Pour your desired amount of water into the reservoir
Place your mug in position. Press a button.
Wait a few minutes for your coffee to brew
Enjoy!
And as we mentioned before, you don't have to worry about descaling the machine since no water hangs out in the reservoir.
What customers are saying
Of the thousands of reviews from Keurig to Amazon, the consistent message is people love the Keurig K-Mini. Customers mentioned the great cup of hot coffee it makes, the compact space saving size, and its portability as the big points they like.
The biggest complaints people had was the K Mini's propensity to not last as long and break down after a year or so. Also few customers mentioned the splattering of coffee while its filling your mug which can make for a messy session.
How does it compare?
So we also wanted to compare the K-Mini to other singer serve coffee makers on the market to see if what you get compares to leading competitors for the price. We're always looking for a better deal ok!
Starting with the K-Mini and the Black+Decker, both are single serve coffee makers that are light weight, and portable in size. Both will make hot coffee in your travel mug pretty fast with the press of a button. But there are a few differences:
Black+Decker uses a removable coffee filter basket to brew coffee grounds. It doesn't look to be K-Cup pod compatible…which could be a big problem if you're used to pod brewing.
The Black+Decker is half the weight of the K-Mini and slightly smaller.
The Black+Decker is also half the price so more affordable.
So if you're ok with using your coffee grounds in the morning to brew a nice cup of coffee for a cheaper price, the Black+Decker is a good option. But the whole point of a single serve coffee maker is convenience. If you appreciate the convenience of K-Cup pods and no washing of filters so you can be in and out the door fast, the K-Mini has to be your winner.
The Mixpresso is a brand I just recently learned about but I have to say…its got my attention! Like the K-Mini, both are compact in size, make a good single cup of coffee in minutes and both use K cup pods. But for a cheaper price the Mixpresso has a few extras to consider.
The Mixpresso is programmable. Meaning you can program it to make any even number size cup between 4 and 12 oz. The K-Mini only makes what you pour into it.
The Mixpresso 10 oz. water reservoir is removable. You only get that feature in the K-Mini Plus.
The Mixpresso requires more cleaning and descaling but the process is simple.
Honestly, you could probably go either way here. But if you like the programmable features on the Mixpresso more than the idea of having to do a little more cleaning and maintenance, then Mixpresso is a good pick. But the K-Mini is still a winner too.
Final Verdict
While the coffee snob may thumb his/her nose at the thought of drinking from a lowly Keurig, we are not about that kinda life. The Keurig K-Mini works well as an entry level machine for getting a nice fresh cup of hot coffee, conveniently and on the go. With its compact size, quick single cup brewing, and easy use and maintenance, the K mini can be a great addition to your coffee bar.
We can wait for the weekend if we want third wave style pour over coffee or perfectly pulled full bodied espressos with crema!
The Keurig K-Mini is a good fit for casual to consistent coffee drinkers with limited counter top space who drink alone and don't want to waste coffee. It can make for a great replacement at the office to regular Starbucks runs or for your dorm room, or for portable use if you're on the road.
But if you're concerned with K Mini's durability, or small single serving and need a larger pot of coffee then maybe consider other options.
Maybe consider Keurig's other best coffee makers. You can try other single cup coffee makers like the K-Express or K-Slim.
Until then, hopefully this report helped you make a decision!
FAQ
What is the difference between K-Mini and K-Mini Plus?
The Keurig K Mini and K Mini plus are the same in every category except for 3 things. The Plus allows you to remove the water reservoir. This makes refilling more convenient. Secondly, the Plus comes with a strong brew option for coffee drinkers who like to vary the strength of their cup. Last, the Plus has room to store extra K cup pods for future brewing.
Does the Keurig Mini use regular K cups?
You can pretty much use any K cup pod that is available. So all your favorite flavors are still in play. You can even use the My K-cup universal reusable filter if you want to enjoy fresh coffee grounds.
What is the difference between K Slim and K-Mini?
The K-Slim and K-Mini are both single serve coffee makers with similar function. Their only differences are that the K-Slim can be programmed to brew exactly 8, 10, or 12 oz. cups of coffee. The K-Mini will only brew whatever volume of water you put in. The K-Slim also comes with a removable water reservoir that holds 46oz. The K-Mini reservoir is not removable and has to be refilled each time you brew.
How long do mini Keurigs last?
According to Keurig, there is a one-year warranty guarantee. So ideally it should last at least to that point. But according to many customer reviews, K-Mini's can range from less than a month to a couple of years.
Coffee Has Never Read This Good!
Sign up for a FREE newsletter to the best home brewing tips and guides
Thank you for subscribing to The Cup Coffee House Crew! There's a surprise in your Inbox 🙂
Something went wrong.
About the Author
Latest Posts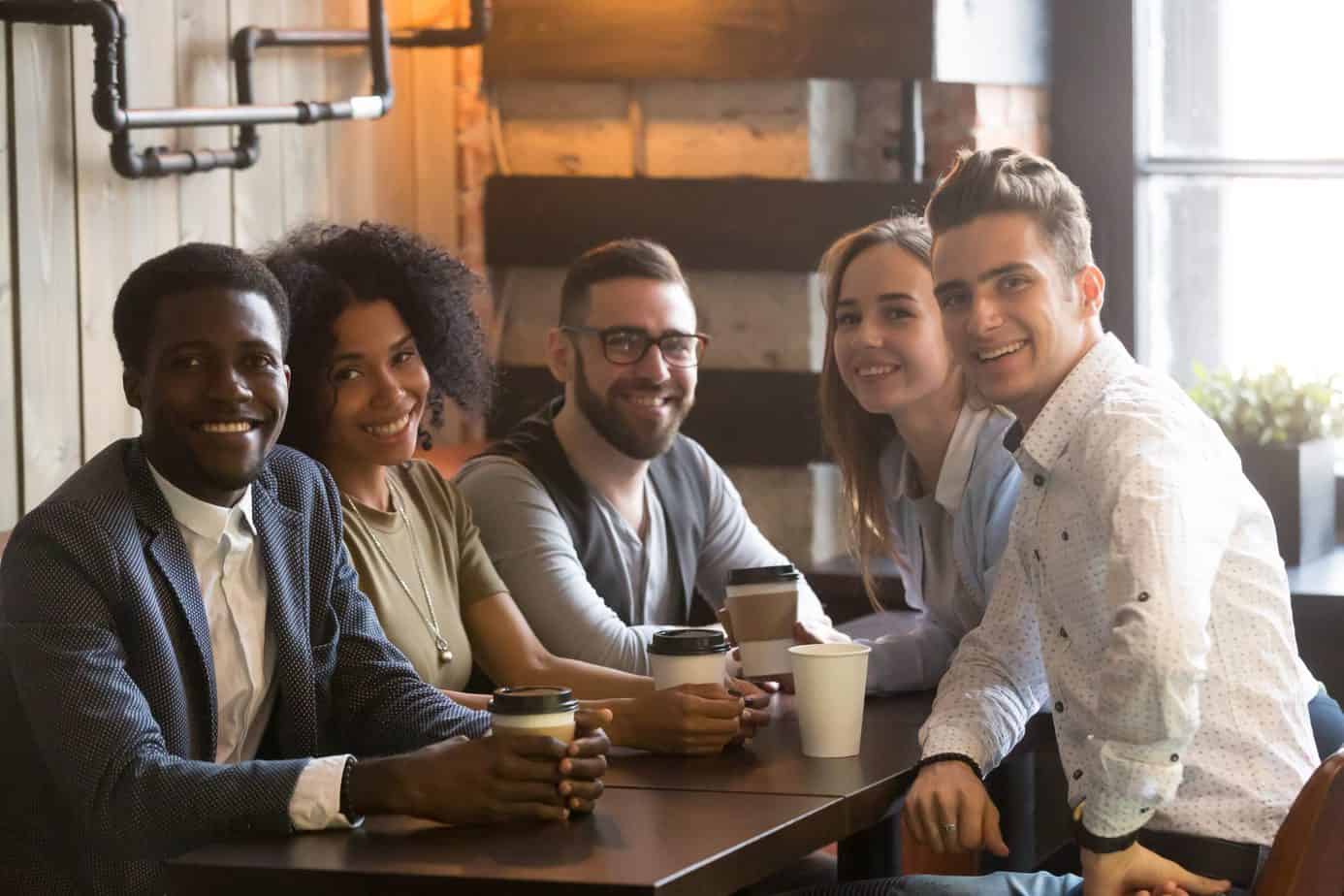 "Jules" is a pharmacist by day and investor, writer, and health nut by night. When he's not sipping on some coffee laced with MCT oil during an 18 hour fast, he is writing about how to get your coffee grind on or playing Monopoly with his 2 boys and wife. Ahh…life is good!