Last updated on August 15th, 2023 by MJ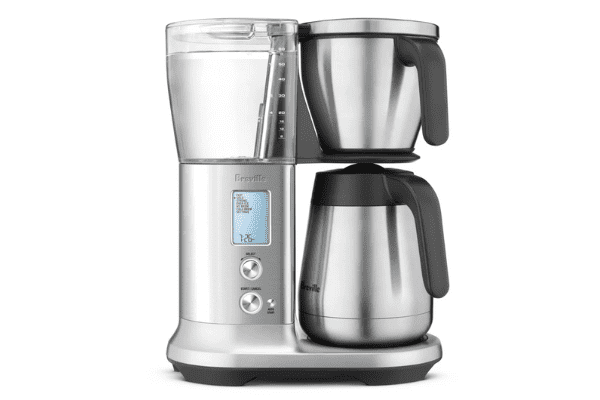 Breville Precision Brewer
Performance

Ease of Use

Build & Quality

Maintenance

User Satisfaction
Final Verdict
The Breville Precision Brewer can brew different types of coffee and customize your flavor by adjusting its temperature, blooming time, and flow rates. Perfect for those who care alot about coffee and want to tinker around to get their perfect cup. 
I first came across this machine at a friend's house a couple of months ago. She made us a cup of cold brewed coffee which I initially thought she got from Starbucks. I was surprised when I was told it came from a coffee machine…the Breville BDC450BSS Precision Brewer!
I knew right away I had to get one. I finally purchased this drip coffee maker and started using it religiously for the past 2 months.
In summary, this is by far one of the best coffee machines I have used thus far! The Breville Precision Brewer is not your average coffee maker that makes drip coffee. It is an automatic, flexible machine that can brew different types of coffee and customize your flavor by adjusting its temperature, blooming time, and flow rates.
This drip coffee maker is perfect for those who care alot about the flavor and richness of their coffee and want the options to tinker around to get their perfect cup. It's a bit pricey and may be a pain to maintain, but it may be worth it for all the versatility and value you get.
Breville Precision Brewer
The Breville Precision Brewer comes with all the customizations/tools a coffee drinker could ask for to brew the perfect cup of craft coffee.
Last update on 2023-09-17
So in this quick Breville Precision Brewer review, I will share my experience using it, the pros and cons, and how it compares to a few other popular automatic pour over machines I have tried.
Hopefully you will learn whether or not this Breville coffee machine is good fit for you.
---
Breville Precision Brewer Review
Breville is known for its high quality and high performing coffee machines. In that list is the Breville Precision Brewer, the world's first 60 oz. drip coffee machine with the precision required to automatically brew craft filter coffee. You can have your favorite coffee no matter the age, roast or origin with the prefect temperature and brewing time.
Design and Features
This machine has several notable features to deliver that exquisite cup of joe which encouraged me to invest into it.
Comes with 2 different types of filter baskets (flat bottom and cone). Different basket shapes deliver different flavors.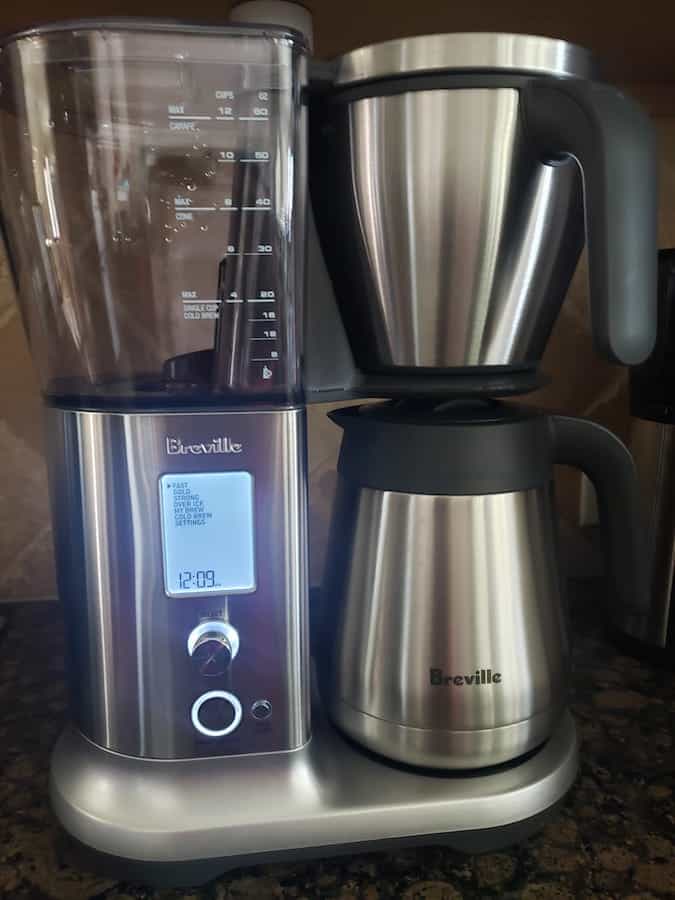 Has 6 presets available to select from (Fast, Gold, Strong, My Brew, Pour Over, Cold Brew)

We will discuss more about each brew setting below
Adjustable bloom time allows you to control the perfect bloom to suit your beans.

Blooming refers to the practice of pouring a small amount hot water over ground coffee and then pausing to allow the gases to be released. The bubbles released looks like a blooming flower.
Has a Thermacoil heating system with PID Control which allows digital control of temperature, flow rate and contact time.

Really cool for coffee drinkers who are knit picky about their coffee, and want to experiment with all the major variables to get the perfect brew.
Can select from 3 different flow rates to optimize contact time.

Pour over flow rates replicates the same kind of effect you get from manual pour over brews. You get the same flavor without all the hassle of time and energy
Prebrew temperature control allows you to adjust between 197–204 degrees as per SCA guidelines.
Automatic programmable machine

You can set it up the night before and have a fresh cup of coffee ready for you when you wake up.
Can brew up to 12 cups in one session or single servings.

So its pretty versatile depending on your households coffee needs.
Water tank comes with easy to read water levels to brew a full carafe, 8 cup pots or single cups
Child safe lock which is usually not seen with most coffee machines.

It is activated by pushing the Auto Start button for 5 seconds. To unlock it, repeat the same step again.
Display shows how much time has passed since your last brew so you know how fresh your coffee is.
Brews coffee using both carafe and small cups. The machine detects small cups and can deliver coffee straight into it without dripping.

The Steep and Release technology is handy for brewing delicious single cup brews as well
Energy saving mode and will enter standby mode automatically or can be programmed to go into standby mode.
Quality and Build
My first impression of the Precision Brewer was that it is heavy! I needed assistance taking it out of the box without tearing it. It weighs about 3.15 lbs.
The Breville is also on the taller side. If you are placing it under a cabinet, make sure it fits. It is however a beautiful, modern, stainless steel machine that measures 14 x 9 x 16 inches.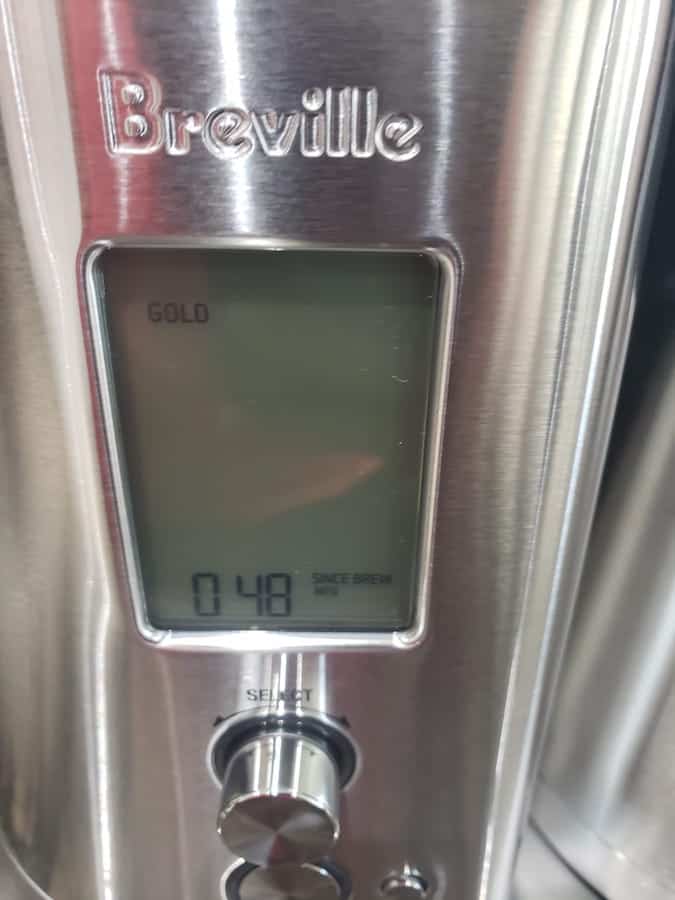 It comes with a 3 inch LCD display that is easy to read and has a backlight. The dial is used to toggle between the preset options and has a couple of buttons (select, start/cancel and auto start).
Pricing
The Breville BDC450BSS Precision Brewer runs about $300. You can get it cheaper if you go for the BDC400BSS which is the glass carafe version.
Ease of Use and Setup
First thing I did was take everything out of the box and clean all the removable parts with warm soapy water. The Breville parts are not dishwasher safe so it must be hand washed each time.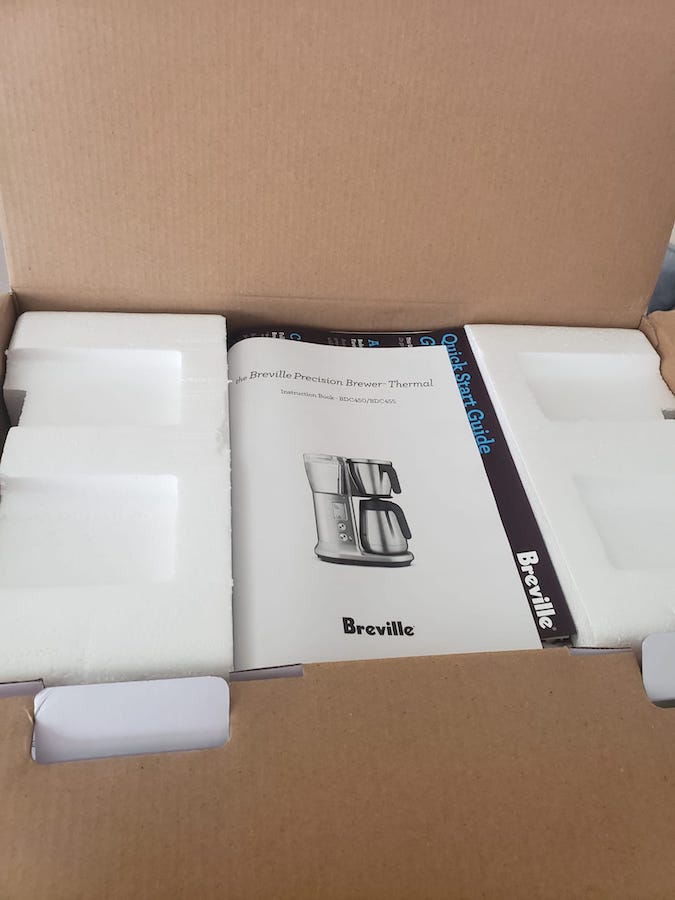 The box includes a test strip to test the water's hardness and set the result on the LCD screen.
First, fill the water tank with fresh cold water to the MAX mark and plug into outlet.
When the machine is first turned on it will show 'SET HARDNESS' on LCD, asking for your water hardness level. Press SELECT dial once and then dip the water hardness test strip into the filled water tank for 1 second, remove and wait for 1 minute to reveal the result. Rotate SELECT dial and press the dial to select the level according to the number of dots shown on the strip.
Next, the LCD showed 'FLUSH Unit'. Press SELECT dial once. The machine will dispense all the water from the tank, through the system & into the empty carafe. After flushing, empty the basket and carafe.
Usually with all my machines, I run a few cycles with just water to clean it out, so I found this feature to be great.
The whole set up and cleaning process actually took about 45 minutes.
How to Make Coffee with the Breville BDC450BSS Precision Brewer: Step by Step
Finally, I was ready to brew myself a cup of coffee on the "gold" setting. It is recommended by Breville to use coffee beans freshly grounded to medium/coarse.
Set your filter: Since I was going to make 2 cups of coffee, I set up the cone shaped filter into the filter holder with filter paper I already had.
Measure your coffee: I put in 2 scoops of freshly ground coffee and inserted the filter holder in place on top of the carafe.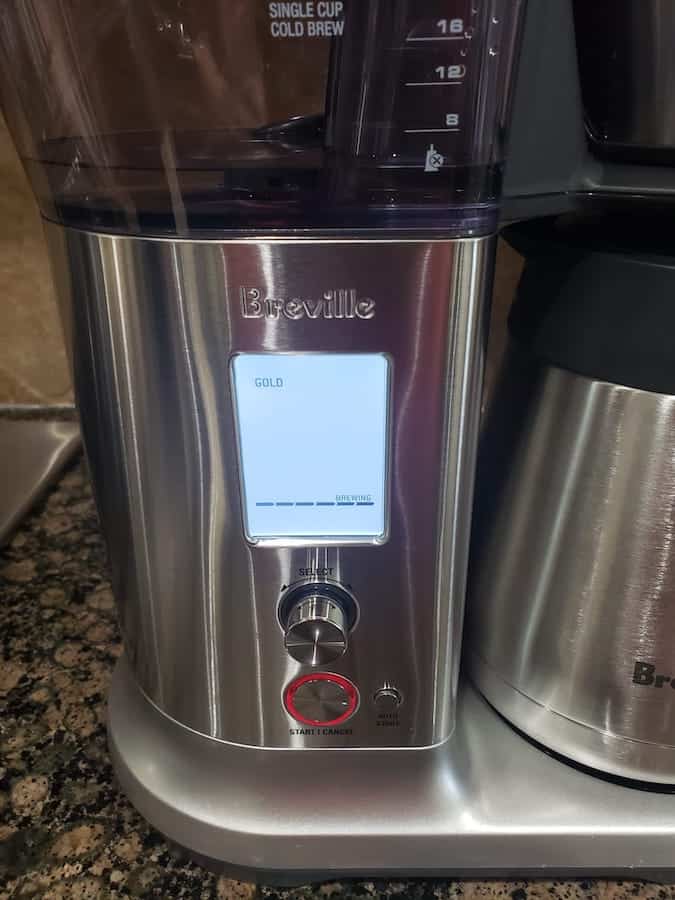 Select the desired coffee option: Rotate the SELECT dial to the mode you want. Press the START|CANCEL button.  If you forgot to insert the carafe or a cup, the machine will remind you.
As the Breville begins to brew, it will display the progress:

Heating: the heating system is being pre-heated to the optimal temperature  
Blooming: the bloom phase of preparation is in progress  
Brewing: hot water at the correct/ selected temperature is being delivered to the ground coffee.
When your coffee is ready, the machine will beep 3 times and display the "Time since brewed". 
Performance
Now, it was time to taste the coffee! Wow, was I floored by the flavor. The coffee tasted bold and robust, just like how I would get it at a coffee shop. I couldn't wait to try out the other features.  
Of note, during the process I did notice that the Breville is a little noisy. So if you are a light sleeper, take that into consideration!
With the Precision Brewer, you can brew single or multiple servings as well as select between one of the 6 preset options.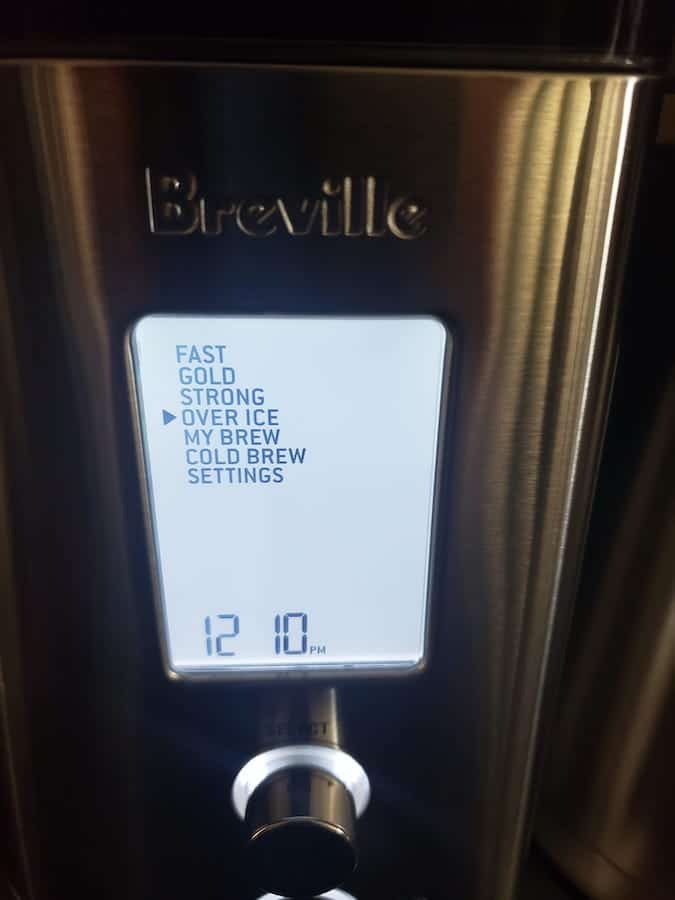 Fast: Brews coffee very quickly. For example I was able to brew 4 cups of coffee in about 3 min and 40 secs.
Gold: The brewing temperature and time is adjusted per the SCA (Specialty Coffee Association) recommendations. 4 cups of coffee was brewed in about 5 mins.
Strong: Intense and robust flavor by lengthening the brewing time and increasing the temperature. This allows the coffee grounds to be extracted more thoroughly.
Over Ice: Concentrated brew that you can enjoy chilled or over ice. I personally didn't care much for this option, but for some it may be useful.
Cold Brew: Steeps the grinds in cold water for up to 24 hours for an at home cold brew drink.
My Brew: This setting allows you to customize all the parameters to your liking.

You can adjust bloom time from 0-5 min which determines how long your grounds sit in hot water before brewing begins.
You can set your desired brewing temperature from 80-98 degrees Celsius.
Lastly, you can set your preferred water flow rate at fast, medium or slow.
Once you set these parameters under the "my brew," every time you select this automatic function, your presets will be saved and you are good to go!
The Pros and Cons
After using the Breville Precision machine consistently for a couple weeks I came up with a few pros and cons based on its design, features, performance, and maintenance.
Things I Like
Nice stainless steel sleek design
Has multiple presets to automatically brew your coffee including the ability to save your own custom brew setting
Makes great tasting coffee
Bloom time, flow rate, and temperate are adjustable
Programmable
Comes with steel thermal carafe (unless you get the Breville BDC400BSS which comes with a glass carafe)
Can brew a batch pot or single cup serving
Energy saving mode
Things I Don't Like
The price tag

The $300 price tag is something that is not easy to swallow. However, the Breville is such a versatile machine with many brewing options, I believe it is worth the price.
I am disappointed that it only comes with a 1 year limited warranty. For something this expensive, it should come with at least a 3- 5 year warranty.
There is also a learning curve using this machine.

The set up takes some time though it was not complicated. Selecting the presets that work best for you as well as the grind size of the coffee takes some time to perfect, but it is worth it once you get the perfect ratio!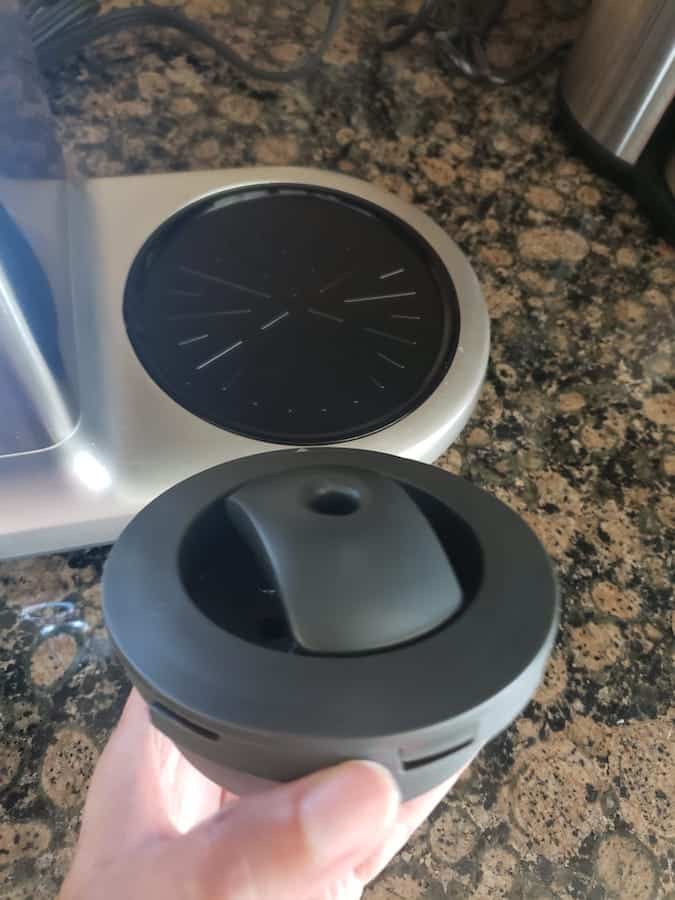 Tough to clean and maintain.

Another gripe about this machine, especially if you are anal about cleaning all the parts, is that the carafe lid is impossible to clean. I consider this a major design flaw of the Breville. The carafe lid allows for buildup that is nearly impossible to clean.
Also the parts are not dishwasher safe
How Does it Compare to Other Drip Machines?
I have personally tried the Cuisinart PerfecTemp and Technivorm Moccamaster coffee machines. You can read my reviews on both to get my in-depth thoughts on each.
Breville Precision Brewer vs Moccamaster
I felt the flavor of the Precision Brewer and Moccamaster were very similar
If you are in the market for a great tasting cup of coffee without all the bells and whistles, then I would choose the Moccamaster, simply for solid coffee every time but backed by a 5 year warranty.
If you want to experiment and hone in your barista skills, then choose the Breville.
I have to say for the flavor of the hot coffee, the Breville was superior to the Cuisinart.
And when you compare the other features the Breville has, it is far superior
But the Cuisinart is just as reliable and alot simpler to use.
And the PerfectTemp is much more affordable.
Final Verdict
I like the Breville Precision Brewer for exactly what its name says…precision. Not only does it come with preset coffee methods like strong, gold or cold brew but you can test, optimize and customize your own perfect brew by experimenting with the different water temperatures, flow rates, and steeping time.
This drip coffee maker is perfect for those who care alot about the flavor and richness of their coffee and want the options to tinker around to get their perfect cup. It's a bit pricey and may be pain to maintain, but it may be worth it for all the Breville's versatility and value.
In my house we like to drink hot coffee in the morning and cold coffee in the afternoon so it was the perfect investment for us especially with saving money on Cold Brews at Starbucks!
Breville Precision Brewer
The Breville Precision Brewer comes with all the customizations/tools a coffee drinker could ask for to brew the perfect cup of craft coffee.
Last update on 2023-09-17
Searching for more coffee maker options?
I have personally bought and tried other well known drip coffee makers that you may want to check out here! (No this doesn't make me a coffee snob…or does it??)
For more quality Breville machines to consider, check out the reviews on our favorites here:
For your drip coffee enthusiasts:
For more espresso maker options:
FAQ
Does the Breville Precision Brewer have a grinder?
The Breville Precious Brewer does not come with an integrated grinder. So you will have to purchase either a manual or electric grinder to pair with it. Just remember to look for a burr grinder and grind your coffee beans to a medium course grind.
Does the Breville Precision Brewer have a hot plate?
No, the Breville Precision Brewer doesn't come with a hot plate. But you really don't need it since the thermal carafe does a good job keeping the coffee hot for a few hours.
Coffee Has Never Read This Good!
Sign up for a FREE newsletter to the best home brewing tips and guides
Thank you for subscribing to The Cup Coffee House Crew! There's a surprise in your Inbox 🙂
Something went wrong.
About the Author
Latest Posts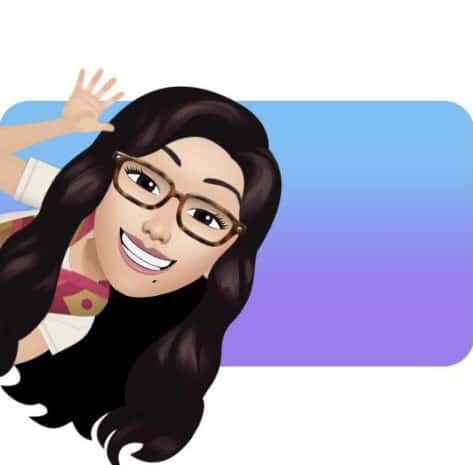 MJ is a full time health care worker, mother, and wife. When she puts her super cape down, she writes occasionally about coffee and how to get a better tasting brew from home.
Chief Editor