Last updated on November 27th, 2023 by Jules Winnfield
Its 5 AM.
You wake up and tap the alarm on your phone. You swing your heavy tired legs out of bed. As you slip on your robe and drag your body from the bedroom to the kitchen, thoughts of the long day begin to consume your mind.
You can't imagine dealing with it yet. Not yet. "Let me have my coffee first" you say to your self.
You make it to the kitchen after dodging a landmine of kids toys…
Darn. You're out of grounded coffee beans. You pull out your electric coffee grinder. Dump some grounds into the machine. Turn on.
You are nearly shaken out of your skin by the rumbling grinding noise. It feels like the whole world (at least everyone in the house) is going to wake up to what sounds like a demolition truck tearing down the house! Yikes!
What you need my friend is a manual coffee grinder. And maybe you have heard that the JavaPresse manual coffee grinder could be your answer.
Electric coffee grinders are great for making more coffee grounds, in less time, with less effort, and less often. But manual coffee grinders are nice because they are quiet, easily portable, and require only manual effort to operate.
So in this quick but detailed JavaPresse manual coffee grinder review, we will "grind" through all the details of this popular grinder, including our own personal experience using it, so you can easily determine if it makes sense in your coffee arsenal.
Sale
Last update on 2023-11-29
---
What's So Good About The JavaPresse Manual Coffee Grinder?
The one thing about enjoying a cup of coffee I really appreciate is not the great taste and intoxicating aroma. That's a given. But the underlying benefit most people don't realize: its just about the only time in the day EVER that people can take a moment to just stop.
Just stop and be. Appreciate the present moment. Allow your mind to relax and think calmly.
And the JavaPresse Coffee Company, founded by Raj Jana, was built with exactly those values. Life is not guaranteed (ain't that the truth) and we should be grateful for not only our present lives but the amazing future coming our way. And why not enjoy the little things like a well grounded cup of coffee along the way.
The JavaPresse manual coffee grinder is part of this mission of good products to make great coffee. But what else lets this coffee grinder stand out?
Important Feature #1: Lightweight, compact, and portable for travel
The first thing that jumps out at you about the JavaPresse is its very simple design. Its small, compact and easy to hold at only 2 in wide and 6 in long. The outer casing is made of brushed steel so its pretty sturdy. It's also a joy to carry and travel with since it weighs only 1/2 a lb. You could practically throw your JavaPresse manual coffee grinder into your purse or backpack and be equipped to ground fresh coffee either at work, school or even abroad.
Important Feature #2: High grade ceramic conical burr grinder
Over time, JavaPresse has made improvements in their conical burr grinder. The ceramic conical burr is made of food grade ceramic and is assembled with a burr locking mechanism made of industrial grade nylon components. This means a more durable, long lasting grinding mechanism.
While some like to bash ceramic burrs as being inferior to stainless steel, its good to remember that they each have advantages and disadvantages. Ceramic burrs produce less heat during the grinding process which means less impact on the original flavors of your coffee beans. And if produced well, can be long lasting as well.
For more info on the best coffee beans for espresso, check out our full guide and review.
So whether you are grinding course for a French press or medium fine for your AeroPress or fine for your espresso maker, the JavaPresse manual coffee grinder can produce a decent consistent grind, albeit it may take longer for the finer ground.
If you want to see other manual coffee grinders to choose from, check out our full review on the best manual coffee grinders on the market.
Important Feature #3: Affordable pricing
Usually the price level is not the most important feature we look at in our reviews, but it would be silly to not acknowledge the obvious: The JavaPresse is priced incredibly well compared to other manual coffee grinders of similar quality like the Porlex for example.
At $40 the JavaPresse is probably the best manual coffee grinder under $50 you can find. And with the way its been promoted in a slew of publications like Forbes, Buzzfeed, Entrepreneur, Success, etc., its definitely popular and people are taking notice.
But not to worry, we at The Cup Coffee House are never influenced by what everyone else is saying. So lets keep digging to see what else you get for this cheaper price tag…the good and not so good.
Can Do/Can't Do
Depending on your specific coffee needs, the right manual coffee grinder for you will vary. So what are some realistic expectations regarding the Javapresse?
It can grind a decent cup of course, medium or fine coffee ground – not a $100 grinder type of grind but still better then pre-bought grounds…yuck!
It can grind 1-2 cups of coffee at at time – not a lot but is par for the course for such a compact grinder.
It can travel easily
It can adjust grind settings but not as easily – You have 18 click settings to choose from, ranging from fine (1) to medium to course (18). But many have reported you don't really "hear" any clicks per se. Its more of a screw that you loosen underneath. The more loose, the more course. And this makes it harder to consistently and accurately dial in the exact grind setting you want for your coffee.
It can be bought on a cheap budget
It can not grind very fast – This manual grinder will take you at least 2-5 minutes just to grind 1-2 cups of coffee at a time. That is significantly longer compared to higher end grinders like the 1Zpresso which can grind in 20-30 seconds (even espresso's). Not a problem IF you don't mind the extra time and workout in the morning.
It can not grind with minimum effort
It can not last as long – more on this in the reviews section
How Do You Use a JavaPresse Manual Coffee Grinder Step by Step?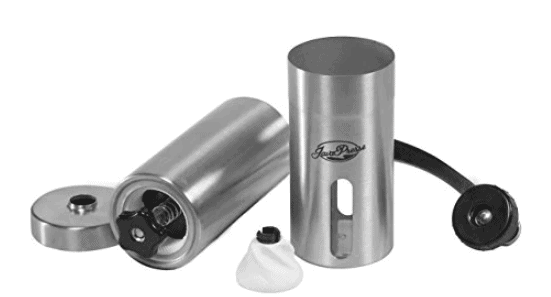 Ready to get your grind on? Then the JavaPresse makes it so simple, that even my 7 year old could do it. Here's how he would do it step by step!
Step 1: Adjust the grind settings. As we mentioned before, the adjustment is located underneath the grinder. Start from a full rotated clockwise position, and simply rotate counterclockwise till you reach your desired setting. There are not clicks to hear so you will need to find a way to measure how much you are rotating so you can duplicate it next time.
Step 2: Take the lid off the hopper, and pour your favorite coffee beans inside. 1-2 cups is the capacity.
Step 3: Put the lid back on. Attach the crank, and begin grinding by rotating in a clock wise fashion.
Step 4: Unscrew catcher and pour out your nicely grounded coffee for brewing.
Step 5: Clean only if necessary or if you are using a different coffee blend. Cleaning is not hard but not super simple either. It does require taking apart the grinding mechanism so you can wash the ceramic burr. But if you're careful how you lay out the parts as you disassemble you should be fine.
What Do the Reviews Say?
There are a ton of manual coffee grinders on the market. So one way to filter the good from the average is take a look at the customer reviews left by real users. So that's we did. And let me to tell you…there were ALOT of reviews. With over 2000+ reviews on the JavaPresse Coffee Company site and thousands more on Amazon, people are definitely talking.
And what are they saying?
For the most part, people really like the JavaPress manual coffee grinder. You have reviews like…
"I like the design a lot, especially the "friction-closure" way the parts fit together and the simplicity/quality of the grinding element itself."
And
"I'm so impressed with this coffee grinder! It's small, easy to handle, works very well and is easy to clean and care for."
The biggest consistent complaint we found was the time to grind is long, especially if you are grinding for espresso or more than 3-5 cups at a time. You're looking 10 minutes plus! So definitely not the best choice for a group or anything more than a few cups.
Finding the right grind setting is a "guessing game". Not so much because you have to experiment which grind settings work for you (we accept that). Rather because you cant accurately pick the same grind setting each time so you can experiment efficiently.
Also the coffee grinds are not always consistent and uniform. There are complaints of the ceramic burr floating, or not stabilized during grinding.
Furthermore, we learned that the quality of assembly of this coffee grounder is average at best. Many reported broken grinder components within months of purchase and daily use. Issues like a weak holding catcher or a loosening adjustment screw while you grind or common.
But the one thing that likely overcomes all of these problems (and likely explains its high rating) is JavaPress's unquestionably divine customer service! If the coffee grinder breaks down on me in 3 months that's one thing. But if I call or email to report it, get a response almost instantly, and within days I receive a brand new coffee grinder, than I am more than a happy camper!
Reviews suchs as this emphaize this point…
"In response not only did they send me a whole new grinder, but they had just received these upgraded burrs and sent them to me as well!!!! To say I was blown away by the immediate, prompt, and efficient response to my issues with this product is an understatement."
How Does It Compare
We also wanted to compare the JavaPresse to other similar manual coffee grinders in the market to see how it stacks up. Here is what we found to help you decide if the JavaPresse manual coffee grinder is a worthy addition to your morning routine.
One of the manual coffee grounders we found to compare to the JavaPresse is the Hario coffee mill. In fact, it's a common question people are asking online. Why?
Both the JavaPresse and Hario are built with ceramic conical burr grinders, which delivers a decent satisfyingly consistent grind and brew. Both are lightweight and easy to travel with. Both have adjustable settings and a reasonable price. But what are their differences?
The Hario has a little more capacity than the JavaPresse. The Hario Slim can grind up to 30g of coffee at a time, while the JavaPresse can only grind 15-20g depending on how much you're willing to push it.
The Hario is a little bigger than the JavaPresse, with about twice the width and just a tad heavier.
The Hario is slightly cheaper than the JavaPresse.
To be honest, the Hario Slim and JavaPresse manual coffee grinder are practically the same. They both deliver a decent quality grind, easy to use, lightweight, and budget friendly. And even though both are built with average quality, and take time and muscle to grind fine coffee, you likely will be fairly satisfied with either one if you are beginner coffee grinder.
Another option we found to compare to the JavaPresse was the Anzid manual coffee grinder. Similar to the Javapresse, the Anzid is made of stainless steel, a quality ceramic conical burr, and small enough to hold in your hand for a smooth easy coffee grinding experience. But a few things did stand out.
The Anzid is a bit easier to grind then the JavaPresse. This is because the Anzid is built with a foldable crank handle. This means not only less effort grinding, but makes it easier to pack and travel with too. Also the shape of the body is triangular for an easier grip. Nice little features you typically wouldn't expect from a grinder in this price range.
The Anzid has a catcher lock that ensures your coffee grounds aren't spilled while you grind. As you recall this was a design issue some reported about the JavaPresse.
The Anzid doesn't grind much coffee at a time. Only 1 cup. JavaPresse gives you at least 1-2 cups.
The Anzid is built with less quality design and assembly. Many customers are satisfied but just as many are disappointed with the build. At least with JavaPresse you get highly responsive excellent customer service.
The Anzid is much cheaper than the JavaPresse. Almost 1/3 of the price.
If you are on a super tight budget and want to get started with coffee grinding then consider the Anzid. But if you are a beginner, and want affordable but still a decent quality grinder, that makes more than just 1 cup at a time, with customer service that will be there, then I would just stick with the JavaPresse.
Final Verdict
If you're looking for a manual coffee grinder to add to your coffee tool set that will give you a quieter option vs your electric coffee grinder, then the JavaPresse manual coffee grinder is an ok option to consider.
Its easy to carry, small, lightweight and easy to travel with. The ceramic burr preserves the unique flavors of your coffee blend. Its moderately easy to grind and clean, with multiple grind settings, on top of an affordable price tag. Not to mention the outstanding customer service.
However, its mostly suited for personal use as grinding can take up to 10 minutes or longer. It requires a meaningful amount of effort. The grind settings are not easy to duplicate. The quality of assembly is lacking. Grinds are not as consistent and uniform.
When we purchased the JavaPresse manual coffee grinder to test out for ourselves, we found it pretty simple to use. It requires a bit of work but not anything too crazy. Coffee beans came out pretty smooth and even for our French press, so this is also a good choice for a grinder when you are using a French press. We don't grind coffee too much in our house, mostly pod users, so it works for our purposes.
You may even consider opting for a grind and brew coffee maker that has a coffee grinder built into the coffee maker to save space and time. Or grinder like KitchenAid if you haven't tried electric yet.
If you are a beginner coffee grinder, this is probably an excellent choice for stepping into the world of coffee grinding without spending alot. Unless you are a coffee connoisseur, or drink more than 2-3 cups per day (in which case the 1ZPresso would be your best bet), consider the JavaPresse manual coffee grinder.
Sale
Last update on 2023-11-29
Coffee Has Never Read This Good!
Sign up for a FREE newsletter to the best home brewing tips and guides
Thank you for subscribing to The Cup Coffee House Crew! There's a surprise in your Inbox 🙂
Something went wrong.
About the Author
Latest Posts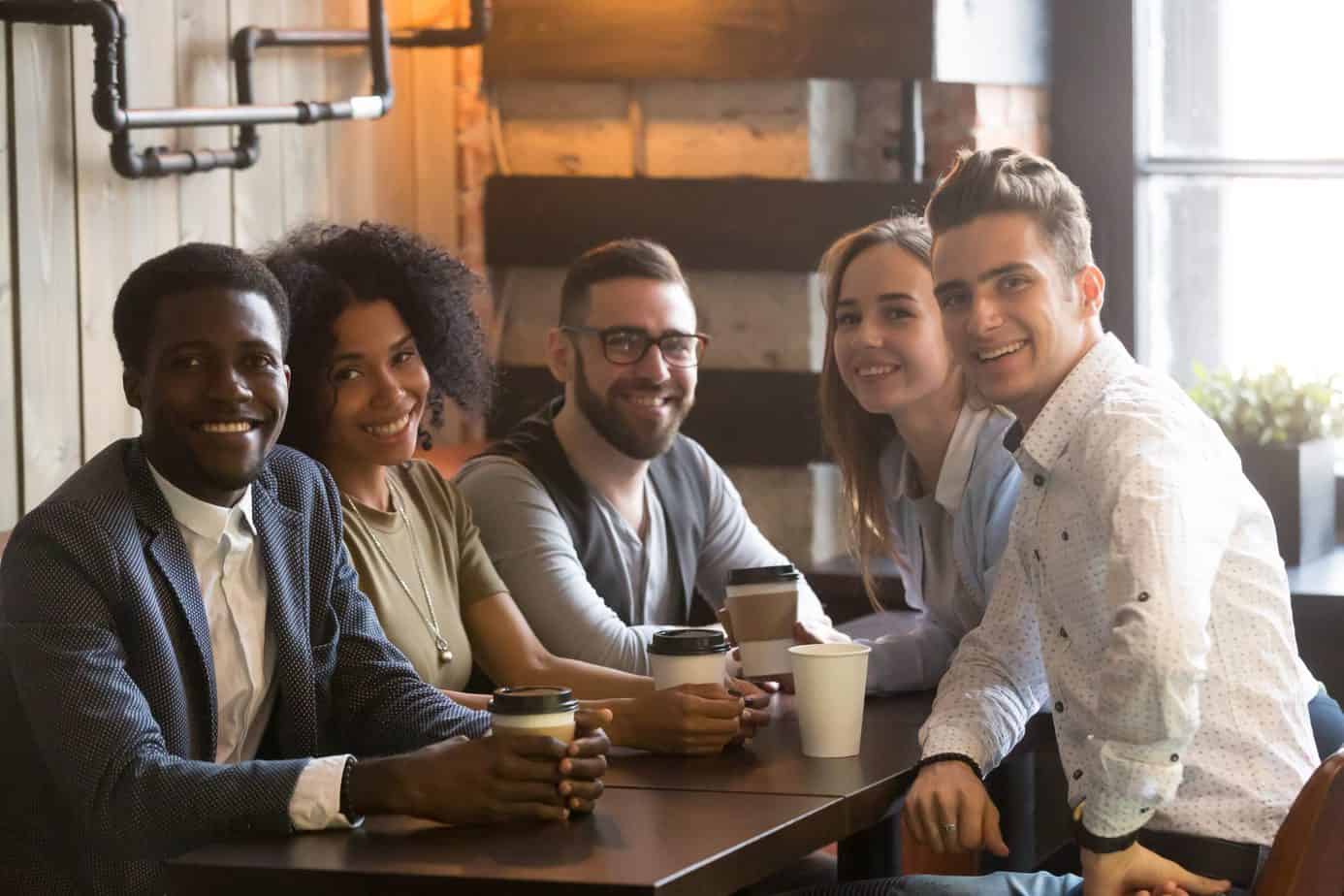 "Jules" is a pharmacist by day and investor, writer, and health nut by night. When he's not sipping on some coffee laced with MCT oil during an 18 hour fast, he is writing about how to get your coffee grind on or playing Monopoly with his 2 boys and wife. Ahh…life is good!