Last updated on June 1st, 2023 by Jules Winnfield
My fellow coffee lovers know that there is nothing better than the first cup of coffee in the morning, especially if that coffee has been freshly ground by you just seconds before brewing. If you want the best tasting coffee, you grind your coffee beans. No argument there.
But how you grind your coffee can definitely vary. There are manual grinders, electric or automatic grinders, and more.
Some people like to manually grind their coffee, which takes more time and effort but is quieter and produces a more consistent grind profile. Others prefer the ease and convenience of having an electric grinder whip up a weeks worth of coffee in a few seconds.
If you are looking for a simple electric coffee grinder, then consider the KRUPS Silent Vortex Electric Coffee Grinder. It is highly rated for its innovative silent grind technology, efficiency, and easy one-touch operation.
In this review, we will dive into what the KRUPS coffee grinder can and cannot do, how to use it, what the reviews say about it, and how it compares to some of its similar competitors.
Want the quick cliff notes summary? We found that one of the best things about this grinder is its quiet performance and simple fast grind mechanism. The downside of this coffee grinder is that the clean-up can be a little messy, and its a bit pricier than similar options on the market. Overall, if you are an experienced coffee drinker looking for an electric coffee blade grinder that is easy to use, fast and quieter than most, the Silent Vortex Krups electric coffee grinder is your best pick.
What's So Great About the Krups Electric Coffee Grinder?
Fun fact: the Krups brand is a German based company with expertise in coffee and food preparation since 1846. They are well known for their high quality food prep products using their mantra of passion, precision, and perfection.
And the Krups Silent Vortex coffee grinder is one example of their quality products which are highly rated on the market right now. If you are looking for something innovative, quiet, and affordable, then this may be an option to consider adding to your coffee brewing arsenal.
Why?
Important Feature #1: Super Silent
One thing that can be a bit annoying when it comes to using electric coffee grinders is how loud they can be. There is nothing worse than feeling like you are waking up the entire house just to enjoy a cup of coffee. If you want a coffee grinder that respects the quite peace in your home, the Krups coffee grinder is a good option.
With the Krups Silent Vortex coffee grinder being the quietest coffee grinder that Krups has ever made, it offers the best chance of a quiet and peaceful morning to your daily routine.
Important Feature #2: Vortex Spin Technology
This Krups electric grinder is also equipped with vortex spin technology. This means it can handle grinding enough coffee beans for 12 cups of coffee within just 15 seconds. Not only is the coffee grinder super silent, but it's extremely quick and efficient so you can be out the door fast with your fresh cup.
Important Feature #3: Simple one touch use
I like easy. Especially in the morning when I'm still barely awake. If you appreciate that as well, then you will appreciate Krups one touch electric coffee grinding mechanism. Just press one single button, and you can have enough coffee for the entire day (or multiple days). And depending on how long you hold it down, will determine the coffee grind size you want.
Important Feature #4: Product Quality
The Silent Vortex Krups coffee grinder is made with a high-quality stainless steel blade and comes with a stainless steel grinding bowl so you can store up to 12 cups of freshly ground coffee beans. The dishwasher-safe grinding bowl comes with a storage lid (which is also dishwasher-safe) that seals for optimal freshness.
For more info on the best coffee beans for espresso, check out our full guide and review.
These accessories are perfect if you are someone who doesn't want to grind coffee every single morning. Instead, you can store your coffee right in the grinding bowl and use it for a few days before having to grind more, knowing that it will stay fresh and taste delicious. Perfect for pouring into an internal tank coffee maker for fast batch brewing in the morning.
For a full list of coffee makers that come built with grinders, check out this full guide on the best grind and brew coffee makers, and the best single cup coffee makers with built in grinders.
Can Do/Can't Do
Finding the perfect coffee grinder can completely change a person's coffee experience. So, what do you care about when it comes to grinding coffee?
Lets list out what the Silent Vortex Krups coffee grinder can and can not do so you can make a decision that fits your needs.
It can grind 12 cups worth of coffee beans in 15 seconds – that's a lot of coffee!
It can be used early in the morning without being disruptive – it's the most silent Krups coffee grinder that's currently on the market. In fact, it's 5 times more silent than the Krups F203 coffee grinder.
It can grind coffee with minimal effort, using electricity.
It can travel relatively easily.
It can be cleaned with ease, as the grinding bowl and lid are dishwasher safe. But if you use it for grinding both spices and coffee it can be hard to get the taste of each out. Best recommendation is to have a separate Krups coffee grinder for spices and one for coffee.
It cannot be programmed. There is only one setting for grinding and only one button for use. To achieve different grind sizes, you can pulse the grind button or simply hold it down. This means timing how long you hold the button for the grind you want…which can be pretty challenging for beginner coffee grinders.
It cannot easily grind fine for espresso. You may need to grind your beans multiple times to get the fine grind you need for an espresso or Turkish press. The longer you grind for, the finer your coffee will be.
It cannot be emptied easily. Some users reported that this KRUPS coffee grinder can be messy because you may have to lift the whole thing to dump out all of the coffee grounds.
How to Use the KRUPS Electric Coffee Grinder: Step By Step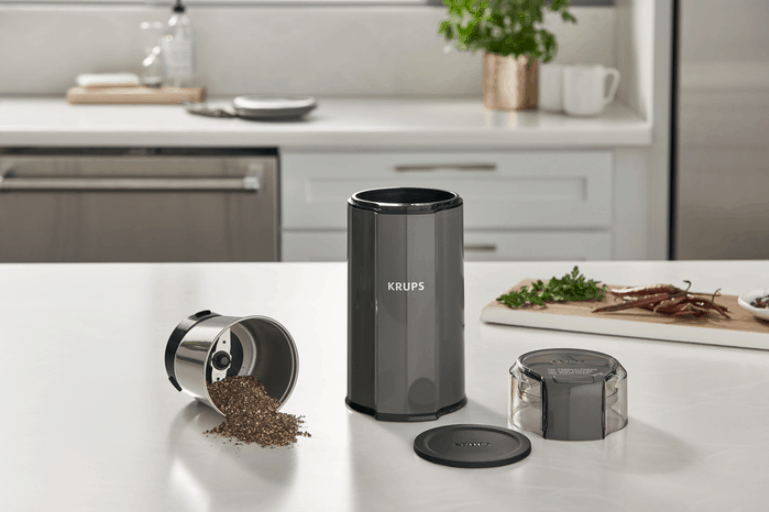 As I'm sure you know by now, using this coffee grinder couldn't get any easier. Let's go over the basics of using this Krups coffee grinder, step by step.
Step 1: Remove the KRUPS coffee grinder from its box and internal packaging.
Step 2: Plug in the coffee grinder in the most convenient place for you.
Step 3: Remove the top lid and add your desired amount of coffee beans to the stainless steel compartment, then put the lid back on the machine.
Step 4: Use the one-touch button on top of the machine to pulse, or hold it down to continuously grind for more fine coffee grounds.
Step 5: Remove the top lid and the stainless steel grind container and pour your desired amount of coffee grounds.
Step 6: Brew your coffee using your favorite brewing technique.
Step 7: If necessary, you can place the stainless steel grind container in the dishwasher when it needs cleaning.
What Do the Reviews Say?
We all know that coffee lovers NEVER settle for just any piece of coffee equipment – it has to be good. So, to give you even more insight on this product, we took a look at the reviews on the Krups website along with thousands of reviews that were left on Amazon for this product to get a feel of how people really like using this electric coffee grinder.
What are all of these people saying?
With this Krups coffee grinder having so many positive reviews on Amazon, it seems to be a pretty solid product. We found top reviews saying…
"An absolute must for anyone that enjoys freshly ground "whole-bean" coffee made in a French Press! (compare to any chain coffee shop, you will never go back!)"
Another rating says this…
"It is a nice size, and looks good on the counter. It is easy to use, and easy to clean."
One of the biggest complaints we discovered is users struggled knowing how long to hold the button down for the coffee grind size they wanted. Hold it too short and the coffee is too coarse and clunky. Hold it too long, and your coffee is grounds turn to powder.
One reviewer left these recommendations which will ultimately change depending on your needs. But this can be a starting point.
Coarse ground – 5-second press
Medium ground – 12 second press
Fine ground – 20 second press
Another challenge is that removing the lid can be a little messy since the coffee grounds stick to the top and fall out when the lid is removed. One tip that we found from a reviewer is to shake the top a bit before you remove it to reduce the number of coffee grounds that fall out.
A few people have said that this Krups coffee grinder is not as quiet as you would expect, and some people have said that it gets louder after more time and more use. If noise is a big part of your criteria, then this is something to consider.
For the most part, we found that most people are impressed with this product. The Krups Silent Vortex coffee grinder has been reviewed extremely well, with thousands of ratings. For just $40, with all the accessories included, people seem to enjoy this coffee grinder and its simplicity.
How Does it Compare?
While the Krups coffee grinder looks to be a nice electric coffee grinder, its not the only impressive machine on the market. So we wanted to compare to see the how the Krups stacks up against its market competition.
When you look at both the Krups Silent Vortex and Hamilton Beach electric coffee grinder, you see alot of satisfied users. So we compared them both. And honestly, its hard to see alot of differences between these 2 powerhouse coffee grinders. They both use an easy one button electric operation to grind quietly, both use stainless steel blades to whip up 12 cups of coffee at a time, and have removable grinding chambers. But in terms of differences…
The Hamilton Beach may not be as silent as the Krups Silent Vortex. This is really hard to prove given most people say they are both quiet. But since the Silent Vortex is using a different grinding technology, we'll give it the nod on this one.
The Hamilton Beach can't handle grinding consistently. We found that the best use of the Hamilton Beach electric grinder was via pulsing the button. Holding it down increased the likelihood of the motor running hot and breaking down. But both brands have no simple way of whipping up coarse, medium or fine ground coffee.
The Hamilton Beach electric grinder cord is shorter
The Hamilton Beach is half the price of the Silent Vortex
If you are looking for your first electric coffee grinder and don't want to spend too much, the Hamilton Beach seems like the better option since you get almost everything the Krups Silent Vortex offers at half the price. If you are really concerned about not making too much noise in the morning while you grind coffee and want the best of the best in quality, then opt for the Krups Silent Vortex.
Another high quality and highly reviewed option is the Kaffe KF2020 Electric Coffee Grinder. We like it because its comparable to the Silent Vortex with its simple compact design, moderately low noise levels, and 12 cups of coffee capacity.
The Kaffe grinder comes with different accessories. This grinder does come with a cleaning brush, but it does not include the stainless-steel storage parts that the Krups Silent Vortex comes with. It also comes with a transparent lid, which is nice so you can see how your coffee grounds look during grinding.
The Kaffe produces a consistent grind profile but may require a pulse action for ideal results.
The Kaffe coffee grinder is not as popular as the Silent Vortex. This grinder has significantly fewer ratings than the Krups Silent Vortex, which sometimes means something.
The Kaffe electric coffee grinder is cheaper than the Silent Vortex. With the Kaffe coffee grinder listed at only $24.99, the price is quite a bit lower compared to the $39.99 that you would pay for the Krups Silent Vortex coffee grinder.
If you want a nice electric coffee grinder to replace your old one that will last (2 year warranty) and produce consistent results, consider the Kaffe electric coffee grinder. Once again, if you want the quietest grind there is and favor the electric coffee grinder that most coffee drinkers trust, then go with the Krups coffee grinder.
Frequently Asked Questions
Do you still feel like you have questions about the Krups coffee grinder? You're not the only one. Here are some frequently asked questions that we found – and answered!
Q: How long can I keep my coffee grounds stored in the grounds container?
A: Whole beans can be kept for months in a cool, dry place. However, once the beans are ground, they should be used within about a week for maximum freshness – and should still be stored in a cool, dry area.
Q: Can the Krups coffee grinder be used for anything else?
A: Sure can! Most Krups coffee grinders, including the Silent Vortex, can be used for spices, nuts, grains, and more. But as we mentioned earlier, you may not want to use the same grinder for both spices and coffee because it can leave a spice after taste in your coffee.
Q: How thick are the coffee grounds after grinding?
A: It depends on how long you hold the grind button. The longer you hold or pulse, the more fine your coffee grounds.
Final Verdict
If you are looking for an electric coffee blade grinder to pair with your new French press, that is easy to use, and grinds coffee fast, the Silent Vortex Krups coffee grinder could be a strong contender for your search.
Some things that impressed us with this machine are its easy one-touch grinding, the innovative vortex technology, the ability to grind 12 cups of coffee at once, stainless steel durable parts and pieces, and its super silent grinding feature.
On the other hand, we were not fans of the mess that can happen from the opening the lid if you're not careful and the difficulty of grinding to the size you want.
You can consider other quality brands like KitchenAid. Or if electric coffee grinders are not your thing or just too loud in general, then consider a manual coffee grinder like the JavaPresse or 1Zpresso instead.
If you want more options for coffee grinders specifically for French press, we also created a list for our readers.
Overall we like the the Krups electric coffee grinder. We recommend it for experienced coffee drinkers who appreciate a high quality brand and don't mind spending a little extra money for it and are also looking for the quietest coffee grinder on the market. Convinced?
Click Here to Grab the Silent Vortex Krups Electric Coffee Grinder
Coffee Has Never Read This Good!
Sign up for a FREE newsletter to the best home brewing tips and guides
Thank you for subscribing to The Cup Coffee House Crew! There's a surprise in your Inbox 🙂
Something went wrong.
About the Author
Latest Posts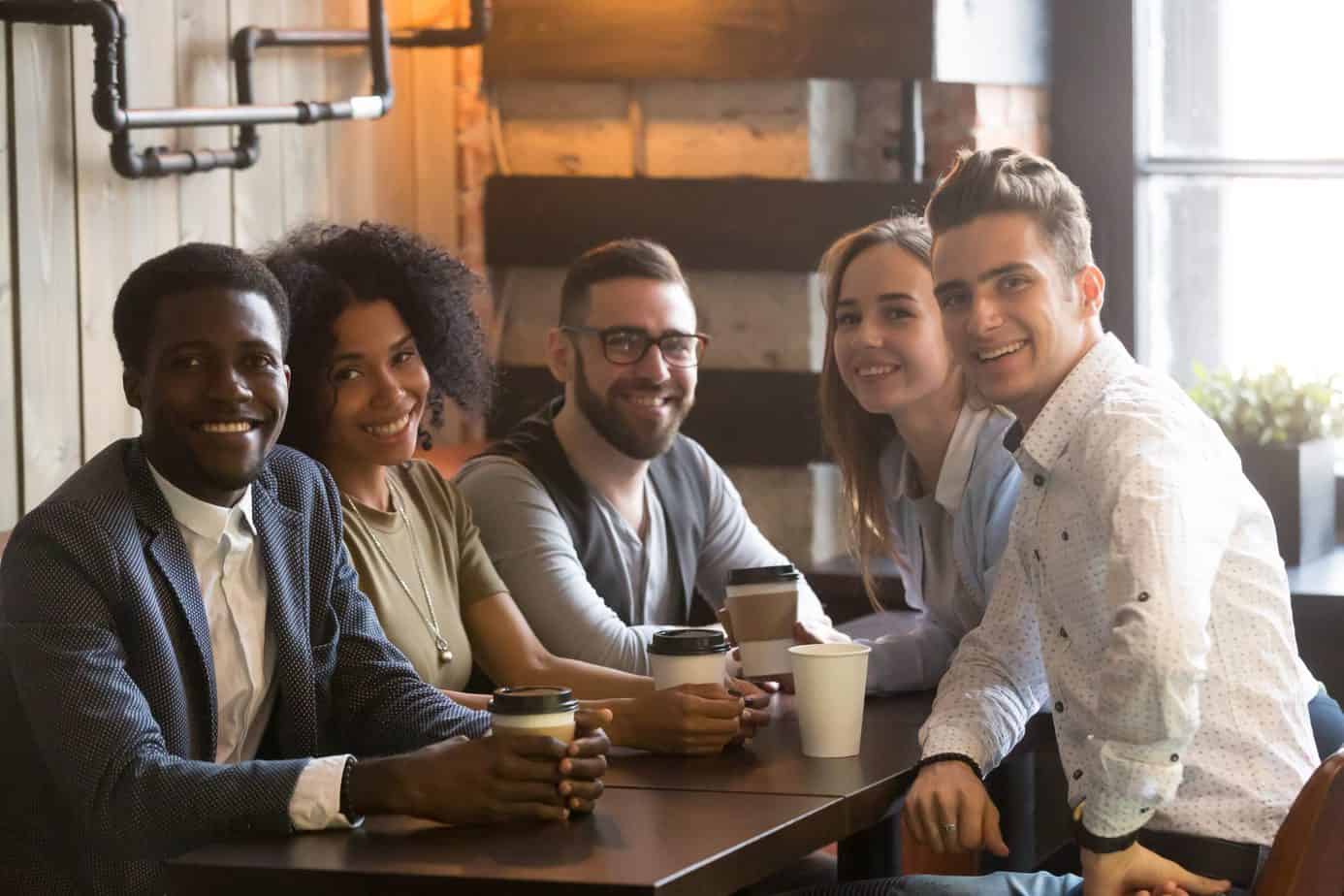 "Jules" is a pharmacist by day and investor, writer, and health nut by night. When he's not sipping on some coffee laced with MCT oil during an 18 hour fast, he is writing about how to get your coffee grind on or playing Monopoly with his 2 boys and wife. Ahh…life is good!