Last updated on February 1st, 2023 by Alex Praytor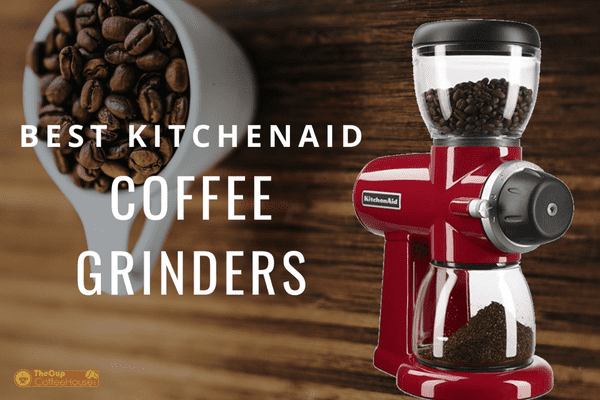 When it comes to coffee, other than the roast, there's no question that starting off with fresh-ground coffee beans gives you the best-tasting cup of joe. Plus who can resist the enchanting aroma of ground coffee beans filling the air in the morning?!
KitchenAid appliances are a staple in many American homes. Users love this brand for its affordable and user-friendly kitchen appliances.
So, how do KitchenAid coffee grinders stand up to the competition? 
After hours of research and investigating, we found currently there are four unique coffee grinders with the KitchenAid label on the market. You can find professional burr grinders or affordable blade grinders. These four KitchenAid coffee grinders are compact and functional, fitting easily into your kitchen decor. 
In a hurry?
Overall we like the KitchenAid KCG8433 burr coffee grinder as our best KitchenAid coffee grinder. Not only is it easy to use and clean with a removable hopper, but it comes with a whopping 70 different grind settings and grinds to near perfect consistency and precision. Truly a worthy "aid" to your home espresso or any coffee brewing experience.
Sale
KitchenAid Burr Coffee Grinder - KCG8433
The KitchenAid KCG8433 is a reliable, quiet, conical burr stainless steel grinder with 70 settings, and removable hopper that makes smooth consistent coffee grinds you will love.
Last update on 2023-05-24
Let's have a closer look at each model and review a beginners guide before you decide which grinder is right for you.
---
How to Choose the Best KitchenAid Coffee Grinder For You
#1. Best overall KitchenAid coffee grinder – KitchenAid KCG8433
Things we like:
Commercial-grade, stainless steel conical burrs
10-ounce bean hopper
Smart dosing technology
70 settings with brew method markings
Uniform grinds
Removable bean hopper
Includes grounds tray, portafilter holder, two hopper containers, and a cleaning brush
Grinds quickly and quietly
Things we don't like:
Review:
For precision and uniform grinds this KitchenAid burr grinder gets a gold star. It comes with easy-to-use markings for your brew type. You can set the grinder to general settings such as espresso, drip, percolator, or French press, or choose an exact grind size from 1 to 70. 
The Smart Dosing Technology allows you to choose the number of beans you want to grind. This machine even comes with a portafilter holder so you can fill the portafilter for espressos directly.
Remove the large 10-ounce bean hopper to easily refill or empty coffee beans. This means cleanup is a effortless.
This KitchenAid Burr Coffee Grinder KCG8433 has a digital interface and is easy to use. It grinds quietly and evenly for a perfect cup of coffee every morning.
Sale
KitchenAid Burr Coffee Grinder - KCG8433
The KitchenAid KCG8433 is a reliable, quiet, conical burr stainless steel grinder with 70 settings, and removable hopper that makes smooth consistent coffee grinds you will love.
Last update on 2023-05-24
#2. Best pro line burr coffee grinder – KitchenAid KCG0702
Things we like: 
15 grind settings 
Even grind consistency 
Low grinding temperatures
Durable stainless steel cutting burrs 
Large 7 oz. glass bean hopper and grind jar 
Easy to clean
Includes burr grinder, handheld scoop, and burr cleaning brush.
Things we don't like:
Not a quiet machine.
Can be complicated to access the extra-coarse or extra-fine grind settings.
Review:
This KitchenAid pro line burr grinder (which includes both the burr coffee grinder and artisan coffee grinder) gives the at-home barista a professional-style quality electric grinder at a good price.
It has a large 7-ounce capacity. You can choose between 15 grind sizes for the perfect espresso, French press, pour-over, cold brew, and more. The burr grinder grinds evenly at low heat to preserve all the flavor from your beans. It has eight grind settings that are simple to use.
However, to access a larger range of settings, you need to recalibrate the machine by removing the knob and changing the position of the gears.
This retro-looking model looks great on a kitchen counter and is durable and easy to clean. 
KitchenAid Proline KCG0702
The KitchenAid KCG0702 proline grinder is fitted with 15 precise and even grind settings for a low temperature smooth grind.
Last update on 2023-05-24
Things we like:
One-touch control
Clear cover to view bean level
Grinds beans for up to 12 cups of coffee
Removable grounds container
Stainless steel spice grinding bowls for fresh ground spices
Includes shaker lids and airtight storage lids
Dishwasher-safe containers
Things we don't like:
You have to occasionally stop the machine and push down the grounds to get an even grind.
Some inconsistency in grind size.
Review:
This KitchenAid Spice and Coffee Grinder is a very simple grinder to use. Press down the one-touch control to start grinding and hold until you wish to stop grinding. The hopper has line markings so you can measure for 4 to 12 cups of coffee.
In addition to grinding coffee beans, this machine also can handle whole spices such as peppercorns, cumin, flax seeds, and more. Fill up the separate stainless steel containers with your favorite spice and pulverize.
After grinding, you can add an airtight lid or a shaker lid directly to the spice container.
This coffee and spice grinder is a versatile kitchen tool to brew a cuppa or cook up tasty recipes.
Last update on 2023-05-24
#4. Most affordable blade KitchenAid coffee grinder – KitchenAid BCG111OB
Things we like:
Clear top cover
One-touch control
Durable stainless-steel blade 
Makes up to 12 cups of coffee.
Removable 4-ounce stainless steel bowl with measurement markings
Heavy-duty motor housing
Often sells for under $30 on Amazon
Things we don't like:
Does not regulate grind size or portions.
Review:
The KitchenAid BCG111OB Blade Coffee Grinder comes with high ratings out of over 12,000 Amazon reviews. This grinder is compact, user-friendly, and gets the job done.
To start the machine, simply press the button. When the coffee is ground to your preferred size, lift up to stop. You can also pulse the device for a more even grind. This coffee grinder can grind enough coffee to brew up to 12 cups of coffee.
Although this blade grinder is not as precise as a burr grinder, it is durable, compact, and a customer favorite.
KitchenAid BCG111
With high reviews, this blade grinder is worth considering for its simplicity, durability, and affordable price tag.
Last update on 2023-05-24
What's the difference between a blade and a burr grinder?
If you're searching for how to make the best cup of coffee, fresh ground beans can make a huge difference in the flavor of your brew. Even the type of grinder you use can make a difference.
In the world of bean grinders, there are two main categories: blade grinders and burr grinders. But, what are the differences? And, which is better? 
Let's look at their main qualities side by side.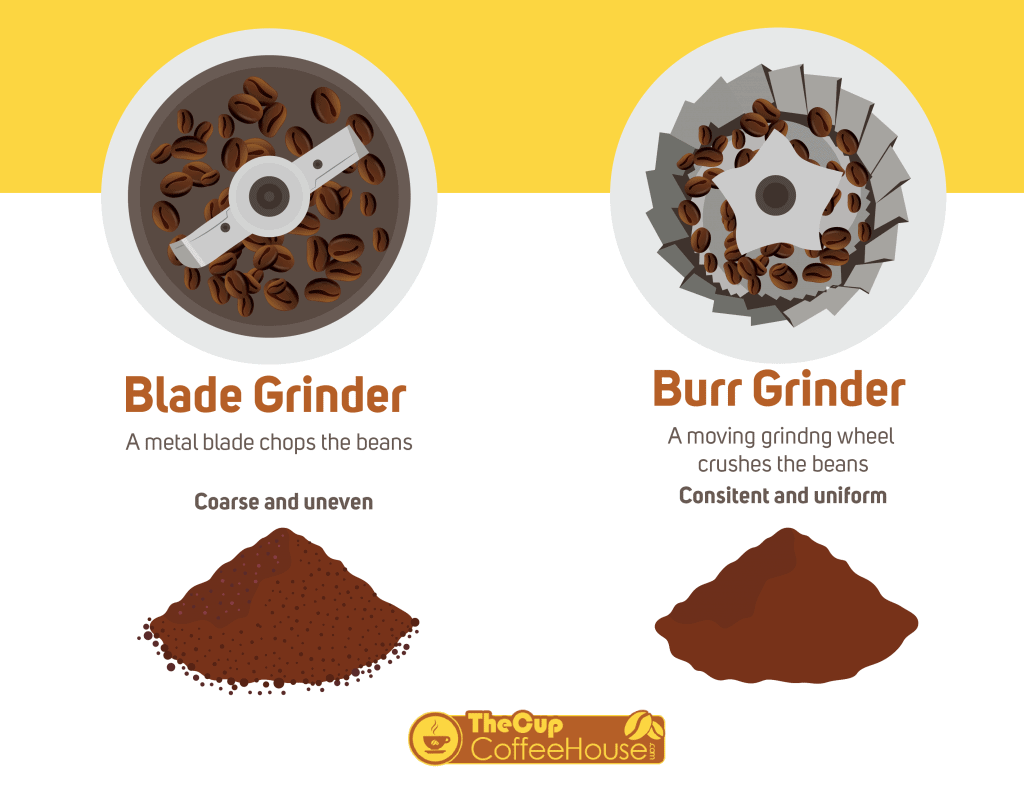 Burr grinders
The top pick for most coffee aficionados is a burr grinder. Burr grinders grind coffee by crushing the beans through two abrasive surfaces. The advantages are this low-heat coffee grinder won't "cook" the beans before it's time. Also, each grind is roughly the same size which allows for an even extraction. 
Although burr grinders are the best choice for flavor, they are often much more expensive than blade grinders. 
Blade grinders
Blade grinders work similarly to a blender. You can add the beans and the rotating blades chop them until you achieve the size you want. Blade grinders are generally an affordable option that gets the job done easily and quickly. They also have fewer pieces than burr grinders and are easier to clean.
However, blade grinders often create some heat that can leach a minimal amount of flavor from the beans. Also, the grind size can be uneven which can disrupt the extraction. With the negatives aside, many coffee lovers still prefer fresh ground coffee from a blade grinder over pre-ground coffee.
The burr grinder is clearly the winner of the two types of coffee grinders when it comes to flavor. However, blade grinders allow coffee lovers to get the great taste of fresh ground coffee to fit into any budget.
How to use KitchenAid coffee grinders
KitchenAid makes both blade and burr coffee grinders. Each machine may come with a different grind size range and instructions for use. For more specific information, consult your machine's user manual.
Here are some general tips for using an at-home KitchenAid coffee grinder. 
Step 1: Find your favorite beans and add them to the burr or blade grinder.
Add your favorite whole beans to a bean hopper. Most coffee pros agree that you get the freshest cup of coffee if you grind the beans fresh within 20 minutes of brewing.
Leaving whole beans in a hopper for long periods can cause them to become stale. So, it is best to add only the amount of coffee beans to the hopper that you plan to brew. 
If you have leftover grounds, they should stay fresh for up to a week after grinding. Place them in an air-tight container and keep them away from heat and light.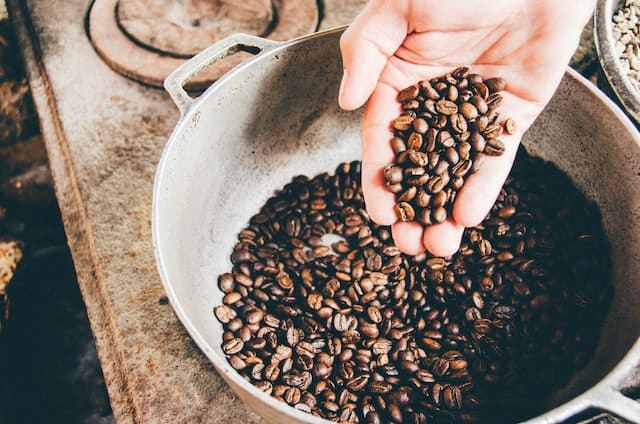 Step 2: Choose your grind size
Most burr grinders allow you to change the grind size depending on your taste and brew method. Some KitchenAid burr grinders allow the user to choose between as many as 70 grind styles. The coarsest grinds usually start at the "1" mark, while finer grinds are higher numbers.
To modify the grind size on a blade grinder, grind for longer for finer grinds or a shorter amount of time for coarse. 
Step 3: Choose your dose of coffee
Many burr grinders allow you to choose your dose of coffee. You can choose to grind for one espresso shot up to several cups of coffee. However, most blade grinders will grind until you shut it off manually.
Step 4: Grind the beans
Once you decide on the grind size and dosage, a burr grinder allows you to simply push a button for ground coffee.
However, a blade grinder requires you to hold down the button or pulse it to achieve your preferred amount and grind size. For the evenest grind, you may even have to stop a blade grinder to push down the grounds.
With a KitchenAid blade or burr grinder, there are just a few simple steps to follow to get deliciously fresh coffee.
How to choose the right grind size for your brew method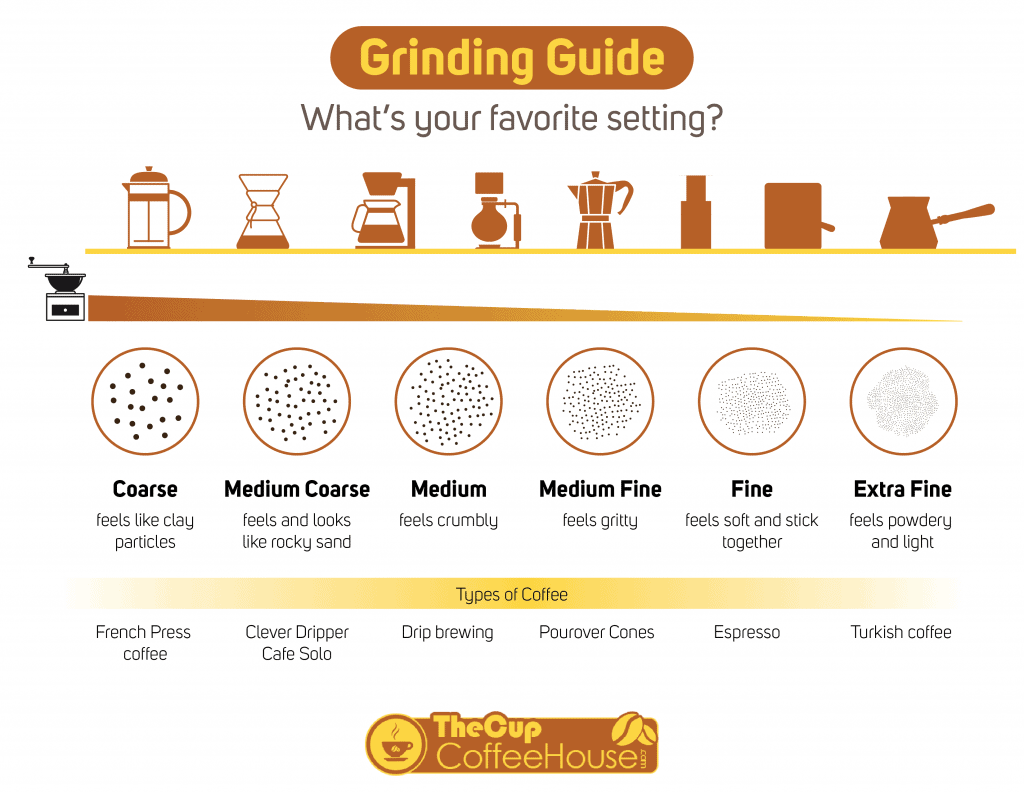 KitchenAid coffee grinders are simple to use. The trickiest part is finding the right grind size for your taste and brew method. A finer grind size is a good fit for quick brew methods while coarser grounds are needed for slow brew methods. 
The following guidelines can be useful for pairing common brew methods with the best grind size. 
Cold brew: Extra-coarse grinds are perfect for very long brew methods. Cold brew coffee can brew overnight or up to 24 hours. A coarse grind size allows the coffee to release slowly without over-extracting. For a stronger-tasting brew, you can use a medium-coarse grind.
French press: Coarse or medium-coarse grinds are perfect for a French press brew method. 
Pour-over coffee: A medium grind size is best for a Chemex or other pour-over brewers.
Espresso: An espresso grind is simply a fine grind of coffee. Espressos are one of the quickest brew methods and require a fine or extra fine grind size for the best flavor.
If you find that your coffee tastes weak, try using a finer grind. However, if the coffee is too strong for your taste, grind your next batch more coarsely. 
How to clean KitchenAid coffee grinders
Most coffee grinders need cleaning after two weeks of regular use. Regular cleaning ensures the machine runs properly while preventing build-up from the beans' natural oils. Your coffee will taste best when the machine is clean. 
The cleaning method may vary depending on if you have a blade or burr grinder, but here are some techniques to get you started. All you need is a soft towel, dish soap, and a cleaning brush or toothbrush.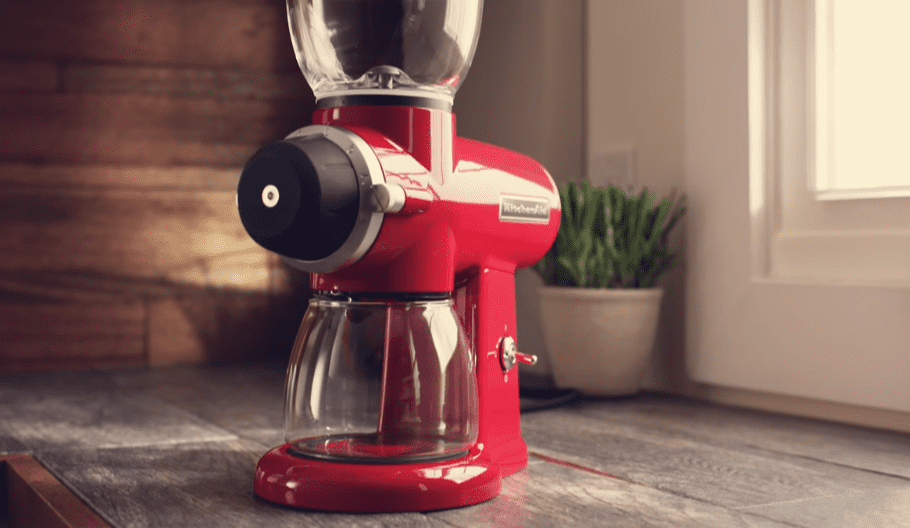 Step 1: Unplug the grinder
Whether you are cleaning out the inside of a grinder, or just wiping down the exterior with a damp cloth, it is best to first unplug the machine for your safety. 
Step 2: Empty the bean hopper
If there are any beans left in the machine, empty them into a container before you continue cleaning. Once it is empty, return the hopper and turn on the machine briefly to make sure no beans are left between the burrs of a burr grinder.
Step 3: Clean the top hopper, lids, and coffee ground tray or container
Check if the hoppers are dishwasher-safe. If not, you can hand wash the upper and lower containers and lids with dishsoap and warm water. Make sure the pieces are clean from coffee oils and soap before drying them with a soft towel. 
Step 4: Clean inside the grinder
Cleaning the inside of a blade grinder is simple. Use a damp cloth to carefully clean the blades and surrounding area. Then, dry with a microfiber cloth.
Burr grinders require a little more effort. You must remove the upper burr before cleaning the pieces with a dry grinder cleaning brush or a clean toothbrush. Check to make sure you remove all residue from the coffee oils.
Step 5: Return all pieces to their proper position.
After all of the pieces are clean and dry, put the burrs and bean hoppers back into the proper place.
Step 6: Wipe down the grinder's exterior 
Use a damp towel to wipe down the exterior of your grinder. When it is completely dry you can plug it in for the next use. 
Final Thoughts
If you are in the market for a coffee grinder, KitchenAid has some good-quality models at affordable price points. Our top pick is the KitchenAid KCG8433 Burr Coffee Grinder because of its precision and even grind size.
Sale
KitchenAid Burr Coffee Grinder - KCG8433
The KitchenAid KCG8433 is a reliable, quiet, conical burr stainless steel grinder with 70 settings, and removable hopper that makes smooth consistent coffee grinds you will love.
Last update on 2023-05-24
A coffee grinder can help you get the freshest-tasting coffee possible. So there's no excuse not to have one when your coffee depends on it and KitchenAid makes it affordable for any one to own.
But if these electrical grinders are too noisy to handle, you can consider even more affordable and quieter manual coffee grinders as well.
So which coffee grinder do you use to brew up your daily cup? Tell us in the comments!
FAQs
What is the difference between a Krups vs KitchenAid blade coffee grinder?
The KitchenAid has more amenities than the Krups Fast Touch including a removable stainless steel receptacle for coffee grounds. However, to get an even grind with the KitchenAid blade grinder, you need to stop the grinder a few times to push down the grounds.
The Krups blade grinder can produce finer grounds than the KitchenAid. However, the KitchenAid machine offers removable bowls for a more streamlined experience.
Will a KitchenAid mixer attachment grind coffee?
Many vintage KitchenAid mixers came with a coffee and grain grinder attachment. However, on current mixer models, KitchenAid specifically prohibits using the grain grinder to grind coffee. The oils from the coffee may dull the blades.
Currently, there is no coffee grinder attachment for KitchenAid mixers. Still, KitchenAid has several stand-alone grinders specifically designed for grinding coffee.
Can I leave beans in a coffee grinder?
Burr grinders especially tend to have large hoppers you can fill with beans. Many coffee lovers leave the extra beans in the hopper instead of putting them away after each use.
However, most domestic coffee grinders do not have an air-tight seal on the hopper lid. Also, the beans can be exposed to light and heat when you leave them in a clear container in the kitchen.
The best practice is to return whole beans to an opaque, air-tight container, and store them in a cool dry place to maintain their freshness.
How do you clean a coffee grinder using rice?
Many coffee lovers choose to clean their coffee grinders with rice. The rice acts as a magnet for dust and oils. Add approximately four spoonfuls of rice to a coffee grinder and pulverize for about one minute. Then, you can dump out the rice and wipe down the grinder with a towel.
Coffee Has Never Read This Good!
Sign up for a FREE newsletter to the best home brewing tips and guides
Thank you for subscribing to The Cup Coffee House Crew! There's a surprise in your Inbox 🙂
Something went wrong.
About the Author
Latest Posts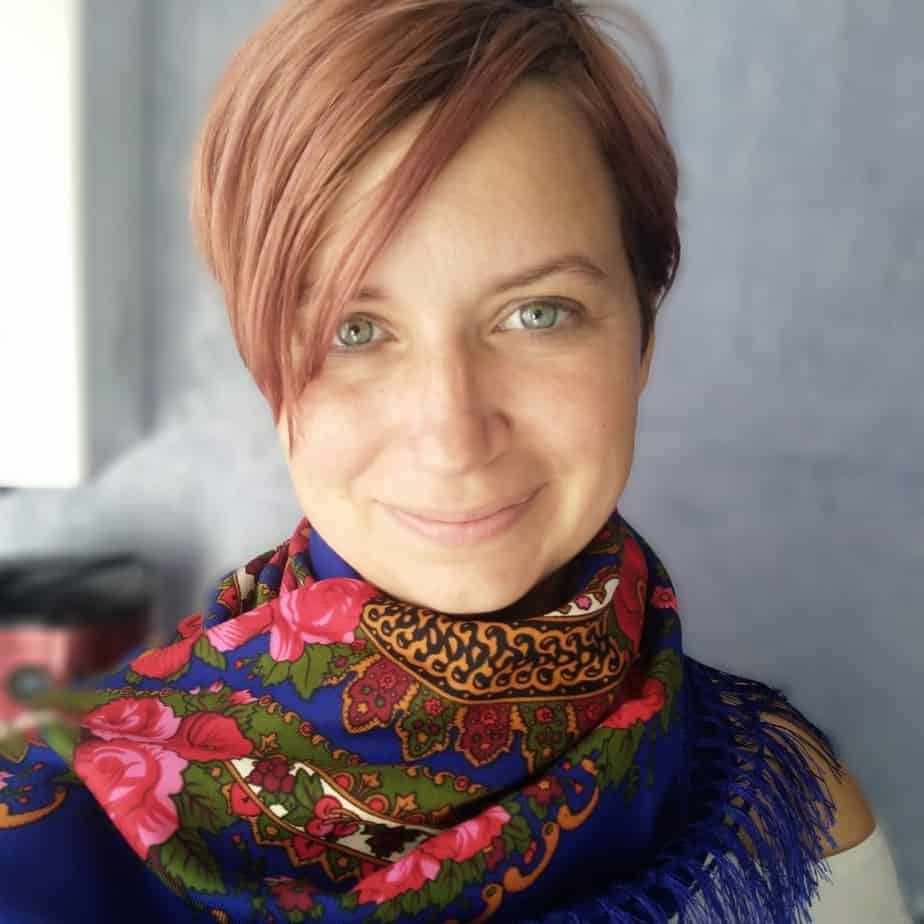 Alex Praytor worked her first job as a barista, finished college, and then took a tour to the other side of the globe. She fell in love with espresso and her would-be husband in Europe. She spends her spare time visiting native Texas landmarks, ancient castles, and all the coffee shops she finds along the way. At home, she is a mom, ESL teacher, and writer, who hones her coffee-making skills daily. She enjoys passing on her coffee findings to fellow caffeine addicts in search of the perfect cup.
Chief Editor