Last updated on September 9th, 2023 by Alex Praytor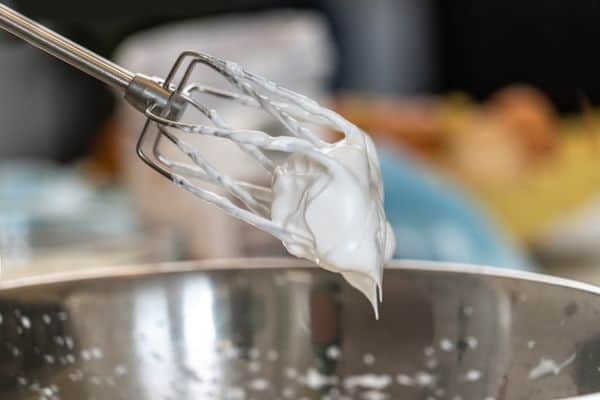 When you order a hot coffee drink, an iced coffee drink, a chai latte, or a Frappuccino you can expect a deliciously creamy dollop of whipped cream to top it off.
If you're a fan of this topping, you can ask the barista to top any drink with it for no extra charge. No doubt about it, this melt-in-your-mouth whipped cream is a great finish to your favorite coffee drink. 
But, what is actually in Starbucks whipped cream, how many calories does it have, and how do you make this yummy topping at home?
Let's dive into Starbucks' famous whipped cream topping and learn all its delicious details.
---
Starbucks Whipped Cream
The ingredients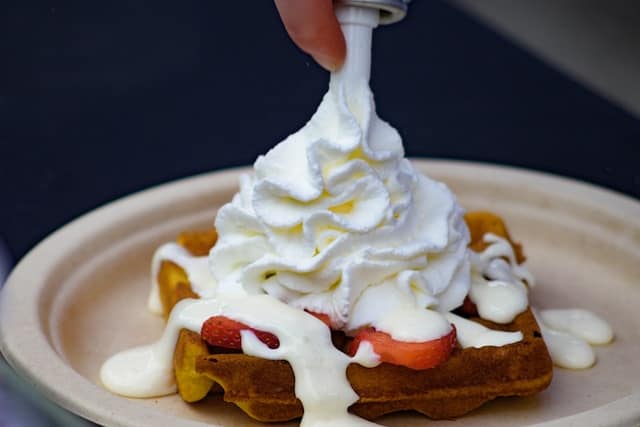 Although Starbucks whipped cream gives your tastebuds a treat, there aren't a lot of tricky ingredients in this simple recipe. In fact, Starbucks stores just use heavy whipping cream and classic vanilla syrup to make it. 
On top of your drink, the whipped cream's smooth, glossy look has many people believing that eggs may be part of the recipe. However, eggs, gluten, and gelatin are not involved. The heavy whipping cream is high in fat, which gives the whipped cream its waxy peaks. 
Calories and nutrition facts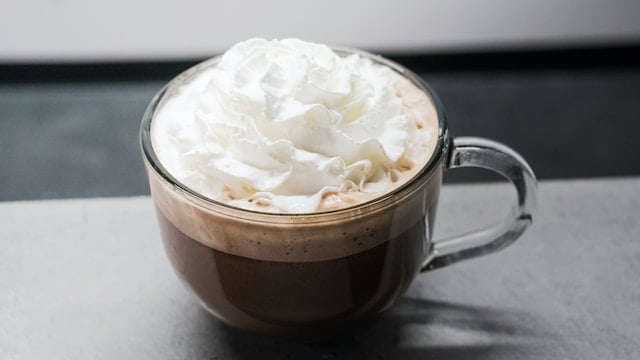 Our tastebuds certainly approve of Starbucks whipped cream, but how does it fit into your diet? 
Starbucks whipped cream is naturally gluten-free, and the high-fat content of the whipping cream would have made it acceptable for a keto diet. However, the sugar content of the vanilla syrup makes this topping not ideal for keto dieters.
Also, the heavy whipping cream can pack in a lot of calories, so it won't fit into most diet plans (unless it's a cheat day). An average 22-gram serving of whipped cream at Starbucks includes 70-75 calories, 7 grams of total fat, 2 grams of sugar, and 2 grams of carbs. 
You can reduce your calorie intake at Starbucks by asking the barista for "light whip," or to cut it altogether.
The whipped cream recipe at Starbucks is halal and kosher. However, Starbucks whipped cream contains dairy, so it is not vegan-friendly.
Starbucks Whipped Cream Options
Vegan whipped cream toppings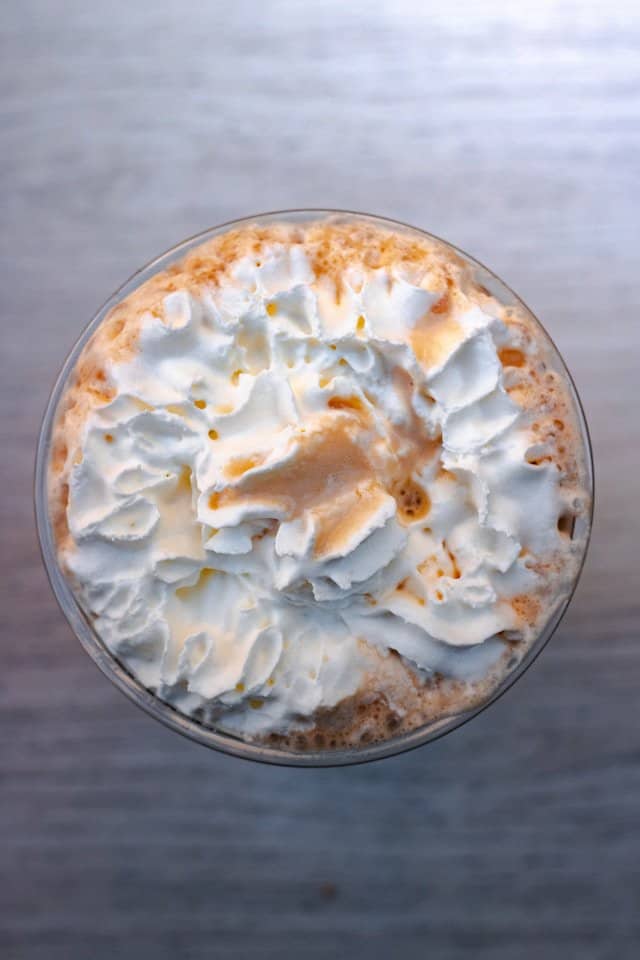 Starbucks is beginning to add more vegan options to its menu. However, so far, dairy-free whipped cream is not an option you will find at most stores. 
Starbucks is testing out a new lentil-based vegan whipped cream at select locations, including stores in the U.K. and two stores in Seattle, Washington. 
Maybe someday soon, plant-based whipped cream options will be available in more Starbucks stores. Until that happens, you can choose a vegan cold foam option to top iced drinks.
Starbucks whipped cream VS. Cold foam VS. Sweet Cream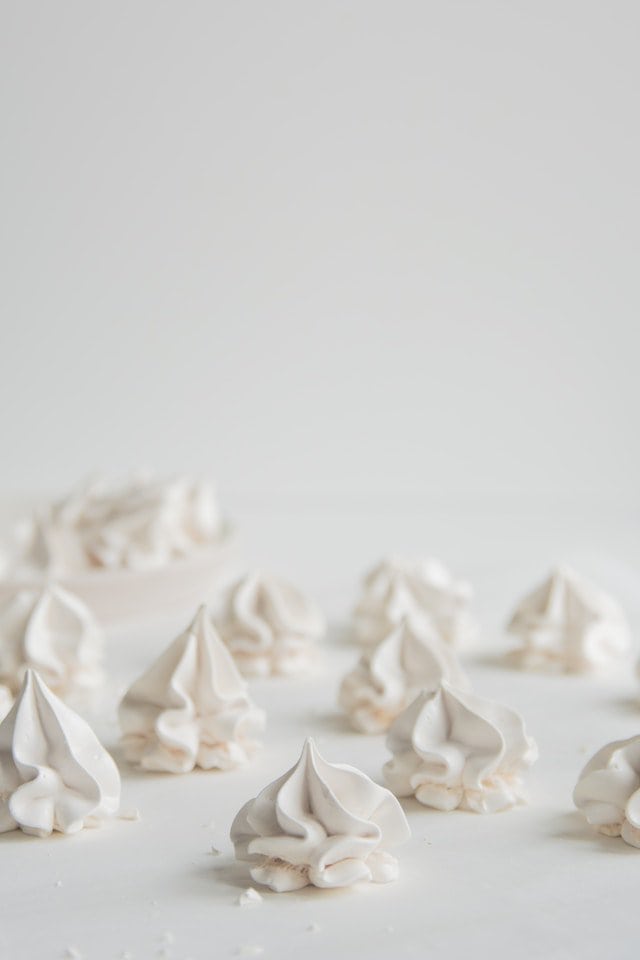 Although Starbucks whipped cream and cold foam are similar, there are a few key differences between these two popular toppings. 
Starbucks whipped cream is a combination of heavy cream and vanilla syrup that is pressurized using a nitrous oxide canister. Unfortunately, most stores don't offer sugar-free or vegan whipped cream options. 
Cold foam is cold skim milk (or non-fat milk) that may contain flavored syrups, depending on your order. This topping is frothed until it has enough body to float on top of cold drinks. It has fewer grams of sugar than whipped cream or sweet cream. 
If you choose a cold foam, some stores offer non-dairy options upon request. However, vegan cold foams don't achieve the same frothy texture as dairy toppings, and some non-dairy milk types (such as soy) don't froth at all. If you are looking for a vegan whipped topping option, Starbucks' Cold Brew with Dark Cocoa Almondmilk Foam is a delicious non-dairy drink.
Sweet cream is a combination of 2% milk, heavy cream, and Starbucks vanilla syrup (or another flavor). It is not whipped or frothed, so this addition melts easily into a cold drink.
Unlike Starbucks whipped cream, cold foam, and sweet cream are not free toppings.
How to make Starbucks' whipped cream recipe at home: A step-by-step guide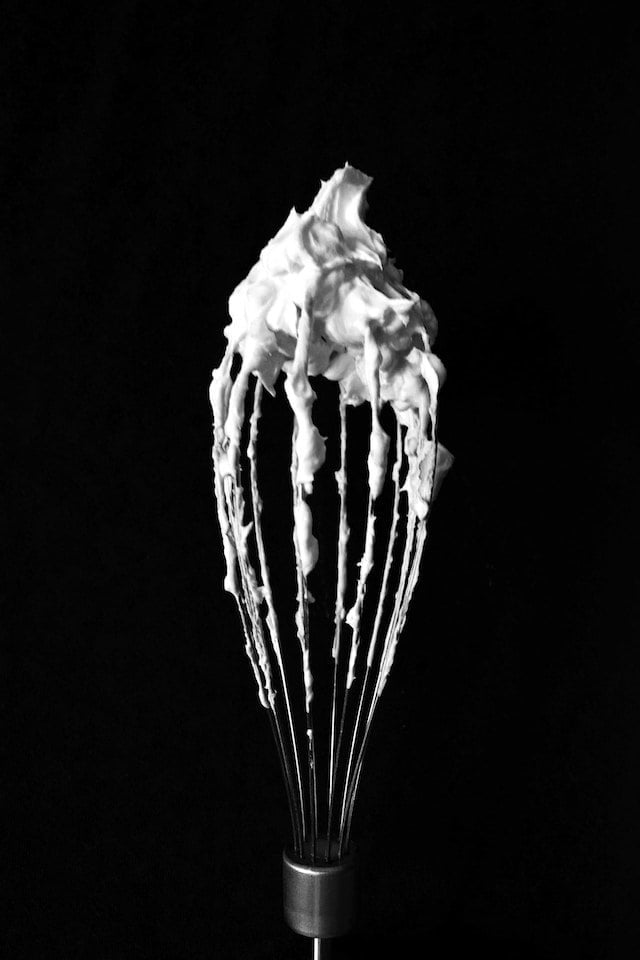 Starbucks' whipped cream is easy to make at home in a few simple steps. All you need is unsweetened heavy whipping cream, Starbucks vanilla syrup (which you can find on Amazon), and a nitrous oxide canister. 
Starbucks uses iSi Profi Cream Whipper Canisters. You can find these whipped cream dispensers in half-pint, one-pint, and quart sizes.
1. Prepare the nitrous oxide canister
Add a cream charger to your whipped cream dispenser. (You will need to replace the cream charger each time you prepare a new batch of whipped cream.)
2. Combine the heavy whipping cream and vanilla syrup
Starbucks uses a little less than one pump of vanilla syrup per 22-gram serving of whipped cream. Once you add heavy cream to the canister, it will yield about twice that amount of whipped cream. 
So, if you want to add two spoons of whipped cream topping per coffee drink, you should use about one pump of syrup for each tablespoon of liquid heavy cream. Adjust the level of sweetness to your taste!
If you are going to this direction, you will want to try Espresso con panna.
3. Shake the whipped cream dispenser
Make sure you keep your liquid mixture below the canister's maximum capacity line so there is plenty of room for the whipped cream to expand inside. Replace the top and shake well.
Now you are ready to add a delicious Starbucks-style whipped cream topping to your coffee drinks.
How to make Starbucks whipped cream without a whipped cream dispenser
A whipped cream dispenser is easy to use and allows you to create pretty spiral whipped cream toppings. However, if you don't have a whipped cream dispenser on hand, you can still make the Starbucks recipe using a hand mixer. 
Use the same ratio of one pump of syrup for one tablespoon of heavy whipping cream. Then blend until you begin to see peaks form. (If you keep going, you may end up with butter.)
Feel free to experiment with Starbucks whipped cream drinks!
You can create a wide variety of Starbucks whipped cream drinks at home by experimenting with different flavors. Instead of using vanilla syrup, you can try out syrups such as pumpkin spice, caramel, spiced brown sugar, or even lavender. 
It may be difficult to find a wide variety of Starbucks-branded syrups outside a Starbucks store. However, the Monin brand carries Starbucks-quality syrups. Also, if you want to add chocolate or caramel sauces to your whipped cream, Starbucks uses the Fontana brand. 
Final Thoughts
Starbucks makes delicious drinks, and its whipped cream toppings can add extra flair to your favorite coffees. You can add an extra helping of whipped cream on top, or get a cup of it for your dog at no extra charge.
If you have dietary restrictions, you can forgo the topping altogether, or ask for "light whipped cream." You can also create your own special brand of whipped cream toppings when you try out the Starbucks recipe using different syrups and sweeteners at home. 
Let us know what topping you choose for your favorite Starbucks drinks!
Looking for more Starbucks Drinks ideas? Check out our list of favorite Starbucks beverages to try out!
FAQs
Does Starbucks make fresh whipped cream?
Starbucks whipped cream is not pre-prepared or made from powders. Instead, Starbucks makes whipped cream fresh from heavy whipping cream and vanilla syrup at each of its locations. This free topping has a delicious creamy texture with a waxy gloss. 
Is a Puppuccino free at Starbucks?
If you purchase a drink, your dog (or child) can get a free Puppuccino (also called Pup Cup) at Starbucks. This freebie is just a scoop of Starbucks whipped cream, but it is a favorite with pets everywhere.
However, if your dog has a sensitive stomach, is allergic to dairy, or is on a restricted diet, check with your vet before you treat your dog to a Puppuccino.
Coffee Has Never Read This Good!
Sign up for a FREE newsletter to the best home brewing tips and guides
Thank you for subscribing to The Cup Coffee House Crew! There's a surprise in your Inbox 🙂
Something went wrong.
About the Author
Latest Posts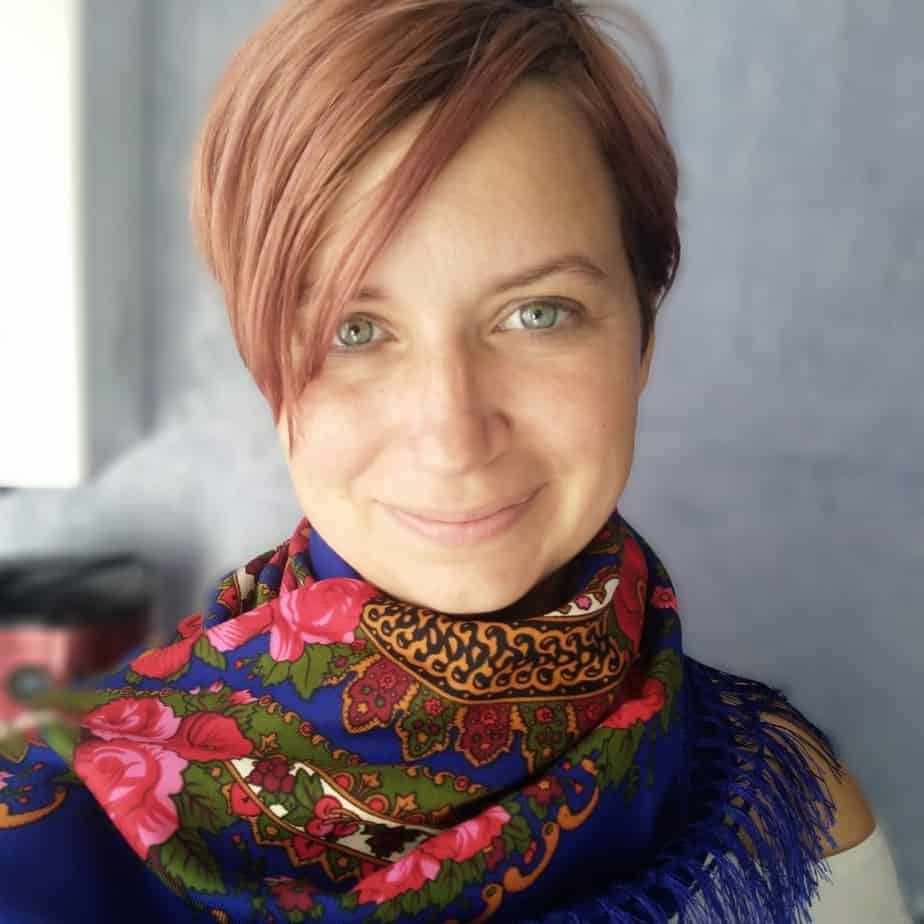 Alex Praytor worked her first job as a barista, finished college, and then took a tour to the other side of the globe. She fell in love with espresso and her would-be husband in Europe. She spends her spare time visiting native Texas landmarks, ancient castles, and all the coffee shops she finds along the way. At home, she is a mom, ESL teacher, and writer, who hones her coffee-making skills daily. She enjoys passing on her coffee findings to fellow caffeine addicts in search of the perfect cup.
Chief Editor