Last updated on September 13th, 2023 by Alex Praytor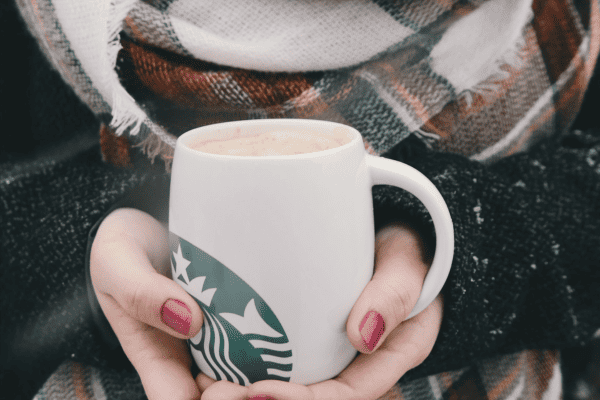 Starbucks is one of the most popular coffee chains in the U.S. (and around the world!), and mocha coffee drinks are some of Starbucks' best-sellers. 
If you love the combination of chocolate and coffee, you can try the ever-popular White Chocolate Mocha or Caffe Mocha. However, the choices for chocolate lovers don't end there! 
There are many hot, iced, seasonal, and Frappuccino mocha drinks on (and off) the menu for you to try. You can even create your own mocha Starbucks drink by combining mocha sauces, toppings, and dairy or vegan milk types with espresso.
Let's look at 14 of the best Mocha Starbucks drinks that will make your mouth water!
---
Best Hot Mocha Starbucks drinks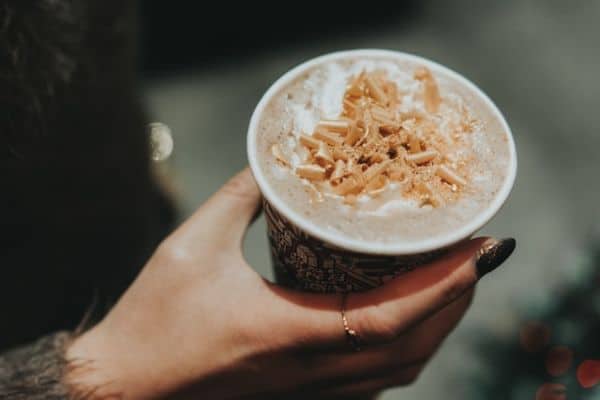 There's nothing cozier than cuddling up with a warm coffee drink when the cold weather settles in. (Or, you can blast the air-conditioning during warm months to achieve the same effect.)
Here are some of our top picks for hot mocha Starbucks drinks to keep the shivers away and the tastebuds happy. We've also included the calorie count for each mocha coffee drink in the Grande cup size.
Have a look and sip on something delicious!
#1. Starbucks Caffe Mocha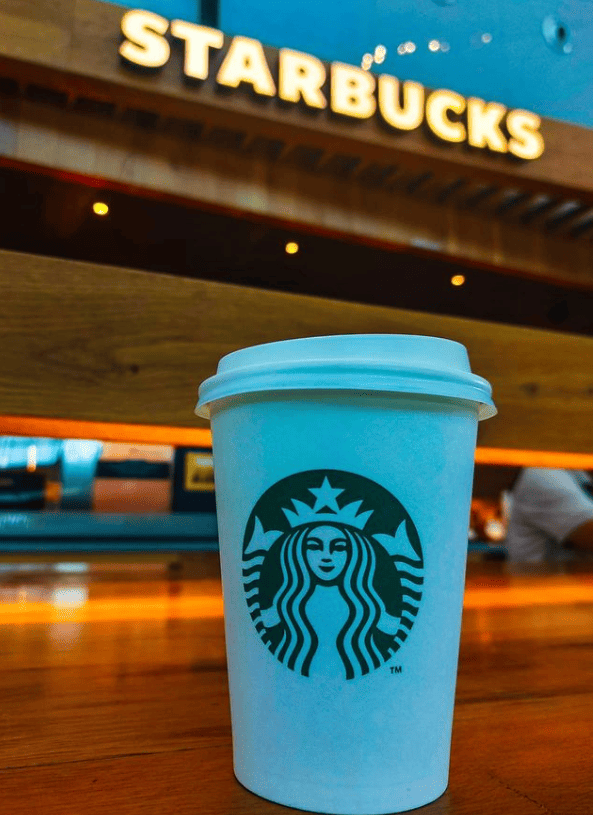 370 calories
The classic Caffee Mocha is a Starbucks staple. It combines espresso, steamed 2% milk, and a thick chocolate sauce for a decadent coffee drink that you'll want to order again and again. 
A creamy whipped cream topping is the finishing touch to this bittersweet chocolatey drink. You can't go wrong with this classic Starbucks mocha. (Also, try it over ice!)
#2. Starbucks Reserve Dark Chocolate Mocha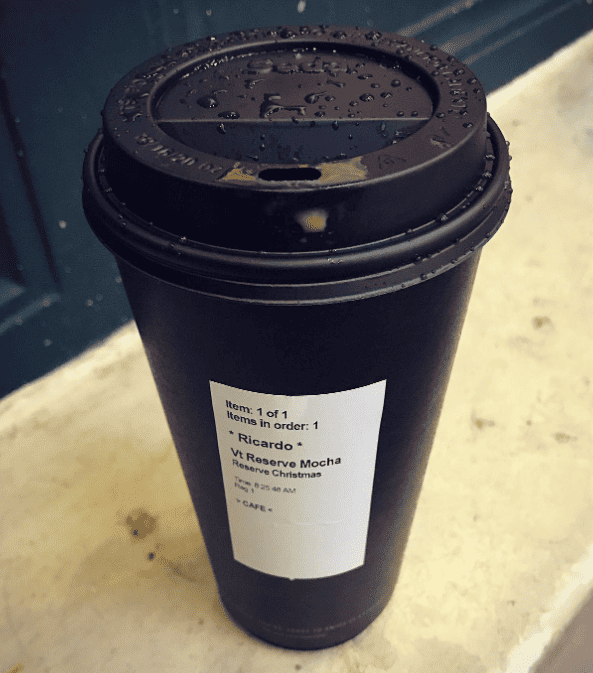 320 calories
The Starbucks Reserve Dark Chocolate Mocha isn't served at all Starbucks stores. However, this gourmet version of Starbucks' classic mocha drink is worth trying if you get the chance.
The Starbucks Reserve Dark Chocolate Mocha combines Starbucks' small-lot Reserve espresso with rich whole milk, cocoa, and real chocolate. 
Instead of whipped cream, a layer of creamy milk foam tops it off. This understated drink highlights the flavors of Starbucks' premium Reserve espresso for a more coffee-central drink. It's creamy, chocolatey, and wonderful!
#3. White Chocolate Mocha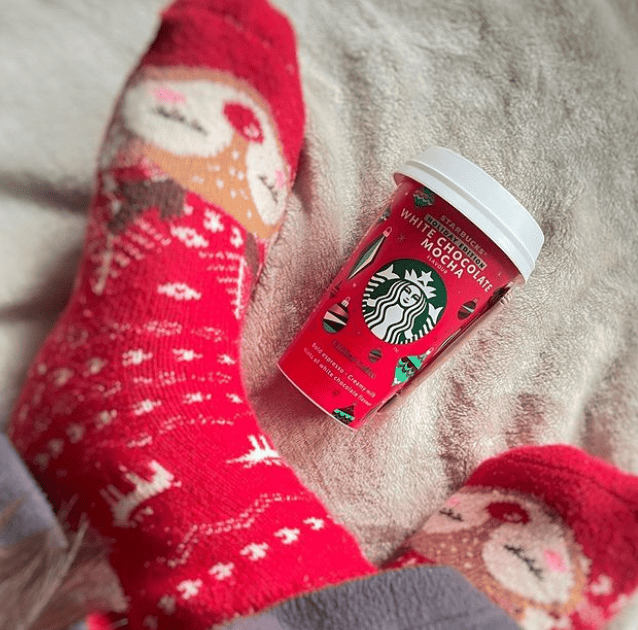 430 calories
Starbucks' White Chocolate Mocha is possibly even more of a fan favorite than the original Caffe Mocha. This coffee drink is rich and creamy without the bitterness of the Caffe Mocha. It has an espresso base and white chocolate sauce is mixed into the steamed milk. Starbucks' delicious whipped cream melts into the drink for a creamy finish.
This grande-size drink packs in as many calories as a Frappuccino. If you have a sweet tooth, the White Chocolate Mocha can satisfy it!
#4. Toasted White Chocolate Mocha (Seasonal)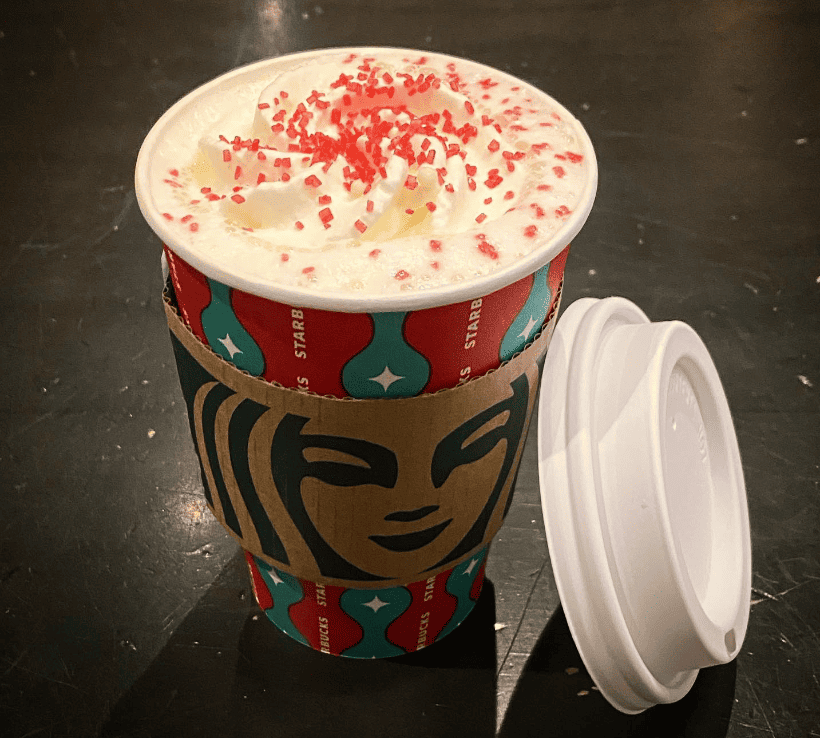 420 calories
The Toasted White Chocolate Mocha is a seasonal drink in the cold winter months. However, we'd vote for it to stay on the menu all year long!
It's uncannily similar to the White Chocolate Mocha. However, the nutty flavor of the Toasted White Chocolate sauce cuts through the sweetness and adds an interesting undertone to this drink. 
It's topped with rich whipped cream, white sugar pearls, and red sugar sparkles and looks like Christmas in a cup. This drink welcomes the winter season with a festive air.
#5. Peppermint Mocha (Seasonal)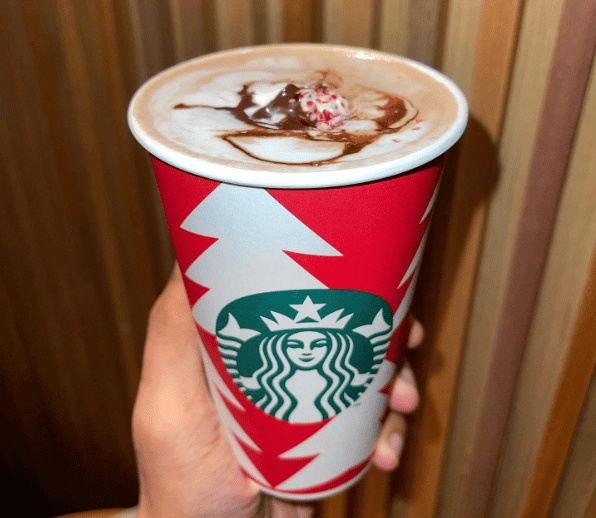 440 calories
If you are looking to add some spice to your usual order, try Starbucks' Peppermint Mocha. This drink is a combination of espresso, steamed milk, and mocha sauce, with four pumps of peppermint syrup. Whipped cream and real chocolate curls on top add an extra festive touch. 
One sip of this merry and bright-tasting drink can put you in the holiday spirit. Make this drink vegan by choosing plant-based milk and skipping the toppings.
Although this drink is seasonal, peppermint syrup is available year-round at Starbucks. (However, the chocolate curls are only available in winter months). So, you can get this drink any time you want it (sans the chocolate curls)! 
#6. Cinderella Latte (Secret Menu)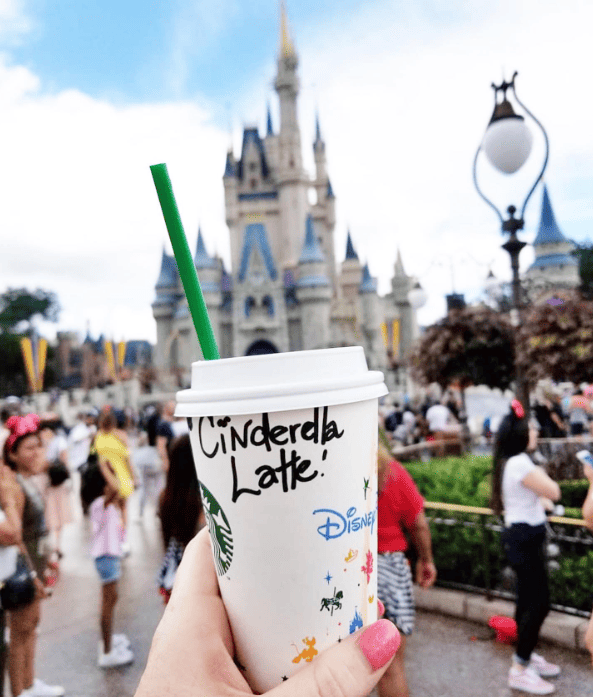 Sugar, spice, and everything nice…sounds like a perfect description for Starbucks Secret Menu Cinderalla Latte!
Pumpkin Spiced Latte and White Chocolate Mocha are two of Starbucks' most popular drinks. So, if you can't decide which one to choose–combine them! This is exactly what one Starbucks barista did and her custom drink recipe went viral. 
Want to try it? The recipe is simple.
Order a Pumpkin Spiced Latte and ask to replace half of the pumpkin spice sauce with white mocha sauce. You can create this delicious drink any time PSL is in season.
#7. Skinny Mocha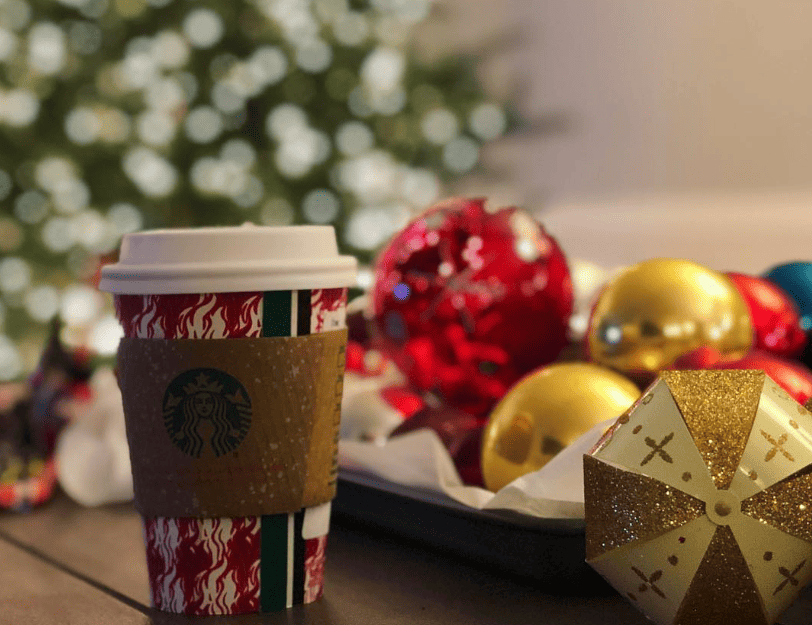 170 calories 
If you are looking for a sugar-free mocha drink, the Skinny Mocha may be the best choice on the menu for you. Starbucks Skinny Mocha has the same delicious flavors as the regular Caffe Mocha, but less than half the calories.
The drink recipe starts with a rich espresso base and uses non-fat steamed milk and sugar-free mocha sauce. Instead of whipped cream, this diet-friendly drink is topped with frothy milk foam.
#8. Black and White Mocha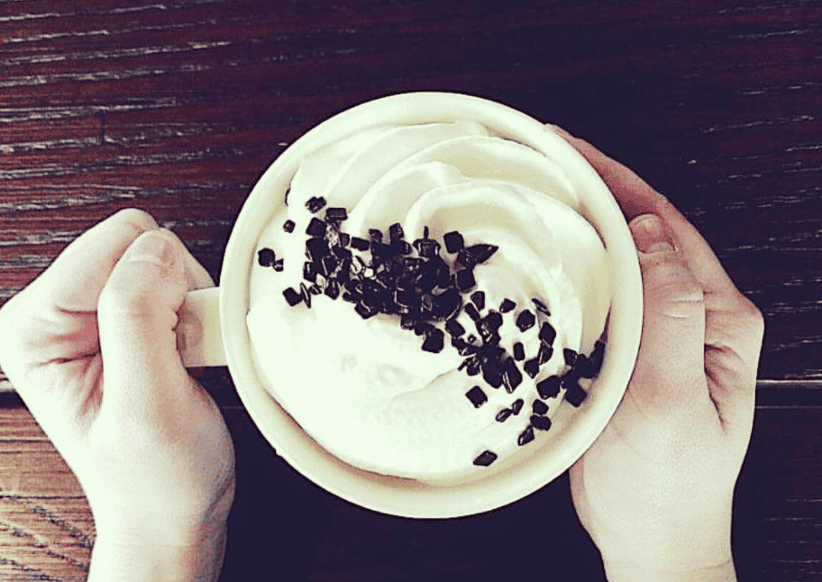 430 calories
Bittersweet chocolate mocha or creamy white chocolate mocha? The decision is a tough one. Luckily, Starbucks Black and White Mocha combine both sauces for a smooth mocha drink that tastes like milk chocolate. 
A stripe of chocolate curls forms a black tie on the whipped cream topping. The Black and White Mocha made its debut to ring in the new year a few years back, and each holiday season it comes back on the menu. Every time you order this mouth-watering drink is a special occasion!
For more hot drinks at Starbucks, take a look at these tasty options: 16 Best Hot Drinks at Starbucks You Will LOVE to Try 2023
Best Iced Mocha Starbucks Drinks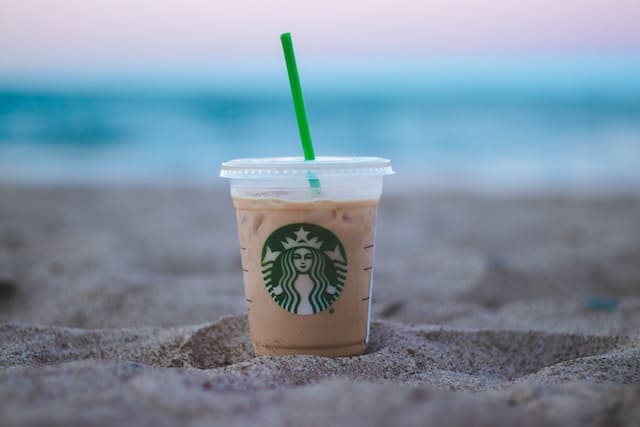 There's nothing like an iced coffee drink to perk you up on those lazy afternoons. If you're in the mood for something cold, you can ask a Starbucks barista for almost any hot drink recipe over ice.
However, Starbucks also has plenty of cold brews and iced coffees you can mix and match with different cold foam toppings. Here are some of the tastiest iced mocha Starbucks drinks you should try: 
#9. Cold Brew with Dark Cocoa Almondmilk Foam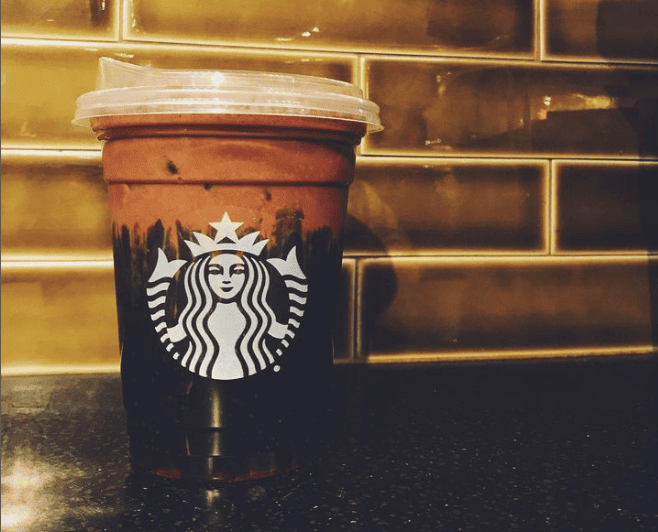 40 calories
The Cold Brew with Dark Cocoa Almondmilk Foam is possibly the healthiest Mocha Starbucks drink on the menu. This Starbucks Cold Brew contains just four grams of sugar and 40 calories. 
A touch of mocha sauce and cocoa powder adds a subtle chocolate flavor that pairs well with its nutty almond milk cold foam topping. With over 200 mg of caffeine, this low-calorie mocha Starbucks drink can give you a kick of energy without all the calories.
#10. Iced Starbucks Coconutmilk Mocha Macchiato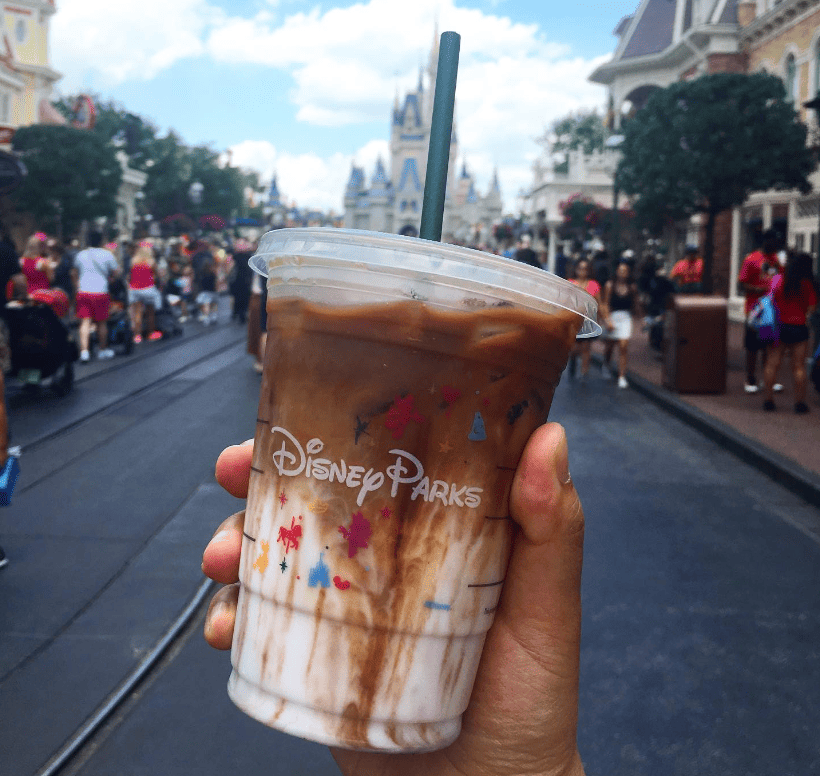 210 calories
An Iced Starbucks Coconut Mocha Macchiato can take your tastebuds on a journey with its tropical coconut undertones. It is made with Sumatran coconut milk, White Chocolate Mocha sauce, espresso roast, and a caramel drizzle. 
This cold mocha macchiato Starbucks drink has fewer calories than a classic Caffe Mocha. However, it doesn't lack in the flavor department. Find a sunny spot, then kick up your feet and relax with this mocha macchiato Starbucks drink. 
#11. TikTok Iced White Mocha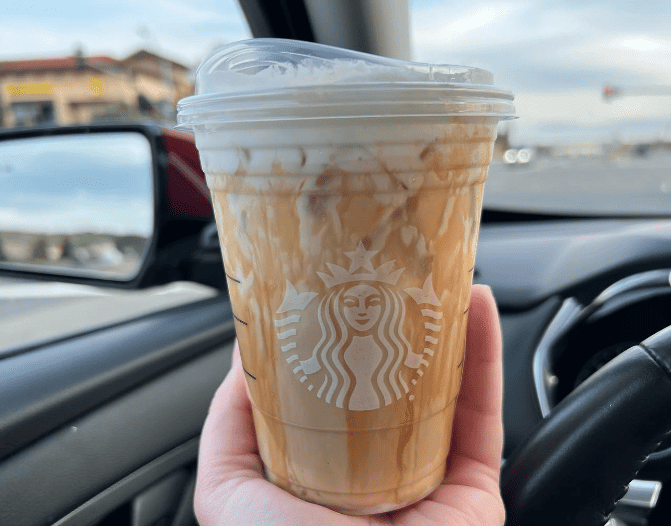 Starbucks fans are currently going wild for the TikTok Iced White Mocha. This drink is similar to the ever-popular caramel macchiato. However, it takes the richness up a notch. 
The classic Iced White Mocha gets a makeover by starting with a swirl of caramel drizzle in a cold cup and finishing with a sweet cream cold foam and caramel drizzle on top. This buttery caramel TikTok sensation can quickly become your new addiction. 
Best Starbucks Mocha Frappuccinos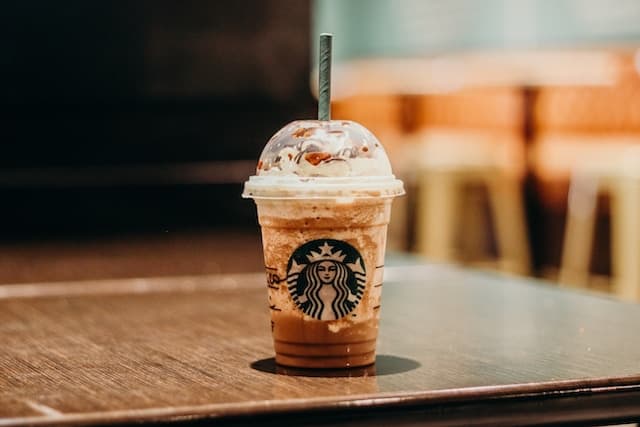 Starbucks Mocha Frappuccinos are decadent, delicious, and all-around tasty. Filled with chocolate sauce, whipped cream, and delicious crumble toppings, each frozen drink is a dessert in a cup.
Each of these Starbucks recipes contains Frappuccino roast coffee, chocolate, and good vibes to make your tastebuds happy. 
Take a look and see which mocha coffee Starbucks drink is for you!
#12. Mocha Cookie Crumble Frappuccino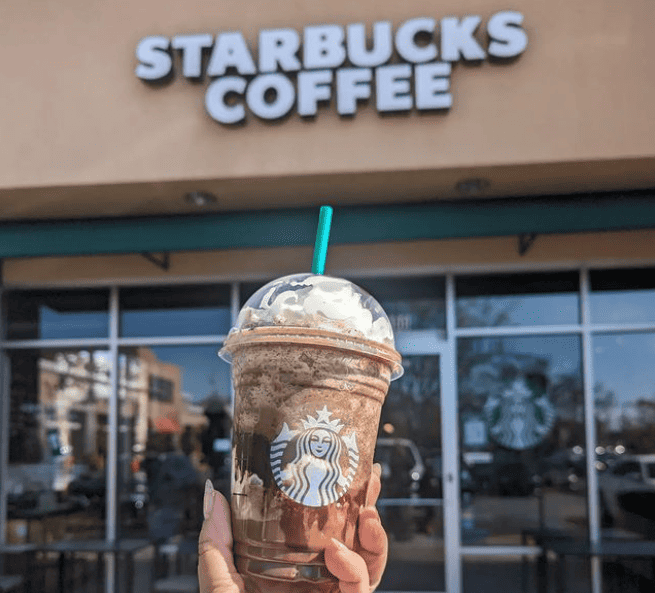 480 calories
The Mocha Cookie Crumble Frappuccino is a chocolate lover's dream! Frappuccino Roast coffee is blended with mocha sauce, Frappuccino chips, milk, and ice. This chocolatey concoction is poured over whipped cream, cookie crumbles, and mocha sauce. Then, this mocha drink is also topped with more of the same. 
Should you eat this delicious Mocha drink with a spoon, or slurp it up with a straw? The decision is yours. The Mocha Cookie Crumble Frappuccino is sure to bring repeat customers to a Starbucks store. 
#13. Java Chip Frappuccino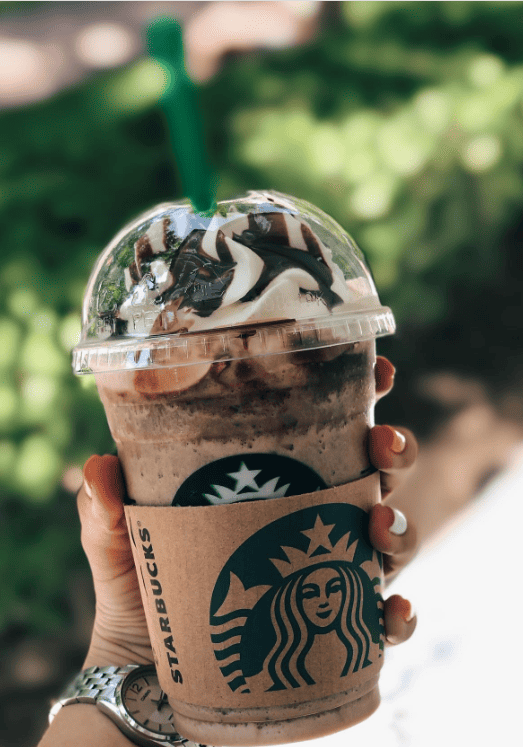 440 calories
The Java Chip Frappuccino is like a regular Caffe Mocha–only it's frozen and includes Starbucks' chocolate Java Frappuccino chips. Also, it is made with whole milk instead of 2% for an extra smooth flavor, before it is topped with whipped cream and mocha drizzle.
This cold and delicious mocha coffee drink is a great option for those hot summer days when you need a caffeine buzz. Starbucks Java Chip Frappuccino is one of America's favorite Starbucks Frappuccinos.
#14. Triple Mocha Frappuccino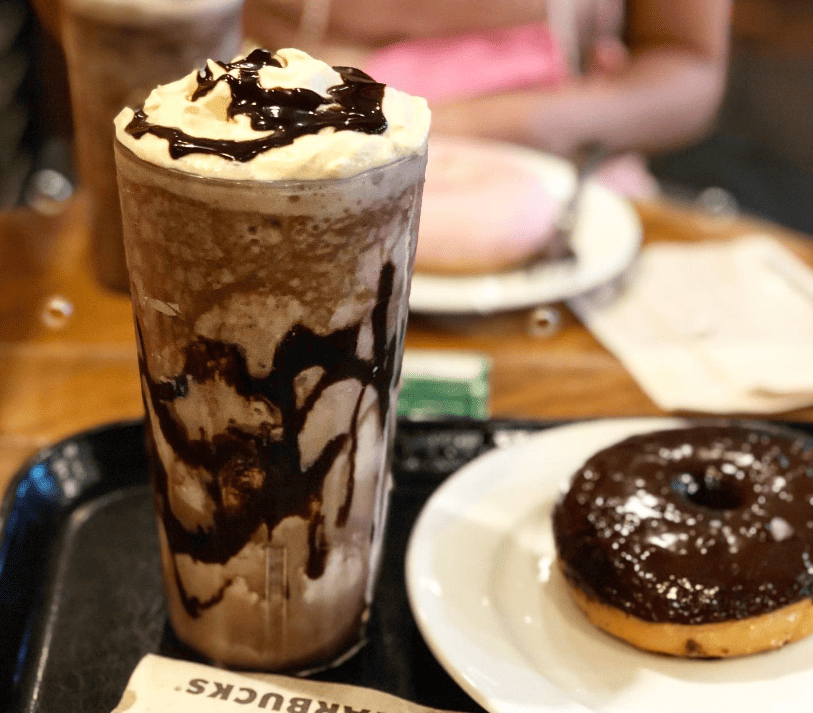 403 calories
If you are looking for a sweet and creamy chocolate coffee drink at Starbucks, put this Triple Mocha Frappuccino on your list! 
This frozen mocha drink is layered with whipped cream and mocha sauce and then infused with Starbucks Signature Cold Brew. This drink uses White Mocha Sauce, Dark Mocha Sauce, and Dark Caramel for a perfect meld of flavors. We think this combination of flavors is a winner.
What you should know before you order a mocha drink from Starbucks: Tips and Tricks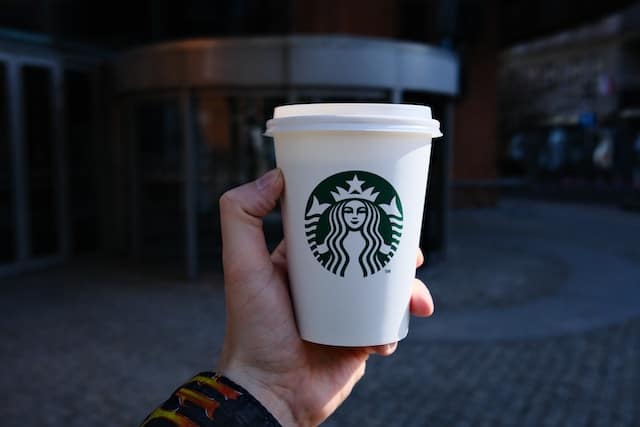 Ready to order a chocolate mocha Starbucks drink? Here are some of the choices you can make when you choose a drink on (or off) the Starbucks menu:
Regular Starbucks menu VS Secret recipe
Starbucks has many mocha drinks on the menu. However, baristas and influencers often come up with exciting new chocolate drink recipes and post them on TikTok or Starbucks' Secret Menu. For these off-the-menu drinks, you want to make sure to bring the recipe with the exact ingredients to your barista such as Iced Shaken Espresso.
Check out a few fun TikTok drink options to try at Starbucks: 14 Popular Starbucks TikTok Drinks You Should Sip On Soon!
Speaking of ordering in Starbucks, you can also try Breve coffee.
Vegan VS Non-vegan mocha options
If you want to create a vegan mocha drink at Starbucks, unfortunately, you have to scratch White Mocha options from the list. Starbucks White Mocha sauce includes condensed skim milk making it non-vegan. Java chips also contain milk products and are non-vegan.
However, Starbucks' regular chocolate mocha sauce is vegan, so choose a non-dairy milk option, skip the whipped cream, and enjoy a chocolatey vegan drink guilt-free. 
Hot, iced, or Frappuccinos
At Starbucks, you can choose hot, iced, or frappuccino mocha drinks depending on your mood. Most Starbucks drinks are listed in the hot form. However, any hot coffee drink can become an iced beverage by simply asking the barista. 
For iced drinks, the barista brews a shot over ice and uses cold milk (instead of steamed) to fill up your cup. This ensures you get a smooth, unwatery brew.
Or, you can order a cold brew which is coffee steeped in cold water for 12 hours or more, then served over ice. (Don't forget a cold foam topping!)
Frappuccinos are a popular choice if you want an ice cream-like treat in a cold cup. These delicious drinks are blended with ice and often include extravagant toppings. Although Starbucks Frappuccinos are high in calories, your tastebuds will certainly approve.
With coffee or without coffee
You can order most Starbucks drinks without coffee by telling the barista to hold the espresso. Most mocha drinks (except for cold brews) also have a decaf option. 
Many Frappuccinos also include coffee. Instead of espresso shots, these drinks include Starbucks Frappuccino Roast instant coffee. Can you use blonde espresso or regular espresso? However, if don't want the coffee flavor, you can choose a Crème Frappuccino.
Starbucks drink sizes
Once you've chosen your drink from the Starbucks menu, you need to decide how much of it you want. You can choose from Tall (12 oz), Grande (16 oz), and Venti (20 oz). 
Both the Grande and Venti cup sizes use two shots of espresso for coffee drink recipes. So, if you like a stronger coffee flavor, you may want to choose the Grande. (Or, you can order a Venti with an extra shot of espresso.)
The Venti cold cup holds 24 ounces to allow for ice, or you can also choose a 31-ounce Trenta for iced drinks. 
Milk types
Starbucks uses 2% milk as the standard milk type for coffee drinks and whole milk for Frappuccinos. However, you can also substitute a different type of milk for a small fee. Starbucks offers vegan milk such as soy milk, coconut milk, almond milk, or oat milk. 
For other dairy options, you can choose whole milk, nonfat milk, or a splash of Starbucks "cream" (a combination of heavy whipping cream, vanilla syrup, and milk).
Toppings
Most mocha drinks automatically come with a whipped cream topping and a drizzle of mocha sauce. Also, Starbucks has many other toppings you can choose from, including cold foam, java chips, sprinkles, sauces, and syrups. 
Many of these toppings cost a few cents extra if they are not part of your drinks recipe. However, whipped cream is free at Starbucks for almost any drink.
Final Thoughts
While the classic Caffe Mocha and White Chocolate Mocha are some of Starbucks' top-selling coffee beverages, there are many other mocha Starbucks drinks to choose from that include peppermint, caramel, or seasonal syrups like Pumpkin Spice and Toasted White Mocha. You can pick a hot or iced drink–or a decadent Frappuccino.
There are also many options to customize Starbucks Mocha Drinks to make them your own. 
We've shared 14 of our top Mocha coffee drinks at Starbucks. Now it's your turn to let us know which one is your favorite!
FAQs
What is a mocha drink at Starbucks?
A mocha drink at Starbucks contains espresso, 2% milk, and shots of mocha sauce with a whipped cream topping. However, you can customize the drink by choosing whole milk, or vegan milk and adding different syrups for a fee. Try this classic favorite hot or over ice.
What flavor goes good with mocha in coffee?
Besides Starbucks' classic chocolate and white chocolate mochas, there are many mocha drinks on the menu that combine other flavors.
Some common flavors that go well with a mocha coffee drink are caramel, peppermint, or even pumpkin spice. Common foods that pair well with a mocha coffee drink are brownies, cookies, and fruits such as berries, figs, oranges, and nuts.
What's the difference between a mocha and a macchiato?
Macchiatios and Mochas seem similar. However, there are a few key differences. Macchiatos are often called "upside lattes" because a macchiato adds the shot at the end. Mochas or chocolate lattes, generally add the espresso shot to the bottom of a glass first and then pour milk over it and add sauces. 
Coffee Has Never Read This Good!
Sign up for a FREE newsletter to the best home brewing tips and guides
Thank you for subscribing to The Cup Coffee House Crew! There's a surprise in your Inbox 🙂
Something went wrong.
About the Author
Latest Posts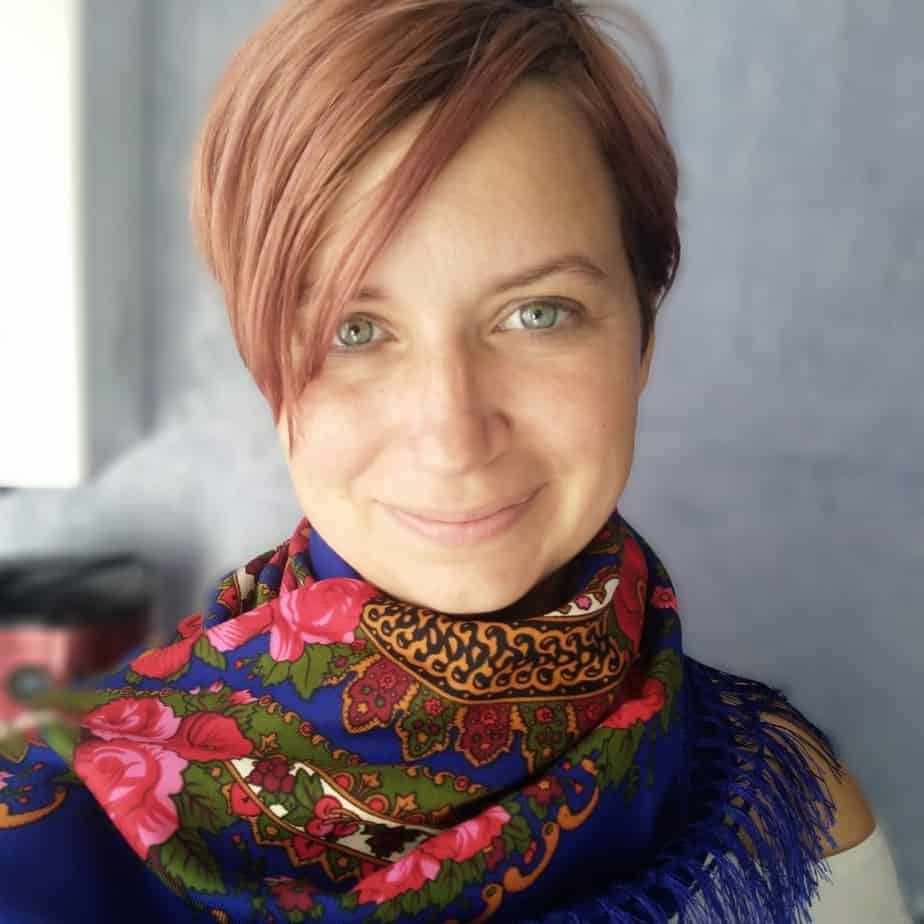 Alex Praytor worked her first job as a barista, finished college, and then took a tour to the other side of the globe. She fell in love with espresso and her would-be husband in Europe. She spends her spare time visiting native Texas landmarks, ancient castles, and all the coffee shops she finds along the way. At home, she is a mom, ESL teacher, and writer, who hones her coffee-making skills daily. She enjoys passing on her coffee findings to fellow caffeine addicts in search of the perfect cup.
Chief Editor