Last updated on March 14th, 2023 by Alex Praytor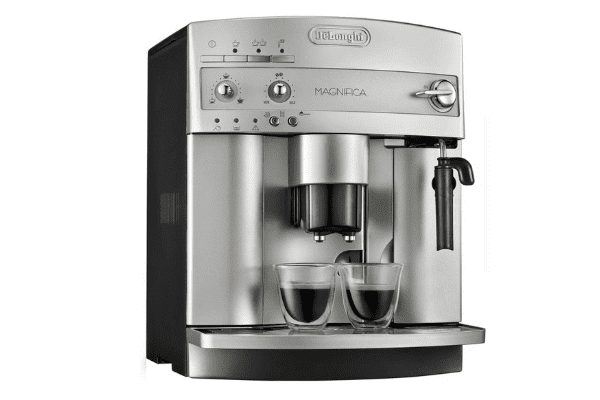 There's nothing like waking up to espresso in your cup! Maybe you love the taste of espresso to get you going in the morning, but you're not ready yet to tackle a more manual brew style.
To brew espresso, you usually have to grind your beans, measure your grounds, tamp your grounds, attach the portafilter, and heat up your machine.
De'Longhi Magnifica ESAM3300
Performance -

9.1/10

Ease of Use/Maintenance -

9.1/10

Build & Quality -

8.6/10

Design & Features -

8.7/10

User Satisfaction -

8.6/10
Final Verdict
While the De'Longhi Magnifica ESAM3300 is a high-end Italian inspired espresso machine, it is still very user-friendly for beginner at-home baristas. We like the one touch system, and removable water reservoir, and simple milk froth wand. It's 15 bars, double boilers and built in grinder ensure a delicious espresso coffee whenever you want it fast. 
And while it is a bit pricey, its actually a pretty good deal compared to other machines with similar features. If you just want a great cup of espresso and don't feel the need to control every aspect of our brew then the Magnifica ESAM3300 is definitely worth your consideration.
Then you have to watch closely to pull the exact strength espresso you want. After your espresso is ready, you have to clean out the puck from your portafilter and wipe down your machine.
I don't know about you but this can be a lot to tackle in the morning before you've had coffee. While I love the taste of a freshly brewed espresso, I often compromise by pulling out my pod machine to get the job done with a one-touch method.
But what if there was a machine that gave you an exceptionally aromatic espresso and did all the hard work for you? This could change the way you drink your morning espresso.
Enter the DeLonghi Magnifica ESAM 3300.
In summary, the DeLonghi Magnifica ESAM3300 falls in the category of fully automatic espresso machines. This machine not only grinds your beans, but it also cleans up after itself by sending the used grounds to a coffee puck drawer. You can easily brew one or two espresso shots with the touch of a button and then froth milk to make creamy latte drinks and cappuccinos.
This automatic espresso machine is perfect for you if you want to make customized espresso drinks just like the coffee shops, without all the headache of being a trained barista and price is not an issue!
Sale
De'Longhi Magnifica ESAM3300
This 15 bar, dual boiler fully automatic espresso machine is simple to use and makes great espressos with frothy milk; Perfect if you want to make customized espresso drinks just like the coffee shops from home.
Last update on 2023-11-29
---
Is the De'Longhi Magnifica Worth It?
The De'Longhi Magnifica ESAM 3300 is a tiny barista in a machine form. Born in Italy and marketed by the iconic De'Longhi name, it can make your cup of coffee just how you like it every time! This super automatic machine features:
Freshly ground beans and ground coffee options
Programmable cappuccino and espresso preferences
Stainless-steel double-boiler system
Compact removable brewing system
Steam wand
Coffee puck drawer
1. Freshly ground beans or ground coffee options
With this super automatic espresso machine, you can count on it to grind freshly ground coffee for every cup. Simply put your whole coffee beans in the 8.8 ounce bean hopper and you are set.
The professional burr grinder offers 13 grind settings. You can choose how much or how little grounds you want added to your brew. You can also adjust the coarseness of your coffee grounds by turning the dial from 1-7 near the bean hopper. By controlling these variables you can give your cup of coffee the best flavor.
But, what if you get a specialty ground coffee as a gift or want to drink a cup of decaf? No worries! This machine has a pre-ground coffee bypass, as well. Simply add your grounds to the coffee grounds container and brew yourself a cup.
2. Programmable cappuccino and espresso preferences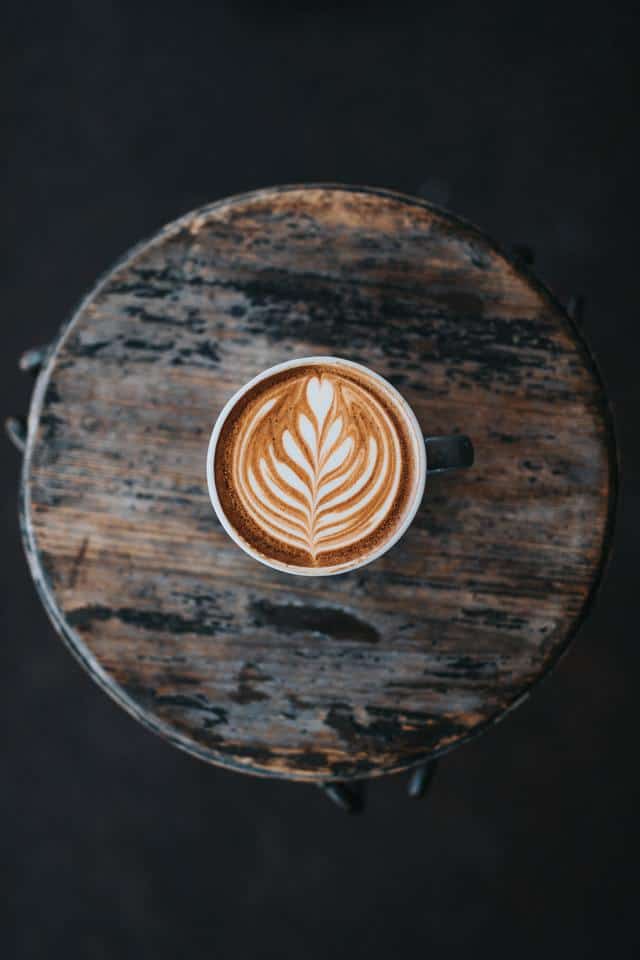 Some like their coffee drinks stronger than others. While some may go for an extra-strong ristretto, others may prefer a coffee that is closer to an Americano. Luckily, with the Magnifica, you can have it how you want it! You can program the machine to brew your cup to your preferred brew size and coffee strength.
3. Double stainless steel boiler
While many other affordable espresso makers come with aluminum boilers, this high-end Magnifica coffee machine comes with not just one but two stainless steel boilers. Not only does stainless steel give you a purer flavor, but it's a more durable material. You will also get excellent heat distribution from these boilers for your brew cycle.
4. Compact removable brewing system
Not only does this De'Longhi espresso machine have a removable water tank, and removable drip tray, but this super automatic machine also features a compact removable brewing system. In fact, the De'Longhi Magnifica boasts that it is the smallest removable system on the market! This allows you to easily deep-clean your machine for the freshest tasting coffee.
5. Milk frother with 180 degree rotation
To make those delicious cappuccinos and lattes, this automatic espresso machine includes an attached steam wand. It can rotate 180 degrees to accommodate the size of your milk container. The manual frother mixes steam and milk creating a creamy froth to top off your favorite coffee beverage.
While other espresso machines are capable of frothing milk automatically, this De'Longhi machine allows you to handcraft customized espresso drinks by creating your own milk foam designs. This can add a personal touch to your cappuccinos and show off your barista skills. You can also warm up milk with the steam wand to make hot chocolate and other milk-based drinks.
6. Coffee puck drawer
When you finish brewing espresso, the used grounds are disposed of in a waste drawer. While semi-automatic espresso machines require you to wash out the used puck after each use, this Magnifica super automatic espresso maker lets you off the hook. This feature can be especially useful when you are making back to back coffee drinks.
Pros and Cons
With each coffee maker, you will find both pros and cons if you look hard enough. Let's review each so you can best decide if this is the right bean to cup espresso maker for your needs.
Things We Like
The De'Longhi Magnifca has a lot of great design features going for it. With this super automatic espresso machine, you can:
Brews with 15 bars of pressure
Automatically grind your favorite fresh beans with its quiet burr grinder – so no need for a separate manual or electric grinder which also saves you time.
Brew fresh espresso with the touch of a button – meaning you don't need to be a trained barista to pull the perfect espresso
Easy to use with a removable water reservoir, and rotary control panel for easy maneuvering
Froth milk to create evenly textured drinks.
Choose your own cup size and coffee strength.
Make back-to-back coffee beverages with the instant reheat function.
Double boilers system – so you can pull espressos and froth milk back to back quickly
Safety features – like an automatic 3 hour shutoff
Clean up easily with its removable brewing system.
Things We Don't Like
This machine has a lot of great features going for it. We love that it opts for stainless steel over plastic parts and can produce a great-tasting espresso with little effort on the part of the consumer.
However, some may find the higher price tag a little hard to swallow for an at-home espresso machine. Especially when you consider this machine doesn't come with pre-programmable capabilities.
Also, regular use of this machine will eventually require some extra maintenance such as replacement of parts (steam wand, grinder belt) and lubrication of the pistons in the infuser. If you don't, you may experience leaks.
How to Use the De'Longhi Magnifica
Now that we've seen what this super automatic machine has to offer, we'll walk you through how to use it step by step.
Step 1: Warm Up
First off, you will want to turn your machine on and wait for the machine to warm up. When you see that the lights have stopped flashing, you are ready to begin. The heat up time takes about 75 seconds on average. The good news is the Magnifica ESAM 3300 has an instant reheat function so that you only have to wait once if you are making back to back coffees.
Step 2: Coffee Beans or Grounds?
Choose whether you want to use coffee beans or coffee grounds. This De'Longhi machine grinds coffee beans as fine or coarse as you ask it to.
For espressos, you will typically use one of the finer grind settings. However, darker roasts tend to be more oily and can clog up your grinder if they are ground too fine. So, if you notice that your grinder starts to clog with your coffee bean choice, you can try going slightly larger with your grind size.
If you use grounds, you can put it in the compartment specifically designed for preground coffee.
Step 3: Check your water level
Before you start the brewing process, you will want to check your water tank to make sure it is full. The tank can hold up to 60 ounces of water and you get to choose how much water you want it to use to make your cuppa. This means that you won't have to fill up your tank every time.
Step 4: Choose your cup size and coffee strength
You can choose how much or how little coffee you want to brew and how strong you want it to be. You can choose between one or two shots of espresso and dial in how much water you want the De'Longhi ESAM3300 to use. The dial offers between 1/2 ounce up to 6 ounces of water. For reference, most espressos are 1 ounce.
Step 5: Wait for your coffee to brew.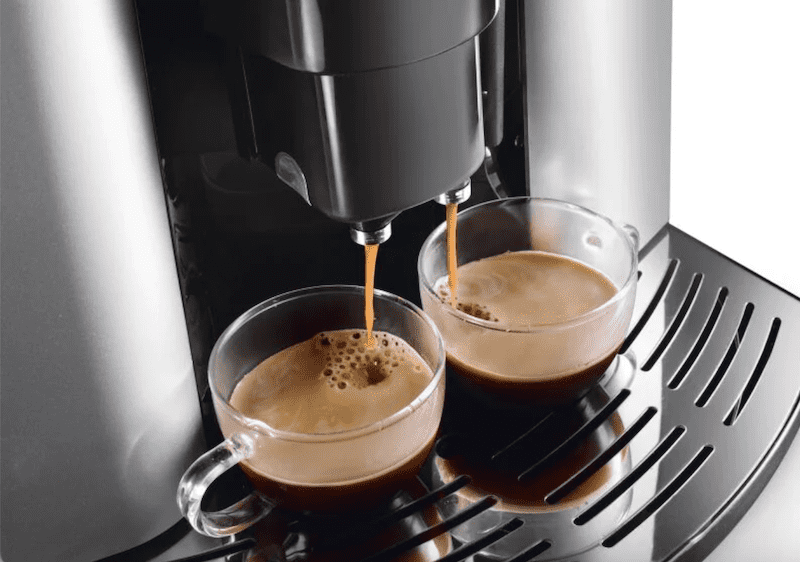 As you wait for your brewing unit to finish preparing espresso, you can get your milk container ready to go. While Starbucks uses 2% for most of their drinks, I like to use fresh whole milk for creamy froth. When your espresso has brewed, you can set it on the cup warmer while you froth milk.
Step 6: Froth your milk.
Since the Delonghi Magnifica has a double boiler system, you don't have to wait around for long to switch from espresso to steaming milk. Turn the steamer on and let the steam wand release pressure. Then turn the dial off and pop your milk container underneath the steam wand.
You don't need to bob your milk container up and down as you might without a frother. You will want to hold your milk steady and allow the milk frother to do its job and create nice fluffy foam.
Step 7: Top off your drink.
You can now top off your espresso to make a delicious cappuccino or latte and enjoy your drink!
Step 8: Clean up.
The Delonghi Magnifica ESAM3300 makes your clean up job easier. Most importantly, you will want to make sure that your milk frother is properly cleaned after every use. You can clear out the wand with steam and then wipe down the outer plastic. Then take the plastic off to make sure no residue is left stuck between the wand and the plastic.
From time to time, you will also want to clean out the extractable brew unit and drip tray. Your machine should also include a package of descaler that you can use when the machine alerts you that it needs to be cleaned.
One tip is to use distilled water for brewing. This helps prevent the accumulation of lime deposits and extend the life of the machine.
How Does it Compare?
The De'Longhi has a lot of features we really like to see in fully automatic espresso machines. However, let's see a side-by-side comparison between the De'Longhi Magnifica and its competitors.
While both the Delonghi Magnifica and Breville Barista Express come from well known brands with huge followings in the coffee niche and have many similar features, there are also a few key differences.
Both built with high quality stainless steel

Both the Delonghi and Breville can grind coffee beans for the freshest tasting cup.
Both fall into the same price bracket in the $700 neighborhood.
Both offer one or two shots of coffee using 15 bars of pressure and a sophisticated heating system
Both offer manual milk frothers/steam wand.
However, these machines target espresso lovers from slightly different audiences.
Unlike the De'Longhi Magnifica, the Breville Barista espresso machine is geared towards espresso lovers who enjoy the hands-on process. Instead of a superautomatic brew, the Breville Barista Express offers users the option of turning every automatic function into a manual brewing experience.
For example, the ground coffee dispensed directly into the portafilter of the Breville can be a coarser or finer grind depending on your preferences. The Barista Express gives the user the option of maximum control over the coffee quality, while the De'Longhi Magnifica does most of the work for you.
The Delonghi ESAM3300 Magnifica and the Philips 3200 Fully Automatic are both superautomatic espresso machines that brew your coffee with the touch of a button.
Both allow you to control the strength and size of your brew.
Both offer a removable brew group for cleaning ease.
Both include a built-in ceramic burr grinder and a ground coffee container.
If you look for the differences in these two espresso machines, you'll notice that:
The Philips runs about $100 cheaper than the Delonghi Magnifica, however it also is designed with many plastic parts while the Delonghi uses more stainless steel. The Philips espresso machine uses a touch panel display instead of Delonghi's low-key turn knobs. I find the clean look of the Delonghi to be more user-friendly, but this is just a matter of personal preference.
FAQs
Can I use regular coffee in an espresso machine?
Yes, you can use regular coffee. However, the coffee you use in your drip machine may not come out as tasty when you use it in an espresso machine. This is because espresso is made using a quick brew method and needs a finer grind to be able to extract the most flavor. Regular coffee with its larger grind size may make your espresso taste sour from under extraction.
Is espresso stronger than regular coffee?
If you compare espresso to coffee ounce to ounce, then yes espresso will be the stronger drink. Espresso generally contains 63 mg of caffeine in 1 ounce and regular coffee on average only has 12 to 16 mg of caffeine. However, since regular drip coffee is usually served in a larger mug size, you may be getting more caffeine in your drip coffee than you would with a one ounce shot of espresso.
What exactly is espresso?
All espresso is coffee, but not all coffee is espresso. Espresso is brewed using a quick brew method which takes about 20-30 seconds for one shot. Unlike the brew from regular coffee machines, espresso is brewed under a high amount of pressure. The Specialty Coffee Association considers coffee to be an espresso if it is brewed with 9 or more bars of pressure. Most coffee shops and high-end espresso machines use 15-20 bars of pressure to brew espresso.
Final Verdict
The Delonghi Magnifica ESAM3300 seems to be a solid machine with several desirable features. It takes care to give you the great espresso, cappuccinos, and lattes you want with the least amount of effort possible. We like that this machine allows you to hand froth your milk so you can put your own barista twist on the latte art. At the same time, when you first wake up, this espresso machine will take a lot of the work so you don't have to.
The De'Longhi Magnifica ESAM 3300 super automatic espresso machine may be for you if:
You love to drink espressos and other coffee beverages.
You like a professional burr grinder incorporated into your espresso machine.
Foaming milk is an art form you enjoy.
You like the ease of a one-touch automatic espresso brew cycle.
The De'Longhi Magnifica ESAM3300 may not be for you if…
You prefer the taste of a drip coffee machine brew.
You like the hands-on style of a semi-automatic machine with a portafilter.
You don't want to deal with the maintenance of a fully automatic espresso machine
You don't have the budget for a higher end machine.
The Delonghi Magnifica ESAM3300 may not be for everyone, but I think most would agree that this bean to cup espresso machine puts a lot of nice features on the table.
Sale
De'Longhi Magnifica ESAM3300
This 15 bar, dual boiler fully automatic espresso machine is simple to use and makes great espressos with frothy milk; Perfect if you want to make customized espresso drinks just like the coffee shops from home.
Last update on 2023-11-29
Final Thoughts
While the De'Longhi Magnifica ESAM3300 is a high-end machine, it is still very user-friendly for beginner at-home baristas. We like that it takes the effort out of espresso-making and makes this drink accessible to many. Some of us just want a great cup of espresso and don't feel the need to control every aspect of our brew. If you are on the hunt for a great espresso, we feel that the De'Longhi Magnifica ESAM3300 is definitely worth your consideration.
If you're looking for other beginner espresso maker options:
Coffee Has Never Read This Good!
Sign up for a FREE newsletter to the best home brewing tips and guides
Thank you for subscribing to The Cup Coffee House Crew! There's a surprise in your Inbox 🙂
Something went wrong.
About the Author
Latest Posts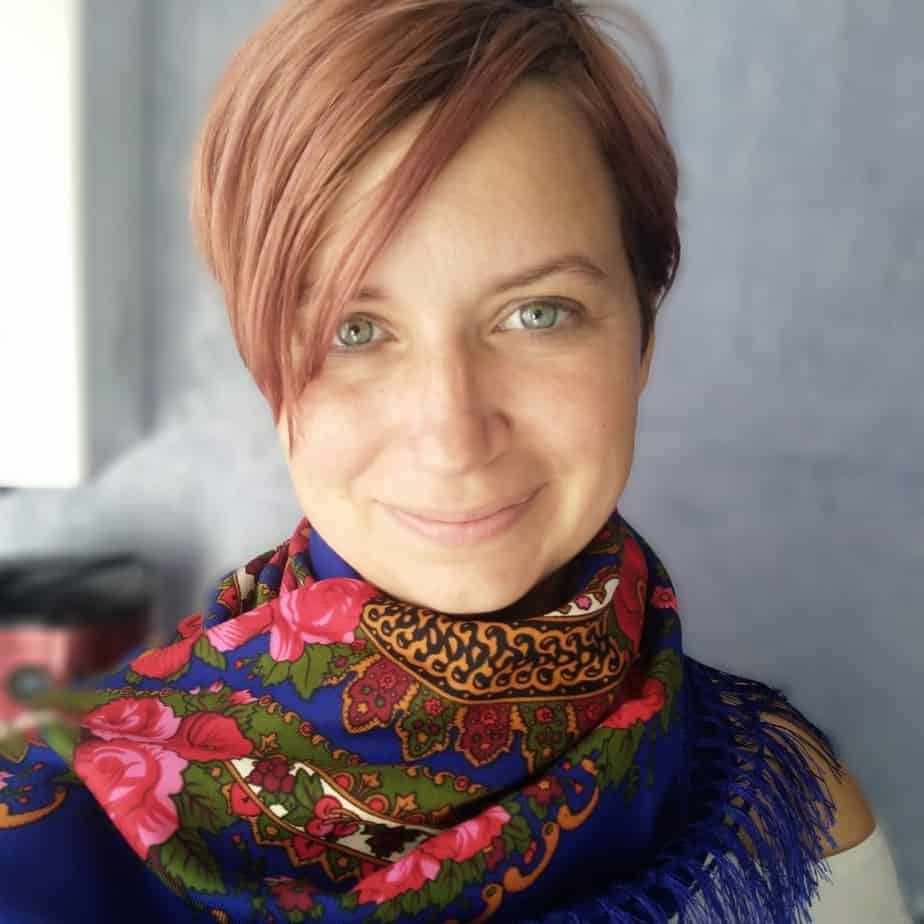 Alex Praytor worked her first job as a barista, finished college, and then took a tour to the other side of the globe. She fell in love with espresso and her would-be husband in Europe. She spends her spare time visiting native Texas landmarks, ancient castles, and all the coffee shops she finds along the way. At home, she is a mom, ESL teacher, and writer, who hones her coffee-making skills daily. She enjoys passing on her coffee findings to fellow caffeine addicts in search of the perfect cup.
Chief Editor