Last updated on August 15th, 2023 by MJ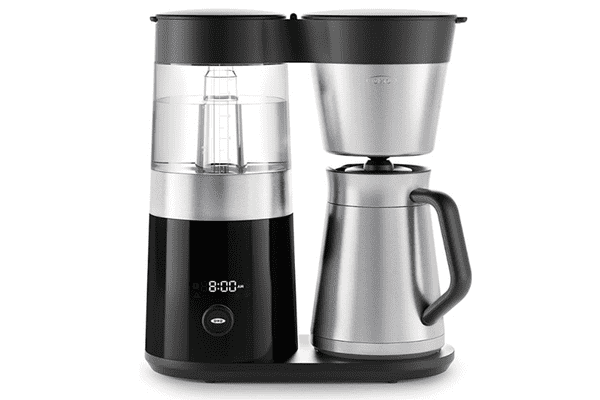 Drinking a good cup of coffee is one of the simple pleasures in life. It brings a great start to the day and can brighten your morning. I love to wake up to the aroma of fresh brewed coffee after a long night's sleep. 
Due to the remote work trend and the rise of prices in coffee shops, more consumers are making coffee in the comfort of their home. Therefore, more people are looking into coffee machines that can mimic their favorite drink.
Oxo Barista Brain 9 Cup Coffee Maker
Performance

Ease of Use/Maintenance

Build & Quality

Design & Features

User Satisfaction
Final Verdict
The OXO Brew 9-cup coffee maker is an automatic pour over brewer that brews delicious hot craft coffee fast and efficiently. We love that it's simple to use, has a sleek, elegant design and has a stainless steel carafe that is functional. It also has features that deliver on great flavors and precise brewing.
While the price is bit higher than expected for a drip machine, its perfect for classic coffee drinkers who appreciate convenience and quality.
One such brew type is pour over coffee. As its popularity continues to rise, more and more companies are creating machines to keep up with customer expectations, which is exciting for us coffee drinkers! There are quite a few out in the market right now.
OXO is one brand that kept popping up as I was searching. Having owned a couple of OXO brand housewares, I was looking forward to trying out the OXO Barista Brain 9 cup coffee maker.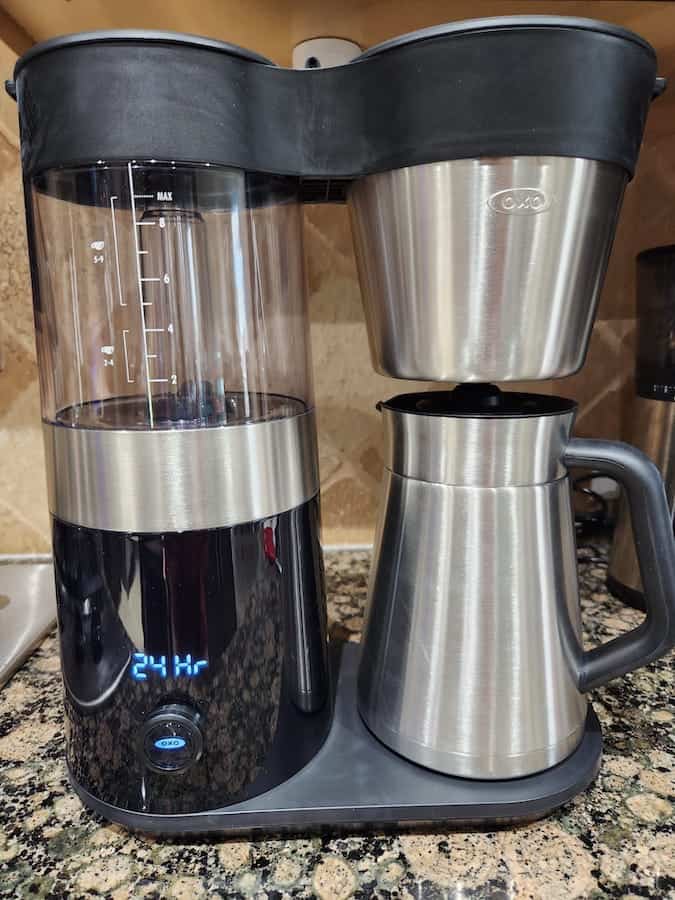 In a hurry? Heres my overall impression.
Overall, I was very impressed with the OXO Brew 9 cup coffee maker. It is an automatic pour over brewer that brews delicious craft coffee fast and efficiently. It's simple enough to use on a daily basis making it convenient. But also complex in its ways by using a shower head, mixing silicon tube, and SCA standards to evenly saturate coffee beans for an exquisite extraction.
It has a sleek, elegant design that went with my kitchen décor. While the price is bit higher than expected for a drip machine, the ease of use and high quality rich coffee makes it worth the buy in my opinion, especially if you're a basic black coffee drinker in morning like we are!
Sale
OXO Barista Brain 9 Cup
The OXO 9-cup brewer is convenient enough for daily use but thorough in its flavors. Perfect for daily coffee drinkers who want quality fast.
Last update on 2023-11-30
---
Oxo Brew 9 Cup Coffee Maker Review
There are a few attributes that initially attracted me to this brewer.  
SCAA certified: The proper temperature distribution is ensured by the silicone mixing tube and brew through lid. This silicone mixing tube attaches to the insulated carafe lid and blends the coffee while it's brewing. 

Barista level coffee at the perfect temps of 197.6 and 204.8 degrees Fahrenheit without the headaches of me doing it manually? Yes please!

9-cup machine (Makes about 9 (5oz) cups).

This was important since we have guests who come over all the time.  
But how did it fare overall after I tested and used it for several weeks? Let's dig in!
Pricing
For a drip coffee maker, OXO is on the pricier end due to its SCAA (Specialty Coffee Association of America) certification. So, when I saw that the OXO was on sale on Amazon for $200, I placed an order without hesitation.
Quality and Build
It arrived late November. An early Christmas present to myself, because I mean why not?! 
Can I just say that taking it out of the box was not easy because it was definitely heavier than I expected. I had to use my legs to help push it out.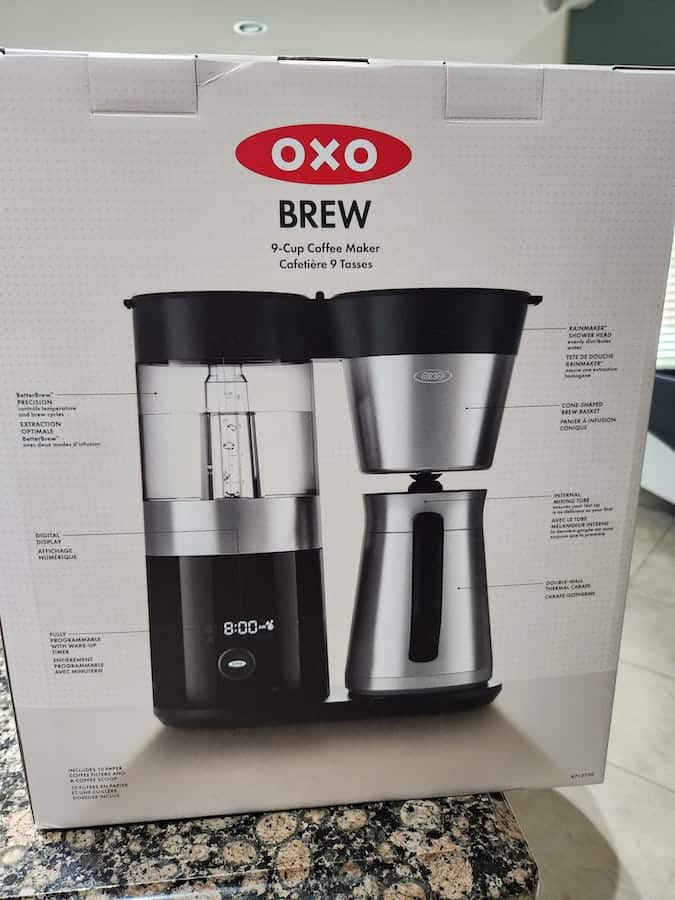 The OXO 9 cup weighs around 11.4 lbs. which is not that light. Once you add water to it, it will be heavier.
My first impression of the OXO Barista Brain machine was the sleek modernist design with the exposed water reservoir. It has a brushed stainless steel thermal carafe and clear water tank. 
I absolutely loved the digital display which gives the machine an elegant feel. There is one smart button to push, so even if you are half asleep, it is easy to maneuver.
Some things to consider is that this drip coffee maker measures 15 X 8.3 X 17.2 inches so it is not that small. It is important that you have extra headroom for it.  
Ease of Use and Setup
Once I unpacked the OXO Brew machine, I was anxious to try it out! Couple of things to do first: 
Remove all the packaging 
Wash and dry all the parts 
Install the silicone mixing tube (this tube blends the coffee while it brews so each sip is equally delicious!) 
Plug in coffee maker 
Turn dial and press OXO button to set clock 
Run a water only (9 cups) brew cycle 
Things to note: 
Each time you brew, the OXO coffee maker uses all of the water so only pour in the desired amount.
Select the correct cup range either (2-4) or (5-9). This automatically adjusts brewing time for optimal extraction.
For the best tasting coffee always use filtered water. 
One cool feature is that the display will let you know if the carafe is not put in the proper position. This will avoid a mess! 
Design and Features
The OXO Barista Brain coffee maker brings that coffee shop craft into the kitchen by duplicating what a barista manually does in a coffee shop:
The machine pours water over the grinds then pauses to let it bloom.
Once the blooming cycle is over, it pours water over the grinds again and pauses in short intervals.
I personally love watching the water gurgle through the clear tubing. For best taste, OXO recommends drinking coffee within one hour of brewing. Your coffee is ready to be savored! 
SCA Certified
What does SCAA mean? SCAA is an organization that sets strict coffee brewing standards on brew time, water temperature and volume. If you meet these standards, you get SCAA certified.
There aren't many automatic brewers that have passed the rigorous tests the SCAA provide. So you know with OXO's BetterBrew technology you are guaranteed to get consistently great coffee every time.   
Wake up timer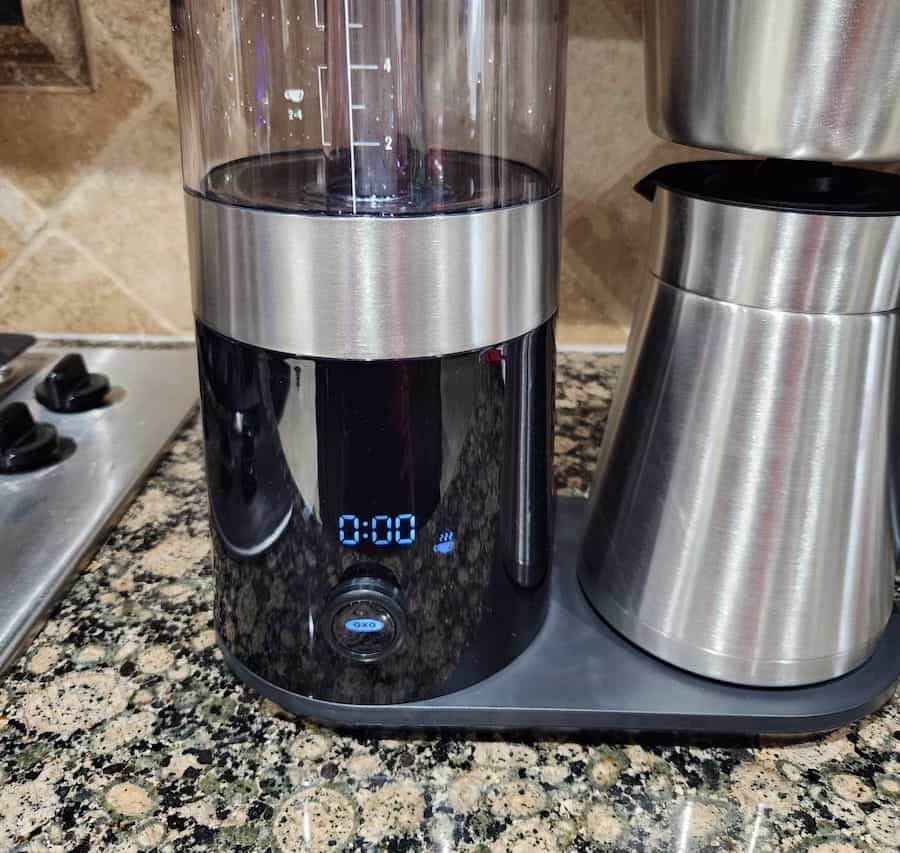 If you are like me and want to wake up to freshly brewed coffee, then you should use the wake up timer.
Press and hold until time is flashing and clock icon appears.
Turn and press to set time and then turn and press to set desired cup range.
You can then press the OXO button to check your wake-up time.
Remember, you cannot brew while the wake up time is set. You must cancel the wake up timer.   
Pause and pour
One disadvantage of the OXO Brew is that there is no single serve option, but with the Pause & Pour feature, you can pour a cup any time without waiting for the brew cycle to complete.
The cycle automatically pauses for up to 60 seconds when you remove the carafe during the brew cycle. A red carafe icon will flash once you've removed the carafe. Just replace the carafe to continue brewing.
The brew cycle is automatically canceled if the carafe is not replaced within 60 seconds.  
Stainless steel carafe
The stainless steel double-walled thermal carafe will keep your coffee hot for quite some time. It also has a brew–through stopper and does not dribble during pours. This is an issue I have seen with some other carafes thats can be annoying.
The carafe also empties all the way! Unlike the Cuisinart PerfectTemp (my previous machine), the OXO carafe lets me get every drop of my coffee out.  It is also designed as a pitcher to fill up the water tank so it pours out correctly without the stopper. How awesome is that! 
How to Use the OXO Brew 9 Cup Coffee Maker: Step by Step
The steps taken to brew coffee is very simple with the OXO machine. 
Step 1: Fill the 72 oz. water reservoir
The transparent tank has easy to read markings so you know how much water to pour in depending on the number of cups needed.
I also like the fact that the tank has a wide opening so there is no mess when filled.
This machine uses a #4 cone filter.
Step 3: Add your desired amount of ground coffee (freshly ground is best) and snap the brew basket in place.
No grinder? Then you should really get one. Either manual or electric. The difference in coffee flavor and richness is huge!
I use the Oxo conical burr grinder and it does a great job for us. It is a little loud, but it grinds well.
Sale
OXO Conical Burr Grinder
A decent electric coffee grinder with 12 oz hopper and 15 grind settings to get the freshest cup coffee every morning.
Last update on 2023-11-30
Step 4: Next press the button to display the menu, turn dial to desired cup setting,
Step 5: Then press the button again to start brew cycle.
The OXO has a "rainmaker" shower head with 6 holes so it will ensure an even distribution of hot water on coffee grounds. Easy peesy!
Step 7: Wait for your coffee to brew.
The brew icon will appear during brewing. When coffee is ready, the coffee icon appears and the freshness timer will start to count up from zero.
Performance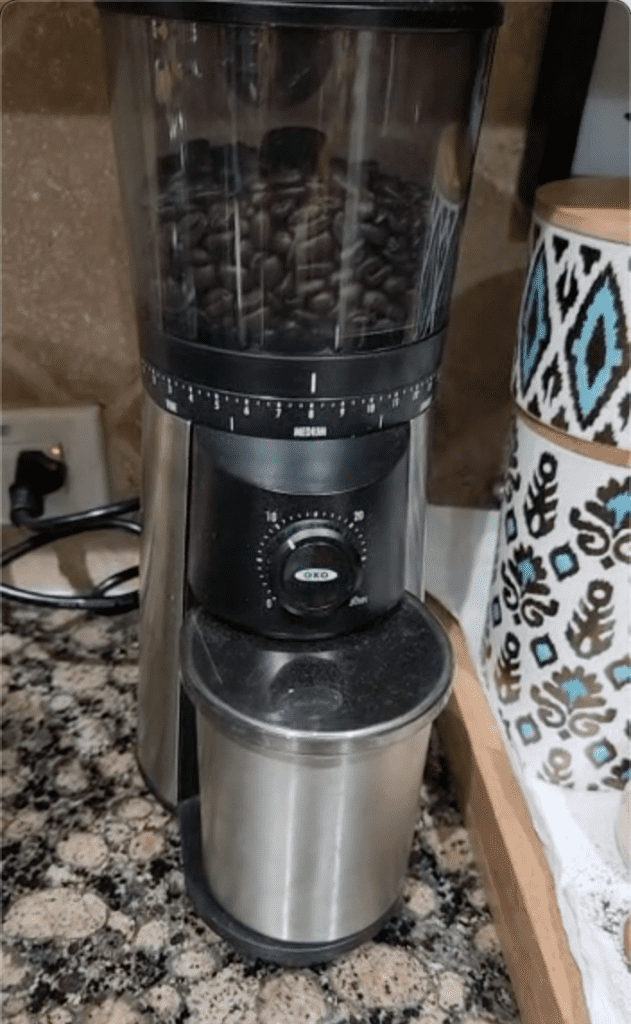 This timer counts up to 60 minutes to show time elapsed since brewing was completed. Hence, your coffee will taste the best within that first hour.
The taste was enjoyable and comparable to other high end drip coffee makers. I did notice that even after 3 hours, my coffee was still relatively warm. 
I was able to brew a full pot of coffee in about 6 minutes.
Cleaning and Maintenance
For regular day to day cleaning
Clean the exterior regularly with a damp cloth and wipe dry. If desired, clean once in a while with a soft cloth and mild detergent.
I would suggest cleaning the rainmaker shower head, silicone mixing tube and drip basket at the end of each day's use by rinsing it with warm water and leaving it to dry. All the removable parts are top-rack dishwasher safe, which makes cleanup easy.
The stainless steel carafe and lid needs to be hand washed. However, with the carafe, you will need a brush with a handle to be able to reach all the way inside and clean thoroughly.  
Stain removal
Remove coffee oil stains in the carafe by soaking overnight with a small amount of dishwasher detergent and water. 
Descaling
A triangle with exclamation symbol will display after 90 cycles, letting you know that it is time to descale. This is very helpful for someone who lives a very busy lifestyle and needs the extra reminder. 
When this light pops on, here's what you do:
Add descaling solution and water to MAX fill line in tank.

You can purchase a descaling solution from Amazon or use white vinegar which will work just as well.

Turn dial to the right until "-9-" icon appears and LED ring turns read.
Press OXO button to start and the "water droplet" icon will appear.
Once descaling is complete, fill water tank to "MAX" and run a 5–9 cup brew cycle with water only. Discard water before next use.
Your Oxo Brew 9- cup coffee maker will not work properly if it is not descaled regularly and this can void your warranty! So don't be lazy!
The OXO also comes with a 2-year warranty because as we all know, things happen and this can come in handy. I have a practice of putting the receipt inside the box and storing it in the garage just in case it is needed to claim a warranty.  
The Pros and Cons
After using this machine consistently for several weeks I came up with a few pros and cons based on its design, features, performance, and maintenance. Hopefully this review will help you decide if the OXO Brew 9 cup deserves a chance to sit on your counter top.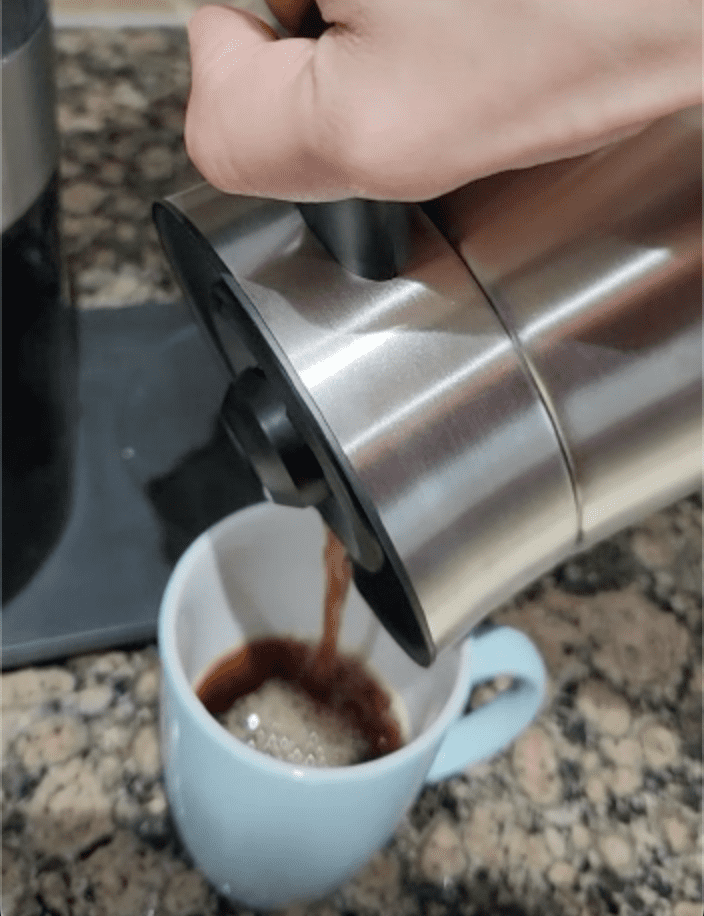 Things I like
Simple and easy to use

Not complex but a great upgrade over pod coffee like Keurig

The shower head and silicon tube are great features that enhance the overall flavor extraction
SCA certified
The stainless steel carafe is way more functional than most other machines
All parts are dishwasher safe
It looks great on my countertops
The freshness timer lets me know how long I have to enjoy the best tasting coffee after the brewing finishes
Programmable so it auto brews for me in the morning
Pause and pour because I'm a busy woman!
Things I don't like
There are a couple of things to consider before buying the OXO 9-cup coffee maker.
First of all, this isn't a fancy coffee maker that gives you options to brew specialty beverages like cappuccinos or cold brew.
No single serve option
Does not let you customize your settings like pre infusion, brewing time, etc.

If you are someone that likes to control these variables, then this machine is not for you. You should check out the Breville Precision Brewer instead.
I personally like the simplicity of the OXO for daily use. In my household, we stick to the classic brewed coffee so it works out great.

This machine is on the more expensive end for a drip coffee machine.

You may want to consider another SCAA certified machine like the Bonavita if price is an issue which also produces high quality coffee with a simple one button brewing.
I preferred the look of the OXO because it went perfectly with the aesthetic of my kitchen.  
Final Verdict
Overall, I was very impressed with the OXO Brew 9 cup coffee maker. This Barista Brain met all my expectations for an excellent drip coffee machine.
It is an automatic pour over brewer that brews delicious craft coffee fast and efficiently. It's simple enough to use on a daily basis making it convenient. But also complex in its ways by using a shower head, mixing silicon tube, and SCA standards to evenly saturate coffee beans for an exquisite extraction.
It has a sleek, elegant design that went with my kitchen décor. I loved the one touch button which made it simple to use. And cleanup is a cinch. Even my parents that came over found it user friendly.
Being a household that take our coffee seriously and a necessity every morning, we love that the OXO provided great tasting, hot coffee with every brew! 
Sale
OXO Barista Brain 9 Cup
The OXO 9-cup brewer is convenient enough for daily use but thorough in its flavors. Perfect for daily coffee drinkers who want quality fast.
Last update on 2023-11-30
Searching for more coffee maker options?
I have personally bought and tried other well known drip coffee makers that you may want to check out here! (No this doesn't make me a coffee snob…or does it??)
FAQ
Does Oxo make good coffee?
In my experience, after testing the Oxo 9 cup brewer, the coffee taste was hot, delicious and flavorful. Hard to tell the difference from even a manual pour over.
But of course, if you roast your own beans, and/or grind your beans fresh like I do, your taste results are going to be even better.
Coffee Has Never Read This Good!
Sign up for a FREE newsletter to the best home brewing tips and guides
Thank you for subscribing to The Cup Coffee House Crew! There's a surprise in your Inbox 🙂
Something went wrong.
About the Author
Latest Posts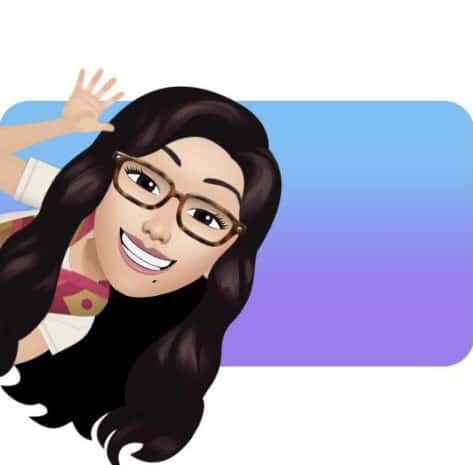 MJ is a full time health care worker, mother, and wife. When she puts her super cape down, she writes occasionally about coffee and how to get a better tasting brew from home.
Chief Editor