Last updated on August 15th, 2023 by MJ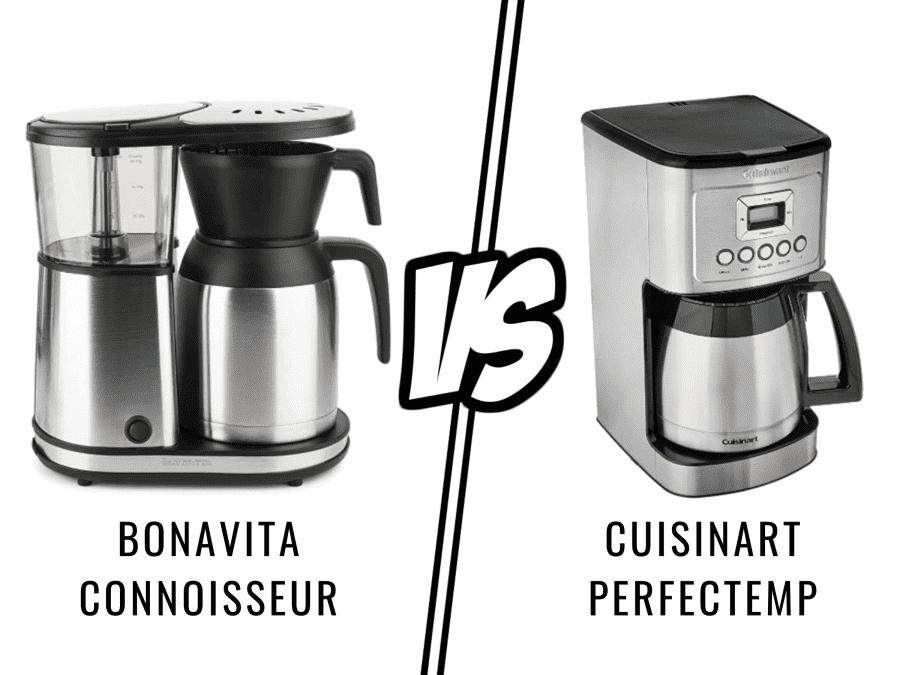 Coffee is essential in my life. With 3 little children at home and a full time job, caffeine plays a vital role throughout my day.
I love waking up to the smell of a fresh pot of coffee which is one of the best parts of waking up!
For 10 years, we were using our Cuisinart we received as a wedding gift. We had no issues, but overtime the quality just wasn't up to par anymore. We were buying Starbucks almost 5 times a week so we decided it was time for a new machine.
When I started researching the next coffee maker to buy, it quickly became overwhelming with all the different types of coffee machines, espresso machines and grinders on the market.
Now mind you, I am not a coffee snob. But definitely not a newb when it comes to coffee machines and brewing them.
After tens of hours of research through good ole Google and Reddit blogs, I had to decide what kind of coffee maker works best for my husband and I for our daily needs. I needed something quick and convenient without all the bells and whistles, because honestly, this mama doesn't have time for that!
After careful consideration, I narrowed it down to 2 quality machines: The Bonavita Connoisseur vs Cuisinart PerfecTemp. I purchased both of them and decided to see which one met my everyday needs. After using both coffee makers, read on to learn which one stood out as the best brew machine for us.
---
Bonavita Connoisseur vs Cuisinart PerfecTemp: How Did I Decide?
As I mentioned before, we wanted a drip coffee maker that would serve our family's needs without all the fancy stuff. Here was the criteria:
Something with a timer to have the coffee ready when I woke up.
A thermos that will keep the coffee warm for when I am ready for that much needed second cup.
Makes minimum of 8 cups for when my coffee loving family comes over.
Easy clean up and maintenance.
Brews quality coffee. So naturally I leaned towards automatic pour over coffee makers…great taste without all the headaches of the pour over method
Total cost of $150 or less.
Bonavita Connoisseur Review: 8-Cup One-Touch Coffee Maker with Thermal Carafe
Pricing
Retails at about $180 (bought it on sale for $101)
Design and Build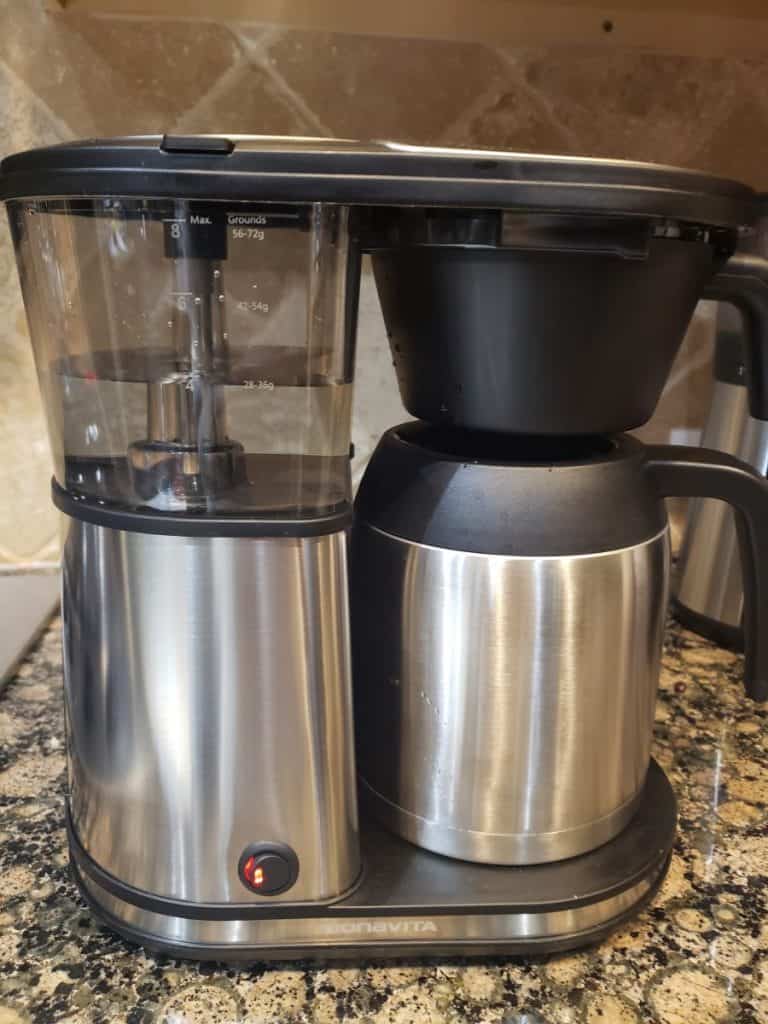 My initial thoughts on the Bonavita Connoisseur was that it was sturdy and looks high end since it was made of stainless steel. Although, some parts are made out of plastic. The carafe was a little heavier than the glass I'm used to. The box came with one package of descaling liquid.
How to Use the Bonavita Connoisseur Step By Step
Once the machine was taken out of the box, I cleaned the carafe, lid, and filter with water and soap.
Then, as the instructions directed, I ran 2 full tanks full of water through the coffee machine.
Next, I poured 8 cups of water into the tank and put fresh coffee grounds into the filter paper.
I wanted to set the coffee maker in pre infusion mode to get the blooming effect. So I held down the power button for 5 seconds until the blinker flashed twice. The machine will stay blinking while brewing to let you know it's in pre infusion mode.
Performance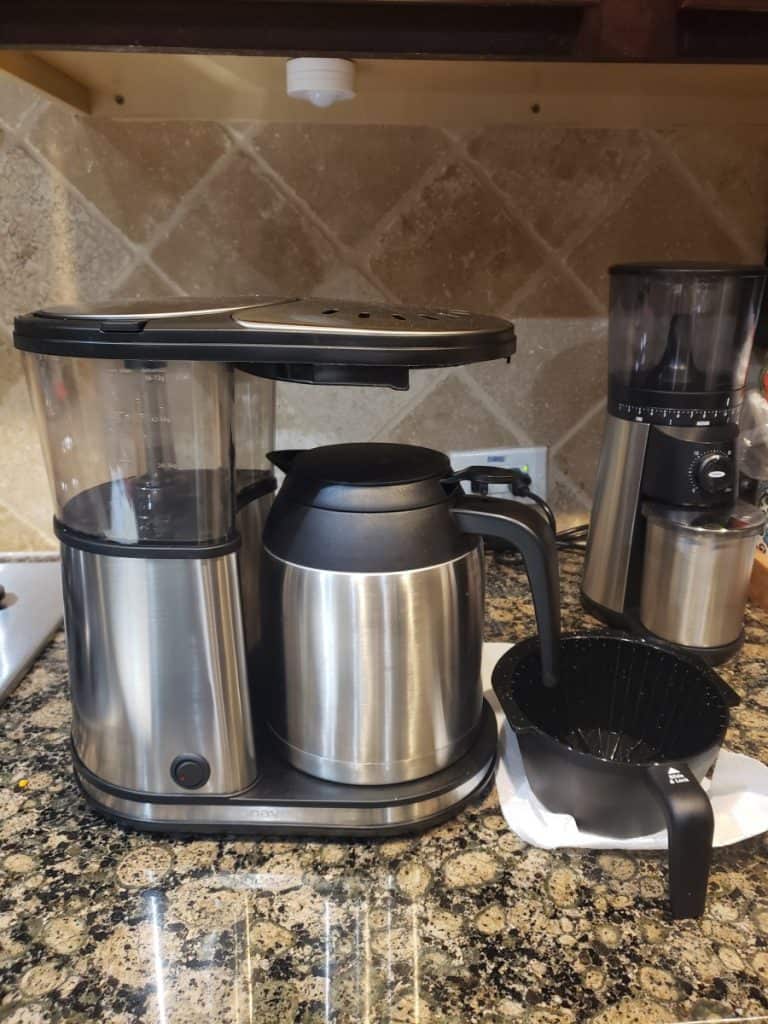 For 8 cups of coffee it took about 6 minutes. It beeped twice, letting you know it was done brewing. It wasn't loud at all, and the kitchen filled with fresh ground coffee aroma.
Right after it was done, I took the carafe off the base and put the lid on top. The coffee was easy to pour through the lid which is sealed on tight. Coffee tasted wonderful. It was strong and I could taste the full flavor of the coffee. I immediately tasted the difference from this coffee machine versus my old Cuisinart.
Pros
Coffee is made quickly in about 3 minutes for 2-4 cups.
Once the lid is placed on the carafe immediately after brewing, the heat is maintained for at least 15 min.
Carafe lid, filter basket, and shower-head are dishwasher safe and use BPA-free plastic according to the package insert.
Maintains an optimal brewing temperature between 195°-205°F which is ideal for the perfect cup of coffee
The Bonavita Connoisseur is certified by the Specialty Coffee Association. It's an award bestowed to only exemplary coffee machines that meet the SCA's requirements which are based on proper water temperature of 200°F, brewing time, and ability to brew within the SCA Golden Cup recommendations.
Optional pre-infusion mode by pausing the water flow allowing the coffee grounds time to bloom.
Has a shower-head design which produces an even saturation of coffee grounds.
Easy to use with simple one touch button for brewing. Holding that same button down for 5 seconds activates the blooming feature.
Cons
Carafe Lid: One gripe I would have to say is that the lid has to be placed on AFTER the brew is complete. This can be an annoyance if you forget to put the lid on right after brewing, meaning your coffee will not retain the heat.
Also, once the lid is placed on, you are forced to either take the carafe off the base and put it on your counter top, or remove the hanging filter so the carafe with lid can fit on the base. This can become a nuisance if you are lacking on counter space.
Filter size: Since this is a hanging filter coffee maker, the filter size must be correct so the filter won't fold over causing coffee grounds to seep through into the carafe.
Steam from Lid: If the Bonavita Connoisseur is placed under cupboards, it has to be moved forward so the steam coming from the lid doesn't damage the cupboards. This can be frustrating to do every morning.
No auto brew: I get up between 5am-6am. With my previous coffee maker, I was used to waking up to a freshly brewed coffee smell every morning ready to drink. So this was a bit of an adjustment for me.
Thermal Effect: The coffee doesn't stay as hot as I had hoped for with the thermal carafe. After 30 min of being in the carafe, I still had to heat up the coffee.
Carafe design: Another issue is that no matter how much you try, there is always some water or coffee left in the carafe (see pic below). It was impossible to take out all the liquid even with all the tilting you do. I would have to dry it with a paper towel after washing.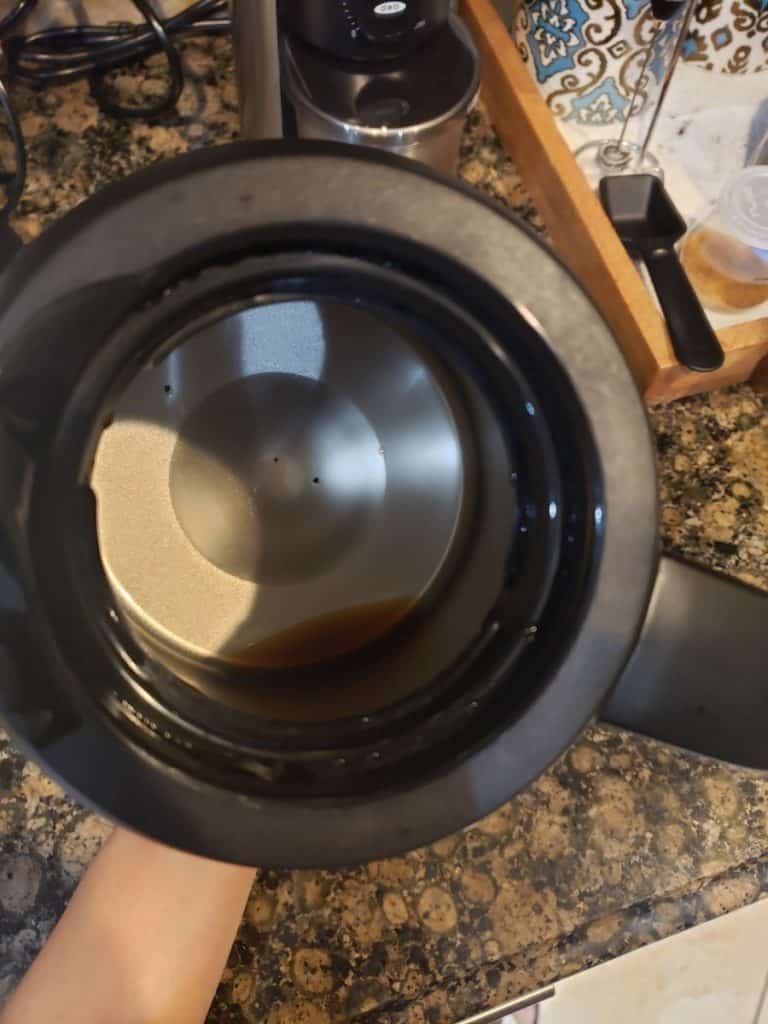 If I wanted to pour myself a cup right after brewing without putting the top on, there would be spillage along the side. The spout isn't narrow enough.
Post brew drip: When I brewed 4 cups of coffee, there was some post brew drip after the brew was completed. I waited about 5 minutes and removed the carafe and there was still coffee dripping from the filter. I removed the filter and noticed some water still pooled inside.
Final Verdict: Bonavita Connoisseur
My overall impression of Bonavita Connoisseur is that it is a great coffee machine for the sale price. A huge upgrade from my old one. It does brew a gold standard cup of coffee with robust flavor. If you are in the market for a perfect cup of joe without all the bells and whistles, then this automatic coffee brewer is for you. But for my personal needs, I felt that this machine didn't give me what I was looking for.
Cuisinart DCC-3400 PerfecTemp Review: 12-Cup Thermal Coffee Maker
Pricing
Design and Build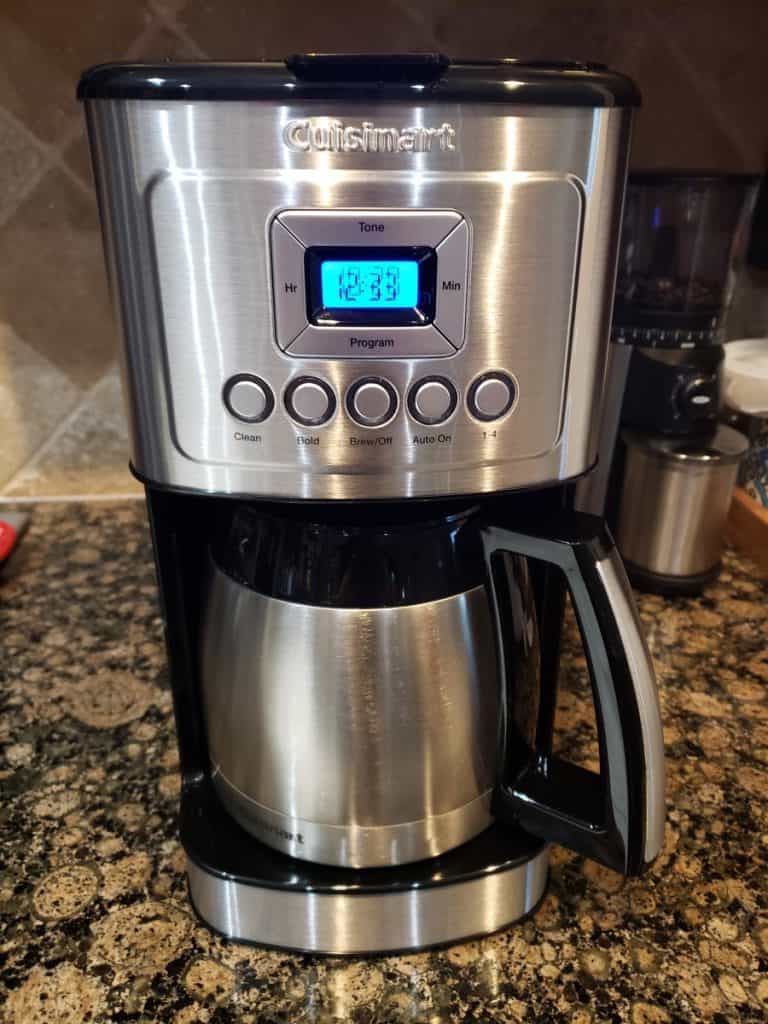 The Cuisinart had a sleek stainless steel design. The carafe was also on the heavier end, but seemed sturdy. The programs were easy to set up and learn.
Performance
Some of the features I liked included:
12-cup thermal carafe
Charcoal water filter which helps to eliminate chlorine, bad tastes and odors from tap water.
Fully automatic with 24-hour programmability
Self-cleaning function – A red indicator appears when it is time to decalcify the coffeemaker.
60-Second Reset recalls settings and position in the brewing process in the event of power outages. This means if the unit is unplugged or power trip, it will hold all the programmed information.
All parts that come in contact with coffee or liquids are BPA free.
Coffee maker comes with a gold tone permanent filter which eliminates the need for paper filter. However, be aware that fine grounds can flow through and into the carafe.
How to Use the Cuisinart PerfecTemp Step by Step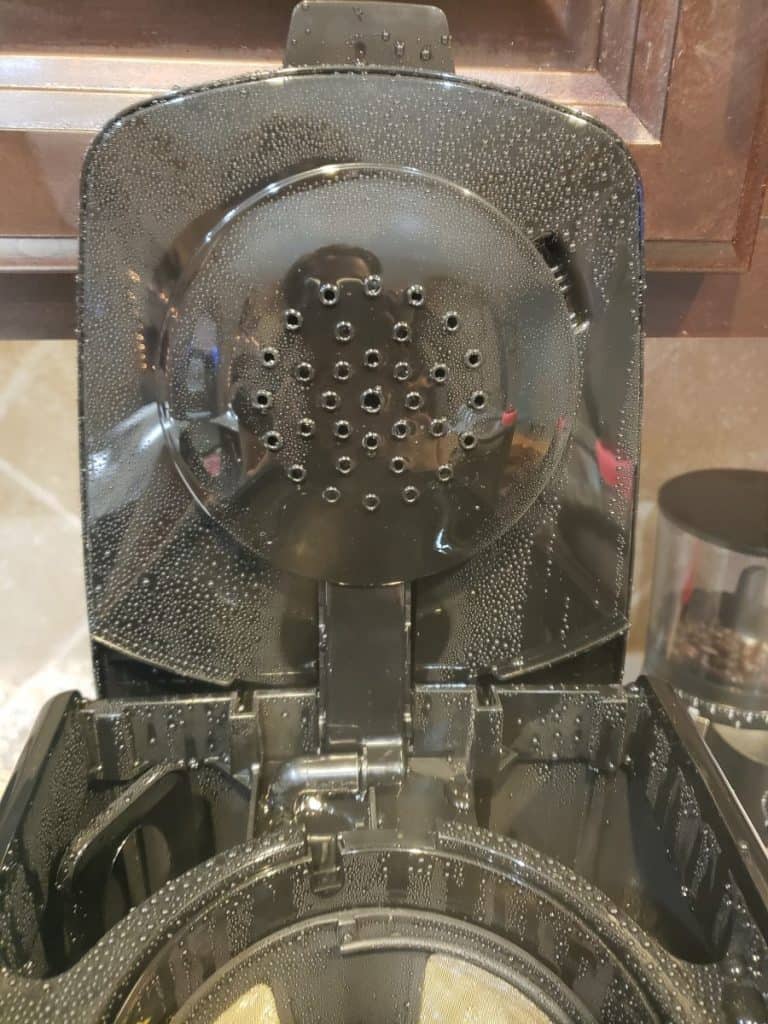 I found the initial set up and cleaning was relatively easy:
Before using the coffee maker for the first time, I ran 2 full cycles with 12 cups of water to clean out the machine. Also, I hand washed the carafe and lid.
Immerse the charcoal filter in cold water for 15 minutes, then insert into filter compartment. Run through cold water for 10 seconds. Insert holder back into water reservoir. If you have hard water, it is recommended to change every 60 days.
Setting up the time and autobrew features were easy following the manual instructions
Next I filled the tank with my desired amount of water and the coffee filter basket with ground coffee beans.
Time to brew! When brewing is complete, 5 beeps will sound.
Pros
It has a shower-head to evenly distribute water over coffee, which makes for better extraction and flavor.
I like how you can turn the lid of the carafe to keep the spout closed making it fully sealed to keep the heat in.
Brew Pause feature so you can sneak in a cup for yourself mid-brew. However, removing the carafe for more than 20 seconds during brew cycle can cause the filter basket to overflow.
1–4 cup setting: Adjusting the cup helps to maximize coffee flavor when brewing less than 5 cups.
Strength-control options for regular or bold.
Cons
Once you insert the carafe, the top lid of the tank pops up in the corner. This might seem like there is something wrong with the machine, but that is just how it's built.
For my first brew, I set the coffee machine to brew at 6am for 4 cups of coffee under bold feature. This took about 8 minutes.
It is difficult to use the carafe to fill the water tank. I would recommend using a cup.
You have to tilt the carafe all the way down to pour the coffee. This could be a nuisance to some people, but I was fine with it.
The coffee stays hot in the carafe, but maybe for 15 min.
In order to get the last bit of coffee out, you have to remove the lid.
Some reviews said that the hot plate started to erode after a couple of months. This is something to watch out for.
The indicator that beeps once the coffee is done is a little loud especially if you are a light sleeper.
Manufacturer's limited three-year warranty: One disadvantage I have read from Amazon reviews is that even with the warranty, Cuisinart makes you pay for shipping for the new item and to return old item.
Can't get enough Cuisinart? Check out our full guide and review of all the best Cuisinart coffee machines on the market.
Final Verdict: Cuisinart PerfecTemp
After using both machines for about a week, the Cuisinart won in my home for the ease and convenience it provided. The taste and quality of coffee brewed with both machines was the same since I was using fresh ground coffee beans and both had a shower-head immersion feature.
But once I weighed the pros and cons of both the Bonavita Connoisseur and Cuisinart Perfectemp, I could not give up the Cuisinart's convenience of having an auto brew option. It made my busy life easier even though the brew time was longer. I just made sure to set it 10 minutes before I needed it.
The Bonavita Connoisseur did make a perfect cup of coffee in 3 minutes, but it lost its appeal for me when I couldn't place the carafe with lid back on the machine, limiting my counter space.
Final Thoughts
Everyone has his or her preference on what they are looking for in a coffee machine. First decide on what you are looking for in your ideal coffee maker and then compare the features, pros and cons to help you narrow down the choices.
Hopefully this comparison of the Bonavita Connosseur vs Cusinart PerfecTemp review will be helpful as you make your decision for which coffee maker is best for you! Both are great choices in the world of automatic pour over coffee makers so you can only win!
You can also consider other high quality pour over drip machines like the:
We've tested and reviewed those too so you can decide if they fit your coffee style better.
Coffee Has Never Read This Good!
Sign up for a FREE newsletter to the best home brewing tips and guides
Thank you for subscribing to The Cup Coffee House Crew! There's a surprise in your Inbox 🙂
Something went wrong.
About the Author
Latest Posts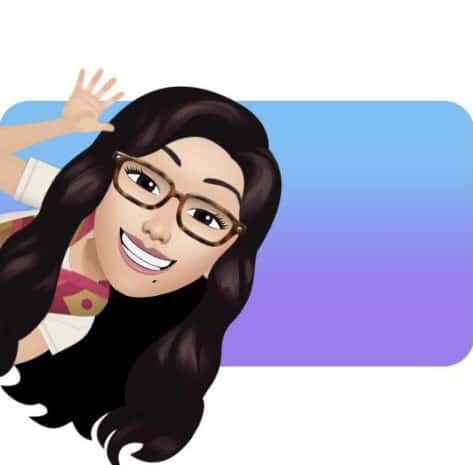 MJ is a full time health care worker, mother, and wife. When she puts her super cape down, she writes occasionally about coffee and how to get a better tasting brew from home.
Chief Editor