Last updated on August 30th, 2023 by MJ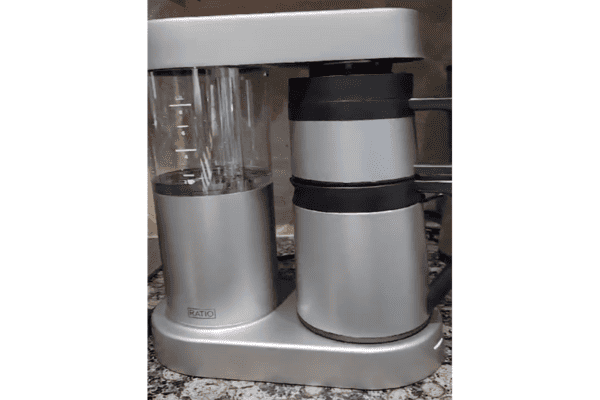 I don't consider myself a coffee connoisseur or coffee snob, but I do like my coffee. And I tend to keep my ear to the ground for coffee trends.
Lately I have been hearing the buzz around the Ratio Six automatic coffee brewer and it got me curious.
Ratio Six Coffee Maker
Build & Quality

Performance

Ease of Use/Maintenance

Design & Features

User Satisfaction
Final Verdict
The Ratio Six coffee maker is a sleek looking high performing automatic pour over brewer. Its designed well with quality premium materials and high end look. It performs well with its wide dispersion shower-head, heat shield, and blooming functions producing delicious hot flavorful coffee consistently.
But it is a bit pricey, lacks programmable function, and the showerhead, filter basket, and carafe setup is on the complex side.
Not to be confused with the Ratio Eight which has a much higher price tag, the Ratio Six is known for its one button simplicity, modern cool look, and premium material construction. The Ratio Six is considered a modern batch brewer style coffee maker that works to replicate the manual pour over process for larger brews.
Sounds innovative and fancy right?
But the question is does it fit the needs that real coffee maker moms like myself are looking for, namely great coffee, done fresh, quickly, easily and consistently. So I bought it and gave it a run to see how it stacks up.
Want the quick summary?
Overall, the Ratio Six coffee maker is a well designed high performing brewer. From its sleek look and quality premium build, to high end shower-head, heat shield, and blooming functions, the Ratio Six delivers delicious hot flavorful coffee consistently. It's also easy to use with its one button operation.
But it lacks programmability, and I did get annoyed by the complicated showerhead, filter basket, and carafe setup that required both hands and all my attention to pour a cup.
If flavorful pour over brew in a high quality built machine is most important to you, then Ratio Six is for you. If simplicity in handling the machine and programmable function is more important than the Ratio Six is probably not a good fit.
Ratio Six Coffee Maker
The Ratio Six combines rich nuanced flavors of a manual pour over with the sophistication of a quality built, one button automated machine.
Last update on 2023-09-18
---
Ratio Six Coffee Maker Review
The Specs
Weight: 8 lb. – so fairly light
Electric: Powerful 1400 watt/120 volt heating element (available in Europe in 230V)
Capacity: Brews up to 40 oz (eight 5 oz. cups); decent size for your morning rush
The Ratio Six comes in 3 colors: Stainless steel, matte black finish, white finish
Unboxing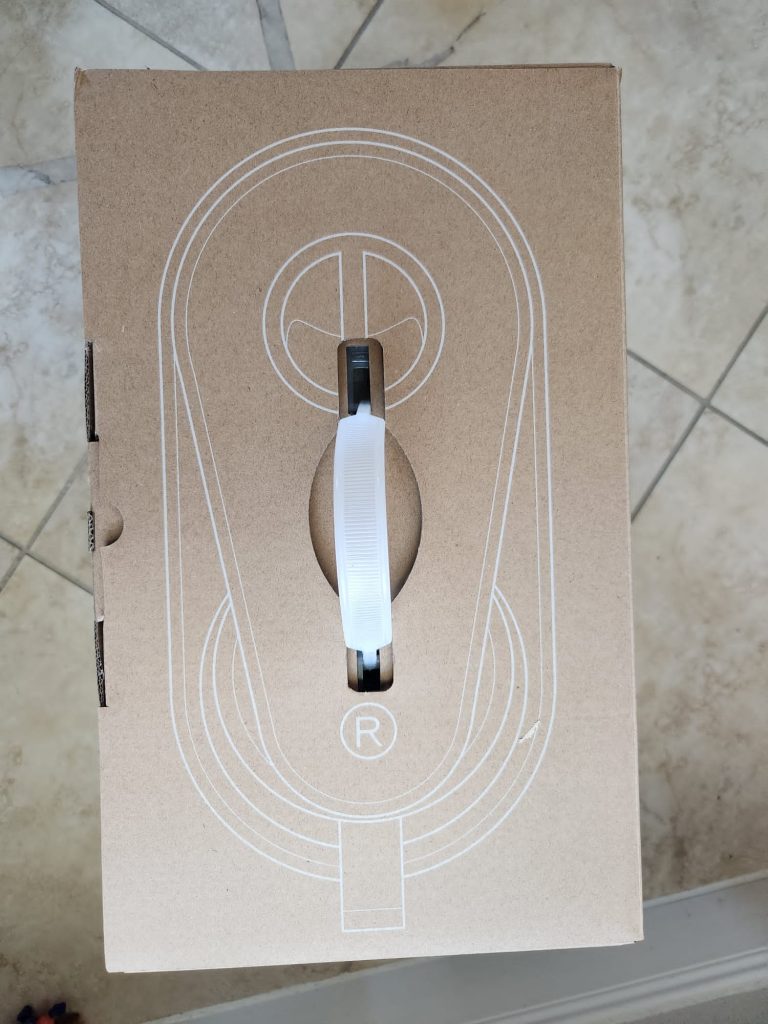 I ordered the Ratio Six from Amazon and it came packaged really well. I love how it came with an easy pull out handle at the top to easily pull out the box from inside the Amazon box. The machine isn't heavy at all.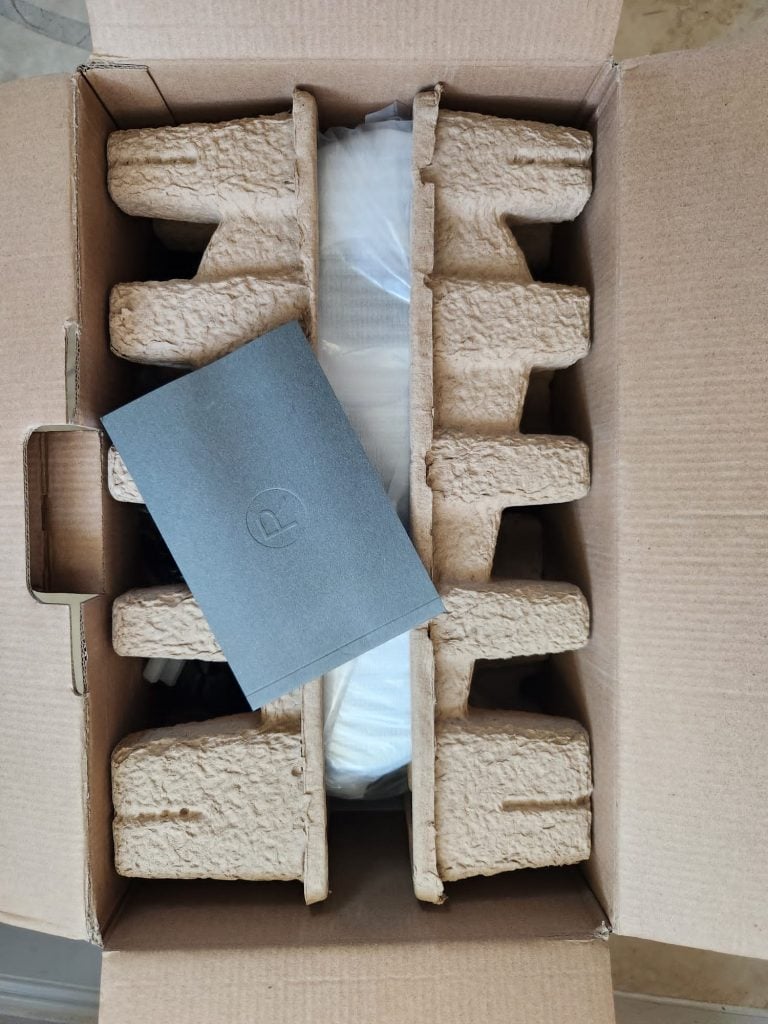 The first thing I realized as I pulled the machine out of the box, was the many different parts that came out. What is included in this coffee machine?
the Ratio Six Coffee Maker
Ratio Six Thermal Carafe + Filter Basket
Lid for Filter Basket with Heat Shield
Catcher for Filter Basket
Ratio Microfiber Towel
Basket Paper Filters – 4 sample filters (flat bottom filter is preferred)
Operation guide
Removable power cord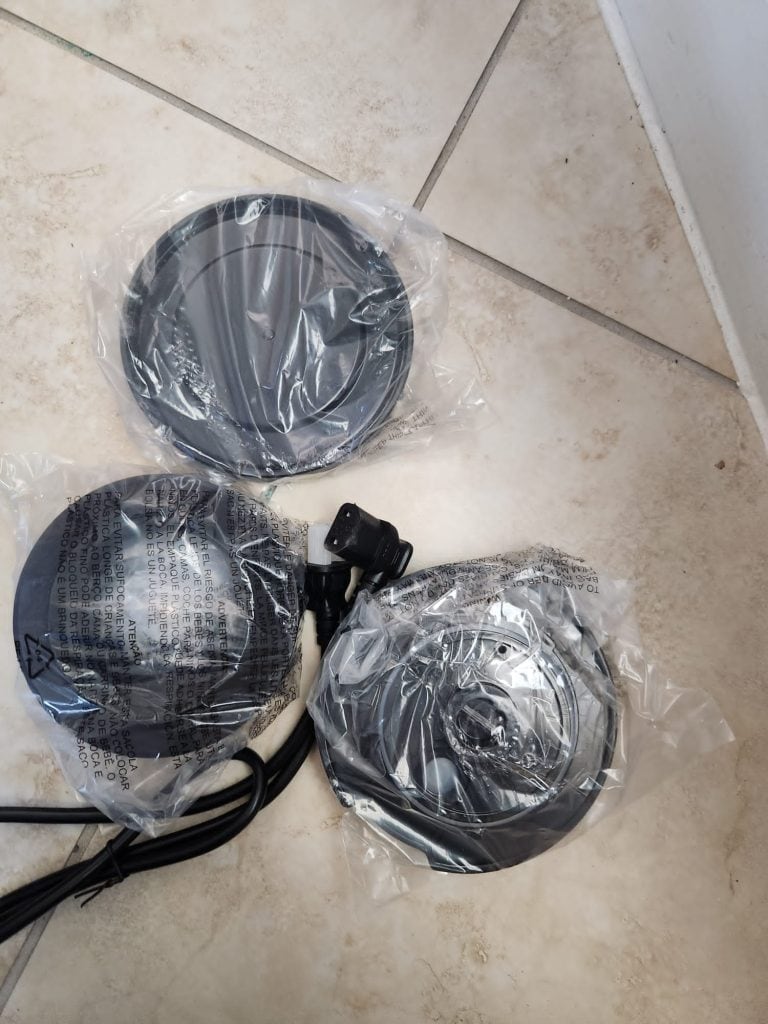 Design and Build
As I unpacked the Ratio Six coffee maker, my eye quickly noticed how sleek and modern it looked! I loved the matte finish, and kind of wished I had gotten the black one when I actually saw it in person.
The water tank is marked from 2-8 cups. When you pour 44 oz. of water in the tank you should yield about 40 oz. of coffee in under 6 minutes.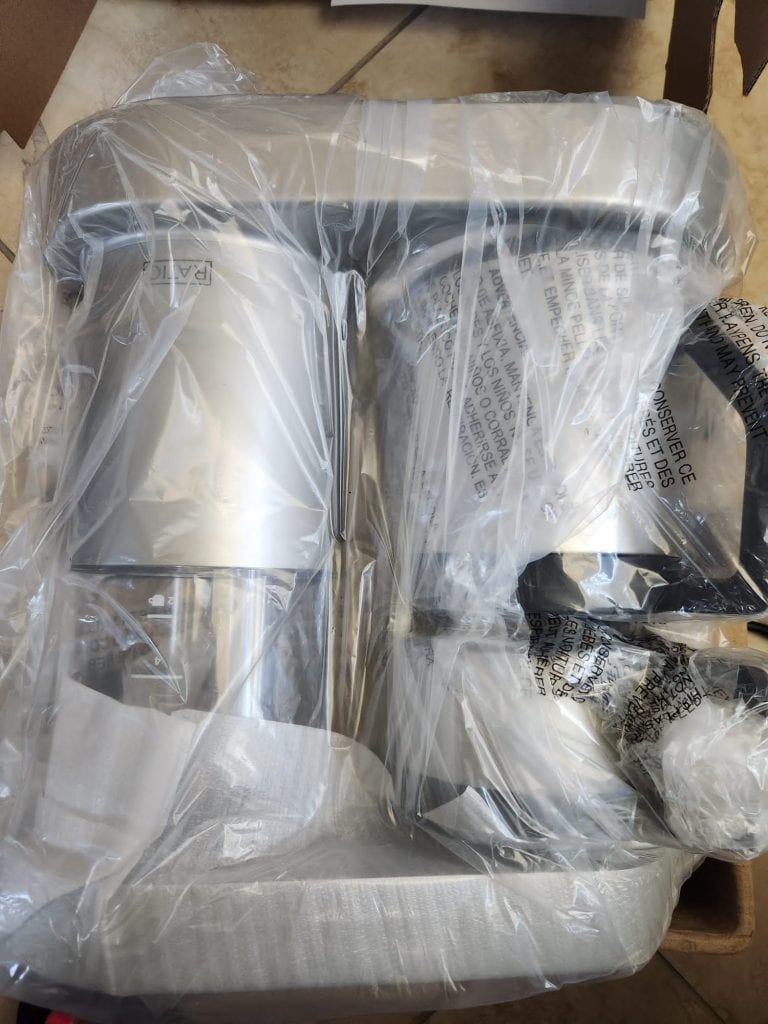 The quality of the brewer itself is impeccable. The glass tubes that the water travels through gives it a high tech vibe. The soft touch single button is sleek and blends in with the machine.
There are three indicator lights that flow as white strips during the brew cycle: bloom light (left), brew light (middle) and ready light (right). All three will flash if you try starting the machine without the carafe in place.
One of the distinctive features of the Ratio Six is the wide dispersion, concave shaped water showerhead above the bed of ground coffee. The dispersion screen works very well, with water coming out of all the holes and over the full diameter of the screen. This obviously makes for better even saturations and flavorful extractions.
Ease of Use and Setup
The steps to putting it together for my first brew was pretty simple.
I took all the pieces out and washed the removable parts in hot water and soap.
Next I put the filter basket and carafe in place.
Then, I poured in 8 cups of filtered water into the water tank part and ran 1 cycle to clean out the machine.
The lid of the reservoir is made out of heavy stainless steel and closes all and any gaps.
How to Make Coffee with the Ratio Six: Step by Step
Next it was time for my first brew! There are no bells and whistles with the Ratio Six. It is a simple one button click and the machine does the rest. No thinking required!
First I took a paper filter, gave it a gentle rinse under hot water to hold it in place and placed it in the filter basket.
The Ratio Six comes with some flat bottom filters to use. These are recommended over the conical filters. The flat bottom filters are known to give richer sweet-savory flavors and better with smaller batch brewing such as with Ratio Six.
Since this machine is considered a closed brewing environment, the flat bottom filters seem to work better with that.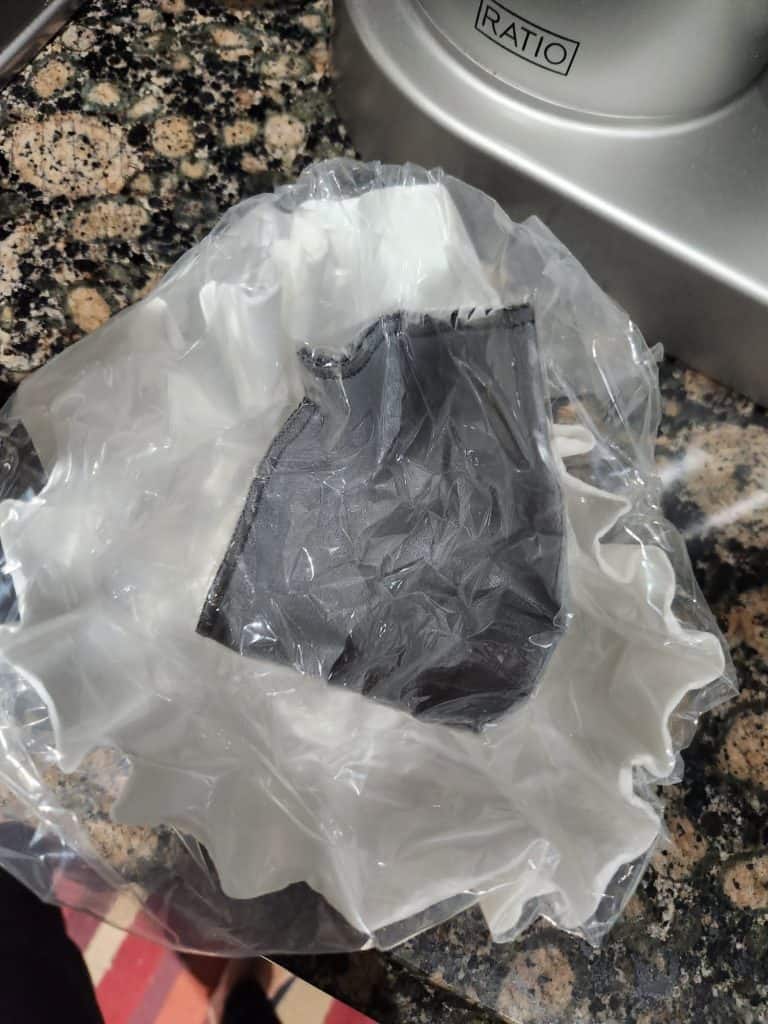 Next I added 1 and ½ spoonful's of freshly ground Kirkland's coffee beans.
Of course, if you have the time, grinding your own coffee beans fresh is totally the way to go. The difference in flavors and aroma are like night and day. On weekends when I have time, I will splurge and grind my specialty beans. But on school days, we keep it simple!
Next I poured 2 cups of water into the reservoir and closed the lid.
Assemble the brew setup.
I next made sure the heat shield was attached to the filter basket properly. I put the carafe underneath the basket and inserted both underneath the showerhead in a diagonal direction.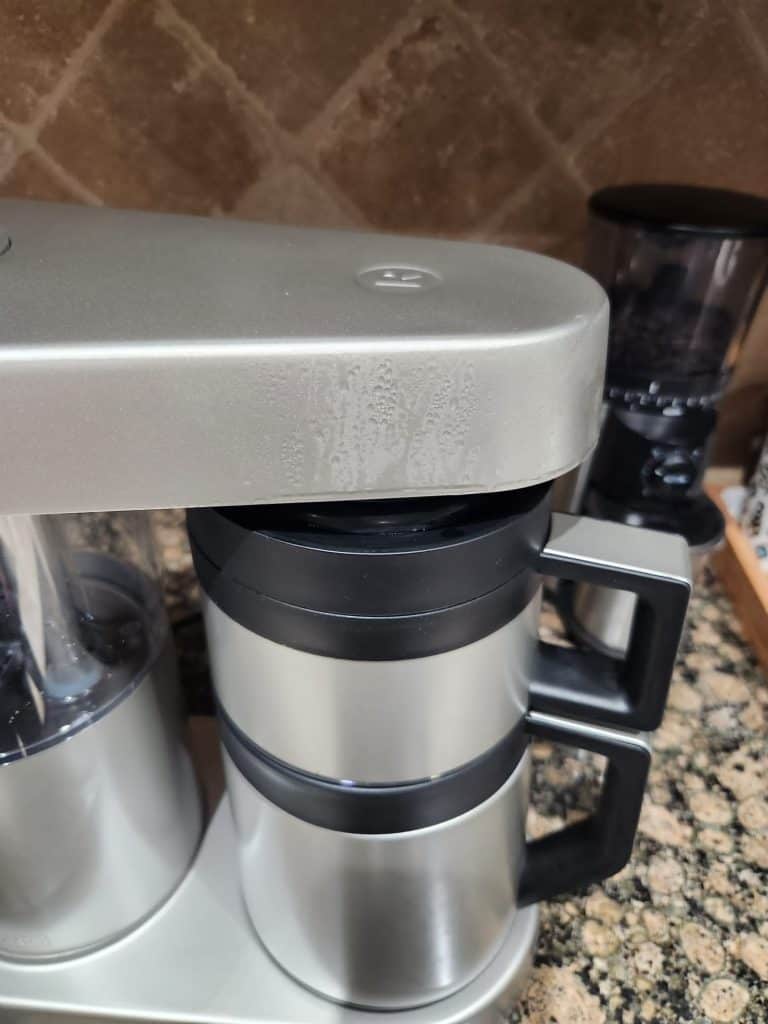 I then lightly touched the bloom button and it was a go!
Performance
The brewing was very quiet other than the gurgling of the water in the inner glass tubes. The first time I ran the Ratio Six, I was actually fascinated watching the whole process through the tubes. Even my kids get entertained looking at it as they pass by!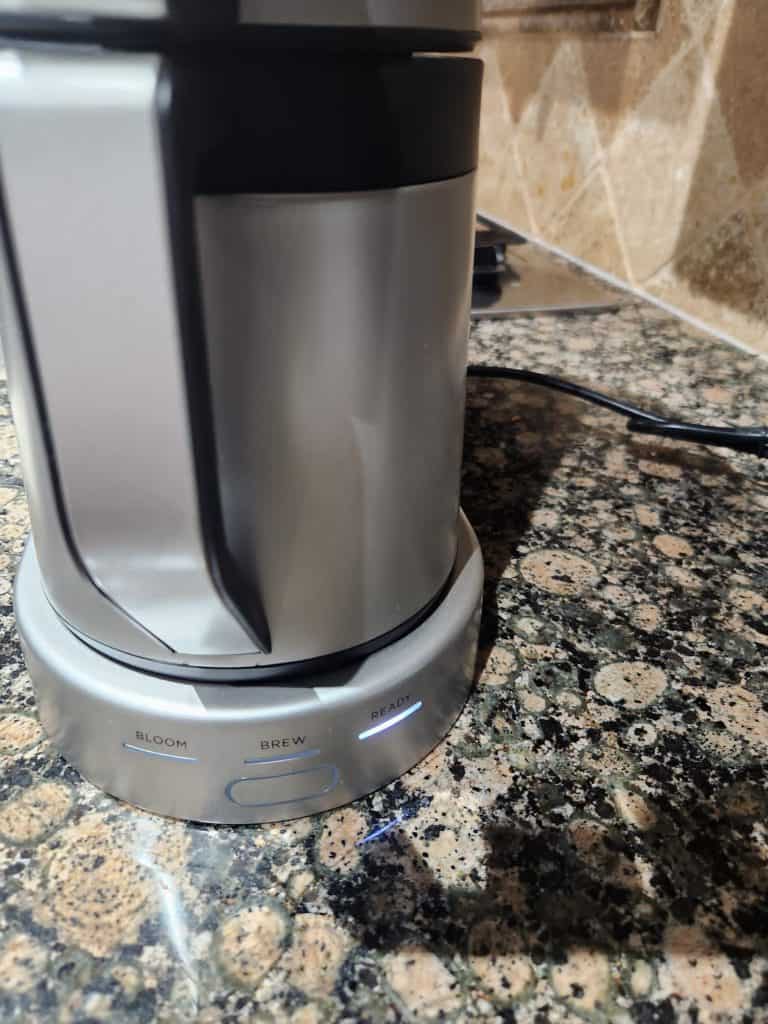 The lights went through the bloom, brew and finally to the ready light. It was time to taste my coffee!
WOW, the coffee was delicious and hot! Exactly how I like it. The flavor was strong and did not taste bitter.
Cleaning and Maintenance 
The Ratio Six has a smooth matte surface, which makes it easy to wipe down and clean.
Most of the removable parts including the carafe can not be placed in the dishwasher so I washed them in soap and water.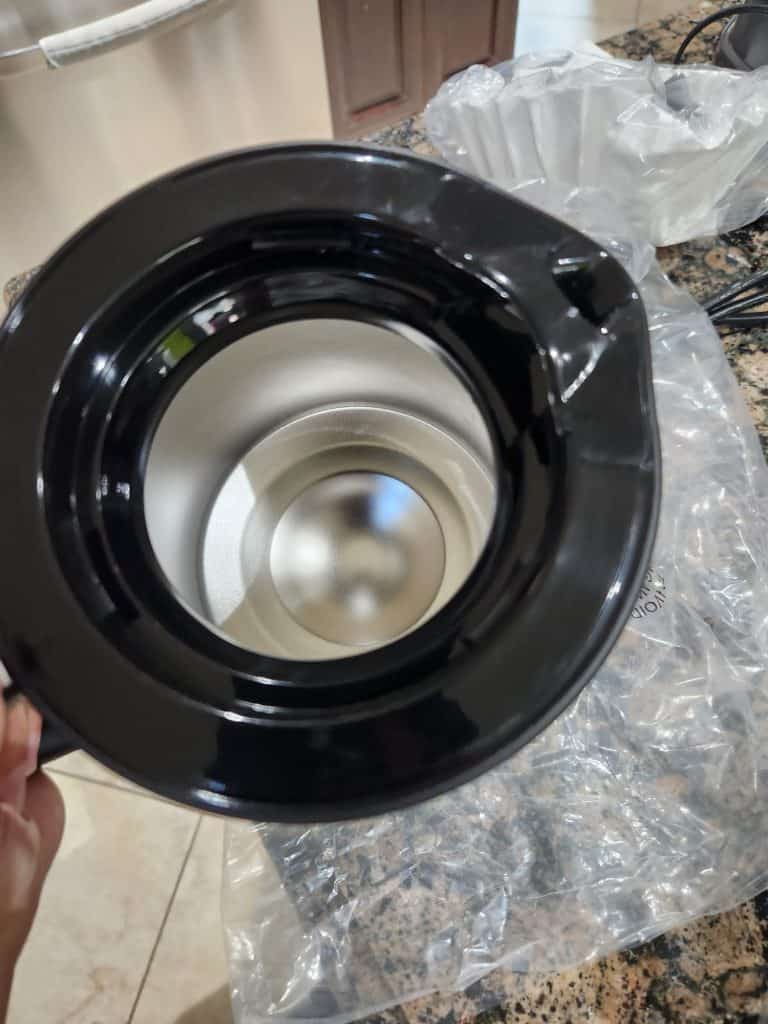 The opening of the thermal carafe is also small which means, you can't really use your hand to clean. I had to use a long brush with a handle to clean the inside.
There is no cleaning alert, so you have to remember to descale and clean it regularly.
The Pros and Cons
At Ratio, they believe everyone should be able to enjoy world-class coffee without the fuss. Which is why they build coffee machines for flavor, precision, simplicity, and beauty—just the essentials. They call it "convenience without compromise."
I like this mission which is why I wanted to test this machine out. After using this machine consistently for a few weeks I came up with a few pros and cons based on its design, features, performance, and maintenance.
Hopefully this will help you decide if the Ratio Six deserves a chance to sit on your counter top. Lets start with some of the neat features about this machine which include:
Pros: Features We Like
Seemless one button brewing: Bloom, Brew, and Ready phases run in sequence, delivering a perfect (and easy) cup of coffee every time.
Top notch performance: water flows smoothly though the die-cast aluminum heating element and evenly through the stainless steel shower head to wet the coffee grounds at the ideal extraction temperature.
Premium materials: Designed for longevity with stainless steel, borosilicate glass, and high end BPA-free copolymers.

Laboratory grade hand blown borosilicate glass water lines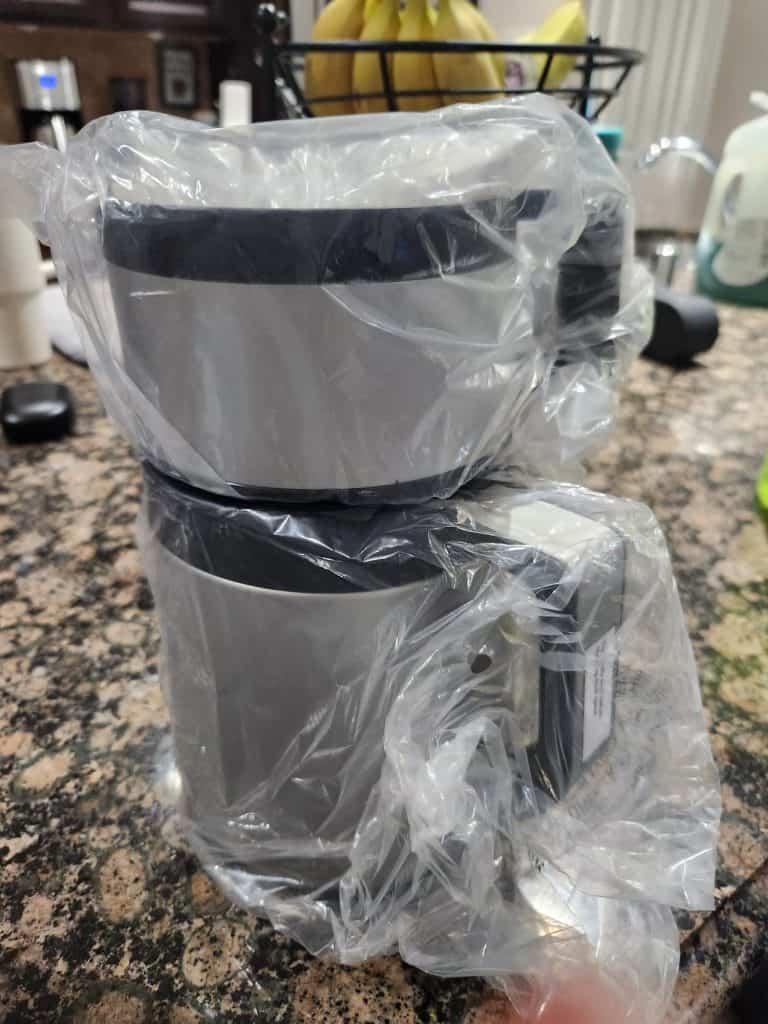 BPA-free copolymer water tank with water markings from 2 to 8 cups. 44 ounces poured into the water tank should yield about 40 ounces of brewed coffee.
Certification by the rigorous Specialty Coffee Association.

The SCA puts coffee makers in consideration through a gauntlet of tests, insisting on some of the highest standards.
One of them includes the perfect "Golden Cup" which should yield coffee brewed between 195 and 205 degrees Fahrenheit. So I like that the Ratio Six passed all of these tests.
Includes an automated blooming process.

This is one of the key reasons I purchased this machine.
The Ratio Six introduces a small amount of water to saturate the bed of coffee, then pauses the water delivery for about 30 seconds. Once, that time is up, the machine continues to deliver the rest of the water and completes the brew process. This allows for a consistently great cup of coffee that will always be robust and flavorful.
This feature is important because blooming is the release of gases that occurs immediately when coffee grounds hit hot water. These gases can interfere with extractions, so its good practice to wait some time for the bubbles to finish before continuing to pour water. Pretty much what you would do with a manual pour over.
Includes a unique heat shield that completely surrounds the shower head during brewing.

This optimizes the extraction of your coffee and produces a very hot cup of coffee, usually around 200 degrees F.
This is perfect for those that prefer their coffee really hot, or like to add plenty of milk or cream. The heat shield is also removable if you want more of an open brewing style.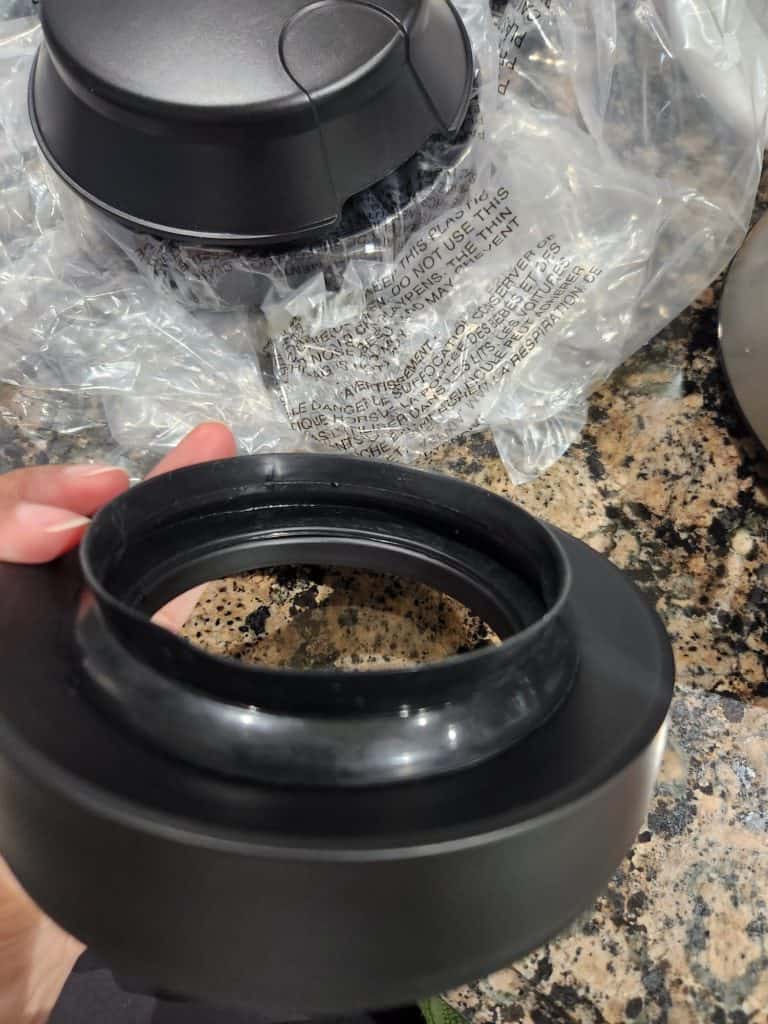 Nice warranty

Many coffee machines I have used only come with a one year warranty.
However, the Ratio Six comes with a whopping 5 year warranty.
The makers of Ratio Six made this machine to last at least 10 years with normal maintenance (descaling) and want customers to be lifelong owners. I find this mentality refreshing in this time and age of made cheap so you have to buy again and again.
Cons: Things to think about before you buy
The top rubber collar of the heat retention collar would frequently get jammed up in the protruding dispersion screen, and sometimes the rubber lip would fold over itself, hampering part of the dispersion screen's water flow.
Sometimes the heat shield caught onto on the shower head when inserting or removing the filter basket.

There are some ways to overcome this. Either slot the assembled carafe and parts into the machine at an angle, or just take the filter holder and heat retention collar, put it under the dispersion screen and press up to compress the upper rubber collar. With that in place and pushed up, slide the carafe underneath, and place the filter holder into the carafe.
The thermal carafe keeps the coffee hot for several hours once the lid is in place. I was able to get a hot second cup of coffee after 2 hours. It is very well insulated and also heavy.

However, I did find that the lid was made of plastic material and doesn't have a high quality appeal like the machine.
Also, I had to twist the lid quite a bit to get the openings to align. I had hoped for an easier pour, but it was more difficult than anticipated.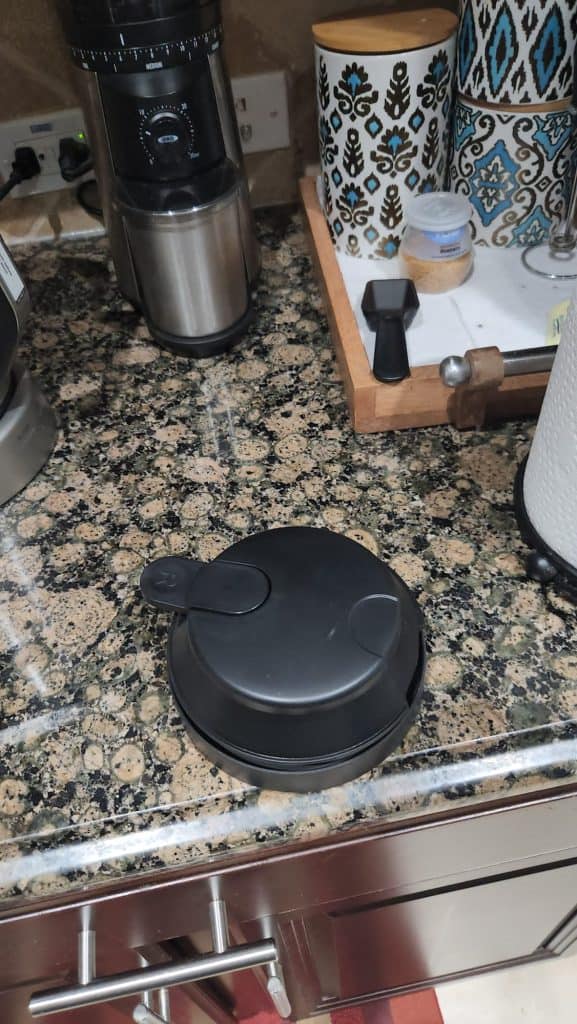 Once you remove the carafe, catch tray must immediately be placed underneath the filter basket so the droplets don't fall all over the machine.

The tray is also made of the same plastic material as the carafe lid.
It was also a nuisance to have to hold the filter basket up and put the carafe underneath simultaneously. Same situation when taking the carafe off.

I would have preferred that there was a slot to hold the filter in place so you don't have to take it off each time.
I like having one of my hands free to do other things, and this process requires you to have both hands in use. I prefer my coffee making to be a simple process, and this was pretty tedious for me. This I found was a major drawback of the Ratio Six.
Not programmable: meaning no cup waiting for you in the morning.
Price: at $350, it's not the cheapest machine in the bunch.
How Does it Compare to Other Drip Machines 
I am no stranger to automatic pour over brewers and have tried many of them. Depending on your preference you can select what works for you.
The Oxo Barista Brain is similar to the Ratio Six in its use of advanced showerheads, tubings and SCA standards for quality extractions, but it's not as complex in its setup and slightly cheaper.
If you prefer more control in brewing modes and temperature control, the Breville Precision Brewer probably is better for you.
For more tech features, the Cafe Specialty is a good pick while still maintaining decent flavor.
The Ninja Specialty is more user friendly in its handling and includes specialty beverages but probably not as flavorful as the Ratio Six.
Really hard to say which cup was more enjoyable between the Technivorm Moccamaster and Ratio Six. Guess you cant go wrong with either in that category.
Final Verdict
The Ratio Six is considered a small batch brewer. In my house, both my husband and I are avid coffee drinkers who appreciate a quality cup of coffee. The heat shield, showerhead, and blooming effect all made for an exceptional cup of coffee. If you're like us, then this brewer is intended for you.
If you are also someone who drinks more than one big cup of coffee over a 1-2 hour period without sacrificing quality, this is the brewer for you. The carafe does retain heat for a long time without depreciating the quality of coffee. It is aesthetically beautiful as well, and their dispersion screen and even saturation of coffee grounds is one of the best in the market.
The Ratio Six is however quite expensive for a 1 touch machine ($350), and it also has a lot of extra parts to move around. With no programmable timers, you might want to rethink purchasing it if you like to have your coffee machine set up the night before.
Ratio Six Coffee Maker
The Ratio Six combines rich nuanced flavors of a manual pour over with the sophistication of a quality built, one button automated machine.
Last update on 2023-09-18
In the end, while the Ratio Six coffee maker was not the right fit for my family (I don't like all the movable parts and not having a programmable timer), I think its a really nice high end machine that would satisfy the pallet of many coffee drinkers. So it really depends on whats most important to you.
Searching for more coffee maker options?
I have personally bought and tried other well known drip coffee makers that you may want to check out here! (No this doesn't make me a coffee snob…or does it??)
Coffee Has Never Read This Good!
Sign up for a FREE newsletter to the best home brewing tips and guides
Thank you for subscribing to The Cup Coffee House Crew! There's a surprise in your Inbox 🙂
Something went wrong.
About the Author
Latest Posts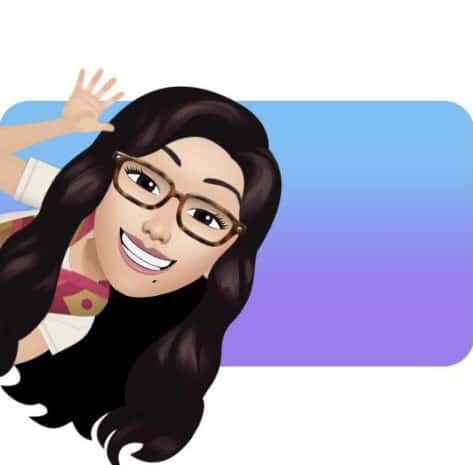 MJ is a full time health care worker, mother, and wife. When she puts her super cape down, she writes occasionally about coffee and how to get a better tasting brew from home.
Chief Editor